12 gorgeous mooncake box designs to surprise your loved ones this Mid-Autumn Festival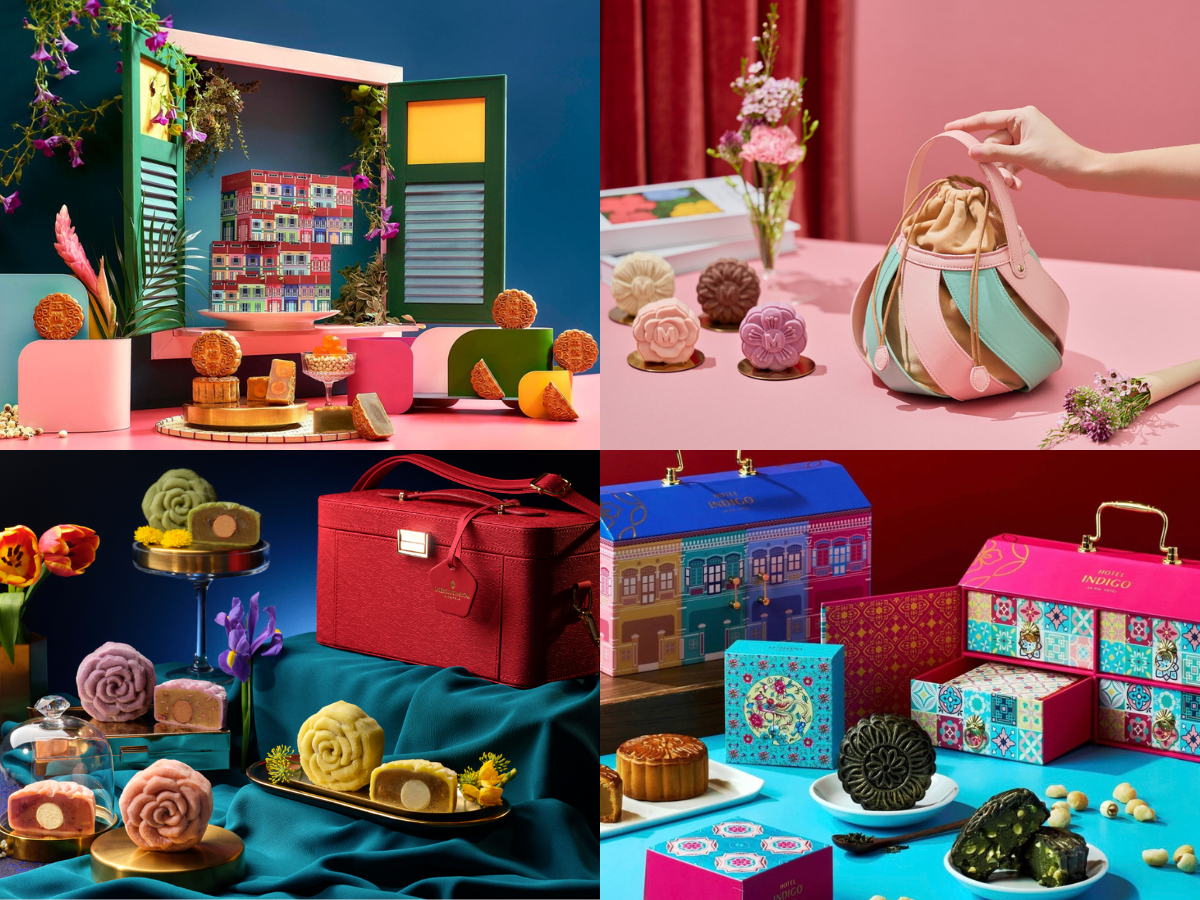 Mark your calendars, as the highly anticipated Mid-Autumn Festival is springing up on Sept 29! 'Tis certainly the season of mooncakes, as we see big-name restaurants and hotels already starting to dole out a deluge of decadent treats accompanied by exquisite mooncake box designs. 
It's not just fancy accoutrements and creative mooncake packaging that are sure to win you favour among your peers, it's also the repertoire of luscious, and often unique, mooncake flavours that come out each year. Be they in the form of snow skin gems or traditional baked delights, there's an option for everybody.
Let this guide spotlight some of the top mooncake box designs of 2023. 
1. InterContinental Singapore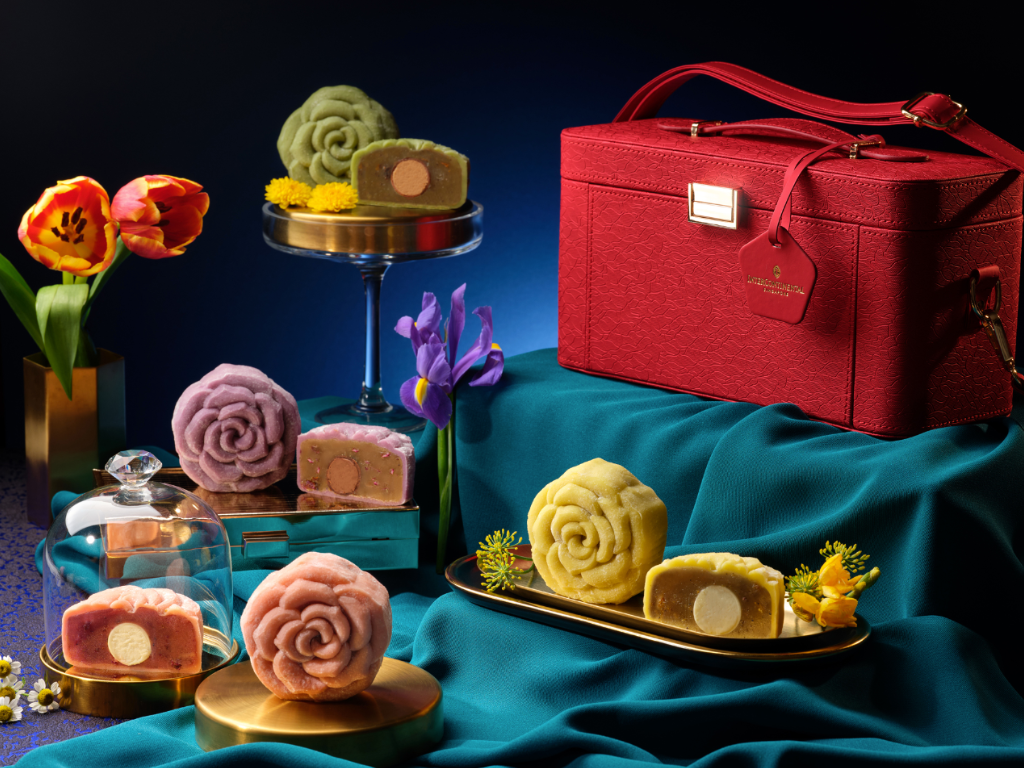 Bask in the splendour of the full moon with tantalising mooncake flavours and classic favourites from Man Fu Yuan at InterContinental Singapore.
This year, the award-winning fine dining restaurant has introduced two new flavours in its baked series, as well as a selection of four tea-infused snow skin mooncakes. The latter is intricately moulded in Man Fu Yuan's iconic rose shape, which is a visual masterpiece to behold.
All mooncakes are encased within a chic, scarlet-red leatherette box. Its exterior is also adorned with elegant gold trimmings, while the inside reveals a plush, two-layered compartment with side pockets. Besides posing as a great display piece, the box also comes with adjustable and detachable straps that serve as a crossbody bag.
Price range: $$$$
What to order: The Blossom and Brew collection (S$104 for a box of four) is sure to wow your peers with its lineup of snow skin mooncakes. Expect fragrant tea-centric flavours such as rose flower with chamomile tea chocolate truffle, violet flower with black tea and more.
2. Conrad Singapore Orchard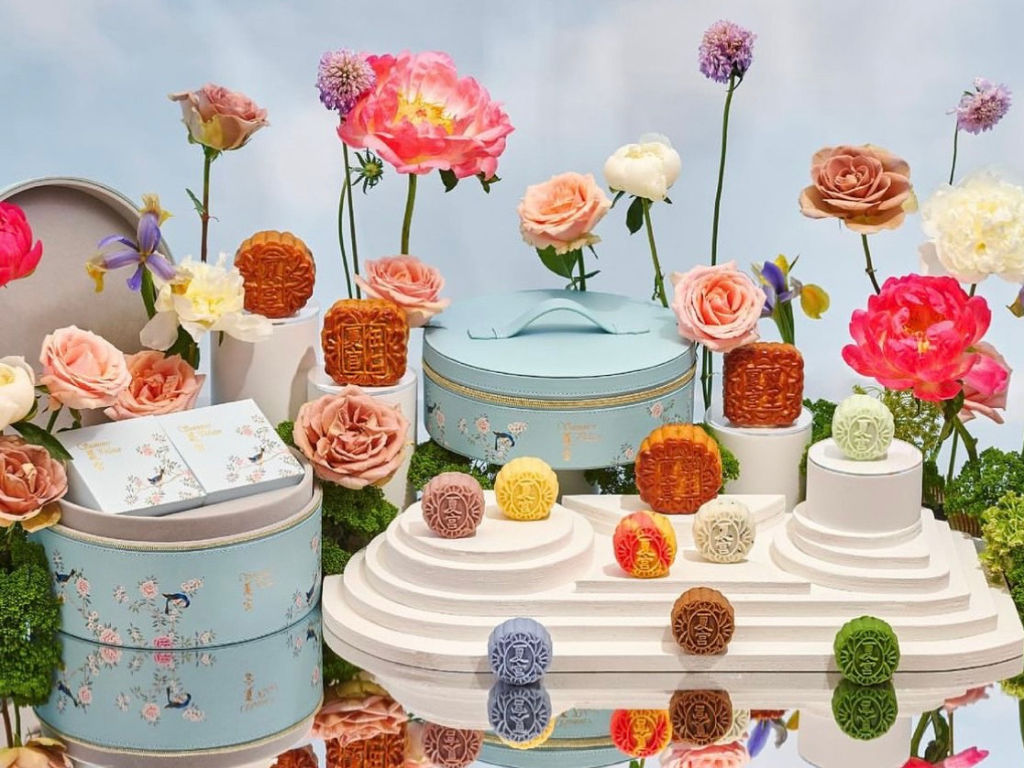 For a gift to remember, Summer Palace at Conrad Singapore Orchard has unveiled a stunning mooncake collection that's inspired by mesmerising peony gardens underneath a moonlit sky. 
Boasting a range of baked Cantonese-style treats and luxurious snow skin creations, the mooncakes are encased in a rounded leatherette gift box that's swathed in baby blue hues and pink peonies. 
The sets are thoughtfully designed to symbolise togetherness and happiness as families savour the mooncakes on this joyous occasion. They're fantastic as gifts, and we're sure that your peers will appreciate this deluxe cosmetic piece. 
Price range: $$$$
What to order: We have our sights on the Summer Palace snow skin collection (S$94 for eight minis), which encompasses eight bite-sized mooncakes in vibrant colours. It includes a plethora of interesting flavours, such as custard with cranberry and coconut chocolate with black glutinous rice, among others.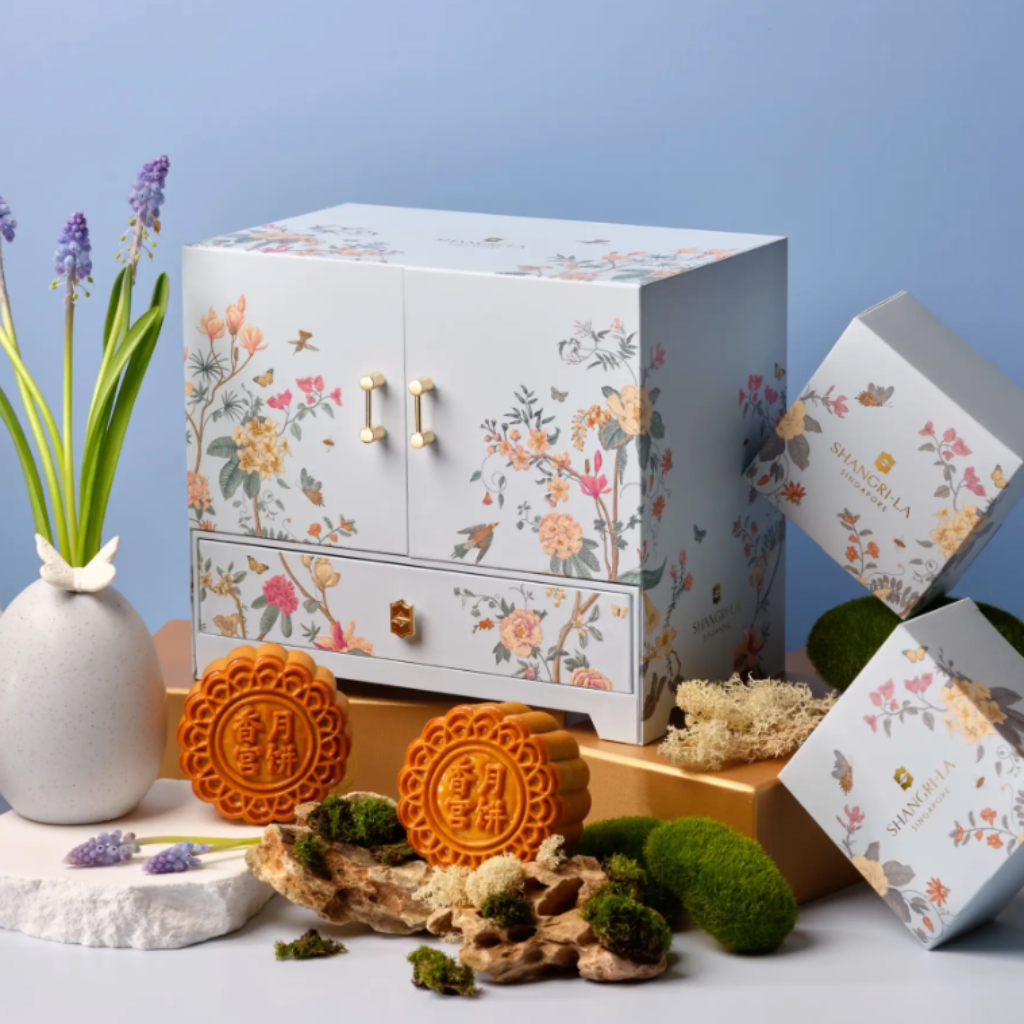 Shangri-La Singapore never fails to impress us with its fancy mooncake box designs. This season, the hotel has launched an extravagant gift box that's decorated with a myriad of flowers. Fashioned after a wardrobe, the design is simple yet refined. 
The three-tiered mooncake box design comes in two colours: Red and blue, though only the latter is currently available — the red is completely sold out. We recommend you place your orders fast, as the mooncakes are selling like hotcakes. 
The baked mooncakes are the bestsellers here, as each treat is meticulously handcrafted to reflect a symphony of textures and flavours. There's the mixed nuts with chicken ham (S$63 for a box of four) and reduced sugar plain with white lotus seed paste (S$59.25 for a box of four).
Price range: $$$$
What to order: Looking to splurge on something premium? The Shang Palace spirulina mung bean with bird's nest charcoal mooncakes (S$117.30 for a box of four) are dusted in edible gold. They're also housed in a fancy four-tiered rounded box that's enrobed in a festive red cover.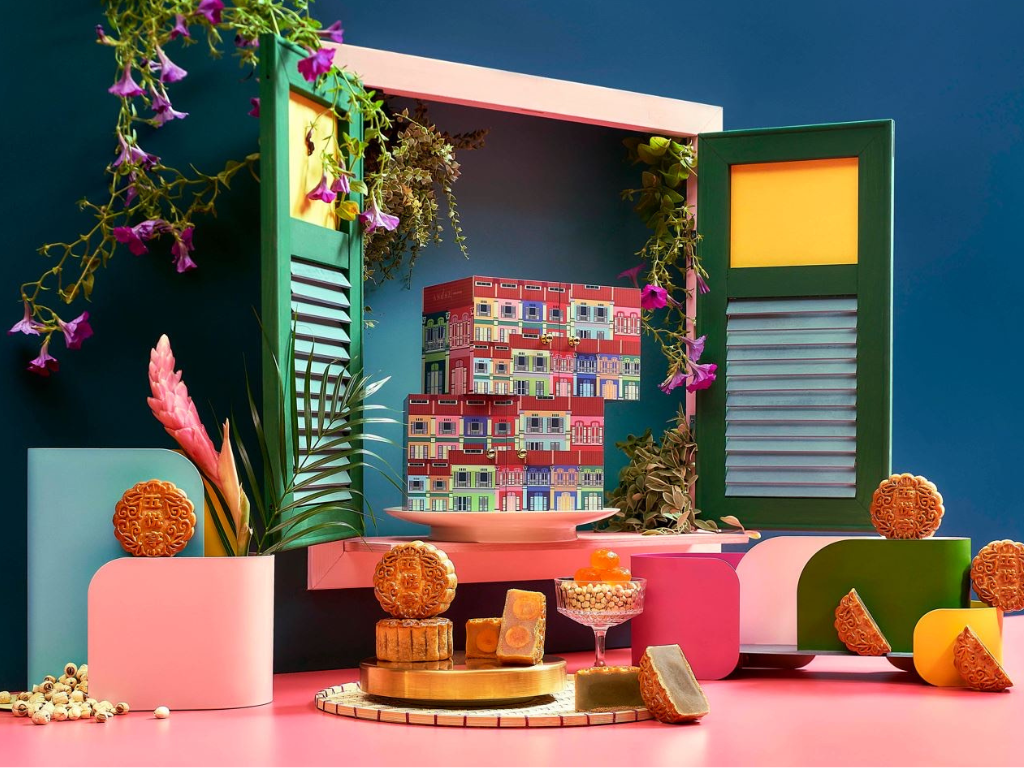 For a unique mooncake box design with oomph and flair, check out the whimsical collection by upscale restaurant 5 on 25 at Andaz Singapore. 
Handcrafted baked mooncakes are housed in a creative two-tiered box that's inspired by the bustling shophouse scene in Kampong Glam — the hotel's neighbourhood. 
Encased in vivid hues of pink, blue and green, the design reflects the heydays of shophouses in the 1840s to 1900s. Open the box to unveil two inner drawers that's adorned with a stunning pattern of breadfruit trees, a plant that's abundant in the hotel's vicinity. 
It's a design that pays tribute to Singapore's rich heritage and culture, which makes it one of the top mooncake box designs of 2023. 
Price range: $$$$
What to order: The 5 on 25 mooncake set (S$88 for a box of four) comes with two new mooncake flavours: Citrus Surprise and Gula Galore. The latter spins a modern twist to the usual lotus paste mooncake, as it's infused with gula melaka and topped with pecan nuts. The set also includes past fan-favourite flavours: 5 on 25 signature tea and Silver Lotus.
5. Hotel Indigo Singapore Katong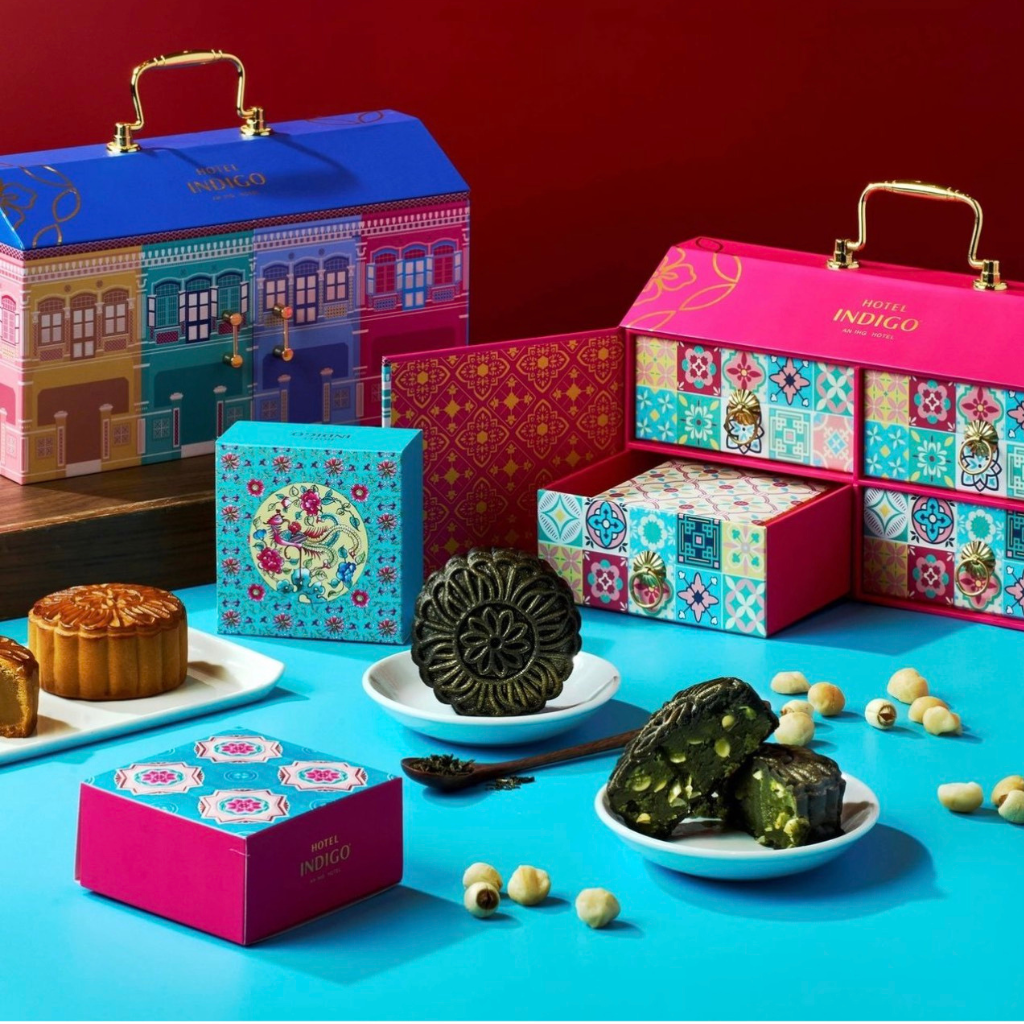 For another local-inspired mooncake box design like no other, the Moonlight Sonata collection by Hotel Indigo Singapore Katong makes for a memorable keepsake. 
Artisanal mooncakes — all of which are only available in baked skin — are nestled in a colourful case that's inspired by the beautiful tapestry of Katong's Peranakan heritage. It also draws influences from olden-day shophouses that once lined the neighbourhood. 
The collection comes in either a four-tiered drawer or a two-layered variation, though we prefer the latter. It closely resembles the two-storey shophouses of the past, which makes for a display piece that holds cultural significance. 
Price range: $$$$
What to order: Your loved ones will enjoy the signature series in white lotus paste mix (S$85 for a box of four), which comes in a set of assorted mooncake varieties. There's the double yolk, single yolk and macadamia nuts — the perfect combination for those who can't decide on a favourite flavour.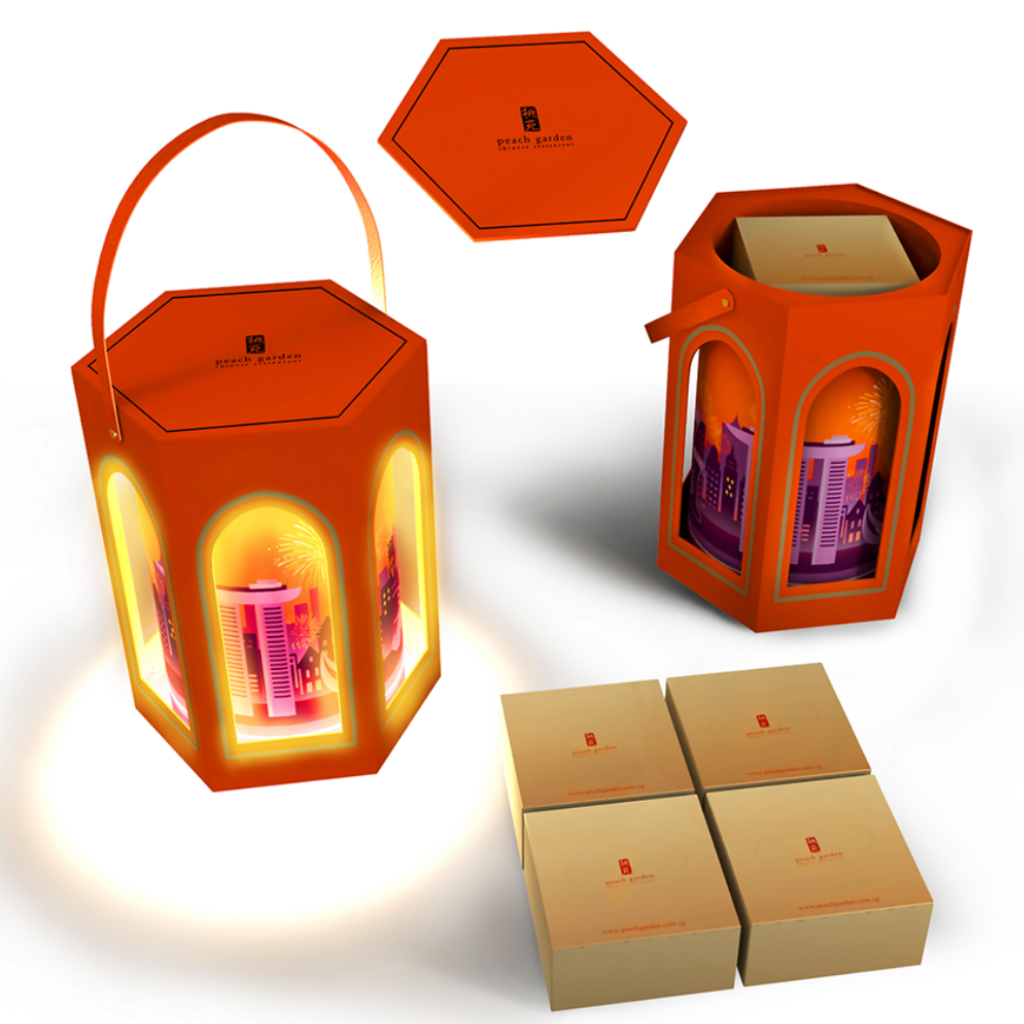 Peach Garden's delectable mooncakes are a great way to celebrate the Mid-Autumn Festival.
Handcrafted by a team of skilled chefs, the brand is famed for its baked mooncakes. Every intricate morsel is carefully prepared with fresh and premium ingredients to achieve the perfect balance of textures and flavours. 
Besides paper packaging and thermal bags, you can choose to gift your mooncakes in a one-of-a-kind carousel lantern box or wireless charging case. Both designs are S$5 each and available while stocks last.
We'd go for the carousel lantern box. It has a captivating rotating image that depicts Singapore's skyline, as well as an LED light that adds to the festive ambience.
Price range: $$$$
What to order: For something new, try the immunity-boosting orange mooncake with orange peel and pine nuts (S$59.62 for a box of four). A fragrant delight with tangy citrus notes, it's available in both baked skin and snow skin.
7. Singapore Marriott Tang Plaza Hotel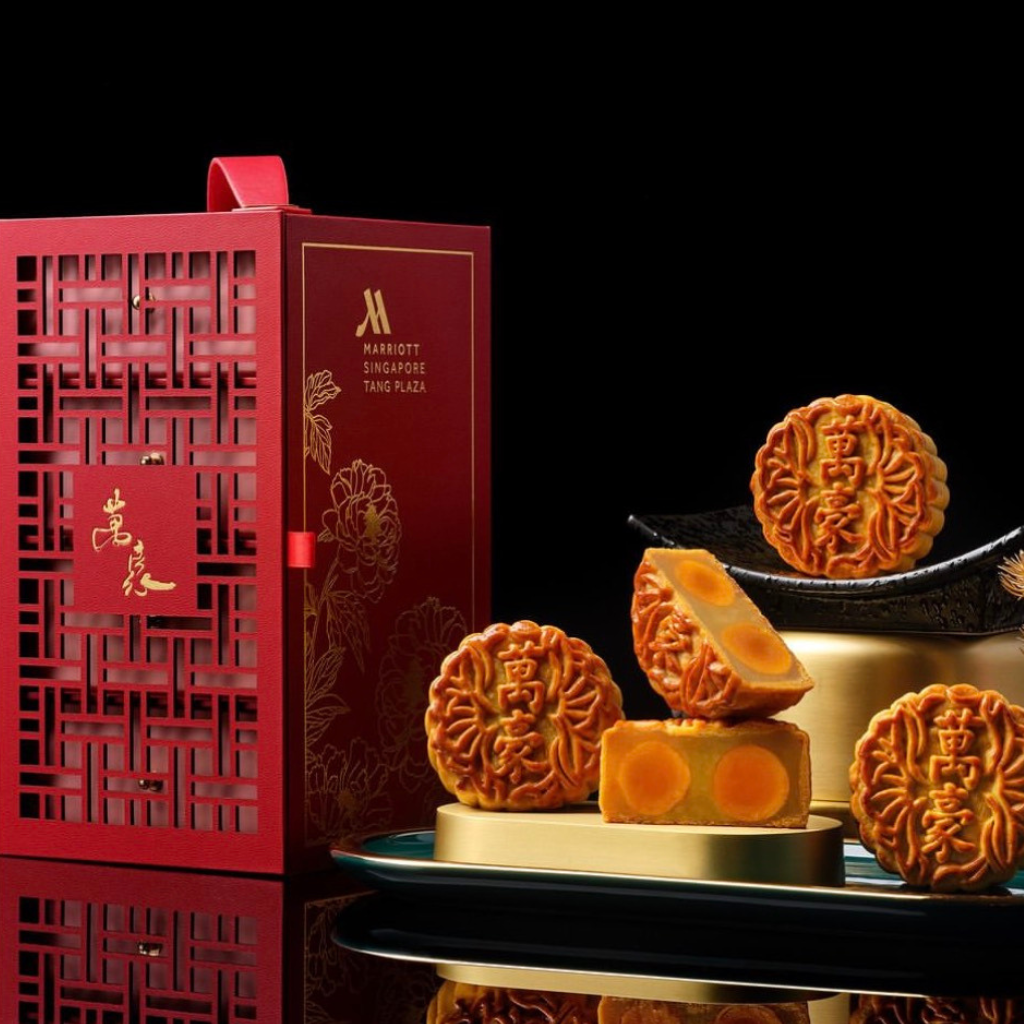 Searching for an opulent mooncake box design that's bound to please both the young and old? Look no further than the imperial-inspired collection by Wan Hao Chinese Restaurant at Singapore Marriott Tang Plaza Hotel.
Every order comes with an elegant towered box that showcases an intricate trellis pattern. It's in bold red, the perfect colour to usher in prosperity and abundance.
Open it up, and the case impresses with four stylish drawers decked in pastel pink. It's a gift that exudes grandeur and sophistication, which certainly makes it a mooncake box design to remember.  
As for what's within, besides the return of perennial flavours, this year also sees a new lineup of baked and snow skin selections.
Price range: $$$$
What to order: The new snow skin flavours caught our eye, with options such as the brand new yuzu honey peach passionfruit praline (S$86 for a box of eight minis), Irish cream latte with Baileys praline (S$90 for a box of eight minis) and more. For those who enjoy traditional delights with a twist, there's also the imperial "long jing" tea with walnuts (S$86 for a box of four).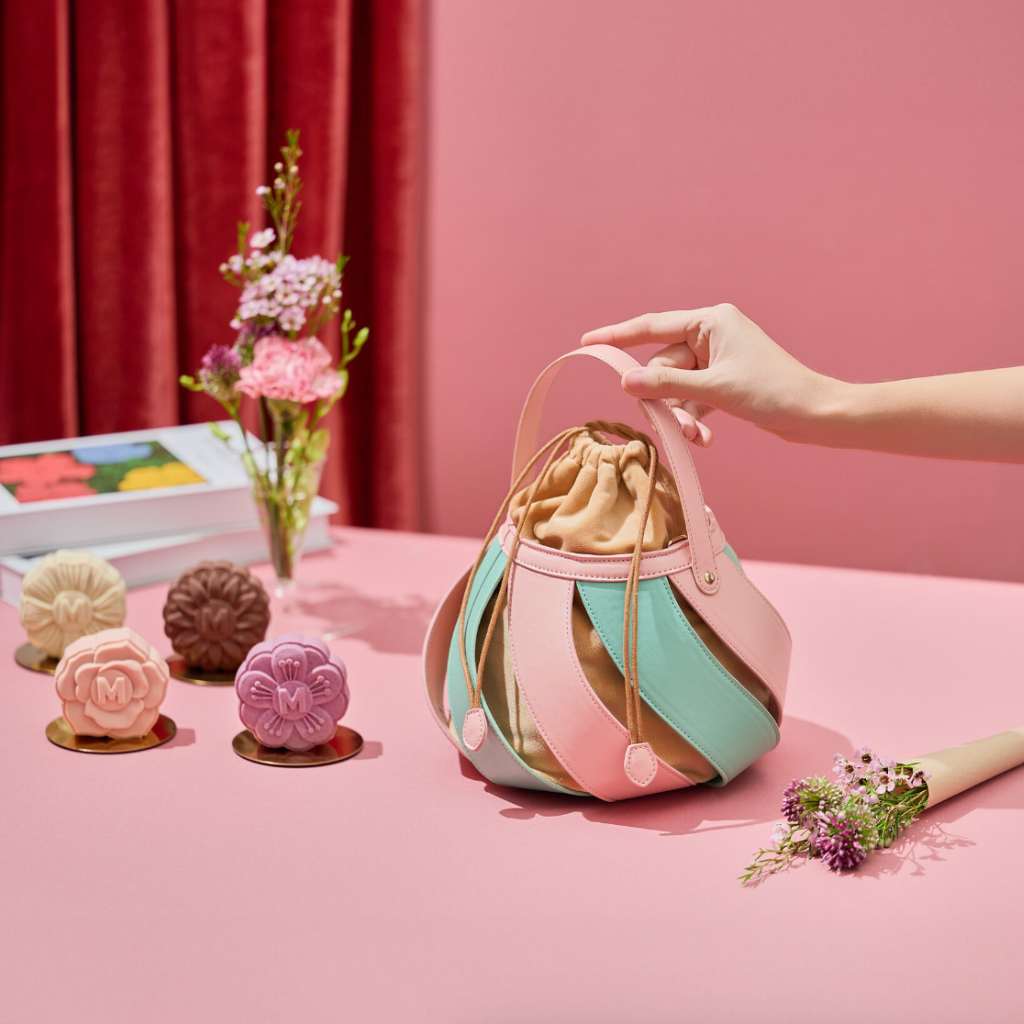 For vegan-friendly and halal mooncakes in Singapore, Mdm Ling Bakery has a plethora of options that will surely tickle your fancy. The treats are accompanied by fancy packaging, which spans the likes of a playful Monopoly Street Smart game box, a stylish tote and a chic bucket bag. 
Among the entire mooncake collection, we love the minty rose mooncake bucket bag set (S$92 for a box of four). Inspired by lanterns, it's a pretty carry-on that adds charm to your outfit while holding your essentials. 
If pink isn't your colour, the bag also comes in a yellow colourway. Should you want to carry your mooncakes in style, this collection is perfect for the occasion. 
Price range: $$$$
What to order: Pair your minty rose bucket bag with the bestselling signature assorted baked skin mooncakes. Flavours include the Belgian double chocolate, black sesame peanut butter, red dates longan and emerald pandan golden yolk. 
9. Mandarin Oriental Singapore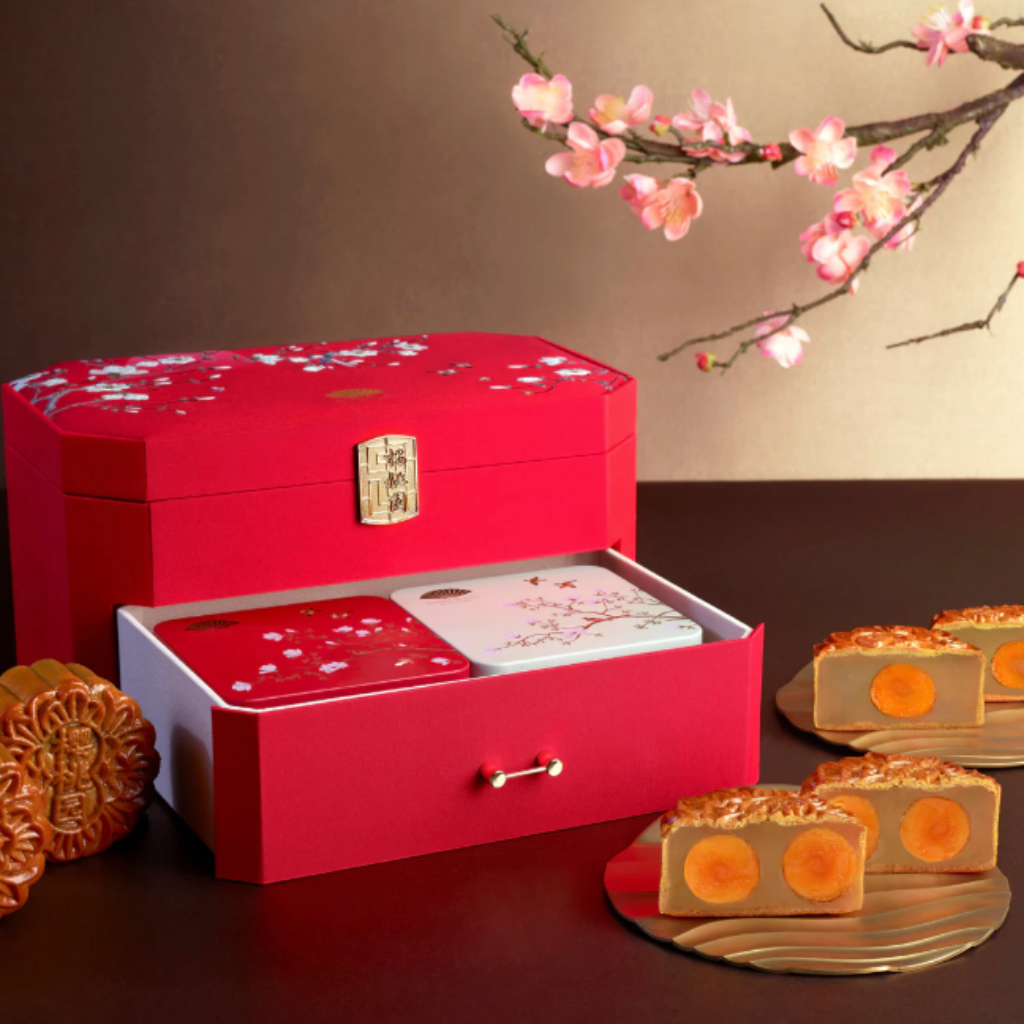 This season, delight in a medley of snow skin gems and traditional favourites from Mandarin Oriental Singapore. 
For those who enjoy unconventional flavours, there's an array of snow skin mooncakes that vary from tea-infused creations to fruity combinations. 
On the other hand, the baked delights will charm sticklers of tradition, such as the low sugar white lotus paste with single yolk (S$51.90 for a box of two, S$88.60 for a box of four) or double yolk (S$56.20 for a box of two, S$95.10 for a box of four). 
All the mooncakes sit in a beautiful tin that comes in a trio of ivory, red or lilac colourways. The boxes are also embellished with oriental floral motifs that add to the momentous occasion. 
Price range: $$$$
What to order: The star of the show is the Cherry Garden Four Treasures set (S$92.90 for a box of four). It comes with an assortment of classic flavours, including the newly launched Oriental Beauty tea with red dates and low-sugar chestnut with cashew nuts and truffle.
10. The Ritz-Carlton, Millenia Singapore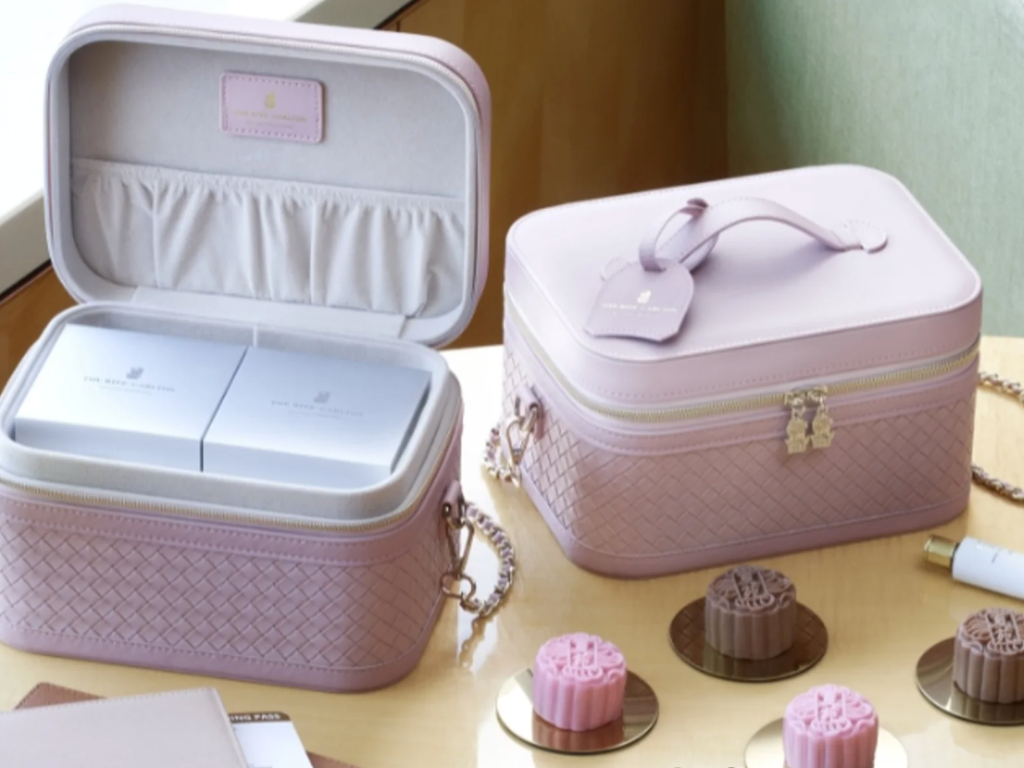 Joining the fray of enticing mooncakes in Singapore is the vanity collection from Michelin-starred restaurant Summer Pavilion by The Ritz-Carlton, Millenia Singapore. 
Presented in a modern leather-woven box that comes in baby blue or blush pink, the set is designed for jetsetters and fashionistas alike. 
It features a spacious velvet interior, complete with dual compartments and an elastic pocket. The chic case is also accompanied by accoutrements such as a matching shoulder chain and an iconic Ritz-Carlton bag tag. 
Price range: $$$$
What to order: The assorted mini snow skin mooncakes (S$98 for a box of eight minis) are what we'd go for. It comes with four mini Irish coffeetinis — a combination of white lotus paste with an Irish coffee liqueur-infused dark chocolate core — and four mini Lycheetinis.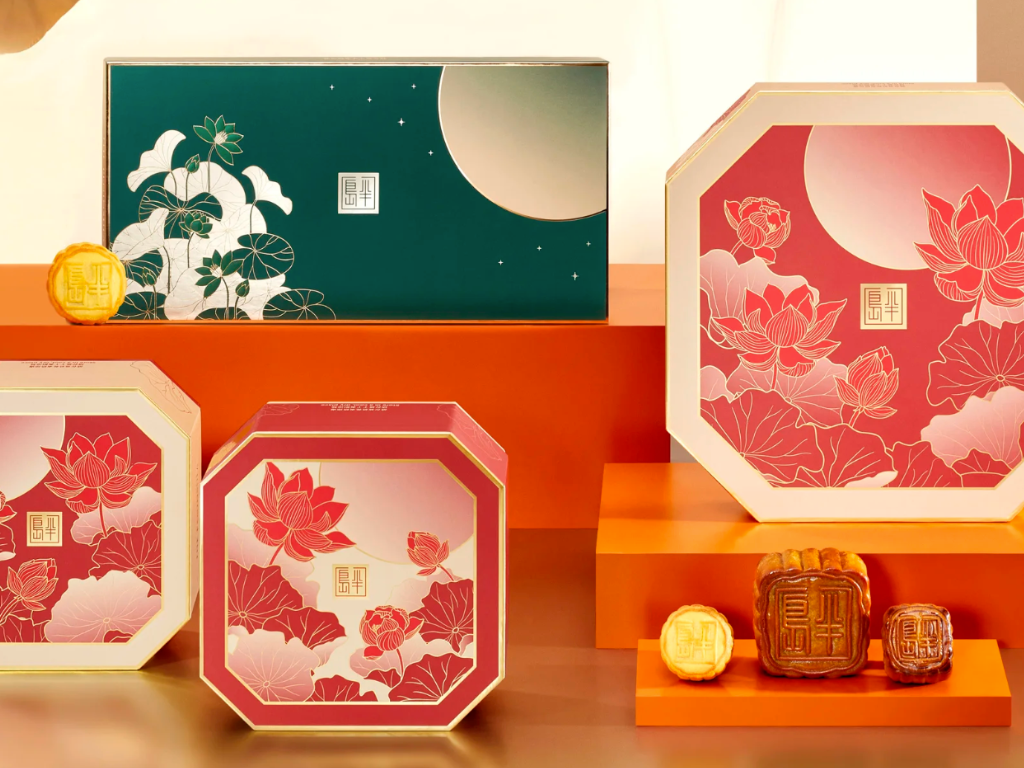 If you've grown weary of the predictable lotus paste mooncakes, the egg custard mooncakes from The Peninsula will put a smile on your face. 
A signature offering by the hotel, the egg custard mooncakes are made with premium-grade duck eggs and butter. The result is a fluffy, decadent morsel that melts in your mouth. 
This year, two fresh iterations have joined the tantalising selection of egg custard treats: Mini chocolate egg custard (S$89 for a box of six) and mini fruity egg custard (S$78 for a box of six). 
These Mid-Autumn delicacies are neatly packaged in a red oriental box that's decorated with flowers and gold trimmings. It reminds us of the moonlit sky — an apt design as one gazes above while savouring the mooncakes.
Price range: $$$$
What to order: Chocolate lovers should order the mini chocolate egg custard mooncakes. It comes with two luscious fillings: Toffee (three pieces) and brownie (three pieces).
12. Bynd Artisan + Sunday Folks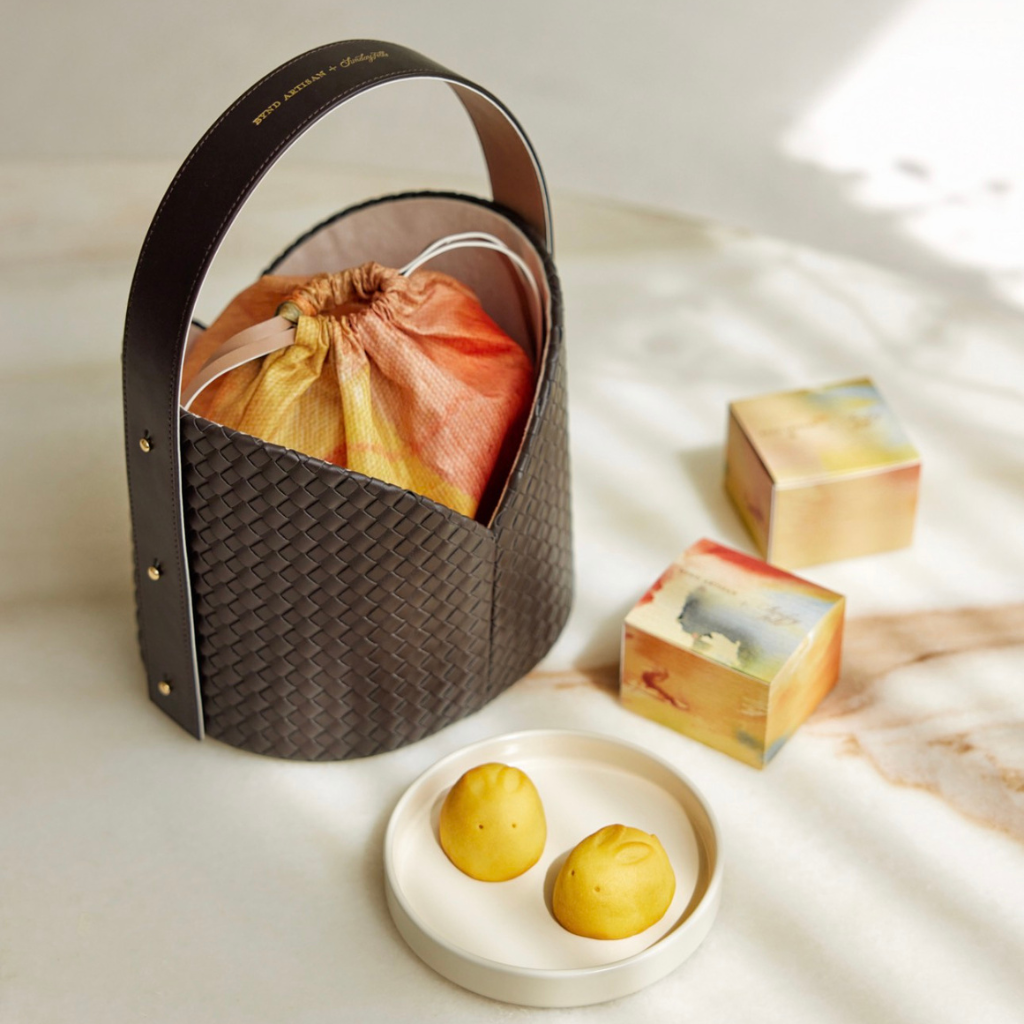 The younger ones will certainly be delighted to receive the Tugether in Harmony mooncake basket (S$97.20 for a box of six). A collaboration between Bynd Artisan and Sunday Folks, this collection has returned for its third consecutive year. 
For those who are unfamiliar with the mooncakes in this collaboration, it entails bunny-shaped mooncakes chock-full of fillings. This season, the beloved confections come in two fresh takes: Lava custard and yuzu custard. 
Beyond its hearty flavours, the mooncakes also make for a magnificent surprise. Presented in a set of six, the mooncakes sit in a woven basket with an adjustable duo-tone strap crafted in faux leather. It also comes with a nylon dust bag featuring The Letter J's art prints to complete the carrier. 
Price range: $$$$
What to order: How can you miss out on these adorable mooncakes? With the Tugether in Harmony mooncake basket, your celebration is sure to be full of joy, love and moonlit magic.
---