8 best cafes and bakeries for guilt-free, healthy desserts in Singapore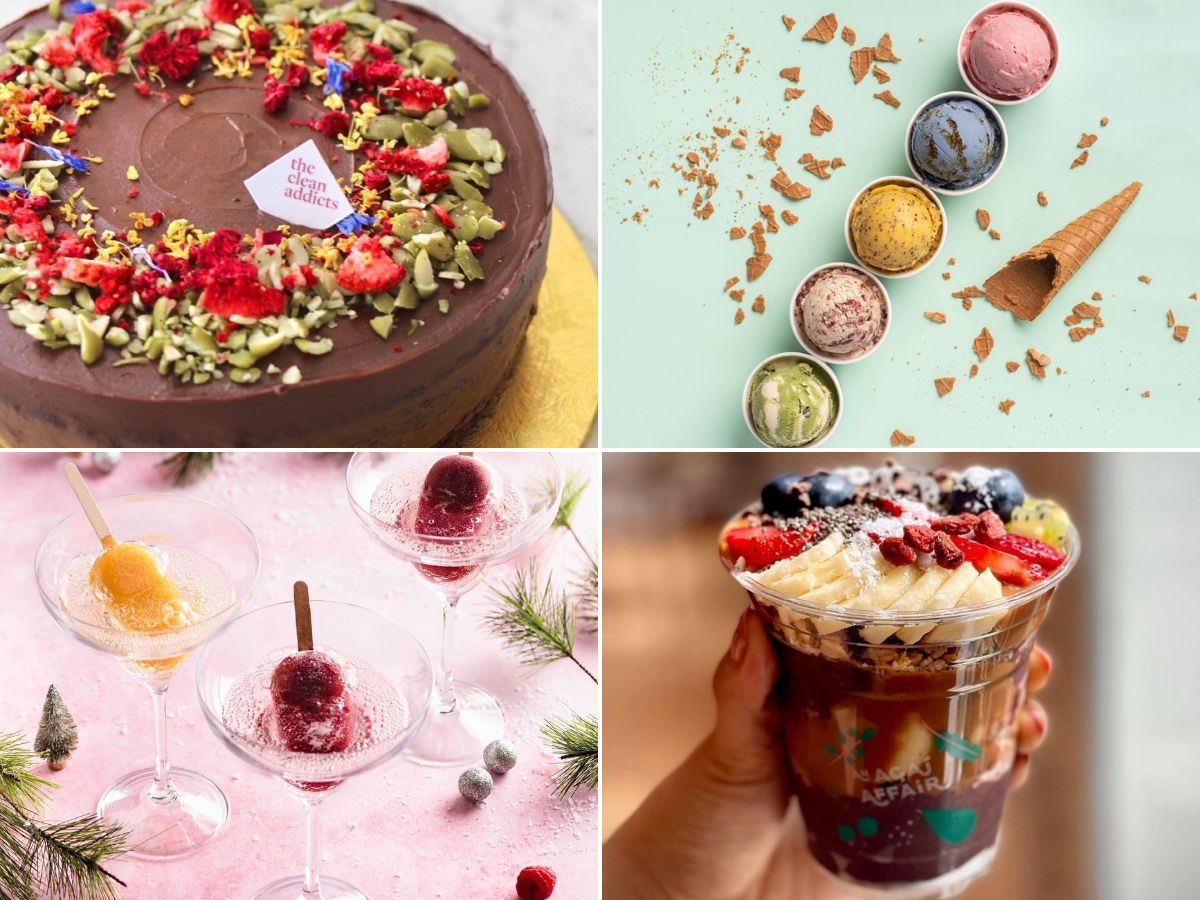 Let's face it — as much as we love desserts, excessive consumption of sweet treats can add inches to our waistlines and cause us to pack on the pounds.
And although science has shown that having a "second stomach" for dessert is real, it doesn't help us cut down the calories. 
Still, some desserts, when taken in moderation, can be healthy. But if you have a major sweet tooth and want to have your cake and eat it every day, don't fret. Singapore has no shortage of healthy dessert places or options if you can't resist the temptation.
Health is wealth, after all. From keto-optimised cakes and diabetic-friendly treats to plant-based ice cream and superfood desserts, these healthy alternatives taste just as good while delivering a ton of benefits.
If you're on the lookout for guilt-free options, then check out our list of the best places to treat yourself to some healthy desserts in Singapore.
8 best cafes and bakeries for guilt-free, healthy desserts in Singapore
1. Ange Bakes Keto
High Street Plaza, 01-07, 77 High Street
Open: Monday to Friday (11am to 5pm), Saturday (11am to 6pm)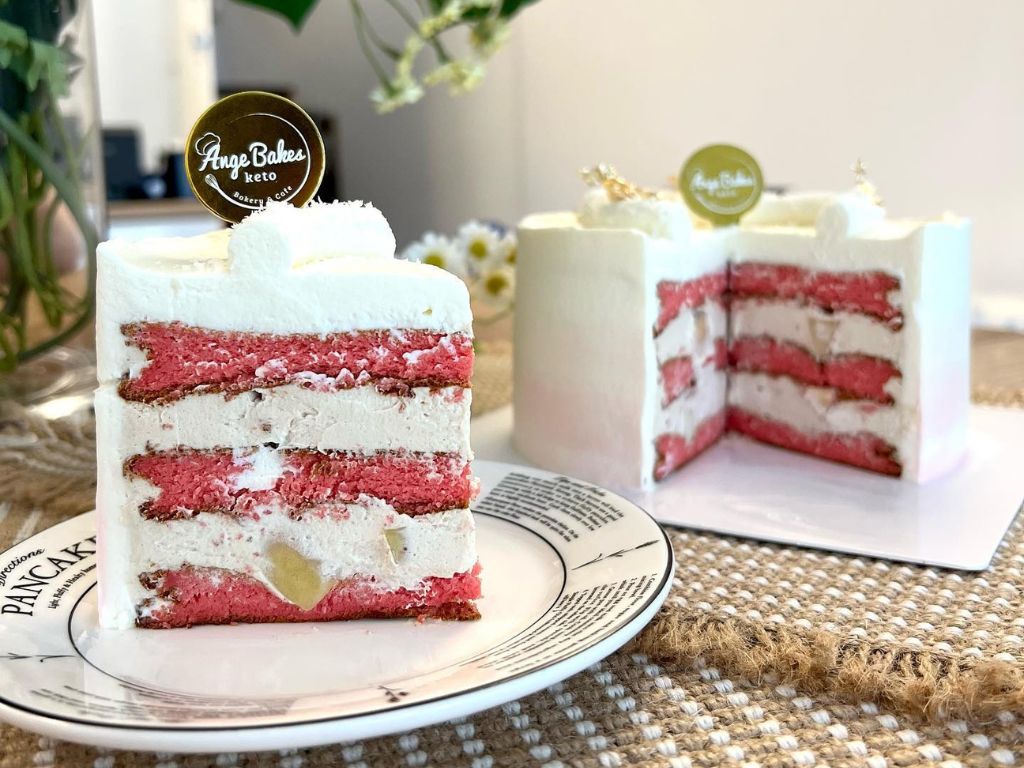 Why visit? Ange Bakes Keto is a bakery that is passionate about promoting a ketogenic diet (low carb, moderate protein and high fat) to reap its many benefits. 
As such, it uses only natural sweeteners and low-carb, grain-free flours to produce a selection of healthy desserts that are friendly to those who are gluten-intolerant and diabetic, and even those who just want to eat cleaner.
Originally located at The Adelphi, it recently moved to a cosy new space at High Street Plaza.
Price range: $$
Crowd favourites: Chocolate lovers will adore Ange Bakes' luxuriously glazed keto all-chocolate cake (from S$8.80 per slice), which is sugar-free and only comes with a net carb value of 0.57g per slice. Talk about the perfect dessert fix!
Apart from sweets, Ange Bakes also has a great selection of pastries and meals that have an Asian influence, including the low-carbs fried kway teow (S$12.80) and the ugly keto curry puff (S$4.30) that comes stuffed with low-carb homemade chicken curry.
2. Kind Kones
Multiple stores islandwide 
Open:  Operating hours vary across outlets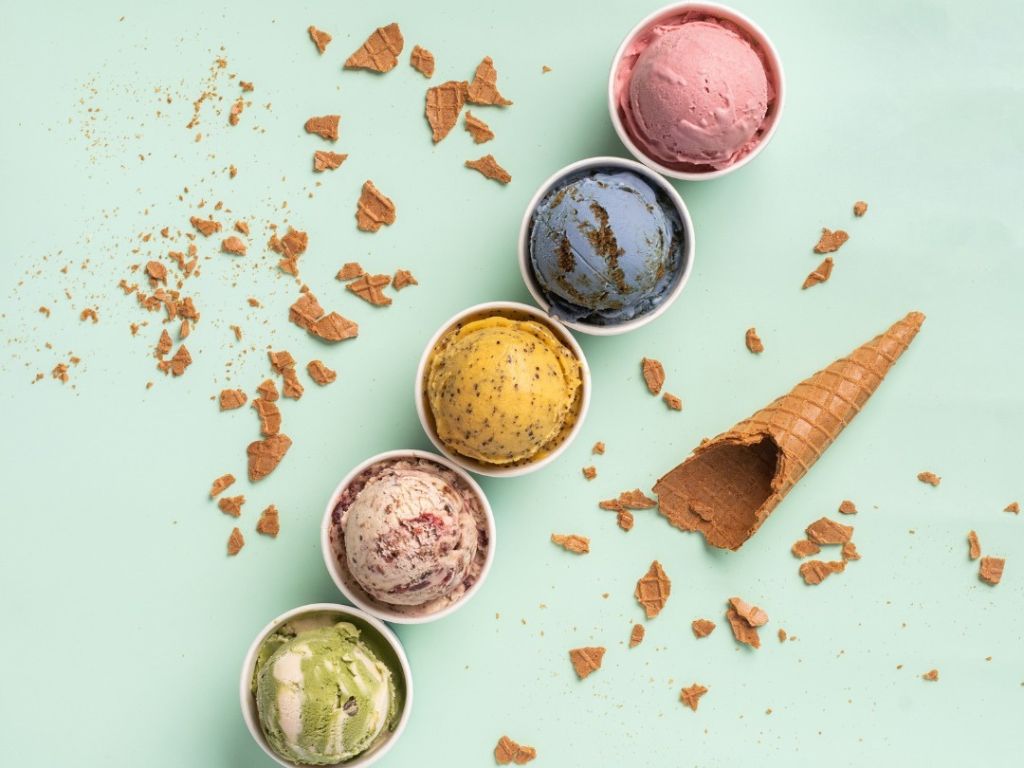 Why visit? Ice cream is undoubtedly a popular dessert option among diners here — it's evident in the number of gelato cafes we have around the island. However, as it is high in calories and added sugar while low in nutrients, an ice cream a day is not going to keep the doctor away. Still, if you have a craving, consider Kind Kones, which serves an all-natural and plant-based alternative to the sweet treat. 
The established brand, which has three outlets in Singapore, is known for scooping a healthy version of the dessert that's free from dairy, egg and other artificial additives. Expect alternative milk options such as cashew milk and coconut milk serving as the base components, and mostly gluten-free ingredients.
Price range: $
Crowd favourites: Needless to say, Kind Kones' core range of ice cream (from S$8.80 per scoop) is what draws people in. Popular flavours include the chocolate sorbet that's plant-based and free of any milk (even plant milk) and its gluten-free almond brittle fudge.
3. An Acai Affair
Multiple stores islandwide 
Open:  Operating hours vary across outlets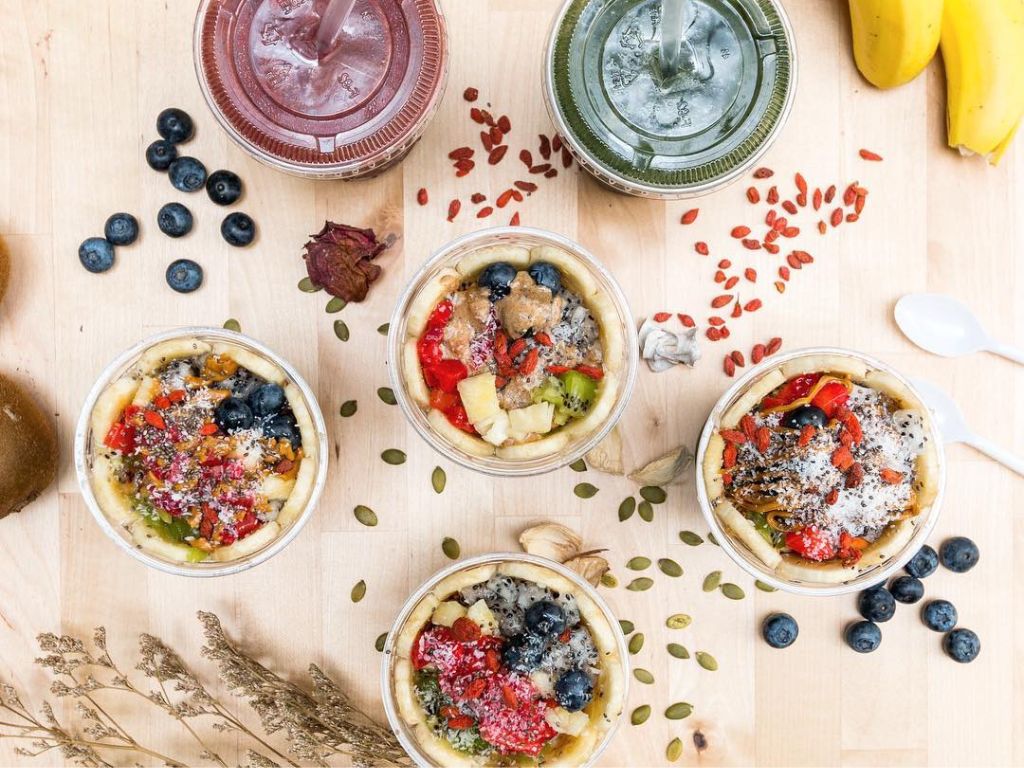 Why visit? There's not much that needs to be said about acai. Purportedly rich in antioxidants and vitamins, the trendy berry is a superfood and the go-to healthy food in Singapore for many discerning diners. 
You can't go wrong with An Acai Affair, one of the biggest brands in the local scene. With 15 outlets scattered throughout Singapore, it's a really accessible spot to get your healthy dessert fix. Best of all, according to its website, a small acai bowl contains as little as 100 calories!
Price range: $
Crowd favourites: Besides its healthy properties, one of the reasons behind the refreshing fruit's popularity is its customisability. So if you're not keen on signatures such as the Triple A (acai with fresh fruits, granola, nuts & superfoods, from S$6.70) and Nutty Party (acaí with banana, granola, nuts & cacao nibs, from S$6.70), you can opt to make your own bowl (from S$7.20) where you can pick your favourite fruits, superfood toppings and drizzle to finish.
4. Afterglow
24 Keong Saik Road
Open: Monday to Saturday (12pm to 10pm)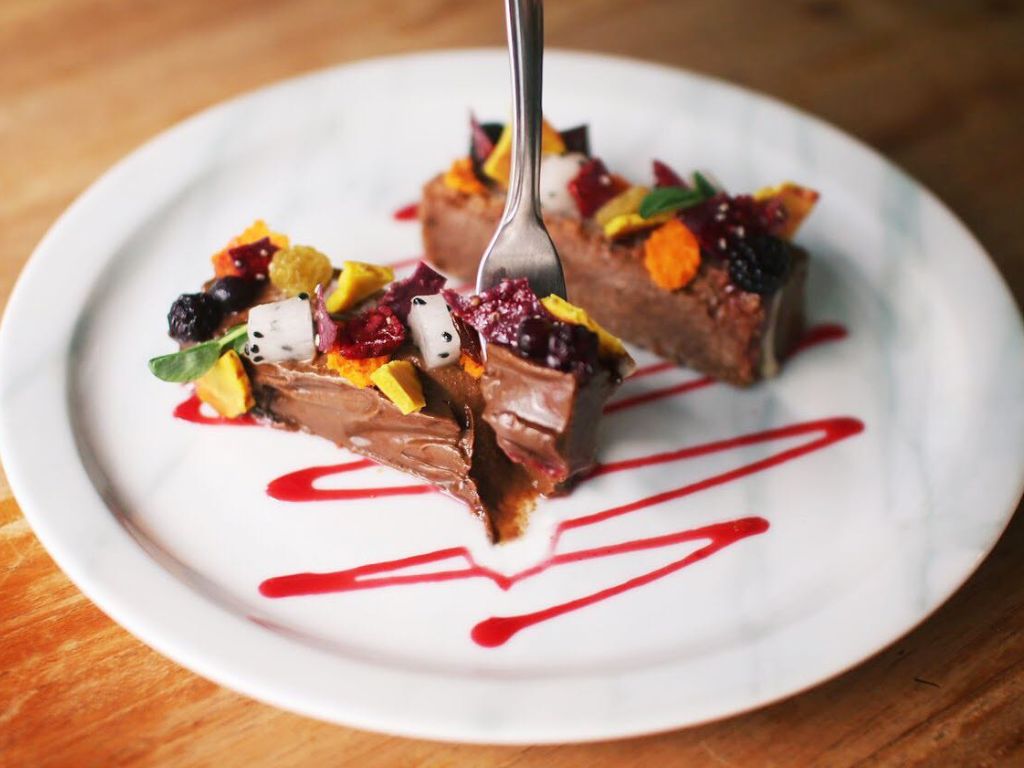 Why visit? Afterglow is a popular plant-based restaurant located along the bustling Keong Saik Road. It serves up scrumptious dishes made with ingredients that are completely plant-based and free from gluten, preservatives, refined sugar and artificial flavouring.
Besides its hearty plant-based mains and sharing plates, we say Afterglow is a great option to tuck into desserts if you're looking for healthier options devoid of any artificial sweeteners. 
Price range: $$
Crowd favourites: There are only three desserts here, but all of them deserve a thumbs up. Go for the chocolate salted "caramel" fudge (S$14), a decadent mouuse that swaps out caramel for salted tahini. Or try any of its raw "cheese"cake slices (S$15), which feature a creamy batter made from cashew nuts and a crust made out of mejdool date, coconut oil and walnuts. Flavours include pandan ondeh and pistachio cranberry.
5. All The Batter
Multiple stores islandwide 
Open: Operating hours vary across outlets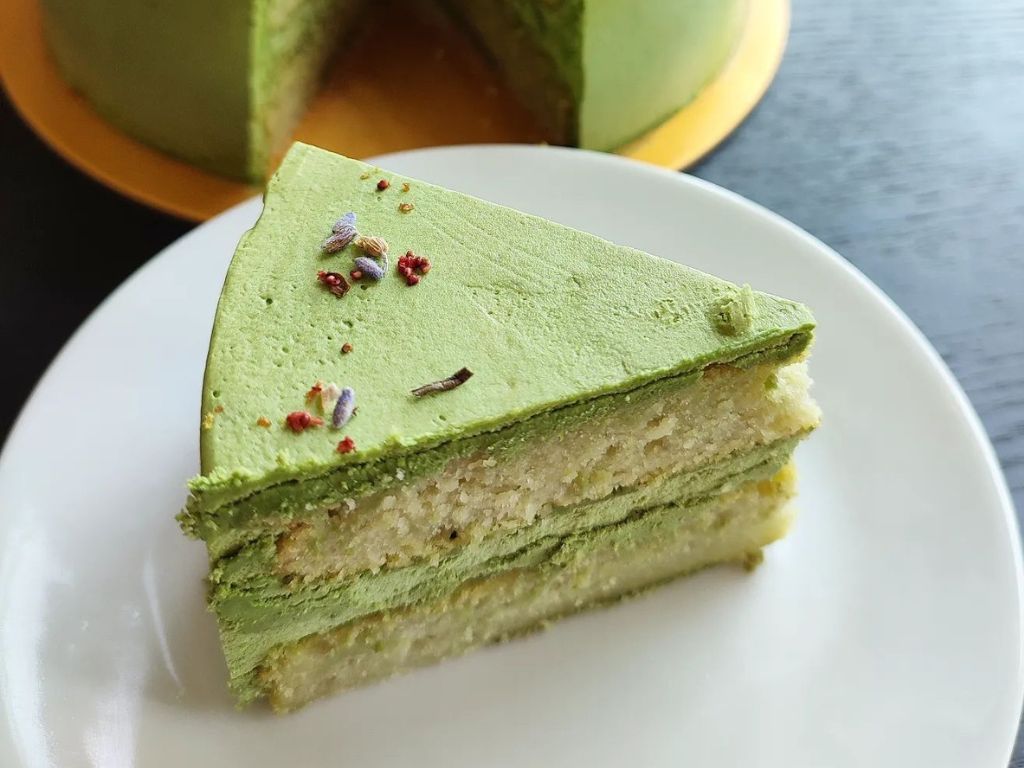 Why visit? Before acai took over the cafe scene as the superfood of choice, there was the avocado, a nutrient-rich fruit that's packed with all the desirable monounsaturated fats you need. Hence, it's little wonder that we have a cafe brand in Singapore that's dedicated to crafting healthy desserts out of its creamy goodness.
All The Batter focuses on making healthier avocado products, including vegan-friendly gelato, dairy-free avocado milk, and a signature line of cakes that replaces butter in the recipe with avocado.
Price range: $$
Crowd favourites: You can find plenty of classic pastries here, but reimagined with creamy avocado fillings. This includes the avocado citrus cheese tarts (S$18 for a box of six) and the choux-based avocado milk balls (S$18.80 for a box of six).
You might also want to grab the signature avocado gula melaka (from S$58) cake as a birthday cake for your avocado-loving friends, since it's one of the few places in Singapore that specialises in avocado-based whole cakes.
6. Mrs Plump's
20 Upper Pickering Street
Open: Thursday and Friday (1.30pm to 8pm)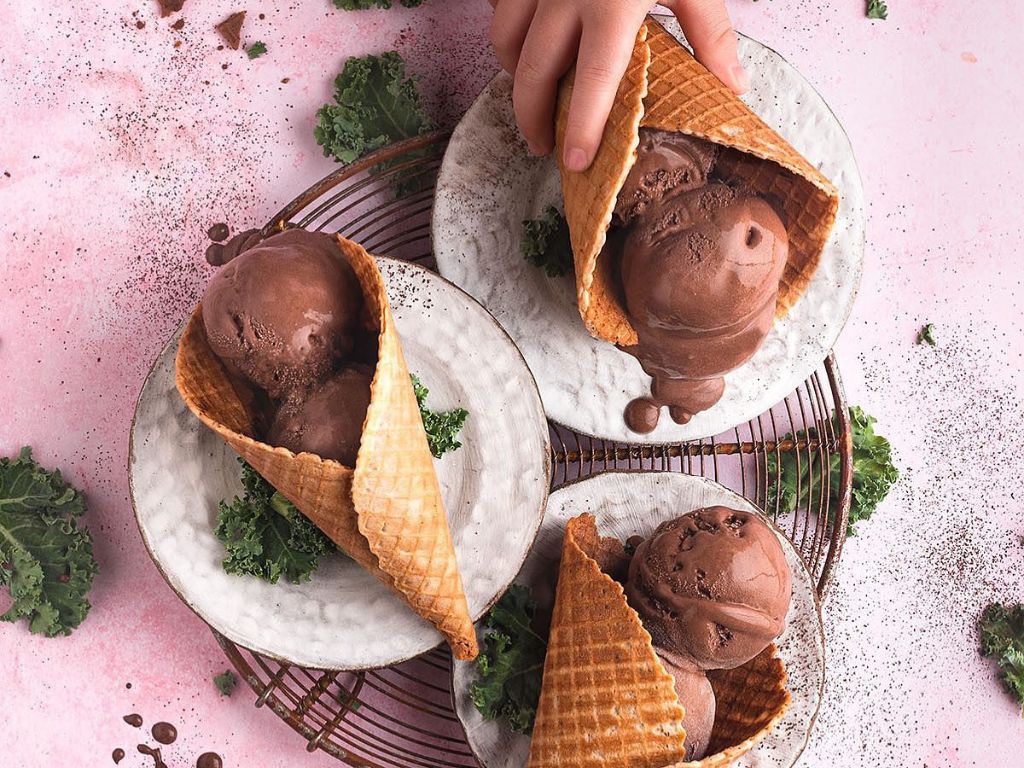 Why visit? Mrs Plump's is one of the more unique ice-cream brands in Singapore. Australian-born founder Mia Kusen first started out making nutritious ice cream to feed her boys when they were hit with Hand, Foot and Mouth disease and were unable to ingest anything else for a week, due to mouth ulcers.
As she could not find nutritious alternatives at the time, she decided to make her own by incorporating a variety of superfoods into her products. She also replaced sugar with dates. The result: Refreshing and healthy desserts that you won't find anywhere else in Singapore.
Price range: $$
Crowd favourites: Mrs Plump's has amassed a cult following in Singapore among those hunting healthy dessert choices, due to its one-of-a-kind ice cream flavours (from S$5 per scoop) including the keto black sesame and signature chocolate kale.
An online shop is available for convenience, which also carries a line of vegan popsicles (S$17.90 for boxes of six) on its online shop with no added sugar, available in flavours such as strawberry and raspberry.
7. The Clean Addicts
The Promenade @ Pelikat, Lobby 3, B1-88, 183 Jalan Pelikat 
Open: Online delivery or scheduled collection only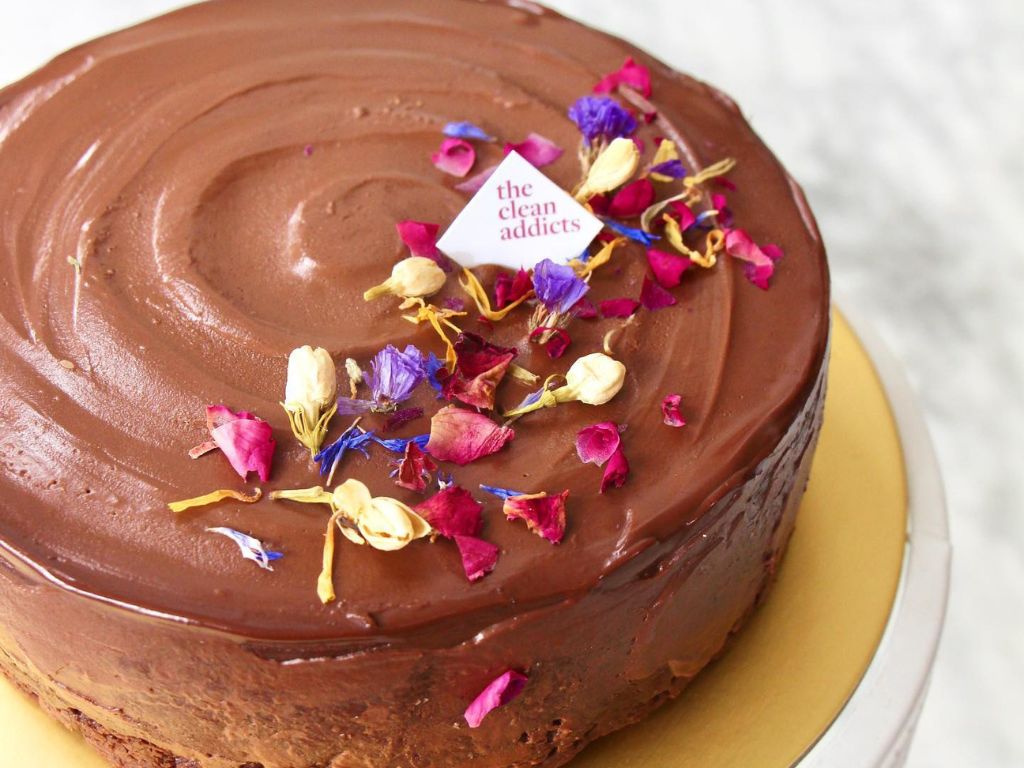 Why visit? The Clean Addicts is a brand that started due to very personal reasons. A health scare involving her mother led founder Andrea Lee to start eating clean, which left her struggling to find healthy dessert alternatives in Singapore.
This led to the certified nutrition coach and raw food chef to experiment with her own recipes that contained no preservatives and unrefined sugars, while incorporating whole foods such as nuts, beans and oats. Eventually, she launched The Clean Addicts in 2017 to share her creations with the like-minded.
Price range: $$$$
Crowd favourites: The Clean Addicts takes a lot of pride in its signature whole vegan fudge cakes, many of which are dairy-free. Its vegan cakes include the flourless cocoa vegan fudge cake (from S$59.80) or diabetic-friendly creations such as the vegan double matcha flourless vegan fudge cake (from S$76).
For those with specific health concerns, The Clean Addicts also gives you the ability to filter by allergies and concerns. If you love to snack, try its naturally sweetened vegan dark cacao clean protein balls that's handmade and packed with wholefood ingredients (S$44.80 for a box of 10).
8. Kekito
3 Everton Park, 01-73
Open: Monday to Sunday (10am to 10pm)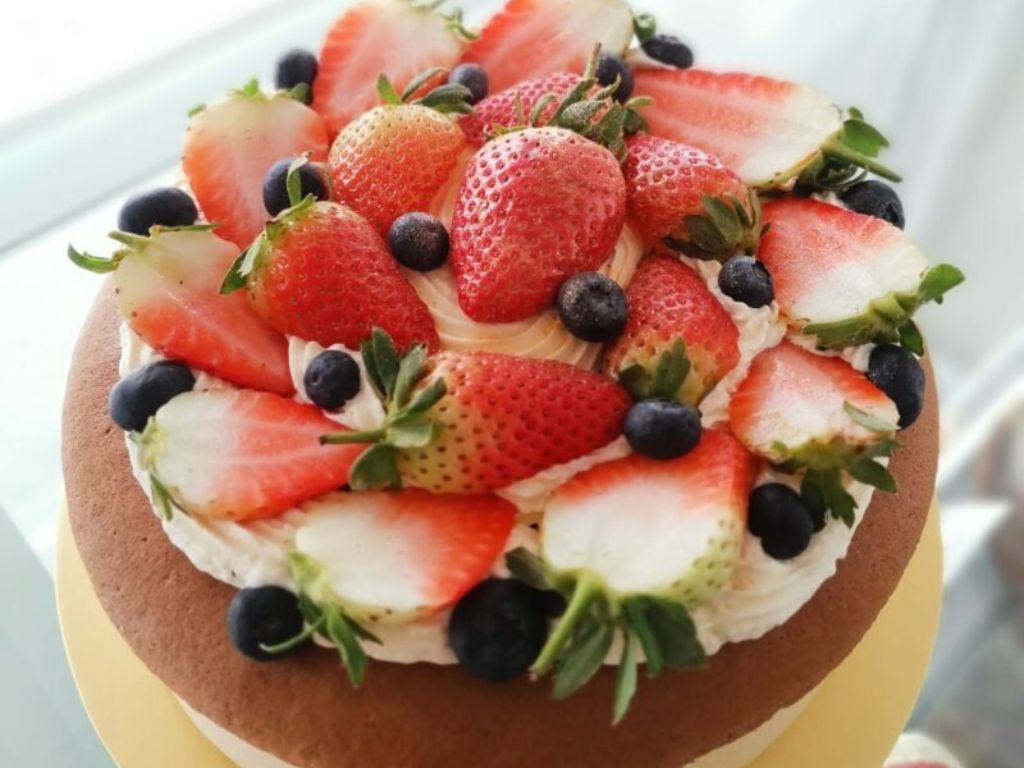 Why visit? Kekito Bakery is a diabetic-friendly bakery that removes all flour and sugar from its bakes, ensuring minimal or almost no spike in blood sugar levels.
Besides being one of Singapore's healthy dessert specialists, the bakery is also known for its bakes that feature Japanese elements such as yuzu and Ichigo strawberries.
Price range: $$$
Crowd favourites: The signature here is the light and fluffy signature yuzu Japanese cheesecake (from S$32) that's made from 100% yuzu juice. You should also try the light bites,  such as its keto almond butter cookie (S$22) and keto hazelnut rocher pod (S$28) for guilt-free snacking!
---