5 places in Singapore to get your Chinese New Year reunion dinner sorted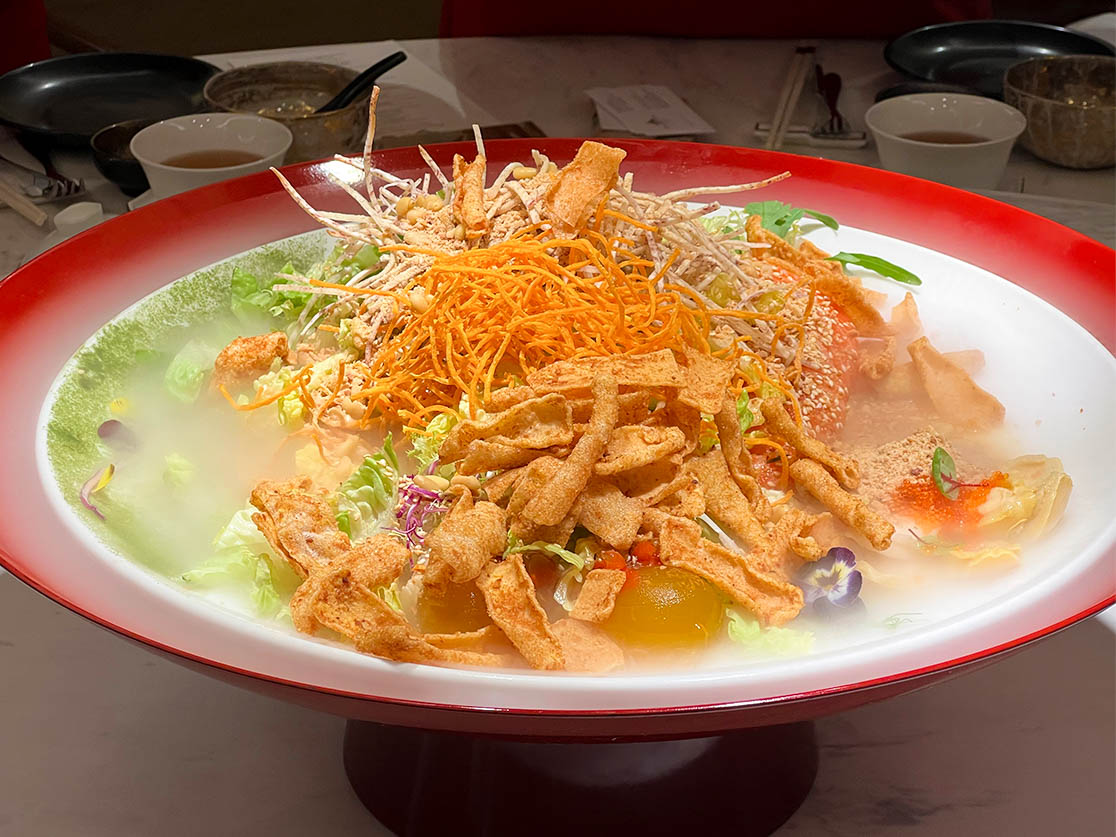 There's no end to the festivities. It seems like it was only yesterday that we were feasting and partying for Christmas celebrations, and just as we are about to take a breather, Chinese New Year (CNY) is upon us (the malls were certainly unabashed in announcing this). 
With less than three weeks to go, the time is now to kick CNY preparations in full swing. 
It's the first year of celebrations without any Covid-19 restrictions, so we're expecting huge reunion dinners and family gatherings. To make planning for your reunion dinner a little easier and stress-free, here are five places you can dine out or get takeaway sets from. 
1. Min Jiang 
Goodwood Park Hotel, 22 Scotts Road and 7A & 7B Dempsey Road
Open: Monday to Friday (11.30am to 2.30pm, 6.30pm to 10.30pm), Saturday and Sunday (11am to 2.30pm, 6.30pm to 10.30pm)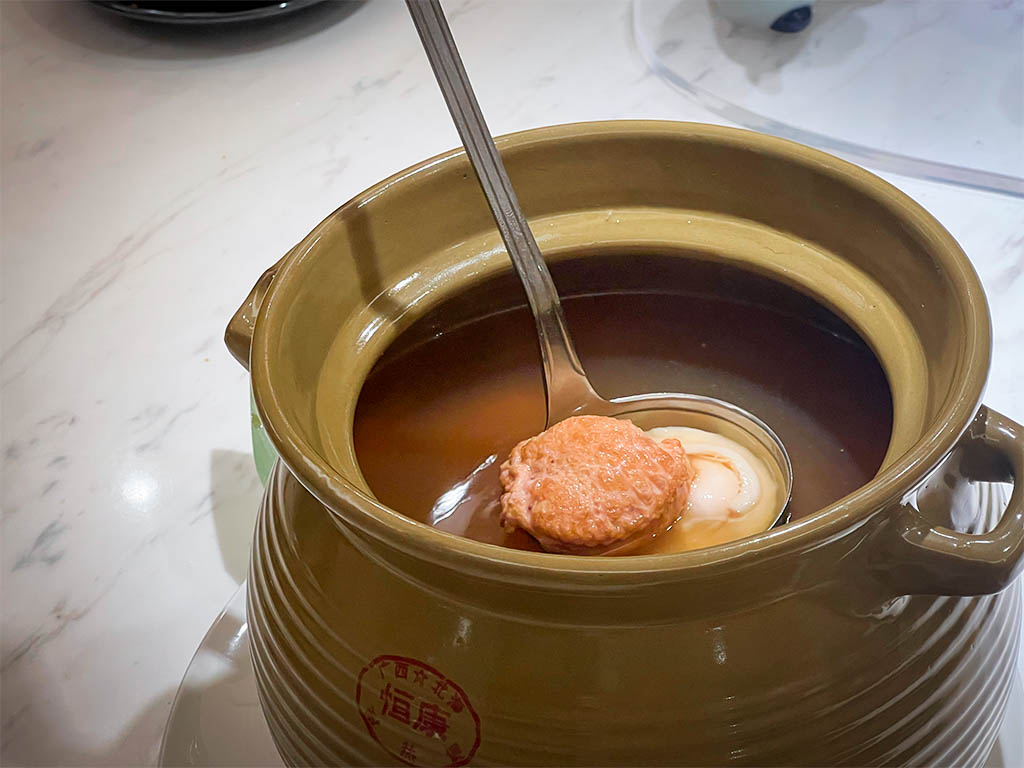 Min Jiang is a brand that needs little introduction. The award-winning restaurant, which serves contemporary Cantonese and Sichuan cuisine, has been a popular choice since the 1980s.
Aside from some unique takeaway goodies such as its bountiful bunnies 'nian gao' with black sesame paste (S$18 for two pieces), Min Jiang has also prepared a series of festive dishes. 
The auspicious abundance 'lo hei' (S$238 per large portion) features bunnies made of osmanthus jelly and thick chunks of fresh sashimi assembled in the shape of carrots (only if you're dining in, though). The highlight of the dish is Min Jiang's addictive deep-fried crackers that were coated in salted egg and pork floss. 
If you're dining at Min Jiang at Dempsey, opt for its double-boiled soup with chicken mid-wings and abalones (S$48 per person for dine-in) that's presented in a claypot. The savoury soup dish may appear simple but it packs a depth of flavours. 
What to order: Bountiful bunnies 'nian gao with black sesame paste (S$18 for two pieces), auspicious abundance 'lo hei' (S$238), double-boiled soup with chicken mid-wings and abalones in claypot (S$48 per person).
2. Keng Eng Kee Seafood
124 Bukit Merah Lane 1, 01-136 and 1A Tampines Street 92
Open: Monday to Sunday (11am to 2pm, 5pm to 10pm)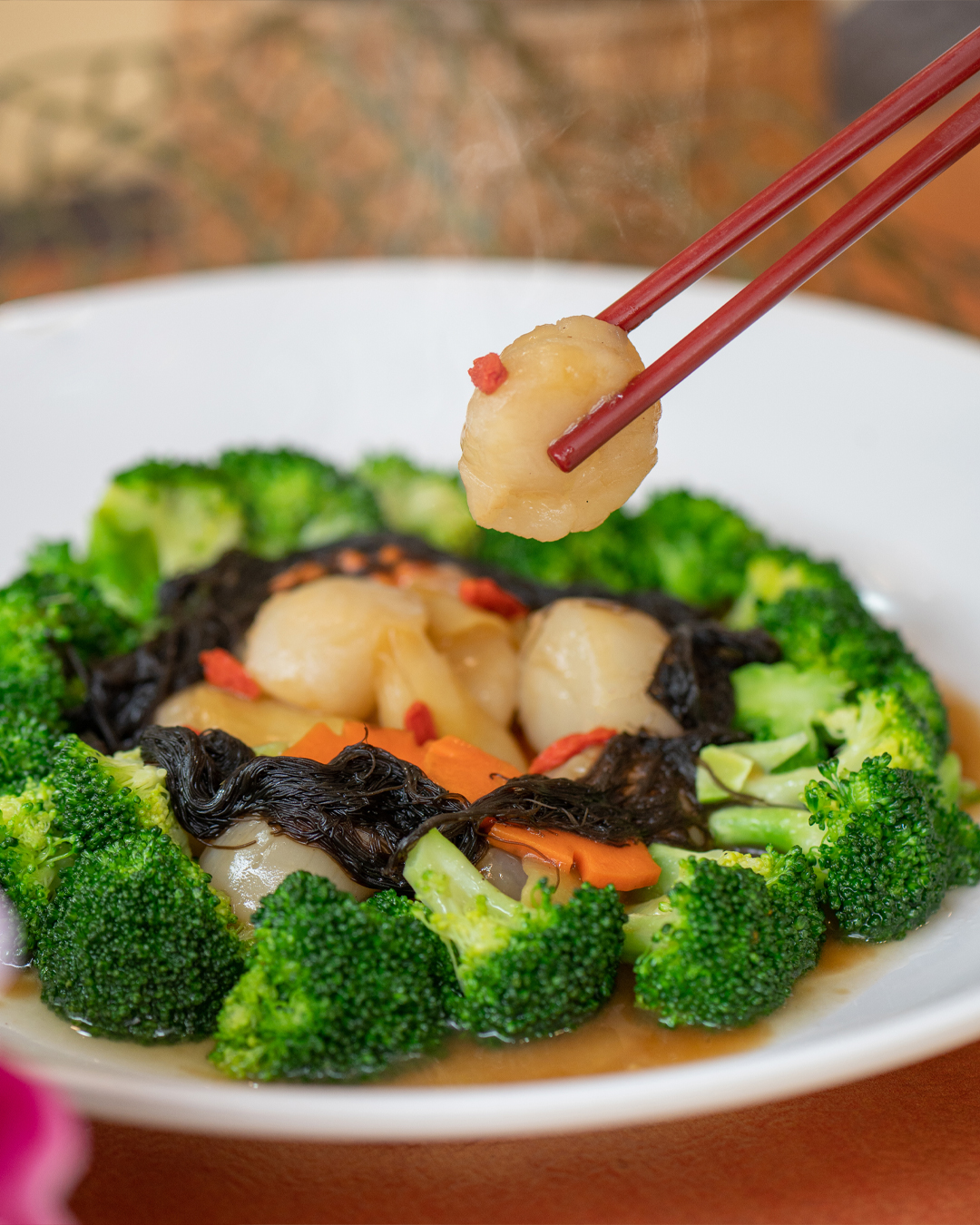 Keng Eng Kee Seafood, also known as KEK Seafood, is a family-run tze char (stir-fried dishes) restaurant that has been passed down three generations. For many, KEK Seafood is a reliable destination for family dinners. 
For the Lunar New Year, KEK Seafood has created special dine-in sets: The premium reunion set (S$488 for five people) and the huat reunion set (S$688 for 10 people). Both sets come with similar dishes, including its fortune yusheng, although the latter consists of an additional course of braised sea cucumber with roast pork. 
Sadly, its signature dishes such as its coffee pork ribs (S$38) and mingzhu rolls (beancurd pouch stuffed with salted egg yolk, prawn, ham and stewed mushroom, from S$30) aren't in the dine-in sets, and are only available for a la carte order if you opt for takeaway. 
What to order: Coffee pork ribs (S$38), mingzhu rolls (from S$30), prawn rolls (from S$25)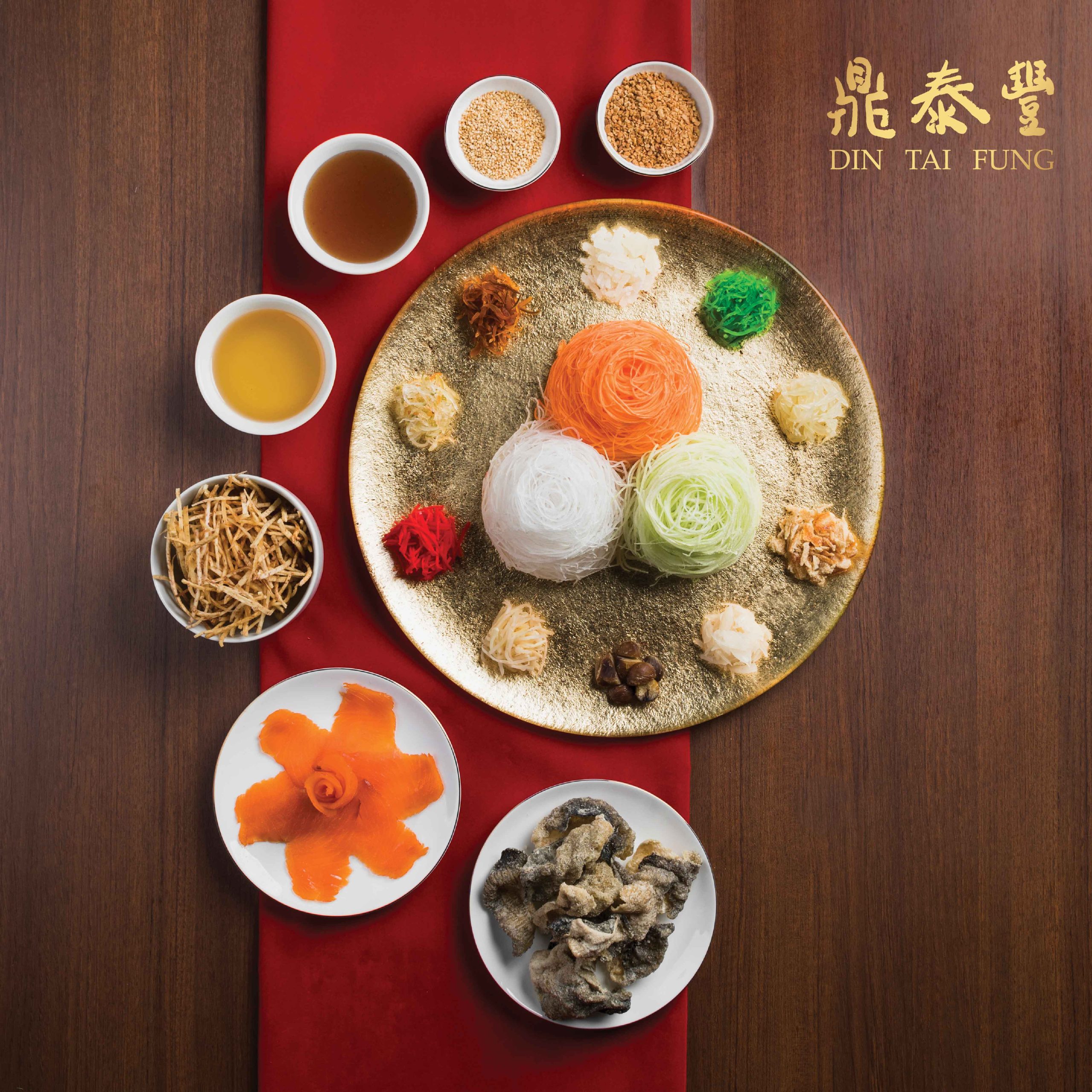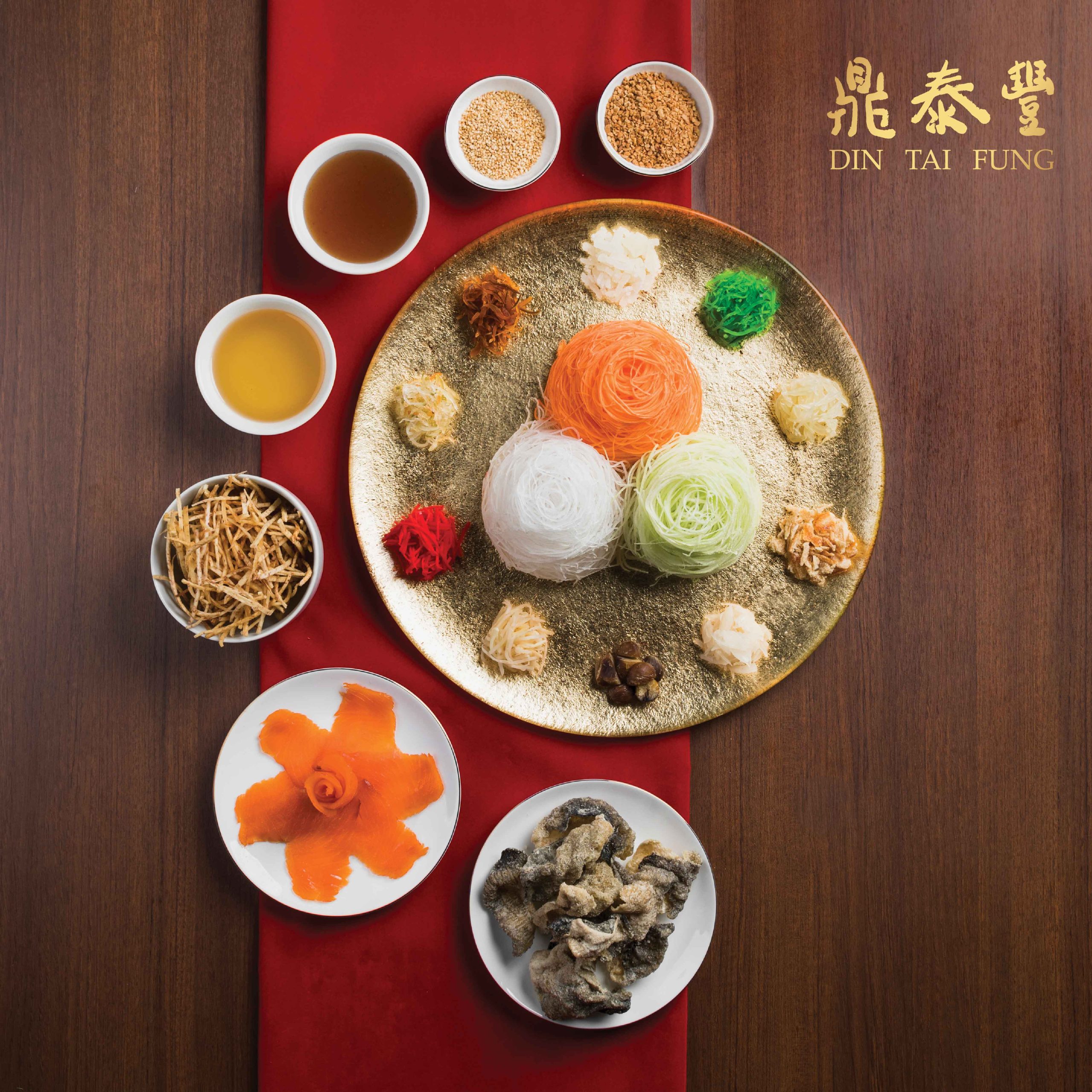 Taiwanese restaurant chain Din Tai Fung has been a go-to for many diners here, thanks to its quality and accessibility. Its prosperity smoked salmon yu sheng (S$53.80 per serving) returns this CNY. 
The dish includes julienned carrots, green and white radish, smoked salmon slices, toasted white sesame seeds, roasted peanuts and its signature crispy yam strips, which replace the traditional golden crackers. The ingredients are brought together by Din Tai Fung's housemade plum dressing. 
The restaurant recommends adding its fried salmon skin (S$5 per serving) for a contrasting crunch. 
Vegetarians can opt for its vegetarian prosperity yu sheng (S$45.80) instead. It includes all ingredients except the smoked salmon slices. 
What to order: Prosperity smoked salmon yu sheng (S$53.80 per serving)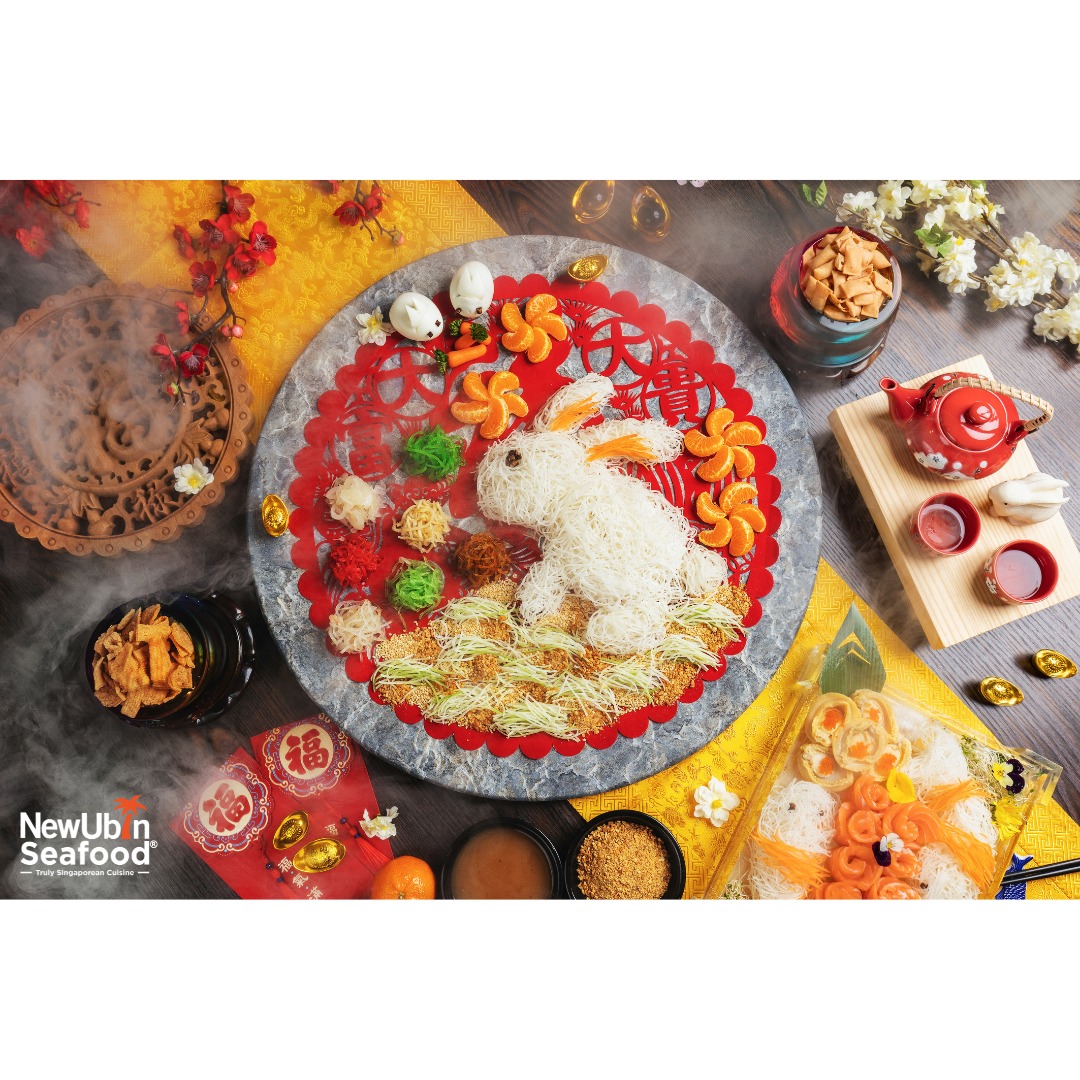 New Ubin Seafood is no ordinary seafood or tze char restaurant, considering it has black angus ribeye steak and foie gras on its menu.
However, the restaurant, which was awarded the Michelin Bib Gourmand from 2016 to 2018, prides itself as a place that serves authentic Singaporean cuisine— albeit with a touch of innovation.
The CNY set meals at Chijmes and Metropolitan YMCA Singapore start from S$388 for the Lucky Bunny menu. It serves five, amounting to about S$77.60 per person. A pretty decent price, given that the set has six courses.
The dishes served in the Lucky Bunny set are slightly more East-meets-West. It includes items such as its signature USDA Black Angus 'choice' ribeye, served with its heart attack fried rice. The halibut fillet will also be served with a truffle cream sauce. Other sets for larger groups are available as well, with different dishes.
At its Zhongshan park outlet, the eight-course prosperity menu is S$288 for four people. The dishes appear to be more traditional, with items such as braised crab meat with fish roe and fried fish maw soup, and steamed marble goby with red dates and black fungus in soya sauce. 
A six-course vegetarian menu (S$48) is also available at this outlet. It includes vegetarian yu sheng, stewed ee-fu noodle with enoki mushrooms, among others. 
What to order: Prosperity menu (S$288 for four people)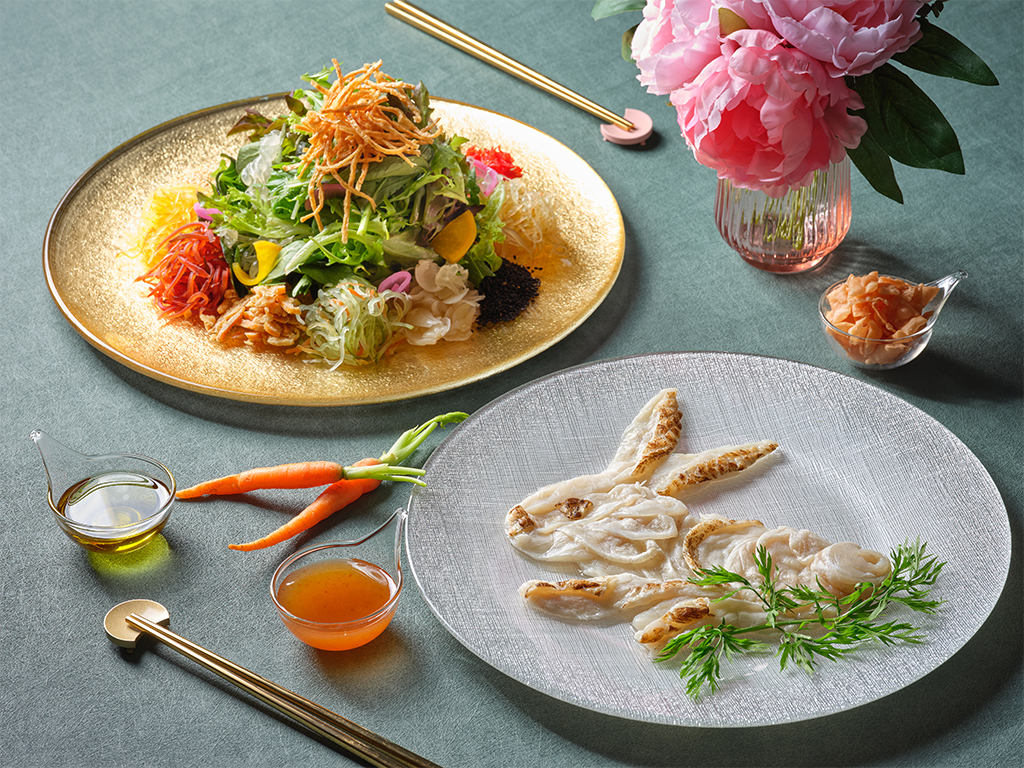 If you're looking for a fine-dining experience with authentic Sichuan cuisine, Si Chuan Dou Hua is the place for you. 
It is offering dine-in CNY set meals with different price points, depending on what dishes you're looking for. For instance, its Auspicious Blessings menu available at its Parkroyal on Kitchener Road outlet is S$108 per person for a minimum of four. Festive items can also be ordered a la carte for self-pick up and takeaways, which entitles customers to a 20 per cent discount. 
Included in the higher end sets is its Fugu Yusheng (S$198 if ordered a la carte). It's like a typical yusheng, but Si Chuan Dou Hua's rendition uses puffer fish sashimi instead. 
Many of its dishes are exclusive to certain outlets, so be sure to check the set menus before you make a reservation. 
If you've booked a place at its Parkroyal on Beach Road outlet, try its spicy sichuan-style lobster (S$20 per 100g) for a fiery inclusion to your meal.
Those at the Kitchener Road outlet could opt for the double-boiled chicken broth (S$22 per person) for something comforting and nourishing. 
What to order: Fugu yusheng (S$198), fresh pistachio cream with mini glutinous rice dumplings (S$12.80), spicy sichuan-style lobster (S$20 per 100g) 
All places mentioned are on the GrabFood delivery service. You can also book a ride to their stores.