Where to eat Chilli Crab in Singapore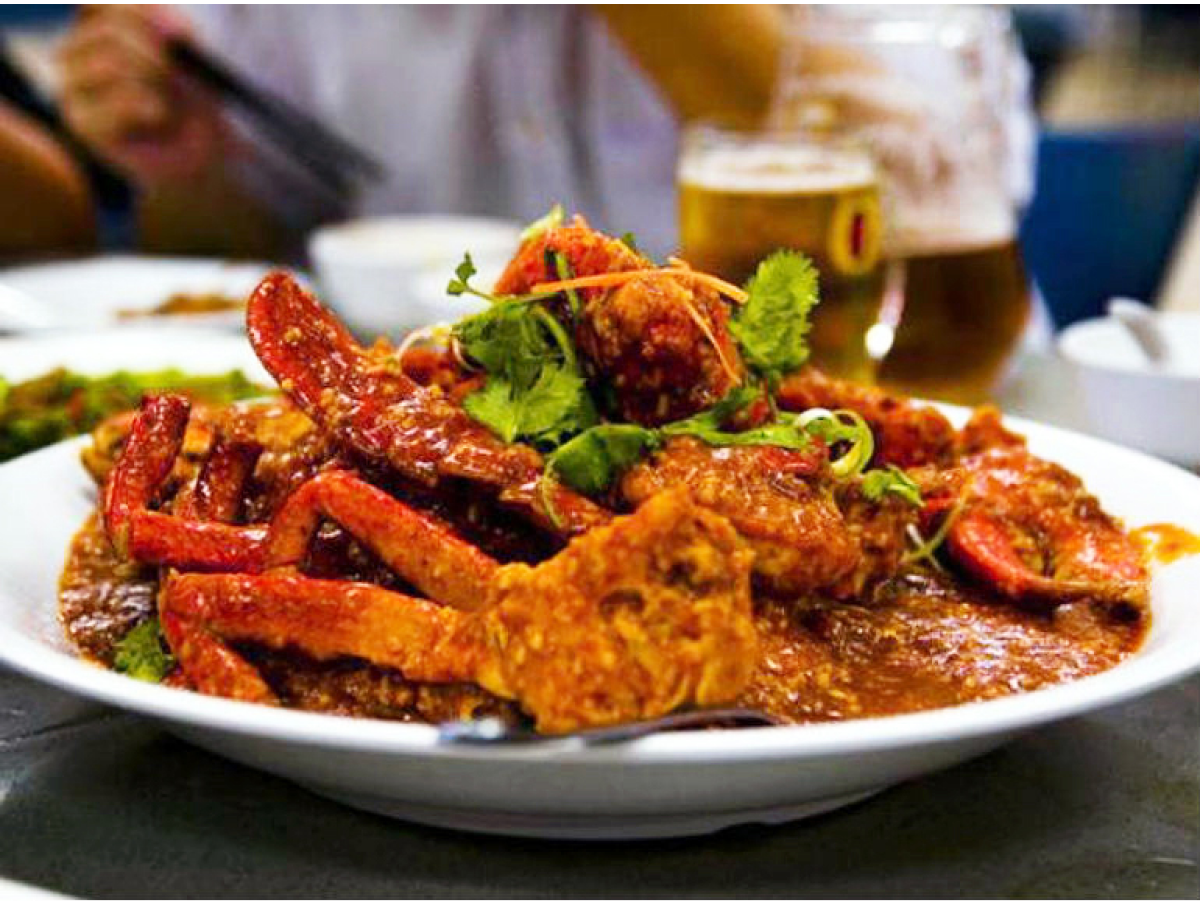 Chilli crab – Singapore's unofficial "national dish", comes in different versions. Most would agree that the main factor that distinguishes the dish is its gravy. Some are brimming with spices such as ginger, galangal (blue ginger) and turmeric, while others have a sweet and sour taste, and spiked with chilli oil. The dish was reportedlt created in 1956 by Lim Choon Ngee and his wife Cher Yam Tian at a humble seafood eatery at Kallang River. When business grew, they moved to Upper East Coast Road and set up Palm Beach Seafood. Their original version was fresh crab cooked with chilli and tomato sauce, and served with crusty French bread. To this day, this recipe can still be sampled at Roland Restaurant in Marine Parade Central. Today, the restaurant is managed by the couple's son Roland. In the 1960s, the founder of Dragon Phoenix Restaurant, master chef Hooi Kok Wai and his team re-invented the chilli crab dish. To create the luscious spicy-sweet gravy, the chef melded chilli and ginger sauce with lemon juice, sambal, ketchup and egg white. This was then tossed together with fresh crab.
We sampled the chilli crab at five famous seafood joints in Singapore to review the freshness and meatiness of the crabs, as well as the taste and spiciness of the gravy.
No Signboard Seafood
This wildly popular eatery is often packed with groups of families and office workers, even during late hours. The huge outdoor setting is warm and doesn't hold much ambience, which doesn't make it the most comfortable place to dine in. That doesn't seem to faze the diners though, and this could be partly due to the service at the restaurant, which is brisk and efficient despite crowds. The chilli crab here didn't disappoint. The eatery whipped up the most fiery sauce. It was made with a nice blend of prawn paste, garlic and a medley of spices, which added to the complexity of the taste. We could taste the flavourful seafood stock in the gravy which was brimming with beaten eggs and orange roe. Priced at $40/ kg, the Sri Lankan crabs were succulent and juicy. The restaurant also serves other seasonal crab such as Australian and Alaskan crabs.
No Signboard Seafood | Address: 414 Geylang Road, next to Lorong 24 and other locations| Tel: 68423415 | Operating hours: Daily: 12pm-1am
Red House
Red House was the first restaurant in Singapore to introduce mantou buns with chilli crab in 1988. At that time, everyone else was serving plain bread. This accidental success came about because the restaurant's regular bakery was closed during Chinese New Year that year. So as not to disappoint customers, Red House replaced the bread with custom-made mantou (plain buns) from another supplier. This August is a good month to have chilli crabs at The Red House, as the place is offering the dish at $33/kg (usual price is $40/kg). For us, we ordered the "small" portion of Sri Lankan crabs. But when the dish arrived, it actually looked rather huge. The meat was sweet and succulent, and the sauce was robust with a tinge of spiciness and sweetness, with the spiciness kicking in towards the end. The sauce had ingredients such as red chillies, chilli padi and fresh tomatoes. We were told that Red House's version was always sweet and spicy (inspired by Peranakan flavours). This was different from the other restaurants we sampled, they had a more distinct flavour of spices and peanuts.
Red House | Address: East Coast Seafood Centre, East Coast Parkway | Tel: 64423112 | Operating hours: Mon-Fri: 5pm-11.30pm, Sat-Sun:11.30am -11.30pm
Seafood Paradise
Although the restaurant's location was out of the way, it didn't stopped regulars from making their way there. The service staff were friendly and thoughtful, making our dining experience a memorable one. When we ordered our chilli crab dish, the waitress kindly informed us that, as crabs were not in season, the crabs would not be as meaty. This was indeed the case. To make up for it, the chef gave us some complimentary pieces of crabs so that our dish was value-for-money (impressive service!). Taste wise, the crabs were very fresh and the gravy had hints of spices, ginger, lemongrass, shallots and dried shrimps in it. The spiciness was also well balanced. The crabs were mostly from Sri Lanka and were priced at $38/ kg. The restaurant also offered crabs from India.
Seafood Paradise | Address: No. 91 Defu Lane 10, #01-01 Swee Hin Building | Tel: 64872429 | Operating hours: Daily: 12pm-2pm, 5pm-10.30pm
Jumbo Seafood
Thanks to the sea breeze and balmy setting, this outlet is always crowded on weekends, even during late hours. Fortunately, the service staff are efficient despite the crowd. The Sri Lankan crabs here ($40/ kg) were commendable – they were firm, fresh and juicy. However, the same could not be said about the sauce; it was slightly bland and flat. It could have been better if it was spicier. In fact, of all the restaurants we reviewed, the gravy here was the least spicy. The only saving grace of the reddish gravy was the delicious roe in it – which we couldn't help but polished off with the golden brown mantou.
Jumbo Seafood Restaurant | Address: 1206 East Coast Parkway #01-07/08, East Coast Seafood Centre | Tel: 64423435 | Opening hours: Mon-Sat 5-11.45pm, Sun and public holidays noon-midnight
Mattar Road Seafood Barbeque
Ng Hung Leng and his wife run this small seafood stall, and have been preparing crabs for almost two decades. The couple apparently takes two days off just to prepare their own chilli paste. At first look, the reddish brown gravy was starchy and unappetising. Indeed, the consistency of the gravy was too thick and gooey. However, this dish might appeal to diners who like their chilli crab served with a thick and spicy sauce. The gravy is best described as being quite similar to a peanut satay sauce. Like most of the other places reviewed, the crabs here were very meaty and fresh. The live Sri Lankan crabs, which could be seen in front of the stall, were priced at $33/ kg.
Mattar Road Seafood Barbecue | Address: Block 51 Old Airport Road Food Centre, #01-63 | Tel: 64472798 | Operating hours: Daily: 4pm to 11pm. Closed on Tues and Wed
---
This archived article appeared in an earlier version of HungryGoWhere and may not be up-to-date. To alert us to outdated information, please contact us here.