This man serves Lao Gan Ma ice cream along Orchard Road, built tech from scratch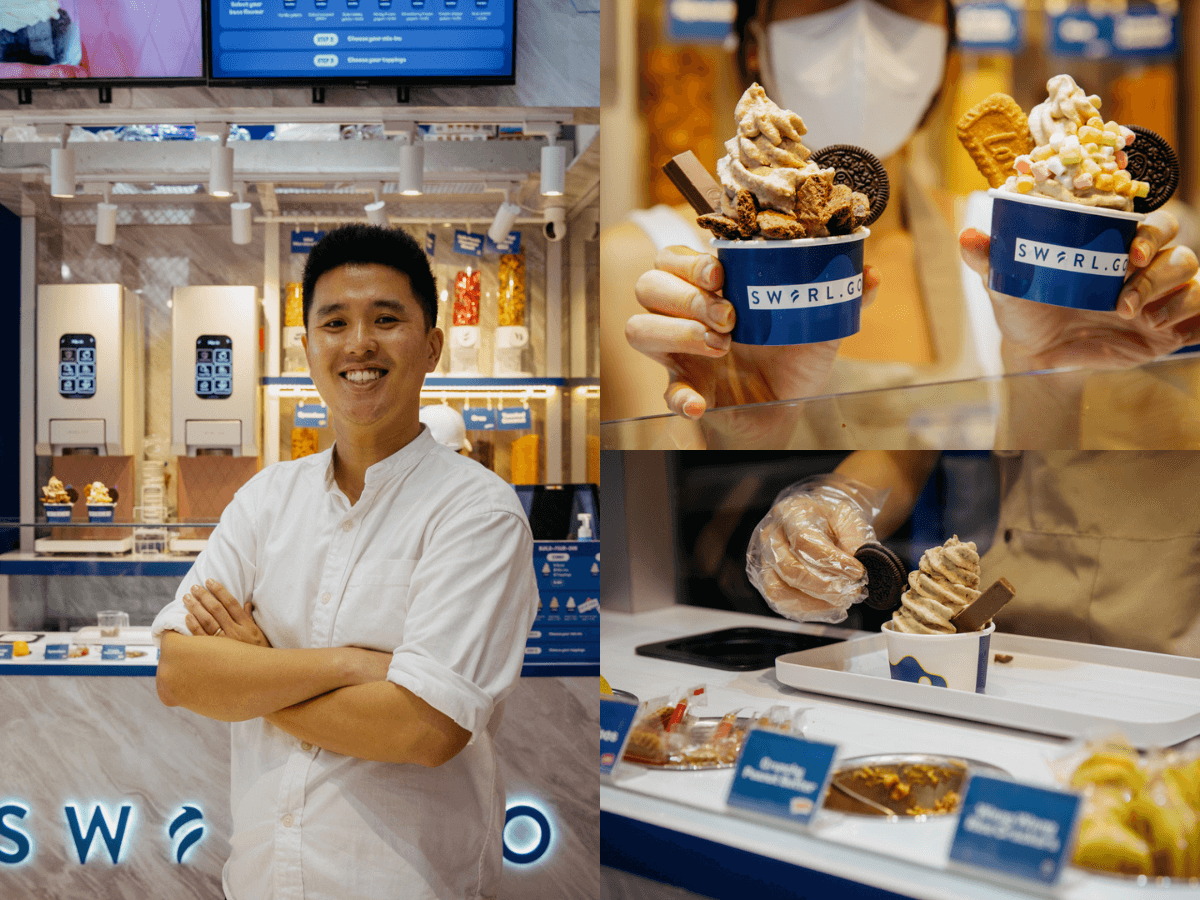 Swirl.Go, a new mix-in ice-cream concept, is the brainchild of Jeremy Tan, 33
He has invented a fuss-free, mess-free proprietary tech that makes customising your ice cream a cinch
There are hundreds of possible combinations, including a Lao Gan Ma chilli ice cream
As the unusual bout of sweater weather we've been enjoying dries up, it's time to turn back to a perennial favourite to beat the Singapore heat — ice cream.
There are plenty of different ways to get your fix, too. Pretty dessert cafes with unique, artisanal flavours, swirls of fuss-free soft-serve from quick-service eateries, and of course, the good ol' ice-cream uncle with icy blocks sandwiched between slices of rainbow bread.
Spurred by (his wife's) love of ice cream, Jeremy Tan, 33, came up with something a little different. 
Inspired by Nespresso- or Keurig-style coffee machines that operate using coffee pods, his startup Swirl.Go has invented one for ice cream.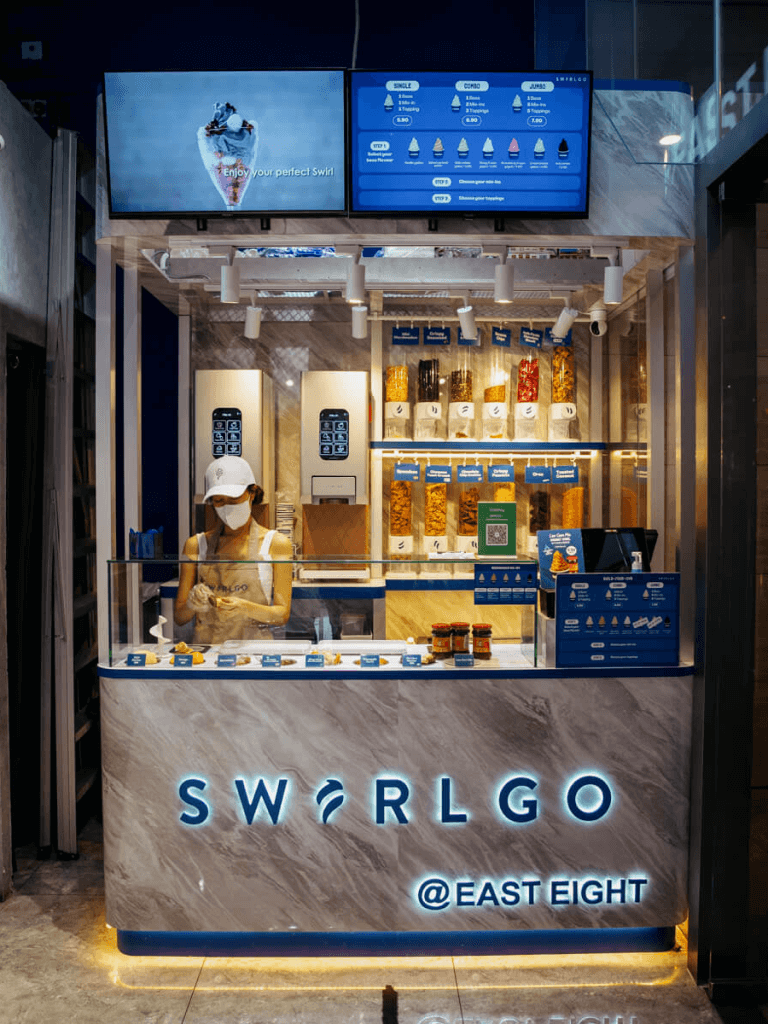 If you've been to Orchard Road lately, you may have caught a glimpse of Swirl.Go's new ice-cream kiosk tucked away in Orchard Gateway's East Eight — a ground-floor sneaker and bubble tea concept store.
At first glance, it may look like any other dessert kiosk, but Swirl.Go prides itself on being the only one with the tech to serve up different textures and flavours — be it chunky ice cream, silky-smooth soft-serve, and even frozen yoghurt — with all your favourite ingredients within.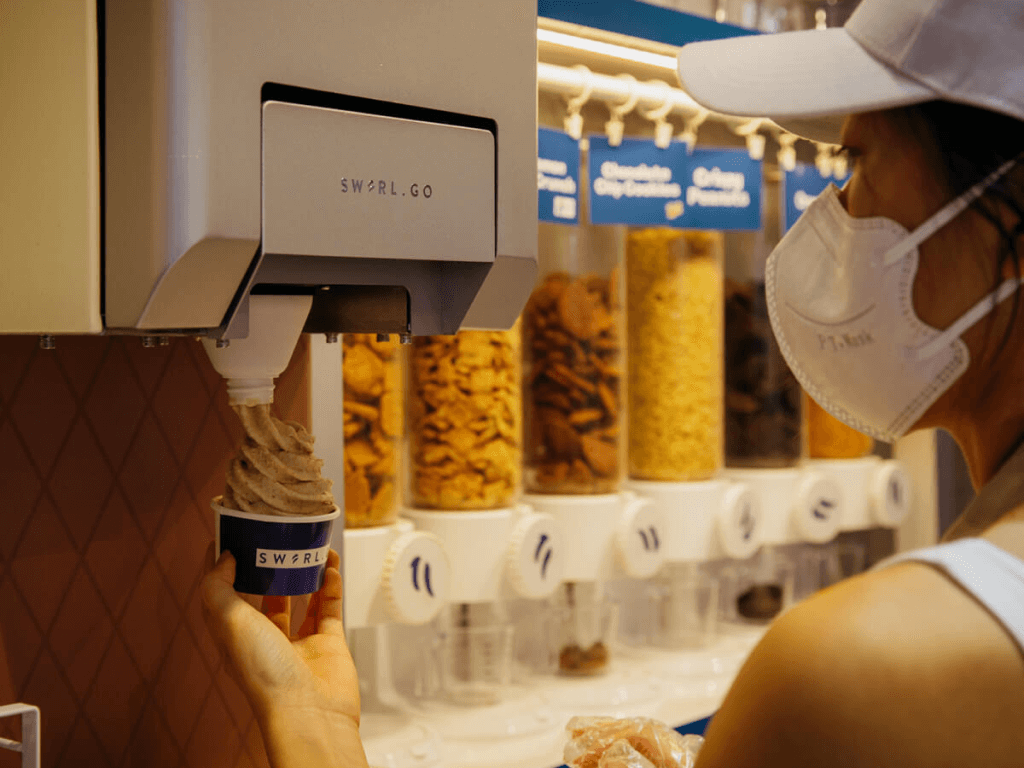 The concept is simple: Your chosen base flavour and mix-in ingredients are scooped into a special capsule and slotted into the machine, before being blended, aerated and incorporated. 
Once ready, the ice cream is piped out of the machine into a cone or cup, where it is then garnished with toppings of your choice.
And it's relatively fast, too — a three- to four-minute process — compared with traditional ice-cream parlours serving mix-in ice cream, where the ingredients are cut up and folded in by hand.
Another big plus? There's no cross-contamination of ingredients within the capsules, so you won't get funky flavours from someone else's order mixed into your own.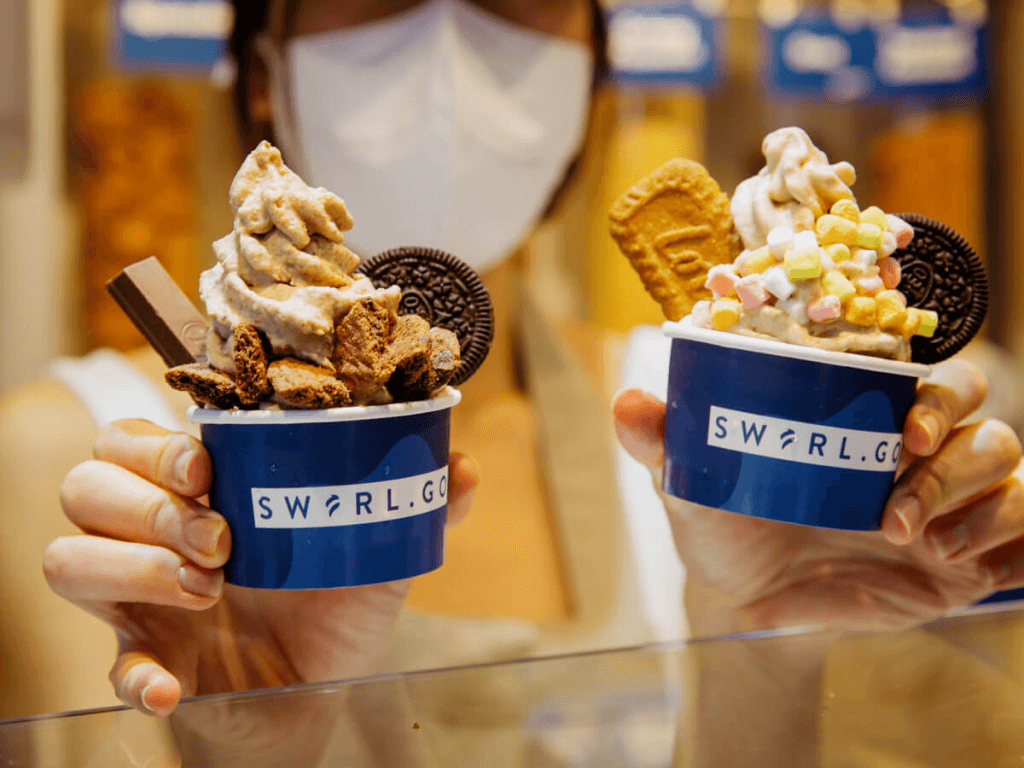 It merges the best of soft-serve — usually easy to serve once made — and mix-in ice cream, which allows for a bevy of ingredient combinations and flavours.
The technology is proprietary as well, so it's not something you'd find elsewhere.
How it began
As for how this all started, Tan, who worked at ExxonMobil and Singtel, attributes it to his wife and then-girlfriend's penchant for ice cream of all kinds.
"She really loves ice cream, and she's always going around and trying different soft-serve ice cream. And then I realised sometimes it's not good enough for her — (the ice cream served) is probably too sweet or not healthy enough, or not in enough flavours."
Tan says that while it's convenient, most soft-serve ice cream sold in restaurants usually comes in limited flavours, largely because each machine can churn out just one flavour at a time. 
Changing out the flavours means having to clean the entire machine — the insides, tubes and all.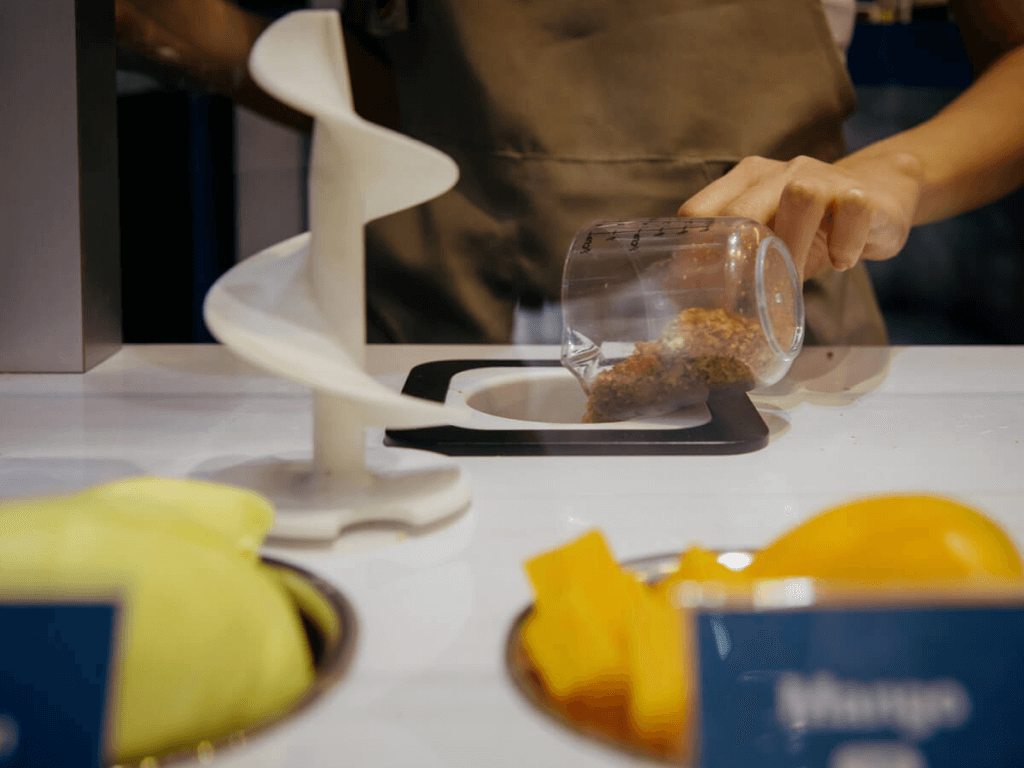 "I realised this is an industry-wide problem that persists across all restaurants that serve soft-serve. They try it (for a while) and then they stop, for several reasons: Washing, manpower, and you can basically have only one flavour per machine."
It got him thinking: Why not create a Nespresso-type concept with ice cream?
But it was one thing to have the idea, and another to put it together.
Tan, who didn't have a tech or engineering background, had to pick up 3D modelling and printing to create the prototype in 2017.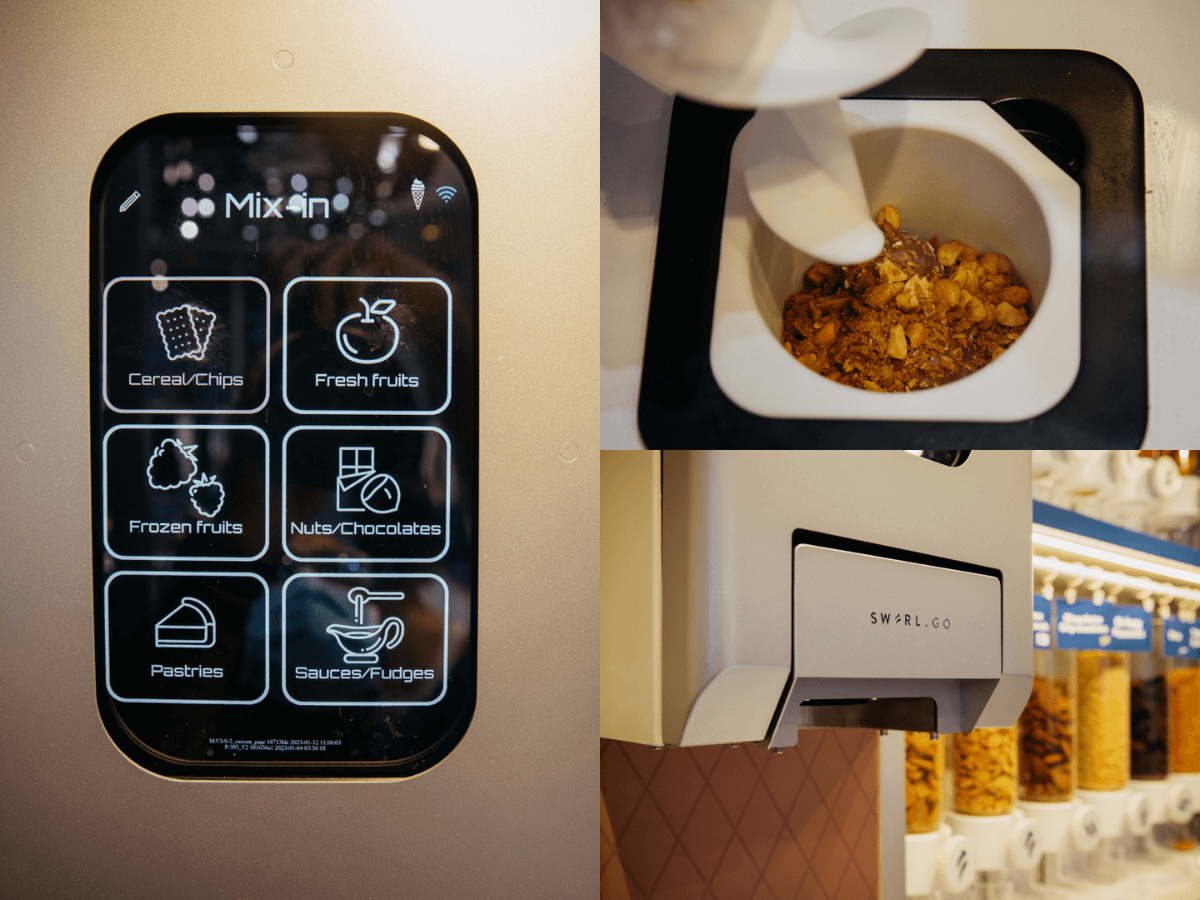 "I didn't have any money to spend on it, and I found that the National Library Board had a programme that offered free 3D printing to the public at Jurong Regional Library. 
"So I went there every weekend and started printing my own capsules, and tested the first ones to see if they would work."
He also built the first blending machine from scratch, using sawed wood and old motors. "It looked really shabby at first," he recalls, laughing.
He assures me that the product has since been refined by his team of engineers.
What's on offer 
With seven base flavours and about 20 mix-in ingredients, there are hundreds of possible combinations.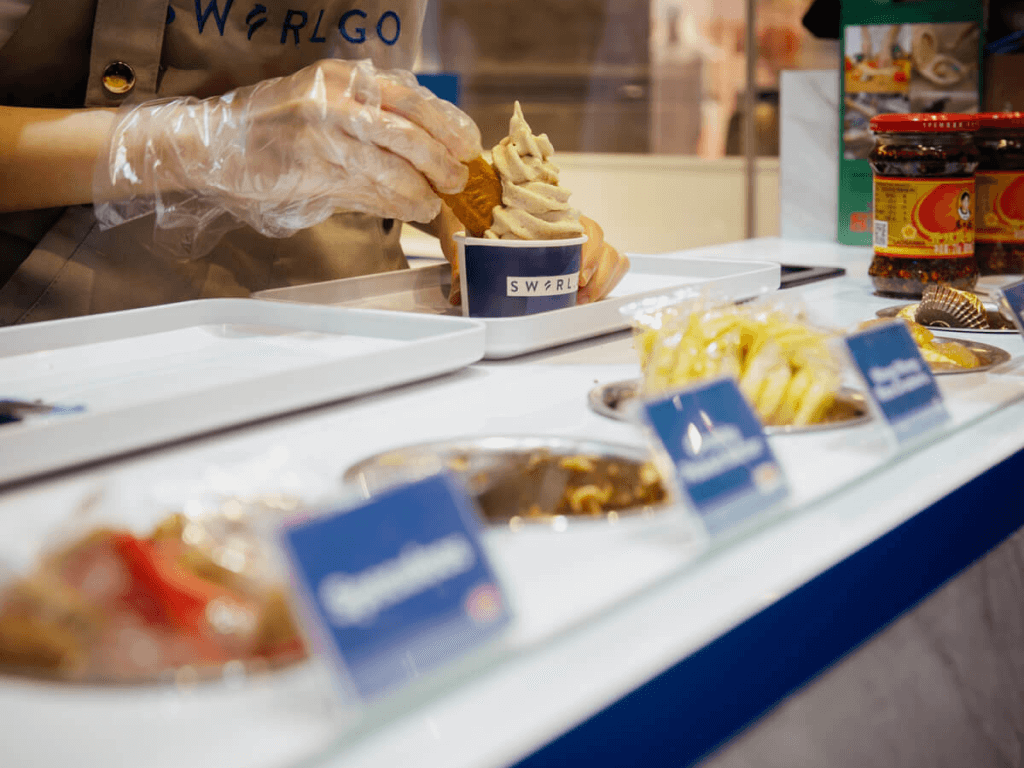 These include Swirl.Go's signatures: A durian chendol-esque ice cream — comprising gula melaka, D24 durian puree and toasted coconut — as well as a strawberry frozen yoghurt with soursop bits that'll be available sometime in February.
If you're feeling adventurous, there's an eye-catching Lao Gan Ma chilli-oil combination (yes, with real chilli oil).
"It's not for the faint of heart," Tan warns. "Some people like it, some don't. Some people feel it's weird, but some people really love it. So it's quite polarising."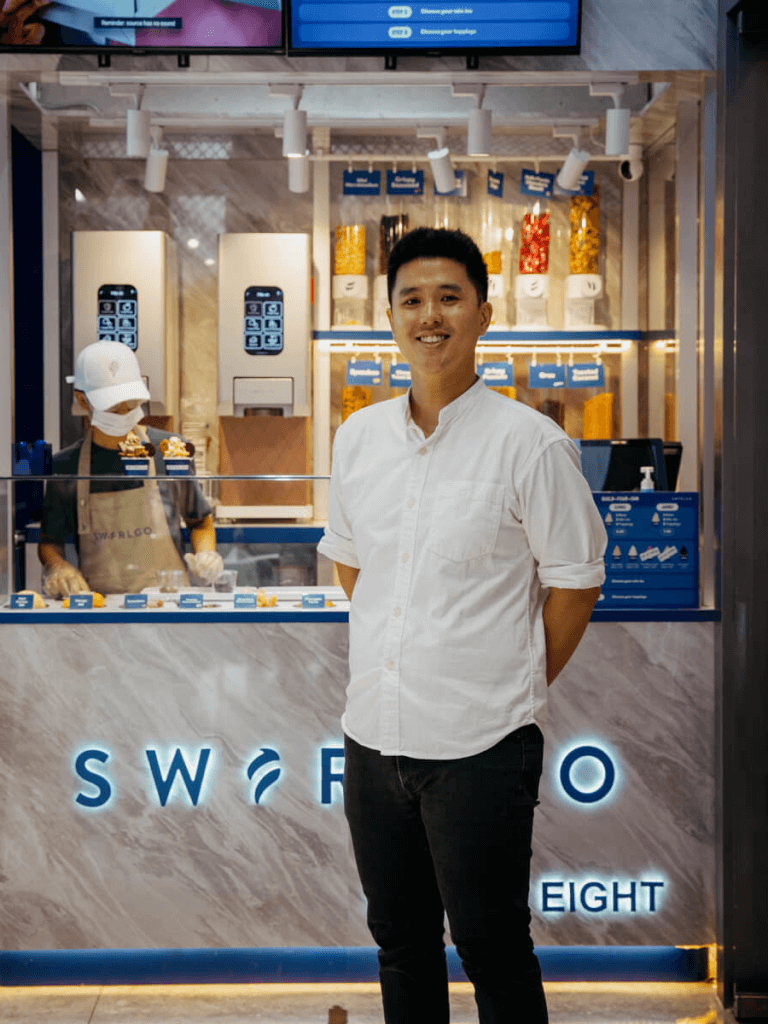 Desserts start from a reasonable S$5.90. A Single includes a base flavour, a mix-in ingredient and a topping, while a Jumbo (from S$7.90) is Swirl.Go's largest size, comprising a base, five mix-ins and five toppings.
Swirl.Go today
Besides the concept store at East Eight, Swirl.Go machines are available at fintech giant PayPal's Singapore headquarters for staff use, as well as the Chinese Swimming Club. Tan's also working with partners in Australia, Thailand and Israel, with an eye on expanding farther afield.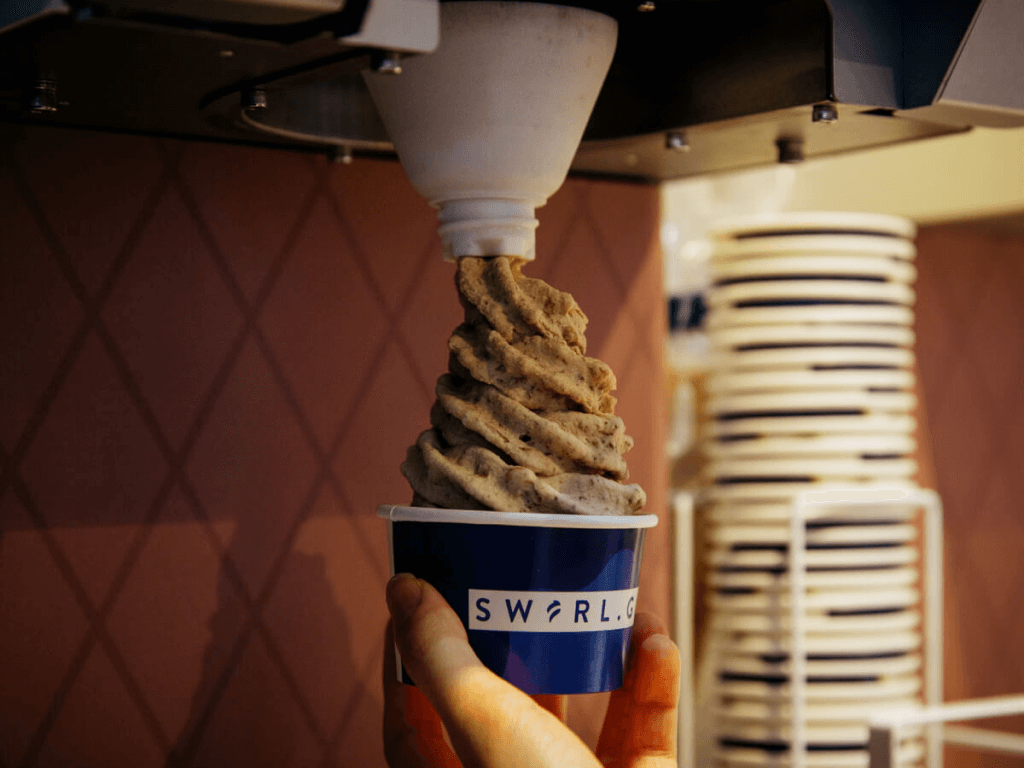 Will we see more Swirl.Go stores in future? 
Tan's certainly hopeful. He's been looking out for more store locations and possibly a smaller model for customers to make ice cream at home.
Orchard Gateway, 01-01, 277 Orchard Road
Nearest MRT station: Somerset
Opens: Mondays to Thursdays (11am to 10pm), Fridays to Sundays (11am to 10.30pm)
Orchard Gateway, 01-01, 277 Orchard Road
Nearest MRT station: Somerset
Opens: Mondays to Thursdays (11am to 10pm), Fridays to Sundays (11am to 10.30pm)