The Epic HungryGoWhere Giveaway: Win a S$420 Jap dinner or S$3k worth of GrabFood vouchers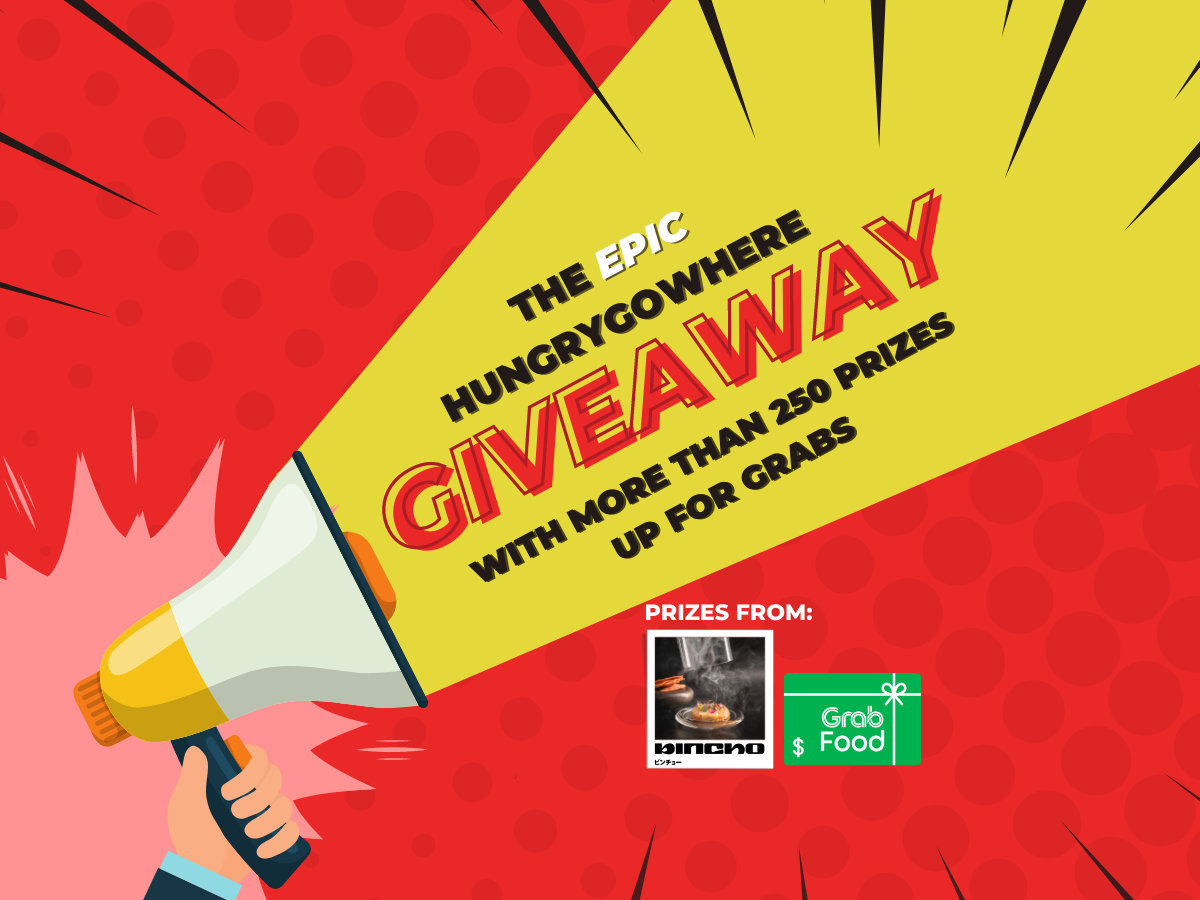 It has been more than nine months since we relaunched HungryGoWhere, and since then, it has been an epic ride!
We have covered the gamut, from breaking news about restaurant openings and menu updates and deep diving into the history and essence of different foods, to reviewing the latest eateries and casting the spotlight on young and innovative food entrepreneurs with a compelling story to tell. 
We hope you're enjoying the ride as much as we are, because we're grateful for your support.
To celebrate our journey so far, we have something exciting planned for our readers. We'll be hosting a grand giveaway — our biggest yet!
Aptly named The Epic HungryGoWhere Giveaway, it will feature prizes that come up to a total of more than S$3,400 in value!
All you have to do is answer three questions. We've made this slightly challenging, but don't worry, you'll be able to find the answers from recently published articles on our website. 
Here's the exciting part: You would have to save this article, as this page will be updated on March 24 at 12pm with a link to a Google Form that would list the three questions. 
You would have to fill in the answers, and the first person to get all three answers correct will win the grand prize. That's right — we hope you've been paying attention, because the fastest fingers win!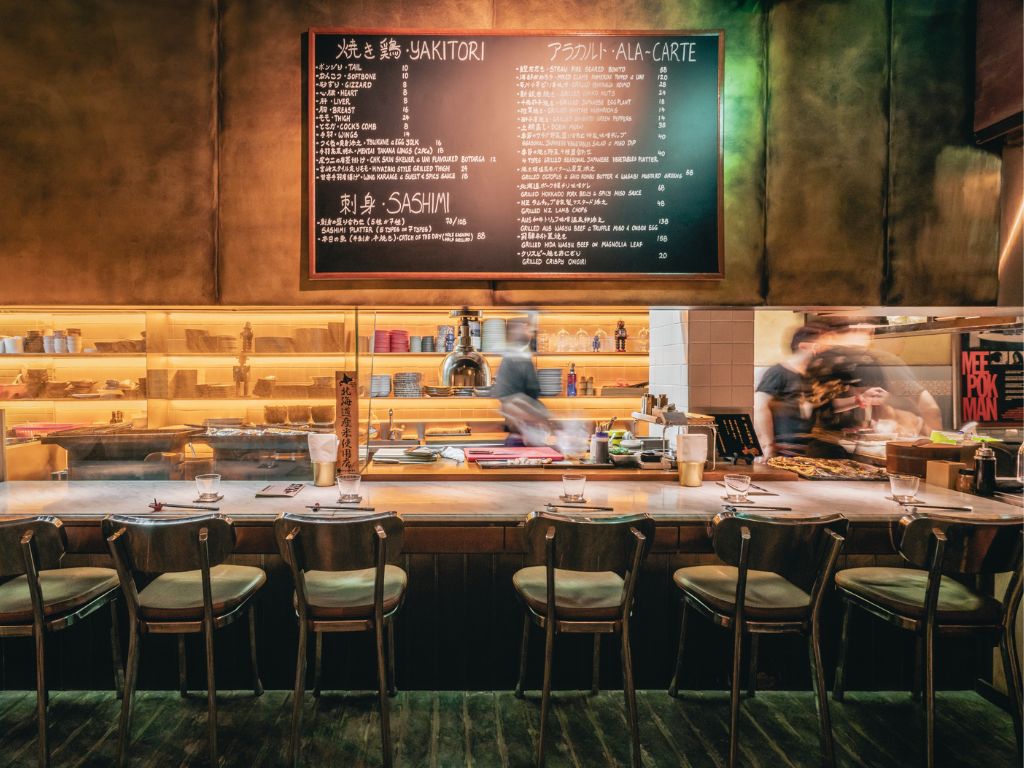 What's all this effort worth, you may ask? If you're a foodie, this will thrill you. 
The grand prize is a Japanese gastronomic experience for two courtesy of Bincho, a modern yakitori bar concept run by the same people behind the two-Michelin-starred restaurant Cloudstreet.
You and your dining partner will be treated to Bincho's seven-course Samurai dinner set, normally priced at S$178++ per person — that's around S$420, inclusive of taxes.
It will be a lavish meal filled with sumptuous Japanese delicacies, such as fresh assorted sashimi and the restaurant's signature premium yakitori.
Do note that the winner will have to collect the dinner vouchers directly from the restaurant, and you'd have to inform its staff before heading down to collect them. 
The vouchers will be applicable only for the Samurai dinner set. They should be presented to the staff during your visit and are to be used completely in one sitting. The vouchers will be valid for six months, among other terms and conditions set by Bincho's management.
They will be inclusive of service charge and GST, meaning you don't have to pay anything extra if you're having just the dinner set for two. But you'd have to pay for any extra food or drinks ordered. 
Don't worry if you miss out on the grand prize, though, because the next few prizes are just as attractive.
There'll be a whopping S$3,000 worth of GrabFood vouchers up for grabs.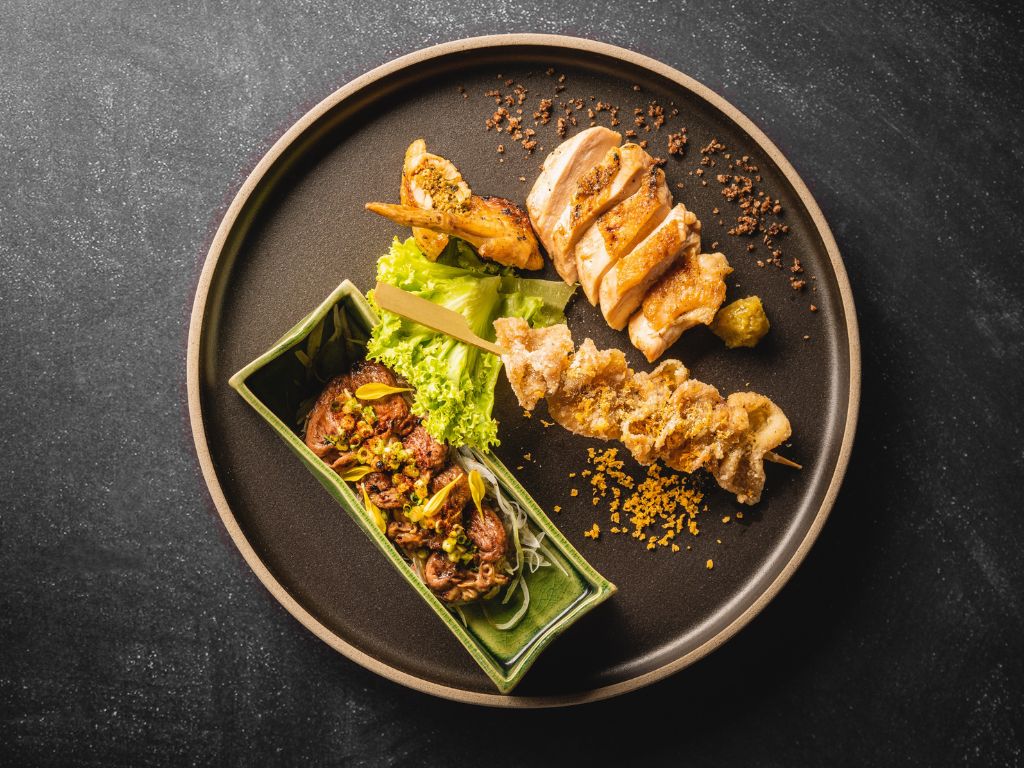 The winner of the second prize will receive S$300 worth of GrabFood vouchers, while the person who takes home the third prize will receive S$200 worth of GrabFood vouchers. The vouchers will be split into smaller denominations for easier redemption.
Best of all, even if you haven't been quite so quick — another lucky 250 winners who submitted the correct answers will still be rewarded with a S$10 GrabFood voucher each.
All GrabFood voucher winners will be informed via a notification on their Grab app. The vouchers will be valid until Dec 31, 2023, and do not require minimum spending to be used. But only one voucher can be used at a time.
Don't say bojio: Camp here on March 24 before 12pm to access the quiz form! The link will appear here on the dot of 12pm, at the bottom of this article. You have until March 29, 12pm, to fill in your responses.
Thank you for taking part! 
UPDATE ON MARCH 29, 12PM: Submissions for this giveaway have closed. We'll announce the winners here in about two weeks.
UPDATE ON APRIL 12: The results of the giveaway are out! Congratulations to all our winners with the fastest fingers.
We've compiled the list of winners below. Check if you've won by searching for your first name and the last four digits of your phone number.
Our grand prize goes to Jeremy, who nabs a dinner for two at Bincho. In second place is Nathanael, who wins a whopping S$300 worth of GrabFood vouchers. The third prize goes to Brandon, who gets S$200 worth of GrabFood vouchers.
Another 250 of you will receive a S$10 GrabFood voucher each for getting the answers right.
Thank you for participating!
| | |
| --- | --- |
| First Name | Phone No. (Last 4 Digits) |
| 1st Prize – Jeremy | 8467 |
| 2nd Prize – Nathanael | 3243 |
| 3rd Prize – Brandon | 6599 |
| Martin | 2724 |
| Amanda | 6977 |
| Casper | 1036 |
| Shreyas | 4865 |
| Grace | 2439 |
| Randall | 4412 |
| Erica | 5690 |
| Ernest | 9518 |
| Hanlin | 3533 |
| Dushyant | 7276 |
| Joelyn | 8291 |
| Gwendolyn | 4474 |
| Billy | 4151 |
| Rei | 3900 |
| Clarence | 2496 |
| Val | 7738 |
| Jefferson | 2533 |
| Wei Ling | 7473 |
| Adeline | 3570 |
| Say Bin | 3454 |
| Justin | 2438 |
| Colin | 4384 |
| Ivy | 2920 |
| Amandal | 8288 |
| Han Yang | 4033 |
| Xiaojun | 0507 |
| Jimmy | 2342 |
| Ian | 5185 |
| Jerone | 8397 |
| Rhian | 2731 |
| Dz Chyu | 6532 |
| Vivian | 8272 |
| Gavin | 1734 |
| Alexandria | 0468 |
| Daryl | 6721 |
| Kent | 6694 |
| Rachel | 4026 |
| Oscar | 5889 |
| Jerlyn | 1150 |
| Jovinne | 8461 |
| Lye Choon | 0924 |
| Zhen Hao | 6668 |
| Andrea | 3189 |
| Jerrold | 4238 |
| David | 3180 |
| Eunice | 5492 |
| Mei Ying | 6199 |
| William | 4735 |
| May Eng | 4660 |
| Amanda | 0162 |
| Siew Ling | 6451 |
| Mayurakshi | 1535 |
| Musalmah | 5465 |
| Alvin | 4973 |
| Wilson | 0241 |
| Elisa | 2635 |
| Qimin | 7193 |
| Li Jian | 9319 |
| Jian Ting | 8613 |
| Elaine | 9689 |
| Audrey | 5652 |
| Wen Chuen | 8379 |
| Siew Gek | 8526 |
| Warren | 1888 |
| Malcolm | 6399 |
| Jana | 5534 |
| Kah Heng | 9183 |
| Melody | 1466 |
| Magpalene | 5315 |
| Janice | 0120 |
| Luo Fang | 8105 |
| Kwok Leong | 8509 |
| Aileen | 3072 |
| Serena | 1002 |
| Eugene | 5317 |
| Siew Choon | 3122 |
| Weitin | 9643 |
| Kevin | 9848 |
| Li Qian | 5045 |
| Jonathan | 0043 |
| James | 6300 |
| Yong Hui | 3773 |
| Hong Xiu | 9920 |
| Ying Hao | 9465 |
| Irene | 9057 |
| Felix | 0041 |
| Raffles | 4723 |
| Dominic | 3265 |
| Alvin | 5318 |
| CF | 3011 |
| Rachel | 8527 |
| Sheena | 2012 |
| Wei Ning | 0026 |
| Jonathan | 1647 |
| Darren | 6982 |
| Hui Pheng | 7136 |
| Verlynn | 5197 |
| Benson | 0610 |
| Tiffany | 7445 |
| Xin Ning | 0923 |
| Morgan | 3507 |
| Vivian | 0088 |
| Angela | 0733 |
| Claudine | 1713 |
| Alvin | 6033 |
| Wan Xuan | 8470 |
| Yeng Theng | 9693 |
| Cheng Nee | 7727 |
| Kenneth | 2272 |
| Jasper | 0448 |
| Xinying | 2383 |
| David | 7016 |
| Simon | 8607 |
| Pei Wen | 6838 |
| Zy | 7828 |
| Yuhua | 5233 |
| Kenny | 7823 |
| Kenneth | 2575 |
| Javier | 5006 |
| Jamie | 7993 |
| Stephanie | 4779 |
| Ever | 4728 |
| Joshua | 9137 |
| Tze Wei | 8698 |
| Neo Chok | 9710 |
| Luke | 1616 |
| Zach | 4169 |
| Nicholas | 5492 |
| Nic | 1896 |
| Ze Cong | 1611 |
| Jia Cong | 5831 |
| Claire | 5330 |
| Tracy | 9585 |
| Warren | 3205 |
| Justin | 0940 |
| Sheryl Lynn | 3699 |
| Annie | 3408 |
| Zhou Wai | 2925 |
| Kai Ming | 3584 |
| Clara | 5252 |
| Kwan On | 7180 |
| Joan | 0458 |
| Terence | 7141 |
| Weiming | 4639 |
| MIchelle | 0208 |
| Johnson | 4142 |
| May Hwee | 9698 |
| Xinyong | 2008 |
| Eileen | 7849 |
| Vivien | 7267 |
| Lynn | 7813 |
| Desmond | 6744 |
| Charissa | 1995 |
| Nicole | 0823 |
| Sky | 2982 |
| Rex | 3778 |
| Andrew | 7264 |
| Cheryl | 6767 |
| Shee Gin | 7218 |
| Regina | 7074 |
| Run | 9115 |
| Qi Wen | 7718 |
| Alster | 8482 |
| Chee Lee | 9424 |
| Marcus | 1003 |
| Gabriel | 2834 |
| Wei Han | 9268 |
| Trecia | 9177 |
| Jency | 4622 |
| Chloe | 1962 |
| Stephanie | 4969 |
| Lloyd | 7898 |
| Desirae | 7958 |
| Ter Ren | 7216 |
| Ivan | 1297 |
| Ming Jie | 1578 |
| Yi Chuan | 4925 |
| Yong Siang | 8088 |
| Yee Fatt | 9589 |
| Kelvin | 6121 |
| Ovidia | 5699 |
| Joon Wei | 5878 |
| Vivianne | 5595 |
| Ewe Jin | 8148 |
| Wee Lai | 0246 |
| Jordan | 0558 |
| Elvis | 1800 |
| Benjamin | 3801 |
| Serene | 1871 |
| Yong Jia | 9492 |
| Celine | 3541 |
| Yi Lin | 5836 |
| Brenda | 8776 |
| Karen | 6003 |
| Tan | 2879 |
| Jian Yuan | 1345 |
| Chloe | 6021 |
| Jessie | 0594 |
| Jinny | 4685 |
| Song Chua | 7820 |
| Kelvin | 2694 |
| Doreal | 0183 |
| Kate | 2199 |
| Joel | 8178 |
| Marcus | 6115 |
| Guang Yan | 7847 |
| Kwang Eng | 7827 |
| Yun Ting | 6303 |
| Jean | 7969 |
| Qin Yi | 7814 |
| Marcus | 2942 |
| Chee Hin | 7468 |
| Jaslyn | 7173 |
| Hong Sheng | 9630 |
| Shan Shan | 7245 |
| Scott | 5738 |
| Yih Fang | 5415 |
| Michiko | 6272 |
| Zhen Yang | 6378 |
| Rachel | 5899 |
| Nilar | 7848 |
| Charles | 0163 |
| Chuan En | 4988 |
| Nicholas | 3556 |
| Pei Zhi | 6887 |
| Lawrence | 0967 |
| Ei Bing | 4685 |
| Kam Cheng | 6404 |
| Yan Ni | 5563 |
| Noorsyahidah | 9226 |
| Siti | 2385 |
| Peiyu | 0551 |
| Jing Min | 5698 |
| Allan | 6370 |
| Mohamed Alfian | 8494 |
| Shi En | 6858 |
| Odelia | 9140 |
| Apple | 1095 |
| Jaren | 1109 |
| Jin | 8595 |
| Kayden | 6212 |
| Daniel | 0516 |
| Hao En | 5018 |
| Soo Fern | 0642 |
| Alicia | 0575 |
| Keith | 4024 |
| Adela | 5272 |
| Amanda | 2323 |
| Jenny | 1722 |
| Nicole | 7016 |