Review: Casa Vostra's weekend pop-up is so much more than ready-to-heat pizzas — it's magic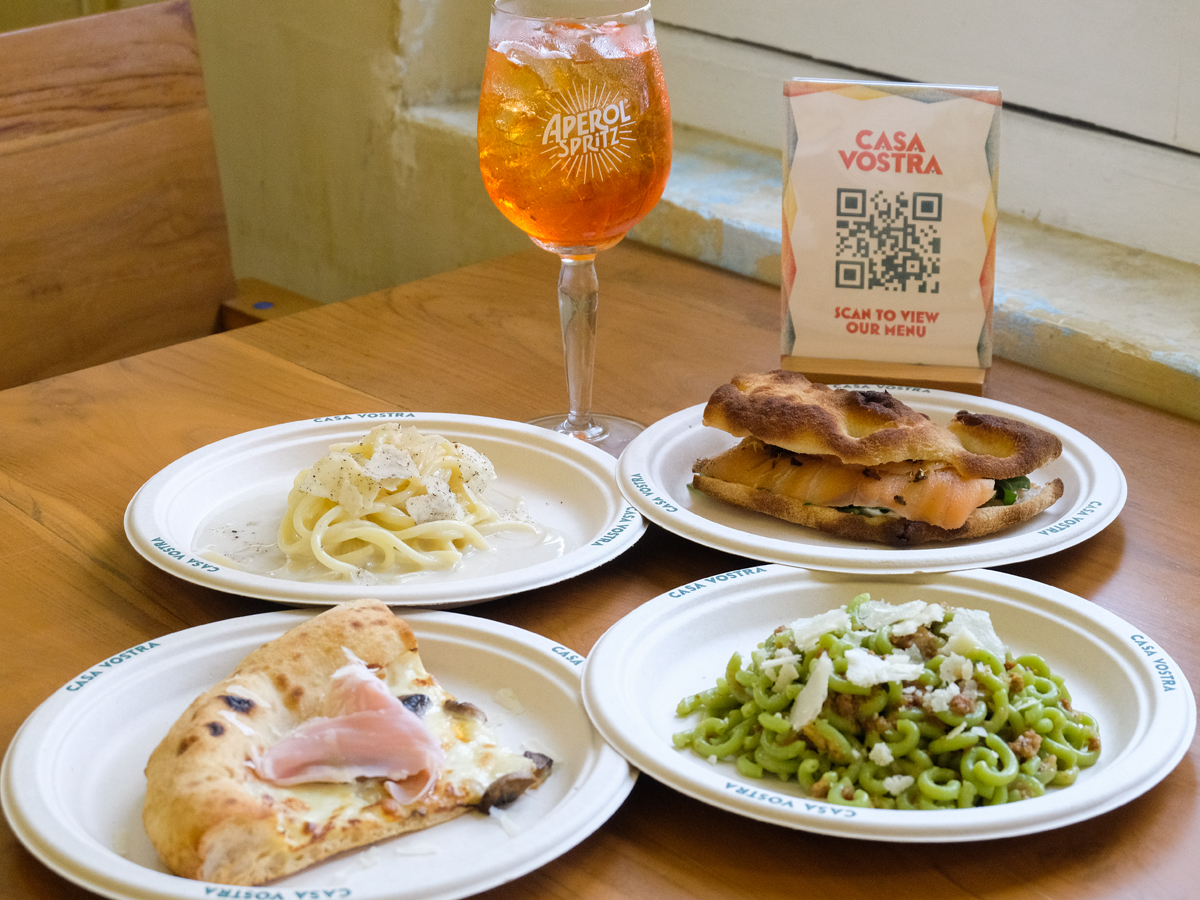 A two-month weekend pop-up showcasing offerings from gourmet ready-to-heat brand Casa Vostra 
'Newpolitan' pizza, pasta, gelato, and more from La Bottega chef Antonio Miscellaneo
Dishes we recommend include the double crunch smoked salmon and burrata, chitarra cacio e pepe, and stracciatella gelato
It was just in June when chef Antonio Miscellaneo clinched the 19th spot in the 50 Top Pizza awards — the go-to Italian authority for pizza ratings for the Asia Pacific region — with La Bottega Enoteca, his low-profile rustic Italian bistro in Joo Chiat. 
His signature pizzas there: Modern Neapolitan pizzas that he dubs 'Newpolitan' and an extra-crispy pizza sandwich of sorts aptly called DoubleCrunch.
Granted, it's not easy to get a spot at La Bottega, and even if you do, guests can expect to fork out upwards of 100 bucks per head for his food. If neither appeals to you, why not check out Casa Vostra, his delivery brand that offers cheaper renditions of his famous pies.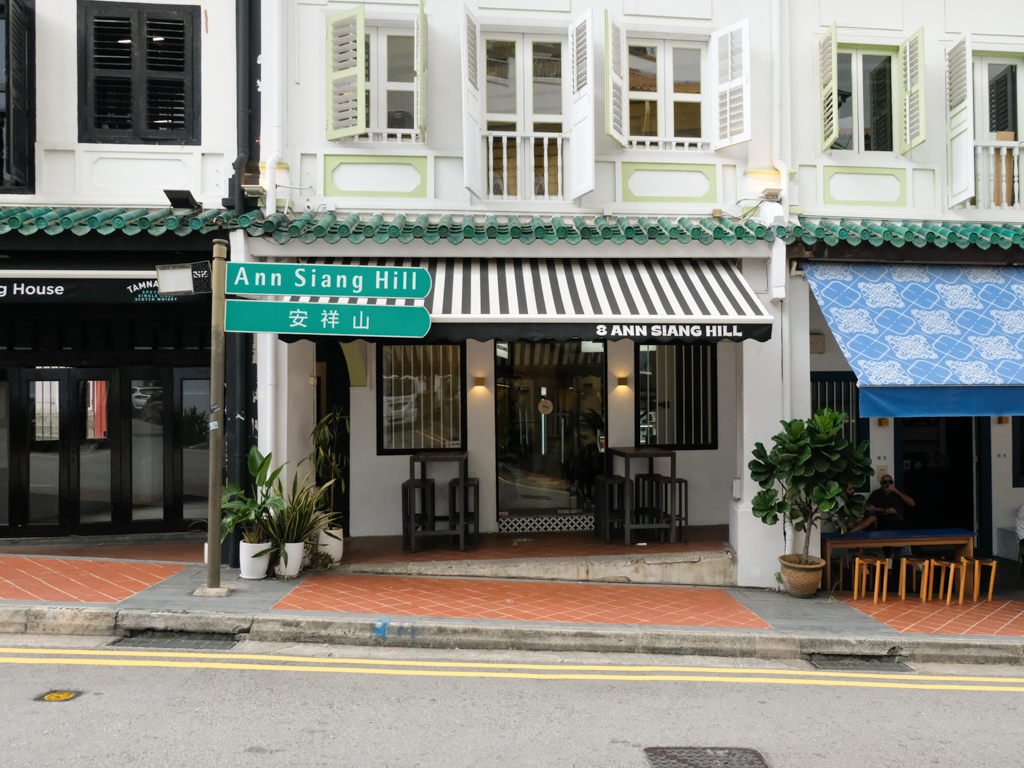 It's basically art (or science) — follow the defined set of instructions and you'll arrive at the same outcome every time: Marvellously crisp and puffy crusts and stretchy crumb base. 
And to promote his creations, he's doing a two-month-long Casa Vostra pop-up extravaganza from now till the year's end, and we've only been hearing good things so far.
The backstory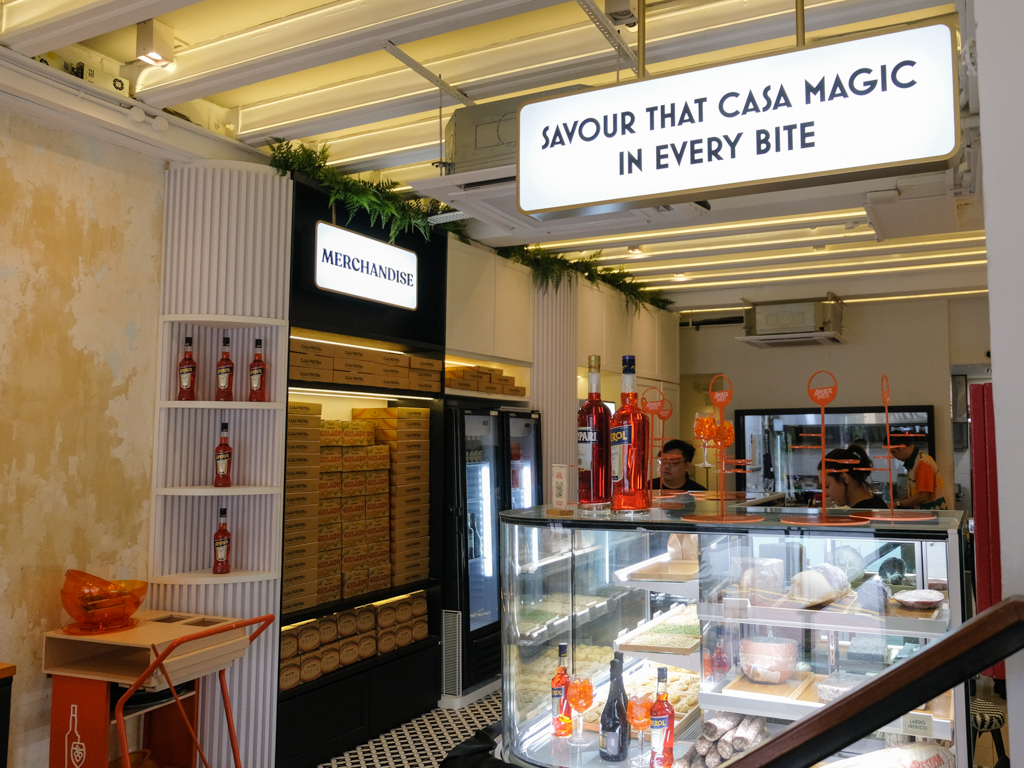 It all started when chef Antonio, a former programmer-turned-chef who used to run a private dining concept called Casa Nostra in his condo, closed the home business to start his full-fledged restaurant La Bottega in 2021. 
His kids, who craved the homemade pizzas that he'd simply whip up with fresh dough from the fridge, inspired him to craft the perfect pizza for delivery.
Casa Vostra, inspired by the name of his former brand, is essentially a collaboration between chef Antonio and the Ebb & Flow Group, which created brands such as Love Handle Burgers and Tigerlily Patisserie. 
In fact, the Casa Vostra pop-up, which runs from Fridays to Sundays from now till the end of December, takes over the two-storey Ann Siang Hill shophouse previously occupied by Love Handle.
Our verdict
It's a huge yes from me. Don't miss this chance to partake in the magic that is chef Antonio's culinary prowess. His ode to Italian cooking is fronted by a fun curated menu that'll leave a lasting impression. 
It's not just pizzas, too — Casa Vostra has exceptional pasta that's nothing short of artisanal, silky soft gelato, and tantalising wines and cocktails to represent a condensed spectrum of what Italians eat every day.
What it's good for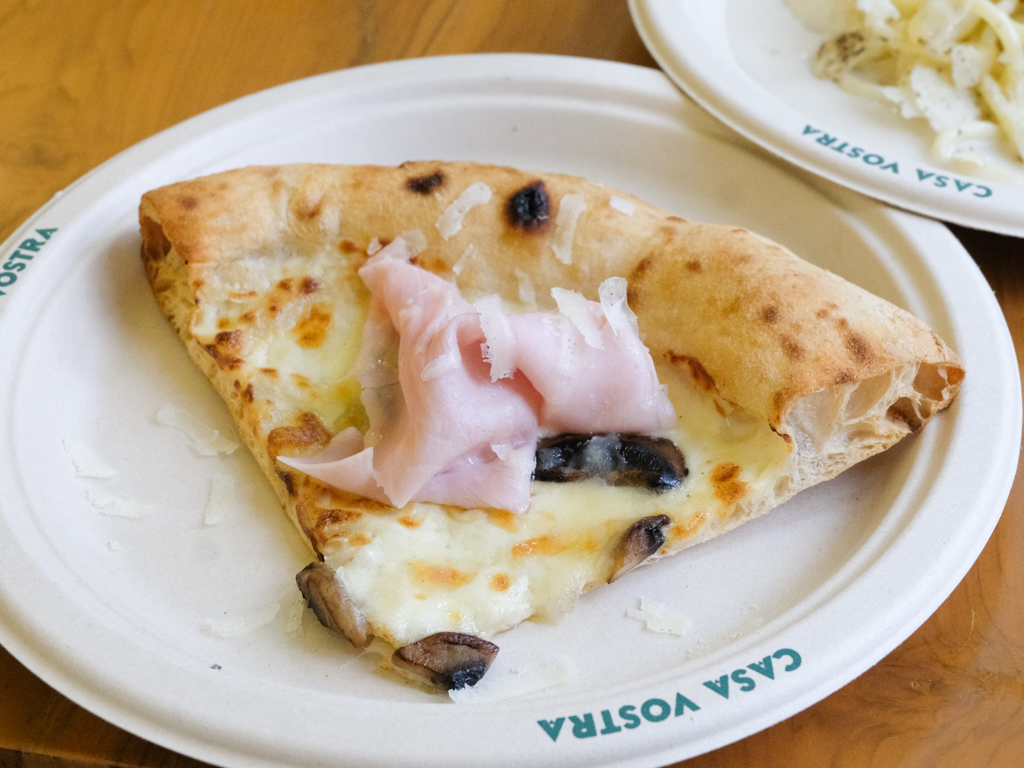 Casa Vostra makes some of the best pizzas I've eaten this year. The freshly made 'Newpolitan' pies have charred bubbles on the edges with plenty of elasticity in the middle. The crumb is perfectly crispy and airy all at once with a nice tang — this is clearly made by someone who cares a lot about pizza.
The prosciutto e funghi (S$7.50) is a standout, layering the less common prosciutto cotto (unlike the more common raw crudo version, this is slowly cooked and brined with herbs and spices, with a lighter flavour and more tender texture) along with mushrooms and bold shavings of Parmigiano Reggiano.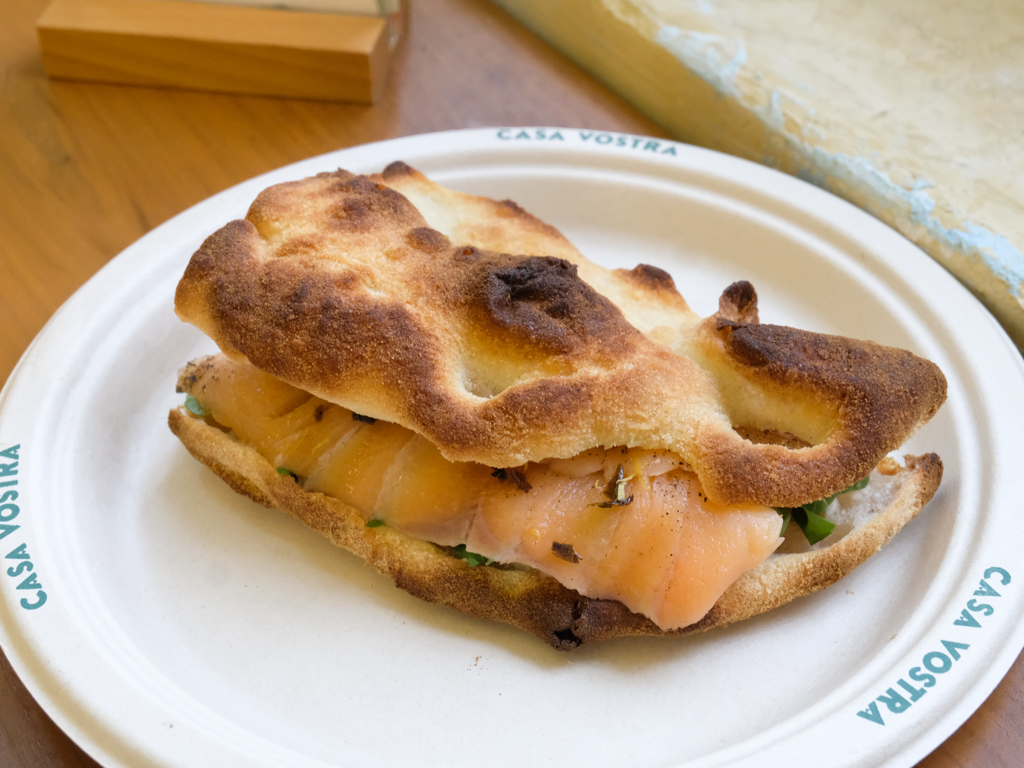 The Double Crunch pizza is particularly special, like a crunchy-as-heck pizza sandwich made with two croccanti, or thin layers of almost-flaky pizza pastry. 
My pop-up exclusive salmone affumicato (S$12) combines the rich flavours of thickly sliced buttery smoked salmon, milky burrata and a touch of sharp pepper from fresh rocket. For crust enthusiasts like myself, this is the kind of unorthodox pizza I never knew I needed.
The simplicity and minimalism of cacio e pepe, which literally translates to "cheese and pepper", is striking. But when done well, as with Casa Vostra's chitarra cacio e pepe (S$17), it can make you forget all your worries. 
The glorious marriage of pecorino cheese and black and white pepper (black for sharpness and white for fragrant smoothness) warms the soul. 
The use of chitarra (like spaghetti but slightly thicker and sliced with traditional 'guitar' strings for a rougher, coarser surface) means it easily grabs the flawlessly emulsified cheesy pepper sauce, made even better by its firm, chewy al dente texture.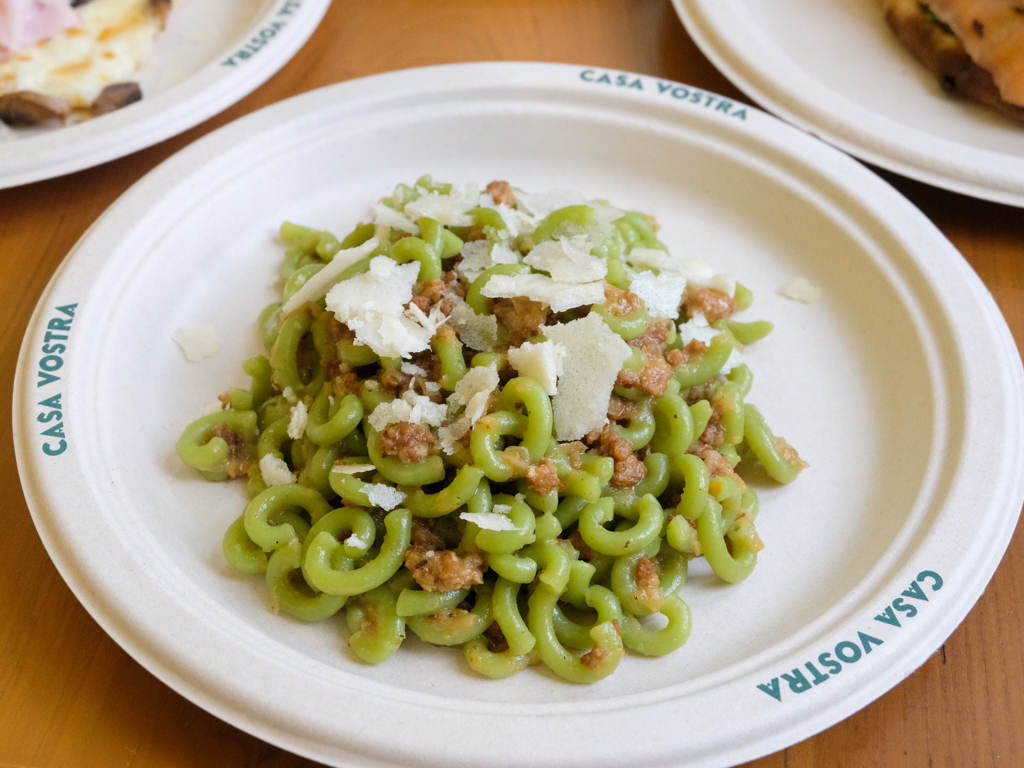 Chances are you've never tried anything like the ragu di salsiccia (S$17). A decadent sauce is made with salsiccia (a fennel-spiced pork sausage) and tangy tomatoes, and best paired with the coil-shaped gramigna pasta to grab up the firm sauce. 
The lean meat ragu here is lightly sweet and aromatic, and together with delicate and airy parmesan shreds, it's a simple yet exquisite dish that captures the essence of Italian comfort fare.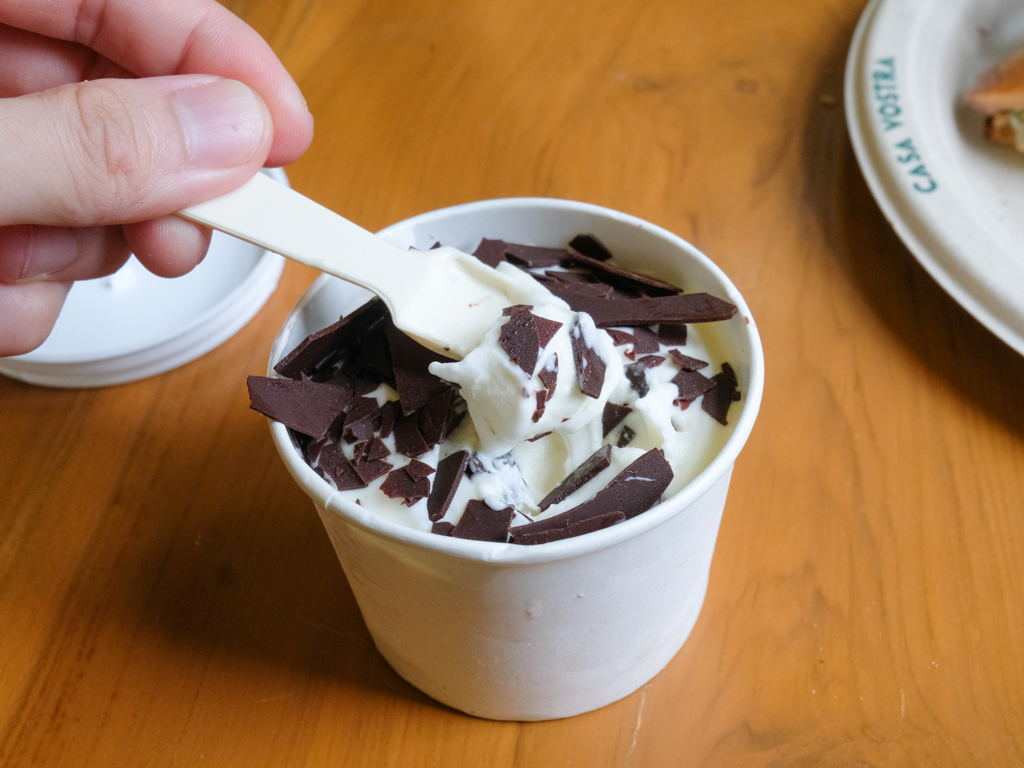 Casa Vostra has three gelato flavours: Strawberry sorbet, chocolate hazelnut, and the pop-up exclusive stracciatella — all housemade and featuring all natural ingredients. 
The silky stracciatella (S$5) is hard to resist: It's a creamy rich fior di latte (a soft and mild cheese) gelato with sweet cow milk tones shining through with each scoop. 
Roughly chopped dark chocolate pieces are swirled on top, thin enough that it melts on the tongue with little effort, creating both contrasting textures and a bittersweet symphony on the palate. This is an authentic Italian gelato.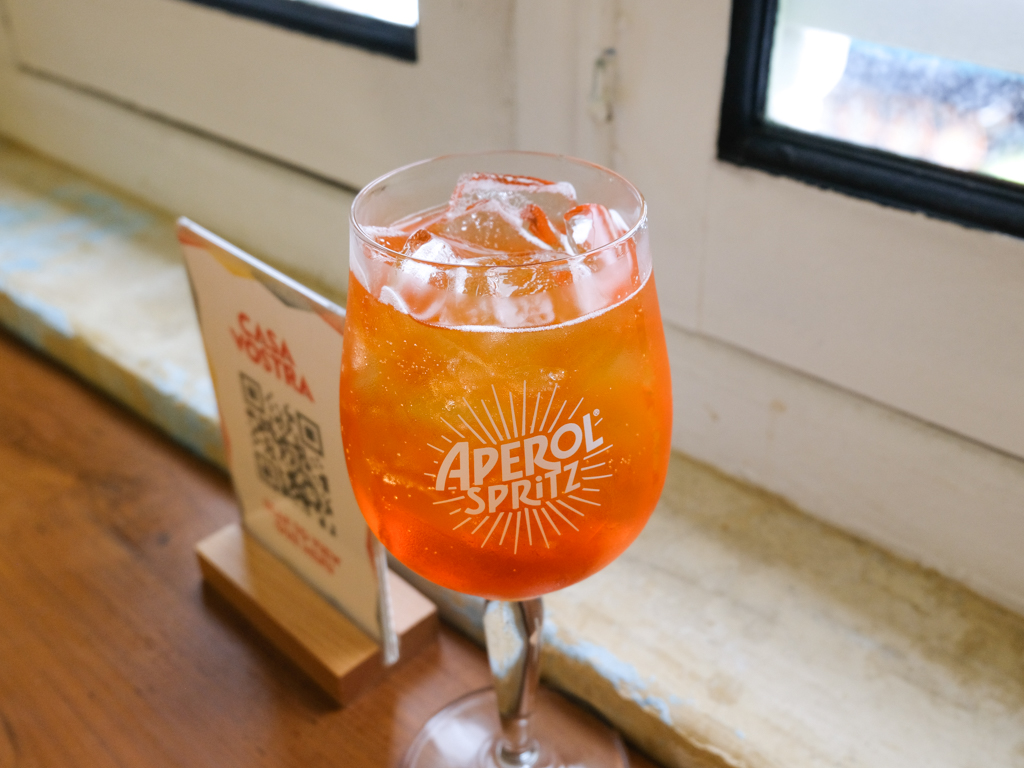 There's also a fine selection of beverages to amp up the Italian experience. You can get a proper Aperol Spritz (S$18) — the perennial Italian aperitif of prosecco and bitter aperol, and a touch of soda water to amp up the fizz. 
It harmonises beautifully with the delectable slices and pasta here. This concoction is a vibrant and fun choice, perfect for elevating the dining experience.
What it could improve on
I don't know how it can get better than this — especially for a temporary pop-up. The Casa Vostra pop-up takes you through a gastronomic journey of authentic flavours and textures at a ridiculously affordable price point that you won't find at regular Italian restaurants. Buon appetito! 
Our quick takes
Is it conducive to conversation? Yes, especially on the second floor dining space.
Is a reservation necessary? Walk-ins only.
How to get there? Casa Vostra is a mere two-minute walk from Maxwell MRT station Exit 2.
HungryGoWhere paid for its meal at this restaurant for this review. Still hungry? Check out our reviews of Two Men Rice Bar and Magg by Royz Et Vous.
Casa Vostra is on the GrabMart delivery service and offers free delivery (up to S$3 off) with GrabUnlimited. 
Alternatively, you can book a ride to Casa Vostra at Ann Siang Hill.  
Do explore the GrabFood Dine-in service for awesome deals.
8 Ann Siang Hill 
Open: Friday to Sunday (11am to 10pm, from now to Dec 31)
8 Ann Siang Hill 
Open: Friday to Sunday (11am to 10pm, from now to Dec 31)
---