Review: The new Two Men Rice Bar at Tanjong Pagar is (mostly) worth standing for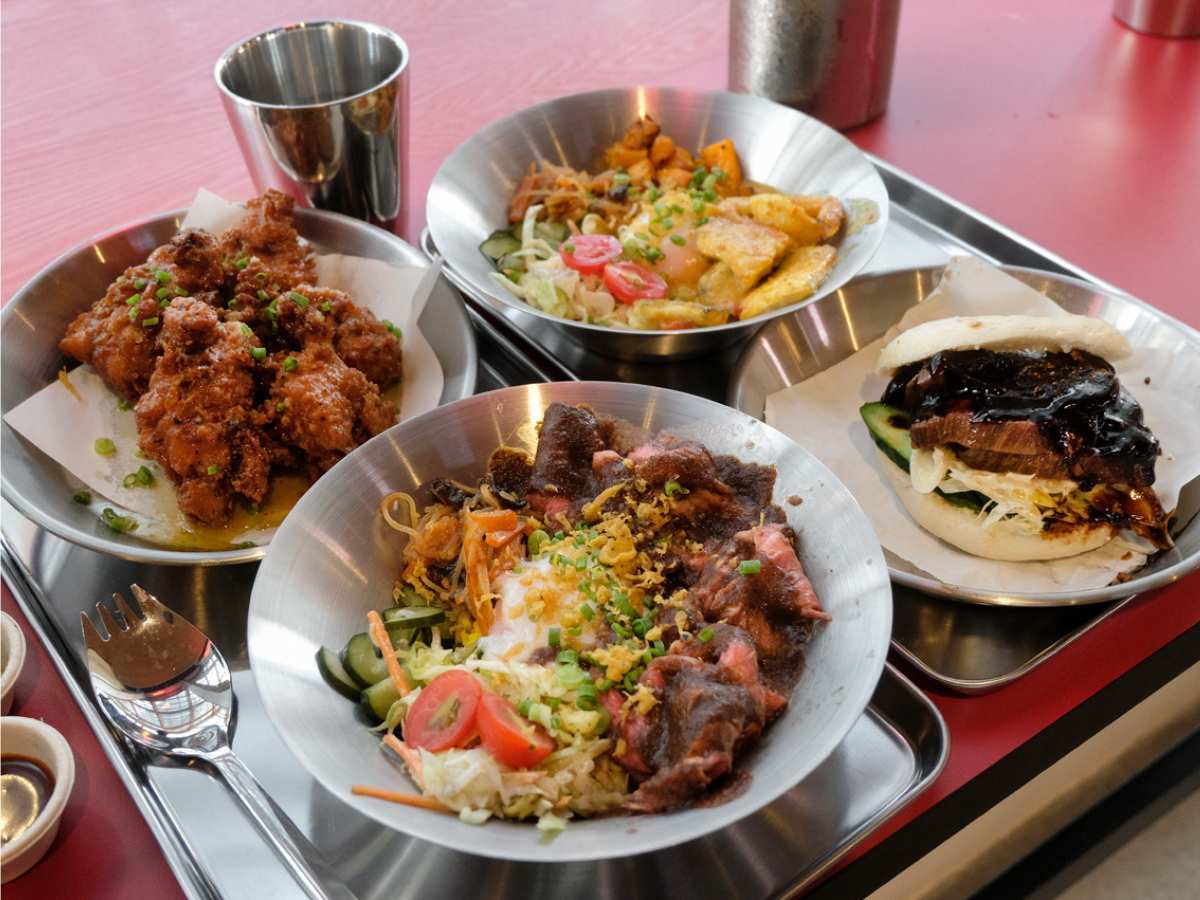 This standing-only rice joint just opened in October, taking up a cosy unit in Guoco Tower's open-air atrium
Look forward to seven rice bowl combinations and several tasty sides
Dishes we recommend include the beef bowl and chicken pops
Wholesome and healthy grain bowls remain as popular as ever since their introduction to the CBD about a decade ago, but rice bowls that's not chap chai png from the economical rice stall and at three times the price? 
It's a risky venture — is it what the CBD crowd wants? — and whether Two Men Rice Bar is putting everything onto a winning or losing ticket remains to be seen.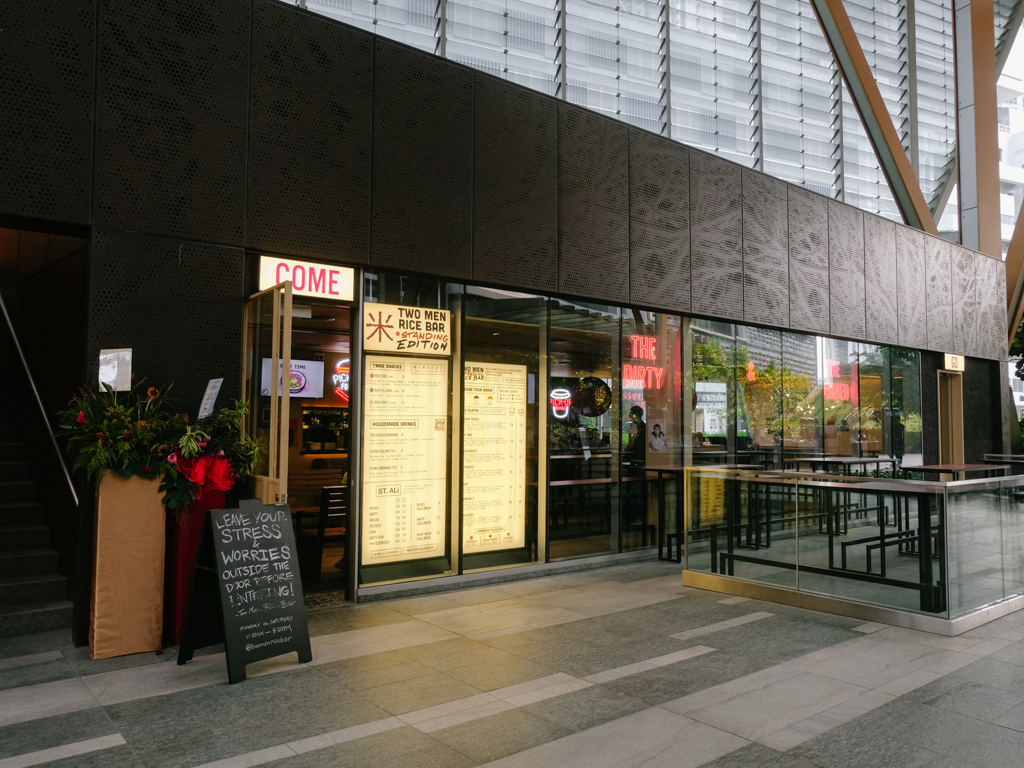 Name sound familiar? This is the latest concept by Two Men Bagel House, which has been dishing up some hefty bagelwiches from its Tanjong Pagar — and later Novena, Holland Village and Joo Chiat — outlets since 2014. 
As you'll surely guess from the name, it specialises in rice bowls, though you'll find some other delicious grub here as well.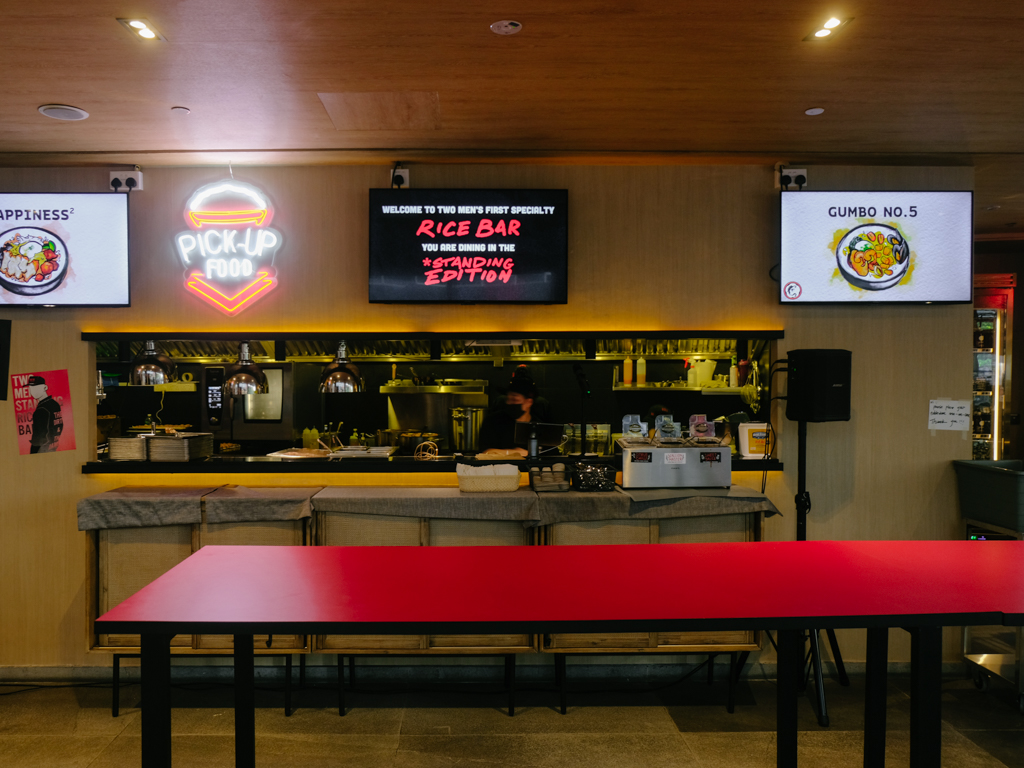 Like its big brother, the restaurant design and Two Men Rice Bar's menu adopt a cheeky maximalist style that's full of street cred.
There's plenty of strong colours, fun neon lighting, and a layout that takes a cue from Japanese standing noodle bars — that's right, there are no seats here, only tall (and some shorter) red tables for customers to grab a quick bite before heading back to their desk.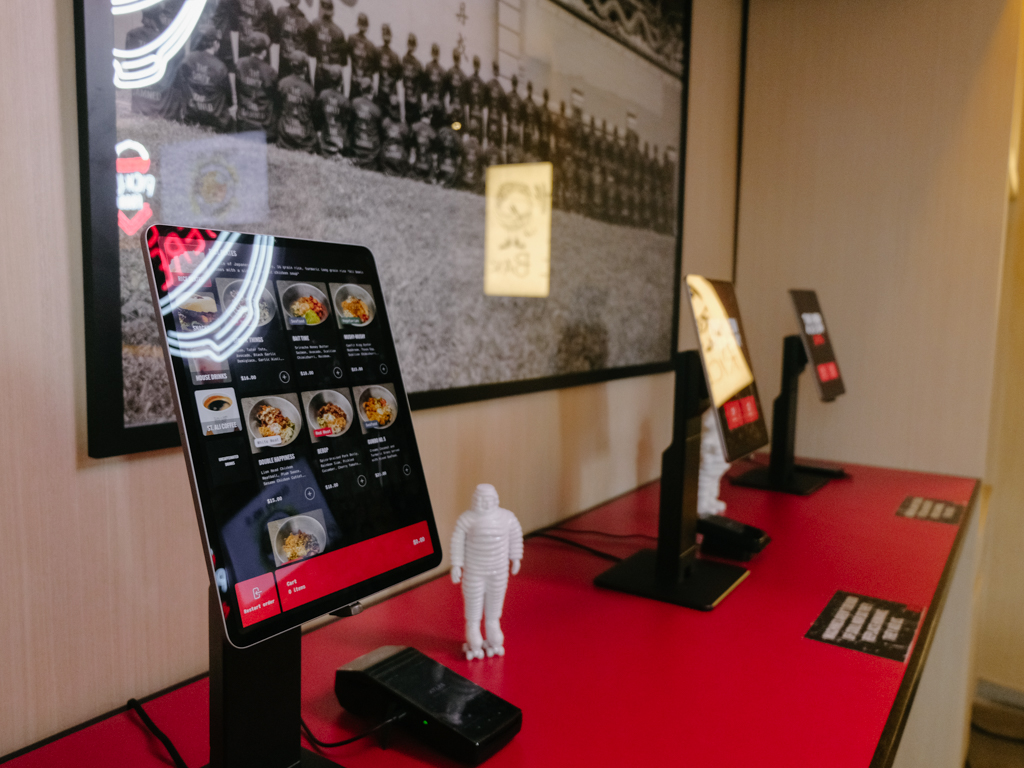 Two Men Rice Bar's concept is interesting with great design and a fun menu. There are seven rice bowls with prices starting at S$12 for a half portion or S$15 for a full tank, which are acceptable prices for its very central location. 
The wholesome bowls filled with fluffy carbs, well-cooked proteins, and yummy greens make for a good alternative to the all-too-common salad bowls, particularly with their various rice options. Japanese short grain is typical, but you can also pick turmeric rice and a mixed 16-grain rice.
Having said that, part of me feels the food still lacks a bit in terms of execution and finesse, especially when compared to Two Men Bagel House. 
There's the variety too: Each rice bowl comes with more or less the same six accompaniments — sous vide egg, tenkasu (tempura crumbs), pickled cucumber, cherry tomatoes, salad slaw, and a glass noodle salad. Everything is tasty, but can get repetitive. Each bowl has the potential to be much better.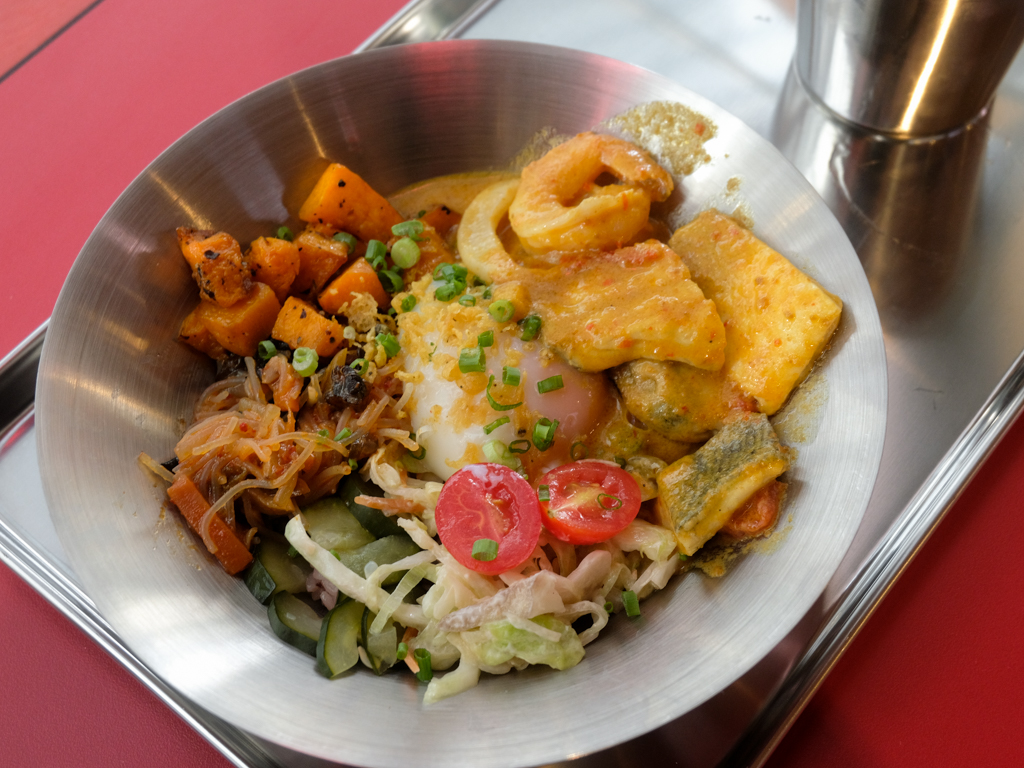 "Ladies and gentlemen, this is Gumbo No. 5", or so goes the chart-topping mambo track. At S$18 for half or S$20 for a full tank, this is the priciest dish offered here, as seafood dishes usually go. 
The mussels, squid rings, shrimp, and seabass are relatively fresh and firm, slathered in a creamy coconut turmeric sauce that's fragrant and sweet, yet doesn't overpower the natural seafood flavour. The butternut squash is tender, sweet, and nutty, and the sous vide egg adds even more creaminess to the dish. 
I wish there was a bit more sauce to make it a seafood stew of sorts, but it's good this way as well. A half portion is enough to fill most people up.
My choice of 16-grain rice (with additional grains such as pearl barley, beans and millet) goes pretty well with the Gumbo No. 5 because of its harder and more distinct texture, easily soaking up the sauce without becoming mush.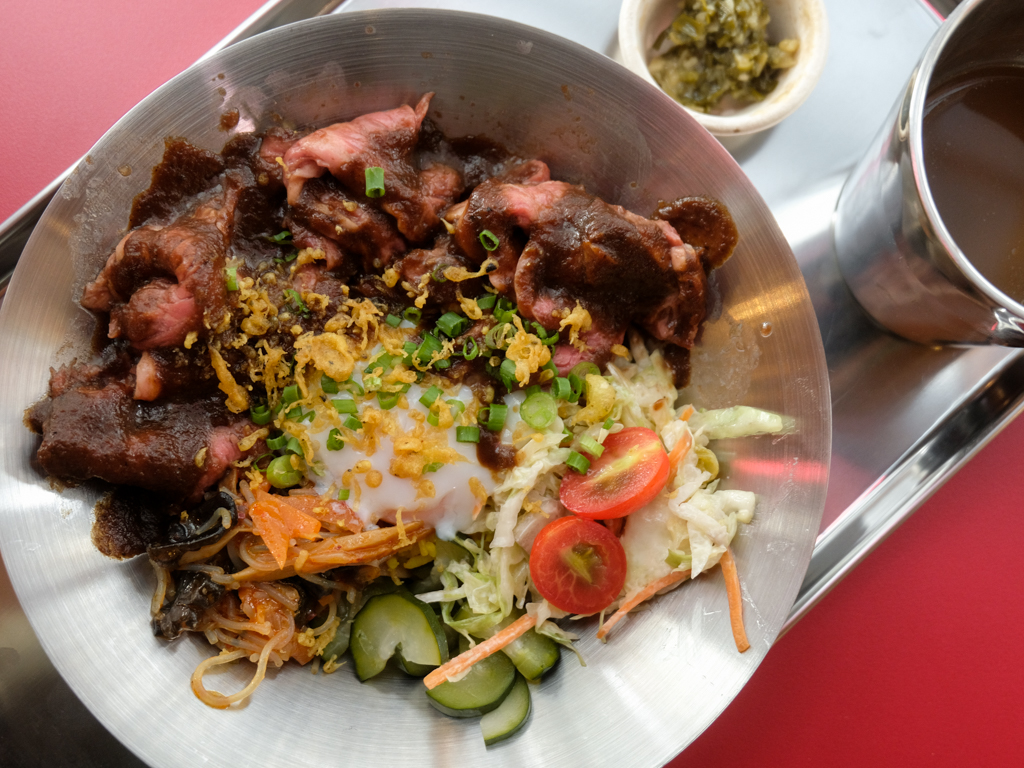 I prefer the black rock (S$17/S$20), a meaty bowl of roast chuck roll with a black-garlic demi glace sauce. For a cut that usually requires a lot of braising or stewing to tenderise, the beef is mostly soft, with a nice beefy taste and good char on the outside. 
Traditional demi-glace is already rich and meaty, but using black garlic adds a slightly sweet, umami tang to the mix — it's an immediate win when stirred in with the sous vide egg, crunchy veggies, and earthy and spice-rich turmeric rice. 
Again, a half portion is plenty, but otherwise, each bowl here also comes with  housemade soup in a metal cup. Inside is plenty of soft radish cubes in a really tasty chicken soup with a light hint of coconut. It's nicely seasoned and pleasant to drink.
And feel free to help yourself to the various condiments at the counter. There's a citrus chilli there's not unlike those you'd find at chicken rice stalls, but less garlicky and a tad tangier; a coarser Cantonese-style scallion-ginger-garlic dip fragrant with aromatic oil, and a stronger hoisin-type sauce with sesame oil, soya sauce, and peanut butter, like a chee cheong fun or yong tau foo sauce.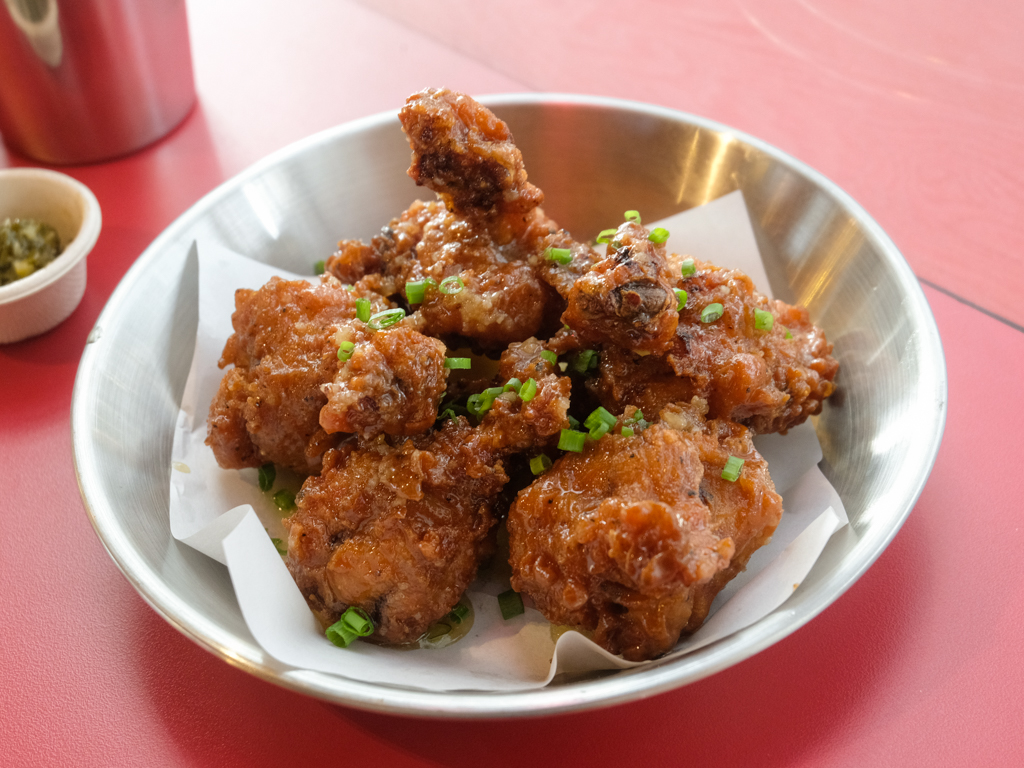 On to the sides. I'll say it first, rice-battered chicken is genius. I'm so used to eating batter that's made using regular wheat flour that I forgot that many Eastern recipes use rice flour in their deep fry dishes, which results in a weightless but very crunchy batter that stays crispy for a longer time. Its thinness means it's easier to get wrong and burn, which could be why we don't see it everywhere.
Back to the dish – Two Men's rice pops (S$12) takes chicken lollipops (the drumette) and fries them to a glorious brown. Combined with honey butter sauce, it's slightly sticky and absolutely crunchy outside, tender and well-marinated inside.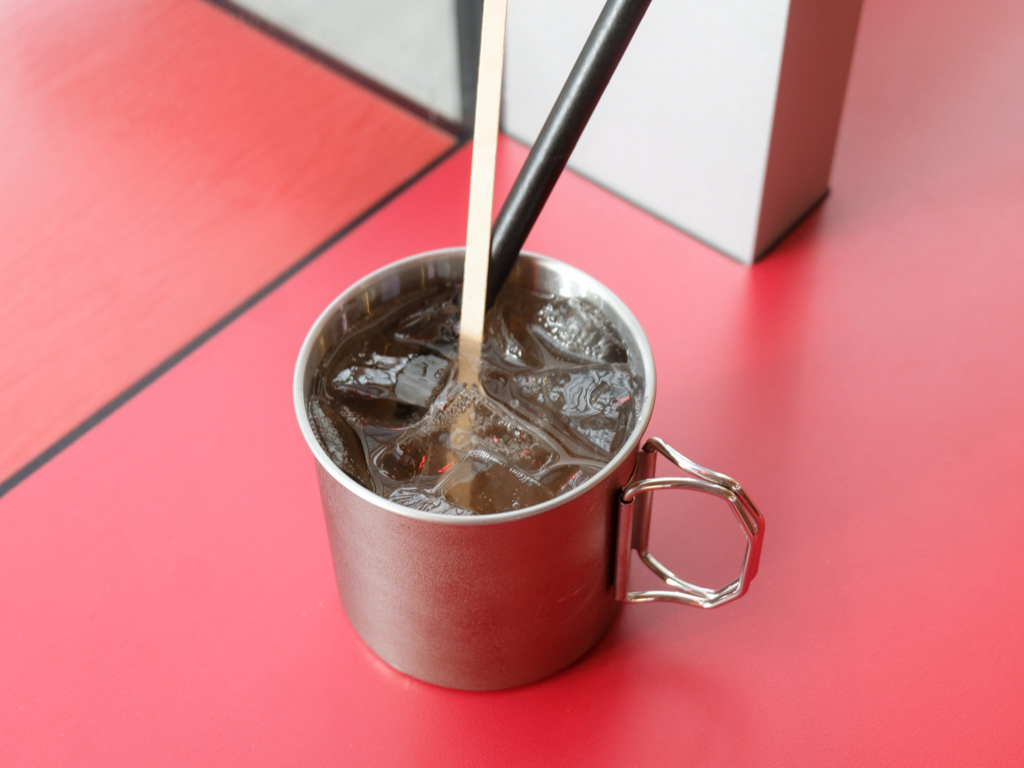 One of just three drinks available here, the plum lemonade fizz (S$6) doubles as a palate cleanser and one heck of a refresher, with a tart sour plum flavour that's balanced out by a little bit of syrup without being overpowered by sugar. 
Lemon juice adds that extra zing, while a splash of soda water means you get a gentle fizziness that's not so carbonated so you don't burp too much. The accompanying wooden stick is a bit perplexing as there's nothing inside besides ice, so it's no more than decoration.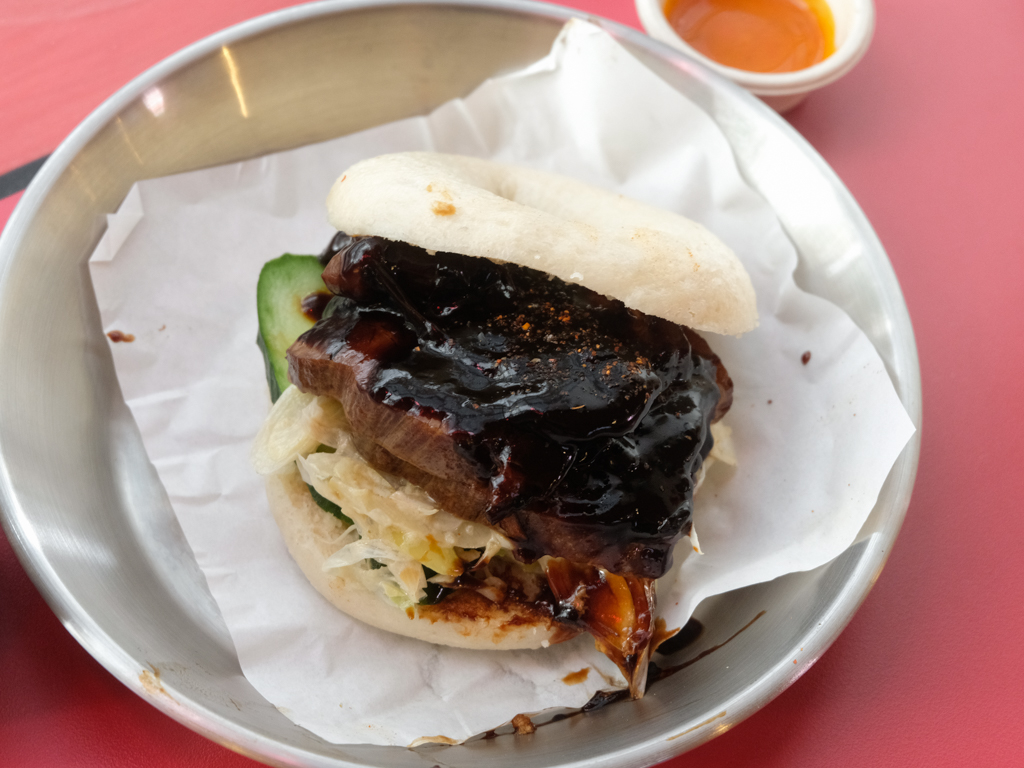 Ironically, the least likable dish here is the one that most resembles the Two Men group's signature bagels. The rice side (S$8) is a steamed rice flour bagel (complete with a hole in the middle) stuffed with kong bak, or braised pork belly. I love myself a good kong bak pau, but this one disappoints on several levels.
Kong bak pao usually features a thick slab of pork belly, but the version here comes with a few thinner slices of fatty pork, which isn't too much of an issue. The steamed bagel is dense but soft, and the slightly creamy leek slaw at the bottom tastes okay. 
However, the deal breakers are the relatively dry meat (perhaps the braise time was a little short) and a sauce so salty I had to add some citrus chilli to cut away from the brackishness.
Still, it's worth noting that the eatery only opened weeks ago and is probably ironing out the kinks in its offerings. If all goes well, Two Men Rice Bar could be a gamechanger for the CBD food scene.
Is it conducive to conversation? You'll likely be standing right alongside strangers during peak hours, so probably not.
Is a reservation necessary? First come first served!
How to get there? Two Men Rice Bar is just a minute away from Tanjong Pagar MRT station Exit A. Look for the row of standalone eateries outside Guoco Tower.
Guoco Tower, 01-12, 5 Wallich Street
Open: Monday to Saturday (11am to 7.30pm)
Guoco Tower, 01-12, 5 Wallich Street
Open: Monday to Saturday (11am to 7.30pm)
---