20 Questions with Two Men Bagel House's Jereborne Lam and Jerome Lam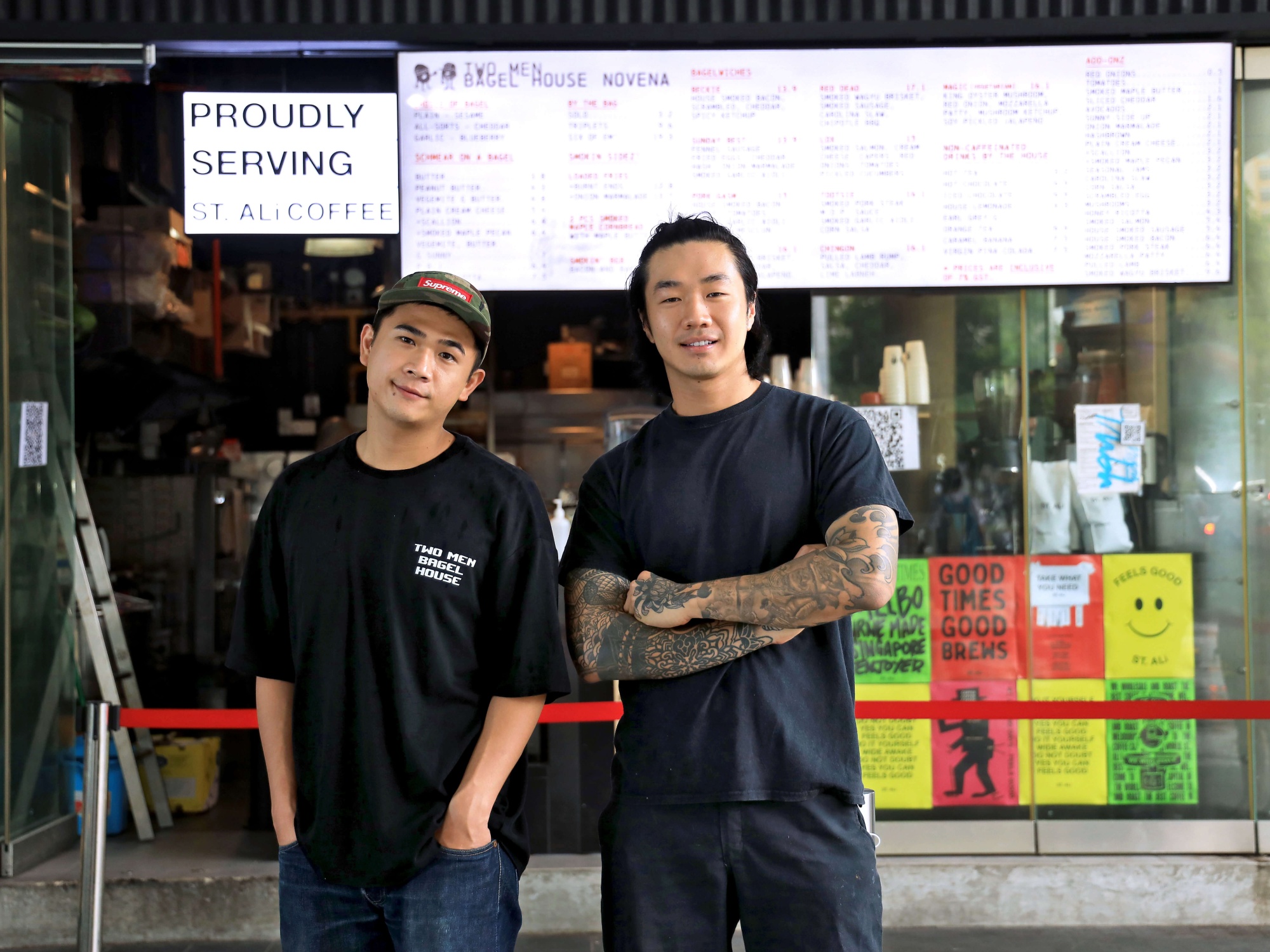 20 Questions is a HungryGoWhere interview series with the who's who of the F&B sector. 
It's a rainy afternoon when we pop into the Two Men Bagel House outlet at Royal Square in Novena.
Co-founder Jereborne Lam, 32, arrives in jeans, a snapback cap, and a black, oversized shirt bearing the name of the popular bagel joint.
The other co-founder Jerome Lam, 31, joins us a little later, emerging from the kitchen in an all-black ensemble.
In advance of the interview, they had asked if there was a dress code for the accompanying photoshoot. We told them to wear whatever they felt comfortable in.
When we meet, we point out that we expected them to be in the trendy hip-hop get-up of their bagel mascots. Jereborne shrugs and replies matter-of-factly: "This is what we wear every day."
We learn later that in the eight years since Two Men Bagel House opened its doors in 2014, these two men haven't stopped working, and thinking about the brand, the bagels and their people.
And their hard work has paid dividends. Starting with a store at Icon Village in Tanjong Pagar, Two Men Bagel House now has three outlets to its name — one of which morphs into a wine bar by night — and a growing list of tie-ups with bars, cafes and, recently, luxury fashion label Coach, its first with a global brand.
We asked them about everything from their favourite bagels to their guilty indulgences. Here's a lightly edited excerpt of the interview:
1. First things first, are you two brothers?
Jerome: We're not. But we do look alike, yes… we met at the Singapore Management University in 2012 or 2013. Back then, that spot was where all the breakdancers went. We're both into hip-hop culture, so we appeared there (to breakdance).
Jereborne: We've the same surname and are of Hakka descent.
2. Why bagels?
Jereborne: Jerome's a chef by profession, so it was always going to be a food business. We thought about doing something Singapore didn't have, which was bagels. At that time, no one was doing a specialty-bagel shop, so we thought we had room to play around with the idea.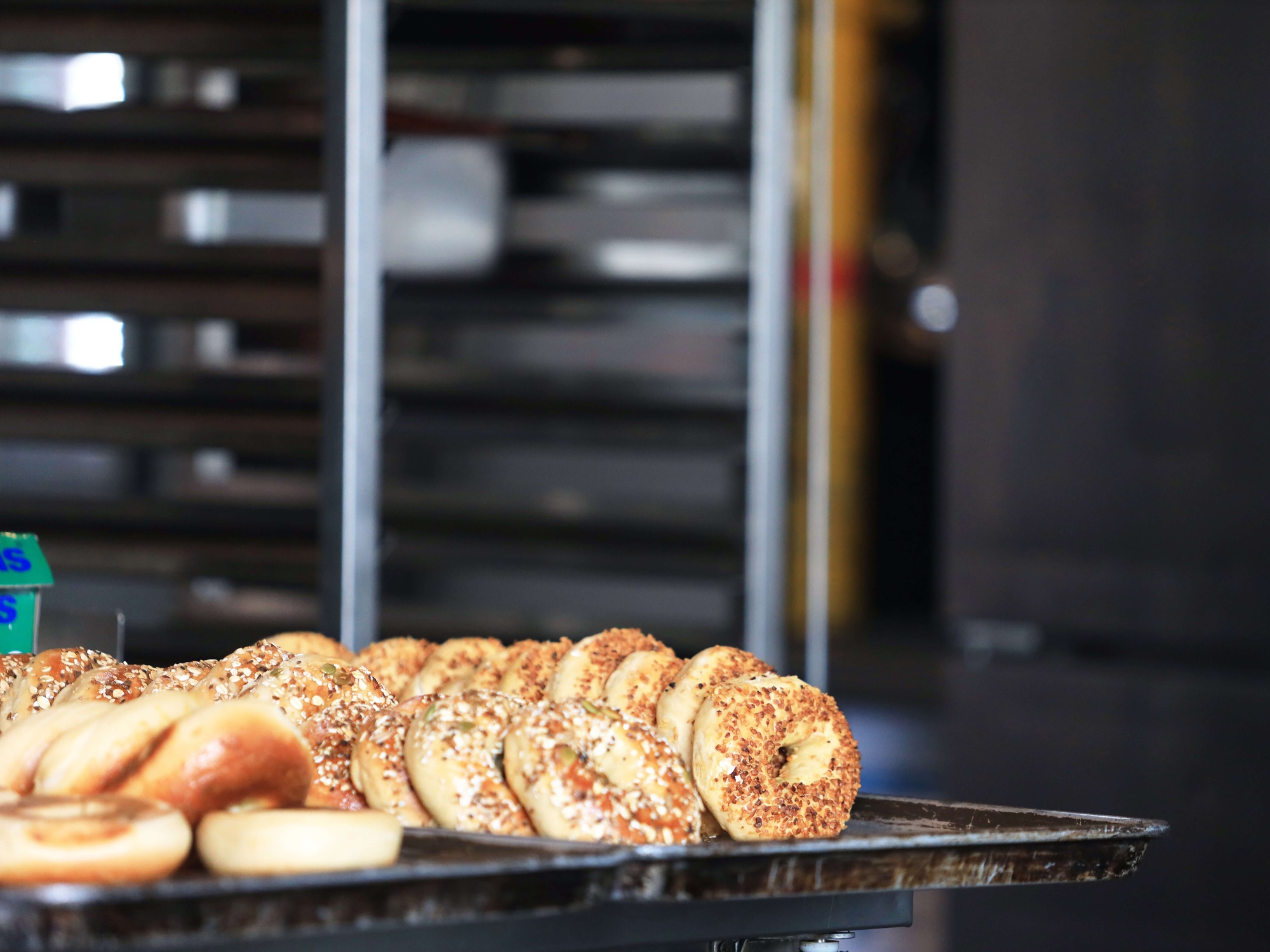 3. When did you two realise a bagel business could take off?
Jerome: It took off naturally. When we started from 2014 all the way through 2016, we were still trying to build the brand, and introduce what a bagel is and what we do at Two Men Bagel House. (For example,) you'd never imagine smoked brisket being in a bagel sandwich. From the get-go, it was built on such foundations.
Also, Jereborne used to fly for Singapore Airlines. So he inspired the whole Two Men Bagel House culture to have a bit of a more outgoing vibe. Even when we train our staff, the things that we instil in all our crew members, we try to be friendly and chill.
Jereborne: Be yourself, but be casual, inviting and welcoming. We noticed that Singapore has a rigid style of customer service. If we were going to open a bagel shop, we knew we had to make it a friendly bagel shop.
4. What was it like at the start when introducing a New York staple to a Singapore crowd?
Jereborne: When we started it, the staple was stuff like Ya Kun (Kaya Toast), and Park Bench Deli wasn't open yet — there wasn't really a modern sandwich shop. We were a little bit ahead.
The people who supported the business were largely expats who were well-travelled and they knew what we were trying to build. In all honesty, without expats at the beginning, we wouldn't be here.
Jerome: It was through word of mouth, and organically around Tanjong Pagar, where residences were also coming up — you walk down and have a bagel.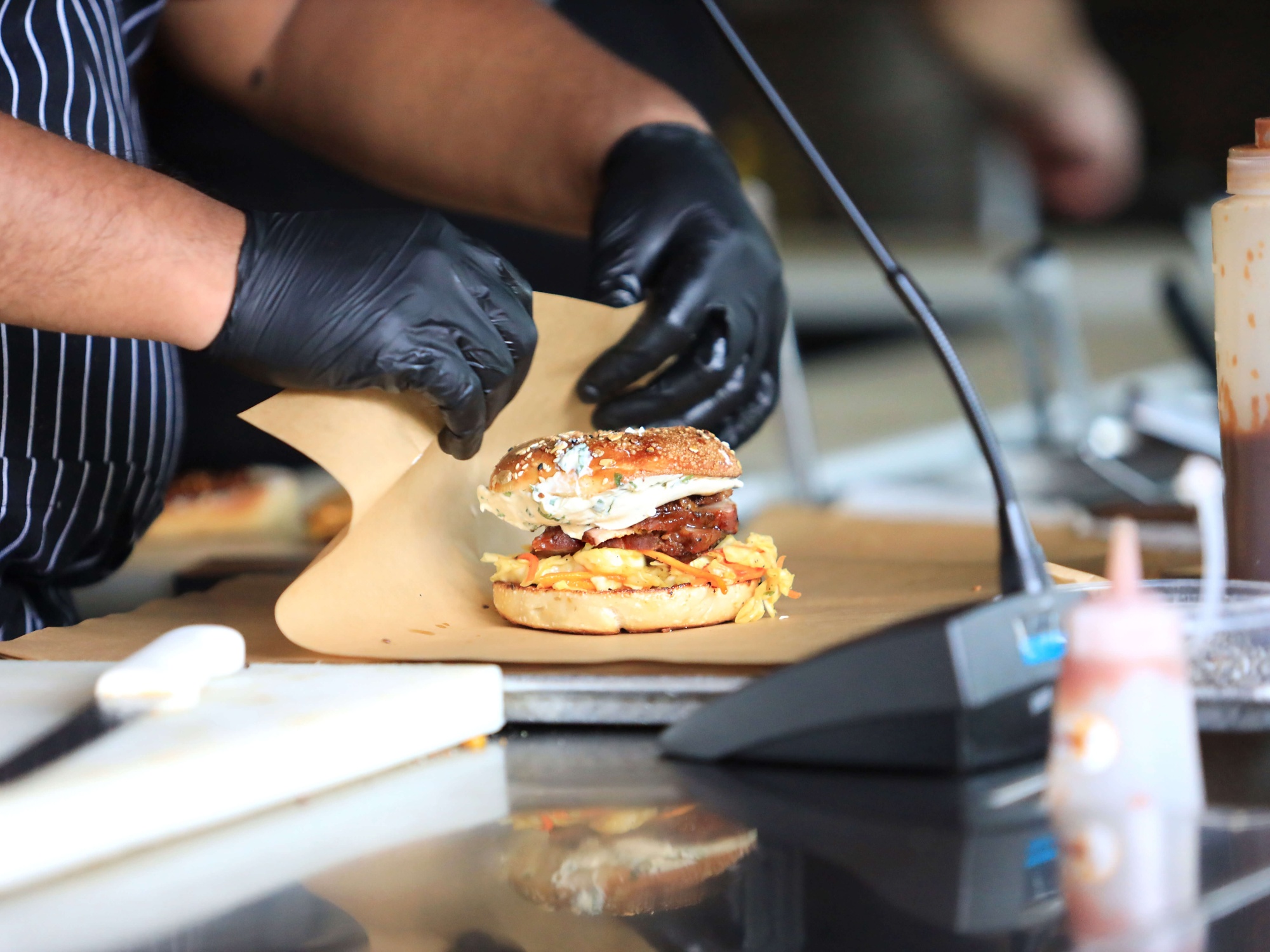 5. How do you decide what goes into a bagelwich?
Jerome: Through the years, constructing the menu year on year, we've constantly tried to break the norm. We do a lot of market research and we head out to eat at different sandwich joints. Now with Instagram, we also have an influx of information. We can see that people are doing a certain style of sandwiches, and we try to do it differently. 
For example, in Tanjong Pagar, we relaunched the menu several months ago. So your classics stayed, like the BEC (bacon, egg and cheese), but the signatures were all inspired by Southeast Asian flavours. There's Banh Me Over, and there's Hot Doe (with ayam percik, a grilled chicken dish), inspired by one of our chefs. When he broke fast during (the Muslim holy month of) Ramadan, that's what he ate in Malaysia. 
Jereborne: The Novena outlet is more of a smokehouse, so it's the only outlet where you can get smoked meats. (We were) pushing the boundaries and innovating.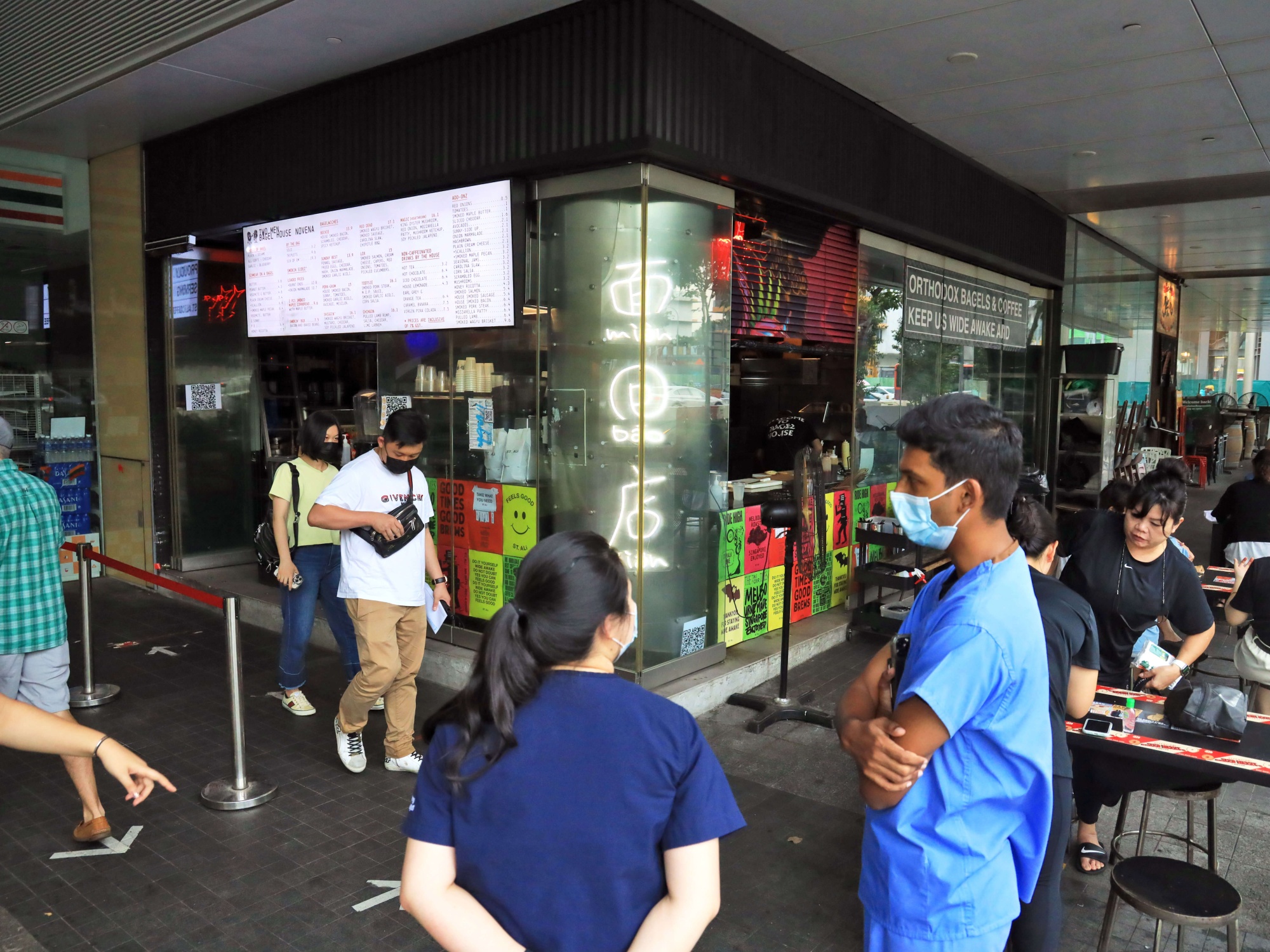 6. Your bagelwiches have pretty funky names. Tell us the story behind two of the most interesting names.
Jerome: At the beginning, we were very involved in the names. But over time, the guys who work with us took over that part of the process because they wanted to come up with interesting names themselves. So they will visualise during operations, when they call an order out, how it would sound and how it would ripple back to our customers.
For example, we've this sandwich at Tanjong Pagar called Secs. Some people are sensitive about saying the word "secs", so they will say s-e-c-s, but our expat community will just say: "Can I have a Secs?" When the order comes in, everyone will just shout: "New order. Secs!"
Jereborne: For me, fondly, it was Avo Baco. That became something I really liked.
Jerome: The Avo Baco sandwich was based off the BLT (bacon, lettuce, tomato) sandwich, but with avocados. So we came up with the name Avo Baco, and it so happened there was a nice ring to it.
7. You've different menus at your branches. Why?
Jerome: We know how mundane it can be if all our outlets were selling the same thing. It was also a way to entice chefs to join us, like a chef's mind — people from restaurants and popular cafes.
People constantly question why we've different menus, and eight years later, people are still asking this question. Curiosity is a draw for our customers. But (for me, it was) the feeling of passion. As a chef, I constantly want to try different things, cook different things. Sandwiches like BEC will be a staple here. But we always have one section of signatures, and that's where the chefs go to work.
8. Favourite bagel from your menu?
Jereborne: I'm not really a chef and I don't have the confidence to say I can cook very well, but I've put a sandwich on the menu, and thankfully, it was OK and nicely received by the customers. It's called the Personal Best (comprising spam, hashbrown, peanut butter, spicy aioli, and a sunny side up).
But looking back, my favourite was definitely this sandwich called the Cow King (no longer on the menu), a pastrami sandwich.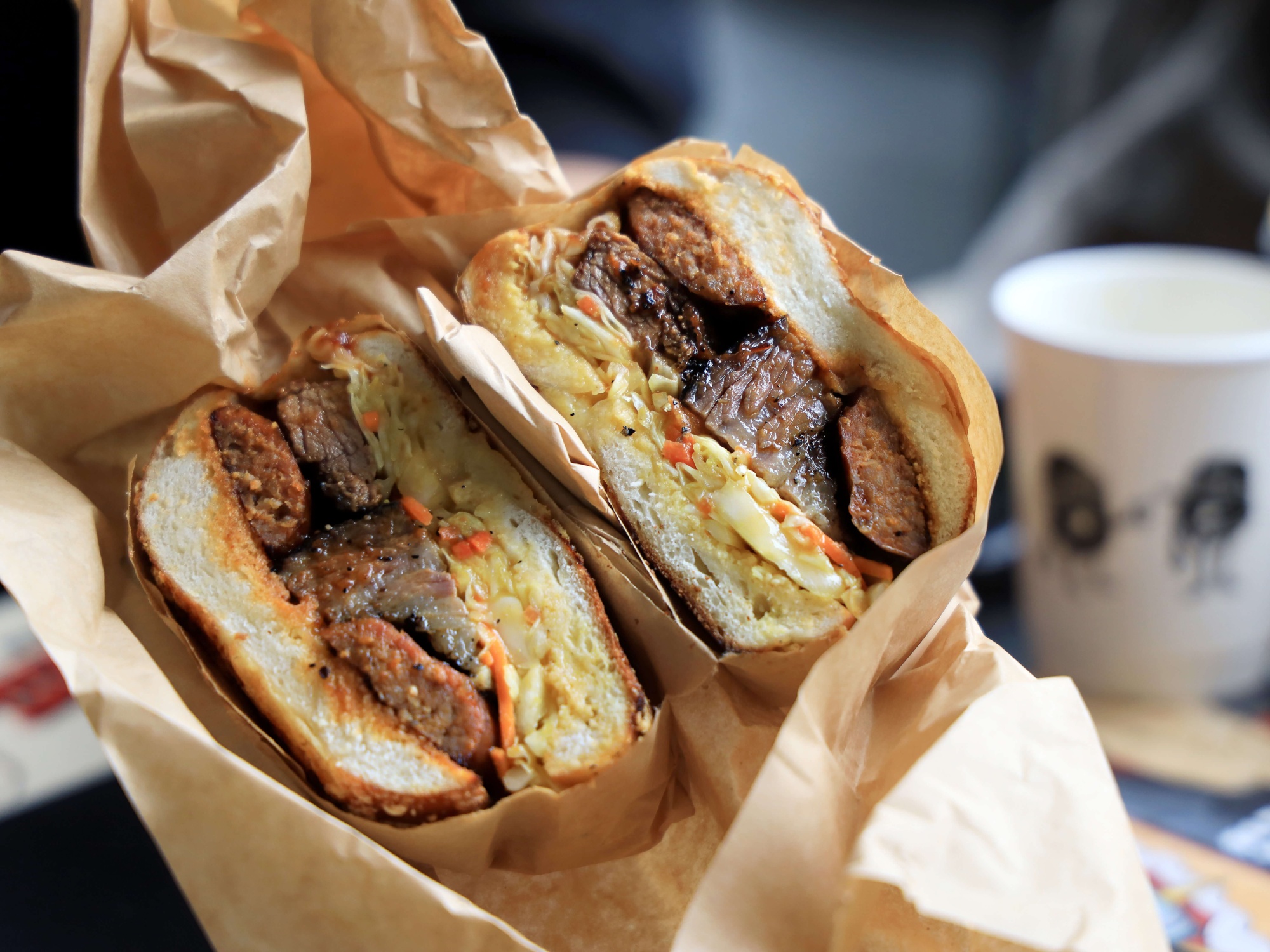 Jerome: The first version of our smoked brisket sandwich. It was damn hard to smoke a beef brisket without a smoking oven; we used a combi oven to smoke the brisket. It was really figuring out the timings and experiencing throwing a wood log into a S$10,000 to S$20,000 oven that's not made or built for it. But we had to try it because we were already set on the whole smoked element.
It took two to three months… When the sandwich was successfully built, that was my favourite, and it tasted the way I wanted it to.
9. You've joined hands with hawkers, bars and even gyms to devise unique flavours and combinations. How did these tie-ups come about?
Jerome: I wanted to collaborate with hawkers a long, long time ago. I just didn't have the capacity to do it. When (Jere)borne built the media team, it gave us a bit more runway to experience new things and collaborate with other partners.
All these years, we've been partnering with restaurants, cafes, events, and festivals, but at the end of the day, we all crave hawker food, right? A lot of people think hawkers are going to be passe, so we were looking for third-generation hawkers, to help build their community again, save their tradition and preserve their heritage.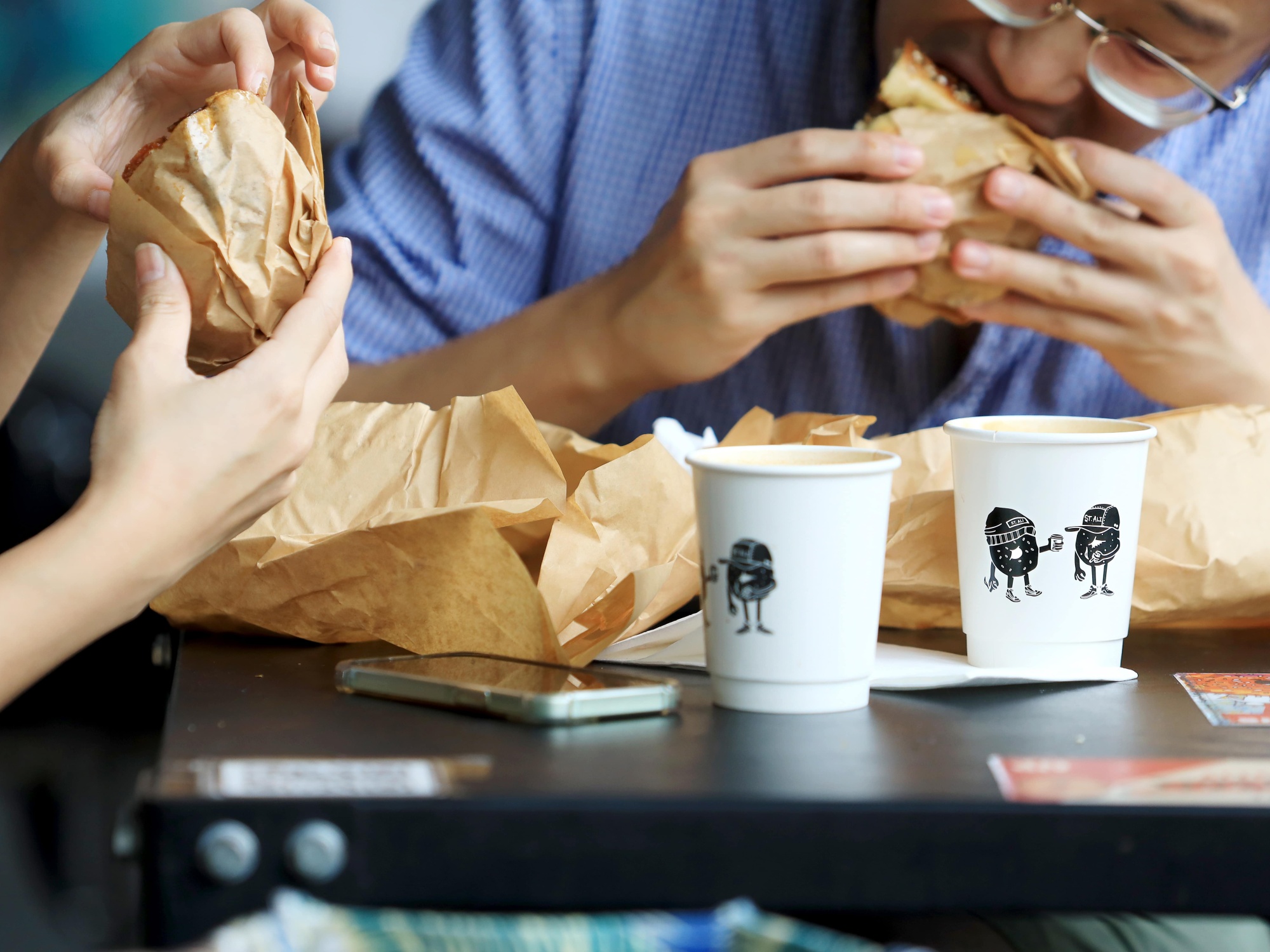 10. Did you ever imagine Two Men Bagel House would be this popular?
Jereborne: We worked hard for the success, and for us, it's always been work over reputation. Whether we anticipated the brand to be popular… we did everything we could. Our lives were intertwined with the brand. We worked for it to be known and we never stopped working.
11. Your team's motto is "made the hard way". What was the hardest decision you've made since opening?
Jereborne: Covid was very hard. But in terms of the hardest decision, I don't think we've hit that note yet. Usually, before we make decisions, we discuss as a team and invite everybody to sync up and vote for something that happens. I don't think we've done anything against our conscience and been like "that was really hard to make".
Jerome: Every decision was hard, but there was no hardest. We had to pivot the company to ensure it survives, like stepping onto a lot more delivery platforms… We didn't let go of people during Covid.
The hardest thing is to retain people in our industry, which is why we've been saying we've to adapt and always be ahead of our problems. And that's why we do so many collaborations, to help keep the team excited.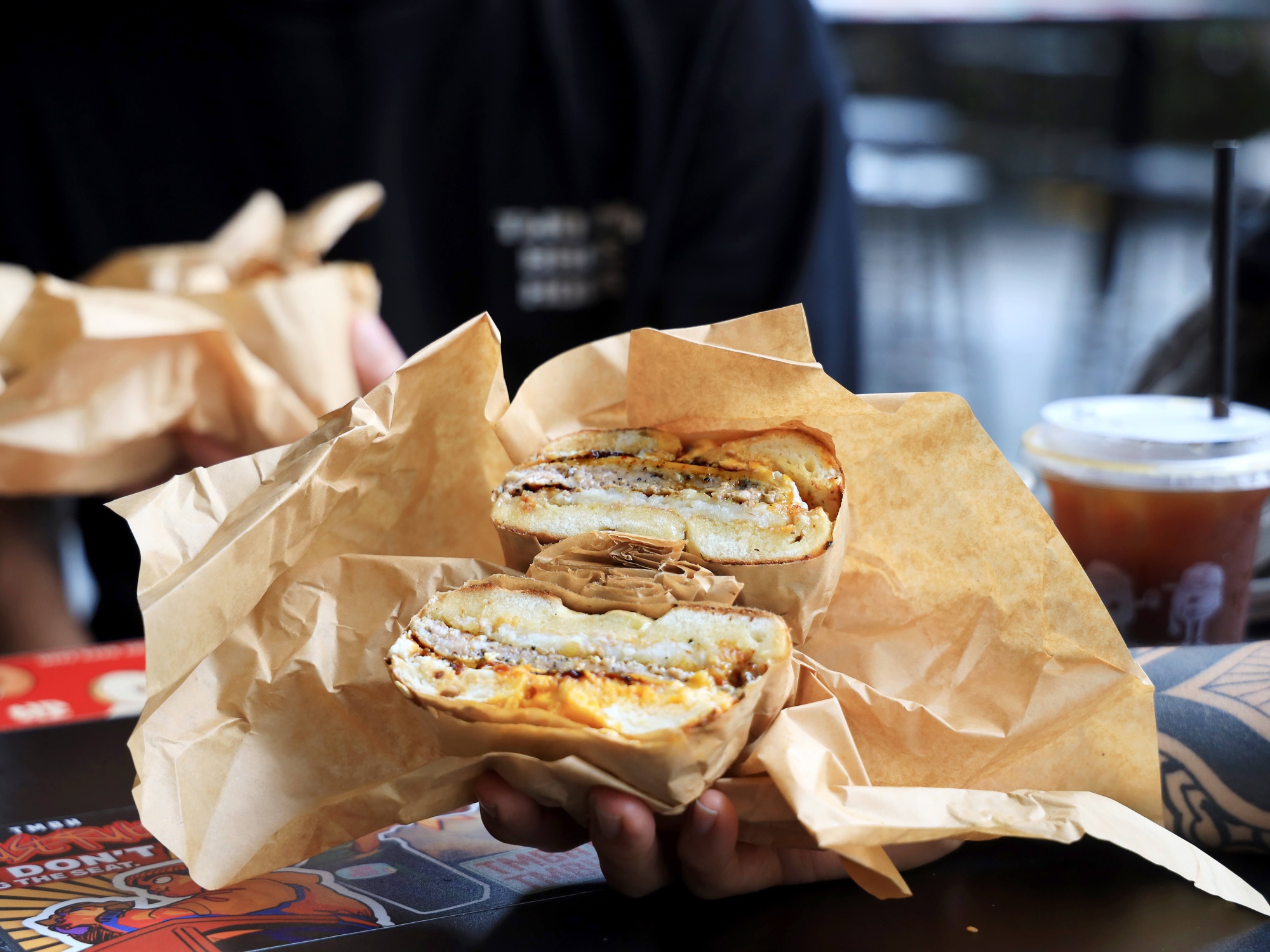 12. What do bagels go best with?
Jerome: Vegemite, butter and a sunny side up.
Jereborne: Anything you crave. As long as you want to have (something in) a sandwich, you can put it in a bagel. Anything.
13. An absolute no-no ingredient on a bagel?
Jereborne: There are a lot of things we haven't tried, so I wouldn't say no-no. I wouldn't put in a piece of Gardenia bread, lah.
Jerome: I wouldn't put in beef jerky. A hard no.
14. What's a day in your lives like?
Jereborne: You wake up and you go to work, and start thinking about what problems there are to fix because in our industry, there are always problems, just like any other industry. How do we always stay ahead of the problems?
There's a balance right now, though. There's definitely time to have drinks and socialise with friends. More important, a day in the life of an F&B entrepreneur, at least for me, always revolves around the team. There are always traces of me hanging out with one or two members of the team, getting to know them.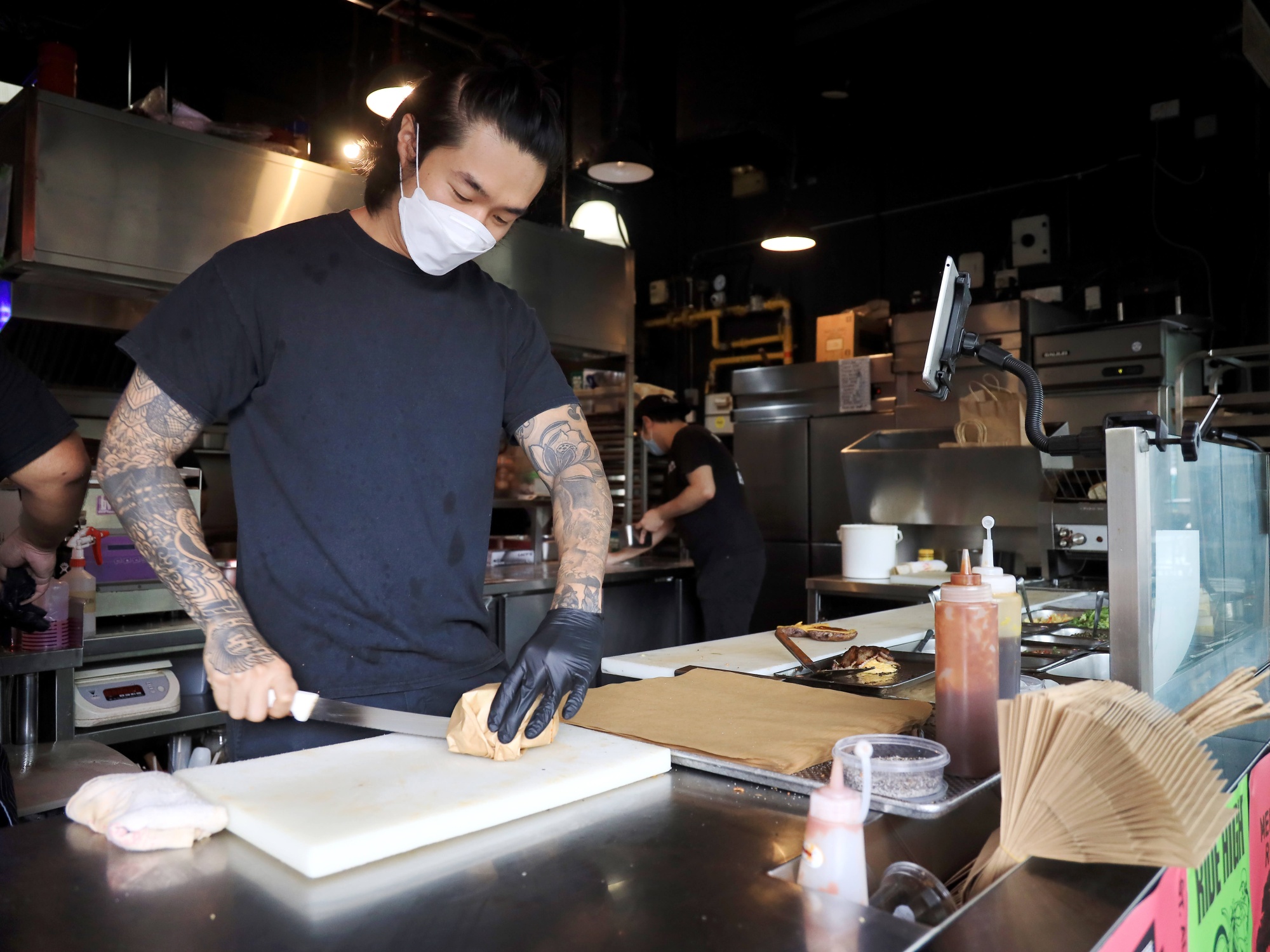 Jerome: My life is very routine. Today's routine was to walk my dog at 6.30am and I'll go to the gym at 7.30am. Because today (the day of this interview) is a Monday, it's a bit more relaxed and it's raining, so I decided to stay home for a while. On a very busy day, walk the dog, go to the gym, go to one shop — either to help them with the operations or talk to the guys to find out if there's anything happening on the ground.
If Amy's (Winebar) is running that day, we'll pop by Amy's to help the chefs run the operations.
15. How do you unwind away from the kitchen?
Jereborne: Travelling. But I haven't travelled in a while. It would also definitely be drinking with my buddies, popping a can of beer and good-quality conversations. Life isn't just about work, but for us right now, for a fair bit, it still is.
Jerome: Just spending time with my dog helps me unwind.
16. Favourite restaurant, anywhere in the world?
Jerome: Momofuku Ssam Bar in New York City. I've always been a fan of founder David Chang. One dish that blew me away was the duck ssam (a Korean dish). Instead of the common pork belly (which is typically used for ssam), he made a duck dish, served with duck-fat fried rice and wrapped with lettuce.
Jereborne: Best Ugly Bagels in New Zealand. The chef who came up with the concept was Al Brown — I loved how he conceptualised the idea of the bagel shop.
17. What is your guilty indulgence?
Jereborne: Anime. I'm a big One Piece fan.
Jerome: I just like to eat, man. I eat a lot of junk food, like McDonald's and Arnold's Fried Chicken. I eat a lot of ice cream, too.
18. If you weren't selling bagels, what would you be doing?
Jerome: I enjoy fitness a lot and would probably be working in a gym.
Jereborne: The plan was to transition from being a flight steward to becoming a pilot. But right now, I would love to do something that is design-based and creative-based.
19. If you could eat only one thing for a month, what would that be?
Jereborne: Caifan (economy rice), because they have an arrangement of so many things for you to pick from.
Jerome: Prawn noodles — the dry one with the broth at the side. The ngoh hiang (fried meat rolls) is also key.
20. What's next for each of you and the brand?
Jereborne: We may make a lot of new decisions to come, but definitely to scale Two Men Bagel House to greater heights. For myself, to be a better human being. Other than that, it's to stay happy, contented and grateful.
Jerome: My girlfriend and I have been living together for a while, and every time we move house, we want new stuff because I like cooking so much at home. I constantly want new plates, new pottery and things like that. So, when we looked into the idea, we thought that new, modern families would have a different idea of how they want their dinnerware to be, as they'd enjoy hosting more friends.
The name of (my upcoming ceramic business) is Kane. There are a lot of different meanings to it in Japanese, but we found one that's very suitable for us, which is "to serve".
Two Men Bagel House is on the GrabFood delivery service. You can also book a ride there.
---