Review: Cafe Kitsune is a dessert wonderland that a sweet tooth would thoroughly enjoy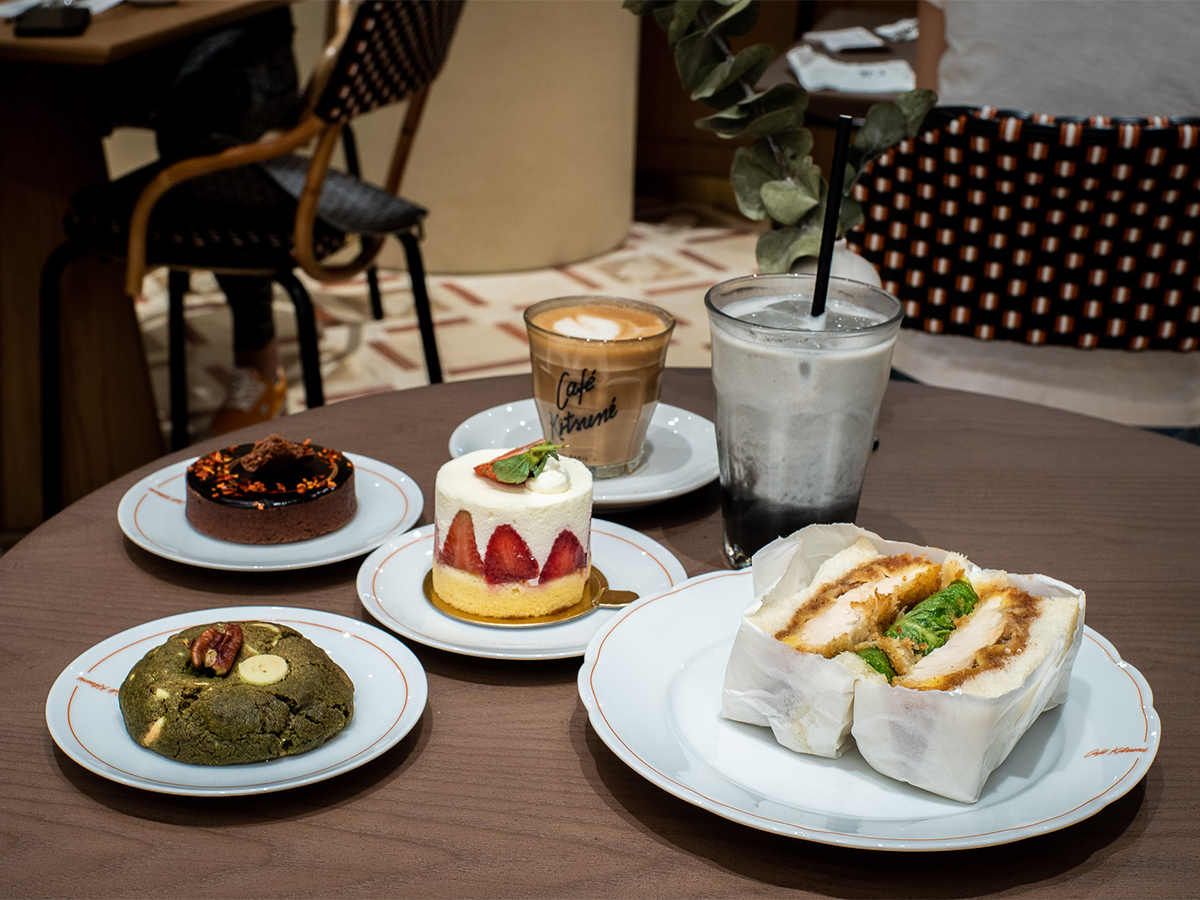 Cafe Kitsune finds a home at Capitol Singapore and brings with it an impressive dessert selection that will turn heads
Stay clear of the savoury items, though. The chicken sando was a letdown
Waits may go up to 45 minutes, regardless of the time of day
I'm not sure how my dining partner and I managed to wait patiently in line for nearly an hour for seats at Cafe Kitsune. 
No complaints. No grumbling. No tsk-ing. No chairs. 
I suppose standing in line for a table in the middle of a weekday afternoon is simply par for the course for entry to Singapore's latest cafe import. 
Thankfully, we had the wisdom to grab lunch at So Good Char Chan Tang a few units away — desserts do not a lunch make. 
Cafe Kitsune is the latest addition to Capitol Singapore's F&B directory. It offers French-Japanese desserts and pastries in a 40-seat mise en scene brimming with tropical vibes. There are indoor and outdoor seats, but given December's weather, I'd give the al fresco option a hard pass.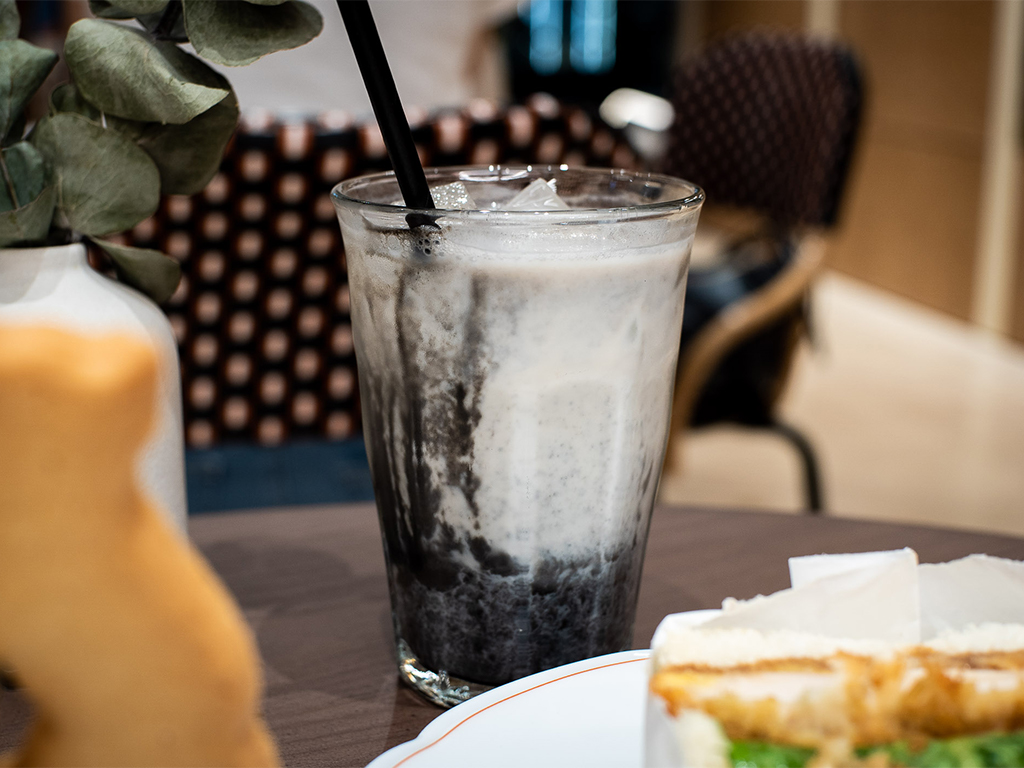 The backstory
Cafe Kitsune is the F&B arm of the Maison Kitsune brand that hails from Paris, France. The French-Japanese lifestyle brand was founded in 2002 and operated as a fashion brand, a record label, an art gallery, and an F&B retailer.
Right now, Cafe Kitsune can be found in Paris, Japan, Korea, New York, China, Thailand, Indonesia and the United Kingdom. In-store, diners can browse tableware, ready-to-wear apparel and coffee accessories.
Cafe Kitsune also prides itself on a stellar cup of coffee, using single-origin beans from Brazil and Guatemala. The brand is serious about coffee, evidenced by its two roasteries — one in Vertbois, France and the other in Okayama, Japan. 
According to Cafe Kitsune, the beans from the latter will be used throughout Asia in the near future.
Our verdict
What this place is good for
If you're here for proper food, the only savoury items available are the sando. If you're hungry, do as I did and have a decent meal first (there's Punggol Nasi Lemak downstairs, too), and come to Cafe Kitsune for drinks and dessert.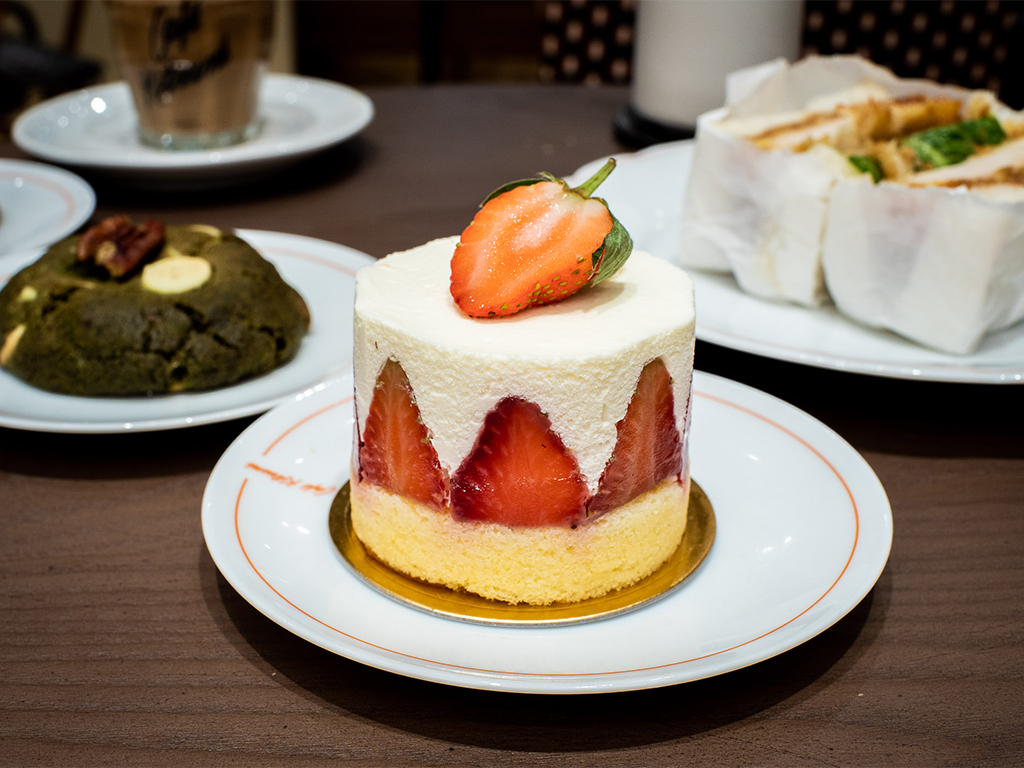 From their range of pastries and sweets, I had the strawberry shortcake (S$13) covered with a cream laced with a delicate strawberry flavouring. 
Inside, the sponge is beautifully moist, and the jam between the layers tart with a hint of sweetness. Surprisingly, even when all the elements are put together, this cake is not saccharine for solo consumption.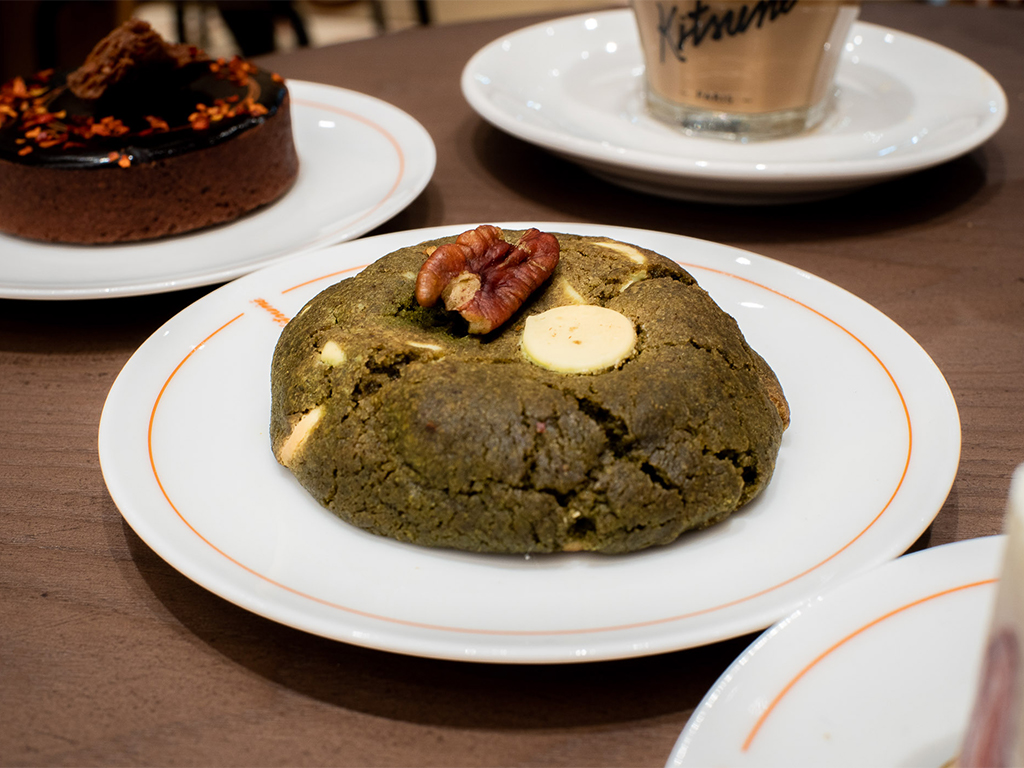 I also had the white chocolate matcha cookie (S$7), which would thoroughly please green tea fans. I can smell the matcha before it goes into my mouth — that's how much green tea is in this. 
The cookie comes chock-full of things — chunks of white chocolate chips, nuts, and a surprising dash of salt that elevates and brings everything so elegantly together.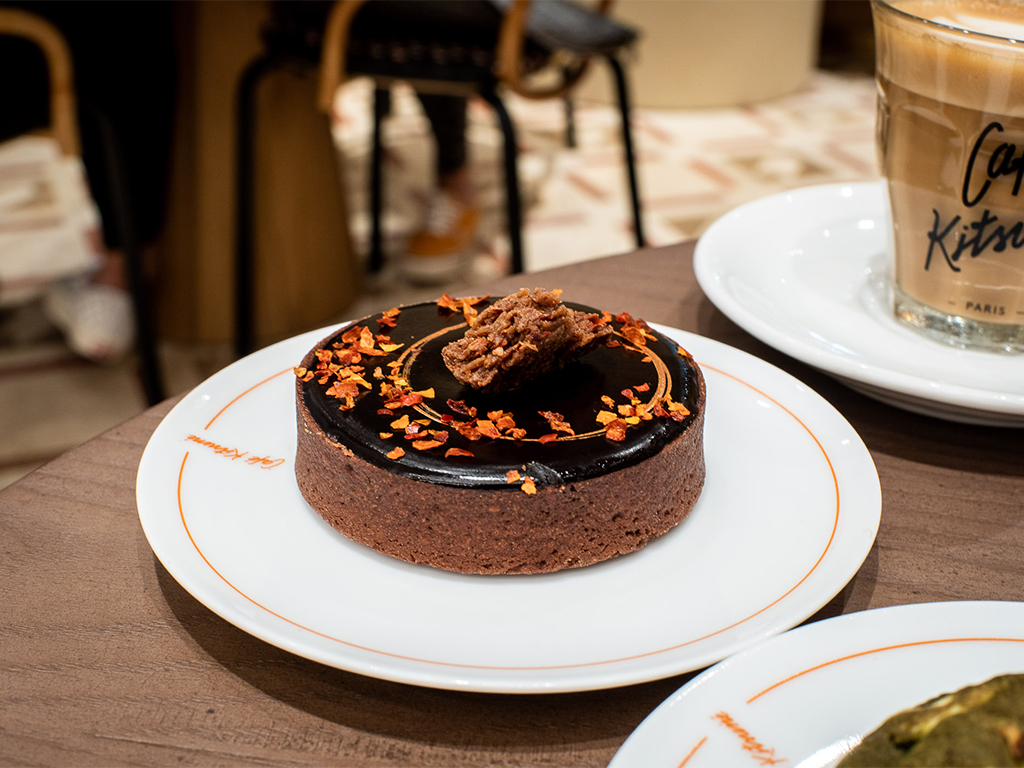 The chilli chocolate tart (S$12) is a Singapore exclusive that no true chocolate lover should miss. 
From the dry chilli flakes that adorn the surface of the dark chocolate ganache, you can probably guess that this is not kid-friendly. Unless your brood is the type that enjoys the heat from this, which hits you so potently at the back of the throat. 
Proceed with caution.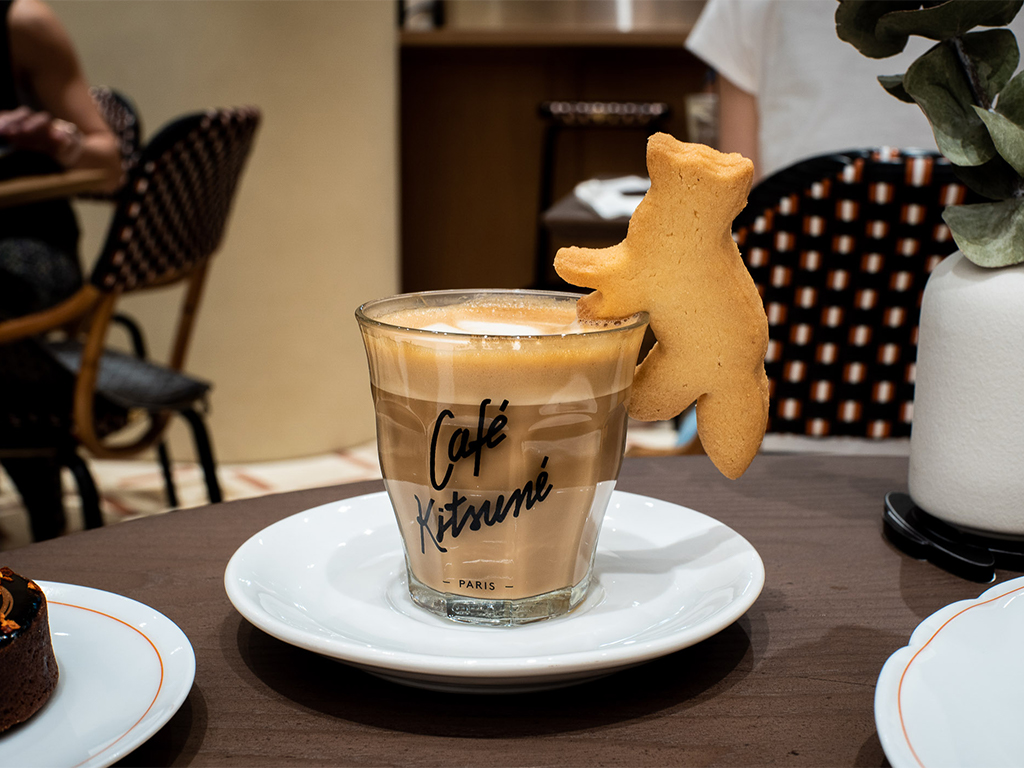 Kids would enjoy the buttery and crumbly fox-shaped shortbread cookies (S$4 each) that everyone photographs perched on the brim of their coffee. Which I also did, of course, only to have it break mere moments later. It's cute, kitschy, easy to eat, and comes in four flavours — butter, matcha, chocolate and sesame. 
Elsewhere, the iced soy sesame latte (S$9.50) has bold, roasty undertones that made my dining partner squeal with delight. 
I had the cortado (S$7.50) because it's rare to find it in Singapore cafes that usually offer only lattes or whites (and not even the actual, proper type defined by baristas). It's my first time having this half-espresso shot, half-milk beverage here, and I have to say I thoroughly enjoyed it. 
What it could improve on
My only gripe is the chicken katsu sando (S$15). 
I should have recognised the warning bells when the cashier asked if I would like to have mine warmed up. 
"Like in a microwave? The way we do it at 7-Eleven?" my mind wondered.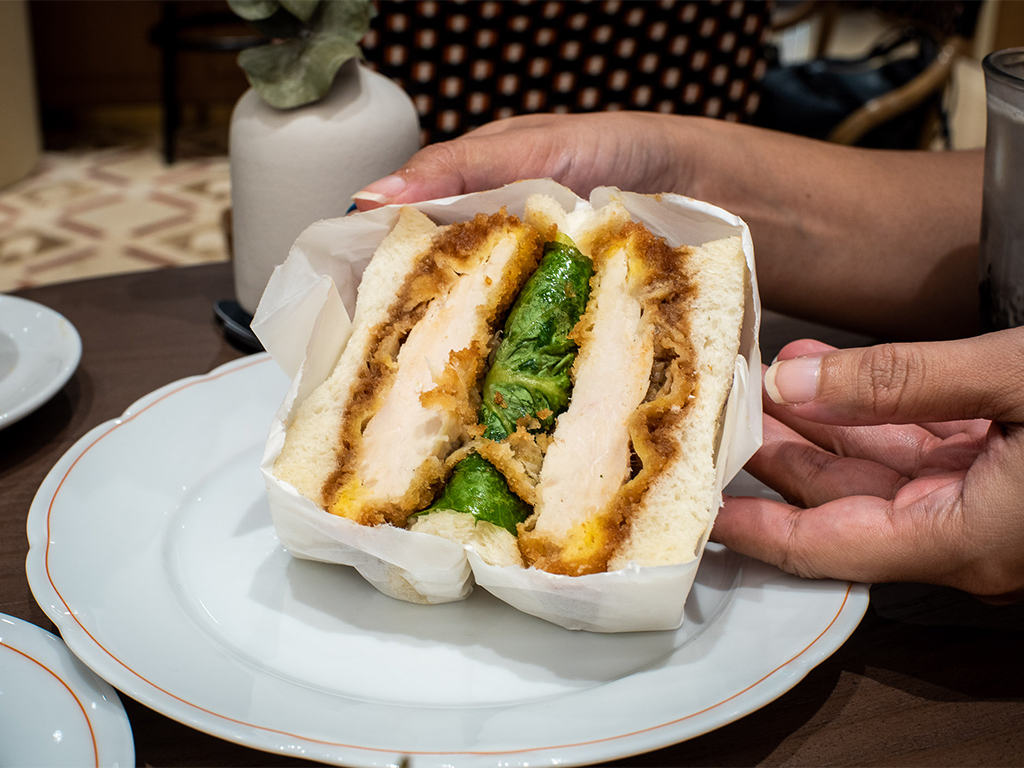 To nobody's surprise, that's exactly what this sandwich is. A huge chunk of chicken breast that's dry, tough and a nightmare to consume. I've had 7-Eleven sandwiches with more personality than this. 
I know people would cry foul and chastise me for ordering savoury food at a famous dessert outfit. But if it's available to order, as a food reviewer, I will get it. And if it can't stand up to scrutiny, take it off the menu, please. 
Still, the sando does not and should not take away from all the desserts and drinks Cafe Kitsune offers because those are great. 
And when the queue eventually dies down, and Singaporeans hanker for the next shiny trinket, I wouldn't mind spending a leisurely afternoon here again, reading a book, listening to a podcast and just, you know, watching the world pass me by. 
I reckon I would enjoy myself very, very much.
Our quick takes 
Is it conducive to conversation? Yes. The seats are well-spaced.
Is a reservation necessary? Cafe Kitsune accepts only walk-ins for the moment.
How to get there? Capitol Singapore connects directly to the City Hall MRT station.
HungryGoWhere paid for its meal at this cafe for this review. 
Book a ride to Cafe Kitsune.
Capitol Singapore, 01-11, 13 Stamford Road
Open: Monday to Sunday (10am to 10pm)
Capitol Singapore, 01-11, 13 Stamford Road
Open: Monday to Sunday (10am to 10pm)