10 places for creative and unusual waffles in Singapore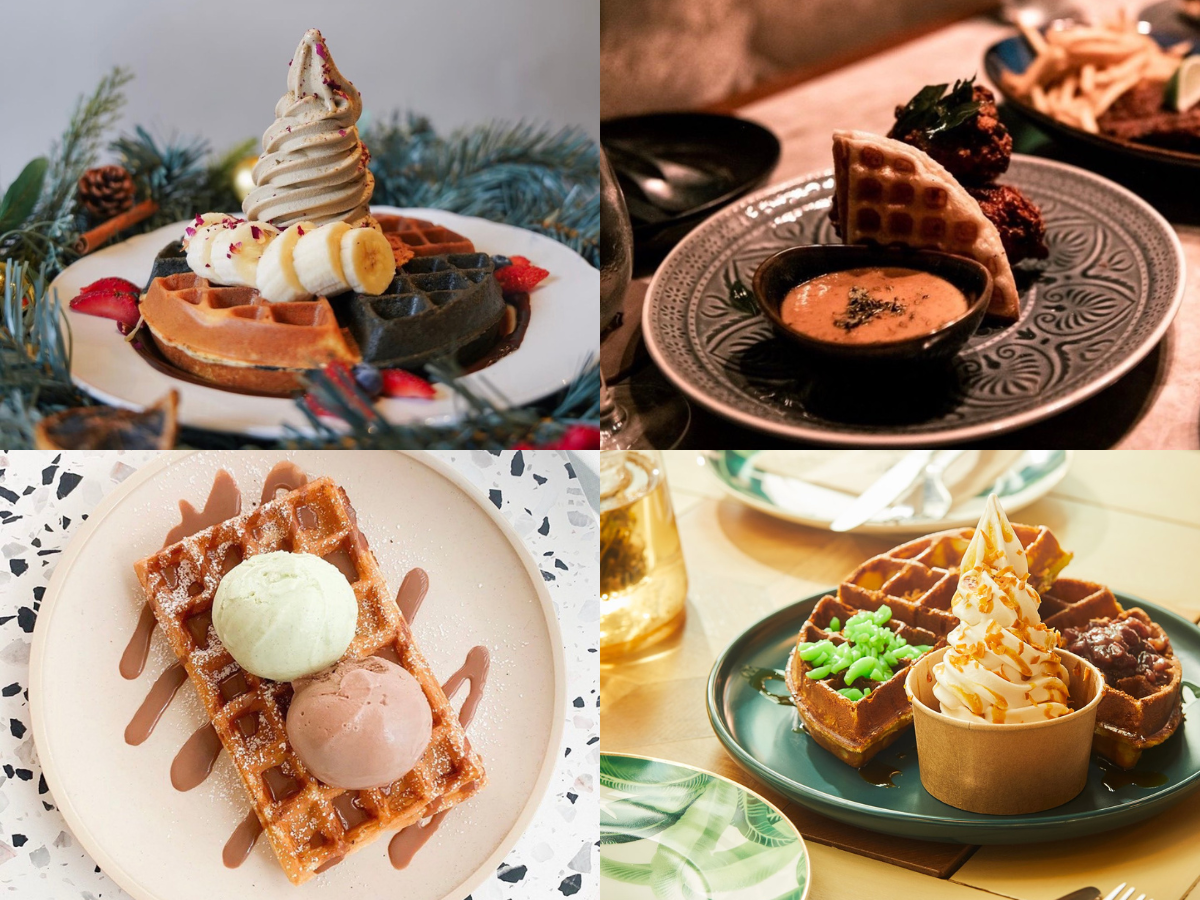 There's no better way to beat the humidity in this unforgiving tropical heat than with a chilly scoop of ice cream and some waffles in Singapore. After all, cold treats and baked goods are always a welcome combination. 
Unfortunately, we're creatures of habit, and when it comes to desserts, it entails turning to the same ol' ice-cream parlours for the usual (and boring) plain buttermilk waffles. 
No hate for these OG waffles, but perhaps it's time we stray away from the predictability of it all. How about stepping out of your comfort zone and going for lesser-known, atypical waffle creations? 
Picture fluffy kuehffles (kueh and waffles, say what?), a prata-waffle hybrid, and a dish inspired by the old-school chendol dessert – they're delicious and fantastic for the 'gram, too. 
If you're craving something a little out of the ordinary, be sure to check out these 10 spots for unusual and unique waffles in Singapore. 
10 waffle places In Singapore for creative and unusual waffles
1. Ri Ri Cha (日日茶)
24 Sago Street
Open: Tuesday to Sunday (12pm to 10pm)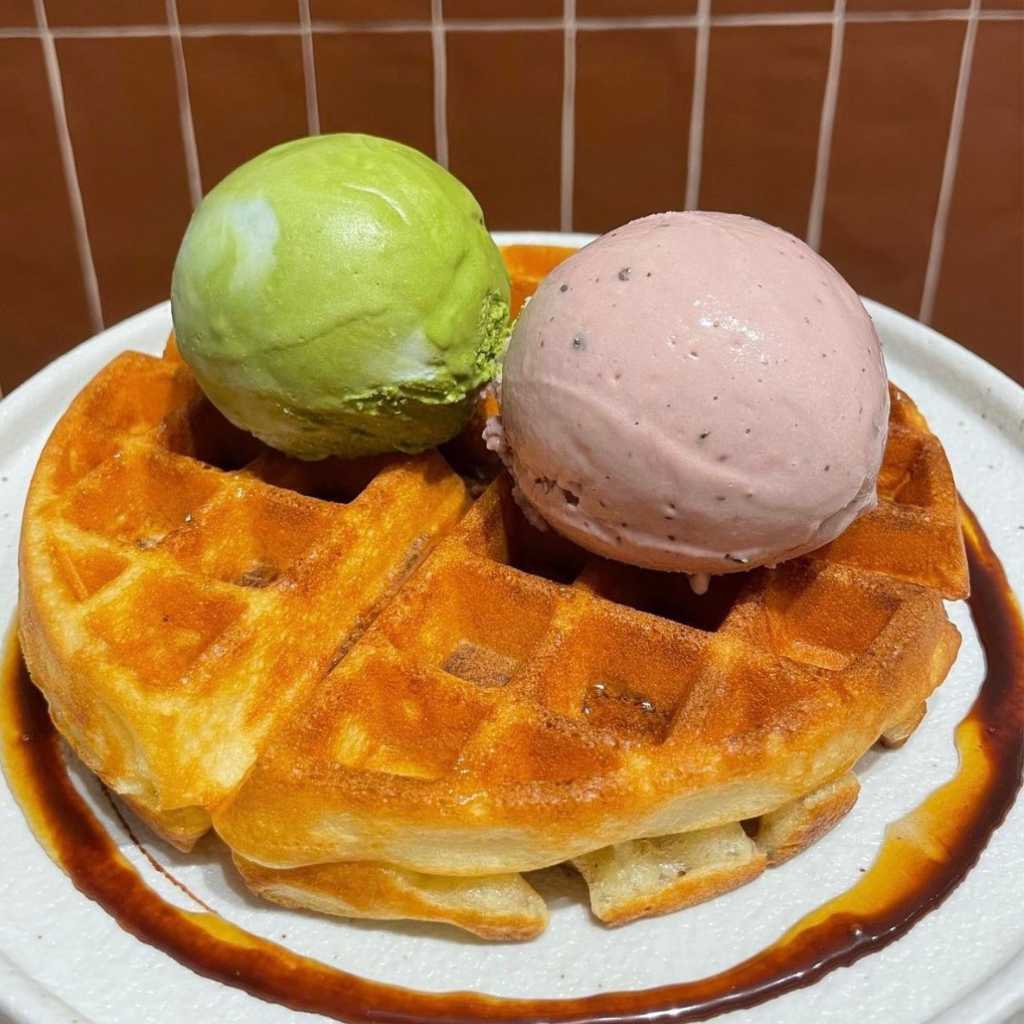 Why visit: Number one on the list is certainly tea-specialty cafe, Ri Ri Cha (日日茶). Founded by the same folks behind popular ice-cream shop, The Better Scoop, Ri Ri Cha (日日茶) is their newest artisanal concept that prides itself on serving all things tea-based.
Think tea-infused gelato flavours, which span the likes of matcha butterfly pea soy (S$5.50 for a single scoop) and duck shit oolong (S$5.50 for a single scoop). 
You may have also caught foodies touting its pi pa gao (loquat) mint ice cream on Instagram, which is another exceptional flavour that should not be missed. 
The establishment is conveniently located near Maxwell MRT station, which makes it a prime spot for diners in the vicinity. 
Price range: $
Crowd faves: The signature nian gao waffles (S$6.80) are a standout. You'll enjoy the chewy, sticky rice cake that's embedded in the hefty waffles. The rice cake is also prepared with brown sugar, which lends a subtle sweetness to the dessert.
2. 2nd Serving: Artisan Gelato & Tea
41 Holland Drive, 01-07
Open: Sunday to Thursday (12pm to 5.30pm, 6.30pm to 10pm), Friday and Saturday (12pm to 5.30pm, 6.30pm to 11pm)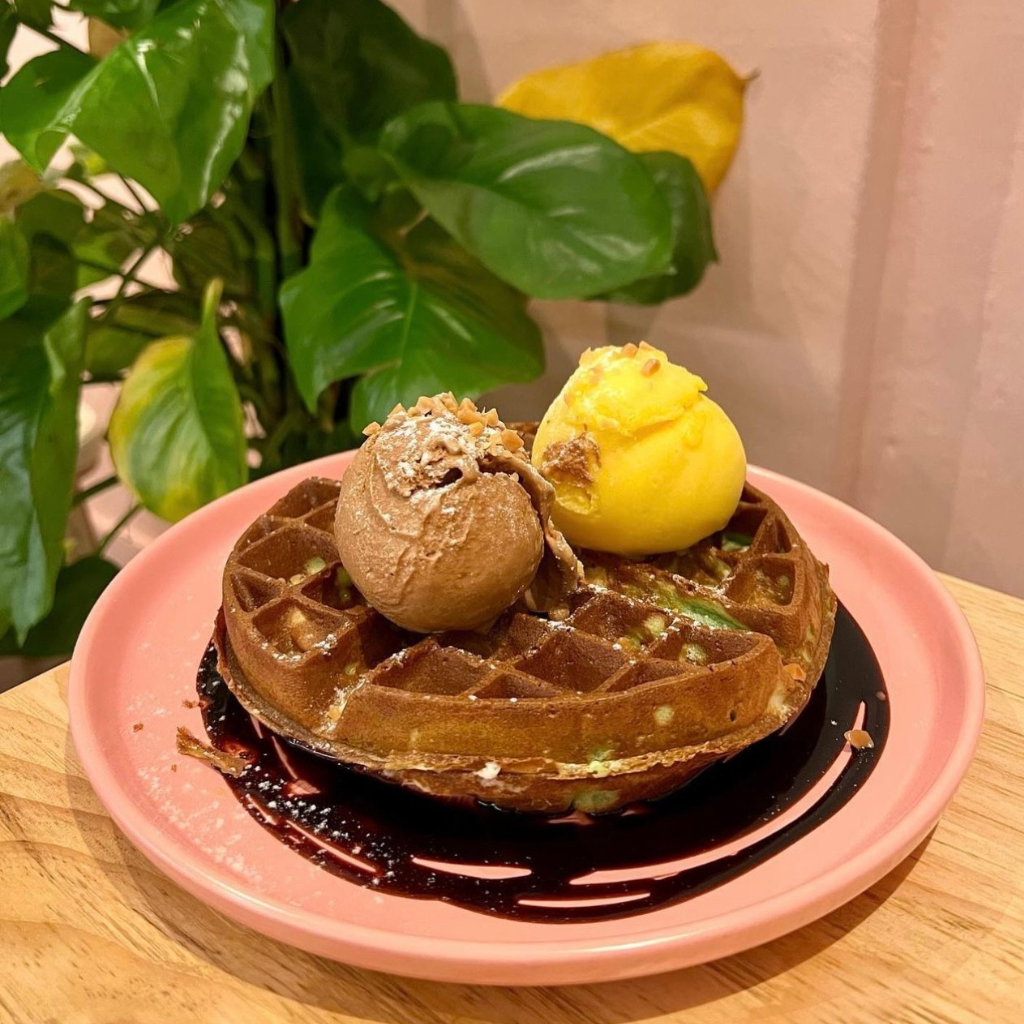 Why visit: 2nd Serving: Artisan Gelato & Tea isn't just your run-of-the-mill ice-cream cafe. It's inconspicuously hidden behind a vending machine, which certainly adds a fun element of surprise. Set foot into the store, and you'll be wowed by its pretty-in-pink interior. 
Take your pick from a myriad of ice-cream flavours, such as banana honey roasted nuts (S$5.80 for a premium single scoop) and summer berries (S$4.80 for a classic single scoop). 
Drinks wise, we recommend going for beverages under the 2nd Serving Specials, which include the fizzy Sparkling Galaxy ($7) and Waterfall matcha latte (S$7 for hot, S$7.50 for iced). 
Price range: $
Crowd faves: The seasonal waffles are the highlight of its menu. Pandan mochi waffles (S$8) are served from Sunday to Thursday, while the fudgy chocolate waffles (S$8) are available on Friday and Saturday. They're the ones to order, for the mochi, paired with the crisp waffles, make for a moreish bite.
3. Three's a Crowd
802 Tampines Avenue 4, 01-11
Open: Sunday to Thursday (11am to 10.30pm), Friday and Saturday (11am to 11pm)
50 Race Course Road
Open: Monday to Sunday (11am to 10.30pm)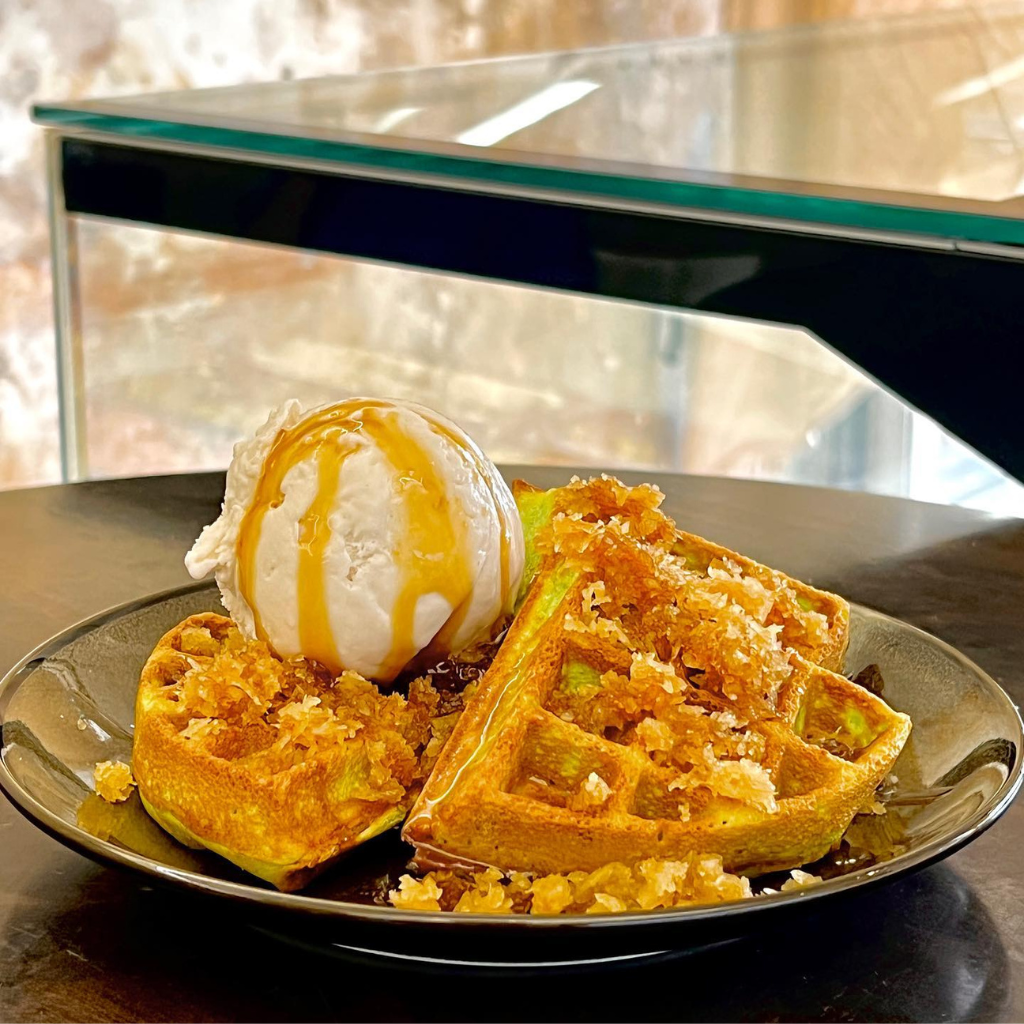 Why visit: Look no further than Three's a Crowd for unique waffles in Singapore! The beloved halal-certified cafe has a couple of exciting waffle creations up its sleeve, starting with the signature ondeh waffles (S$9). 
This treat features aromatic pandan waffles that's adorned with your choice of ice cream, gula melaka-infused coconut shreds and gula melaka sauce. Yum! 
Note that the ondeh waffles are a mainstay item at the Race Course Road outlet. They, however, are a limited-edition dish at the Tampines branch.
Price range: $
Crowd faves: Not feeling ondeh? Then, you may just fall in love with the churro waffles (S$8). Made from churros (a type of fried dough), the dessert is decorated with toasted marshmallows and dark cocoa sprinkles. Chocolate fans, you won't want to sleep on this.
4. The Ang Ku Kueh Hut
36 Kim Keat Road
Open: Tuesday to Saturday (10am to 5pm)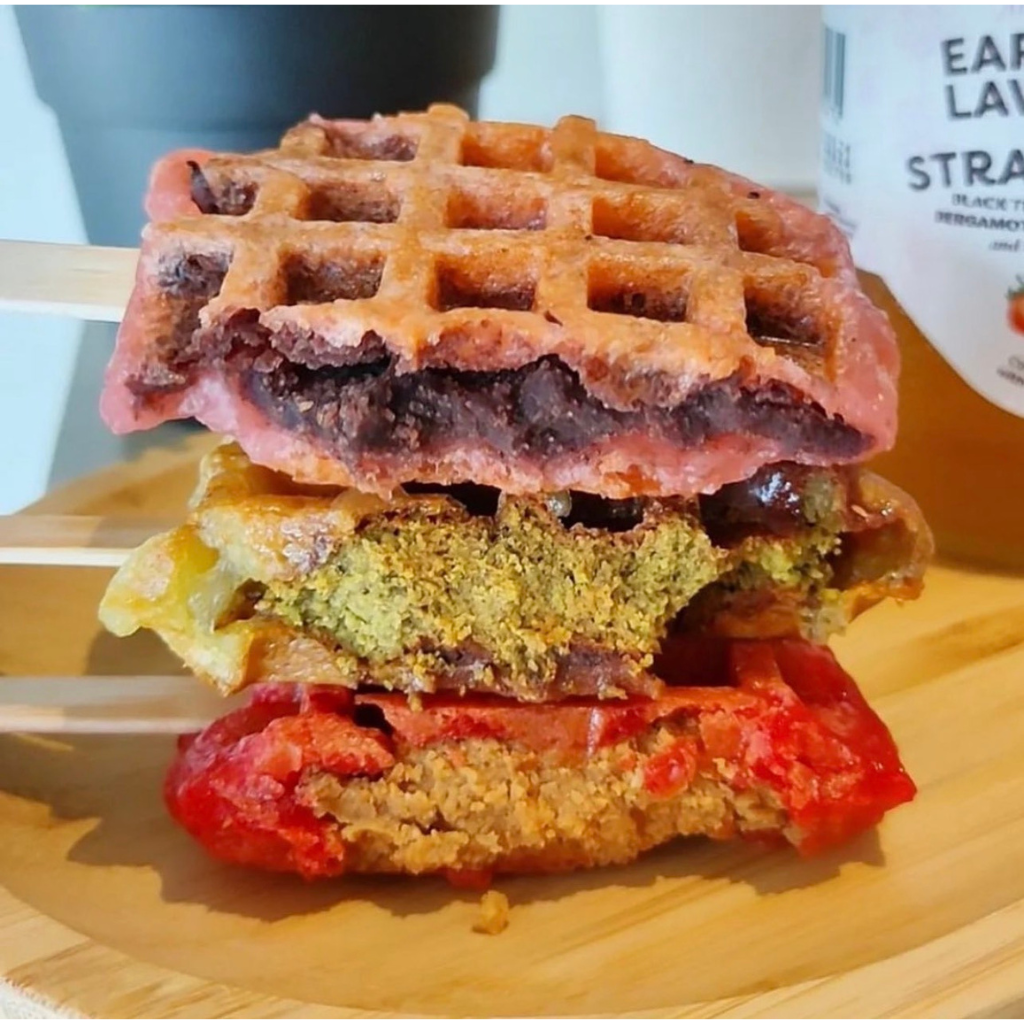 Why visit: When it comes to one-of-a-kind waffles in Singapore, the kuehffles by The Ang Ku Kueh Hut certainly take the cake. The folks behind the eatery have spun their own bold twist to the usual waffle creations by baking traditional ang ku kueh in a waffle machine. 
The result is a kuehffle – a kueh-waffle hybrid. This innovative dish is a harmonious (and tasty) combination of the old and new, its flavour profile further elevated by the ice cream. It's no wonder it's a hit with diners!
Choose from a plethora of ang ku kueh fillings, such as the classic peanut (S$3.50) and yam (S$2.50). Those who prefer modern flavours can opt for the hazelnut (S$3.50) or pistachio (S$2.50)
Price range: $
Crowd faves: Savour the treat to your heart's content with The Merry Bowl (S$7), which comprises your choice of kuehffles, ice cream and sauce.
5. Firangi Superstar
20 Craig Road, 01-03
Open: Monday to Saturday (12pm to 2.30pm, 5.30pm to 10.30pm) and Saturday (5.30pm to 10.30pm)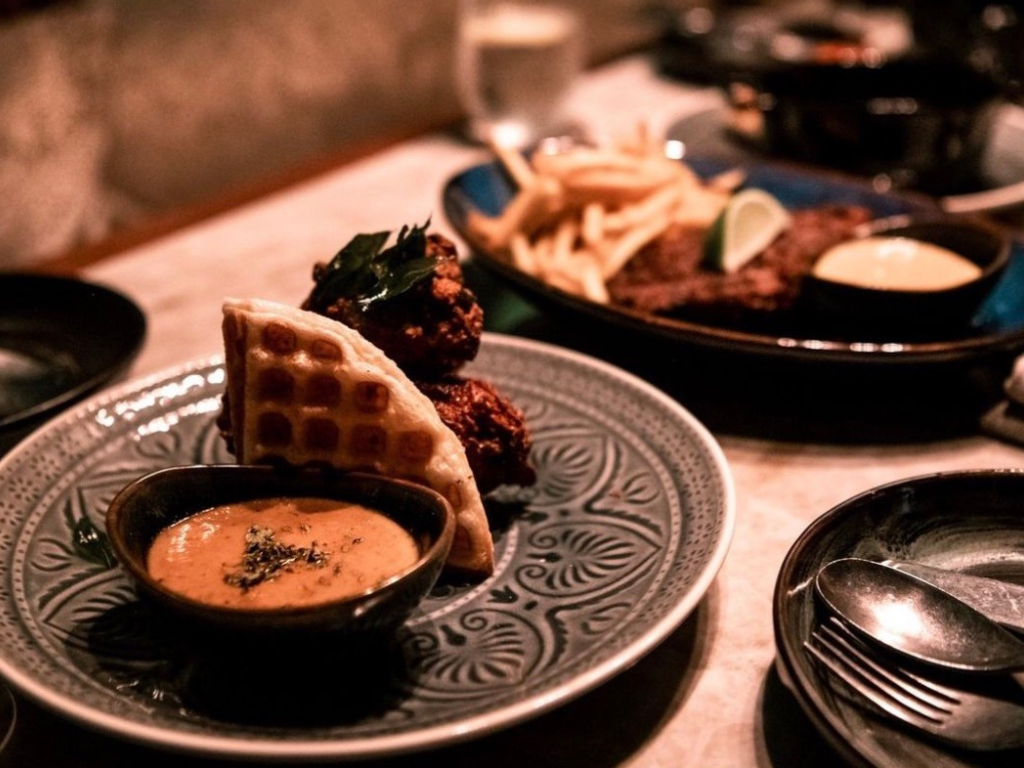 Why visit: Searching for awfully good waffles in Singapore? The prata waffles (S$24) at Firangi Superstar are the chef's ingenious, scrumptious rendition of the classic American chicken-and-waffles combination. Opt for either Madras fried chicken or Madras fried tempeh to go with the dish. 
We recommend the former, as the fried chicken is prepared Madras-style (with a fairly hot curry sauce) and garnished with curry leaves and garlic. The fragrant waffle-pressed prata is also served with a delicious butter chicken sauce and jaggery syrup. 
Price range: $$
Crowd faves: The crispy prata waffles are incredibly addictive, and you'll find yourself ordering a second platter in no time. Keep in mind that the dish is only available for brunch on Saturdays.
6. Twenty Grammes
753 North Bridge Road, 01-01
Open: Sunday to Thursday (12pm to 10pm), Friday and Saturday (12pm to 1am)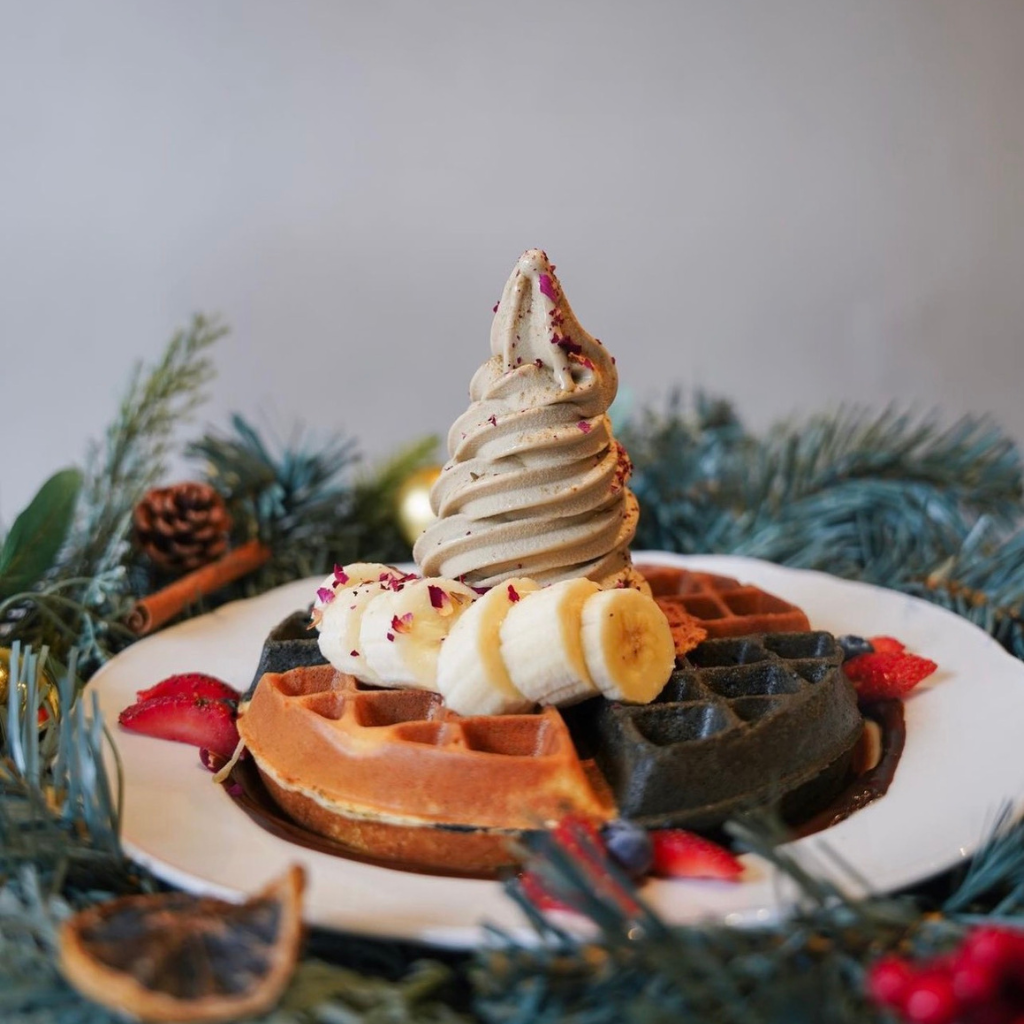 Why visit: One of the top waffle places in Singapore is undoubtedly Twenty Grammes, a famed dessert boutique nestled in the heart of North Bridge Road. We dare say it serves one of the best waffles and ice cream in Singapore, thanks to its myriad of handcrafted desserts. 
Spoil yourself with its artisanal tarts, cakes and petit fours, all of which are as indulgent as the last. But the desserts that truly stole the show for us are none other than its curated lineup of signature waffles.
The number one bestseller is the 'gram-worthy soft serve on waffles (S$16), which is a stunning yuan-yang (yin and yang) creation featuring both charcoal and original buttermilk waffles. It's accompanied by either hojicha or bubble milk tea soft serve for extra sweetness. 
Price range: $$
Crowd faves: It's not just soft serve on waffles at Twenty Grammes. There are also other fantastic waffle options, such as smores waffles (S$15) and mochi waffles (S$13.50).
7. Ambling Turtle
The Flow @ East Coast, 01-01, 66 East Coast Road
Open: Sunday to Thursday (9am to 6pm), Friday and Saturday (9am to 10pm)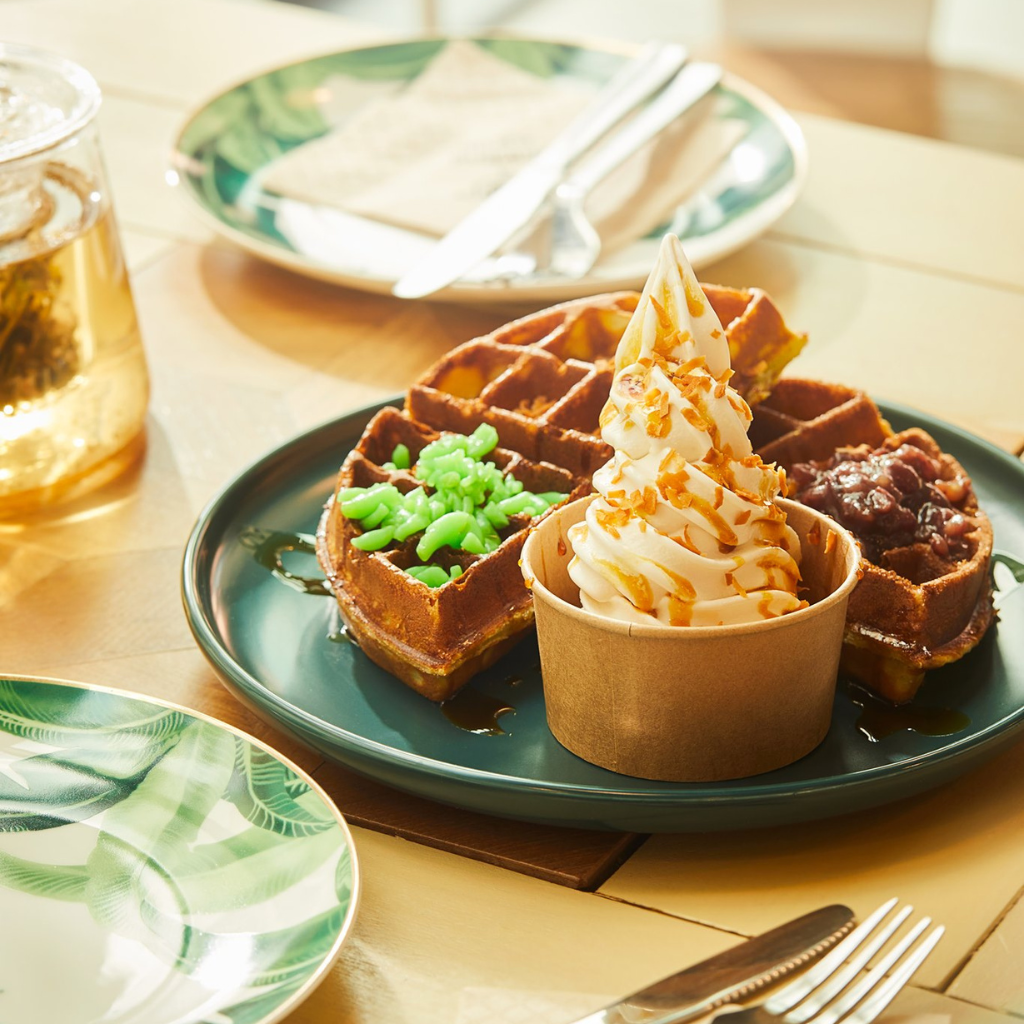 Why visit: Located at The Flow along East Coast Road, Ambling Turtle is a double-storey eatery that dishes up a modern Peranakan-inspired brunch menu paying homage to our traditional roots. 
Picture-perfect desserts are a huge win in our books, and the cafe boasts just that. The sweets on the menu are also Asian-influenced, such as the pulut hitam tart (S$6.50) and ondeh ondeh cake (S$7). 
There's even the bestselling Go Home waffles (S$12.50), which is a deconstructed version of the beloved old-school dessert, chendol. 
Price range: $$
Crowd faves: Don't walk away without trying the Go Home waffles! The treat sees cornflake florentine and a swirl of fresh coconut soft serve atop fluffy pandan buttermilk waffles. The dish is drizzled with sea salt gula melaka and completed with azuki red beans and toasted coconut flakes.
8. Gelatolabo
5 Everton Park, 01-36
Open: Tuesday (9am to 6pm), Wednesday to Sunday (12.30pm to 6pm)
108 Faber Drive
Open: Monday (12pm to 6pm), Wednesday, Thursday and Sunday (12pm to 9pm), Friday and Saturday (12pm to 9.30pm)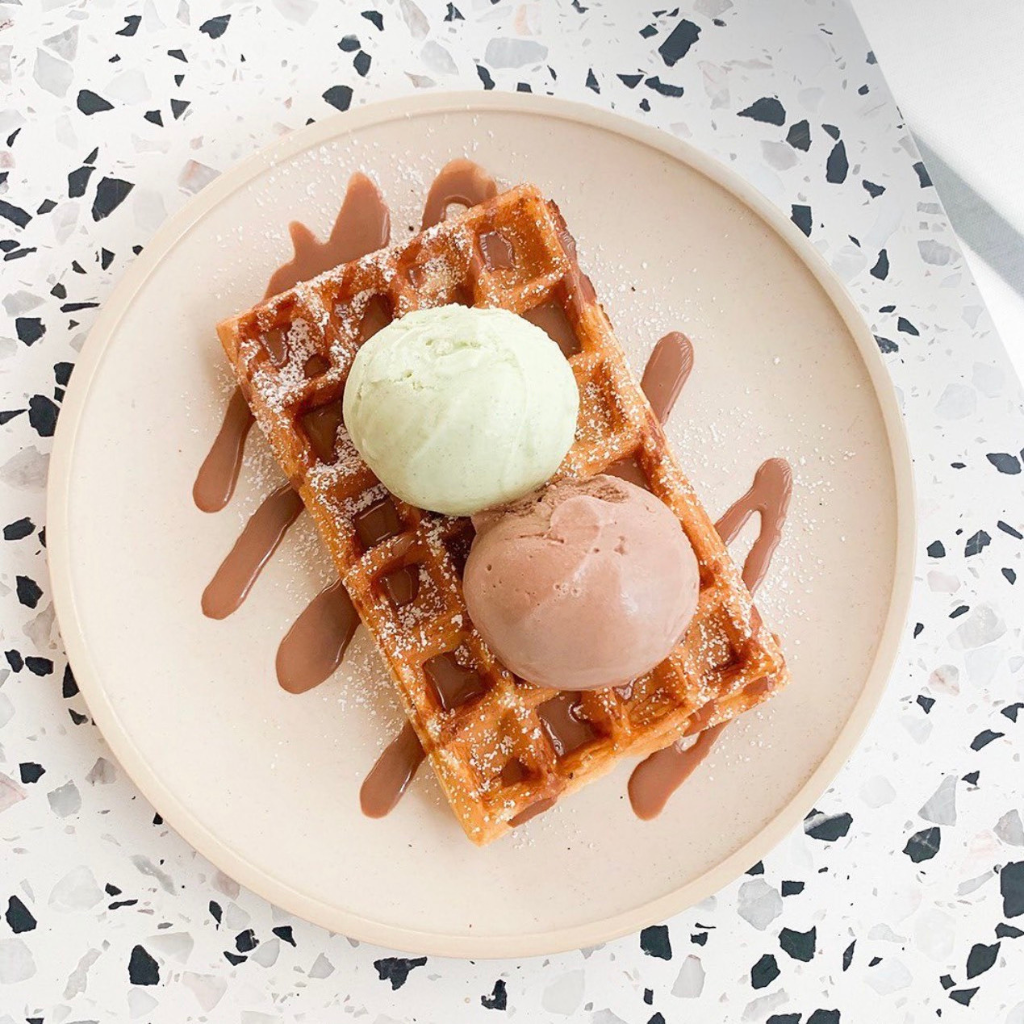 Why visit: For a lil' something extra in your waffles, check out Gelatolabo. The artisanal ice-cream cafe specialises in Tokyo mochi waffles (S$7.90) that's made in-house with nippon flour and mochi. The treat is crisp on the outside and chewy in the middle, pairing perfectly well with the creamy gelato. 
Expect the finest quality of ice cream here, for the gelato parlour churns out small, perfected batches of ice cream daily. All flavours are also made with fresh fruits and ingredients and operate on a rotational basis.
Price range: $
Crowd faves: Enjoy your ice cream with the Tokyo mochi waffles! We'd pair the latter with the refreshing lychee, raspberry and rose (S$6) gelato.
9. Tucela Gelato
3 Saint George's Road, 01-109
Open: Tuesday to Sunday (12pm to 10pm)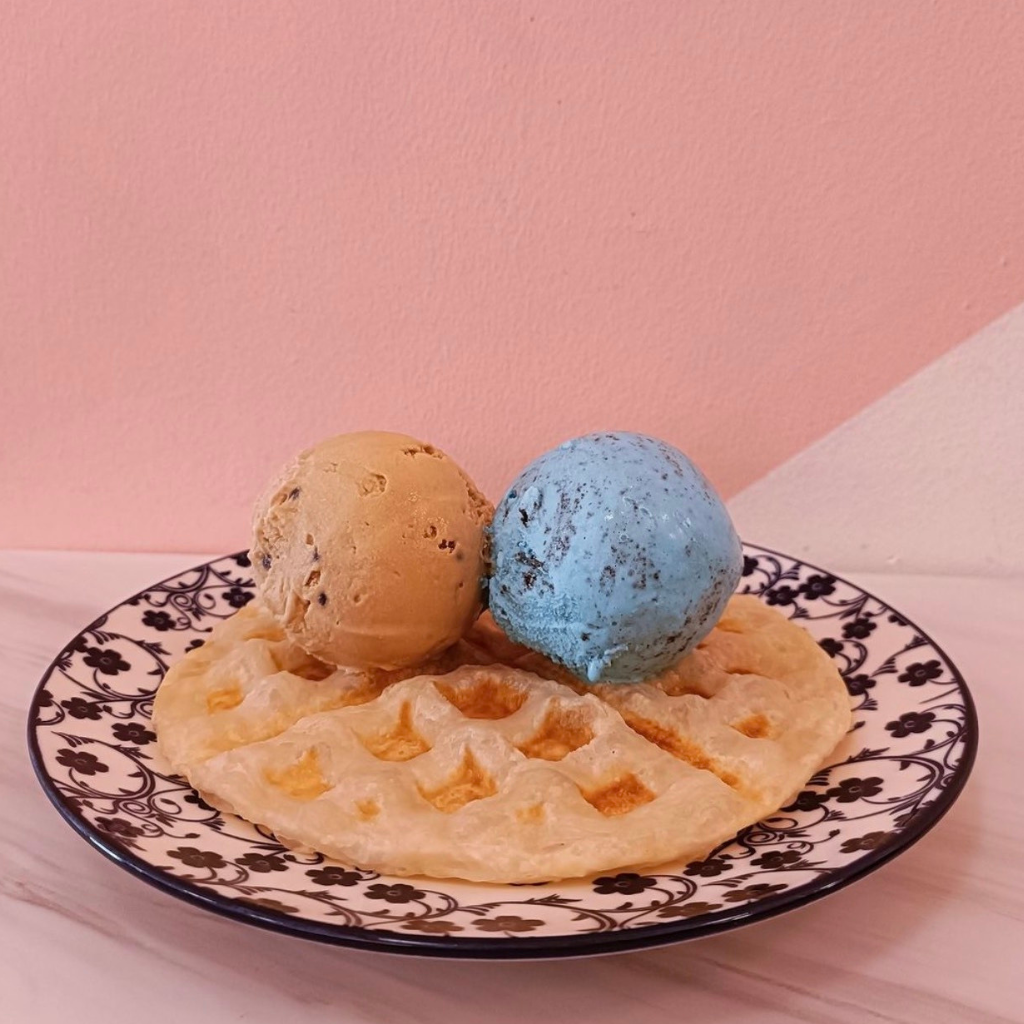 Why visit: Neighbourhood cafe, Tucela Gelato, is a newly opened joint situated near Boon Keng MRT station. The space is cosy and intimate, making for a great place to chill with your buddies. Best of all, the ice cream tastes absolutely delish and is relatively affordable.
A single scoop of gelato sets you back S$4. For an additional dollar, you can expect premium flavours such as chrysanthemum wolfberry (S$5), smoked applewood caramel (S$5) and sakura (S$5). 
You can complement your ice cream with croffles (S$4.50) or pra-ffles (S$2.20) – a delightful combination of prata and waffles. 
Price range: $
Crowd faves: Try the signature pra-ffles. It's a match made in heaven with After 8 (S$4), a chocolate mint ice cream. The creaminess of the gelato adds oomph to the crisp pra-ffles, and the combination will have you reaching for more.
10. La Creamery
55 Chai Chee Drive, 01-192
Open: Sunday to Wednesday (12.30pm to 10.30pm), Thursday to Saturday (12.30pm to 1am)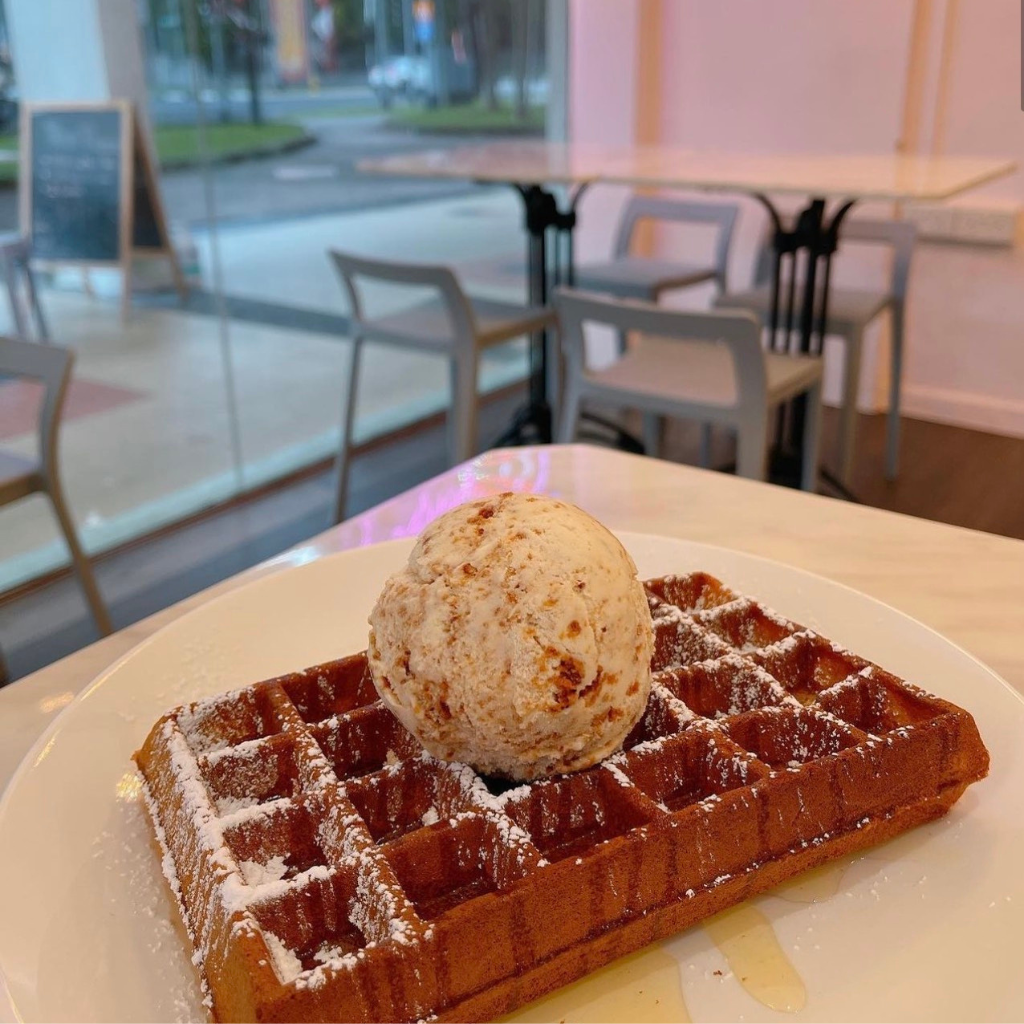 Why visit: When it comes to yummy and affordable waffles in Singapore, Chai Chee's La Creamery deserves a mention. Conveniently situated in the quaint heartlands of Bedok, the parlour taps on its homemade recipes to curate botanical-flavoured gelato. 
Some ice-cream options that're popular among diners include the osmanthus jasmine, earl grey lavender and yuan yang. A single scoop of classic ice cream costs S$4, while premium flavours are an additional dollar.  
Price range: $
Crowd faves: We bet you haven't tried the intriguing tea-infused pu-erh waffles (S$5.80)! La Creamery boasts one of the best waffles in Singapore, for they tout a fragrant, crispy exterior with a slightly chewy middle. The pu-erh waffles, in particular, are aromatic with a distinct taste of tea with every bite.