8 places to get all things black sesame in Singapore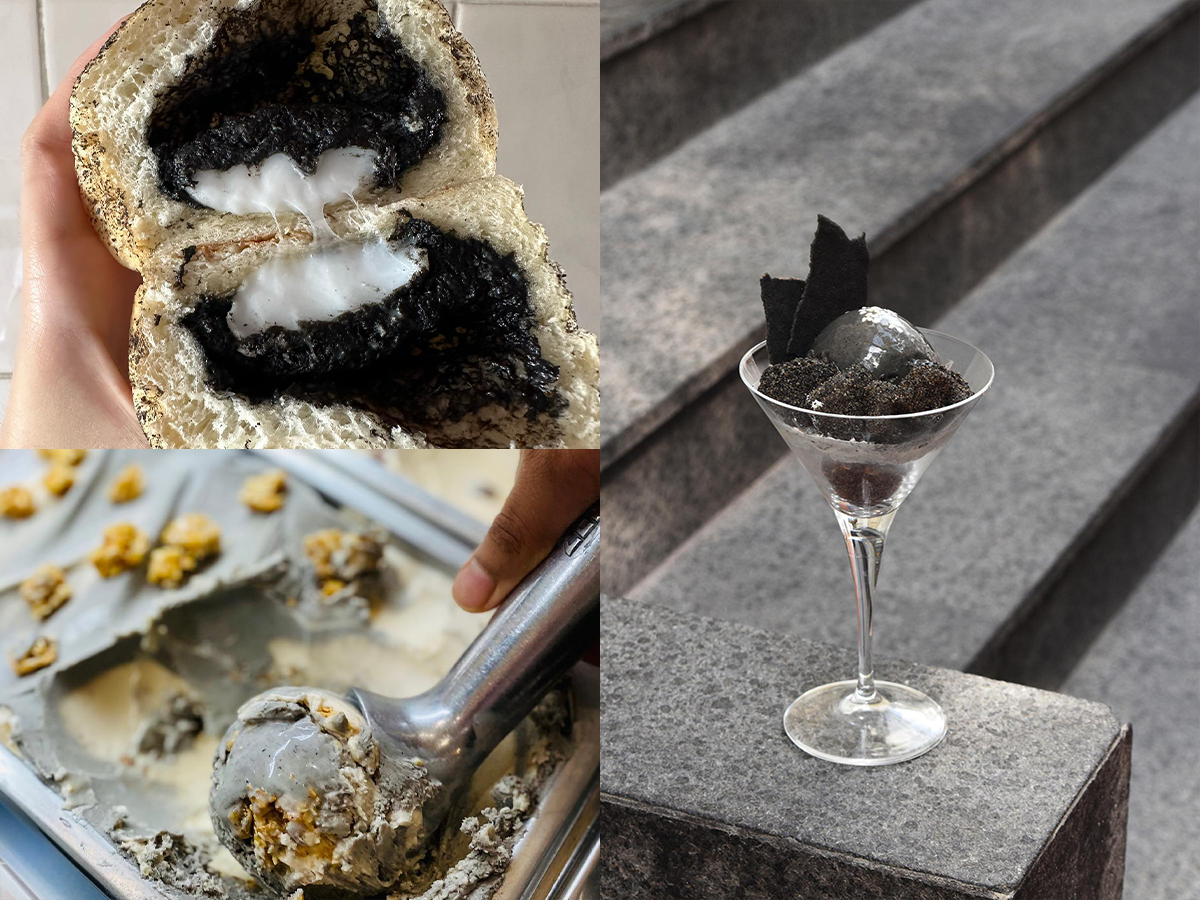 It's out with the new and in with the old. 
In the past few months, you may have seen an explosion in popularity for traditional foods and flavours such as black sesame. 
There's something about that distinctive nutty and toasty flavour that evokes a sense of nostalgia. It helps that the ingredient is so versatile.  
While we used to encounter it in traditional desserts such as black sesame paste and tang yuan, of late, eateries across Singapore have been creating innovative dishes that incorporate this classic flavour. We're seeing trendy and unique black sesame snacks emerging, from black sesame mochi to black sesame latte.
For those who are dedicated black sesame fans, we've rounded up some of our favourite interpretations of the flavour below. 
8 places for your black sesame snacks fix
1. Lola's Cafe
5 Simon Road
Open: Tuesday to Friday (10am to 10pm), Saturday and Sunday (9am to 10pm)
48 Lorong Mambong
Open:  Tuesday to Friday (10am to 9.30pm), Saturday and Sunday (9am to 9.30pm)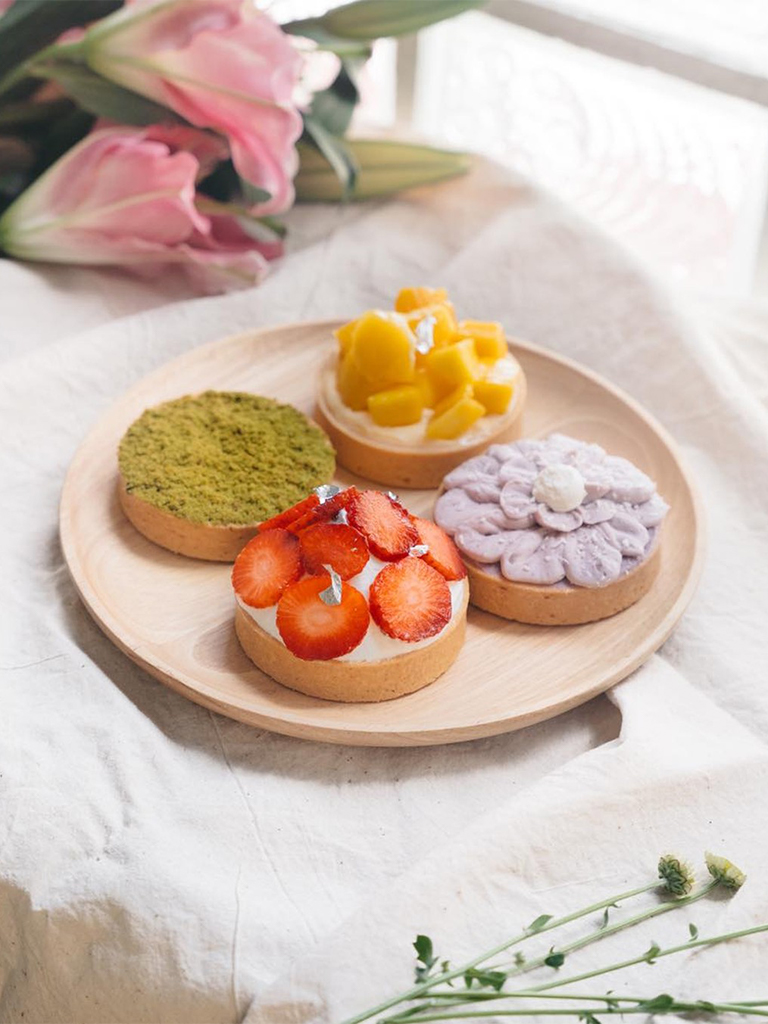 Why visit? One of the OG brunch powerhouses, Lola's Cafe hardly comes to mind when you think about places to get black sesame desserts. But the cafe is good for more than just its honey paprika crispy wings (S$13) or its spicy tomato crab rigatoni (S$20) — its desserts are exquisite creations that are too often overlooked. 
Price range: $$
Crowd favourites: Lola's black sesame tart (S$7) is a must-try, even if you aren't a die hard black sesame snacks fan. It features a black sesame white chocolate ganache encased in a buttery tart base that's topped with crumbled matcha cookies for a contrasting mouth feel. This unassuming dessert has been on its menu for years now, but has yet to receive the hype it deserves. 
2. MuYoo
Jurong Point, 01-K8/9, 1 Jurong West Central 2 
Open: Monday to Sunday (9am to 10pm)
Changi City Point, B1-22, 5 Changi Business Park Central 1 
Open: Monday to Sunday (8am to 9pm) 
Northpoint City, B2-158/159, 1 Northpoint Drive
Open: Monday to Sunday (8am to 10pm)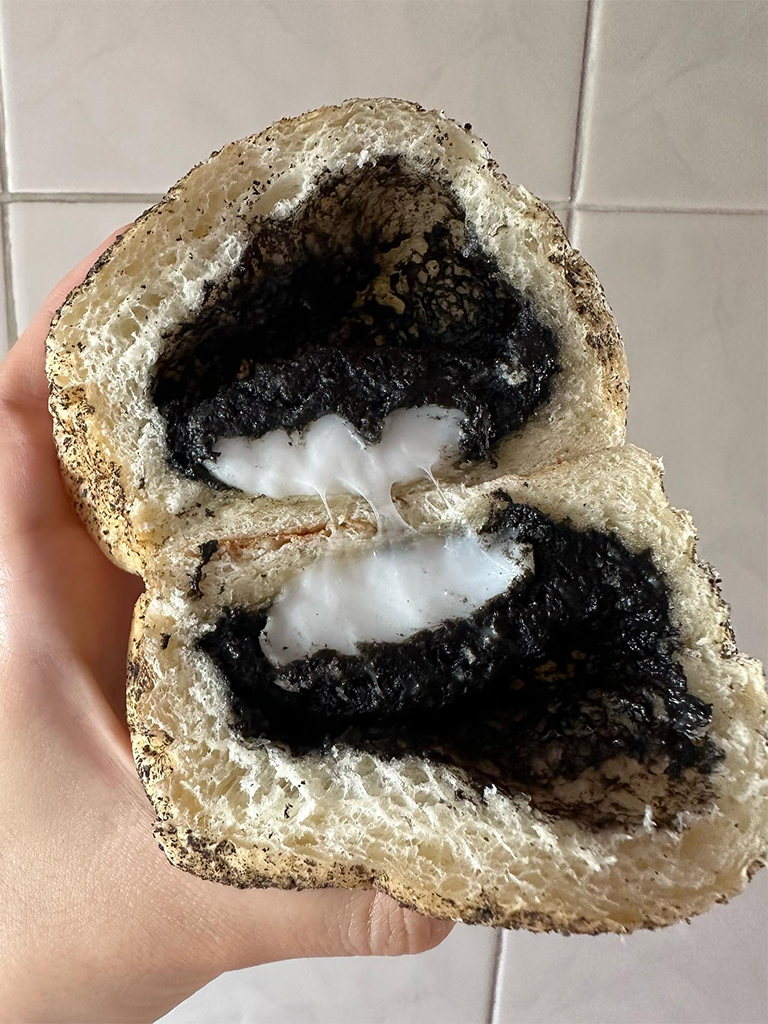 Why visit? Fans of black sesame and mochi are sure to have come across MuYoo before. Known for its mochi and QQ bread series, the mochi used in MuYoo's breads is unlike any other. It's soft and sweet with a slighty milky taste. 
Price range: $
Crowd favourites: The mochi is paired perfectly with its popular black sesame mochi (S$3) bread that is filled with a satisfying proportion of black sesame paste. Most patrons swear by microwaving the bread before consumption to get the bread warm and chewy with a satisfying mochi pull.
3. Nesuto Singapore
53 Tras Street, 01-01 
Open: Monday to Sunday (12pm to 10pm)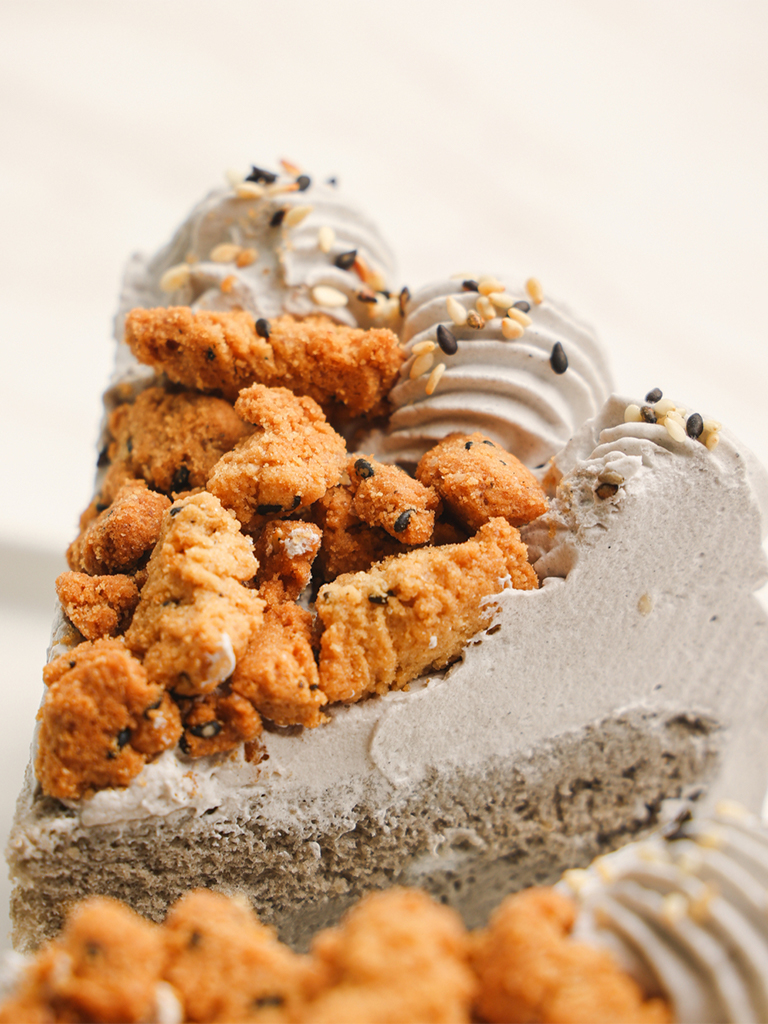 Why visit? Nesuto is a Japanese-inspired patisserie that prides itself on offering quality bakes and authentic ingredients. Its cakes have one characteristic in common: An impossibly light and airy chiffon sponge cake layer. 
Price range: $$
Crowd favourites: Some may say it's impossible to pick a favourite cake from Nesuto, but we are partial to its Japanese goma (S$11.90 per slice). After vanishing from Nesuto's menu in 2021 (and made available only as a limited seasonal release), fans will be relieved to know that this goma cake is here to stay permanently. It features black sesame creme diplomat (a silky pastry cream) sandwiched in between a black sesame chiffon sponge cake and topped with Japanese sesame streusel. 
It sounds a tad overwhelming, but Nesuto has found the perfect balance between the savoury, nutty black sesame and the subtle sweetness of cream cakes. Perfect for fans of black sesame snacks.
4. September Coffee 
258 South Bridge Road, 01-01
Open: Tuesday to Thursday (11.30am to 8.30pm), Friday and Saturday (11.30am to 9pm), Sunday (11.30am to 5pm)
Why visit? This Korean-inspired cafe in Chinatown has drummed up much hype on TikTok last year due to its aesthetic, minimalist design. Aside from serving unique drink concoctions, the cafe also serves brunch and dinner fare such as fried chicken French toast (S$19) and honey butter udon (S$20), making it a great catch-up spot. 
Price range: $$
Crowd Favourites: September Coffee's iced black sesame latte (S$8) is highly raved about. It's a creamy drink infused with a rich sesame flavour and the deep, robust flavour of espresso. It doesn't hurt that the drink is in a pretty grey colour with flecks of black sesame powder on top.
5. Inside Scoop
779 North Bridge Road 
Open: Sunday to Thursday (12.30pm to 10.30pm), Friday and Saturday (12.30pm to 11pm)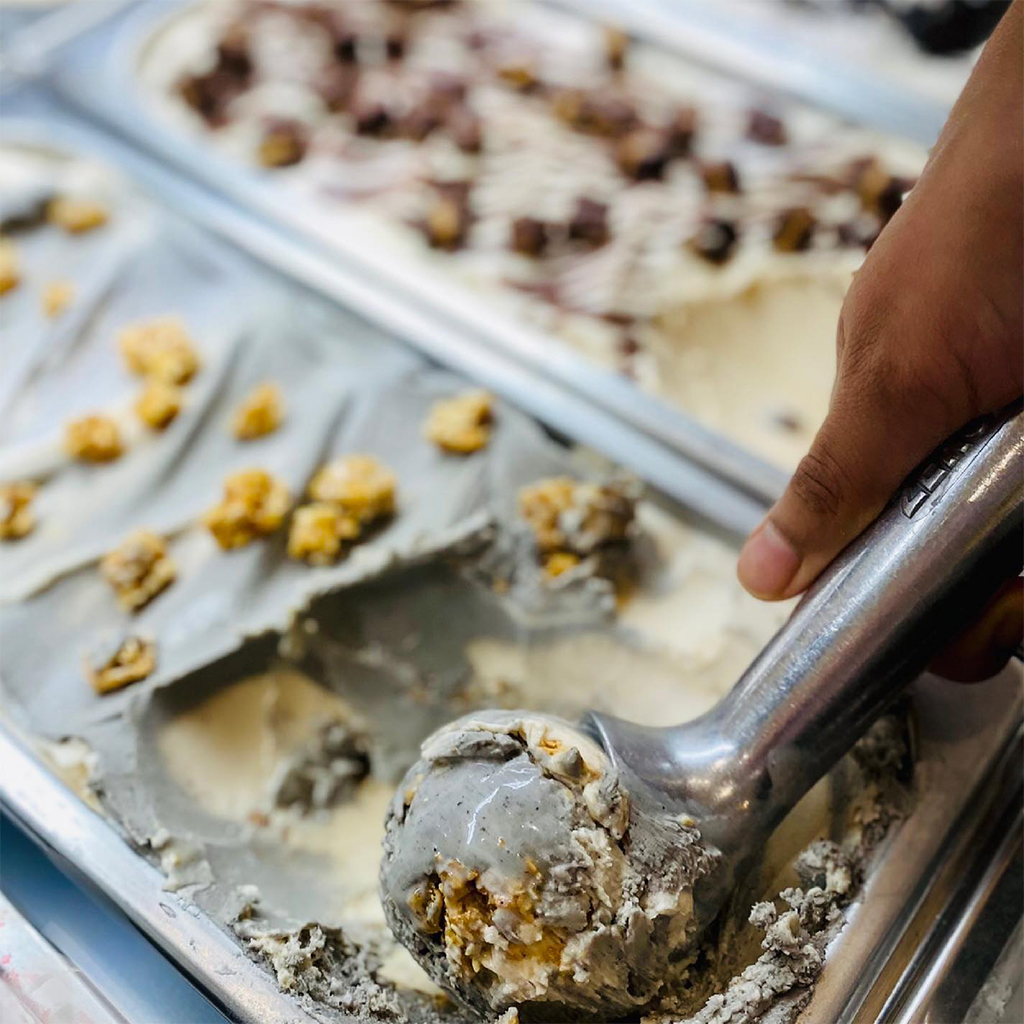 Why visit? Inside Scoop is a popular ice cream cafe from Malaysia, so you know it's got buzz to back it up. Patrons have praised its unique flavours, such as the soy sauce caramel (S$4.80) and 𝗨𝗻𝗶𝗰𝗼𝗿𝗻 (raspberry yoghurt and blue peaflower-stained milk ice cream, S$4.80), as well as its generous scoops of ice cream. 
Price range: $
Crowd Favourites: While there are tons of ice cream places doing black sesame ice cream, Inside Scoop takes it a step further with its marbled sesame (S$4.80) flavour. As much as we love black sesame, the flavour can occasionally fall flat or, conversely, get overwhelmingly rich. Inside Scoop's rendition is a blend of black sesame and peanut ice cream, which gives it a balanced flavour. The inclusion of peanut brittle also adds a welcome crunch to the dessert.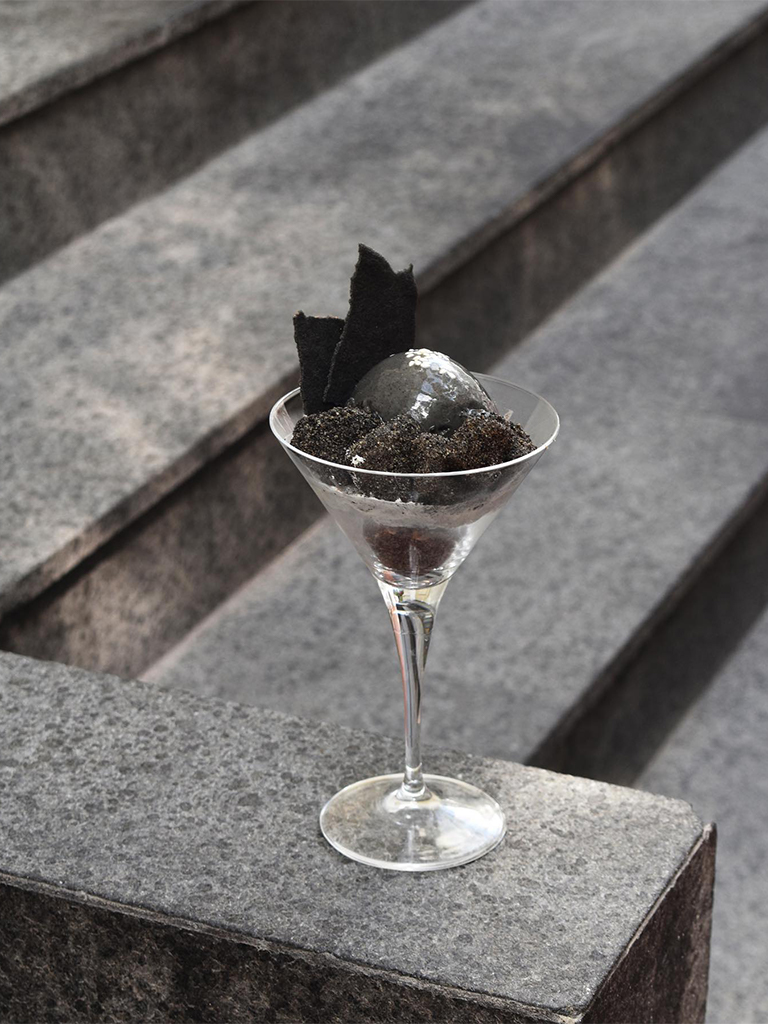 Why visit? With its tranquil aura and natural decor, Hvala is a bona fide getaway spot. The Japanese cafe and tea house specialises in matcha drinks, snacks and desserts, though it has a bevy of goma options available on its menu, too.
Many of its items are also vegan-friendly, so those with strict dietary restrictions will find plenty of options here. 
Price range: $ 
Crowd favourites: Try the goma parfait (S$14.80) for a killer combination of goma gelato, goma vegan cream and goma cookies on a bed of chocolate hazelnut crumble. For a black sesame dessert that is set to impress, get the elegant looking goma mont noir (S$9.90), a black sesame tart with vegan cream and sesame chestnut paste nestled in a vegan tart base.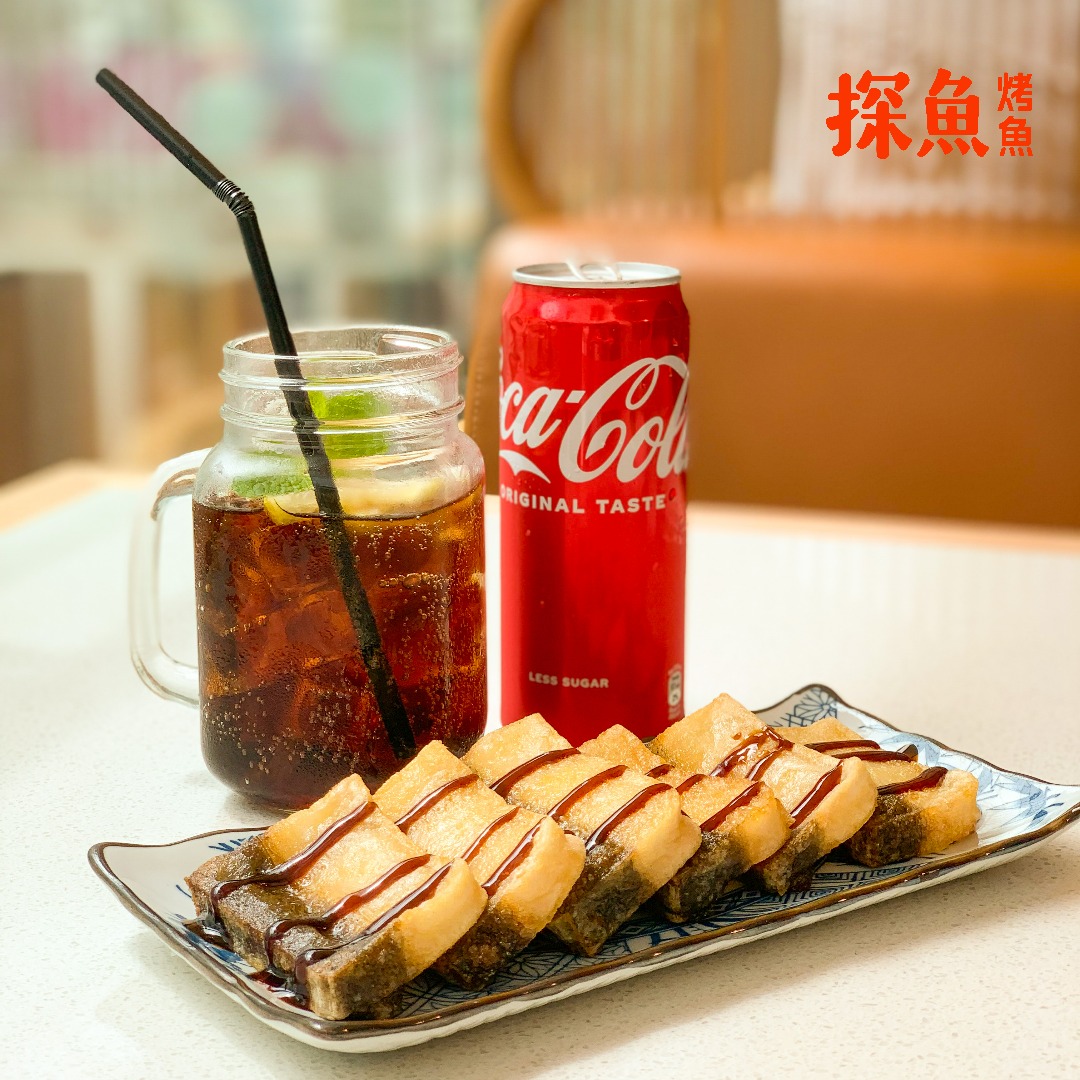 Why visit? Love all things sour and spicy? You might just find yourself a fan of Tanyu. The eatery specialises in Chongqing grilled fish that is served with a tantalising broth and other side dishes. 
Price range: $$$
Crowd Favourites: Since this is an article on all things black sesame, the focus of our recommendation is on Tanyu's black sesame snack – the Double Taste Rice Cake (S$7.80). This deep-fried sticky rice cake with black sesame is crispy on the outside, but chewy with a mochi-like texture inside. It's served with a drizzle of brown sugar syrup and is best eaten hot as an appetiser.
8. Poh Cheu Soon Kueh and Ang Ku Kueh  
127 Bukit Merah Lane 1, 01-222
Open: Tuesday to Saturday (8am to 6pm or until sold out)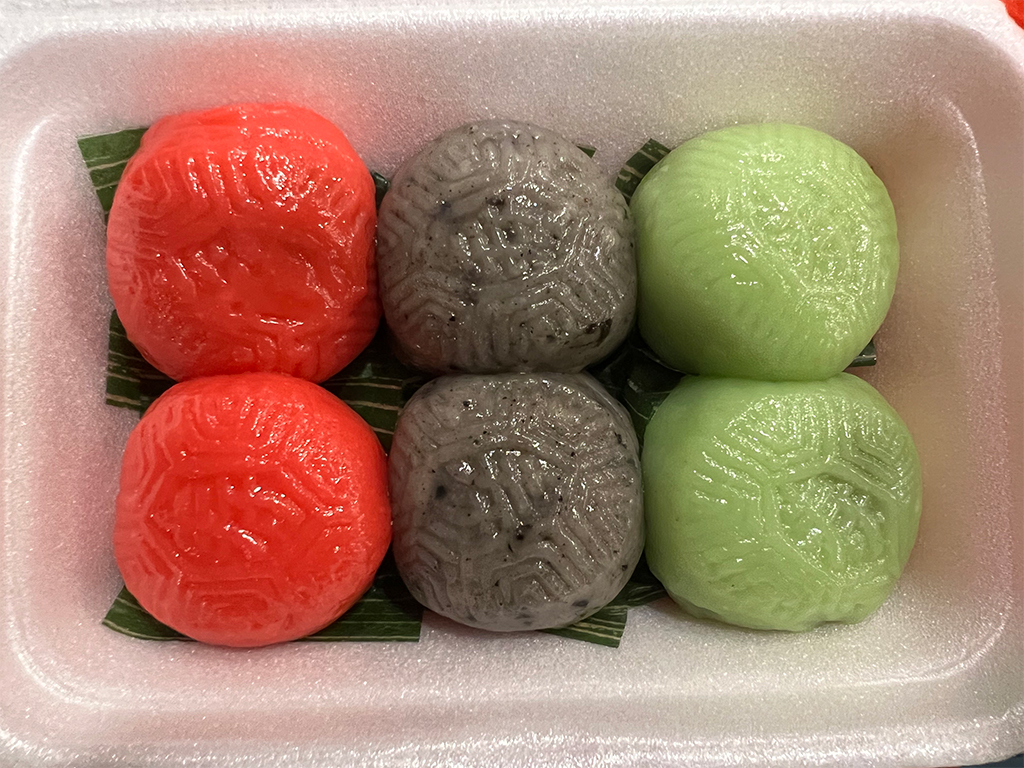 Why visit? Founded in 1985, Poh Cheu Soon Kueh and Ang Ku Kueh is an icon in its own right. The ang ku kueh stall, known for its handmade creations, is always attracting long queues during lunch time for its soft and chewy ang ku kuehs. It has over 10 different flavours to choose from, including more modern flavour profiles. 
Price range: $
Crowd favourites: When lined up on display in all its colourful glory, the ang ku kueh (S$1.40 each) from Poh Cheu looks irresistible. From the bright yellow hue of the durian flavour to the pastel green of the green tea flavour, you'd be tempted to buy one of everything. 
The good news is that you will probably find more hits than misses. We particularly recommend its black sesame flavour. The bouncy and soft skin encases a thick black sesame paste that's just slightly sweet.
For more ideas on what to eat, read our stories on healthy desserts in Singapore and min jiang kueh.
Lola's Cafe, MuYoo, Inside Scoop, Hvala, Tanyu and Poh Cheu Soon Kueh and Ang Ku Kueh are on the GrabFood delivery service and offer free delivery (up to S$3 off) with GrabUnlimited.
You can also book a ride to the stores for your black sesame snacks fix.