5 Thai eateries in central Singapore that serve mouthwatering fare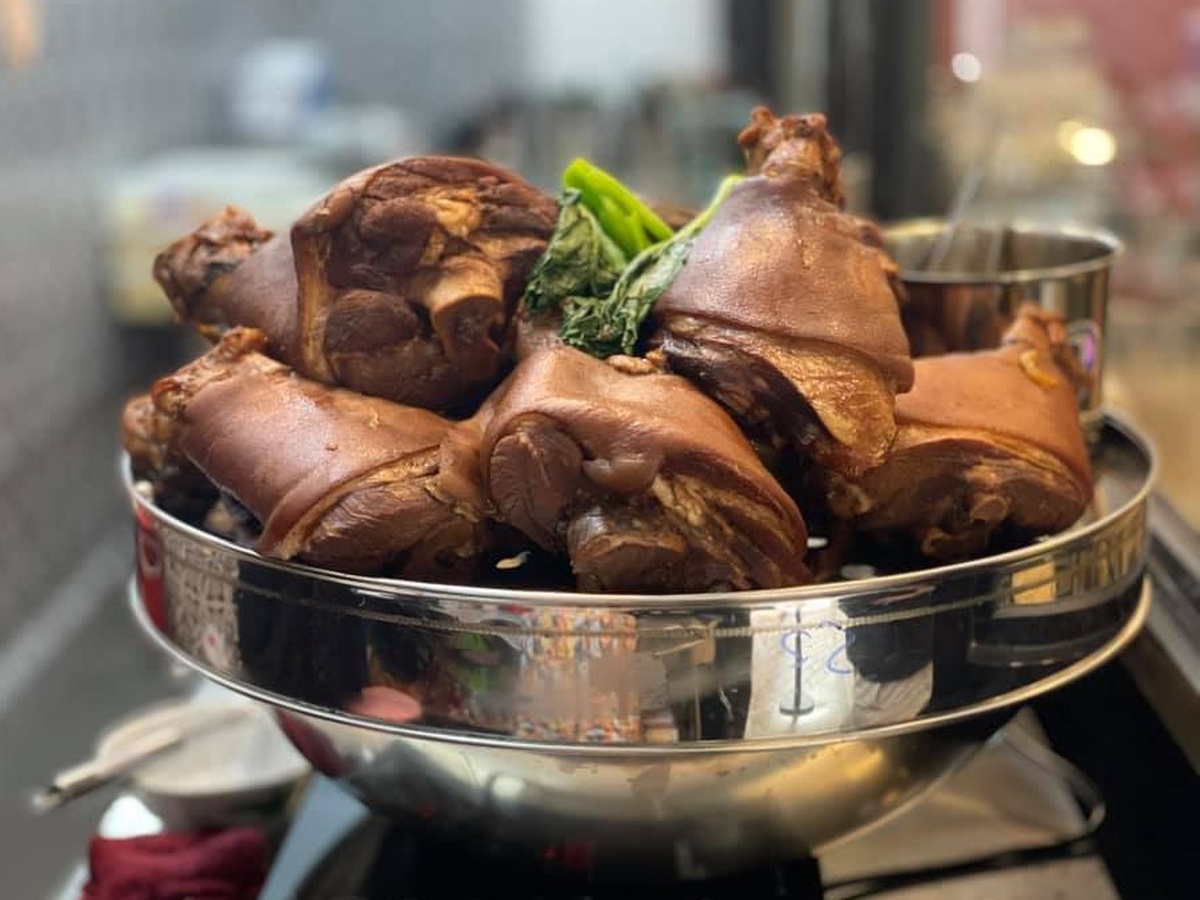 This is the second instalment of a five-part series on authentic Thai eateries in Singapore. Here, we check out places in central Singapore.
There's plenty to eat in central Singapore, but you might not have known that there are a number of authentic Thai eateries to discover. They'll transport you to the buzzing streets of Bangkok with Thai-style kway chap and braised pork trotters.
Here are five food places in central Singapore that dish out tasty Thai grub that might be worth keeping tabs on for a revisit.
1. Tomyum Mama
244P Upper Thomson Road
Nearest MRT station: Upper Thomson
Open: Tuesday to Friday (11.30am to 3pm, 5pm to 11pm), Saturday (11.30am to 11pm), Sunday (11.30am to 10pm)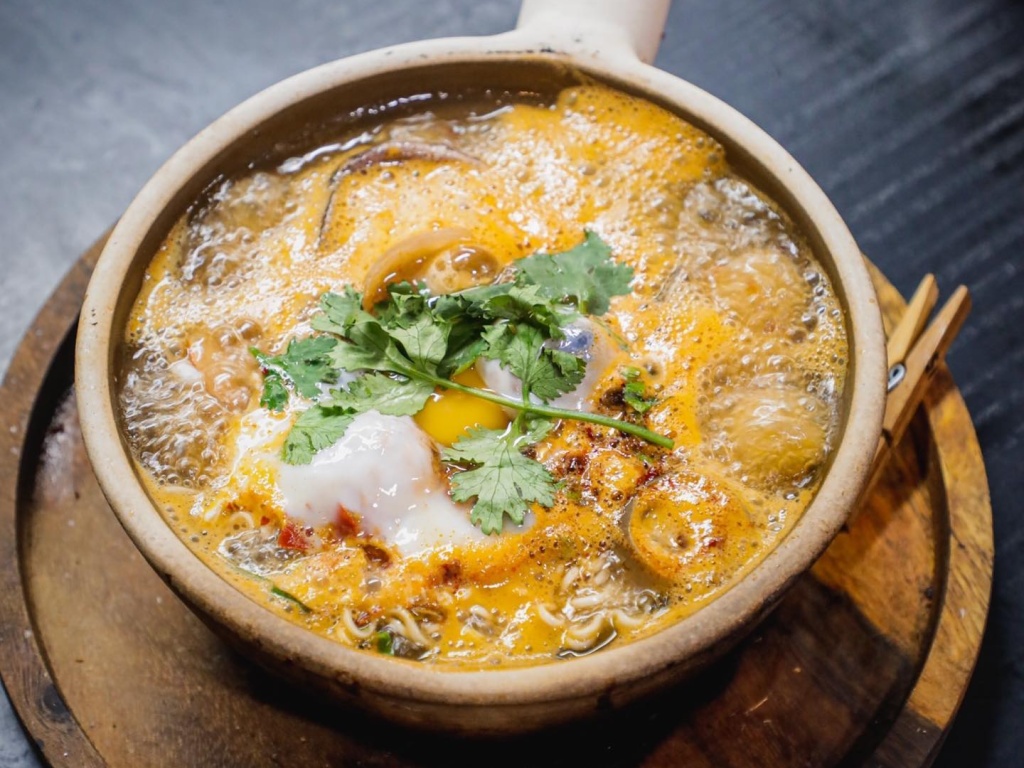 To me, instant noodle brand Mama is synonymous with quick and easy tom yum noodles. Imagine, then, my delight when I heard there's a restaurant called Tomyum Mama located in a shophouse along Upper Thomson Road.
The restaurant uses family recipes that were passed down from the owner's mother. Together with creative wall murals and a laidback atmosphere, dining here makes for a casual, home-style Thai meal.
Head straight for its signature Tom Yum Mama claypot — a bubbling pot of Mama instant noodles and a runny egg, and chock-full of seafood, mushrooms and pork. You can even choose your level of spiciness.
Another signature item to try is the Isan spicy crab claw meat fried rice. Just a note of caution: This dish packs a fiery punch.
What to order: Signature Tom Yum Mama claypot (S$14.90), Isan spicy crab claw meat fried rice (S$14.90)
2. Jai Thai
7 Clover Way
Nearest MRT station: Marymount
Open: Monday to Thursday (11am to 3pm, 6pm to 9pm), Friday to Sunday (11am to 3pm, 6pm to 10pm)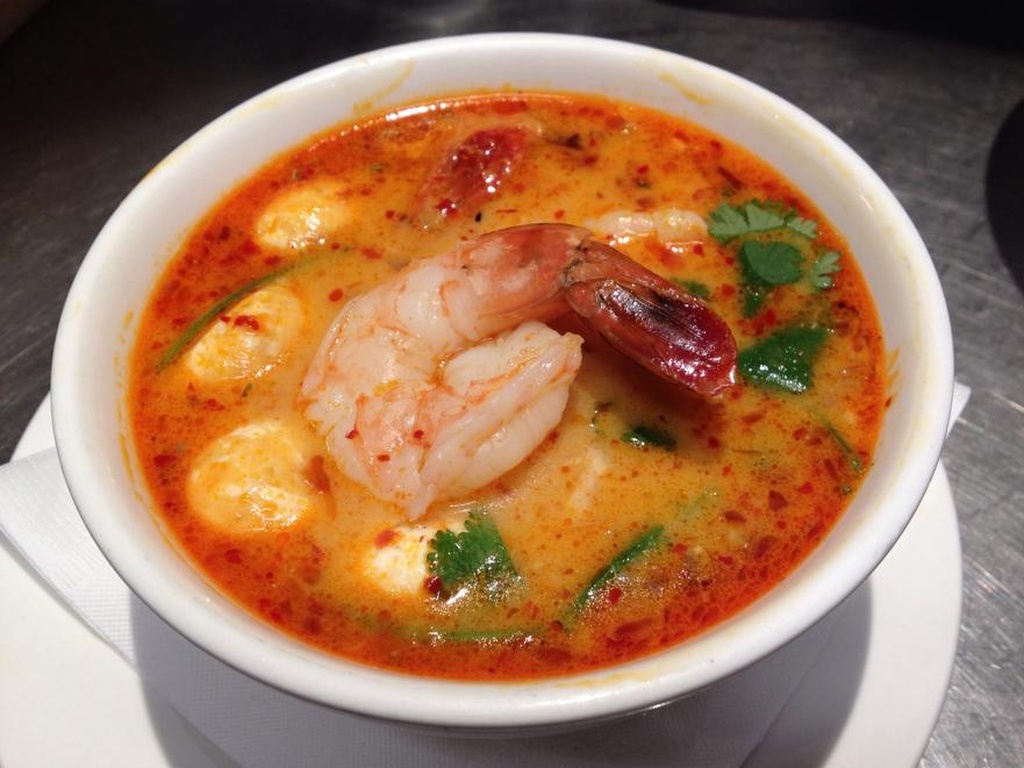 Jai, which means "heart" in Thai, is a promise to diners that love is put into every dish at Jai Thai. Opened by the daughter of Mr Swang, owner of a popular eatery along Soi King Phet in Thailand, Jai Thai has taken pride in serving Thai fare in Singapore since 1999.
Hidden in Marymount, this gem of a Thai eatery has die-hard fans who have patronised the eatery for years. Known as one of the most value-for-money Thai restaurants in Singapore — as it proudly claims on its signboard — Jai Thai whips up mouthwatering food that's worth every dollar.
If it's your first time here, the mixed platter (from S$8) is a must-try for a variety of appetisers such as prawn cake, fishcake and Thai spring rolls. Apart from mains such as pad thai and tom yum soup, desserts like chendol (S$3.50) and red ruby (S$3.50) have also stolen the hearts of many.
What to order: Pad thai (from S$6), tom yum soup (from S$7)
3. Khao Hom
Djitsun Mall, 01-06, 5 Ang Mo Kio Central 2
Nearest MRT station: Ang Mo Kio
Open: Monday to Friday (11am to 2.30pm, 4.30pm to 10pm), Saturday and Sunday (11am to 10pm)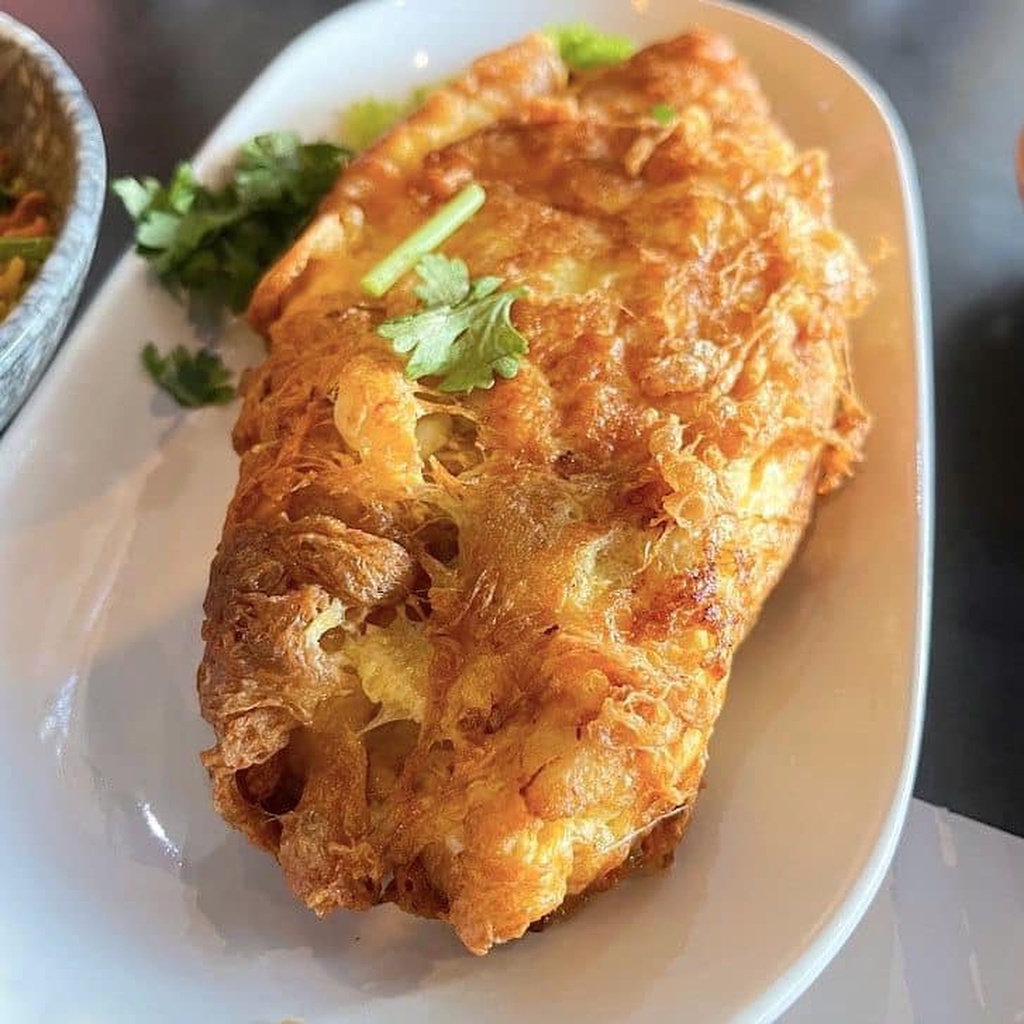 If you have heard of Dee Tongue Thai by Rung Mama, a popular Thai eatery in Golden Mile Complex, you might have heard of Khao Hom by Rung Mama. The second concept under the brand, it opened in late 2020.
Rung Mama, a Thai cook who has been living in Singapore since the 80s, is the brains behind the recipes. While the eatery sees an almost-perpetual queue, the food here is worth the wait.
Give the grilled pork with homemade sauce — also known as moo yang — a go. It features tender bites of charred pork that melt in your mouth. Pair the meat with the sweet-and-spicy sauce that's served on the side. The Thai crispy and fluffy omelette, known as khai jeow, is a great side to share.
What to order: Grilled pork with homemade sauce (S$12), Thai crispy and fluffy omelette (S$8)
4. Huay Kwang Thai Wanton Mee
202 Ang Mo Kio Avenue 3, 01-1682
Nearest MRT station: Ang Mo Kio
Open: Tuesday to Sunday (10am to 9pm)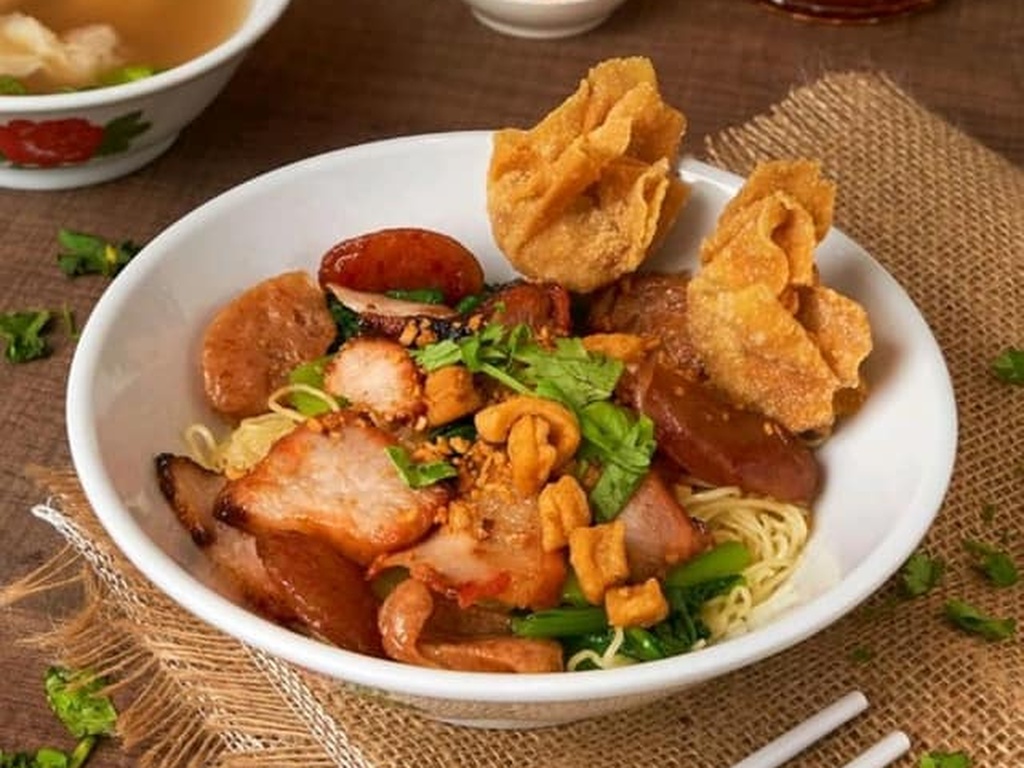 As an unassuming eatery at a public housing block, Huay Kwang Thai Wanton Mee is operated by a couple and the Thai lady boss concocts the noodle sauces with her signature secret recipe.
The Thai-style char siew wanton mee may look plain, but it's bursting with flavours. You won't feel the need for extra condiments, except some cut green chillies to up the heat factor.
If you ever pop by, don't leave without trying its wanton (S$3.50) that's stuffed generously with well-marinated meat. Other than wanton mee, there's a variety of dishes such as Thai-style kway chap (S$5.50) and a signature braised pork trotter kway teow.
What to order: Thai-style char siew wanton mee (from S$4), braised pork trotter kway teow (S$6)
5. MBK Thai Express
10 Tagore Drive
Nearest MRT station: Lentor
Open: Monday to Friday (7am to 11pm), Saturday and Sunday (11am to 11pm)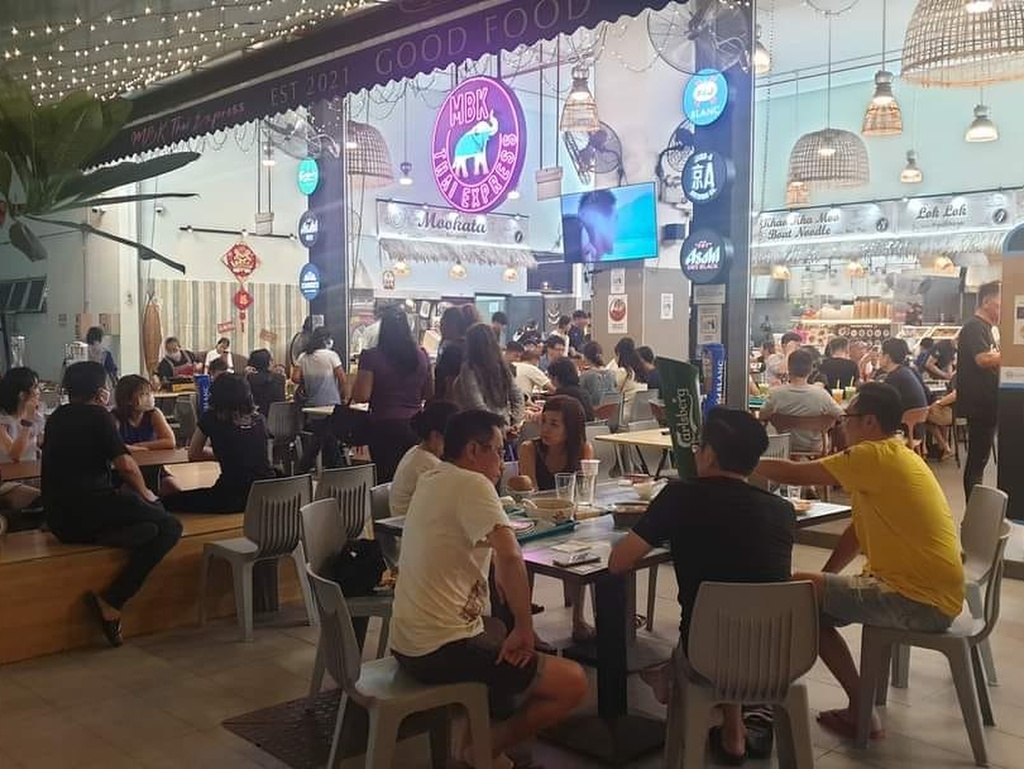 If you've been missing Thailand since the start of the coronavirus pandemic, MBK Thai Express will help ease your cravings. What sets this place apart is that it's an entire coffee shop dedicated to Thai cuisine and is perfect for that one friend or family member who can never agree on what to eat.
This unique concept features nine stalls operated mostly by Thais. Serving everything from mookata and wanton noodles to boat noodles and barbecued meats, this is a one-stop shop for all the Thai dishes you desire. There's even a mini Thai supermarket that sells snacks for you to stock up your pantry.
What to order: Boat noodles (from S$1 a bowl), mookata set (from S$24.90)
Tomyum Mama, Jai Thai, Khao Hom, Huay Kwang Thai Wanton Mee, and MBK Thai Express are on the GrabFood delivery service. You can also book a ride to these places.