Myanmar food in Singapore: 6 places for authentic Burmese cuisine in 2023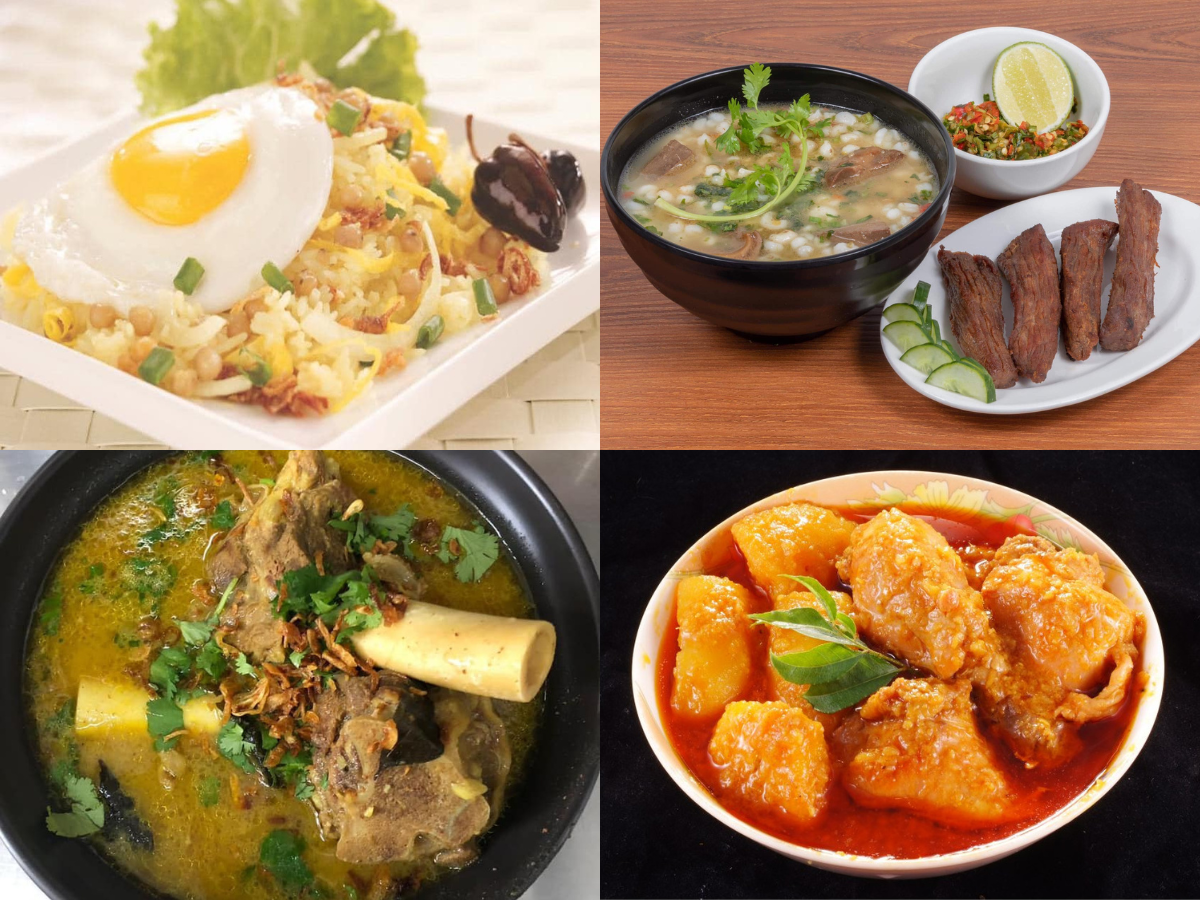 Singapore is a melting pot of different cultures and cuisines, so it's no wonder it is a country known for having a bustling, top-quality food scene. But while we've had our fair share of Japanese, Korean and Italian delicacies, most of us have never tried Myanmar food in Singapore. 
If you're someone who hasn't encountered Burmese food in Singapore, we recommend that you refer to our guide. We've compiled a list of eateries serving authentic Myanmar fare that's both delicious and affordable. Each bite also offers Burmese locals a nostalgic taste of home. 
You snooze, you lose, so be sure to check out these places for Myanmar food in Singapore before they get even more crowded.
1. Inle Myanmar Restaurant
Peninsula Plaza, B1-07A/B, 111 North Bridge Road
Open: Monday to Saturday (11am to 9pm), Sunday (10am to 8.30pm)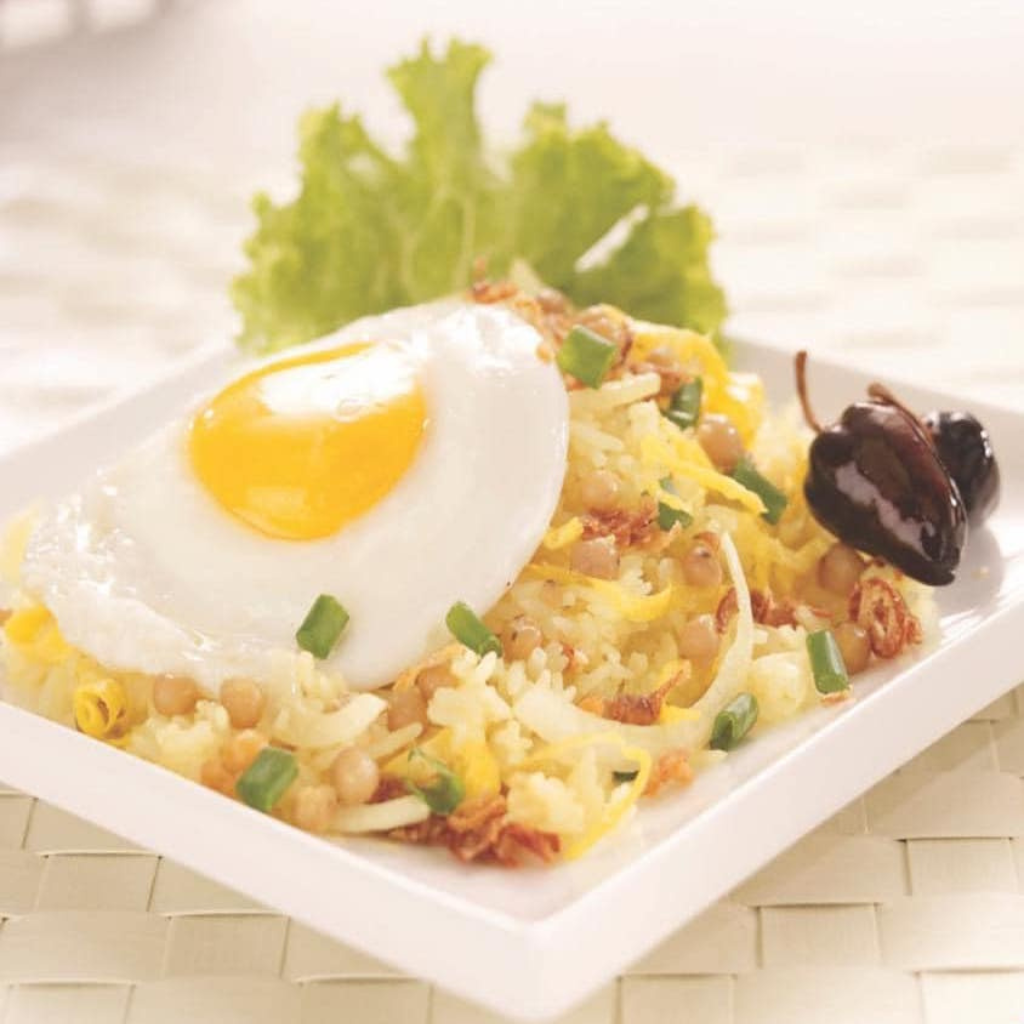 Why visit? When searching for the best Myanmar restaurant in Singapore, Inle Myanmar is number one on our list. Located at the basement level of Peninsula Plaza, this no-frills joint checks all the right boxes for us, thanks to its hearty food that offers a bang for our buck. 
The dishes here are aplenty – they remind us of our local zi char-style offerings, so expect an extensive menu outlining sharing platters, mains, sides, and more. 
Feel free to take your pick from anything that catches your fancy, for it's likely you won't go wrong either way — the folks at Inle Myanmar Restaurant are reputed to serve authentic Burmese delicacies that consistently pack a flavourful punch. 
Price range: $
Crowd favourites: Start your meal right with the crispy tofu fritters (S$7.50) that are deep-fried to a perfect golden brown. The mohinga (S$8.50) is another must-order item, as it's considered a national Myanmar dish. It's a delightful rice noodle dish cooked in fish broth, accompanied by ingredients such as fish cake and a hard-boiled egg.
2. Little Myanmar Halal Foods
328 Clementi Avenue 2, 01-220
Open: Tuesday to Saturday (9am to 8.30pm), Sunday (9am to 7.30pm)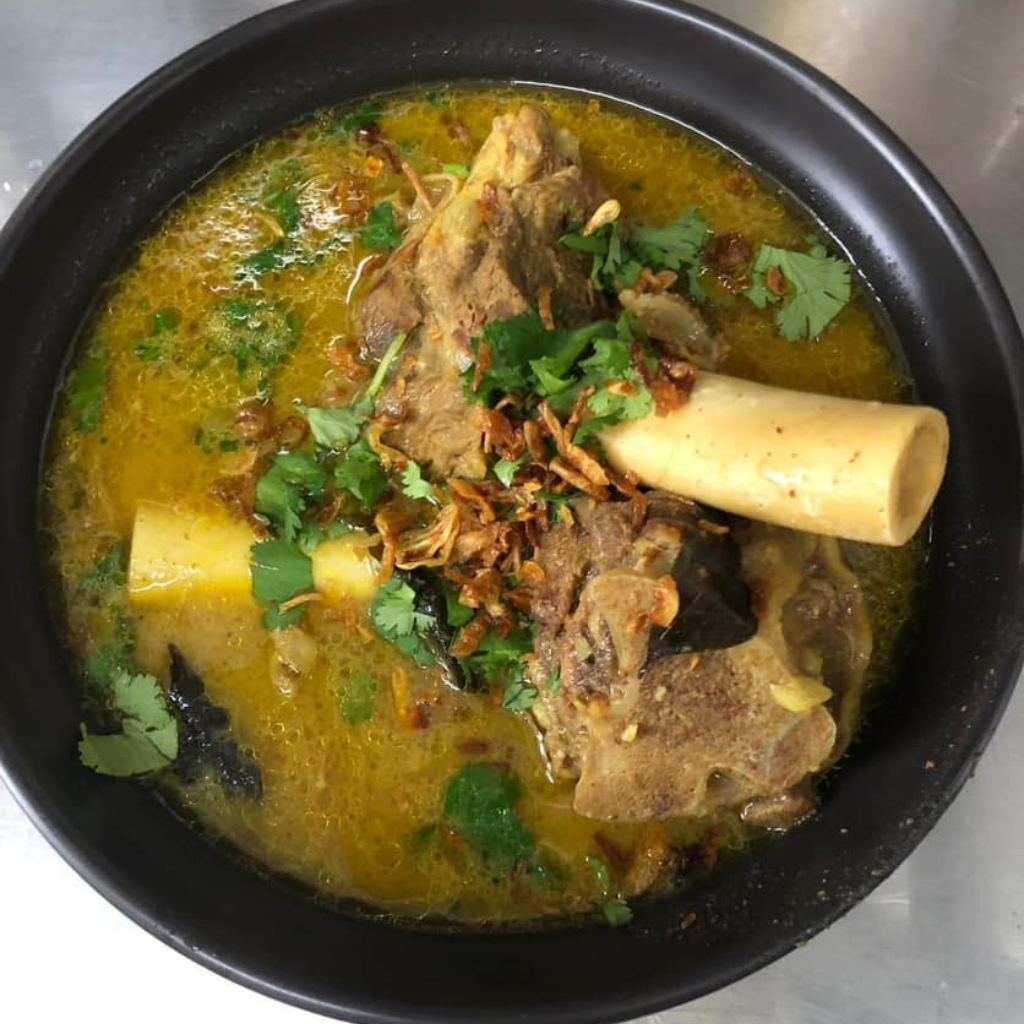 Why visit? A quick search online for the eatery with the best Burmese food in Singapore and Little Myanmar Halal Foods will undoubtedly pop up. We've been told that Burmese locals have no qualms making a beeline to the establishment when they're looking for Myanmar food in Clementi, and we wholeheartedly agree. Not only is the stall halal-certified, its dishes are all affordably priced — a rare sight amid this inflated economy.
Founded by a Mandalay native, owner Kyaw Kyaw Lin had merely one purpose: To dish up tasty, traditional Burmese fare that offers comfort and solace to homesick Burmese expats. It's a goal that he has certainly achieved, as the eatery sees a steady stream of customers daily, spanning from foreigners to Singaporeans alike.
Price range: $
Crowd favourites: Try the Shan noodles (S$6), a rice noodle dish topped with chicken cooked in tomato sauce and a generous sprinkling of roasted sesame seeds. The Myanmar coconut laksa (S$6) is another top choice — it comes with yellow noodles bathed in rich coconut gravy, chickpea crackers and garnishes.
3. Shwe Kant Kaw Myanmar Cuisine
Kimly Coffeeshop, 01-155, 325 Clementi Avenue 5
Open: Monday to Sunday (9.30am to 9pm)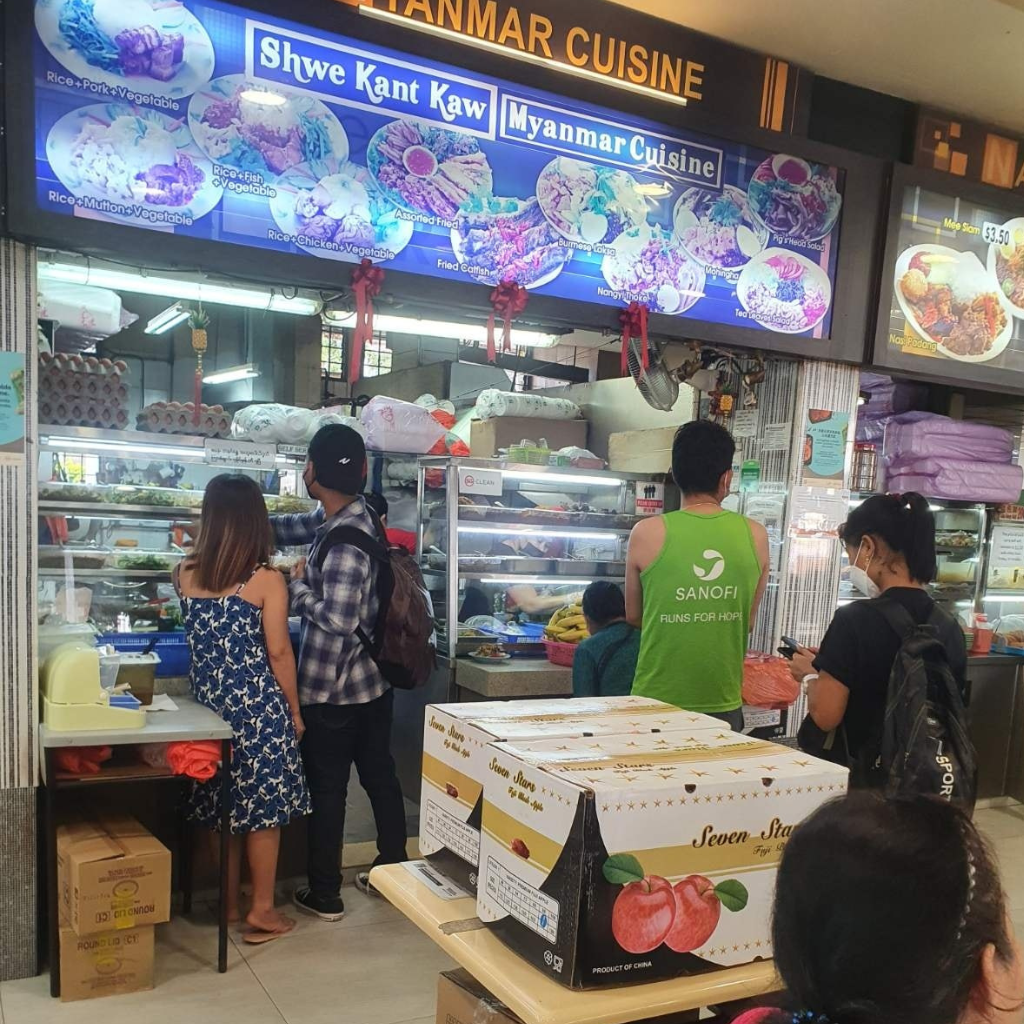 Why visit? Another undiscovered Clementi Myanmar food gem is Shwe Kant Kaw Myanmar Cuisine. At first glance, this unassuming stall is easy to overlook, especially since the signboard bears no prices. You'd have to ask the owner how much the dishes cost, but fret not, the dishes are reasonably priced! 
This stall also reminds us of a cai png (economic rice) stall, with an assortment of authentic Burmese classics proudly on display. There are various meats and vegetables to choose from that pair well with rice. 
However, for diners trying Burmese food in Singapore for the first time, do get recommendations from the stall owner. Founded in 2008 by Win Win Nwe, the eatery has garnered quite a reputation for itself over the years, and there are certain favourites that she'd suggest gravitating towards. 
Price range: $
Crowd favourite: Besides its very hearty and authentic mohinga (S$5), the tea leaves salad (S$5) — a colourful dish made up of cabbage slices, dried shrimp, preserved tea leaves, fresh tomato slices, roasted peanuts and more — is worth a try. Toss everything together for a multi-dimensional and multi-textured mouthfeel.
4. Mandalay Style Restaurant
Peninsula Plaza, B1-01, 111 North Bridge Road
Open: Monday to Friday (11am to 10pm), Saturday (10am to 10pm) and Sunday (9am to 10pm)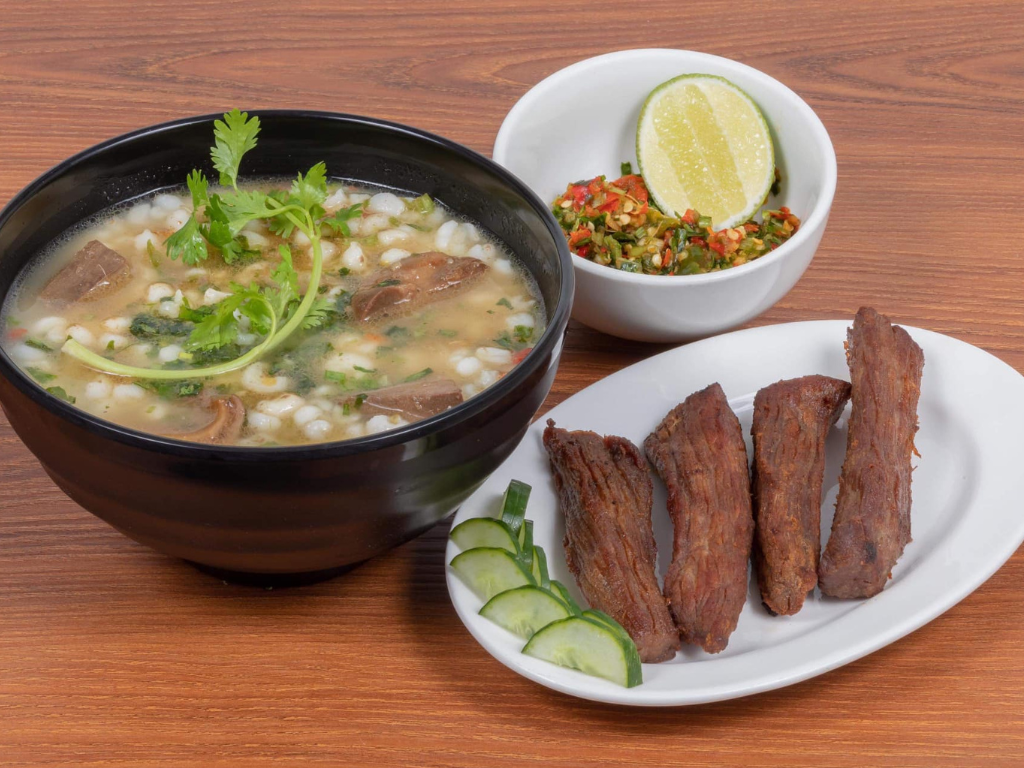 Why visit? This restaurant is where we'd go for traditional Burmese food in Singapore. Nestled in the basement of Peninsula Plaza, Mandalay Style Restaurant is an establishment that never fails to draw long queues. Beyond boasting wallet-friendly prices, the menu is also extensive with a myriad of dishes that are unique to Burmese cuisine.
Set foot into the eatery, and the place reveals an expansive dining hall. The joint is mostly crowded with regular Burmese locals during lunch hours — albeit with the occasional Singaporean keen to expand their culinary horizons. 
Price range: $
Crowd favourites: The chicken leg soup with suon tang (S$7.50) sees chopped chicken feet simmered in a tangy, savoury broth. The deep-fried Myanmar tofu (S$7) is another item that caught our eye. Made with chickpea flour, the dish is fried to a crisp perfection. It also comes with a spicy sauce for a refreshing burst of flavour.
5. Yanant Thit Restaurant
Peninsula Plaza, B1-07, North Bridge Road
Open: Monday to Sunday (9am to 9pm)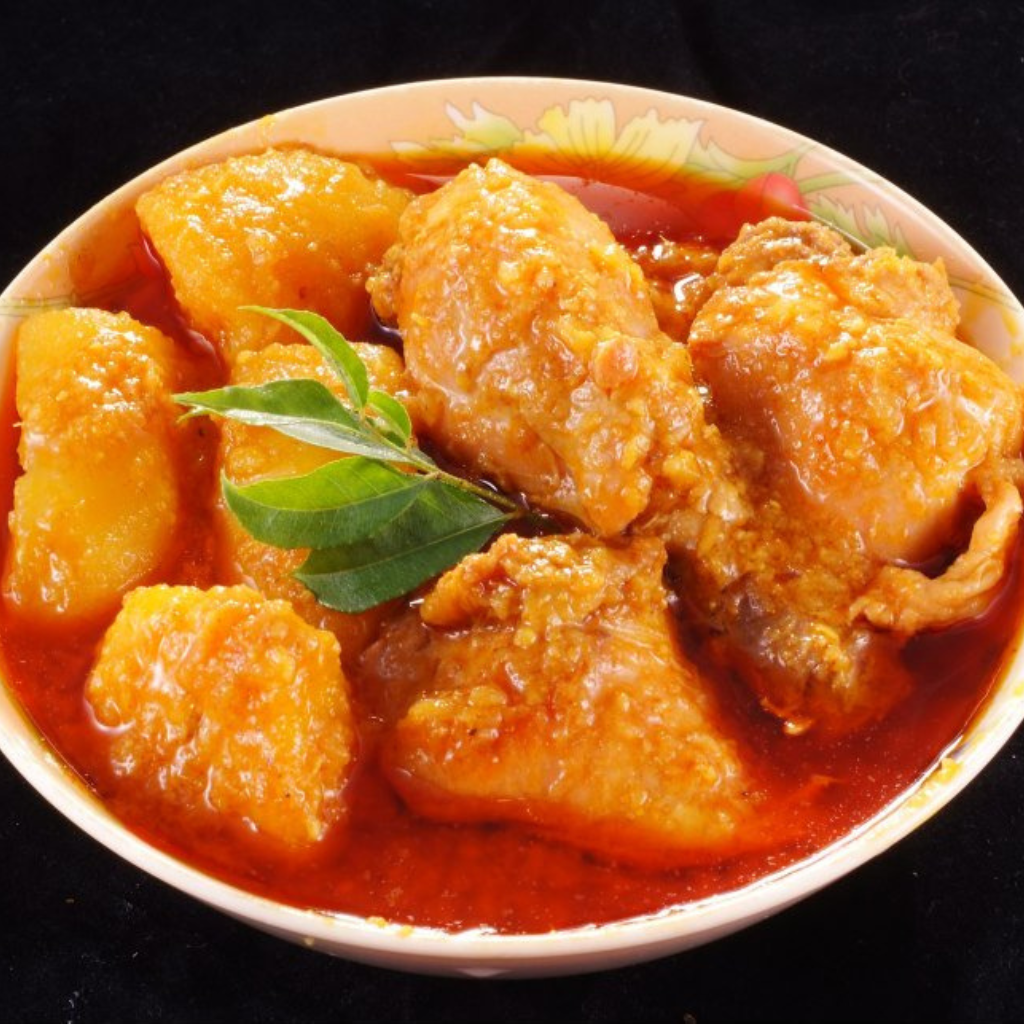 Why visit? Helmed by a native Burmese couple, Yanant Thit Restaurant was kickstarted due to a passion to share the delectable flavours of Burmese food in Singapore. It's yet another gem in Peninsula Plaza that prides itself on serving cai png-style dishes to customers. 
Take your pick from the plethora of proteins, vegetables and side dishes available on display. Most tend to go for a serving of rice, meat and salad, accompanied by a bowl of soup. You'll have to point to the items that you want, though, as the owners don't speak English nor Mandarin.
What we like best about Yanant Thit Restaurant is that the folks here aren't stingy with the portions. They're known to heap a generous dollop of food onto your plate. So, go hungry, go all out and order as many mouthwatering dishes as your heart desires! 
Price range: $
Crowd favourite: If you've never tried fried catfish before, perhaps this is the time to do so. It has crisp, slightly-charred skin that is full of smoked flavour. Accompanied by chilli sauce, you get a savoury profile that is elevated by the tangy spice.
6. Kay-Tu Myanmar Cuisine
5 Soon Lee Street
Open: Monday to Sunday (11am to 10pm)
90 Boon Lay Place
Open: Monday to Sunday (10am to 9pm)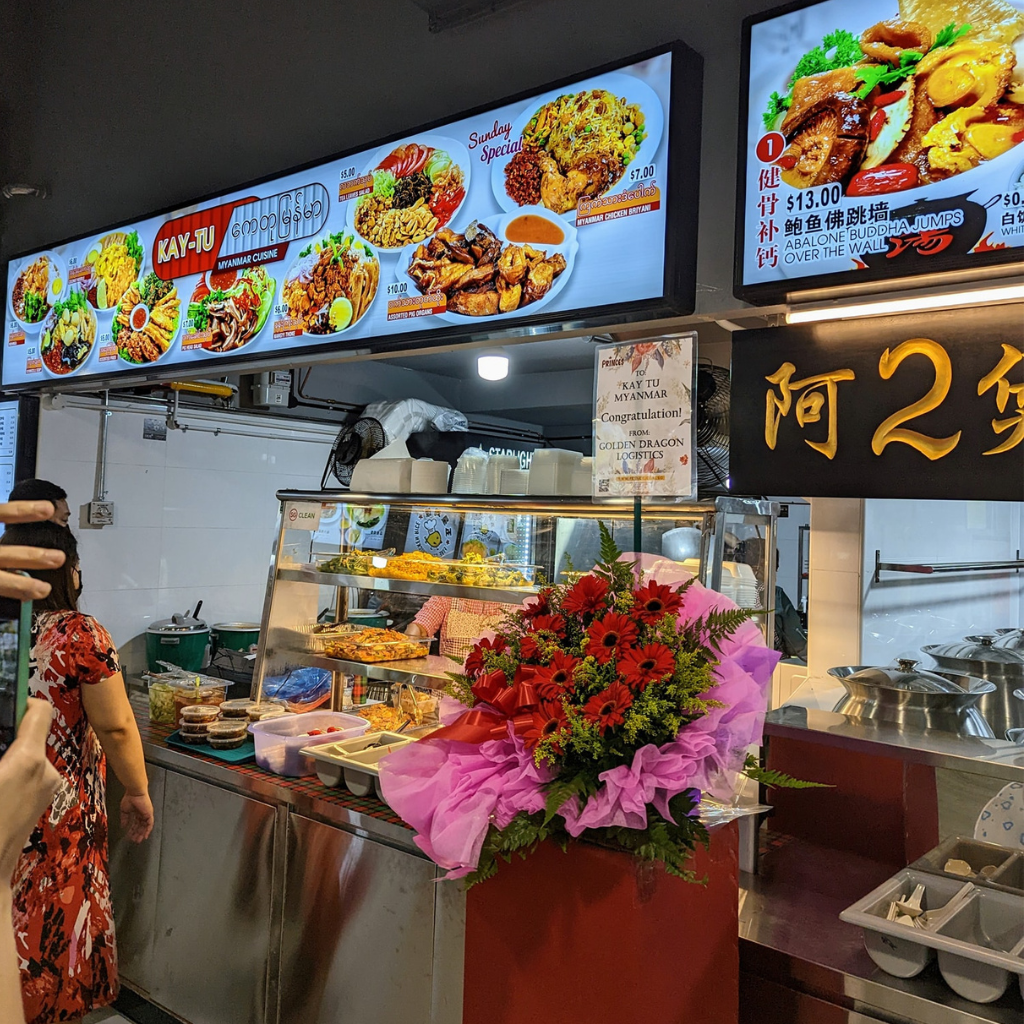 Why visit? Not much has been said about this eatery, but Kay-Tu Myanmar Cuisine is another great place for Burmese food in Singapore. Boasting two outlets that are situated in the western part of Singapore, it's best known for its assorted pig organs (S$10). Workers in the area would flock to its stalls just to have a taste of authentic Myanmar food. 
There are also other signature Burmese delicacies to be had, such as nangyi thoke (S$6) — also known as a thick rice noodle salad — and pig head salad (S$7). Alternatively, if you prefer to have your choice of proteins and vegetables alongside rice, Kay-Tu Myanmar Cuisine also serves yummy cai png-style dishes. 
Price range: $
Crowd favourite: If you're in the area on a weekend, the Myanmar chicken briyani (S$7) is a bestselling item at the Boon Lay outlet. It's only sold on Sundays, and is worth the trip to the west. It comes with a fluffy bed of basmati rice, tender chicken thigh and a sprinkle of spices.
---