My Must-Eats in Seoul, Korea with… Nat Ho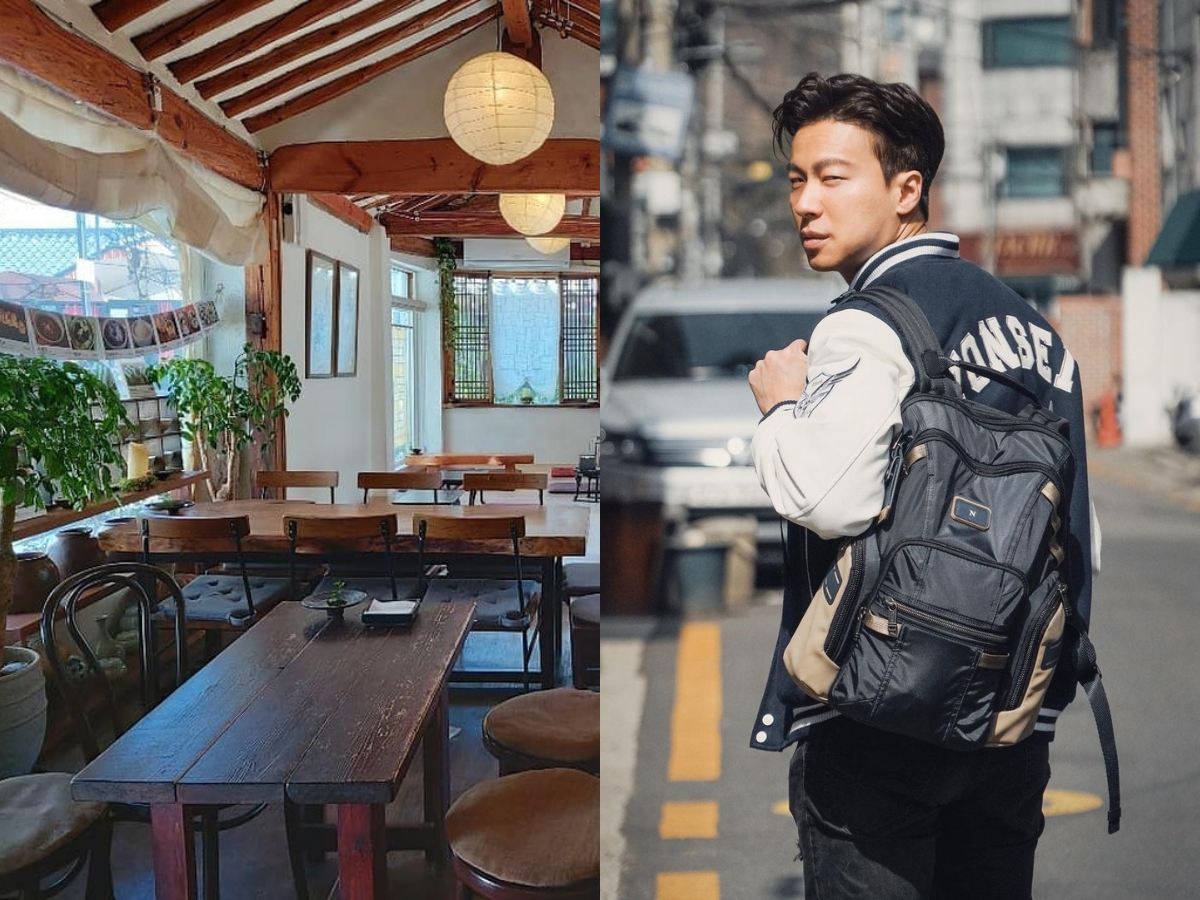 My Must-Eats is a HungryGoWhere series featuring Singapore's public figures and their favourite food haunts. This week, we speak to local artiste Nat Ho, who is based in Seoul, Korea on some of his must-eats in his new city.
It's been slightly more than a year since actor-singer — and now-songwriter — Nat Ho packed up his bags and moved to Seoul, Korea.
The 38-year-old moved to Seoul in August 2022 to pursue his songwriting career and also started learning the Korean language at Yonsei University from scratch.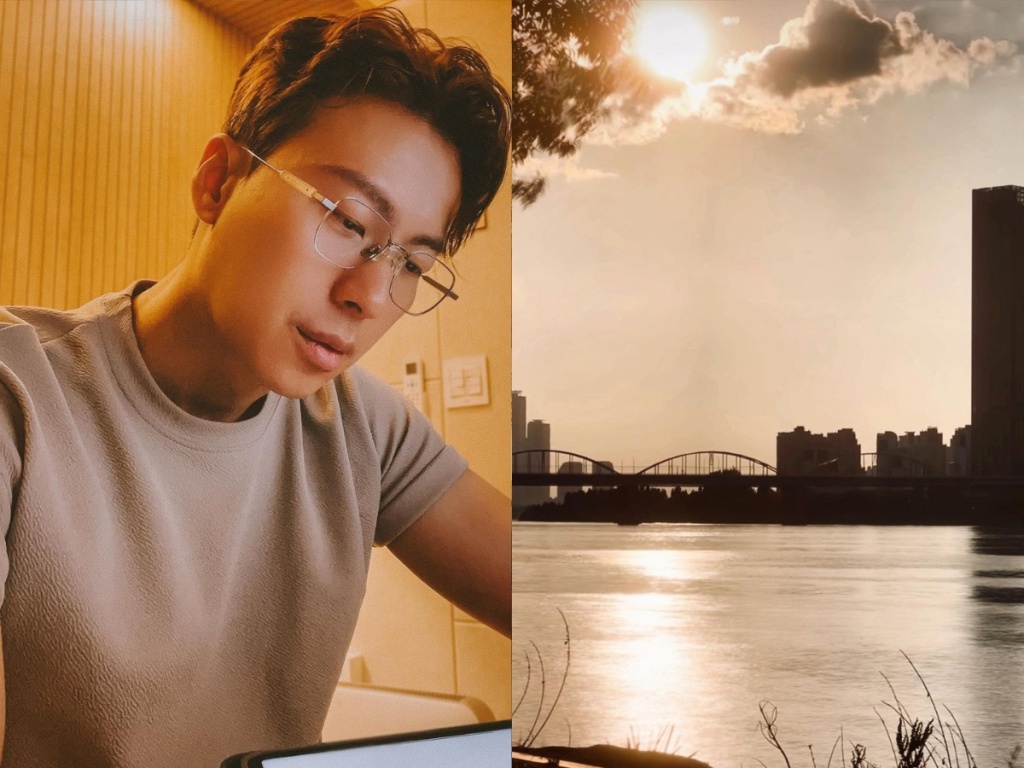 Ho frequently shares snippets of his new life in Seoul on Instagram, most of which he says revolves around school, studio, homework, gym, Muay Thai, friend catch-ups and the occasional cafe sojourn or attending events. 
Despite the hustle, he tells us over email that he definitely feels more settled now in Seoul. He adds: "I can see myself staying here for a long time. We'll just have to see how things fall into place. I'm trusting the universe on this one".
With Korea — specifically Seoul — being a hot travel destination for Singaporeans, we thought we'd pick his brains for some hidden local gems in Seoul.
Some of these are so local we couldn't even find English information on them — props to Ho for sharing the Naver links for these so you can easily locate them on your trip there. 
1. Which dish reminds you of home, and were you able to find its equivalent in Korea?
My all-time favourite Singapore dish is Boon Tong Kee Chicken Rice, and while I have not found the equivalent of that here, dakhanmari (닭한마리, chicken stew) is a Korean dish that reminds me a little of that, especially during the colder seasons. 
Hongdae Chicken Hanmari (Naver map link) is run by the owner herself (and her daughter, I think), and she really takes pride in her food. Whatever you do, do not pour the raw cabbage into the soup — you'll get her very annoyed! The raw cabbage is only to be eaten with the chilli sauce and mustard, and paired with the chicken. 
Pro tip: After finishing most of the chicken, put in the noodles last — it gives the soup a much thicker texture and by then the broth would have become super rich, so it is very flavourful!
2. What are your top three go-to eateries in Seoul, Korea? Why?
Yonggang Rice Soup
Level 1, 41 World Cupbuk-ro 16-gil, Mapo-gu, Seoul (Naver map link)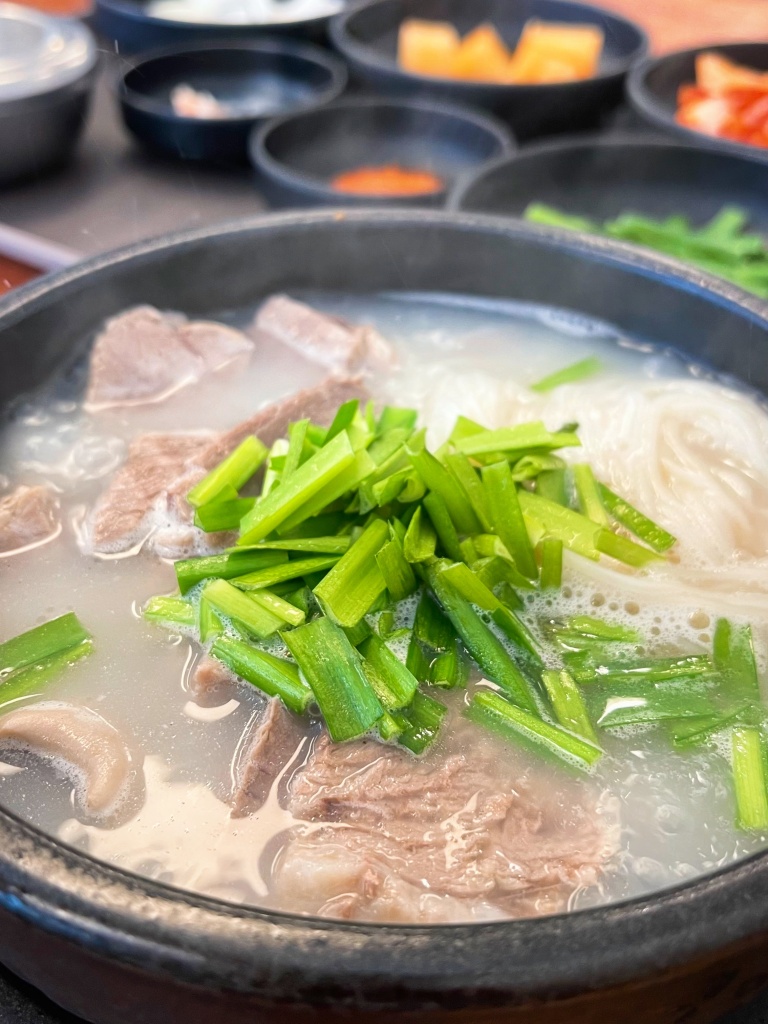 Yonggang's main specialty is 국밥 (gukbab or soup-rice, a rice and soup dish typically served with pork) and it is one of my go-to eateries in Seoul because it is very near to my recording studio. At the same time, it is healthy and delicious, so I'm there pretty often.
It comes with a variety of side dishes and I liken it to a cheese board  — whatever side you pair it with changes the flavour profile of the main dish, so the different pairings give you a different kind of enjoyment.
Siol Pork (Bangbae branch)
103, 91 Donggwang-ro 3-gil, Seocho-gu, Seoul (Naver map link)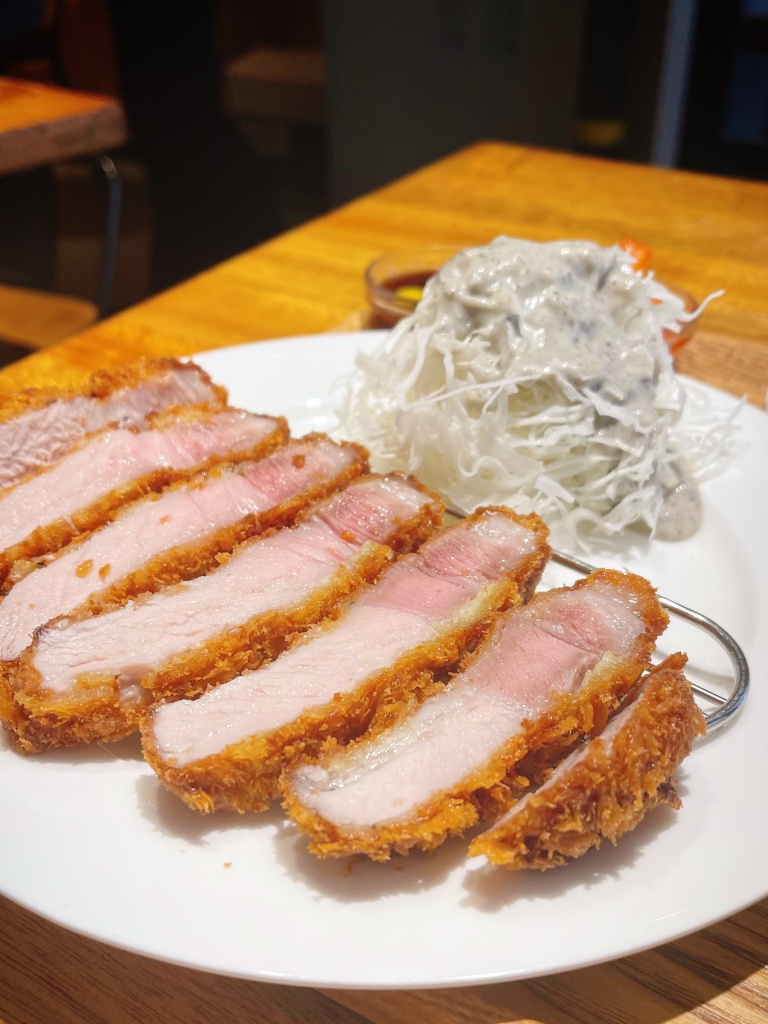 There are many tonkatsu (deep-fried pork cutlet) restaurants in Seoul, but this (IMHO or in my humble opinion) is the best I've found so far. I always order the special set — the fat-to-meat ratio is perfectly balanced. The doneness is also just right and the fat has a melt-in-your-mouth consistency.
I don't come here as often as I'd like, because it is far from where I live, but it is near my hair salon, so I normally try to schedule my appointments near lunchtime to get my tonkatsu fix.
Tteulan
17-35, Supyo-ro 28-gil, Jongno-gu, Seoul (Naver map link)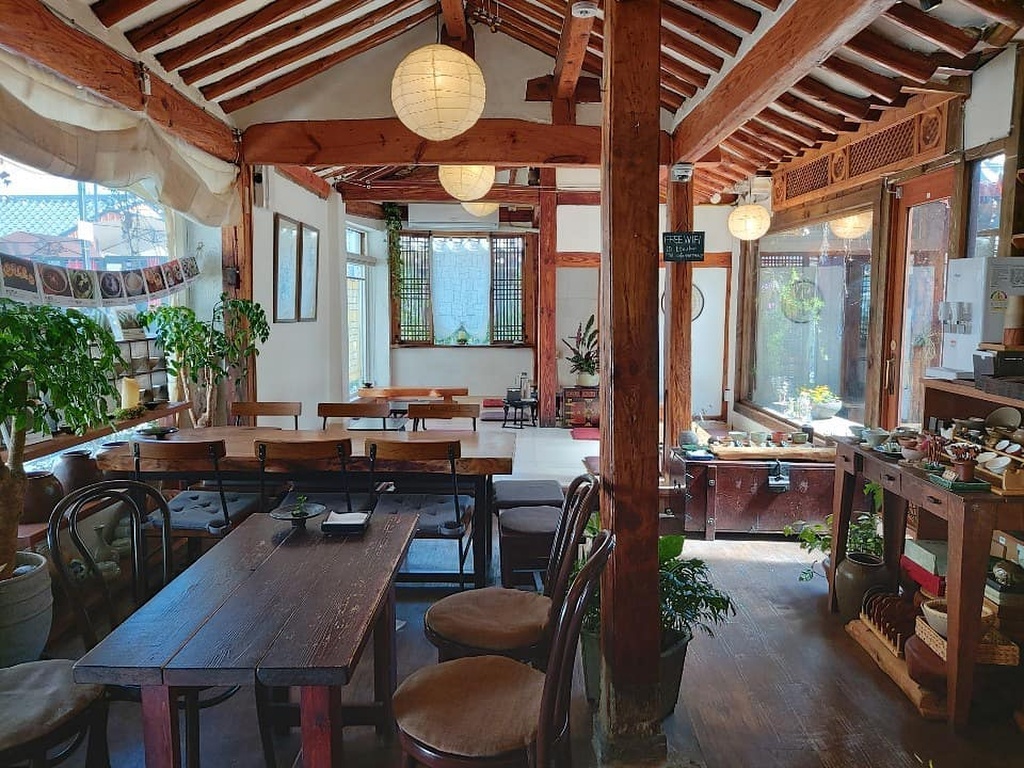 Tteulan is where I go when I need a moment of peace and tranquillity. It is a very traditional Korean tea and dessert cafe in the Ikseondong area. I particularly love this area because the buildings have a traditional Hanok-style facade, but on the inside, you can find very hip and Insta-worthy cafes, each one trying to outdo the other in terms of concepts and decor. 
Tteul An sticks to its traditional roots — its decor is warm and woody and it serves a variety of healthy teas and desserts, traditional Korean cookies and cakes. 
On its menu, it also lists the various health benefits each tea has and it feels very wholesome. I feel like my sense of balance is restored each time I visit this cafe.
3. What's your number one go-to dish in Seoul? Which eatery do you typically go to for this dish?
My number one go-to dish in Seoul is Korean fried chicken. 
While there are popular chains such as Kyochon and BHC, my favourites are a toss-up between Chicken Baengi and Chicken Bus. For Chicken Baengi, I love its garlic chicken and I like that it has a more homemade feel to it, rather than other more commercial (but still delicious) tasting options. 
Whereas for Chicken Bus, I like that they have interesting flavours such as black garlic chicken, as well as takoyaki chicken, which is a real indulgence. If you fancy, they even have a version of black garlic chicken with gold flakes.
4. Which restaurant in Korea do you want to try but have not, and why?
There are just way too many amazing dining options here in Korea. I'm truly glad that I am based here, and can take my time to slowly discover more. I'm definitely open to suggestions for this one!
5. What's the last thing you ate that impressed you — and where did you have it?
Born & Bred (Naver map link) was the last thing I ate that truly impressed me.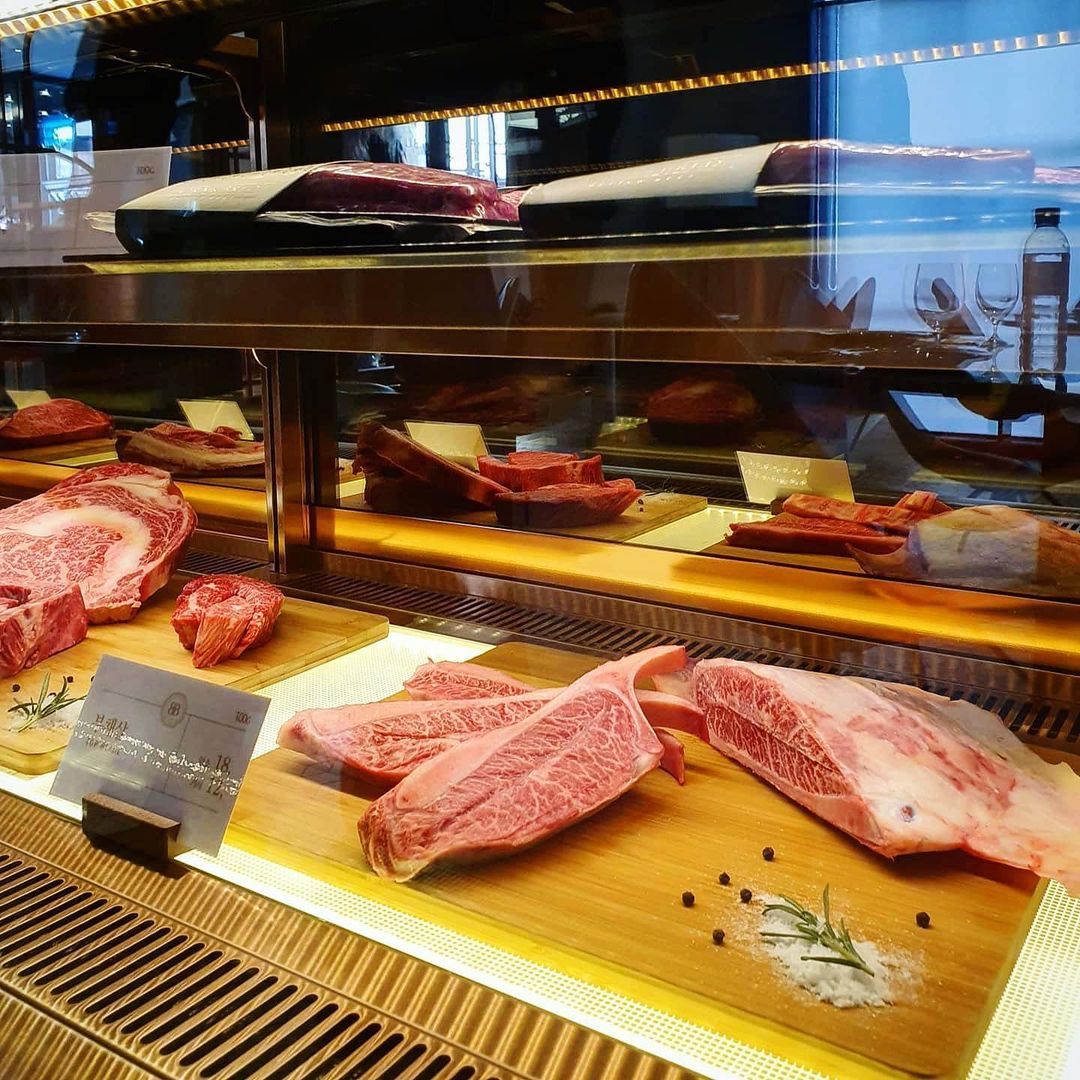 It was a treat from one of my friends who was visiting, and we really enjoyed it.
Service was amazing and the food was even better! The staff will cook the beef for you at the table till your desired doneness, and there is a wide selection of cuts with various levels of marbling. The decor and atmosphere of the place also felt really premium.
Beef can be expensive in Korea, but this meal was well-worth it!
For more Korean recommendations, read our guide to aesthetic Jeju cafes or explore Oni Kimbap, a new local kimbap restaurant.