Review: Head to Um Yong Baek in Telok Ayer for homely Korean pork-and-rice soup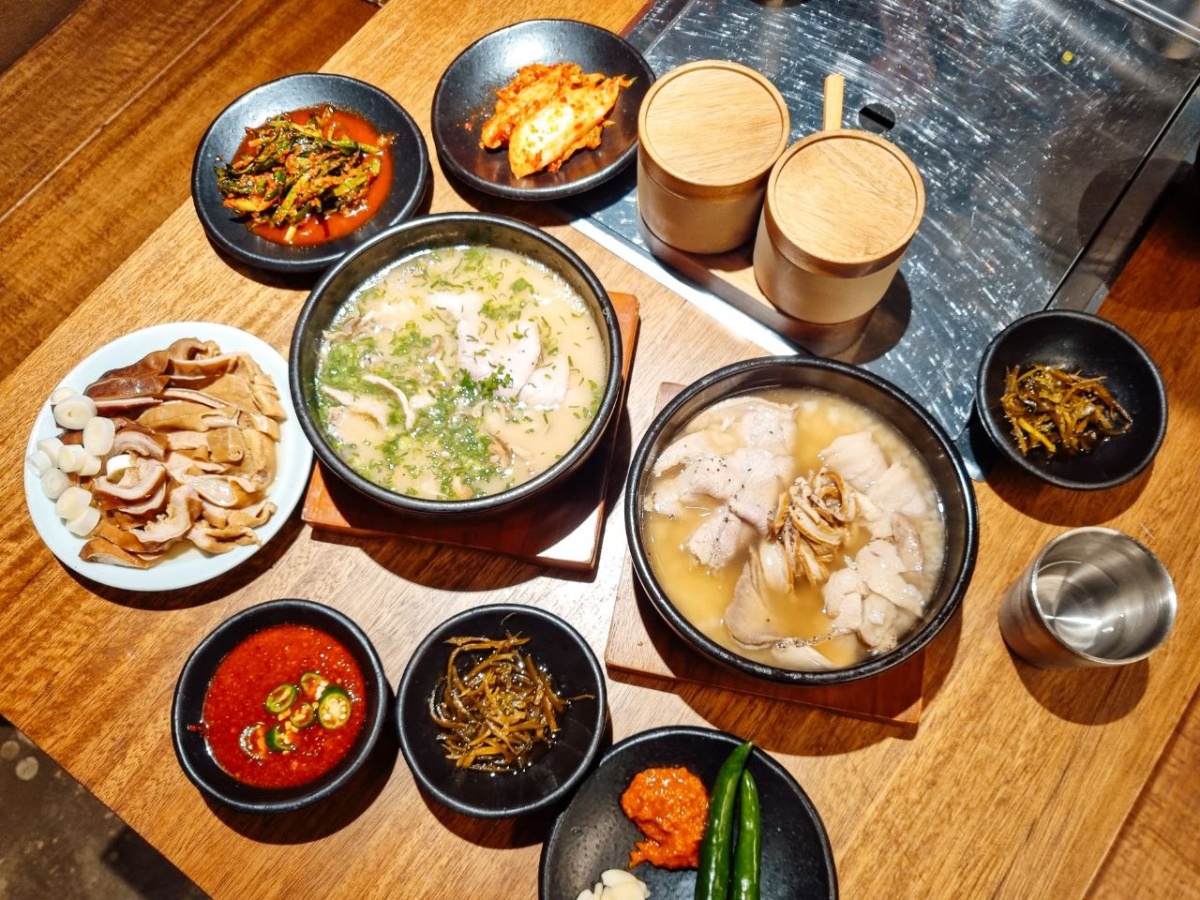 Um Yong Baek, a restaurant from Busan, serves dwaeji gukbab (pork-and-rice soup) that isn't commonly found in Singapore
The food is authentic and decently priced, but getting a spot may not be the easiest
We loved the Busan-style dwaeji gukbab, boiled pork maw and boiled pork belly with skin
The service, though, was rushed and abrupt 
My earliest memory of having authentic Busan dwaeji gukbab (pork-and-rice soup) was when my then-teammates and I finished race day at the Korea Open Busan International Dragon Boat Festival in 2016. It was cold and rainy, and we were craving warm soup.
We heard Busan was famous for dwaeji gukbab and stumbled into a homely restaurant. Since then, dwaeji gukbab has been a distant memory because restaurants in Singapore hardly serve it.
That was until I got wind of Um Yong Baek in Singapore, a new eatery along Boon Tat Street in Telok Ayer that's taken TikTok by storm.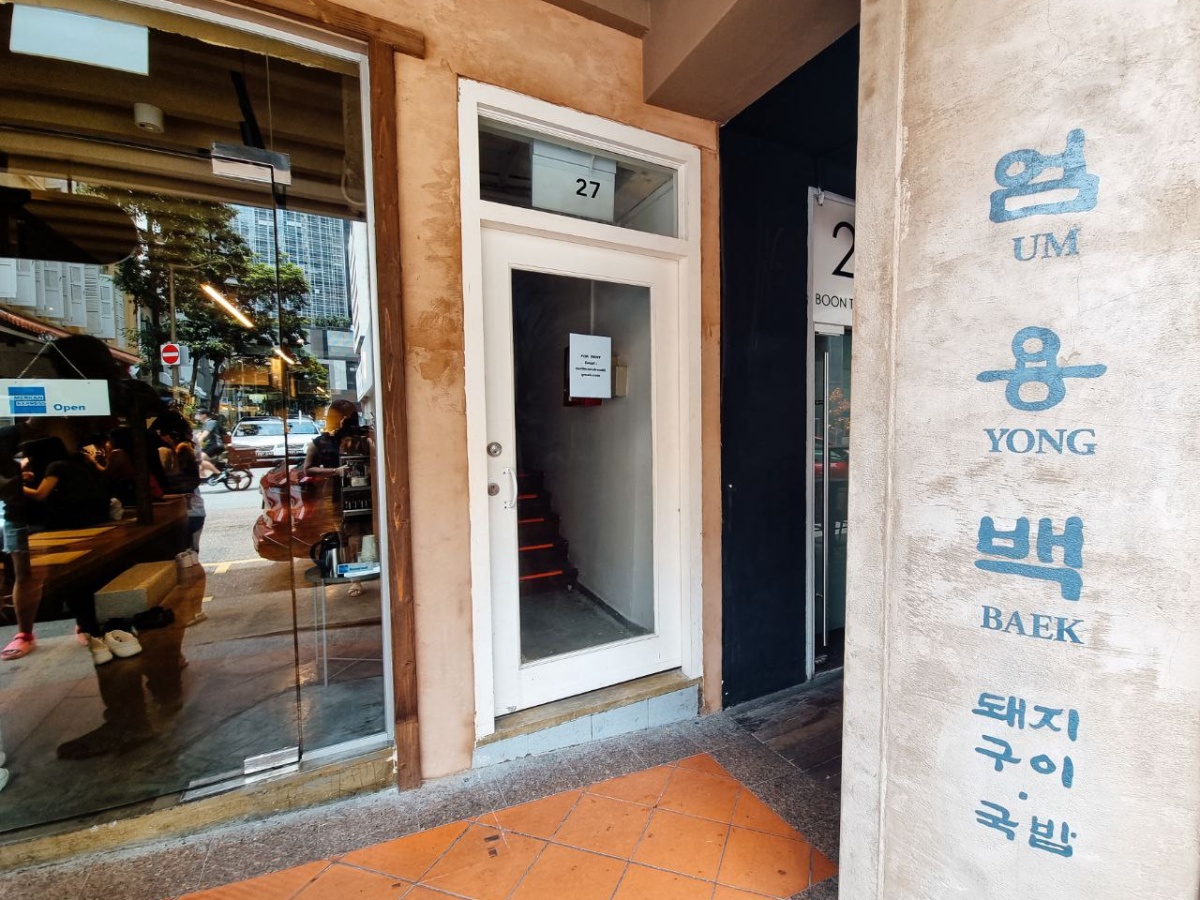 Before we go on, here's the backstory.
Um Yong Baek is a dwaeji gukbab restaurant that originated in Busan. It also has branches in South Korea's capital Seoul.
While it has always been popular in Busan — which is dotted with dwaeji gukbab restaurants — interest in Um Yong Baek was rekindled after Korean superstar Rain name-dropped it on his Netflix show The Hungry and the Hairy.
But we digress.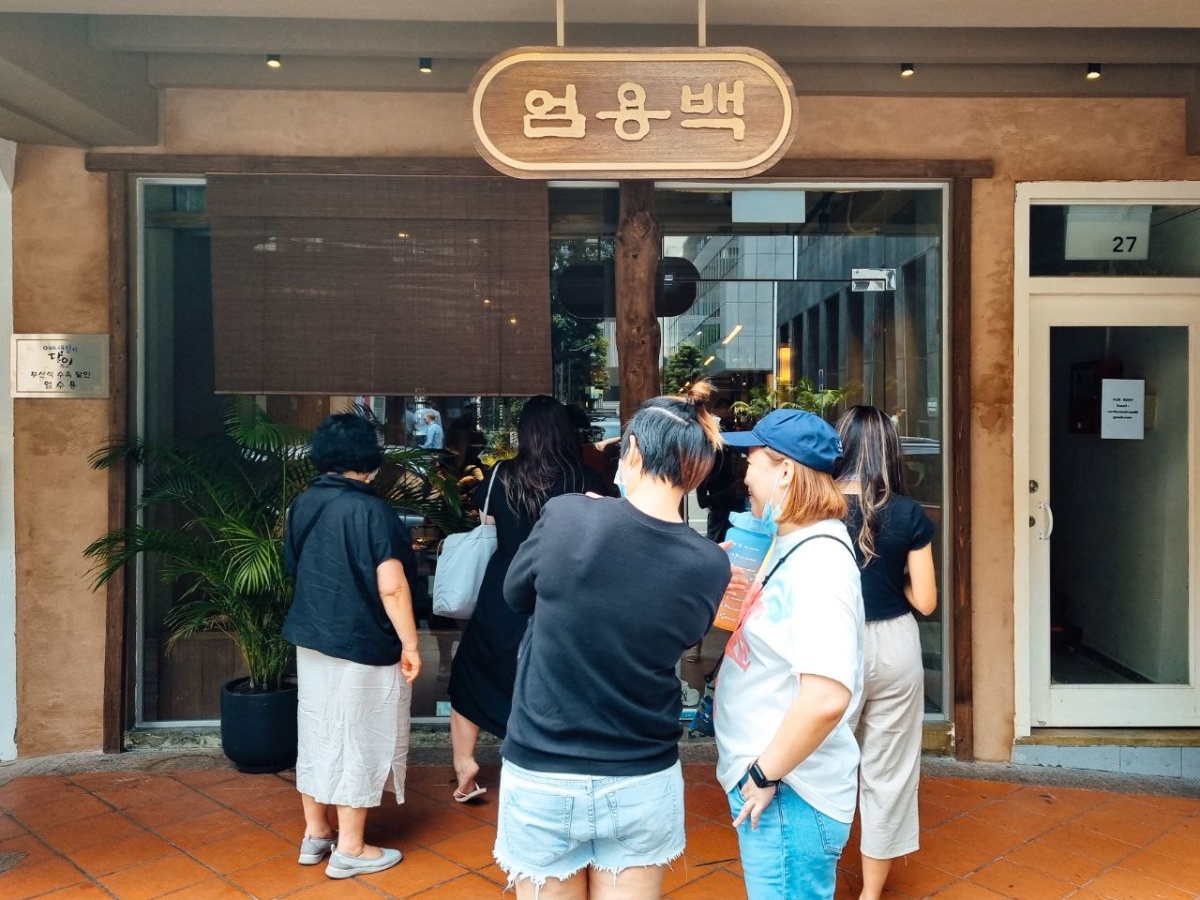 Um Yong Baek opened officially in Singapore on July 1. Unlike its soft-launch phase when it took reservations only, the restaurant now accepts walk-ins for lunch and dinner. Be warned, though: The wait is considerable.
Its famous gukbab is available only for lunch. The broth takes more than 24 hours to prepare and the restaurant sells just up to 80 bowls of its two gukbab varieties each day.
Our verdict
What this place is good for
The vibe at Um Yong Baek is unmistakably Korean.
Once seated, you get a standard set of four side dishes: Fresh kimchi; chives kimchi; a green pickled dish we're told is watercress; and a small dish of raw garlic, ssamjang (spicy dipping sauce) and green chilli. As with any respectable gukbab restaurant, there are salted shrimp condiments and salt on the table.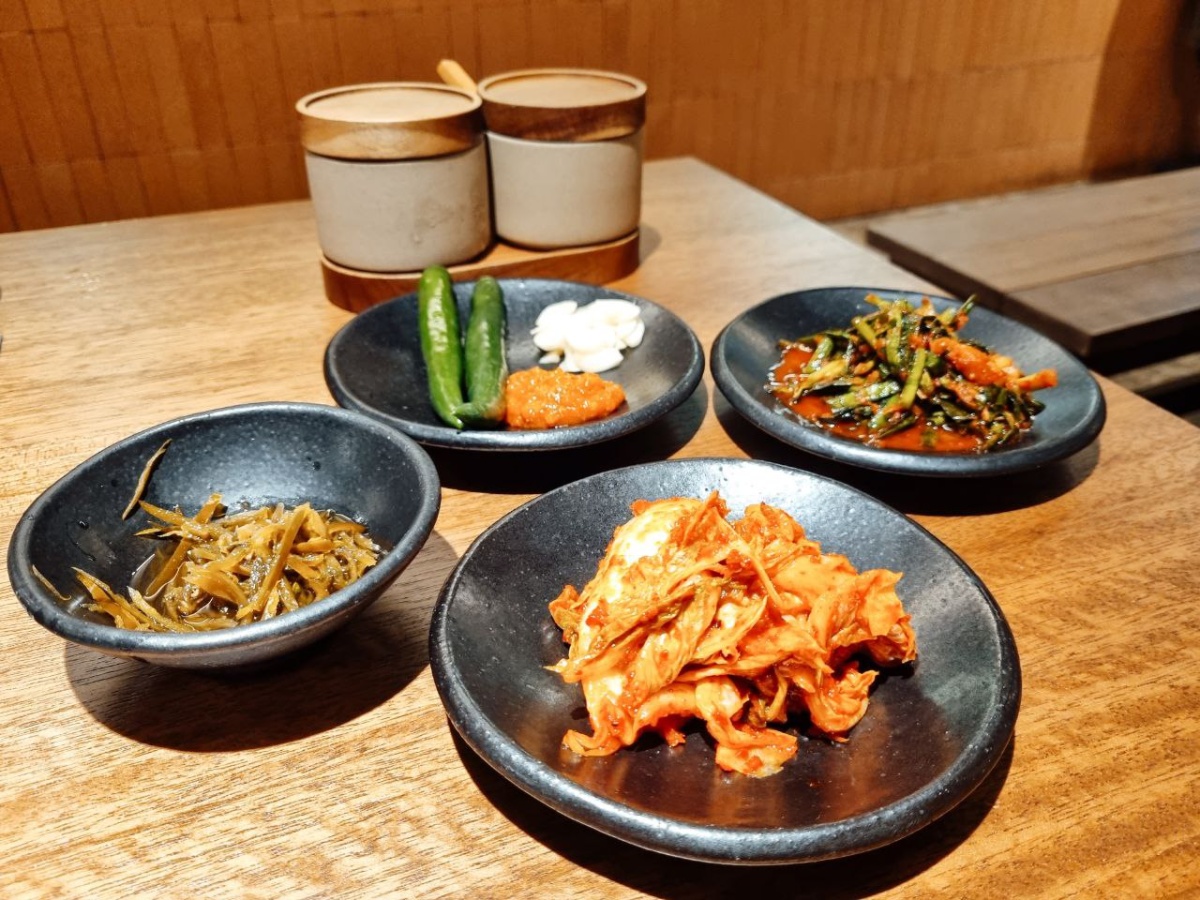 Right off the bat, the kimchi — the mark of any good Korean restaurant — impressed us. Unlike what some diners might be used to, Um Yong Baek serves geotjeori kimchi (fresh kimchi). It's more savoury, crunchy and, well, fresh — the perfect complement to anything soupy.
When we dropped by late last month, the restaurant had only four dishes on its lunch menu. We ordered all of them.
The Busan-style dwaeji gukbab (S$21) has a clear pork broth base, comes with a serving of short-grain rice, and is topped with pork front leg, stomach, cheek meat and jowl.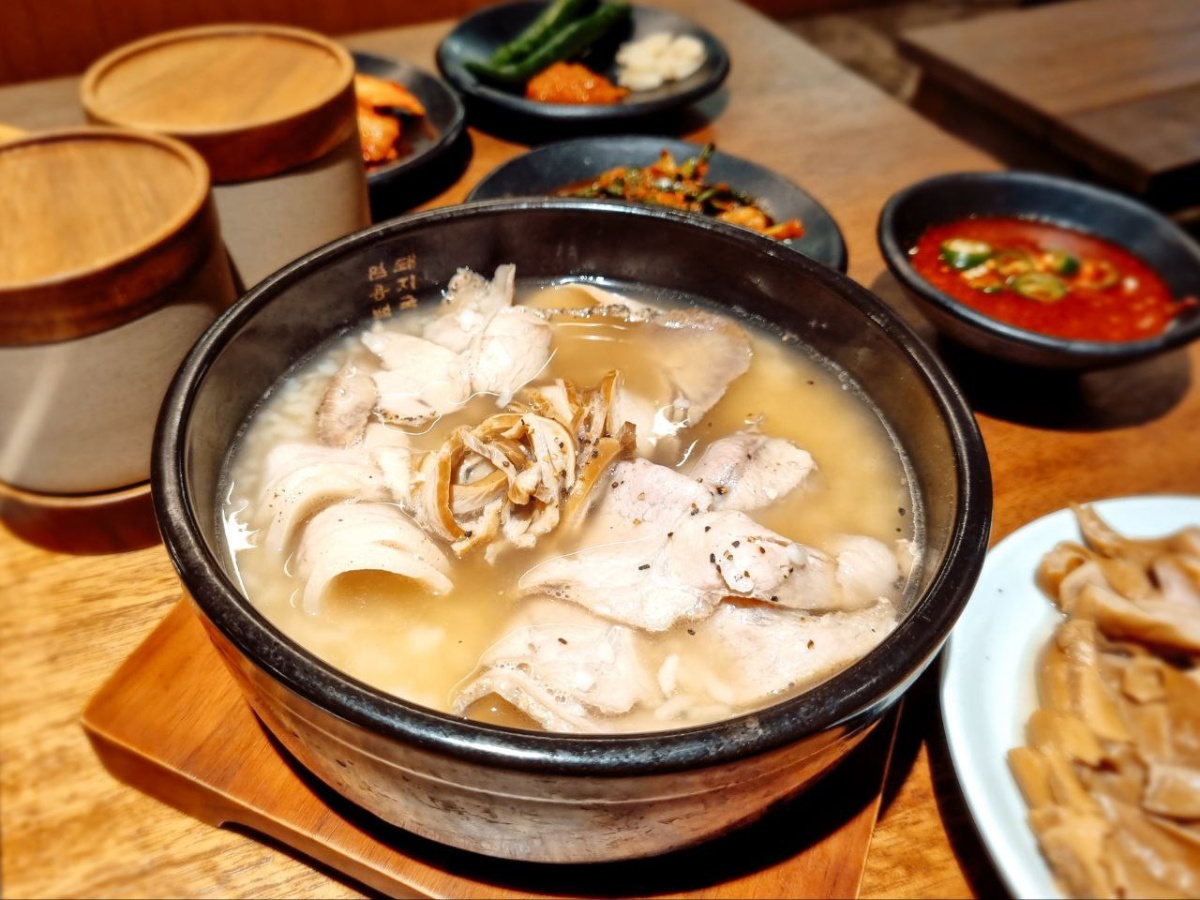 The other variety, the Milyang-style dwaeji gukbab (S$21), has a thicker broth made from pork bones, is topped with pork neck, stomach and cheek, and garnished with chives.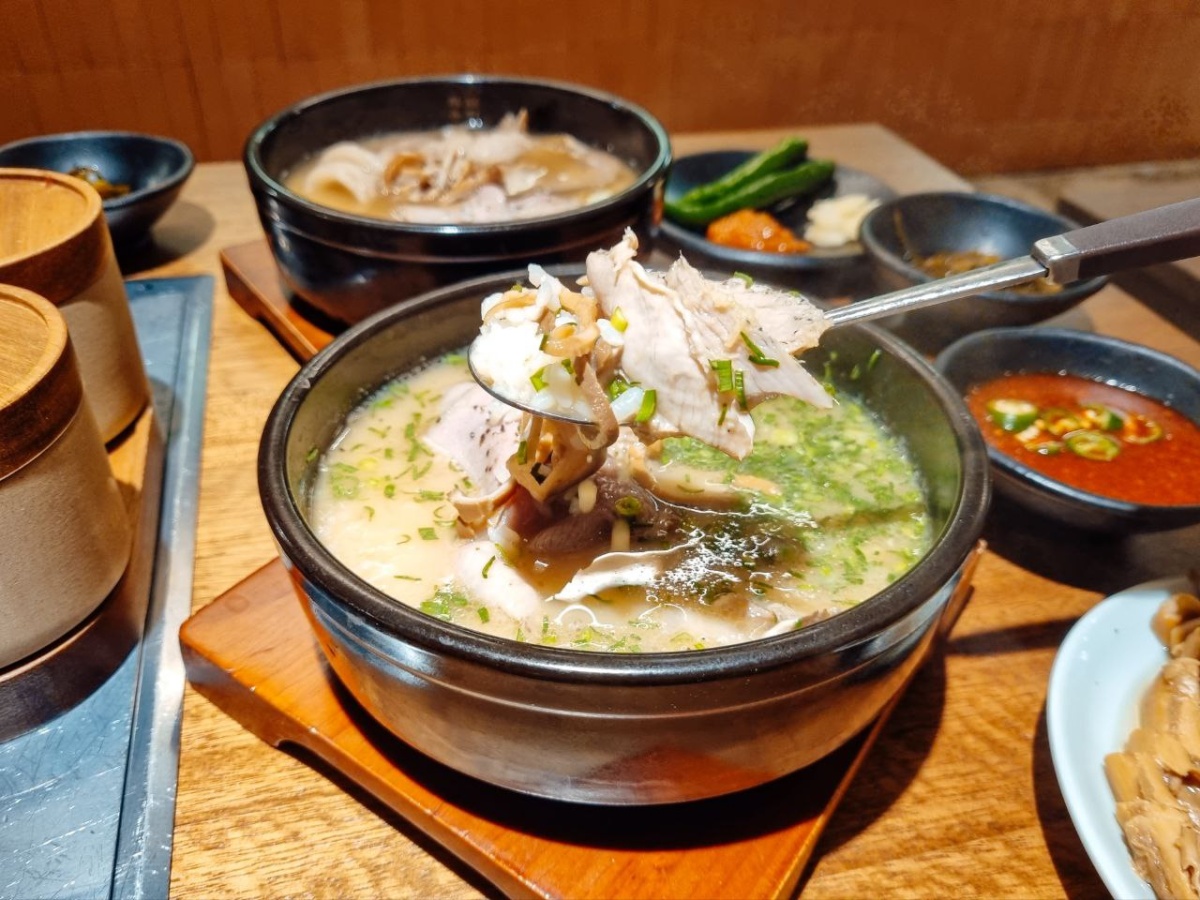 Placed cheek by jowl, the Milyang bowl is milkier. It's supposed to be richer and heavier in taste, and similar to the Japanese tonkotsu broth you'd find paired with ramen.
Despite the description, my dining party found the Busan-style bowl tastier. We enjoyed it so much that we ordered a second helping.
If you find the flavours a smidge too mild, you can add salt or salted shrimp to your bowl.
The ohsorigamtoo sooyuk (S$13) — boiled pork maw — resembles a Singapore favourite: Kway chap.
Yet, amazingly, the pressure-cooked maw didn't smell or taste strongly of pork and was delightfully soft and chewy, going well with the tangy chilli-and-vinegar sauce that came with it.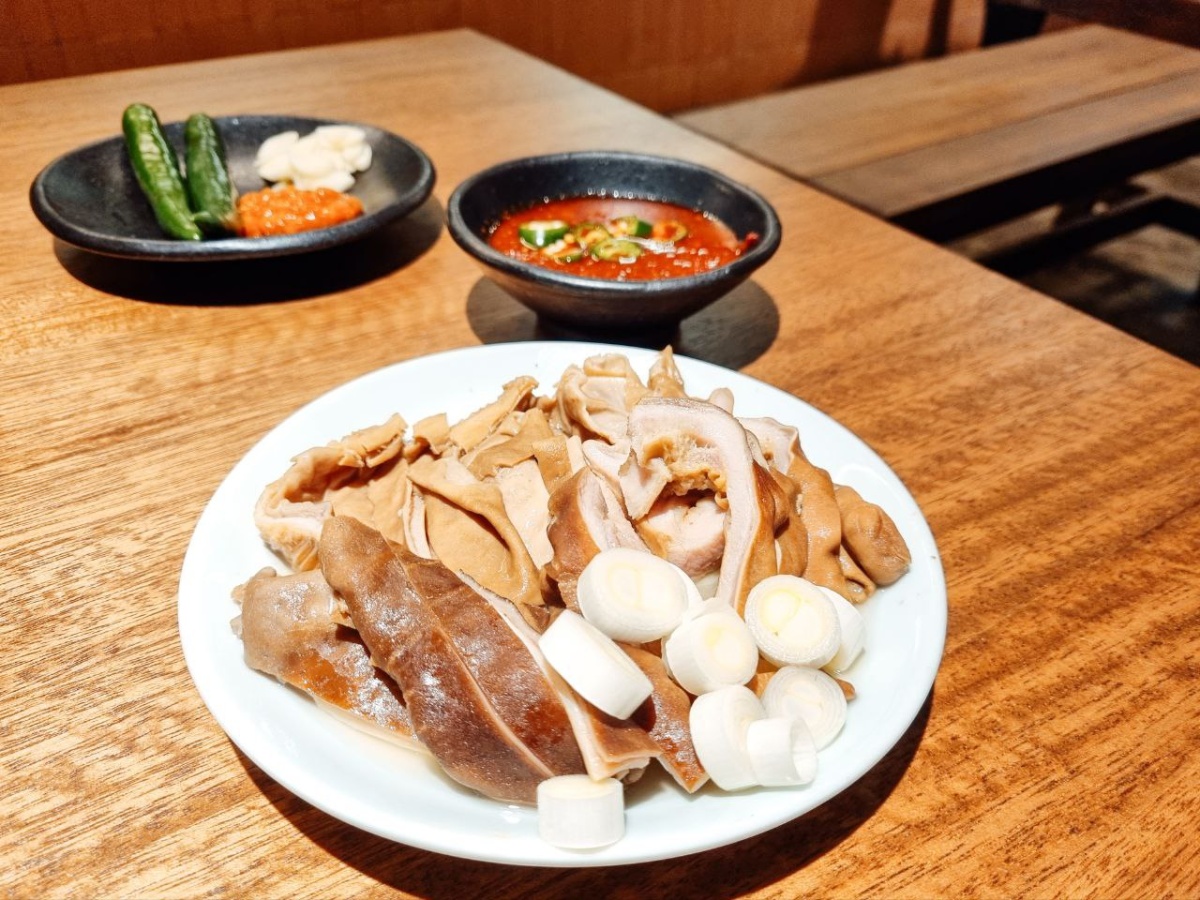 We also got the ohgyeopsal sooyuk (S$45) — boiled pork belly with skin — which arrived after a short wait.
Few tables ordered this, likely on account of its price tag, which is on the pricey side if you're looking for a quick, inexpensive bowl of rice and soup for lunch.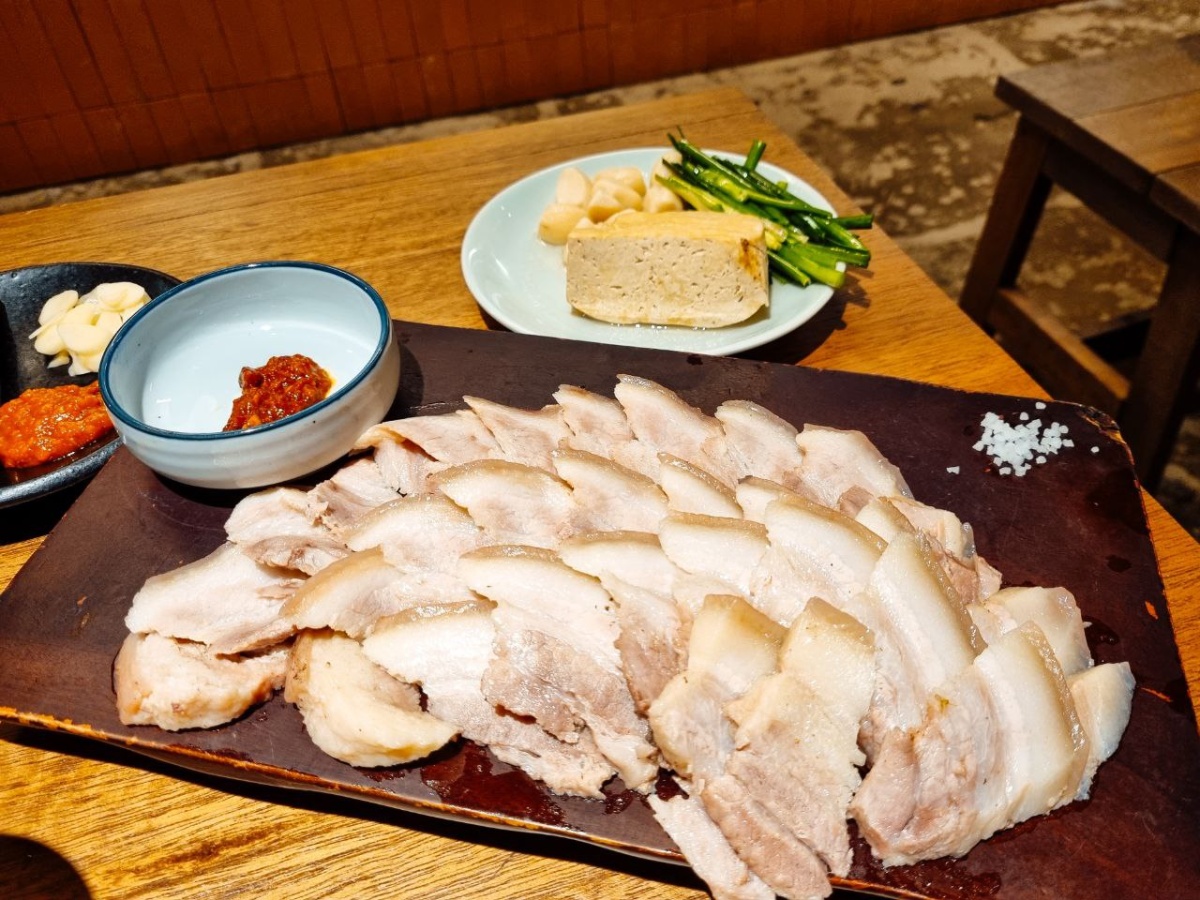 Similarly prepared in a pressure cooker after being boiled in a special broth, the ohgyeopsal sooyuk was extremely tender. The meat's sweet enough on its own, but you can also pair it with any of the three options on the table — salt, steamed chives and garlic, and salted cutlassfish sauce.
What it could improve on
Overall, the food at Um Yong Baek is authentic and hearty, and its portions offer bang for your buck. This is despite gukbab costing way less, at S$10 to S$15, in South Korea.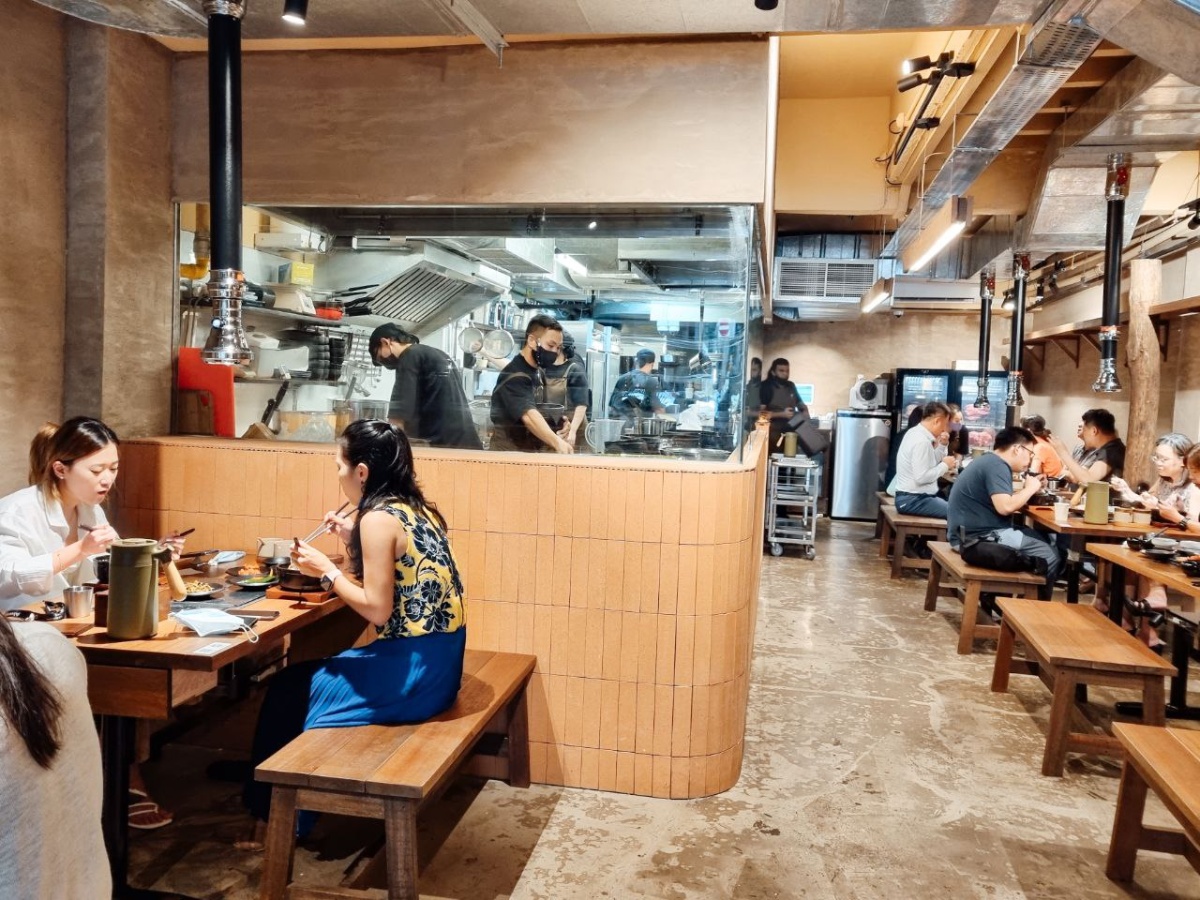 But Um Yong Baek was evidently struggling with its newfound popularity.
Its wait staff were generally terse and uncertain about the four lunch dishes it served.
When we asked about the sauce for the ohgyeopsal sooyuk, and what cuts of pork were in our respective gukbabs, two members of staff gave us halfhearted answers at best. They made no effort to check and come back with a more detailed answer.
The crew also hovered over our table as soon as we sat down, which made us feel rushed, though there was no mention of a time limit on dining in.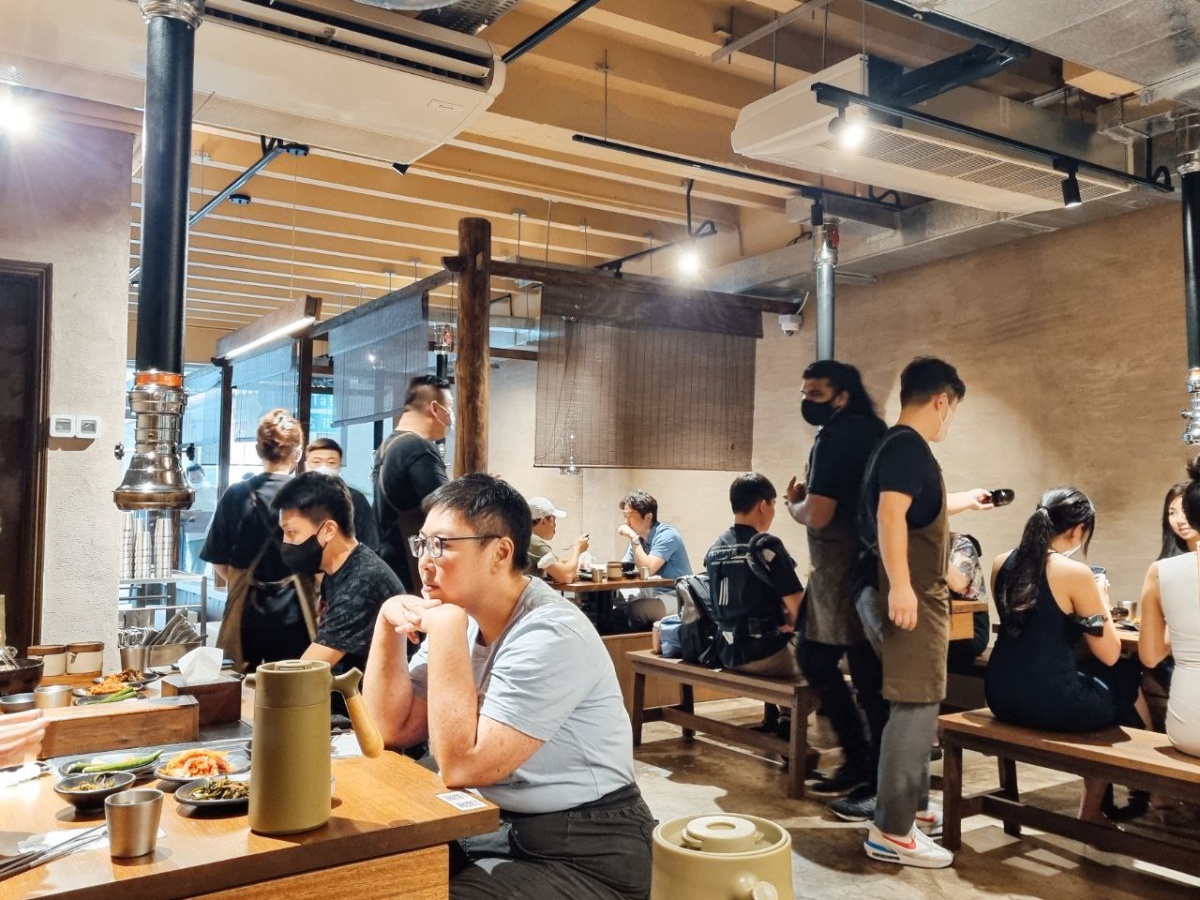 It may have just been the lunch-hour crunch; my dining companions had dinner there a few days before our visit, with no major gripes. But this does raise questions about inconsistent service standards.
With these teething problems, I'd most likely return only after the crowds have thinned a few months from now.
We also noticed some differences between the gukbabs in South Korea and Um Yong Baek's.
Unlike typical gukbabs, Um Yong Baek's version doesn't come with dadaegi, a chilli paste usually served alongside soup and noodle dishes. It also combines the rice with the soup, though some people are accustomed to having them served separately.
Inconsistencies aside, Um Yong Baek in Singapore dishes up good, wholesome gukbab that's worth a trip if you can excuse the service shortfalls.
Our quick takes
Is it conducive to conversation? Yes, the tables are spaced quite far apart, so conversation is easy. There's a traditional Korean seating area out front that's more private, but given the restaurant's popularity, requesting specific seats may be a challenge.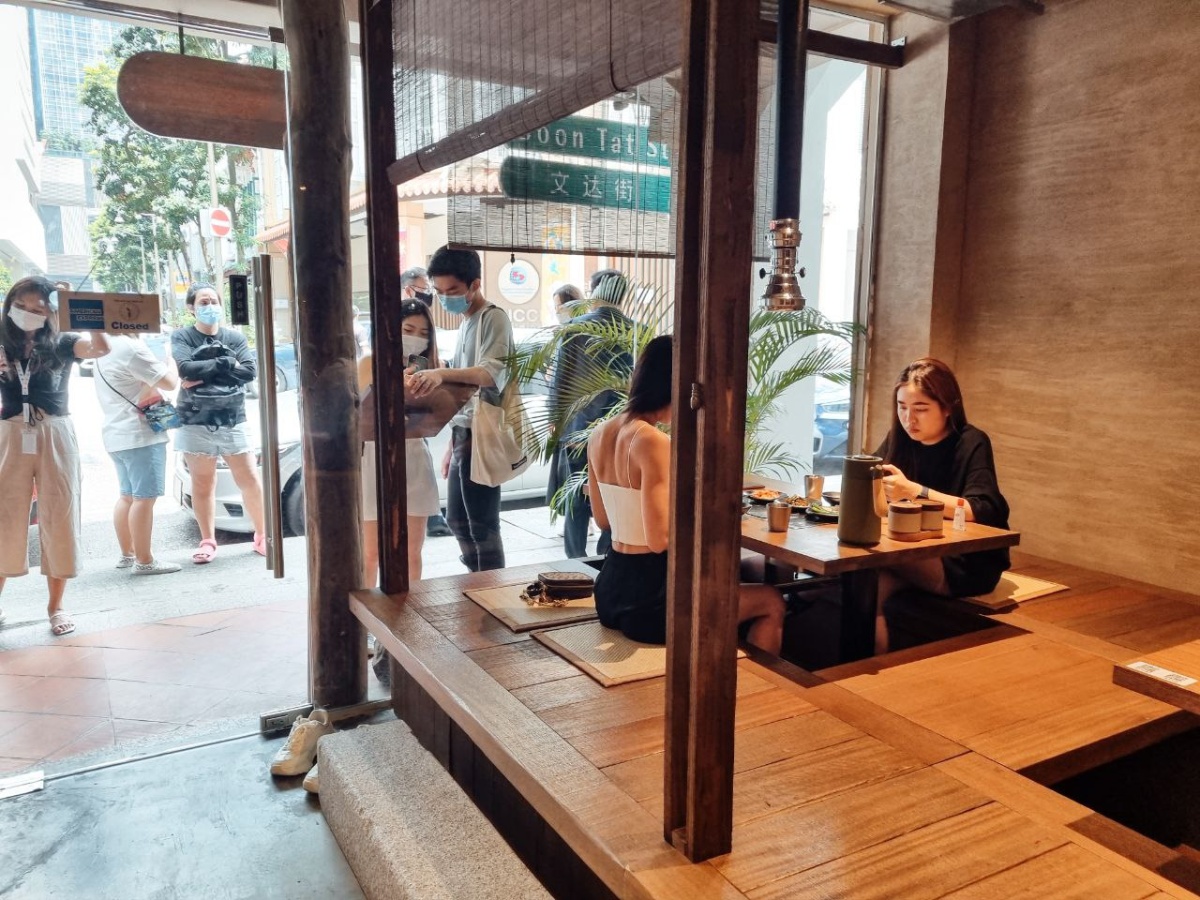 Is a reservation necessary? A reservation is encouraged because waits can range from an hour to two for walk-ins, based on our observations. Reservations open on its website every Friday at 5pm for seatings the following week.
Takeaway recommendations? The restaurant doesn't offer takeaways for the moment.
How to get there? It's less than three minutes by foot from Telok Ayer MRT station's Exit A.
Things to note:
Um Yong Baek takes in guests with reservations, for the most part, at lunchtime. This means you'd have to wait till these diners are done if you're walking in. For dinner, it sets aside half the restaurant for walk-ins, so you'd have better luck getting a table in the evenings.
If you wish to get the boiled pork belly with skin, it's cooked upon order. So be prepared for at least a 15-minute wait.
Its lunch and dinner menus differ. The eatery transforms into a barbecue restaurant in the evenings, but note that it closes fairly early — at 10pm — compared with other Korean restaurants in Singapore.
HungryGoWhere paid for its meal at this restaurant for this review.
Book a ride to Um Yong Baek Singapore.
27 Boon Tat Street
Open: Monday to Saturday (11.30am to 3pm, 5.30pm to 10pm)
27 Boon Tat Street
Open: Monday to Saturday (11.30am to 3pm, 5.30pm to 10pm)
---