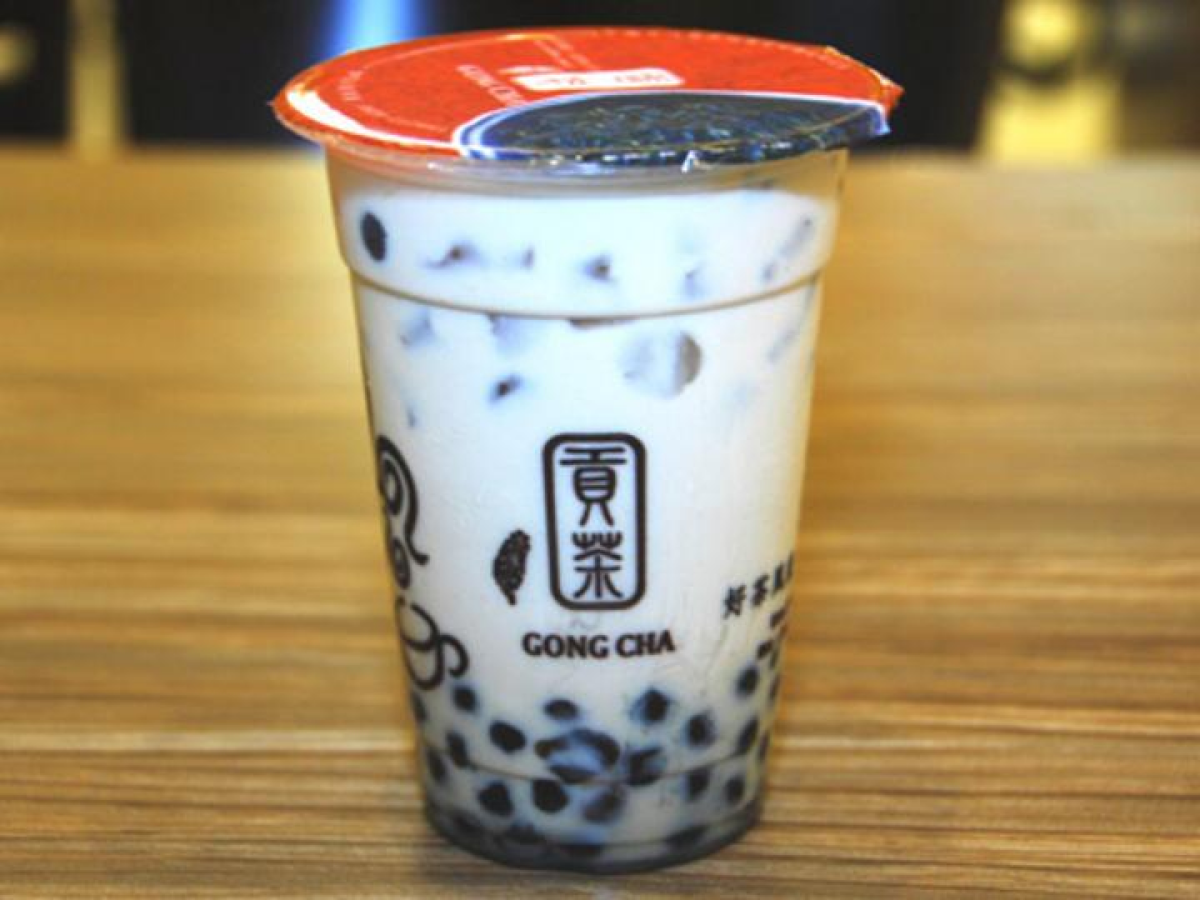 The bubble tea craze is definitely back in full force!
Originated in Taiwan in the '80s, bubble tea can be described as a flavoured beverage with a tea base, spiked with fruit syrup or flavourings. Customers can have their drink with or without milk, and as well as choose between different ice-blended versions. Nowadays, bubble tea shops also offer a gamut of other toppings and ingredients ranging from Oreo cookies, coffee, vanilla ice cream to even durian.
A distinctive feature of most bubble teas is the inclusion of black tapioca pearls. You can also choose to have yours with jelly strips.
The bubble tea craze in Singapore first started in the early 2000s but its popularity waned after a few years. These days, it's making a strong comeback, fuelled by innovative new concoctions and the added presence of at least two established players from Taiwan, Koi Cafe and Gong Cha.
A good bubble tea has to have firm, chewy pearls that are well-separated and a fragrant tea that's not overly sweet. We taste-tested five cold milk tea with pearls and another of the outlet's specialty tea to find the best.
Gong Cha
Available at Novena Square2 and City Square Mall.
Price: Gong Cha milk alisan tea ($2.40), milk tea ($2.20)
Rating: 5/5
It has only two branches in Singapore but it's making all the right moves as far as bubble tea is concerned: It offers different sugar levels (0, 30%, 50%, 80%, 100%), hygienically packed straws, stylish packaging, a good variety of drinks and a great marriage of traditional bubble tea selection and innovative, modern interpretations.
To make a fair comparison, we tried the milk tea with 100% sweetness. Gong Cha's came out tops, with its nicely-balanced sweetness and fragrant tea. We think it will taste even better at 50% or 80% sweetness though. The pearls were bouncy and while soft on the outside, had a firm centre that gave it a good bite. We had a generous serving of those.
We also tried an interesting specialty tea, the store's signature Gong Cha milk alisan tea. The homemade creamy milk froth is added on top of the tea, not blended into it. Then, a little green tea powder is sprinkled on top. We had this at 50% sweetness. We loved the interesting contrast of the slightly salty and creamy milk topping against the zesty Alisan tea.
Gong Cha offers warm bubble teas too, and something we'll try on our next visit.
KOI Cafe
Available at six branches islandwide, including People's Park Complex, Illuma and Toa Payoh Central.
Price: Jasmine green milk tea ($1.90 for medium size, $2.50 for large), ice cream milk tea ($2.90 for medium, $4.30 for large)
Rating: 4/5
This is the most popular bubble tea chain in town at the moment, with long queues forming at almost every one of their branches. KOI is known for its health conscious approach to bubble tea, as it allows customers to dictate the level of sweetness ranging from no sugar, 25%, 50%, 70% to full sugar.
Alas, their default milk tea with pearl at 100% sweetness was way too sweet for us. That, with the overpowering milky taste, masked any flavour the tea had. What redeemed the drink were the pearls. Smaller in size to all the other stalls, they were done very well. Each pearl was distinct, had a good bite and smooth texture.
We also liked KOI's ice cream milk tea with pearls at 50% sweetness. It was light and refreshing but still had a distinct tea flavour. A scoop of vanilla ice cream was added to the tea, which provided for an entirely new experience. However, we faced a minor challenge getting to the ice cream. Perhaps KOI can provide spoons?
KOI provides straws that are individually sealed in plastic. This may not be an environmentally friendly move, but it is a hygienic touch. Another nice touch is the queue number system at KOI, so you know when your turn is up.
You may also want to check out the ai-yu tea, which has received rave reviews online.
That Bubble Tea
Blk 203, Toa Payoh North, Singapore 310203
Price: Milk tea ($1), cookie spin Oreo ($1.80)
Rating: 3.5/5
The milk tea was fragrant and not too sweet. While it may be slightly on the milky side, that robustness added body to the drink. The pearls were also firm and well separated. This stall, which had the best value among all the ones we tried, specialises in a huge selection of flavours.
We also tried the Oreo ice-blended. The ice was blended so finely that the creamy drink resembled a lighter version of an Oreo milkshake. We had this with jelly bits and the combination definitely worked. The contrasting texture of the crunchy jelly and the smooth drink was very addictive.
Each-a-cup
Available at various locations islandwide including ION Orchard, The Heeren, City Square Mall and Changi Airport T3.
Price: Jasmine green milk tea ($1.90), fantasy ice blended ($2.20)
Rating: 3/5
The tea here was not as well flavoured as Sweet Talk's and had only a hint of fragrance. But it was still fairly good. The pearls, which were bouncy and firm also made up for it the lack of fragrance.
We also tried fantasy, a strawberry and lychee ice-blended drink with jelly bits. The jelly bits had a really good bite and were a good contrast to the mushy shaved ice. Overall, the drink was refreshing, but too sweet for our liking.
Each-a-cup prides itself on "using concentrated fruit juice" and "not syrup. We were happy about that and really did see bits of real strawberries and lychees floating in our drink.
Sweet Talk
Available at various locations islandwide including Bishan Junction 8, Century Square and Orchard Central
Price: Milk tea ($1.90), strawberry ice nlended ($1.90)
Rating: 2.5/5
The milk tea was strong and fragrant. And thankfully, although it was quite sweet, the sugar level was still acceptable.
The pearls, however, were the worst among all that we tried. Most of the pearls were not spherical, with many having strands of tapioca flour dangling from them like worms! The majority of the pearls were also stuck together, creating masses of gooey substance that got stuck in the straw. We had to clear out the straw numerous times before we could drink from it again.
We also tried the recommended strawberry ice-blended with pearl, and had a huge sugar rush as a result. It was so sweet we felt like we were drinking semi-frozen strawberry jam right out of the bottle!
Thanks for the generosity Sweet Talk, but it'll be good if you're a little less heavy handed with the sugar syrups.
---
This archived article appeared in an earlier version of HungryGoWhere and may not be up-to-date. To alert us to outdated information, please contact us here.