5 Best Bak Kut Teh Stalls in Singapore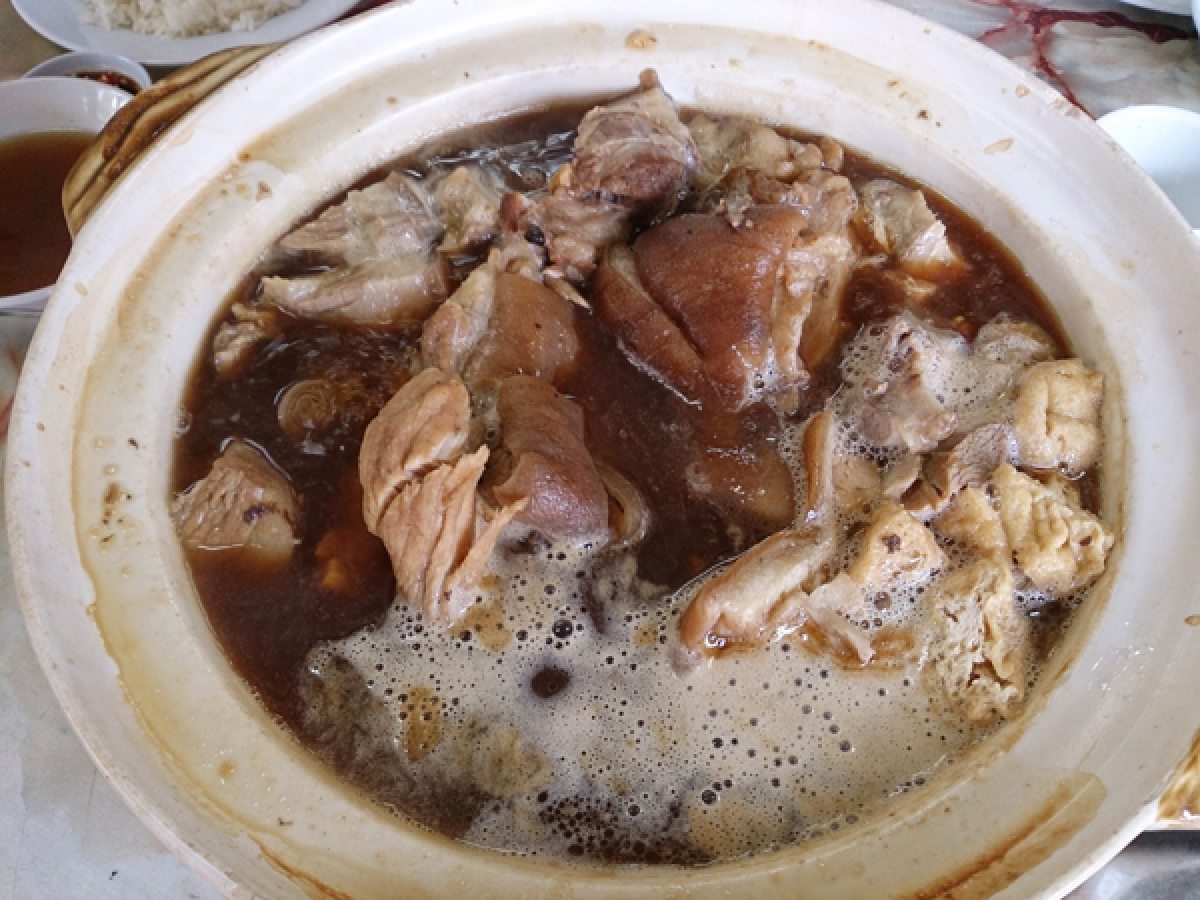 Did you know that bak kut teh, literally translated as "meat bone tea" was regarded by Chinese coolies as a tonic to fortify their bodies in the early 1900s?
Today, bak kut teh has evolved to become a sumptuous meal of pork rib soup, rice and a variety of side dishes. There are different styles of bak kut teh to choose from, with the Teochew version being the most popular here in Singapore. Its distinctive light and clear broth is made simply by simmering pork ribs, garlic cloves and pepper. The garlic imparts sweetness to the clear broth while the pepper delivers a zingy kick.
As one of Singapore's favourite homegrown dishes, there are plenty of worthy bak kut teh eateries around the island. We pick five famous giants and pit them against each other in this taste test. Who will emerge as the Big Brother of bak kut teh?
Rong Cheng EDITOR'S PICK!
22 Sin Ming Road
Opening hours: Daily: 7am-4pm
Price: $6.00 (mix of spare rib & prime rib)
Rating: 4.5/5
The champion of this roundup, Rong Cheng is our top pick for their exceptional broth, freshness, value, and overall excellence.
Clear and refreshing, the soup boasted great harmony and wonderful multitude of flavours. First to greet our palates were the savoury notes, interspersed with gentle sweetness. The subtle peppery notes slowly emerged at the end, leaving a delightful tingle which teased our palates for more.
Here, they offer only a standard mix of ribs. Every bowl comes with two pieces of spare ribs and a premium piece of loin. They were very fresh and clean-tasting. Firm to the bite, we'd have preferred them to be more tender.
Service was prompt, with servers coming around to top up soup regularly. We also enjoyed their wide variety of well-executed side dishes. Don't miss their garland chrysanthemum (tang oh) in soup. Their braised pork trotter is another must-try.
Outram Ya Hua Rou Gu Cha MOST TENDER RIBS
7 Keppel Road, #01-05/07 PSA Tanjong Pagar Complex
Opening hours: 7am-4am; Closed on Mon
Price: $7.00 (prime rib)
Rating: 4/5

Coming in at a close second is Outram Ya Hua. Compared to Rong Cheng, their broth has a more dominant pepper presence. Here, we were first greeted by the pepper followed by the robust savoury flavours. Outram Ya Hua's version would suit those who prefer a punchier bak kut teh.
We were also impressed with their tender ribs. The prime ribs—cut into short lengths—had a good amount of lean and fatty parts. But they were pricey for the small portion.
Little details contributed to the overall experience here. The salted vegetable was most appetising. Cut into small cubes, the salted vegetable was soft, juicy and tangy. Even the rice was deliciously fragrant and fluffy.
Sin Heng Claypot Bak Koot Teh
439 Joo Chiat Road
Opening hours: 7.30am-4am; Closed on Mon
Price: $7.00 (prime rib)
Rating: 3.5/5
At Sin Heng, they offer two kinds of bak kut teh–the Teochew as well as the herbal version.
For the Teochew version, the garlic and pepper broth is flavoured with dark soy sauce. It had a pleasant balance of mildly sweet, savoury, and peppery flavours. The herbal "special" bak kut teh tasted rather similar, minus the peppery edge and with an added bitterness from herbs like angelica root. If we had to pick one, our preference is the Teochew version.
The bak kut teh was served in claypot so it remained warm for a longer period. Although on the lean side, the ribs were cooked till sufficiently tender. Portions were hearty and reasonably priced.
The only letdowns of the meal were the rice and salted vegetable. Loose and dense, the rice grains were probably of the aged variety. As for the salted vegetable, it was far too briny and salty, as though they had neglected to give it a proper soak before cooking.
Founder Rou Gu Cha
347 Balestier Road
Opening hours: 12pm-2pm, 6pm-2.30am; closed on Tues
Price: $8.00 for prime rib
Rating: 3/5
There are at least seven bak kut teh shops in Balestier Road. Sandwiched between them is Founder, the pioneer whose fame probably started the bak kut teh trend along this stretch.
Regulars here go straight for the premium loin ribs. Each bowl comes with two tender and meaty ribs, which means each one is $4 a pop. Pricey, but we'd gladly pay the difference. The premium ribs were much more worth it than the lean and tough pork ribs.
The clear-looking soup was mostly savoury, with a tiny hint of pepper that's barely discernible. It was tasty enough, but lacked character. The salted vegetables had the right doneness, but could have been less oily. The you tiao (fried dough) was rather dry and doughy.
Ng Ah Sio Pork Ribs Soup Eating House
208 Rangoon Road
Opening hours: 7am-3pm; closed on Mon
Price: $7.50 for prime rib
Rating: 2.5/5
This famous establishment is best remembered for turning away Hong Kong governor Donald Tsang because they had run out of fresh pork ribs for the day. Earlier this year, the eatery underwent a makeover, emerging with improved seating, ventilation, and décor.
While the ambience was much improved, the food seemed to have gone the opposite direction. Our main bugbear was the porky smell of the meat, which really put us off. Even the strong peppery soup failed to mask the lingering pong.
Ng Ah Sio most definitely takes the prize for "most fiery bak kut teh" in this roundup. We had no issue with that; however the broth could have benefited with more depth and sweetness instead of just being salty and super peppery.
We ordered the premium spare ribs. They were very thick and meaty, but the texture was a tad stringy. The stewed salted vegetables were chunky and tender, but a bit too sweet and greasy. Compared to the other eateries, Ng Ah Sio's side dishes are relatively pricier.
inSing.com made anonymous visits and paid for its own meals at the eateries featured here.
---
This archived article appeared in an earlier version of HungryGoWhere and may not be up-to-date. To alert us to outdated information, please contact us here.