Post-meal karaoke and games at a Kopitiam near you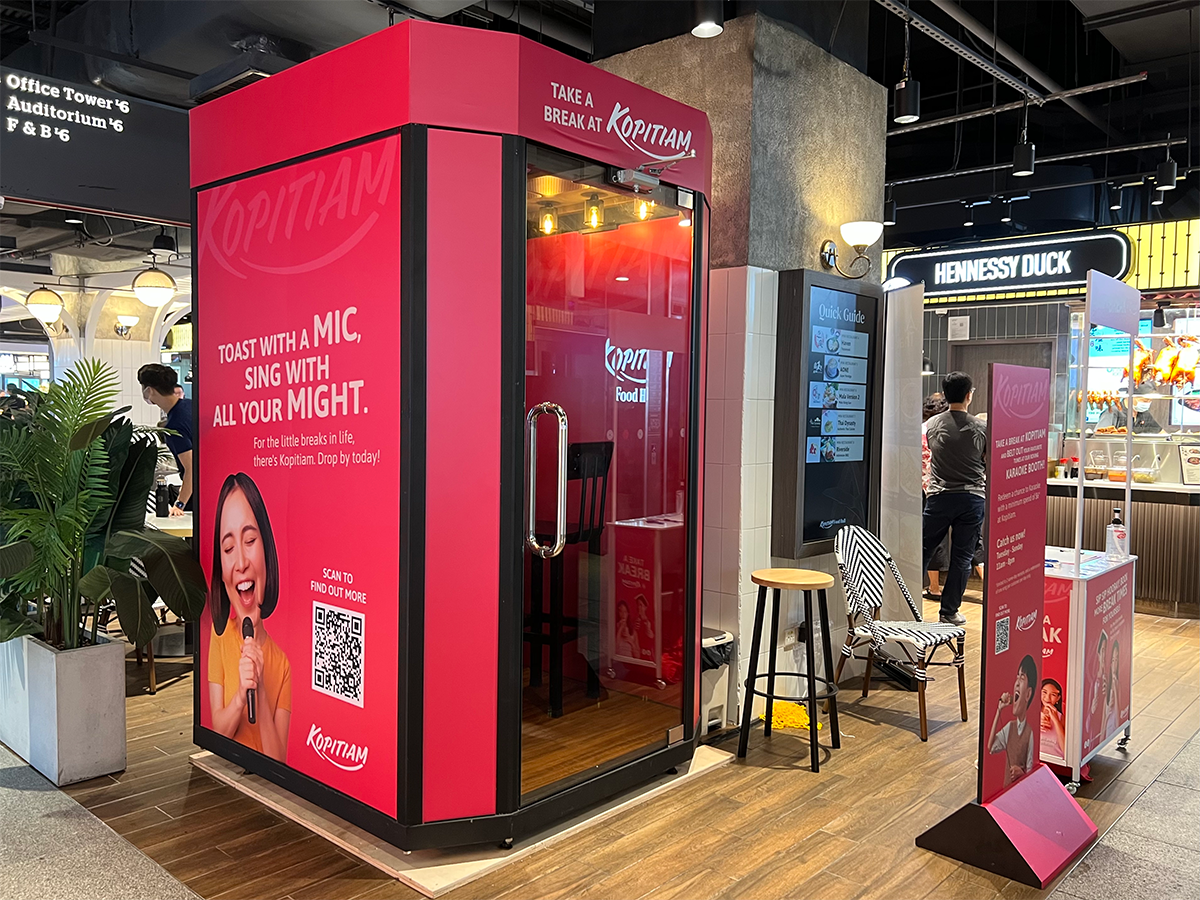 Kopitiam is bringing a fun, new experience to its food halls with a karaoke booth and a game machine. 
One of the two booths will appear at selected Kopitiam outlets from now until Jan 15, 2023. As long as you spend a minimum of S$6 at that outlet, you can redeem a token from the nearby counter for the booth that is available. 
You can combine a maximum of two same-day receipts to redeem the token. However, a single receipt gives you just one token. Additionally, tokens redeemed must be used within the same day.
Both booths will be available from 11am to 8pm – just in time for post-lunch or dinner fun. 
The karaoke booth features a sizeable selection of songs from artists such as Girls Generation, JJ Lin and Taylor Swift, but don't expect newly released songs. The token entitles you to just one song, but you'll get a chance to hear a playback of your magnificent performance.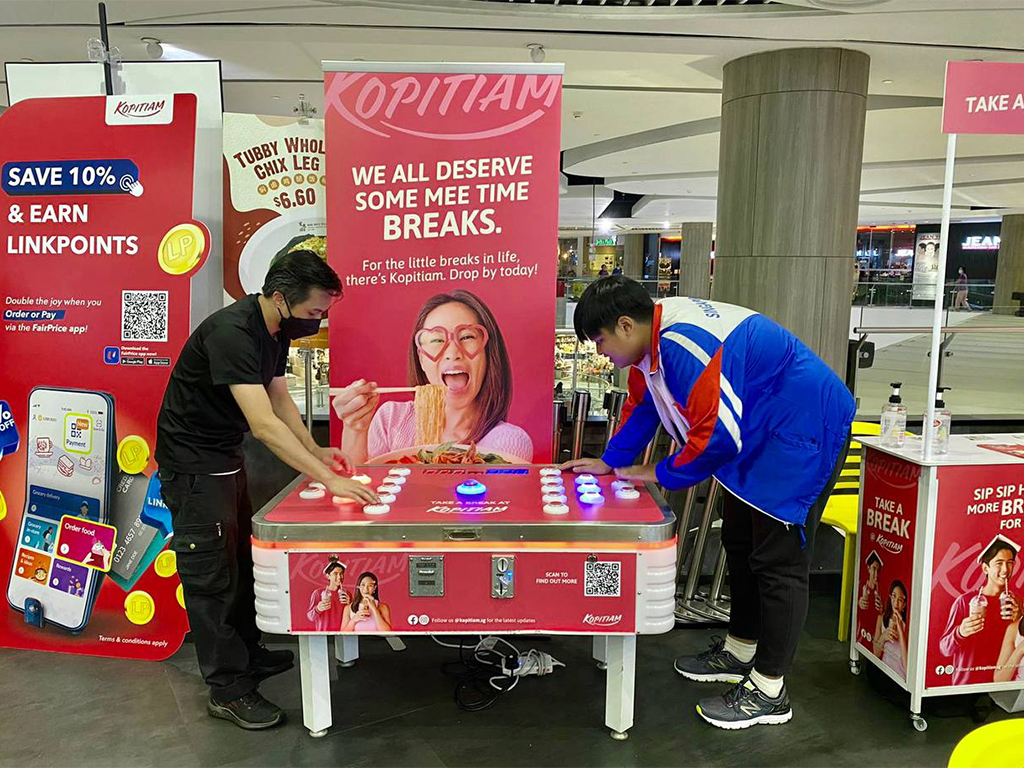 Similarly, one token entitles you to only one round on the i-Light-Breaks game machine. In that round, two players get to face off with each other, competing to see who catches the greatest number of buttons when it lights up. 
At the end of your game or karaoke session, you can collect free magnets featuring iconic local Kopitiam dishes: Signature breakfast set, satay, chicken rice, Hokkien mee and nasi lemak.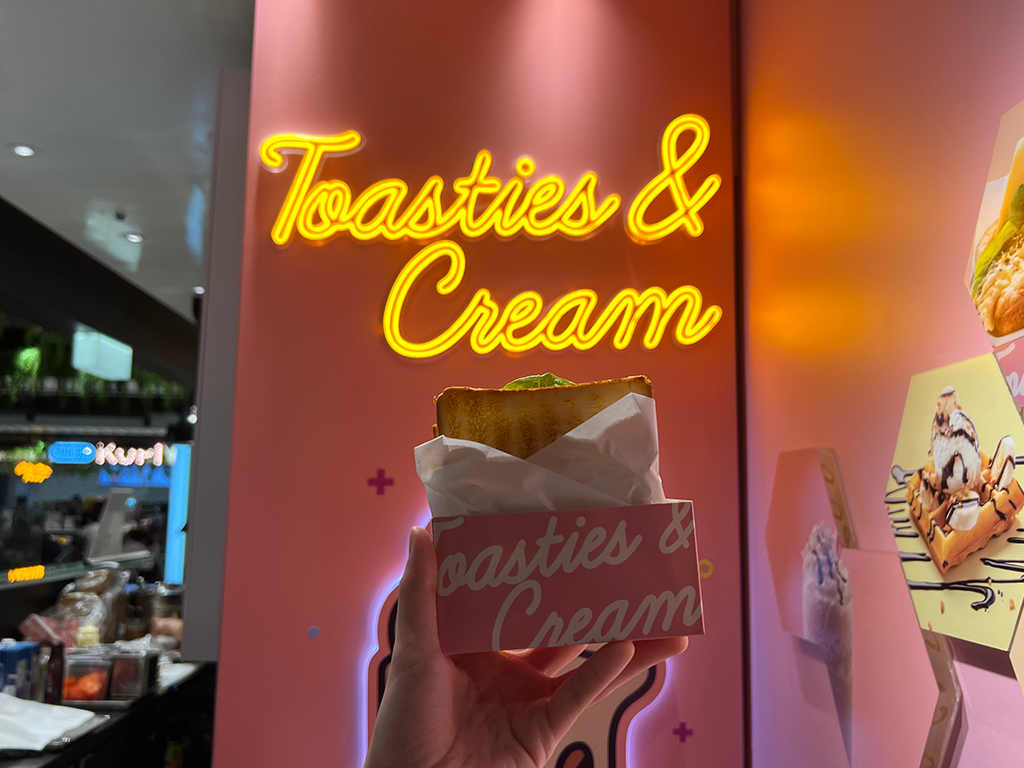 If you're heading to the Kopitiam Food Hall @ Jem, try the toasties (from S$3.80) and sweet waffles (from S$6.80) exclusive to that outlet. Both are simple and affordable options that'll do the trick if you're seriously craving sandos or ice-cream waffles. 
Schedule for karaoke, i-Light-Breaks game booths
From Nov 15 to 20, the karaoke booth will be at FairPrice hub located in the Joo Koon area. Afterwards, the i-Light-Breaks game machine will be making an appearance at Tiong Bahru Plaza's Kopitiam from Nov 22 to 27. 
You can find the full schedule for the booths with the corresponding dates and outlets here.