We visited the Geylang Serai Ramadan Bazaar and here's what we tried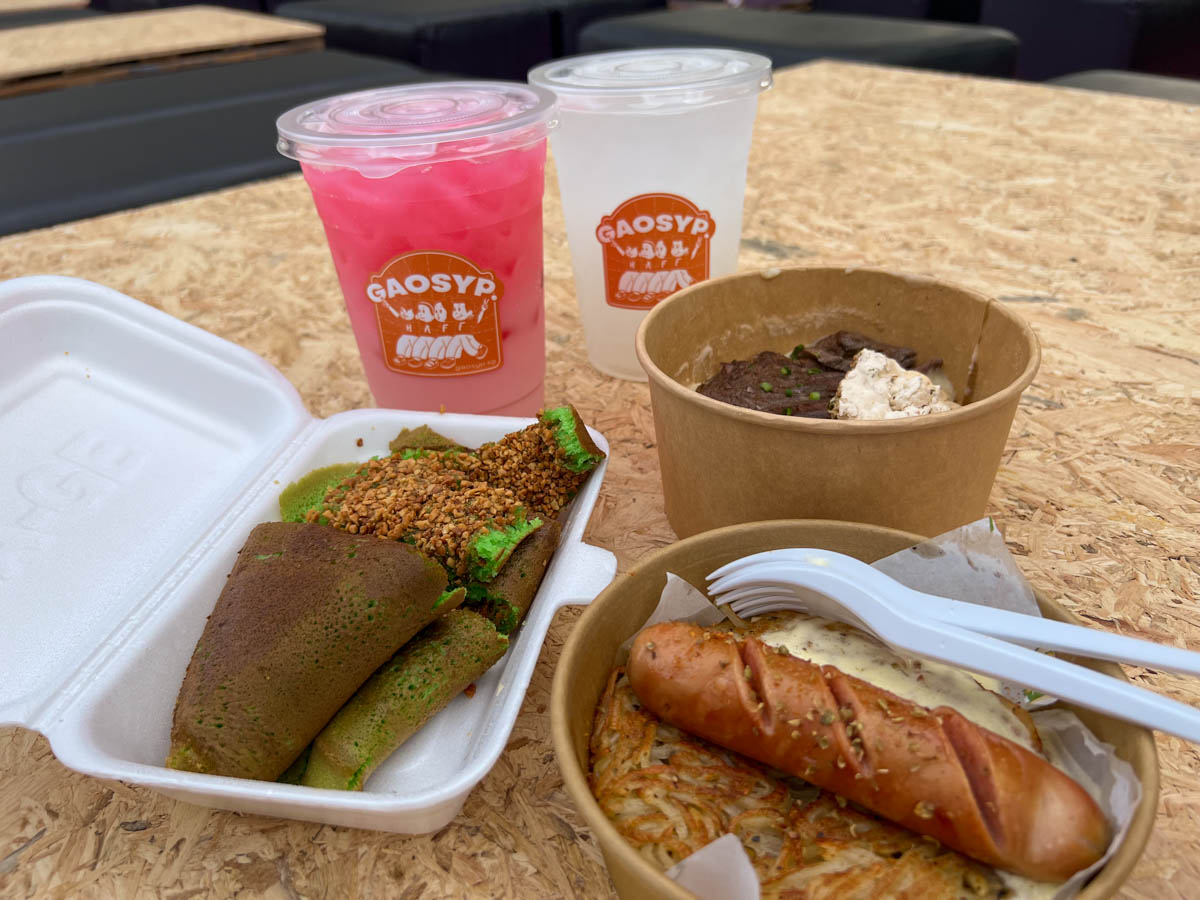 The annual Geylang Serai Ramadan Bazaar is back with a bang this year — larger-scale and longer than before. Running from March 17 to April 22, it's a whopping 36 days of fun and feasting for everyone. 
"Bigger" appears to be the theme for bazaars and markets this year. Similar to the pop-up exhibition ArtBox, the Geylang Serai Ramadan Bazaar has gotten an upgrade, boasting some 700 stalls. This is a tenfold increase from the 70 stalls last year. 
Of these 700 stalls, about 150 will be serving food. Most food stalls are located near Tanjong Katong Complex, along Geylang Road and Engku Aman Road. 
Though it appears to be an overwhelming space to cover, many stalls appear in multiple sections. For example, you'll find stalls such as Ah Moi Thai Tea, and Meat My Meat in different sections of the bazaar, so you wouldn't be missing out on much if you skipped exploring some areas.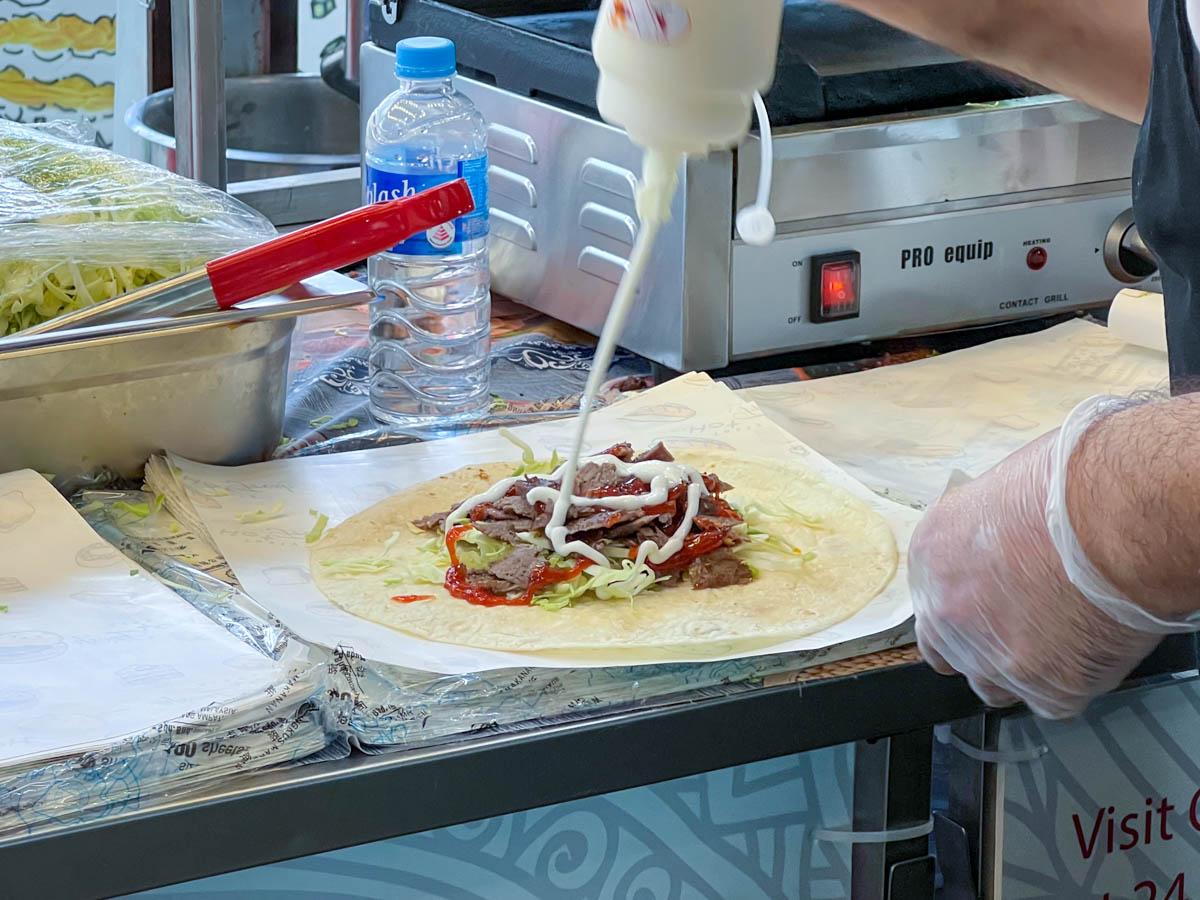 Some big names appearing at the bazaar include Whiskdom, a well-known local bakery, and Fooditute's Praffles, a prata and waffle hybrid boasting a crinkly, buttery exterior. 
Unfortunately, we noticed that quite a number of stalls have not been taken up, in part due to high rental costs, according to some news reports.
We began our food journey at the bazaar area closest to Tanjong Katong Complex, and immediately made a beeline for Rosti Haus. 
Initially attracted by its offer of the unique arayes, a Middle Eastern stuffed pita dish, we deferred to the safer option – a Swiss rosti with chicken sausage (S$12).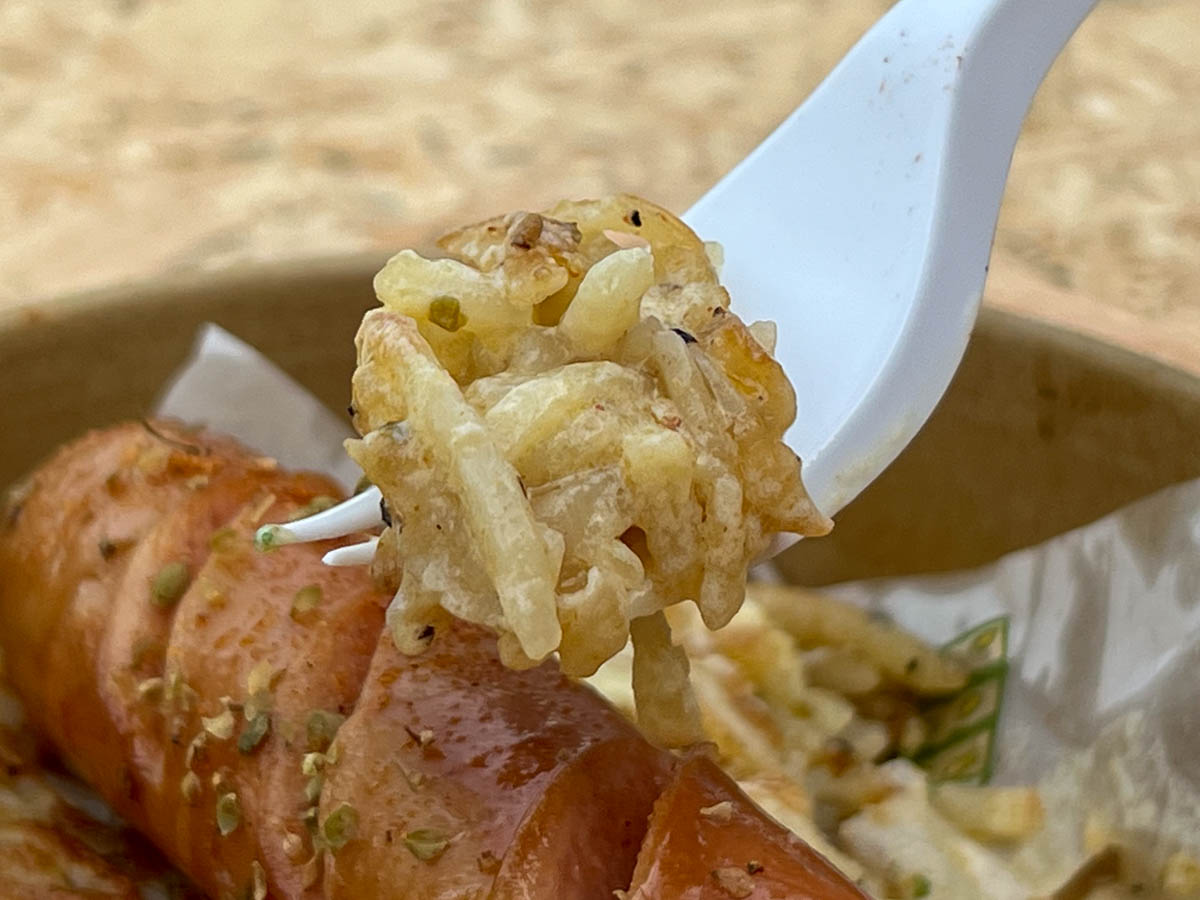 Thankfully, it was a hit. We gulped down the savoury dish within minutes. It was slightly oily but we didn't mind. The accompanying sour cream added a slight tang that cut through the greasiness. 
There are plenty of drink options available to accompany your meals. Live food stall specialist Sofnade is offering one litre buckets of Thai milk tea, chendol and more (S$5).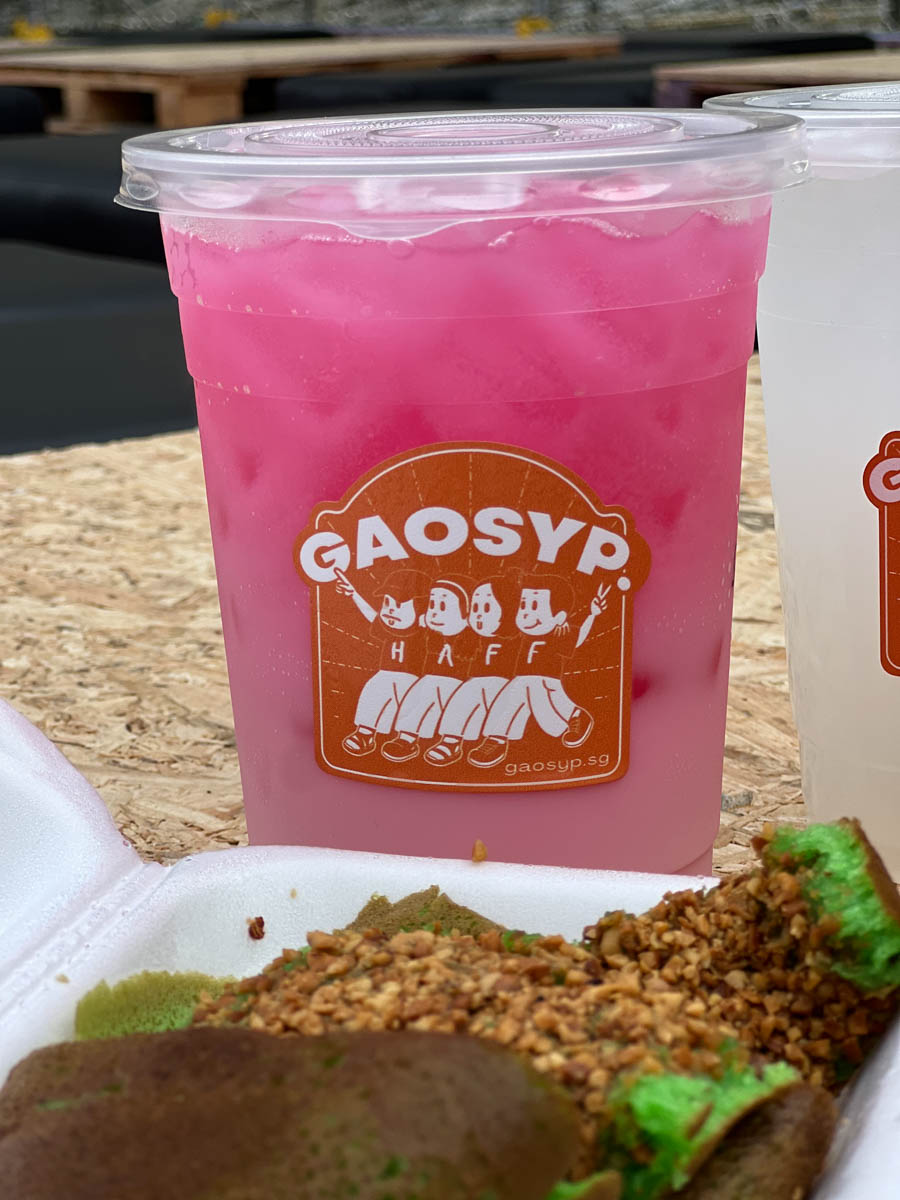 If you prefer something with a more nostalgic touch, try the drinks from Gaosyp. This quirky and colourful brand is known for its watermelon milk (S$6.50) and Solero (S$6.50), a lemonade and milk combination inspired by the childhood ice-cream brand. 
On the other side along Engku Aman Road, you can find Picanhas, the halal steakhouse that specialises in secondary steak cuts, making it slightly more affordable.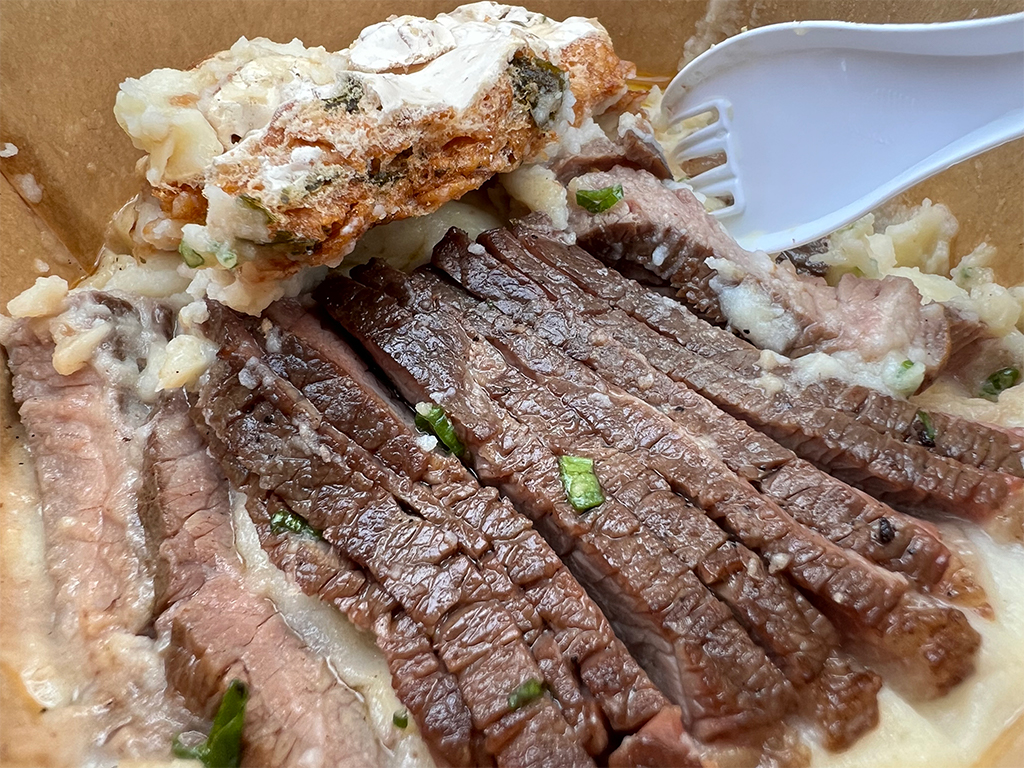 We got the People's steak and mash (S$18), served with the eatery's curry cornflake meringue that's only available at its pop-ups. It will also have different specials on the menu every day.
If you prefer something easier to munch on while on-the-go, try Happy Monkeyz's Anak Abu (S$6), its original Roti John, an omelette sandwich served with onions and minced meat.
Aside from the aforementioned dishes, you can also find local favourites at the bazaar, such as vadai, apam balik and kebab.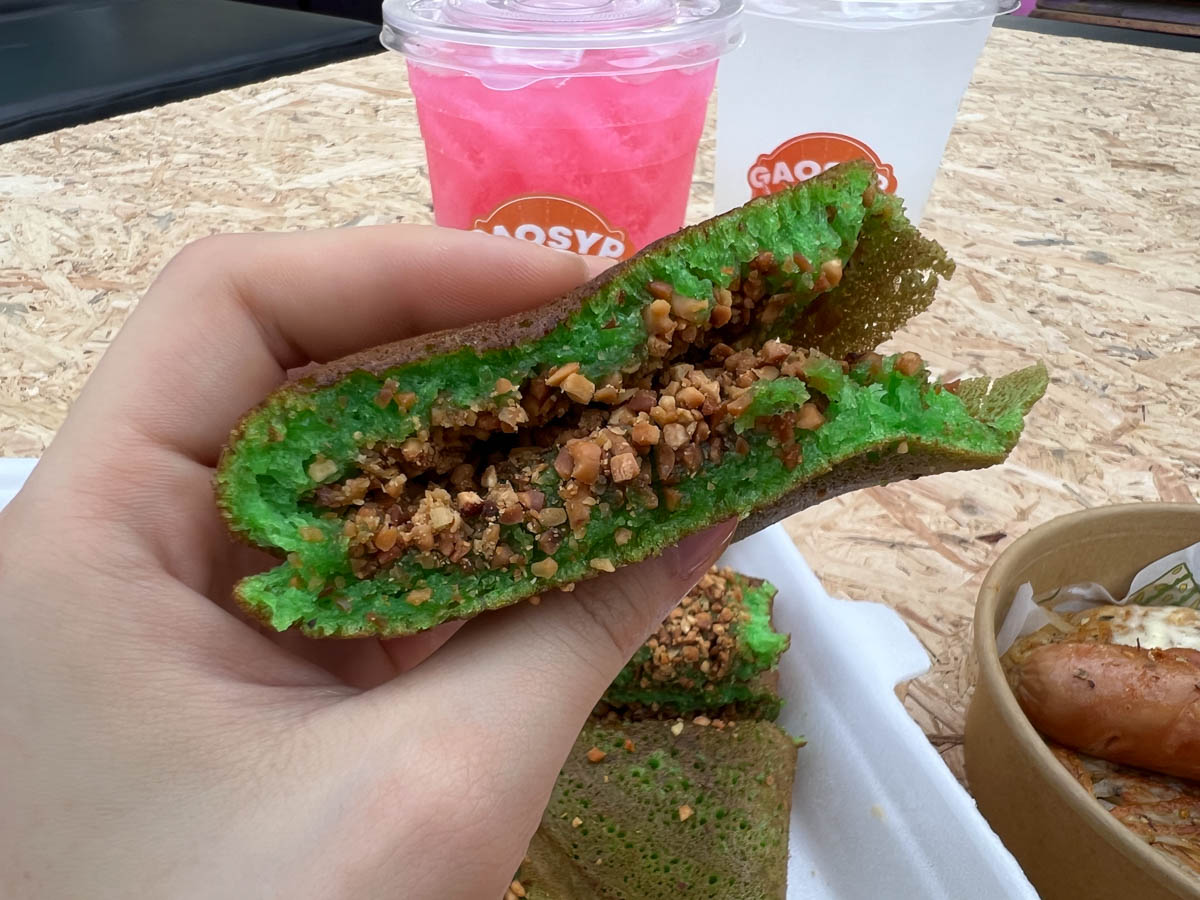 Given how pricey meals are these days, the bazaar isn't all that bad. Back at the height of its popularity, the bazaar was already offering food items at around S$10, so we can't say we were surprised that some of the food items were priced around that range. 
Instead of just snacks and finger food, there are now many stalls serving pretty hefty and modern mains, including lobster rolls (S$16) from House of Lobster. 
Although its opening hours are from 10am, most stalls only operate in the evening, so it's best to head down then. 
If you're pressed for time, keep your endeavours between the main area along Engku Aman Road and the area outside Tanjong Katong Complex. Most food options are available there.  
For more ideas on what to eat, read our stories on Singapore's first chicken-only Korean barbecue and late-night dessert spots.
Picanhas, Whiskdom and Meat my Meat are on the GrabFood delivery service and offer free delivery (up to S$3 off) with GrabUnlimited. You can also book a ride to the bazaar.