Review: Pepper Lunch Washugyu Steak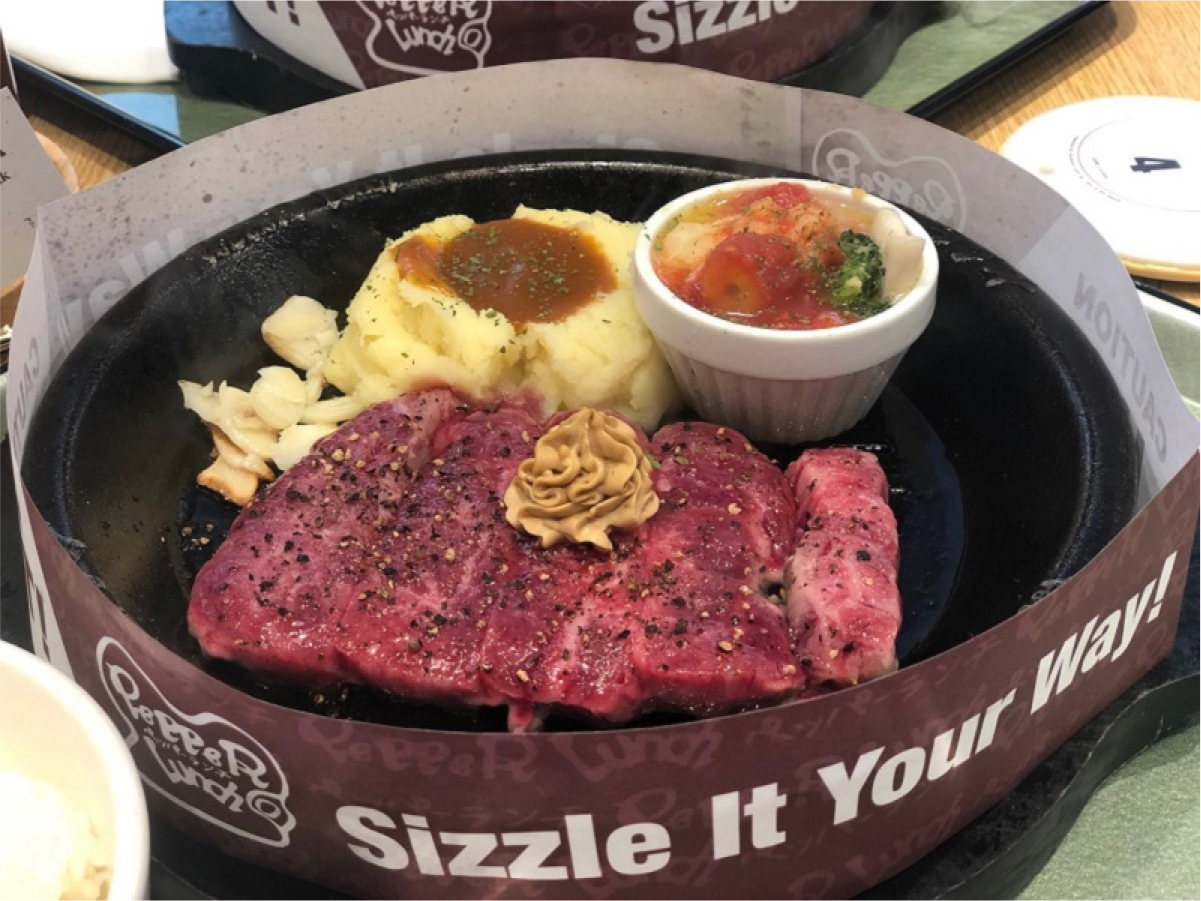 Most people will consider wagyu steaks a pretty expensive meal, but Pepper Lunch is planning to change that, by offering the cuts of premium beef for as low as $19.90 a set.
Pepper Lunch, the Japanese fast-service chain known for its hotplate meals, has introduced a new Premium Beef Series made from Washugyu Wagyu. This will be the first time this beef, which is a cross between the US Angus and the Japanese Wagyu breeds, is available in Singapore.
Part of its permanent menu, the Premium Beef Series will be prepared differently according to the season. For the autumn season, which I tried, Pepper Lunch is serving Washugyu Wagyu Flank Steak.
One of the things I liked about Pepper Lunch's concept is that you can play chef and cook the beef to your preferred doneness. However, amateur cooks need to beware, leave your beef lying for too long and you might overcook the underside like I did!
Despite the well-doneness on one side, the wagyu was still extremely tender and sweet. To make things even tastier, I added a generous amount of Honey Brown Sauce to the beef, which I think went really well with it.
Have it with rice and you will find that the juices from the steak mix really well with the sauce which made every bite is satisfyingly good. I was never a steak-with-rice type of person but after this, I am definitely converting.
Pepper Lunch offers its Premium Beef Series hotplates in two portions, $19.90 for 180g of steak, or $23.90 for 230g. You also get a small side dish plus a bowl of rice.
Diners have a selection of side dishes to choose from: Corn and Broccoli, King Oyster Mushroom and Corn, as well as Cheesy Prawn and Broccoli Casserole. While I loved the Washugyu steaks, the sides were nothing much to shout about. I went for the prawn and broccoli casserole as I am not a big fan of oyster mushrooms. I found the portion of prawns quite generous (I counted about 4 in there), but I thought that the casserole as a whole was slightly too watery for my liking.
Also new on Pepper Lunch's seasonal menu is its limited-edition dessert item. The Chocolate Tiramisu Soft Serve ($3.60) comes with coffee crumble, light mascarpone cheese, cocoa powder and chocolate sauce, all layered to form a dreamy dessert.
While I found the chocolate sauce very reminiscent of the Hot Fudge Sundae from McDonald's, the combination of the lightly sweet mascarpone cheese and the cocoa powder elevates the flavour of this dessert and made it a winner. Plus, the crunchy coffee crumble bits give you that added crunch too! Try this before its promotional period ends on the 13th of November.
Pepper Lunch has always been a great option for good food especially when you are in a pinch. Now, with premium new items such as their Washugyu steak and the limited edition Chocolate Tiramisu Soft Serve, you can live it up even if you are on a budget.
The Washugyu Wagyu Flank Steak and The Chocolate Tiramisu Soft Serve are available from now till 13th November 2019.
---
This archived article appeared in an earlier version of HungryGoWhere and may not be up-to-date. To alert us to outdated information, please contact us here.