Review: Onalu Bagel Haus is set to make specialty bagels affordable — and great — again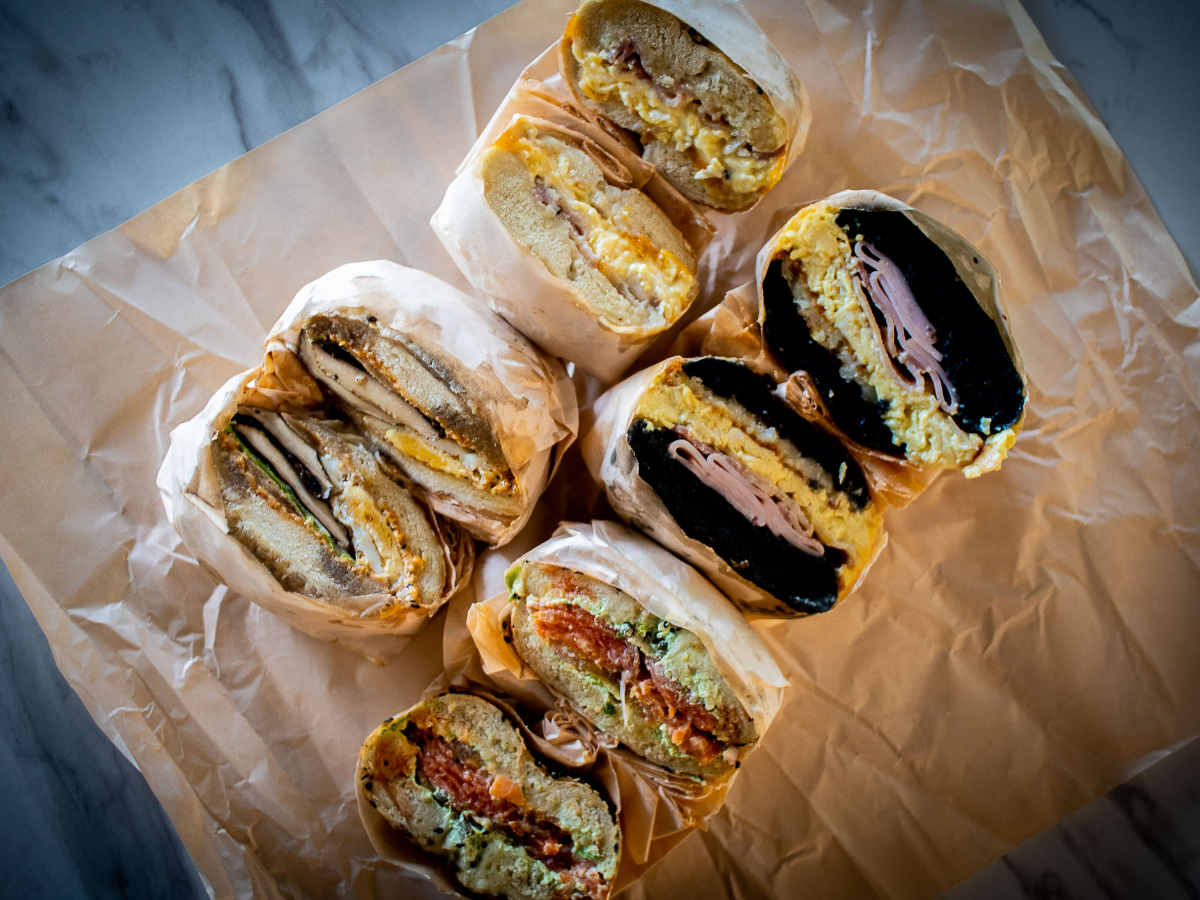 Onalu serves all-day savoury and sweet bagels at a price point that would make other bagel houses blush
It does this by focusing on simple and accessible ingredients such as salmon, eggs and mushrooms
There are also vegetarian options that don't skimp on flavours
Onalu makes an excellent case for democratising savoury bagels.
I mean, have you seen the prices of the ones sold at OG bagel joint Two Men Bagel House? With many items priced upwards of S$15, they make me wonder: "I love bagels, but do I love them that much?"
Of course, it would be unfair to compare and pit one bagel house against another without due consideration of what they use as filling. At Two Men, the focus is on smoked meats — fierce, unrelenting, intensely flavourful.
In stark comparison, Onalu leans more towards simple and accessible ingredients (think honey-baked ham, eggs and mushrooms) in a bagel that won't cost you an arm and a leg.
Still, even if you can (or should), I would suggest careful consumption of these delightfully dense bagels, especially if you're watching your weight. After all, one bagel equals about 3.15 slices of white bread.
I reckon that's what makes it the perfect breakfast fare but a less ideal option for lunch — especially if you want to avoid the post-meal slump.
Regardless, eat it whenever, I say — breakfast, lunch, teatime, dinner.
We are, after all, in the process of democratising these lovely bun adjacents. Plus, it's 2022. Why be limited by social constructs of mealtimes?
The backstory
There's not much backstory here, except that a recent menu revamp saw Onalu making its bagels in-house.
This on-site advantage means it's now poised to serve different bagel flavours, offering almost limitless possibilities that would keep bagel lovers happy.
Onalu is located within the grounds of the Singapore Management University (SMU), at the School of Accountancy building. But, on the day of my visit, there were more lecturers and adults than students during lunch.
Verdict
What this place is good for
What Onalu lacks in budget-friendliness (for students, that is), it more than makes up for with bagel options that veer into a value-for-money type of overkill.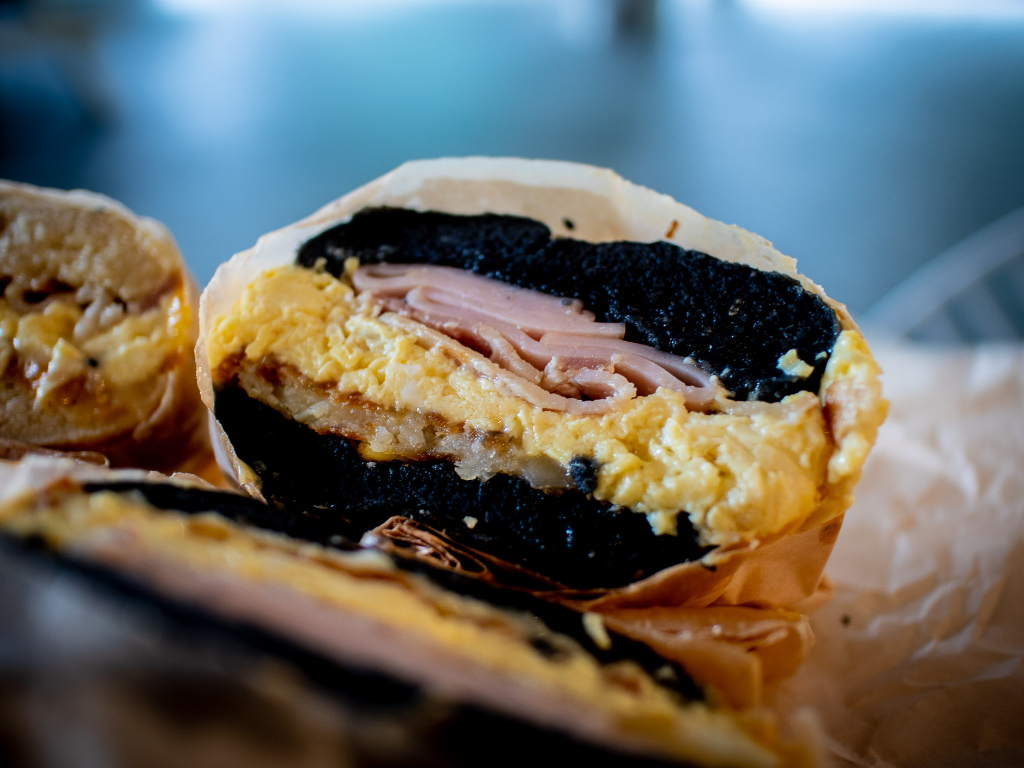 Take, for instance, The Big Breakfast (S$15) that's large and in charge, and takes no prisoners for being so ridiculously indulgent.
Stuffed between my choice of charcoal bagels are bacon, honey-baked ham, hash browns, scrambled eggs, cheddar and Monterey Jack cheese, and a secret sauce.
Two kinds of cheese. Two cured meats. Two carbs.
I dare anyone say this is insufficient. Conversely, it can be overwhelming, but together, it teeters between being sweet and savoury at the same time.
This could easily last an average office worker until teatime.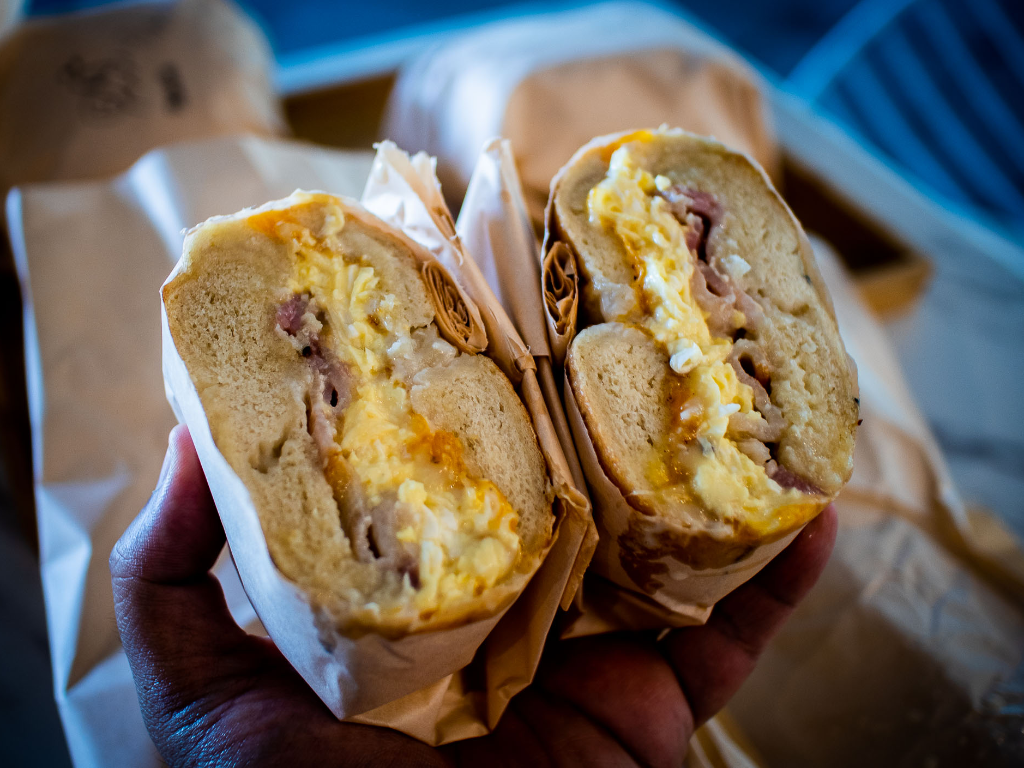 If the idea of a hearty start to the day scares you, then perhaps the BEC (S$11) would suffice. It stands for Bacon, Egg and Cheese, so no surprises there what to expect when you chomp down on this number.
Still, surprises abound.
Here, it's in the form of a maple aioli that reminds me of the short-lived McGriddles. It goes so well with the blend of savoriness from the processed bacon, creaminess from the cheese, and the silky flavours of softly curdled scrambled eggs.
Onalu says this is the bestseller — I'm hard-pressed to find reasons to dispute this claim. It's the perfect breakfast food.
Somethin' Fishy (S$12), meanwhile, took me completely by surprise. Surely there's something fishy going on here. It's not the taste but the price point.
It astounds me how a bagel this generously packed with Norwegian smoked salmon is priced at S$12. If you have strong and impassioned feelings for smoked salmon (or salmon, period), forget all other options and go straight for this.
With this much oily fish goodness packed in one bagel, something has to give — no pleasure is an island, after all. Not even food.
Knowing that the salmon here can get too fishy for its own good, Onalu has included herbaceous scallion cream cheese and strips of red onions to cut through all that indulgence.
Throw in capers and dill for a touch of acidity, and all is right with this bagel. And the world, of course.
What it could improve on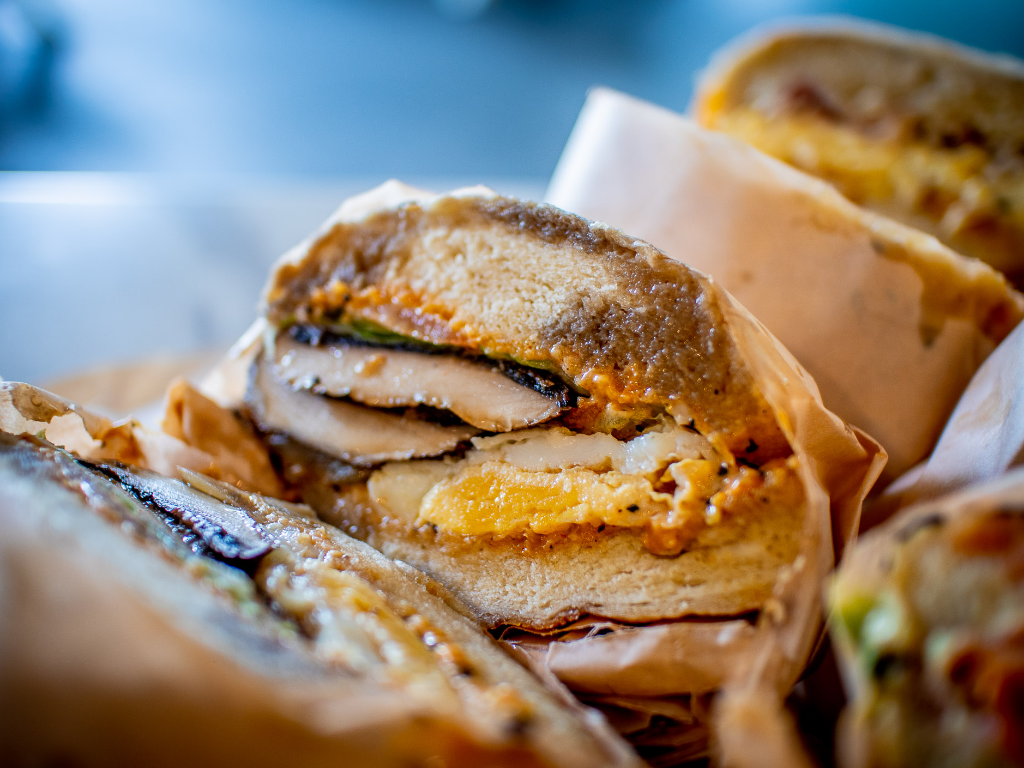 If I were to be exacting, the only gripe I have at Onalu, minor as it sounds, is the way the sunny side up and portobello mushroom from the Porter's Belly (S$11) are arranged in my cheese bagel.
They come served side by side so that I get only the mushroom or the egg for most bites. That little gripe aside, everything else in this vegetarian-friendly option is, like everything else, yummy.
I especially liked the inclusion of the garlic aioli against the caramelised onion jam, underscoring the complex and poetically conflicting flavours Onalu serves up — on a budget.
Our quick takes 
Is it conducive to conversation? Yes. It's better indoors, though, without the excited chatter of university students.
Is a reservation necessary? Onalu Bagel Haus doesn't accept reservations.
How to get there? It's located within the compounds of SMU, just behind bus stop 04121.
HungryGoWhere paid for its meal at this eatery for this review. 
Onalu Bagel Haus is on the GrabFood delivery service. You can also book a ride there.
60 Stamford Road, 01-11
Open: Monday to Friday (9.30am to 7pm), Saturday and Sunday (9.30am to 6pm)
60 Stamford Road, 01-11
Open: Monday to Friday (9.30am to 7pm), Saturday and Sunday (9.30am to 6pm)