Food Feuds: Hill Street Tai Hwa Pork Noodle vs Tai Wah Pork Noodle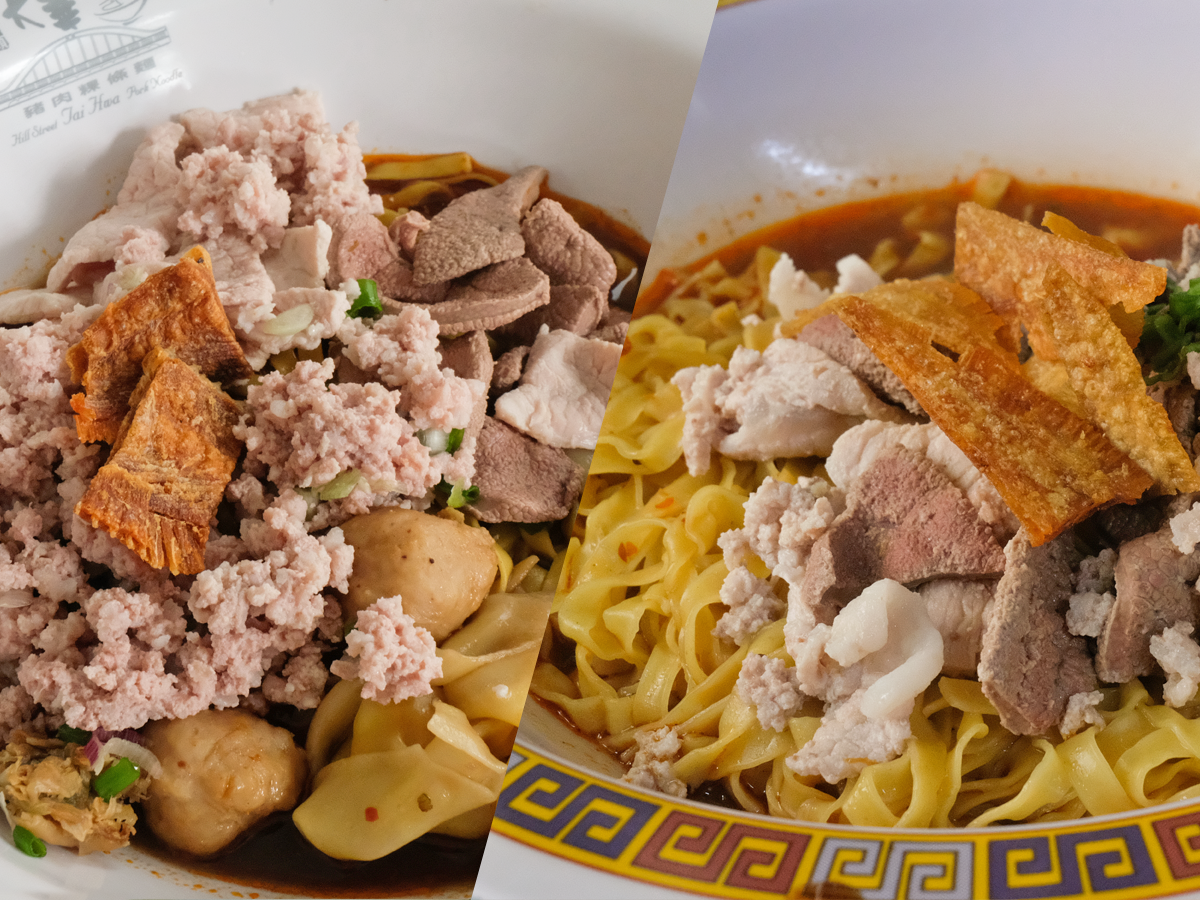 In our new series Food Feuds, we visit competing local food stalls known for their rivalry and try to find out which one does it better. First up, it's the battle of the bak chor mee — our beloved minced meat noodles — between Hill Street Tai Hwa and Tai Wah.
Six dollars for a Michelin-starred meal? Take it with a pinch of salt: The award is not all that matters in Singapore, where high quality chow — that one might even call 'artisanal' in other ahem, fancy Western countries — are all over the place in hawker centres and kopitiams around the island. 
However, it's a fact that one stall, Hill Street Tai Hwa Pork Noodle, still holds that honour. Its winning formula? The iconic combination of springy egg noodles, minced meat, wontons, and a savoury chilli sauce spiked with black vinegar that creates the now-iconic bak chor mee.
The feud
I say feud, but it's really a sort of healthy competition (don't get me started on a literal blood-sprinkled rivalry between two murtabak joints — that'll come in a later article) between family members. 
The history behind Hill Street Tai Hwa Pork Noodle in Singapore goes back to 1939, when Southern Chinese immigrant Tang Joon Teo started Tai Wah Teochew Minced Pork Noodles at the Taiwah Coffee Shop on Hill Street. Together with his two sons, he was recognised as the first to create what we know now as the Teochew bak chor mee, marked by his signature vinegar sauce.
Essentially, they moved several times over the course of the war and for decades after — to a coffee shop on Cecil Street in the 60s and later, Marina City Food Court, in 1979.
The older child, Tang Chay Seng, took over the stall while the younger son, Tang Chai Chye, opened another branch on High Street Centre, which later moved to its present location at Hong Lim Food Centre in 2003.
It's all a bit convoluted, but essentially, both brands come from the same family and inherited the same recipe from the late Mr Tang, and you can expect similarities in their recipe and offerings, with a few tweaks here and there.
Hill Street Tai Hwa Pork Noodle
Tai Hwa Eating House, 01-12, 466 Crawford Lane
Open: Tuesday to Sunday (9.30am to 9pm)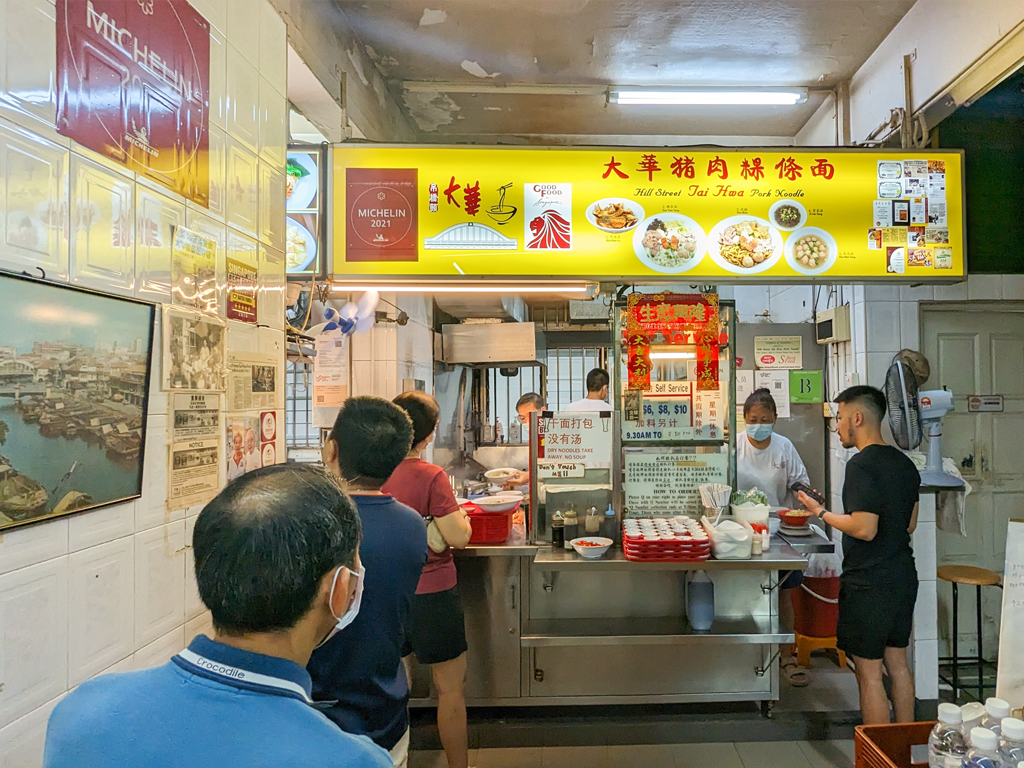 Hill Street Tai Hwa Pork Noodle, which has been situated at Tai Hwa Eating House on Crawford Lane since 2004, is by far the more popular of the two, mostly thanks to the One Michelin star that it first received in 2016.
Fun fact: It's now the only hawker left with the honour, ever since Hawker Chan soya sauce chicken lost its star two years back.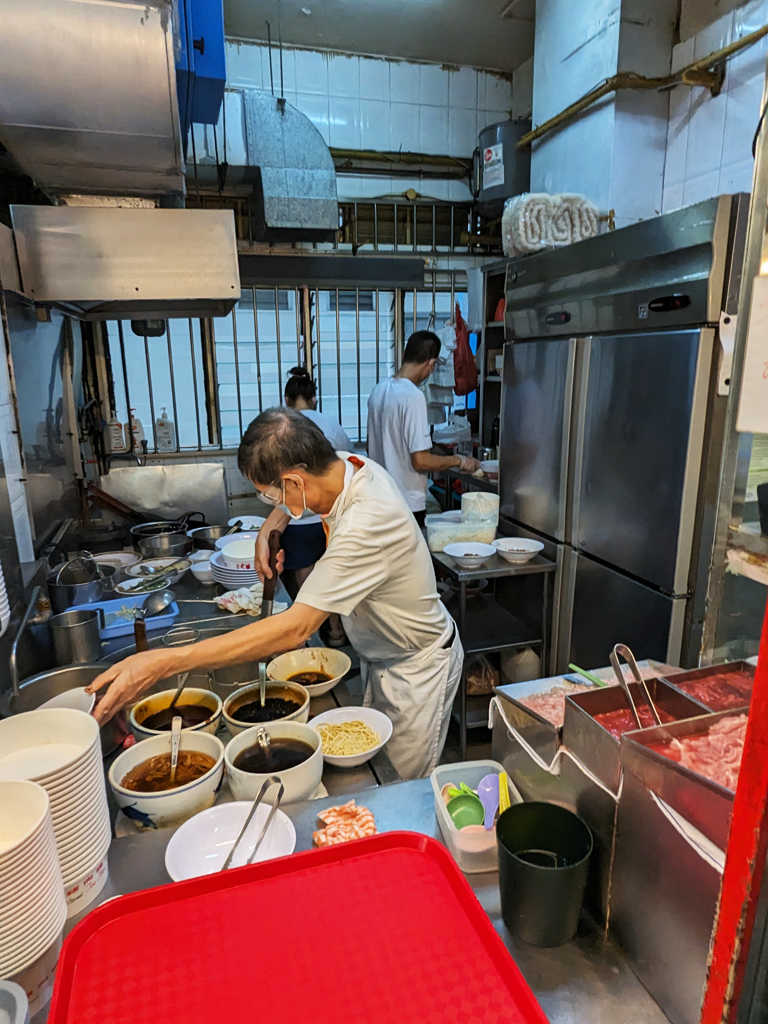 The original, smaller stall is located at the extreme right of the coffeeshop, though it has since opened another one on the opposite end, manned by Mr Tang's daughter. Expect to wait any time of the day: We queued for a good 15 minutes, even during an early weekday morning. 
Coming early has its perks as you might be able to witness the elder Tang Chay Seng in action — the stall is usually manned by his cook, who's been with him for more than a decade.
Noodles: 4.5/5
The cooked-to-order mee pok is boiled — to borrow the term from Italian pasta — till al dente, which is more than I can say for a lot of minced pork noodles I've had in other places. It's firm with a lot of 'oomph', and as it's a bit thicker than the usual mee pok, it helps soak up the accompanying sauce even better. 
The undesirable alkaline taste (from lye water) that's common in egg noodles is completely absent here, which is more than I can say for many other minced pork noodle spots. If I had to nitpick, it'd be that the noodles weren't as springy or 'QQ' as the ones at Tai Wah.
Sauce: 3.5/5
Hill Street Tai Hwa's sauce is generally well-balanced, with a bit of chilli heat and sourness from rice vinegar.
I've been here multiple times, and for some reason, the sauce I had during my latest visit was a tad saltier and less vinegary than I remember. It's still pretty nuanced and goes great with the noodles, but just a tad salty.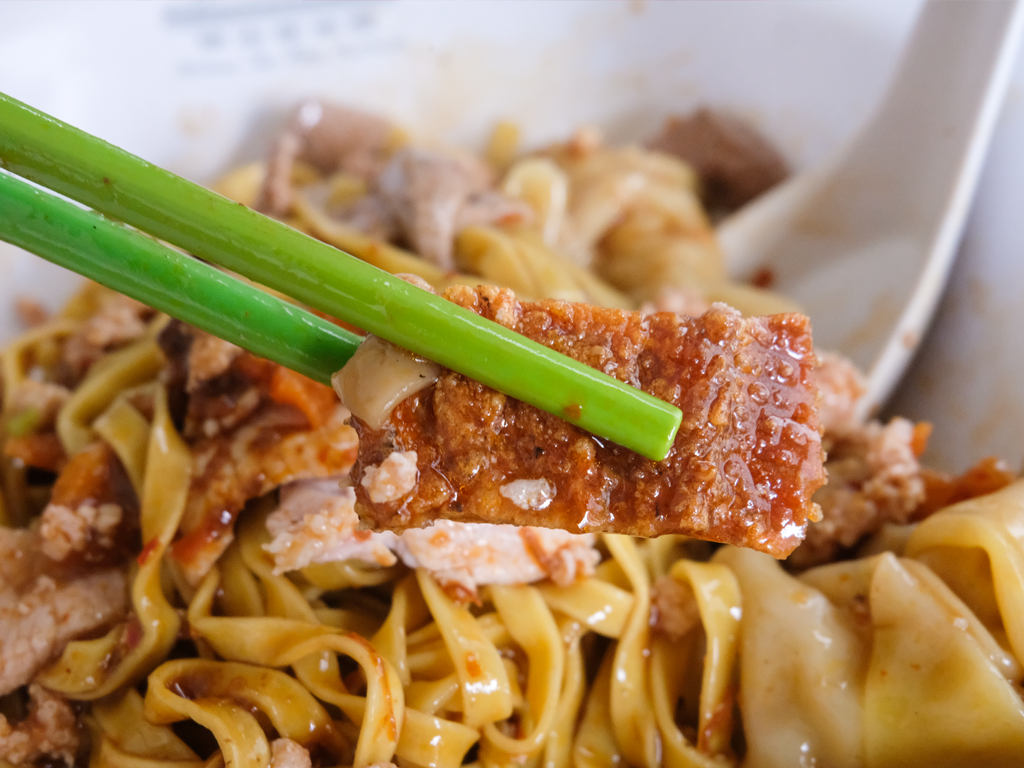 Toppings: 4.5/5
Tai Hwa's secret is in the toppings: the minced pork comes in well-formed, chunky pieces and remains fresh and juicy. The liver is brilliant, cooked just enough to be tender without being grainy. The small meatballs are compact but soft and bouncy (though not in that overly processed way). 
Enter the ti poh (dried sole fish), one of the favourite ingredients of Teochew cooking. Fried till a cracker-like texture, it's enveloped in sauce and gives a deep umami flavour to the dish. The lard is crispy and good as well.
If you get the bigger bowls, you'll get three wontons that are filled with soft minced pork — it has a less substantial and tasty bite than I'd like.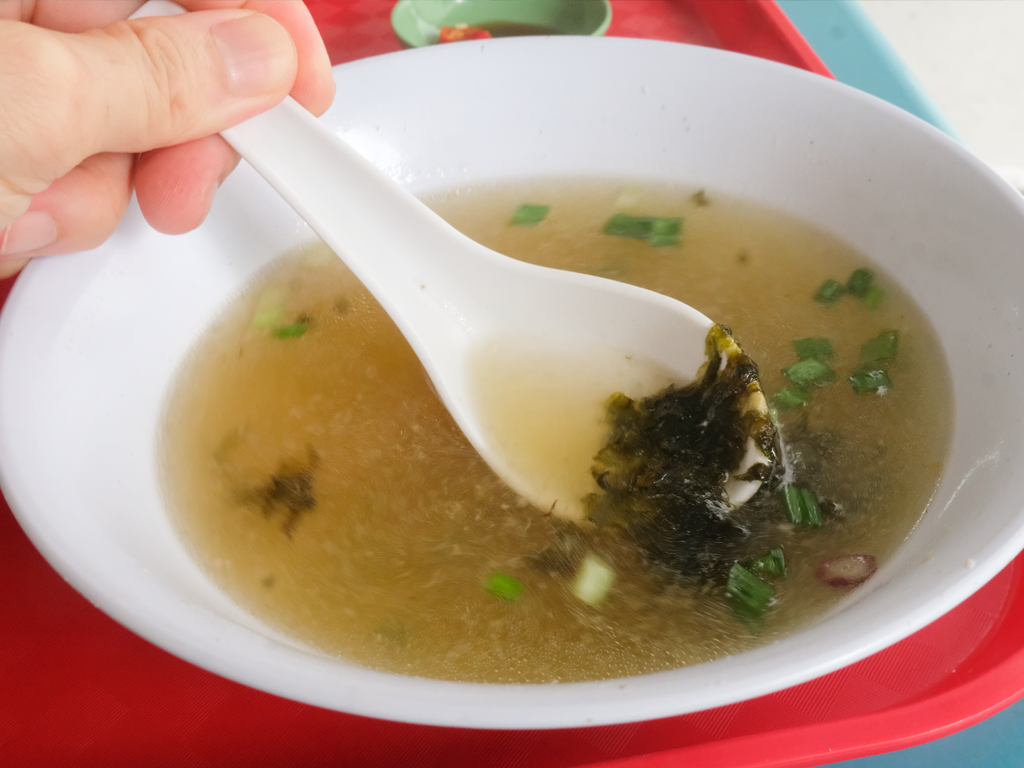 Soup: 4.5/5
Soup at coffeeshops are often just an afterthought: A bland and flavourless sidepiece. Well, not here. 
Hill Street Tai Hwa's soup not just complements the noodles but also stands out in its own way — rich with porky, seaweedy umami and slightly tangy, thanks to bits of dong cai (pickled cabbage) that also add some crunch.
Value: 4.5/5
The smallest bowl available here starts at S$6, which isn't that expensive for bak chor mee of this standard (even the ones at regular kopitiams start from five bucks these days). 
You get a good amount of ingredients, too, just fewer meatballs and no wontons. You can top up for the S$8 or S$10 bowl for a more substantial portion of noodles and toppings, which I'd say is totally justifiable for food this special. 
Final score: 86%
Tai Wah Pork Noodle
Hong Lim Market and Food Centre. 02-16, 531A Upper Cross Street
Open: Monday to Sunday (7.30am to 7.30pm)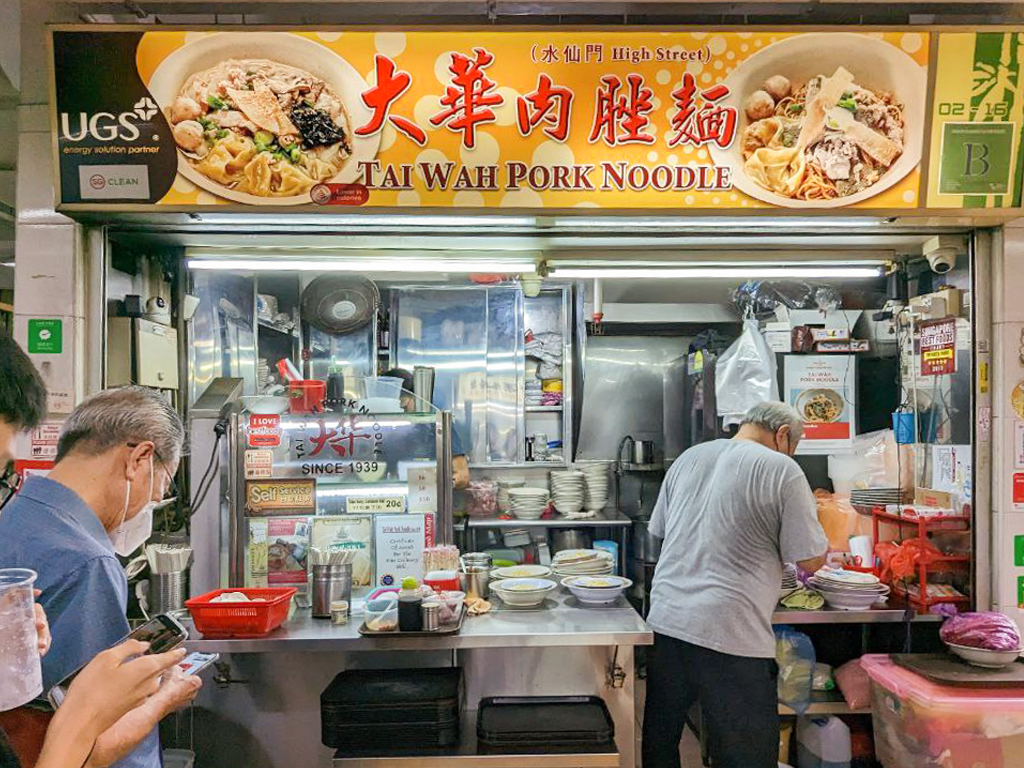 Located on the second floor of Hong Lim Food Centre, Tai Wah Pork Noodle was for the longest time overshadowed by the Hill Street store. 
It's since gained a bit of attention after getting a Michelin Bib Gourmand in 2018, which it has retained ever since, now boasting queues of up to an hour during lunch time.
There are multiple outlets islandwide, including Ang Mo Kio, Changi and Hougang, but this outlet is the only one with the award.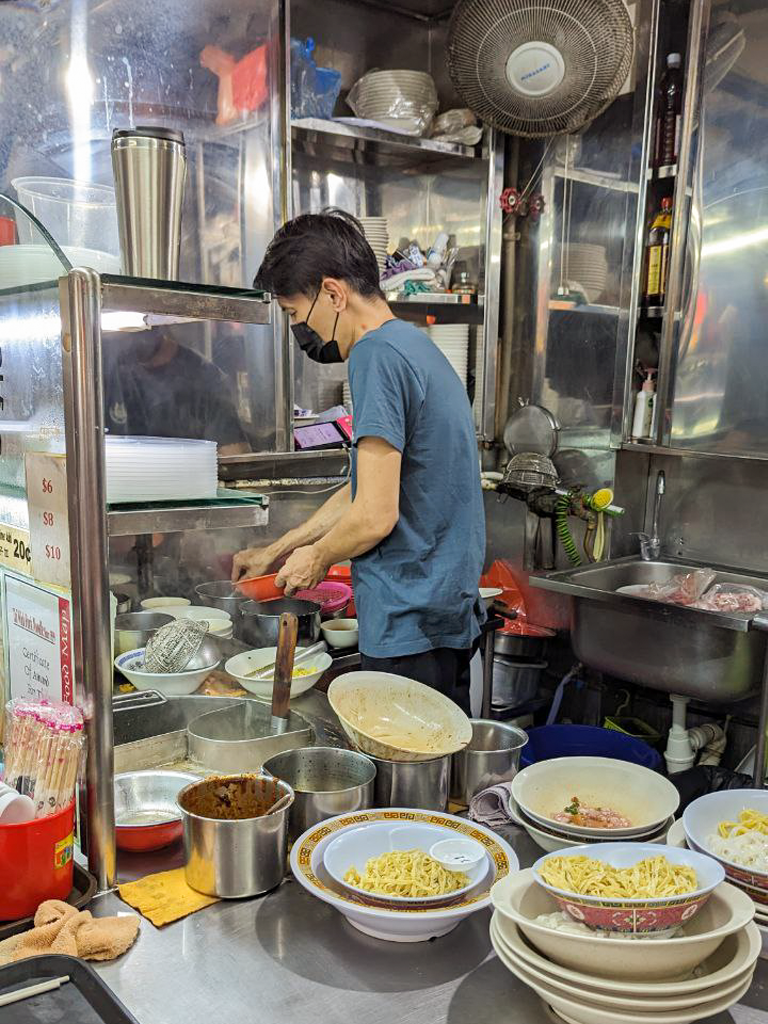 During our visit there, the proprietor Tang Chai Chye (younger brother of the Hill Street store boss) would help take orders and prepare portions, while his eldest son handled the cooking.
Be prepared to wait around 5 minutes per bowl as each order is cooked individually (we had to wait more than 15 minutes, even though we visited early in the morning). Needless to say, its recipe bears a lot of similarities to the other famous stall, while maintaining several key differences.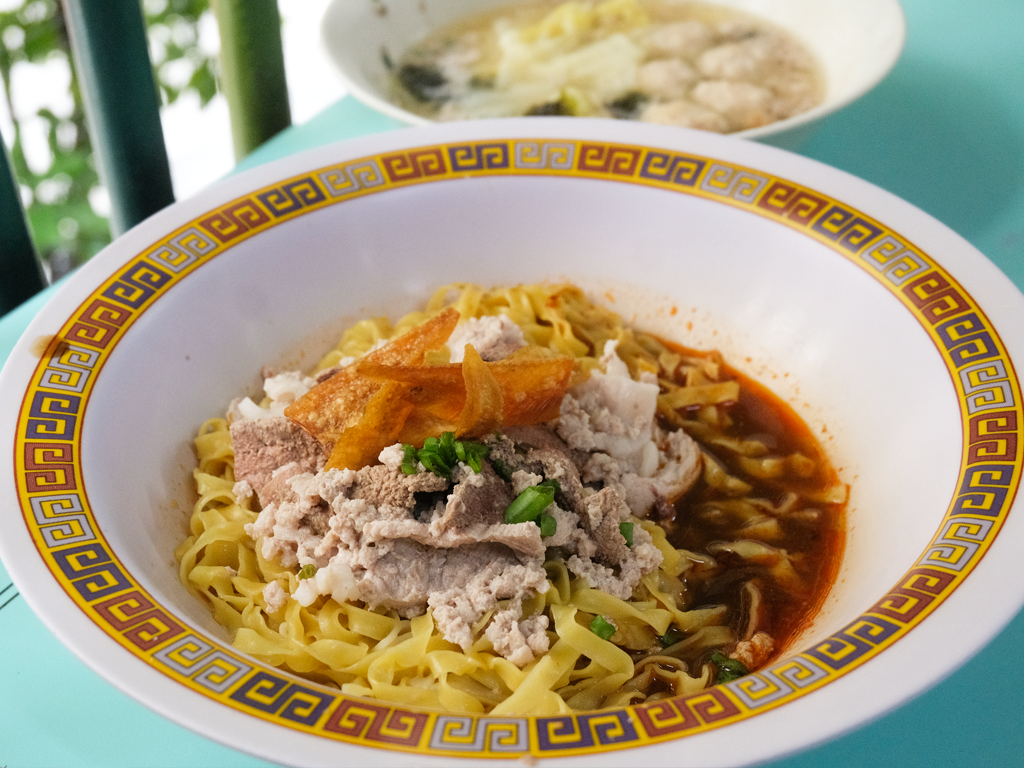 Noodles: 5/5
Tai Wah's mee pok noodles come thinner than Tai Hwa's and are smooth with just the right combination of springiness and bounce — aka the much-coveted 'QQ-ness'. Despite its slipperiness, it had no trouble picking up every bit of the gravy. These noodles are very satisfying to slurp up.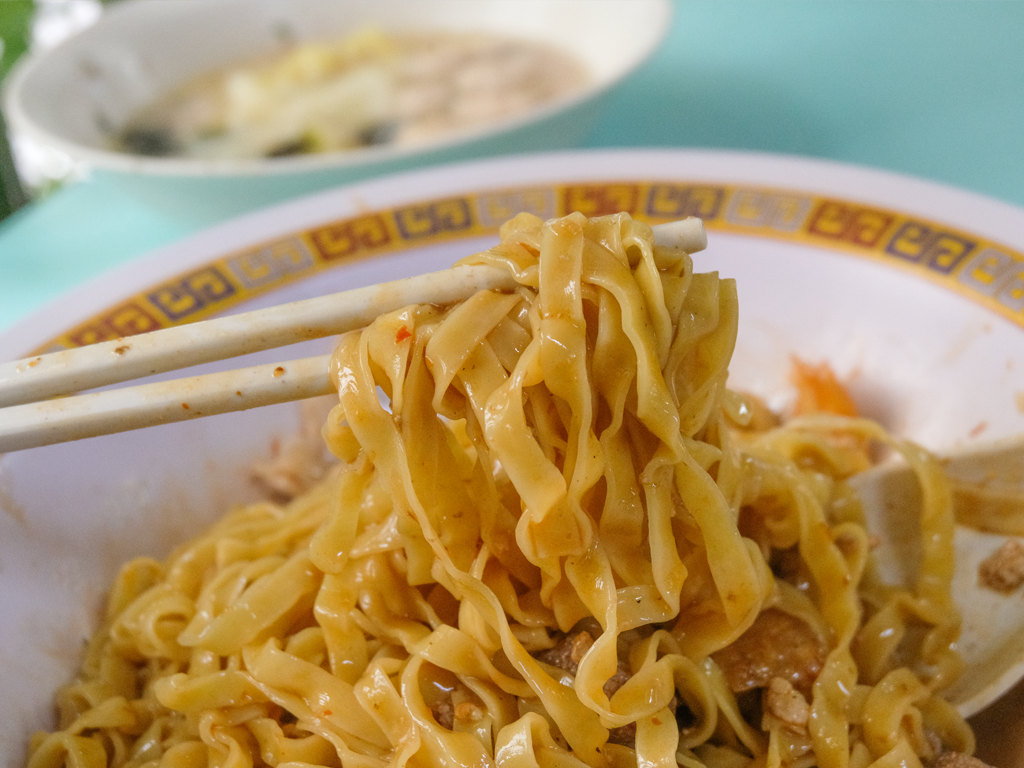 Sauce: 4.5/5
I felt that Tai Hwa's chilli sauce was a little salty, so I was pleased that the one here was largely more balanced in terms of savouriness, spiciness and vinegary kick. It also had a hint of sweet oiliness from the lard oil, which helps to coat every strand of noodle.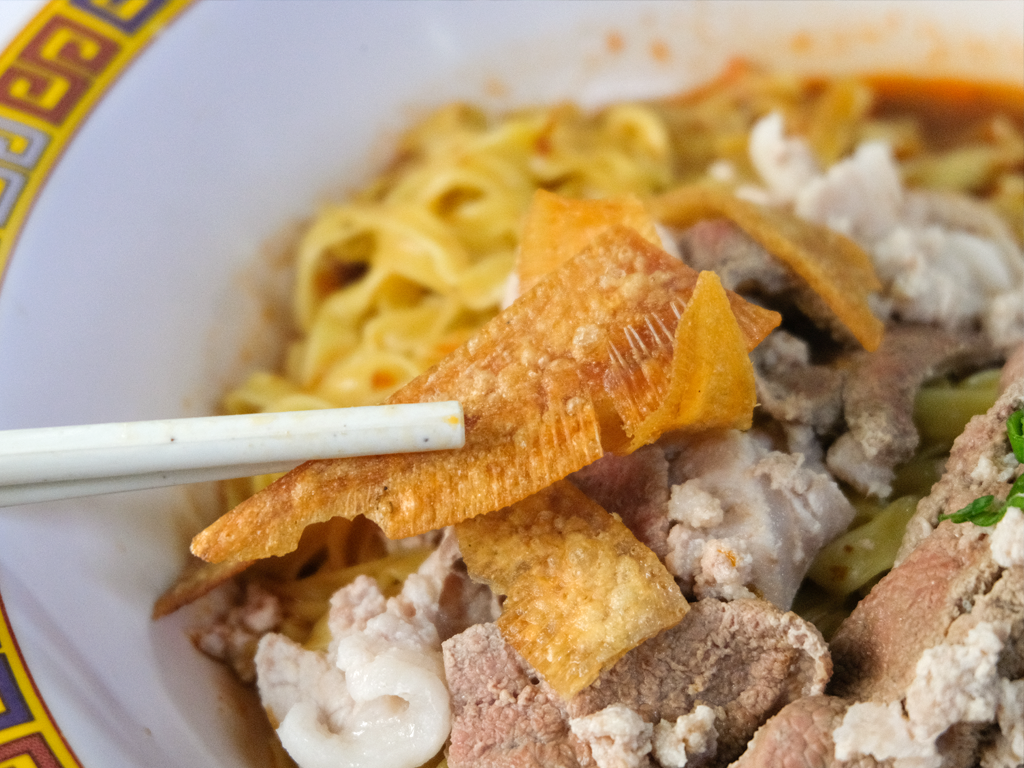 Toppings: 3.5/5
While Tai Hwa has all of its toppings on top of its noodles, Tai Wah only has minced meat, sliced meat, liver, and sole fish in the bowl, while dumplings and meat balls go inside the soup. For the sake of comparison, I'll count all of them as toppings.
The crunchy sole fish, fried to golden brown, comes in thinner slices, with a deep savoury flavour — no complaints here. There are little clumps of tender and minced meat that go well with the noodles. On the other hand, the sliced meat was overcooked and a tad tough, and the liver more grainy than tender.
The soup toppings are awesome. You get three small but dense meatballs that are deliciously juicy and give way with just a little bite. The wontons are also tightly packed with marinated meat filling that's very toothsome.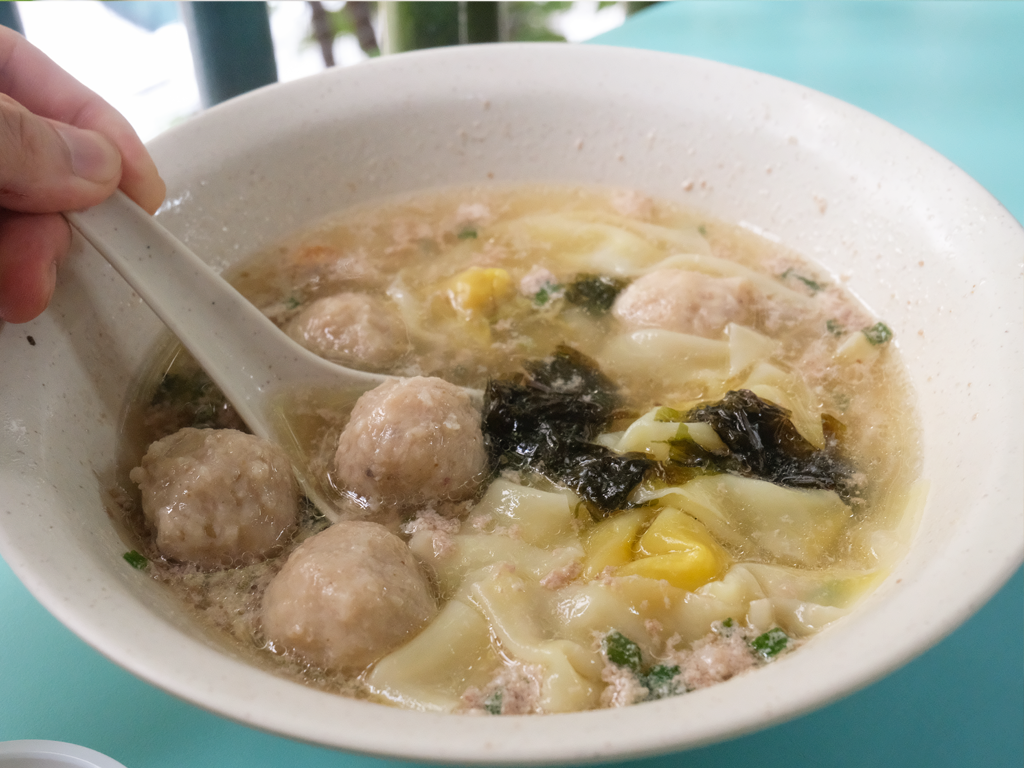 Soup: 3/5
The soup at Tai Wah is okay, but not great. The sole fish and small clump of seaweed adds a mild fishy umami, while cloudy bits of minced meat colour the broth. Otherwise, there's not much complexity in the flavour, especially when compared to Tai Hwa's.
Value: 3.5/5
Like Tai Hwa, Tai Wah's bowls are priced at S$6, S$8, and S$10. The stall is generous with its variety and hearty portion of ingredients. The noodles and soup toppings are especially delicious and worth the price and queue, even if the other toppings were not particularly satisfactory.
Final score: 78%
Our verdict
The winner: Hill Street Tai Hwa Pork Noodles
While both Hill Street Tai Hwa Pork Noodle and Tai Wah Pork Noodle dish up an above-average bowl of bak chor mee, the win goes to Tai Hwa in terms of overall execution. There's a reason why it has been able to hold its Michelin star for years, after all. 
The well-cooked noodles, toppings, sauce, and soup all come together harmoniously for a mostly mouthwatering noodle-slurping experience, even if the combination of sauces was not as balanced during my latest visit.
As for Tai Wah Pork Noodle, while I love its springy noodles more for its better bite, layered sauce, as well as the chonky wontons, it doesn't quite make up for the tough pork slices and liver, and a slightly lacklustre soup. 
Then again, it might just be a matter of preference — I know many who still prefer Tai Wah's rendition of bak chor mee.
---