Review: Nostalgia meets specialty bee hoon at Katong's Cheeky BeeHoon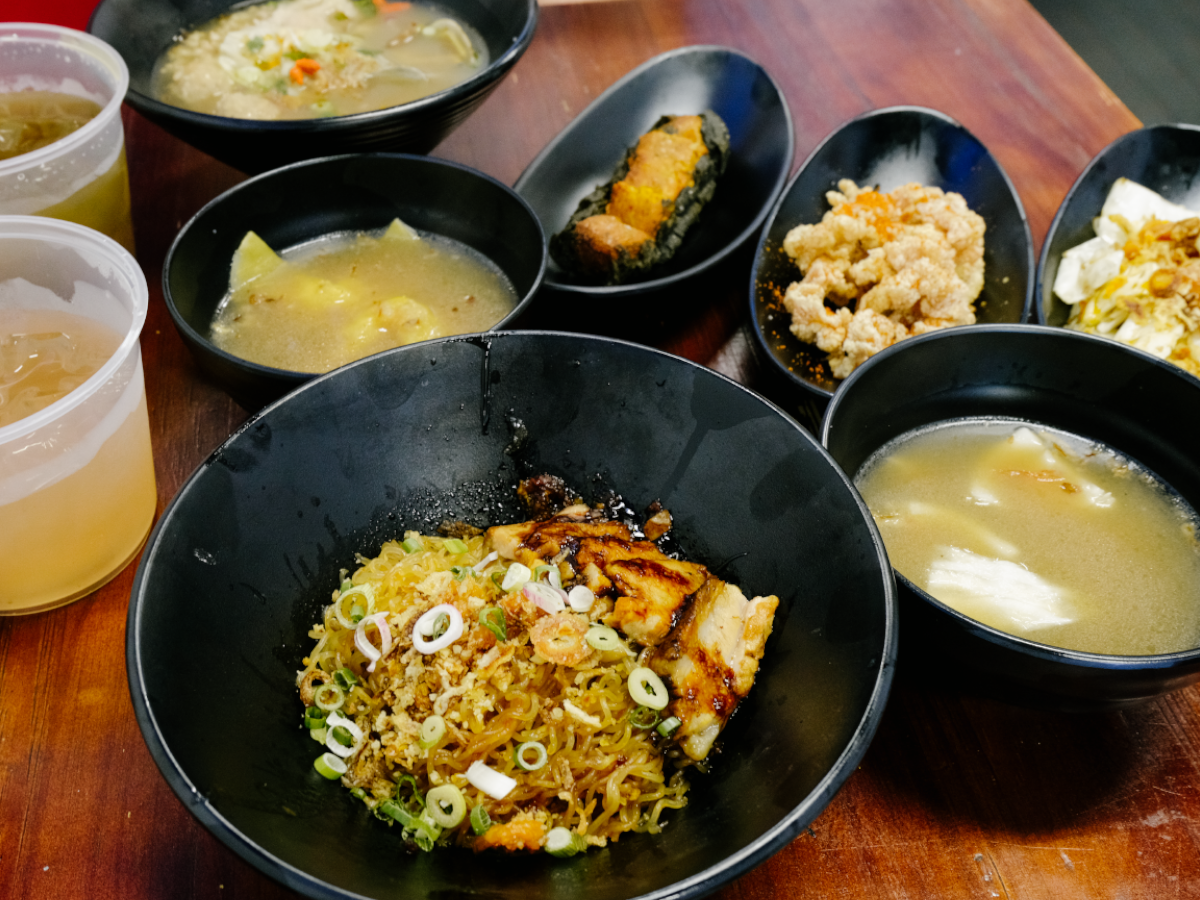 Get your specialty bee hoon fix at this buzzy new eatery by an ex-fine-dining chef
Choose from dry or soup bee hoon — both choices are delicious!
Our reviewer also recommends the charcoal youtiao with otah and crispy mala pork
There've been several new additions to the Katong neighbourhood in recent months, but an eatery dedicated to bee hoon? That's different.
Don't take the traditional Chinese sign outside to mean that Cheeky BeeHoon is your run-of-the-mill eatery either. I made that mistake the first time I strolled past and still regret every bit of it, because it's a seriously delicious find.
It was days later that I found out it's run by Chef Darwin Wong, an F&B veteran who's worked in the kitchen of two-Michelin-starred Jaan and helmed the kitchens of butter-focused restaurant Beurre as well as the French-inspired izakaya, Jidai. In other words, he has some serious chops.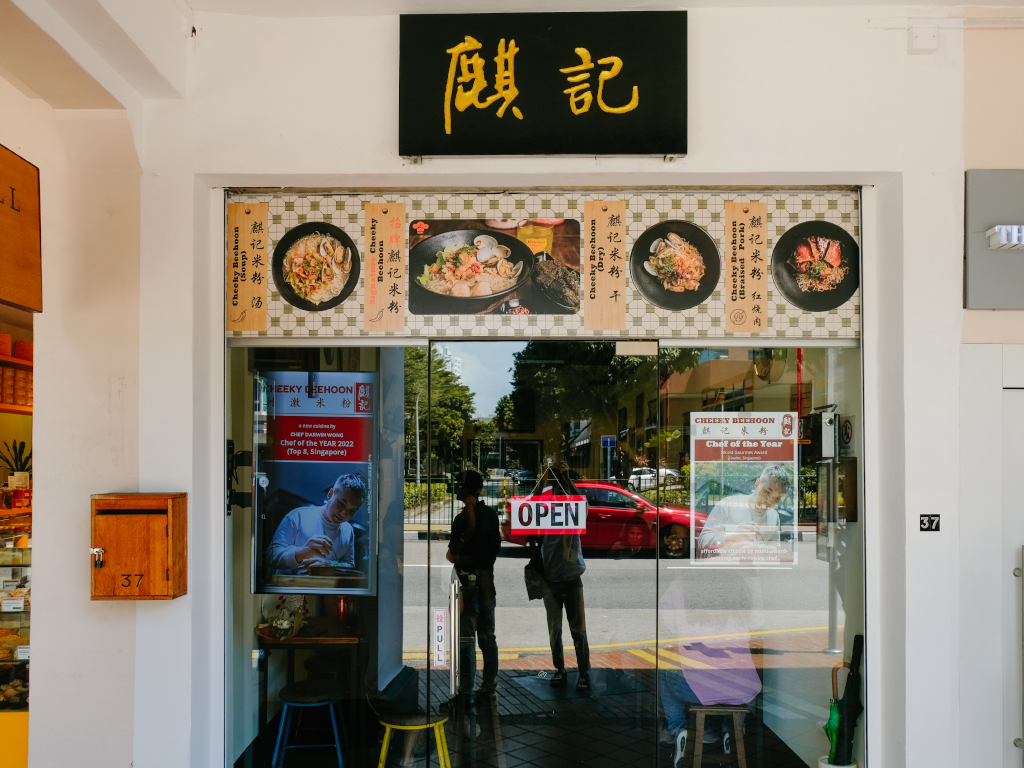 His latest venture is cosy and inviting, decked in a style that oozes with '70s nostalgia: Rustic wooden tables, vintage photographs and posters, and the kicker: A charming orange payphone next to the counter.
Cheeky BeeHoon doesn't try to reinvent the wheel, and instead, excels at taking a classic dish — bee hoon — and making it taste extraordinary with quality ingredients and flawless execution. 
Plus, service is brisk and efficient, and the staff is quick to introduce the menu to you — not that it needs much explaining. The menu is as fuss-free as it gets with just three variations of bee hoon (priced from S$8.80).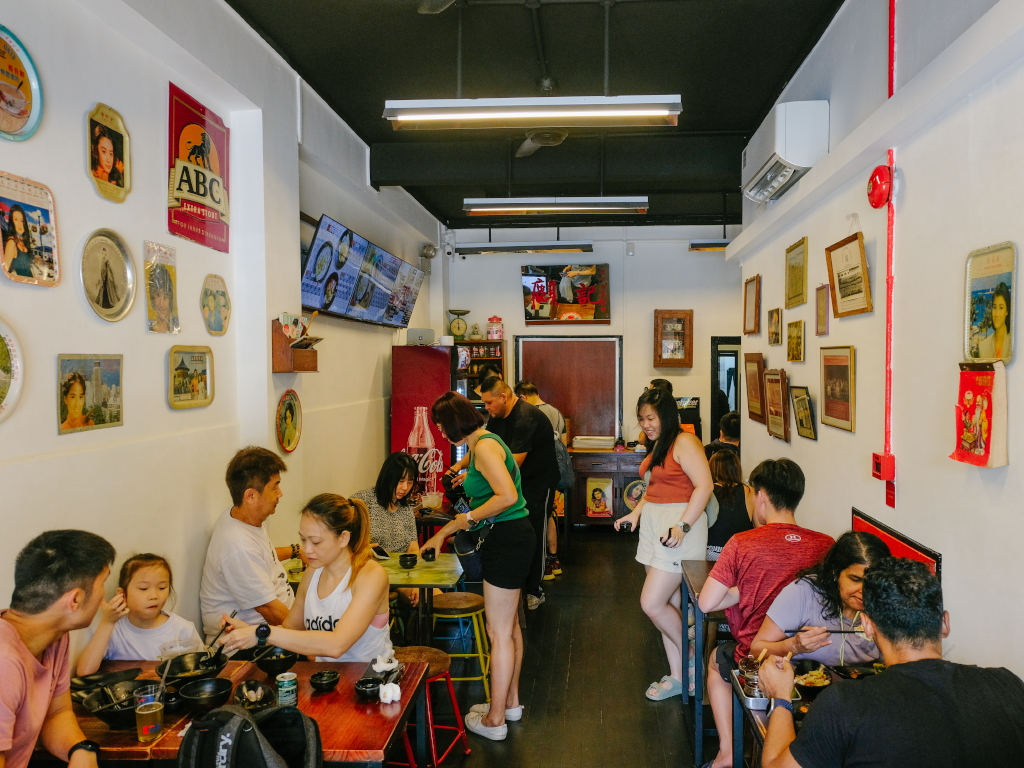 I'm quite certain that this spot will become very popular in no time. In fact, the eatery filled up by 12pm during my visit — perhaps the proximity to the bus stop had something to do with it?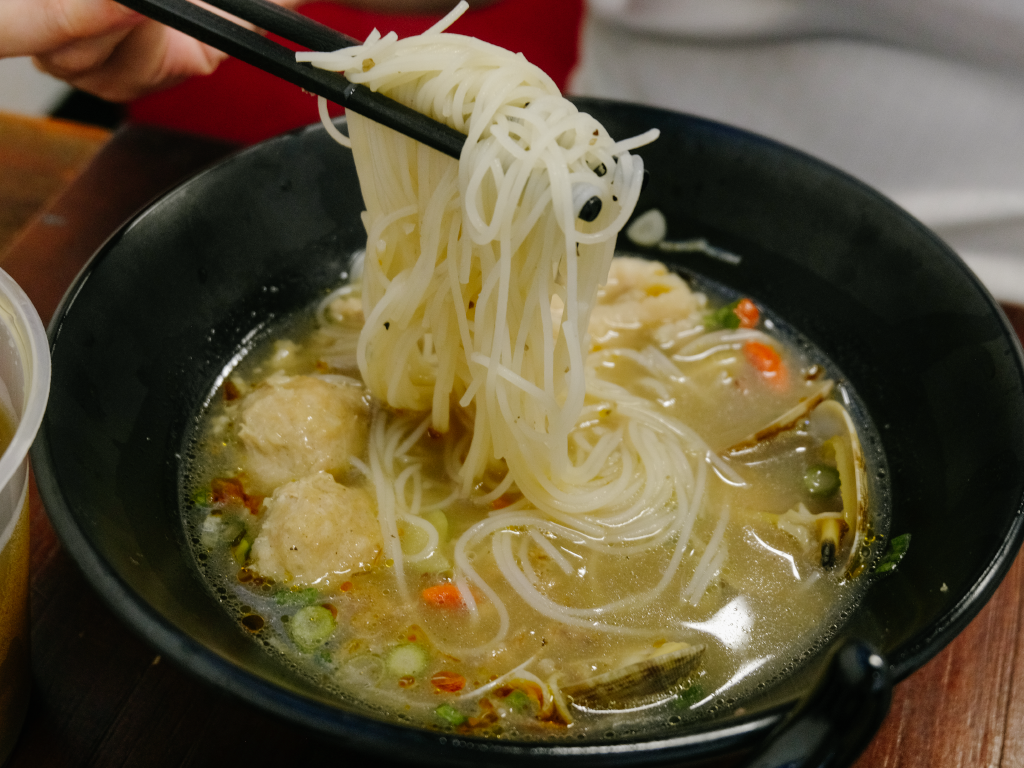 There's a reason why the signature cheeky bee hoon soup (S$11.80) is, well, the signature dish. The handmade bee hoon, which comes from Malaysia, soaks in the rich broth yet retains its firm, springy texture. 
The clams are fresh and meaty, the pork meatballs firm and well-packed, and the goji berries and fried shallots added a soft bite with sweetness that only accentuates the soup even further. Now, each sip is laden with umami, sweetness, a hint of pepper, and an evident wok hei kick. Overall, a very different bee hoon dish that got us raving.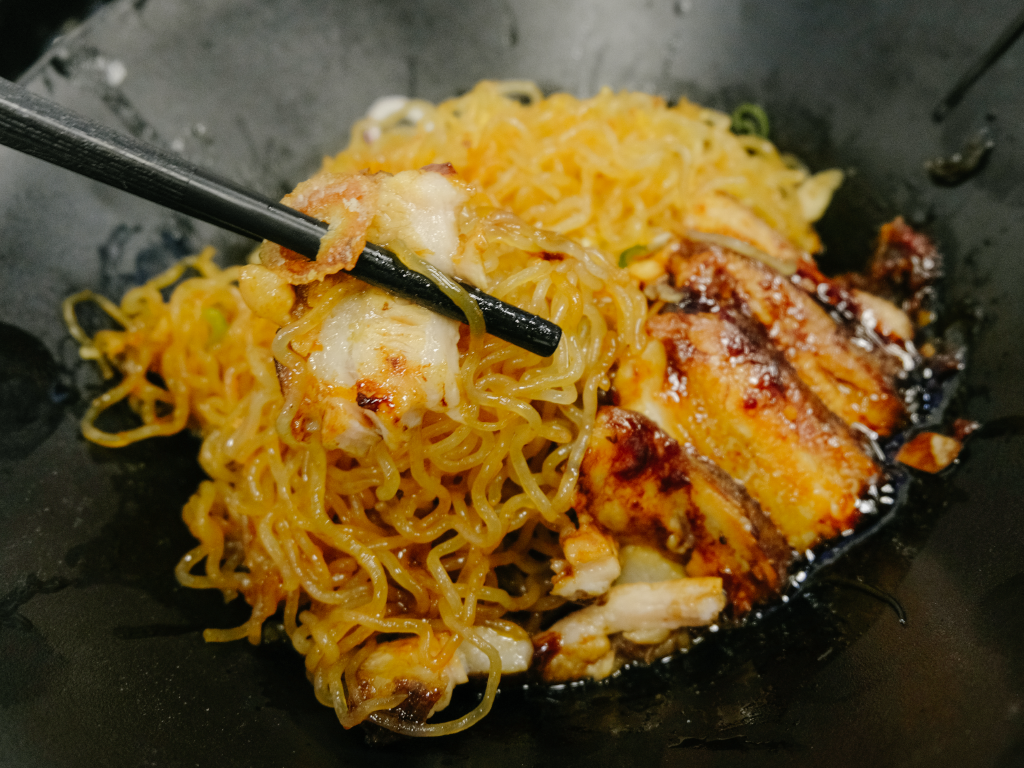 The noodle used in the dry cheeky bee hoon with braised pork (S$8.80) is the strangest thing. It tastes like thick rice vermicelli, has the chewy, bouncy "QQ-ness" of Taiwanese noodles, but is curly and soaks up the spicy-savoury sauce like instant noodles. Regardless, I am all for it.
The accompanying braised pork belly is stewed so soft you can hardly pick it up without the meat falling apart, but that's what makes this so special. The tasty fats meld with the sauce and noodles for quite the sensorial experience. 
At this point, the Cheeky BeeHoon staff suggests throwing in a spoonful of coriander garlic sauce (there are several sauces on the side of our table). It's tangy and nutty, like fish sauce meets pesto — try it for yourself.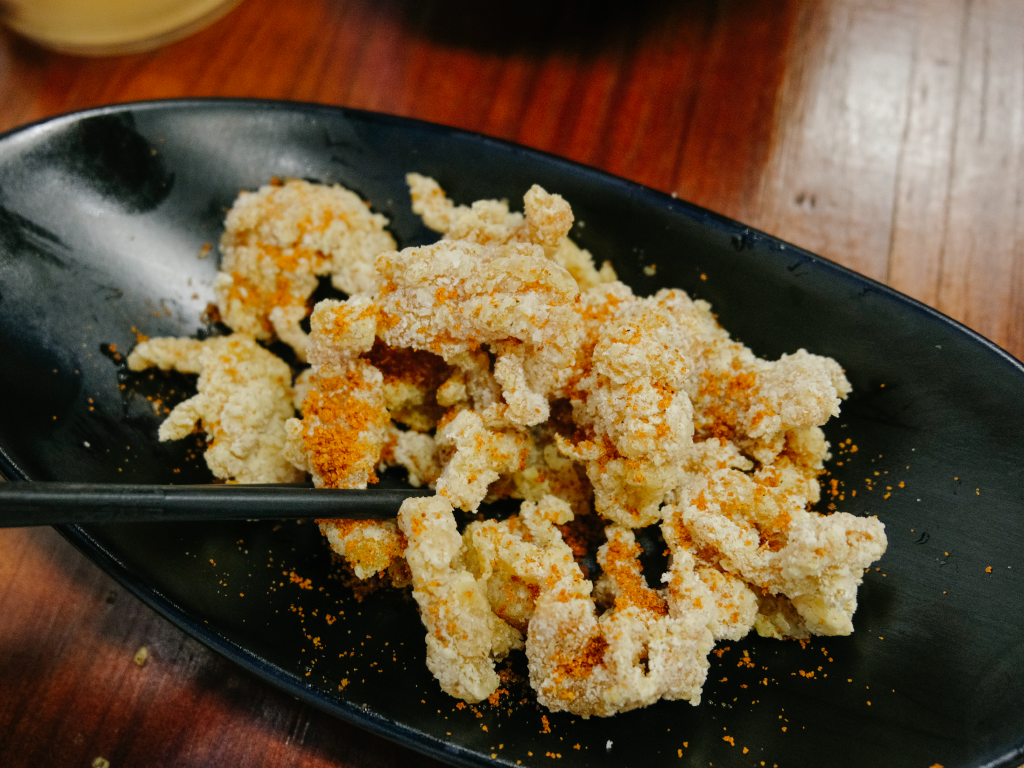 Opt for a side of mala crispy pork (S$3.80) — a popular Sichuan dish that's also known as xiao su rou or little crispy pork — to share around the table. 
Slices of marinated fatty pork (I'm getting hints of garlic and five spice) are deep-fried and studded with a mala powder that's salty, slightly tangy, and more numbing than spicy. I could eat this as a meal, but I probably shouldn't.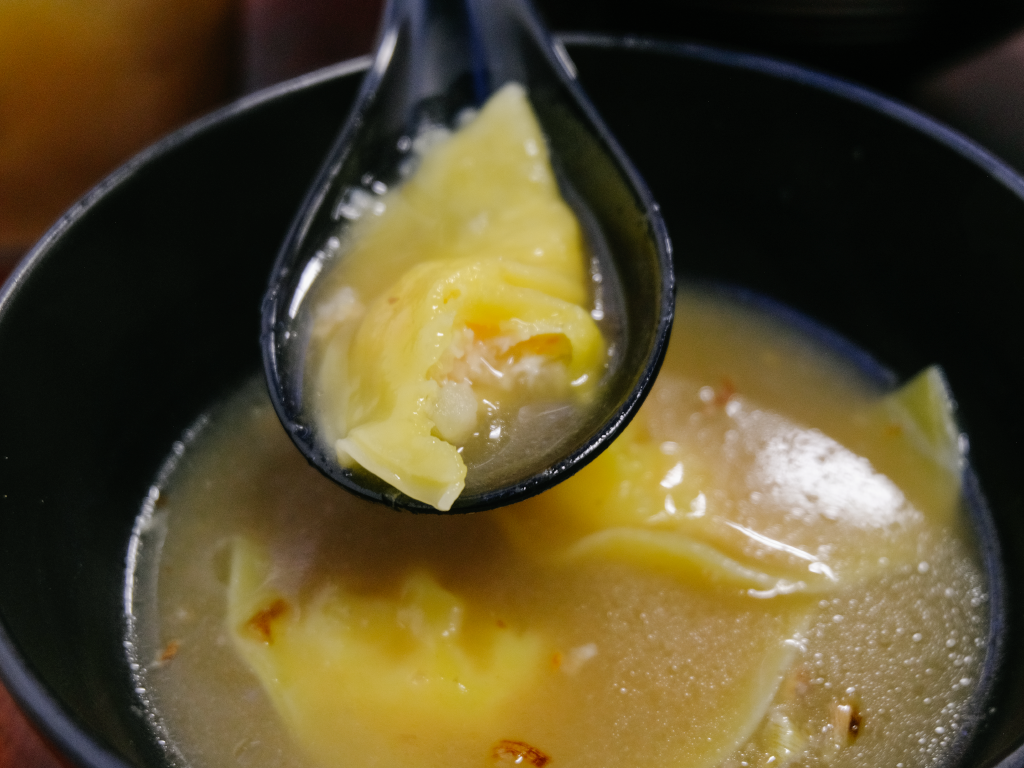 Chef Darwin personally recommended the crab dumpling soup (S$4.80), with three medium-sized wontons filled with succulent real crabmeat and crunchy water chestnut bits. The skin is just thin enough to hold the fillings, and the texture of its bite is great. A must-have with the punchy chilli sauce on the side.
All right, how novel is the charcoal youtiao with otah (S$4.80)? Don't get turned off by the colour (it's just activated charcoal mixed into the batter) because it's some of the crispiest ones I've had. 
You'll hear a crunch as you bite through the pastry into the comparatively soft otah, which is fishy, mildly spicy, and very, very flavourful. Cheeky BeeHoon also sells the charcoal youtiao on its own, which I imagine would taste fantastic dipped in soup.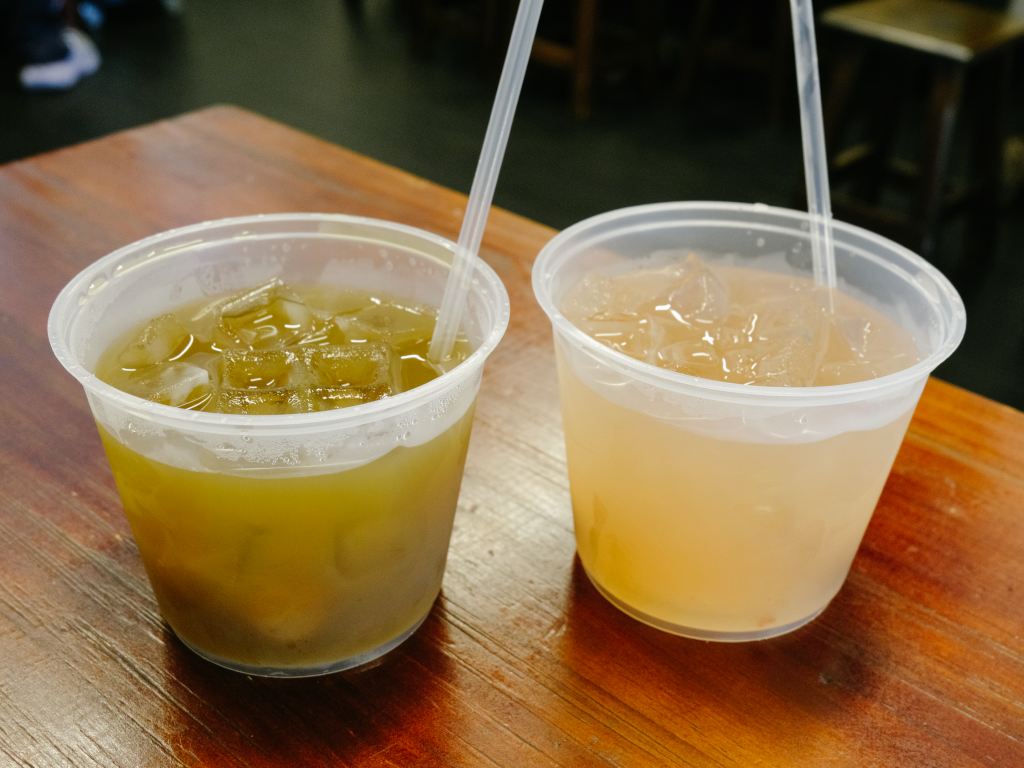 If you like your old-school drinks as much as I do, you'll love the water chestnut longan drink (S$3) at Cheeky BeeHoon, served with bits of nutty pulp still inside. There's a faint sweetness from rock sugar, and the several pieces of pitted longan inside are deliciously tangy. 
Give the pink guava sour plum drink (S$3) a try for the classic and charming pairing of guava and sour plum to tingle the taste buds. It's refreshing and helps beat the sweltering heat.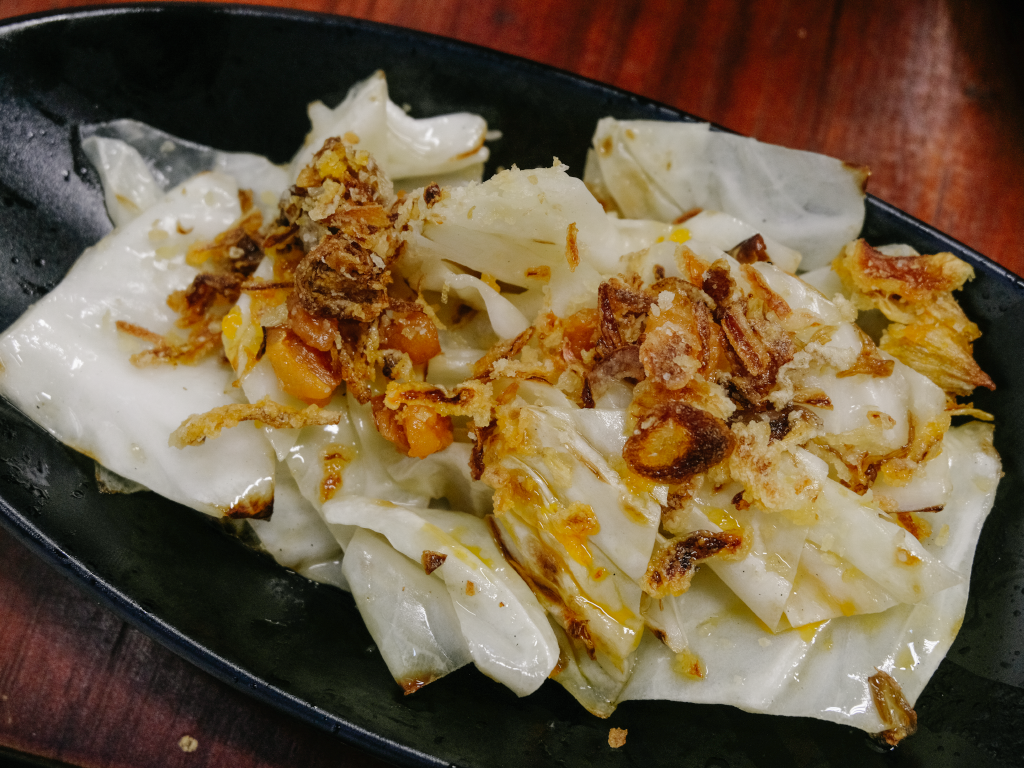 While I love the idea of stir-fried cabbage (S$3.80) with deep-fried shallots and lard, it lacks enough flavour to justify how oily the dish tastes. The glistening cabbage slices are a tad on the tough side and taste less sweet than I had hoped. 
Not a healthy dish for sure, but improve on the flavour of the cabbage and I'd be down to try this again.
Otherwise, it's safe to say that Cheeky BeeHoon dishes up solid comfort food that'd bring people back multiple times for a quick lunch or dinner. With the obvious meticulous attention to detail for most of its dishes, the eatery deserves that much.
Is it conducive to conversation? Not so much — the small eatery was bustling with chatter during lunchtime.
Is a reservation necessary? First come, first served!
How to get there? Cheeky BeeHoon sits at the start of East Coast Road closer to Marine Parade, five bus stops from Dakota MRT Station's Exit A.
37 East Coast Road
Open: Monday to Sunday (10am to 9pm)
37 East Coast Road
Open: Monday to Sunday (10am to 9pm)