Where to eat in Hanoi: 14 places to add to your itinerary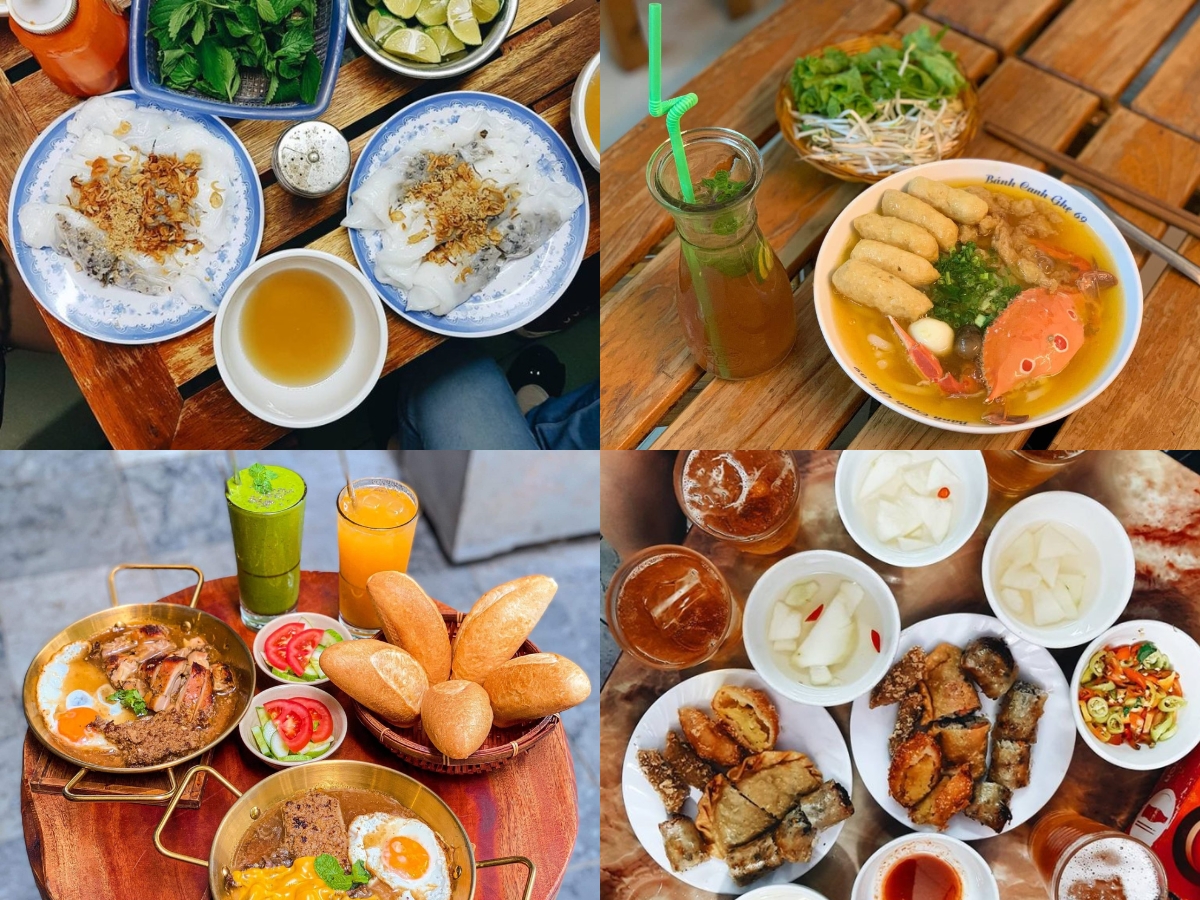 Beyond the vast lakes, temples and historic colonial architecture, Hanoi serves as a congregation of incredible food. Being the capital of Vietnam, it's peppered with stalls selling authentic Vietnamese cuisine from different regions.
We're here to get you started on your Hanoi food journey with a guide of 10 eating places to visit. Get your taste buds ready for some wonderful culinary experiences.
1. Bun Cha Ta Hanoi
21 Nguyen Huu Huan, Ly Thai To, Hoan Kiem
Open: Monday to Sunday (8am to 10pm)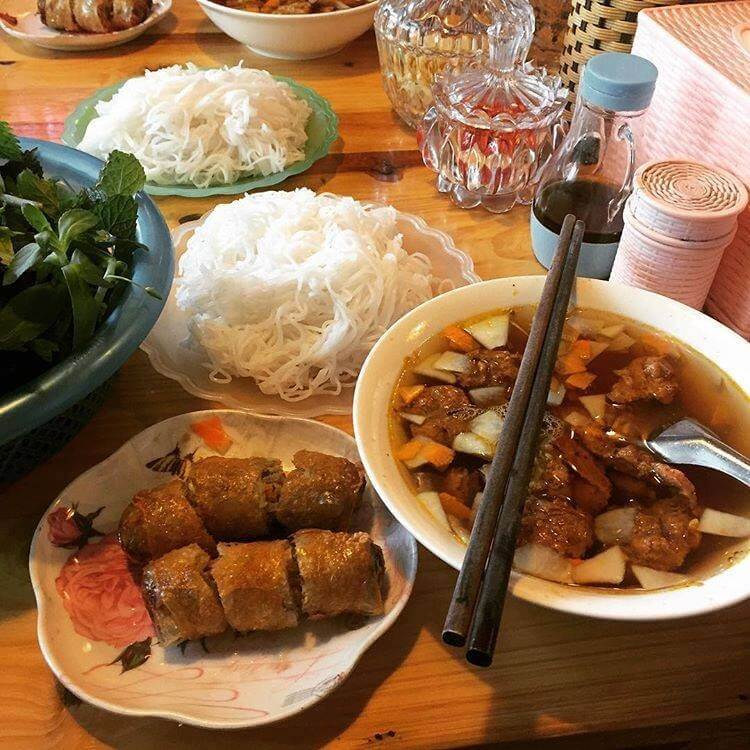 One of the most popular lunchtime food choices in Hanoi is bun cha, which consists of caramelised grilled pork patties served in a bowl of dipping sauce that acts as a broth. Rice noodles usually accompany the dish, along with fresh herbs such as perilla leaves, which give it a refreshing aroma.
Bun Cha Ta Hanoi is one of the more popular restaurants for its spectacular bun cha. In addition, this place offers vegetarian renditions of its meat dishes.
What to order: Bun cha ta full option — seasoned pork patties with noodles and herbs (VND95,000, or S$5.40)
2. Bun Cha Huong Lien
24 P. Le Van Huu, Phan Chu Trinh, Hai Ba Trung
Open: Monday to Sunday (8am to 8.30pm)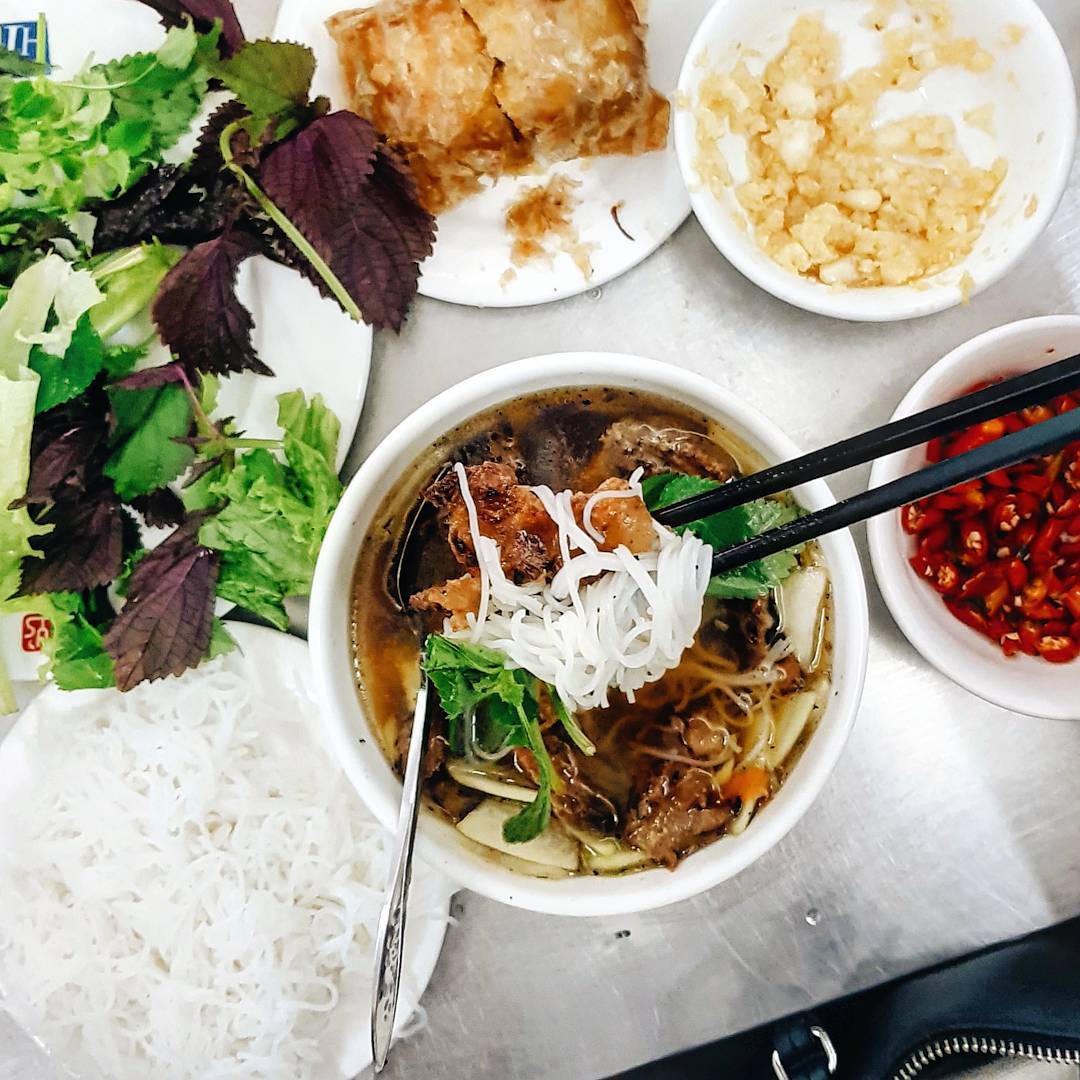 No visit to Hanoi is complete without a pilgrimage to Bun Cha Huong Lien. Located in Hanoi's French Quarter, this Hanoi street food spot specialising in bun cha shot to fame when then-US-president Barack Obama sat down to a meal with late celebrity chef Anthony Bourdain at this quaint eatery in 2016. 
Fans of either can have a taste of the Obama combo and even see the table both sat, which has been preserved in a glass case.
This must-eat restaurant in Hanoi is also a Michelin-recommended restaurant so you can be sure you're getting extreme quality and value when you make the trip down. 
What to order: Combo Obama — bun cha, fried seafood roll, beer (VND 120,000), thit xien (pork skewer, VND 25,000)
3. Quan Banh Cuon Bao Khanh
14B P. Bao Khanh, Hang Trong, Hoan Kiem
Open: Monday to Sunday (6.30am to 1.30pm)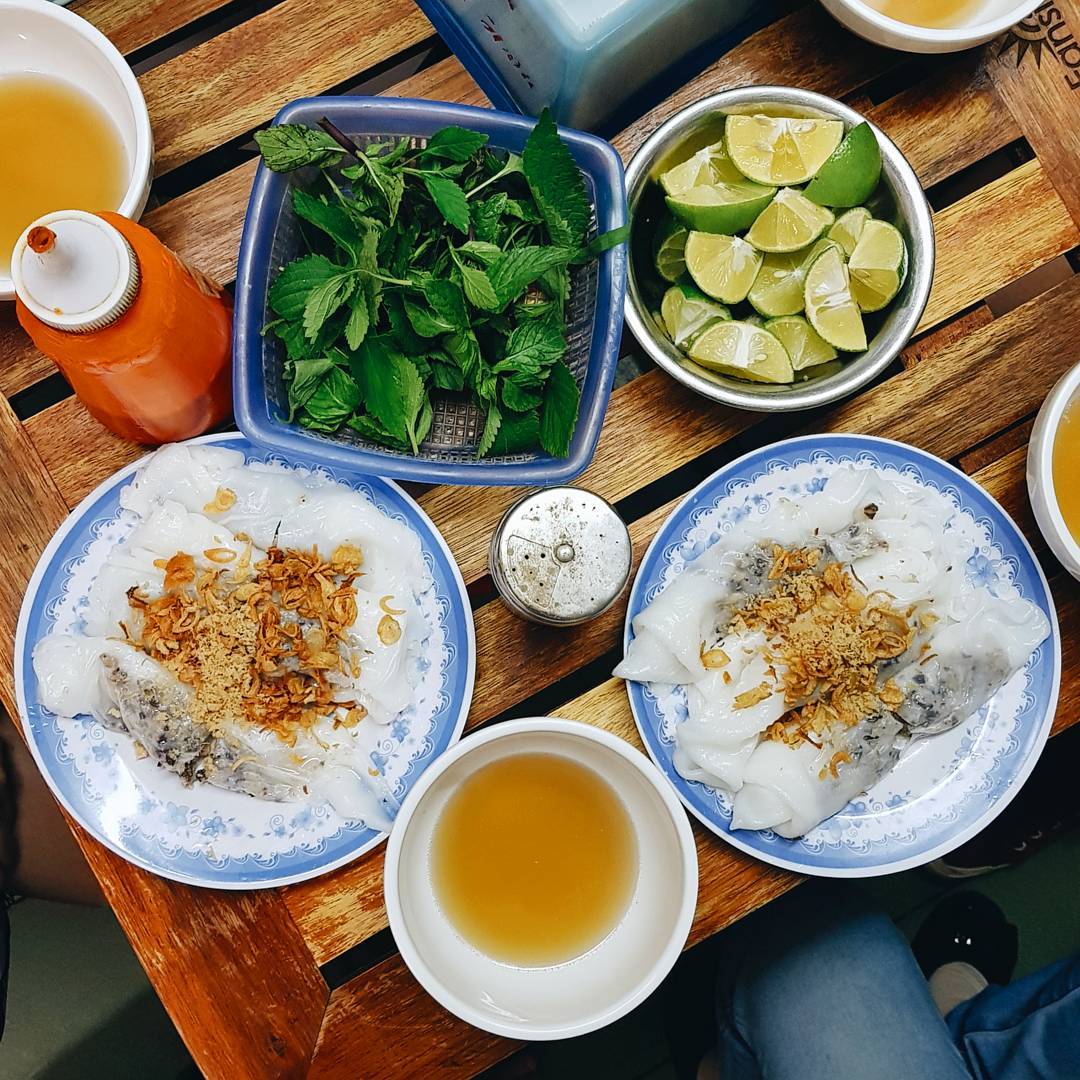 If you want to try different foods in Hanoi, then you must surely try banh cuon, a steamed rice roll typically stuffed with pork or mushrooms. 
Quan Banh Cuon Bao Khanh is a great Hanoi local food place to have your first banh cuon — it's a local favourite and its rolls are made fresh to order. Its owners are friendly but don't expect to find any English menu or service here, just point to order. 
Those who love their dimsum will likely find this similar to chee cheong fun rice rolls, except it doesn't come soaked in a soy sauce drizzle. Its saucy complement comes on the side instead, and functions as a dip. 
What to order: Banh cuon (VND 35,000), pho bo (beef noodle soup, VND 40,000)  
4. Bun Rieu Cua Hang Bac
11 P. Hang Bac, Hang Bac, Hoan Kiem
Open: Monday to Sunday (7am to 10.30pm) 
Bun rieu is one of the best foods in Hanoi to try if you find yourself wanting something nourishing, comforting yet tasty. You can try it at Bun Rieu Cua Hang Bac — its signature dish is a bowl of Vietnamese rice noodle soup served up in a light tomato-based soup.
With the stall opening at 7am, you can opt to down a bowl of this light but flavourful meal for breakfast before your sightseeing. 
What to order: Bun rieu dac biet — special rice noodles with crab roe (VND 40,000) 
5. Quan Goc Da
52 P. Ly Quoc Su, Hang Trong, Hoan Kiem
Open: Monday to Sunday (8am to 9.30pm)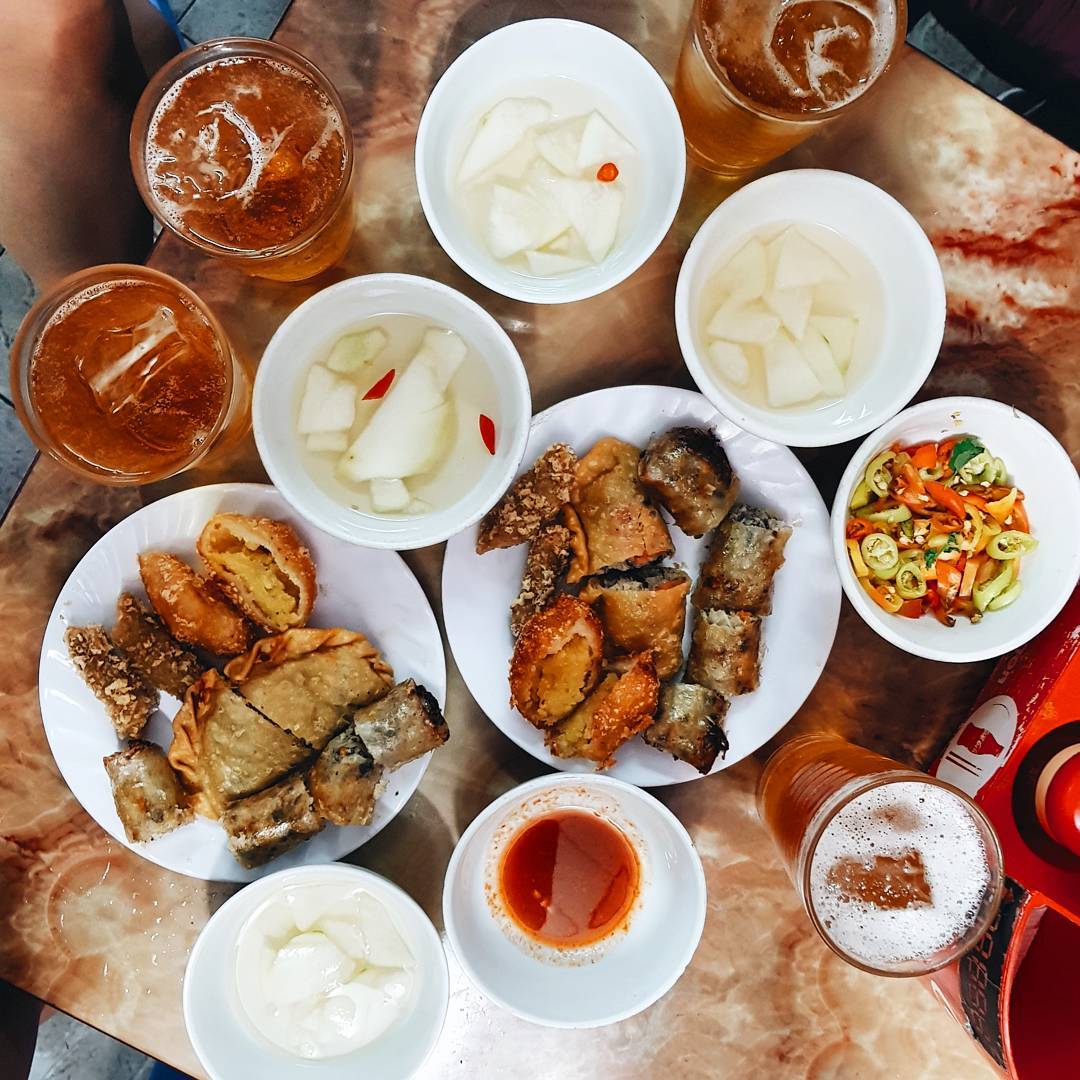 If you're wondering what to eat in Hanoi's Old Quarter, you'd probably have chanced upon Quan Goc Da, a small snack store selling deep-fried Vietnamese treats. 
This spot is ideal for meals or when you're feeling a tad peckish between them. 
The sheer amount of fried food available can be quite overwhelming, so remember to ask for an English menu if you're not provided with one. 
What to order: Ban ran ngot — sweet donut (VND 5,000), banh goi – pillow cake with pork, mushroom, onion, chinese sausage, noodle and carrot (VND 12,000) 
6. Cha Ca Thang Long
6B Duong Thanh, Cuo Dong, Hoan Kiem
Open: Monday to Sunday (10.30am to 9pm)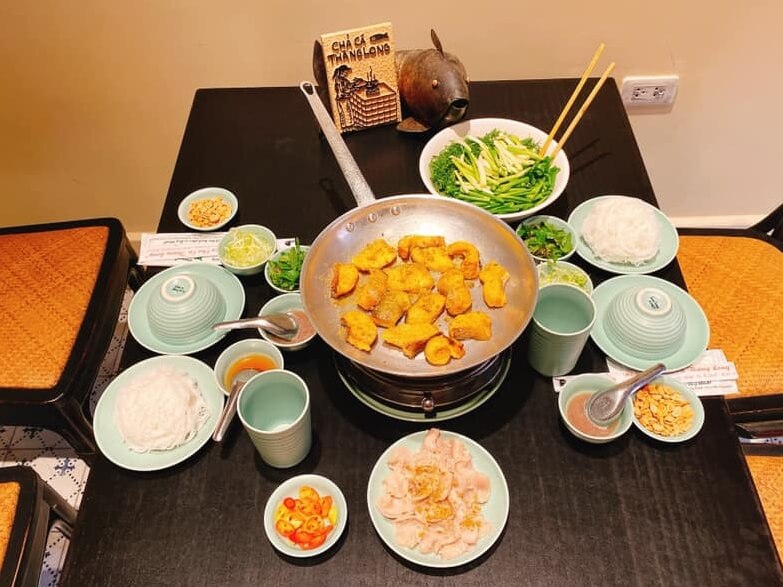 An iconic dish that Hanoi is famous for is cha ca — a variety of snakehead fish that's marinated before being grilled and then served in a pan of hot oil to customers. The distinctive yellow colour of the fish comes from the turmeric used in the marinade.
It's also typically prepared in front of the customers, where herbs and the fish are cooked together before being served with noodles. One can also add peanuts and fermented shrimp paste to add oomph to the dish.
Listed as one of the must-try foods in Hanoi, there's an entire street — Cha Ca Street — named in honour of this historic dish.
What to order: Cha ca fish — Vietnamese grilled fish (VND150,000 per person)
7. Cafe Giang
39 Nguyen Huu Huan, Ly Thai To, Hoan Kiem
Open: Monday to Sunday (7am to 10.30pm)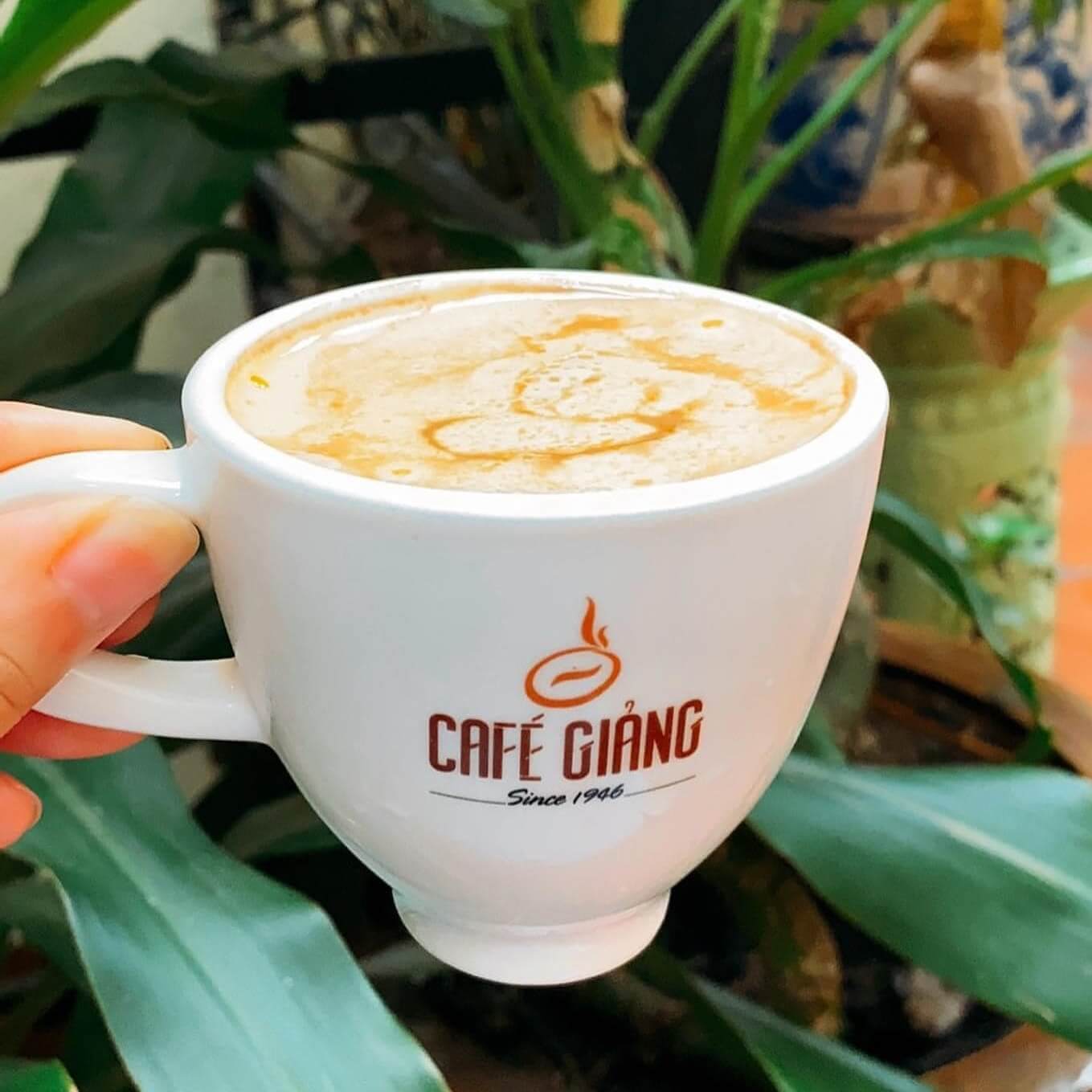 This quintessential beverage of Hanoi was born from a shortage of milk back in 1946 when Vietnam was at war. One man decided to replace milk with eggs and realised the potential it had to be something special. Indeed, the founder of Cafe Giang perfected the recipe and established the first egg coffee shop in Hanoi, which now serves as a popular tourist attraction.
Using egg yolks, sweetened condensed milk, coffee, and other secret ingredients, Cafe Giang's egg coffee is creamy and dense. Customers can choose between scooping the custard-like coffee with a spoon or drinking it directly from the cup. Apart from egg coffee, it also offers other unique combinations such as egg beer and egg Coke.
What to order: Ca phe trung — egg coffee (VND30,000), bia trung — egg beer (VND50,000)
8. Phe La
65 P. Pham Ngoc Thach, Khu tap the Kim Lien, Dong Da
Open: Monday to Sunday (7am to 10pm)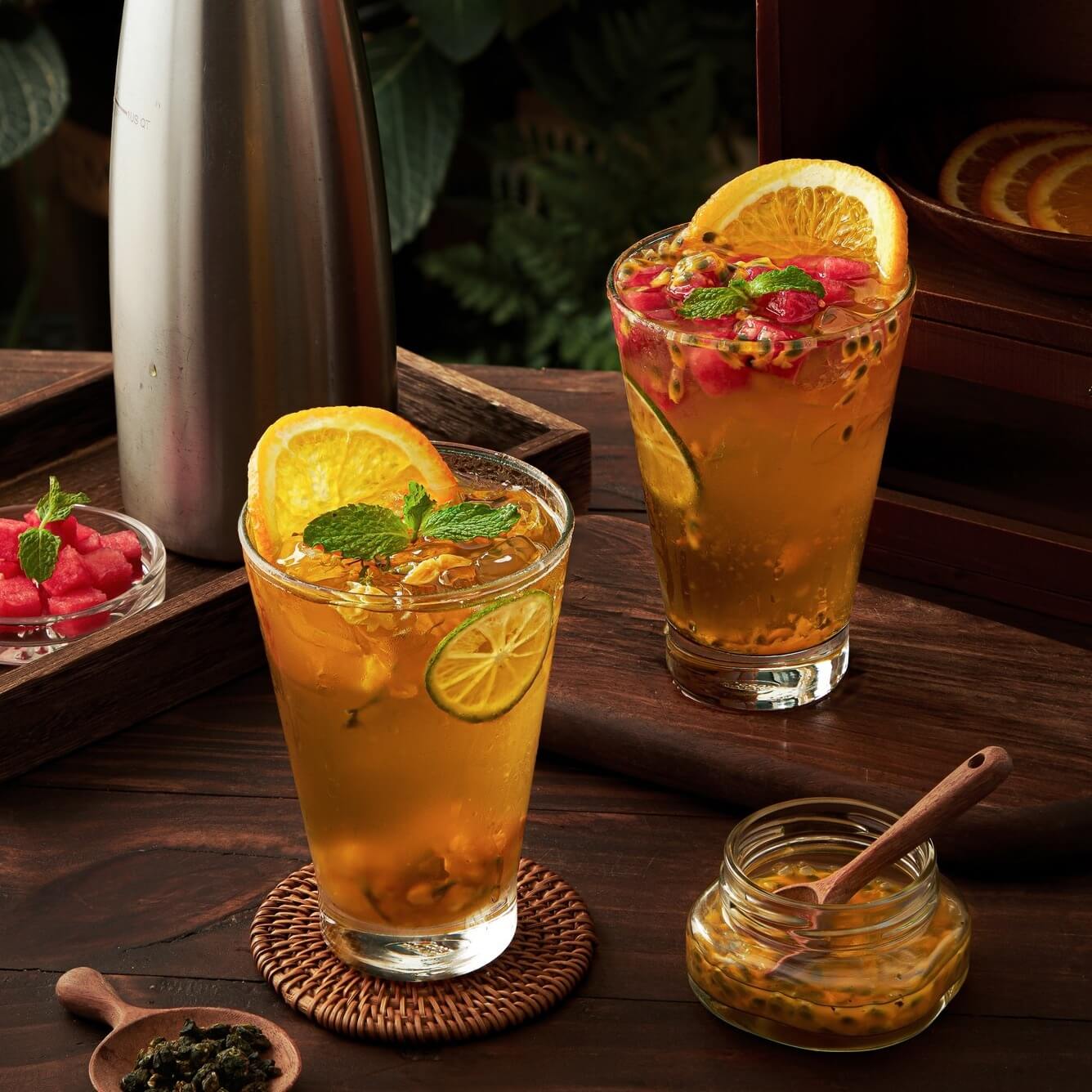 This homegrown modern coffee and tea brand specialises in brewing oolong tea. Through Phe La's ingenuity, it has created unique concoctions such as oolong tea with egg coffee and roasted rice pearls. Using only high-quality tea leaves imported from the city of Da Lat in southern Vietnam, the people behind Phe La pride themselves on being experts who are meticulous in their craft.
Moreover, the cafe has also garnered a reputation for having a cosy and clean space.
What to order: O Long Coffee Milk — oolong with coffee and milk (VND55,000), Pearl of Rice — roasted rice boba (VND10,000)
9. Pho Thin 13 Lo Duc Str
13 P. Lo Duc, Pham Dinh Ho, Hai Ba Trung
Open: Monday to Sunday (6am to 2pm, 5pm to 9pm)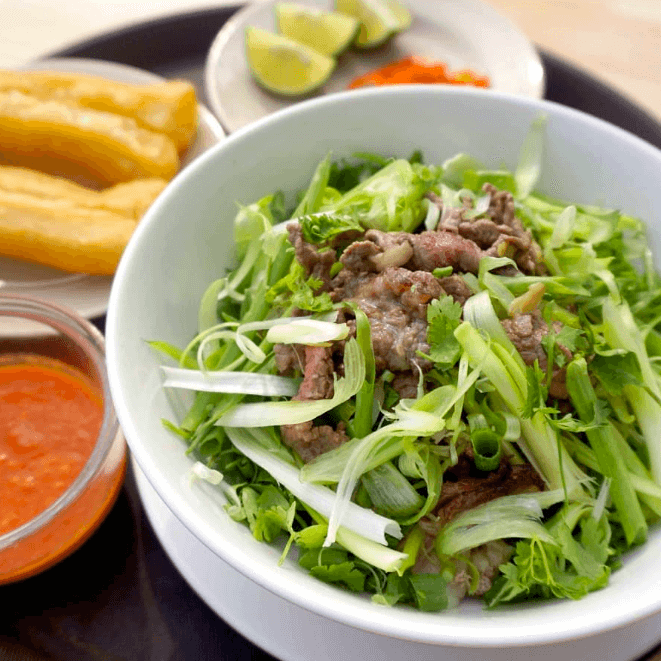 Serving Vietnam's national dish, pho restaurants are naturally held to higher standards.
Pho Thin 13 Lo Duc Str is one of the most popular pho restaurants in Vietnam that's been in business since 1979. The owner himself has been preparing pho for more than 40 years, so you can be sure that he's an expert.
Though the pho is pricier by local standards, it might be worth every cent as customers are given generous servings of tender beef, scallions, herbs, and silky smooth rice noodles within minutes of ordering.
Pho Thin's success has been well-documented by media outlets and it even has overseas branches in places such as Melbourne and Tokyo. When locals and tourists queue to have a bowl of pho, you know it's the real deal.
What to order: Pho dac biet — special pho (VND80,000)
10. Banh Mi 25
25 P. Hang Ca, P, Hoan Kiem
Open: Monday to Saturday (7am to 9pm); Sunday (7am to 5pm)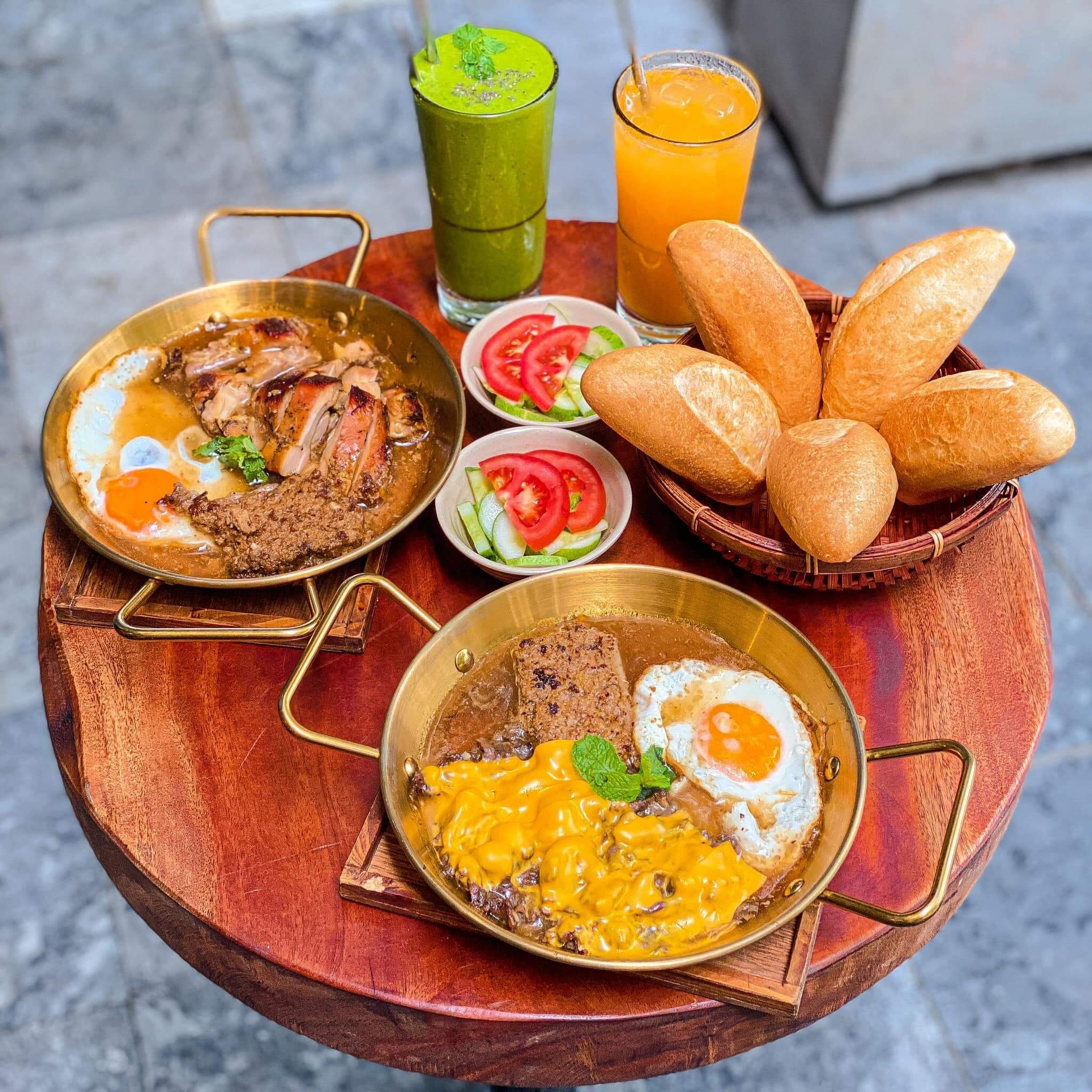 Kickstarted by a husband-and-wife team in 2014, the couple has modernised traditional banh mi recipes to attract younger customers and tourists. Banh mi is a Vietnamese baguette sandwich typically stuffed with meat, assorted vegetables and herbs.
At Banh Mi 25, there are vegetarian options available and the baguettes are served separately with a pan of cooked ingredients. These features may be uncommon for traditional banh mi stalls, but they are proving to be some of the reasons for its success.
What to order: Banh mi thap cam — mix of pate, barbecued pork, ham and sausage (VND35,000), cafe cot dua — iced coconut coffee (VND30,000)
11. Banh Xeo Sau Phuoc
74 Cau Dat, Chuong Duong Do, Hoan Kiem
Open: Monday to Saturday (10.45am to 8.30pm)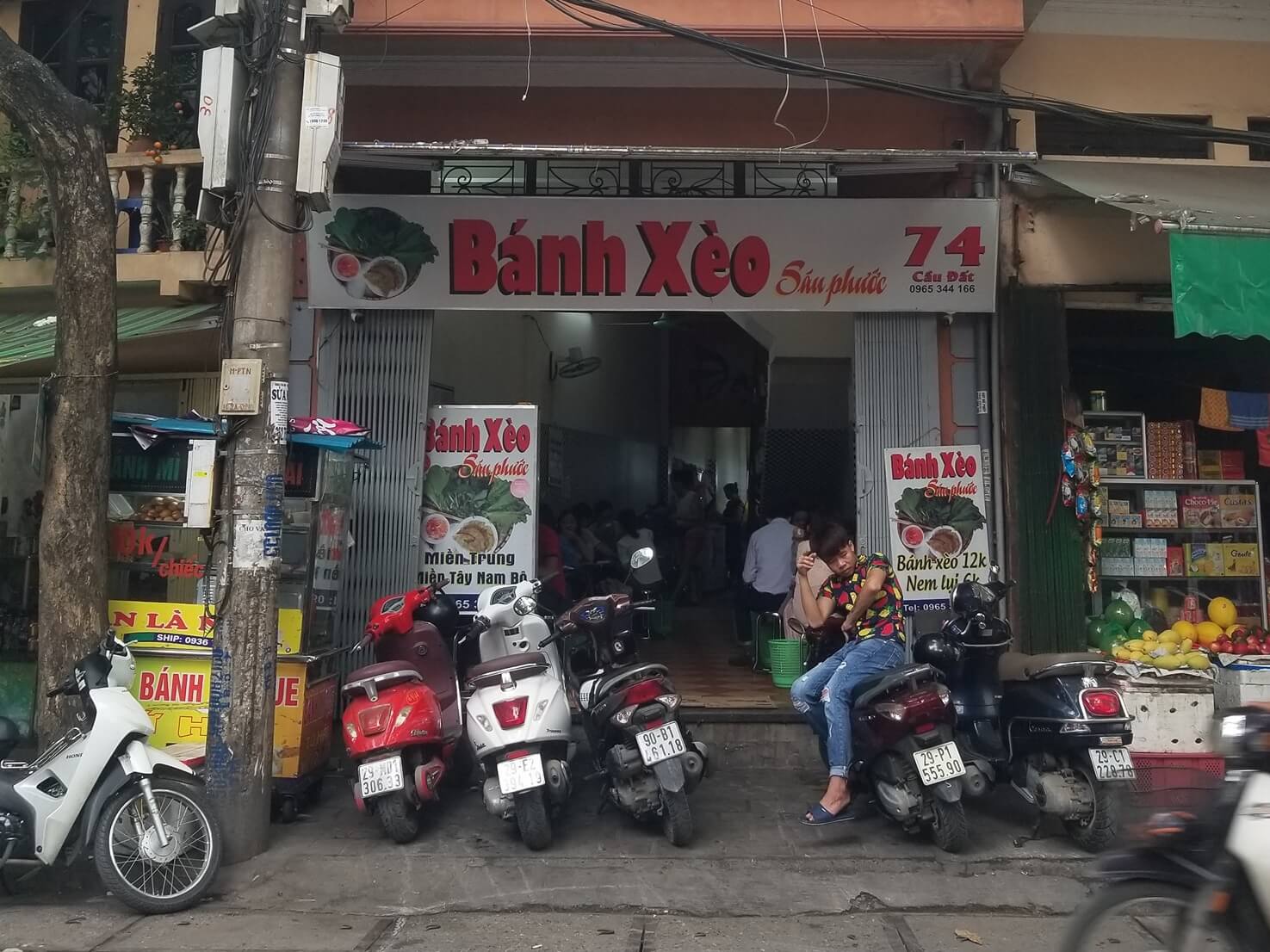 Located in a residential area that's also close to tourist attractions, Banh Xeo Sau Phuoc is an ideal pitstop for hungry travellers. This eatery is known for its excellent banh xeo — Vietnamese crispy rice pancake filled with pork, shrimp, mung beans and bean sprouts. It's served with a dipping sauce mixed with chilli and lime to add some spice and acidity. To get a more refreshing taste, one can also wrap the rice pancake in green leafy vegetables.
Customers have expressed appreciation that the eatery does not charge exorbitant prices for its food, despite being near tourist attractions. It's a gem indeed.
What to order: Banh xeo — crispy Vietnamese pancake (VND15,000), nem lui — spring rolls (VND8,000)
12. Bun Ca Cham Ngon Ngon – Luong The Vinh
237b Luong The Vinh, Trung Van, Tu Liem
Open: Monday to Sunday (7am to 8pm)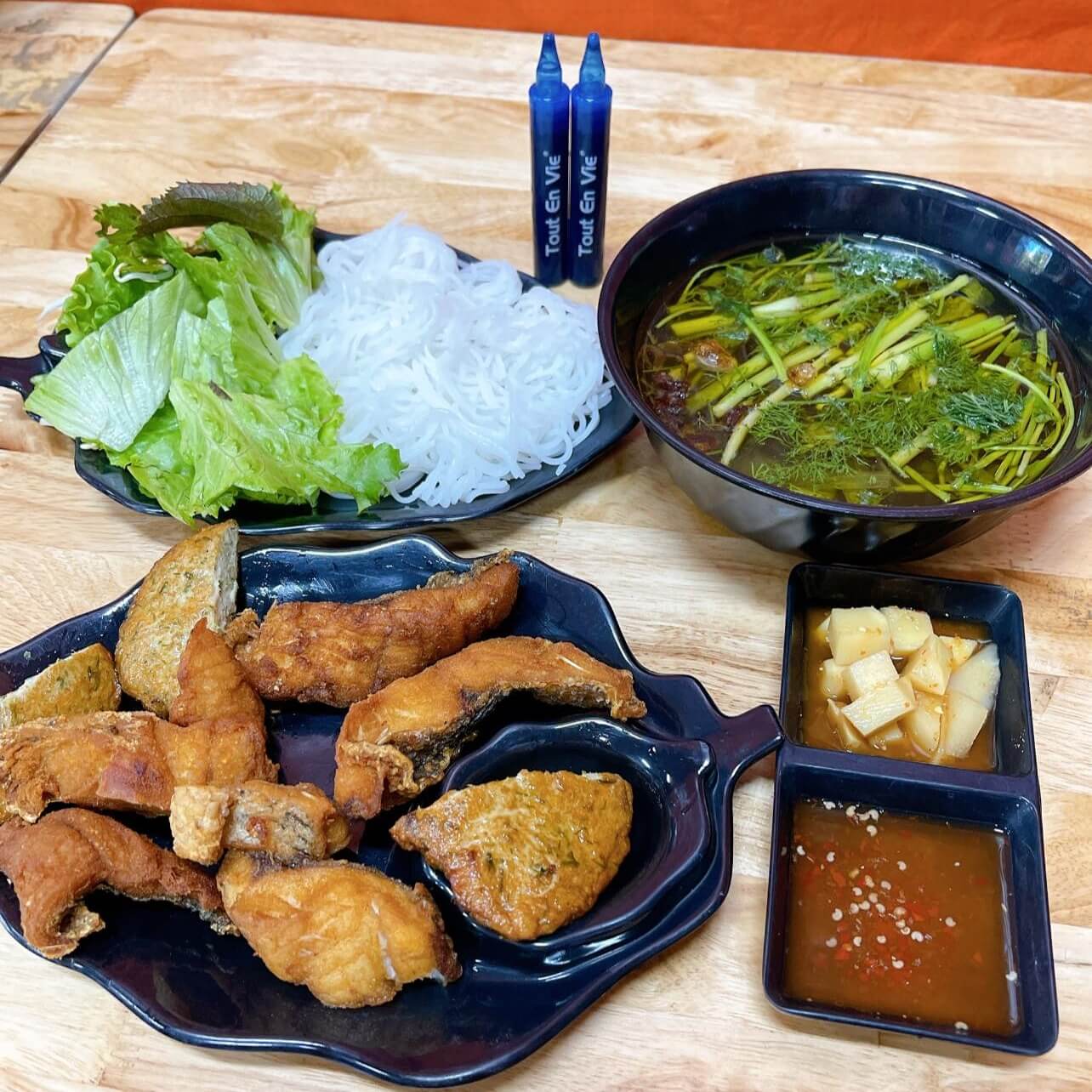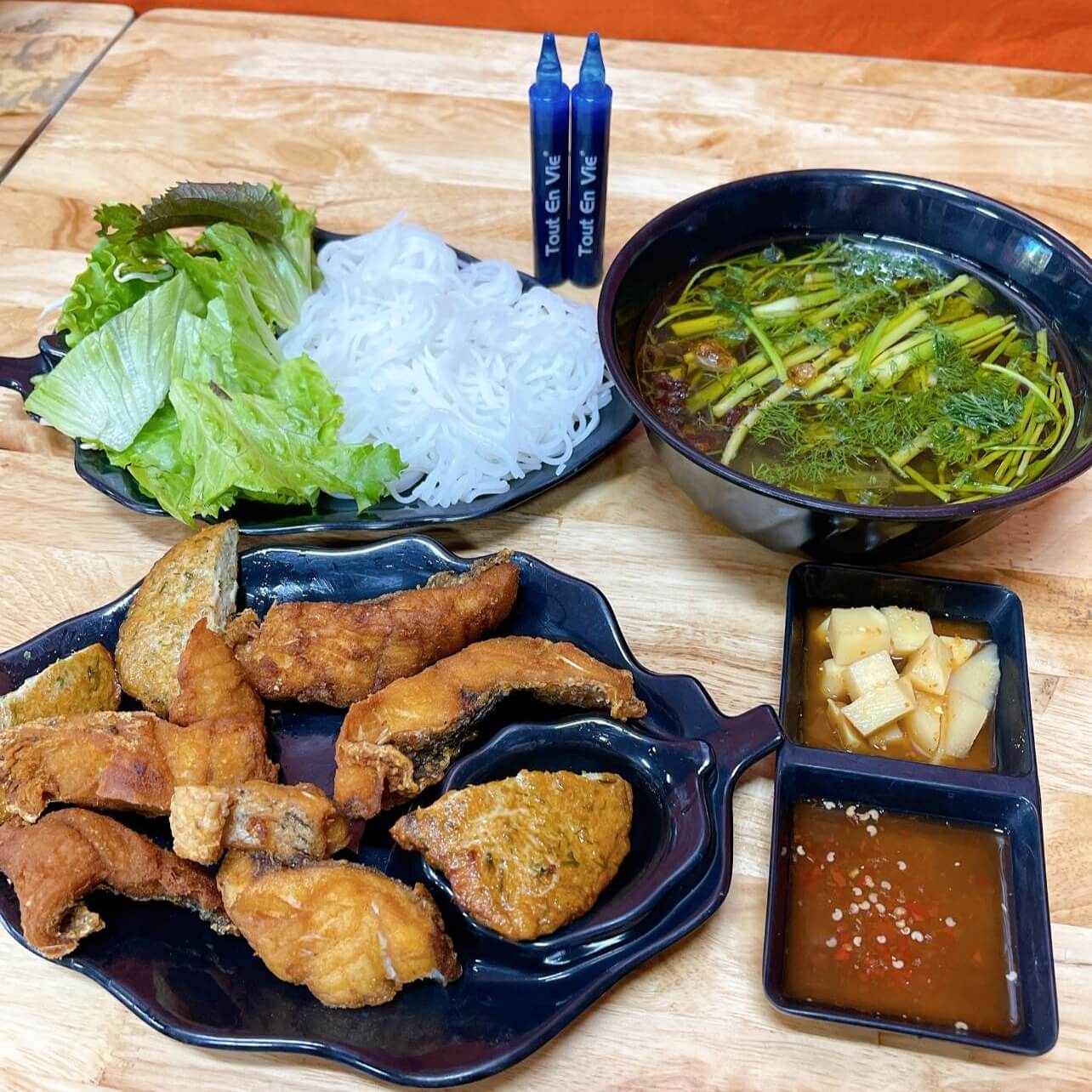 Bun Ca Cham Ngon Ngon – Luong The Vinh is a place that sells superb bun ca — Vietnamese fish noodle soup. The pieces of fish are first fried in oil to give them a crispy outer layer before being mixed into a rich broth with rice noodles. Similar to other Vietnamese dishes, the broth is filled with an assortment of vegetables and herbs to bring balance to the dish.
Apart from the fried fish, this stall also makes good fishcakes.
What to order: Bun ca cham day du — fish noodle soup set (VND55,000), cha ca an them — fishcakes (VND25,000)
13. Banh Canh Ghe 69
11 P. O Cho Dua, Cho Dua, Dong Da
Open: Monday to Sunday (8am to 11pm)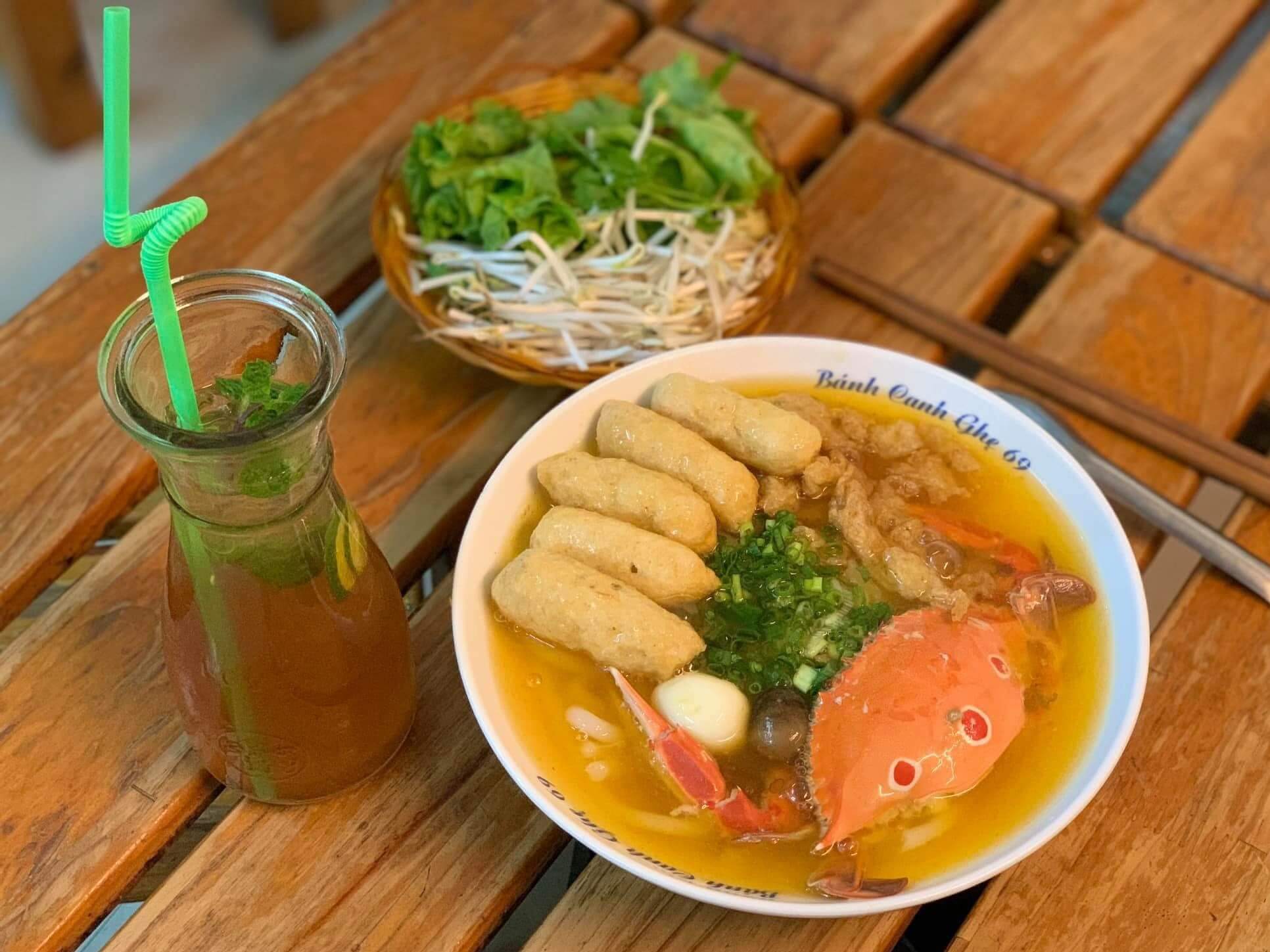 Craving crab cakes? Well, you're in for a delightful surprise because this stall is known for one-of-a-kind crab cake soup noodles. The thick broth is flavourful and clings onto every strand of noodle.
You can even opt to have an entire crab with your bowl of noodles if you're looking for an extra sumptuous meal. Apart from its crab cake soup, the eatery offers other delectable seafood dishes such as squid, prawns and clams.
What to order: Go — crab cake soup (VND50,000), nguyen con — crab cake soup with whole crab (VND100,000)
14. Bun Bo Nam Bo Bach Phuong
73-75 Hang Dieu, Cua Dong, Hoan Kiem
Open: Monday to Sunday (7.30am to 10.30pm)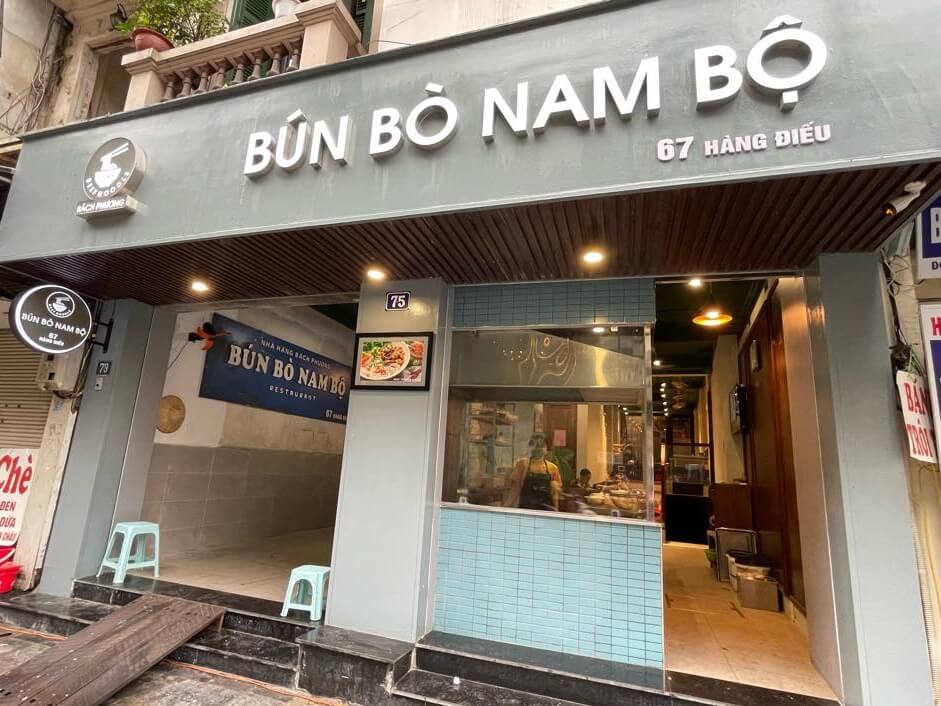 Like many other Vietnamese eateries, this stall specialises in just one dish, bun bo nam bo — southern Vietnamese beef noodles. Served with tender beef slices, lettuce, cilantro, peanuts, and noodles, diners are to mix the ingredients thoroughly before digging into this delicious bowl of noodles.
This place is popular with locals and tourists alike owing to its countless positive reviews, so don't be surprised if it's crowded. It's probably worth the wait.
What to order: Bun bo nam bo (VND65,000)