3 stalls at Golden Mile Complex to visit before the mall gets redeveloped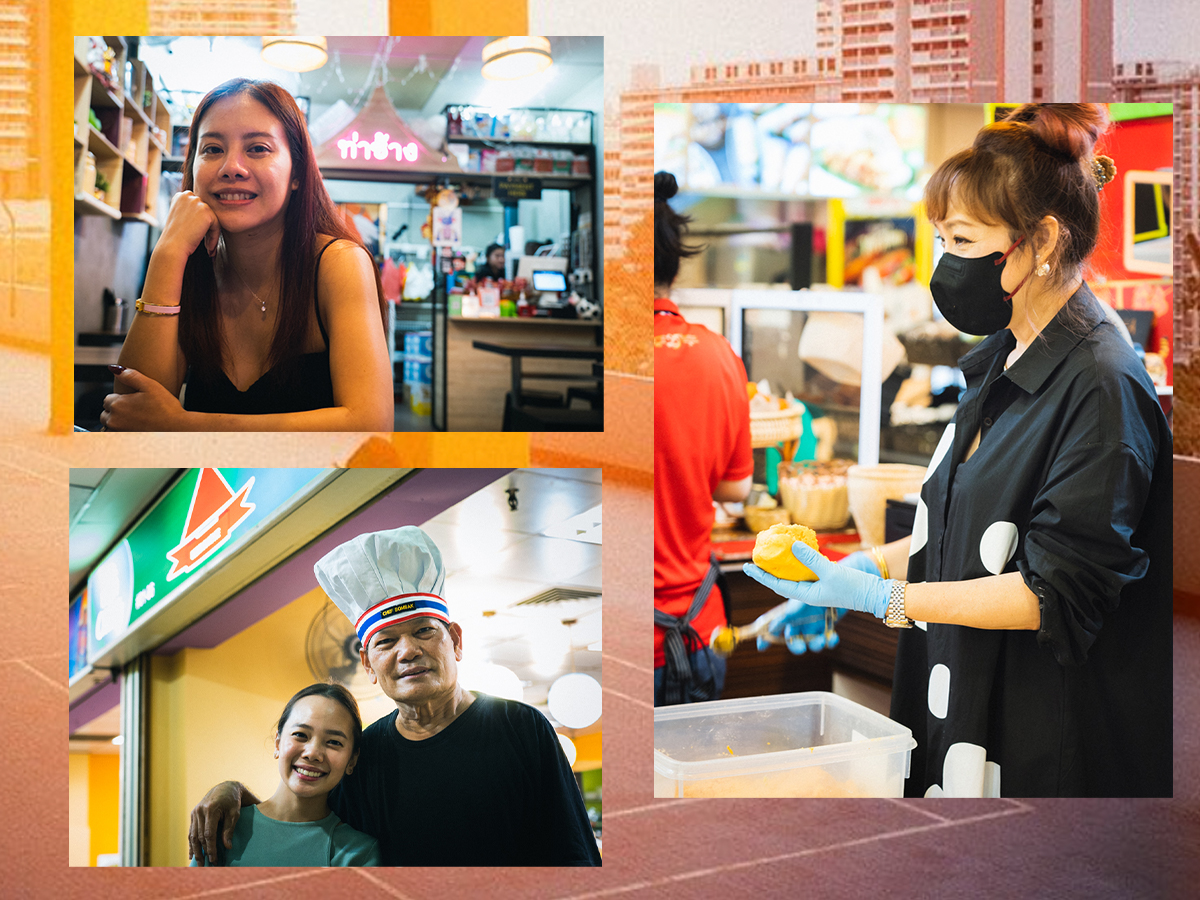 With Golden Mile Complex sold en bloc, eateries there have to move out before the building is handed over to the developers
Various restaurants lament the loss of the place, which patrons have christened "Little Thailand"
Having made peace with the mall's future, tenants are ironing out their next steps
From delicious Thai zi char to boat noodles and fried bananas, here are some of the eateries to revisit
Working in Bangkok as a young chef in a Thai-Chinese restaurant, Somsak Chomprach often dreamt of charting a new path in a foreign land. He cobbled together some savings and left home for Singapore.

It was here where he cut his teeth as a chef at the now-shuttered Big Splash for some 30 years, before finally setting up a tiny Thai restaurant in a corner of Golden Mile Complex in 2000.

Today, Somsak is the proud owner of the iconic Beerthai House Restaurant, a stalwart that continues to draw crowds from faithful customers who have returned for no-frills, affordable and authentic Thai cuisine through the years.

Somsak's tale is one of many origin stories you'll find in abundance at Golden Mile Complex, affectionately known as Singapore's "Little Thailand".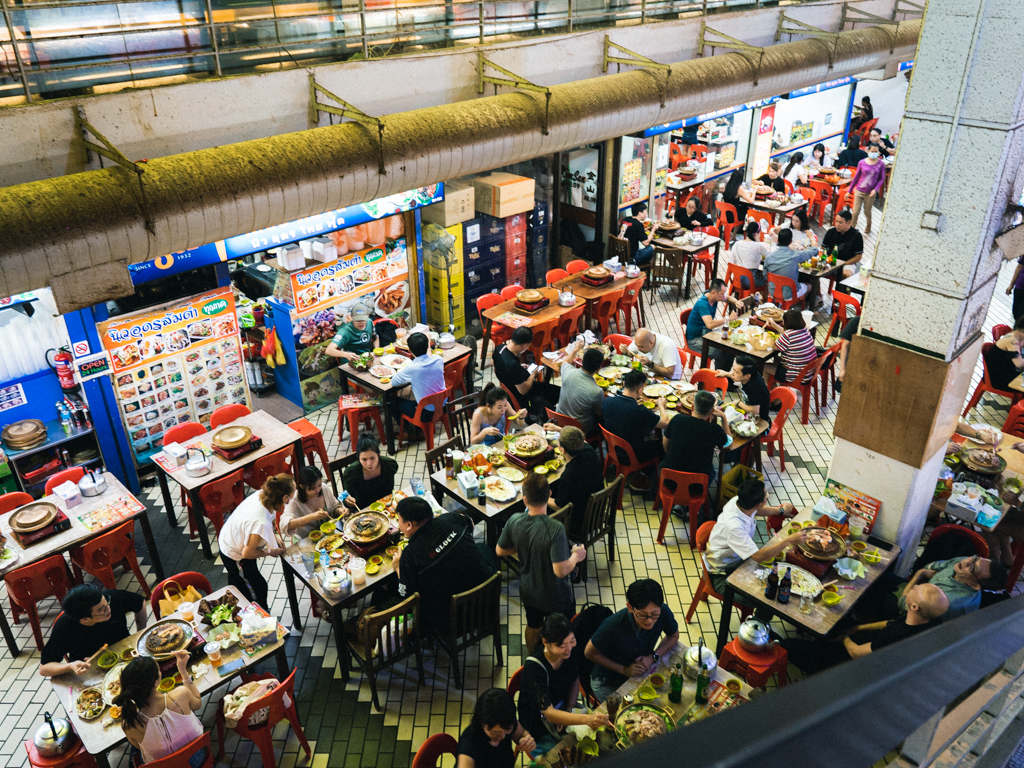 Located between Nicoll Highway and Beach Road, Golden Mile Complex was built in 1973 and was developed as part of the Singapore government's urban renewal scheme in the 1960s. 
Envisaged as a strata-titled mixed development, the 16-storey Brutalist-style building was one of the first in Singapore to integrate shops, offices and residences into one building.
Apart from the many Thai eateries that have mushroomed in the complex, it's home to many tour agencies that specialise in bus tours to Malaysia, remittance centres, clothing stores, occult stores, and the like.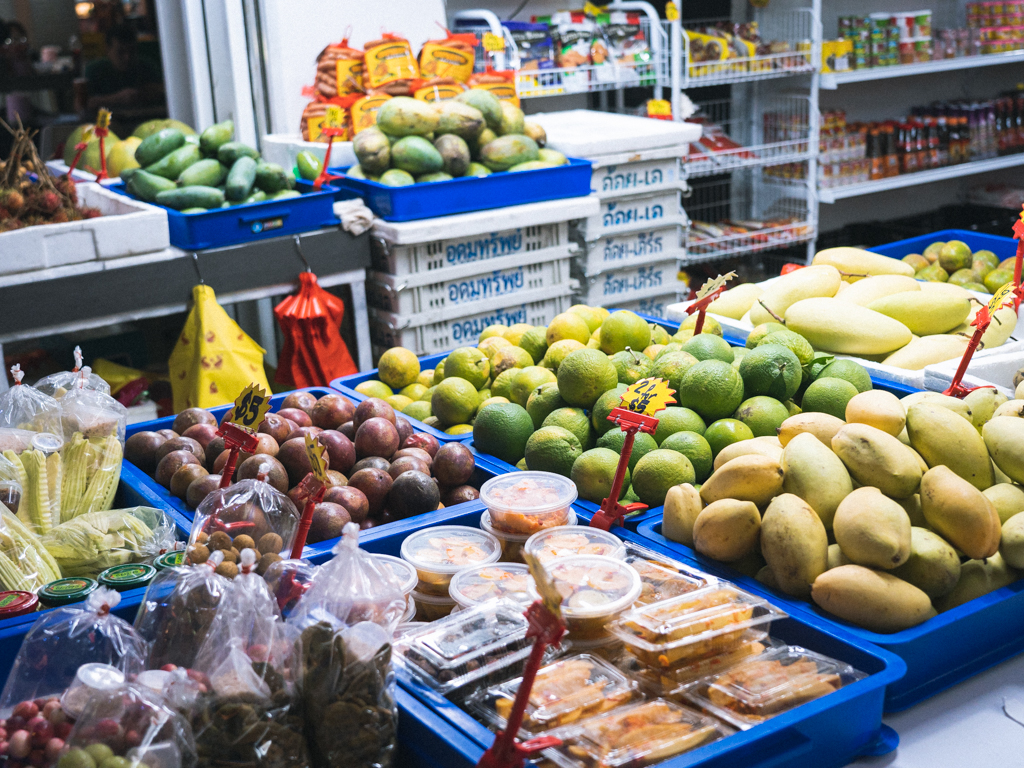 Home to a thriving Thai enclave, Golden Mile Complex is a space that throbs with character and life, neon lights and nostalgia.
With clouds of smoke rising and greasy smells from the mookata (a style of Thai barbecue that uses a dome-shaped skillet) restaurants and thumping bass from KTV clubs, a visit to the complex promises an assault on the senses.

Yet it's the grime and imperfections — a far cry from the modern and glitzy shopping malls — that lend the place a charm you can't find elsewhere in Singapore.

For years, the fate of the ailing building, along with the rest of its inhabitants, has hung in the balance.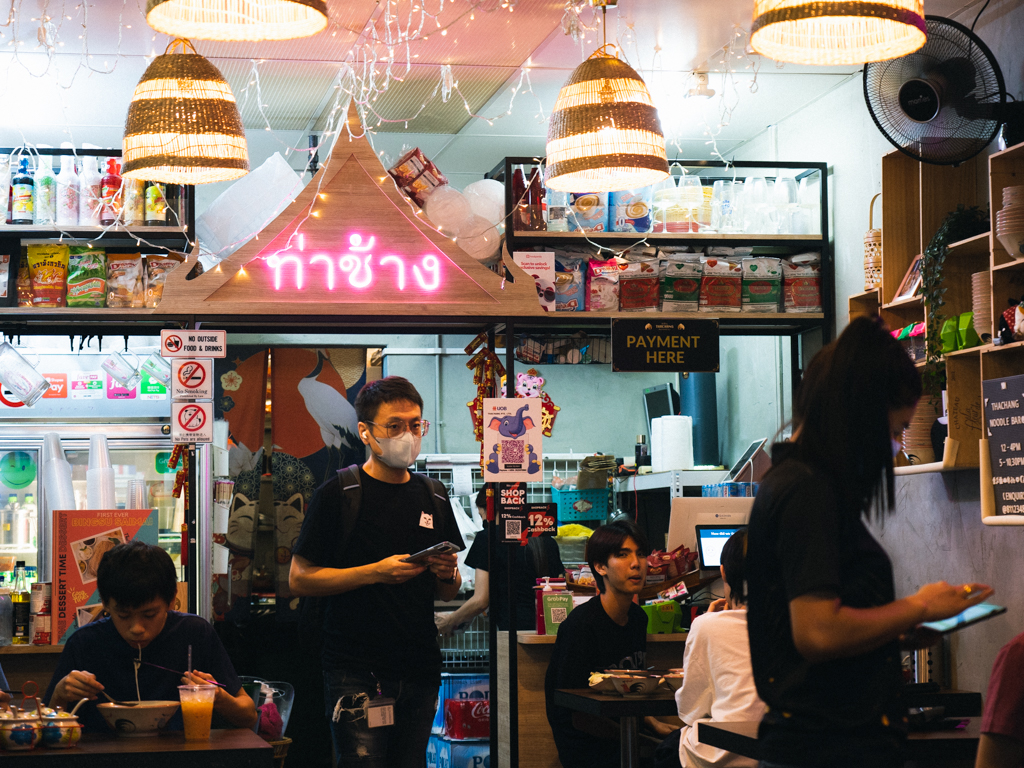 In May, it was announced that the conserved Golden Mile Complex was sold en bloc for S$700 million to a consortium comprising Perennial Holdings, Sino Land and Far East Organization. 
The trio said in a statement that the existing building would be "sensitively restored", with special attention paid to retaining its key features and signature terraced profile.

Long-time regular Calvin Chan, 44, and his family have made it part of their weekly ritual to head there for their mookata fix for the last 10 years. 
They enjoy the generous platters of seafood and marinated meat, while his Vietnamese wife likes to buy ingredients from the supermarket.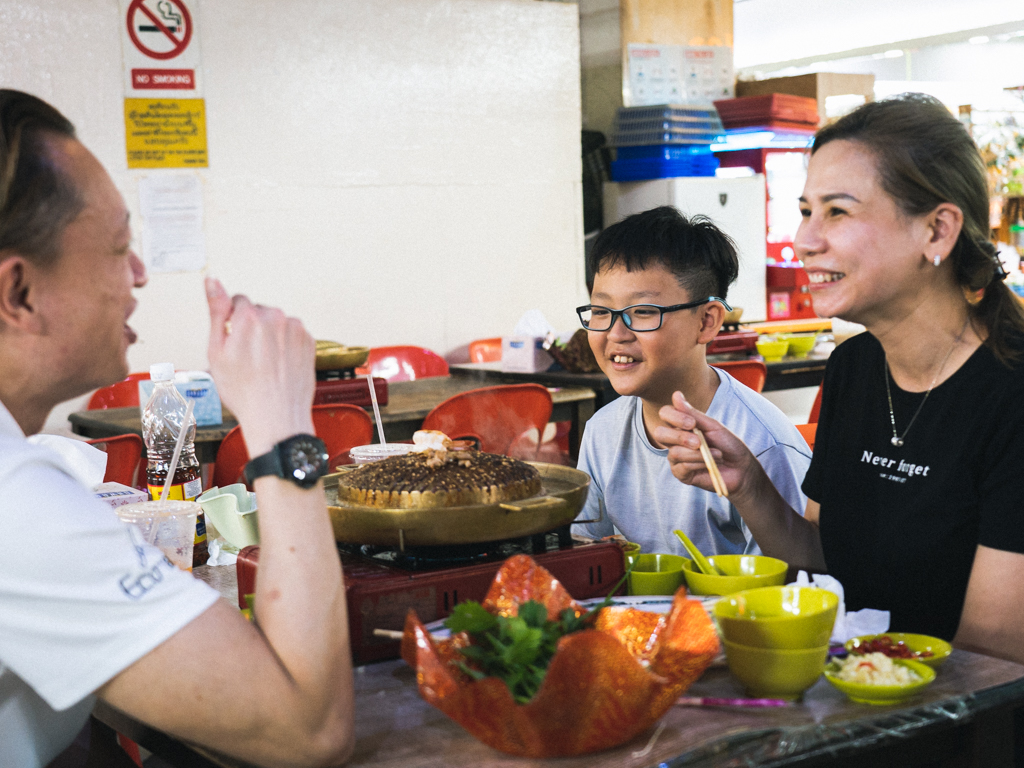 Their 11-year-old son lets out a dismayed groan when he hears of the en-bloc news and exclaims: "Faster tell me where the new outlet opens!"

Though Chan admits that the building is falling apart and full of "weird smells", there's a quaint charm that he can't quite put a finger on.

He says: "The vibe here is different from other places. You (seldom) see a complex where they let you do the mookata out in the open and the whole building smells like it. There's only a place like this in Singapore."
In September, we took a trip down to Golden Mile Complex to speak to the business owners about their last days here. Most have made peace with the news and are busy planning their next steps. 
1. Beerthai House Restaurant 
5001 Beach Road, 01-94/96
Open: 11am to 9.30pm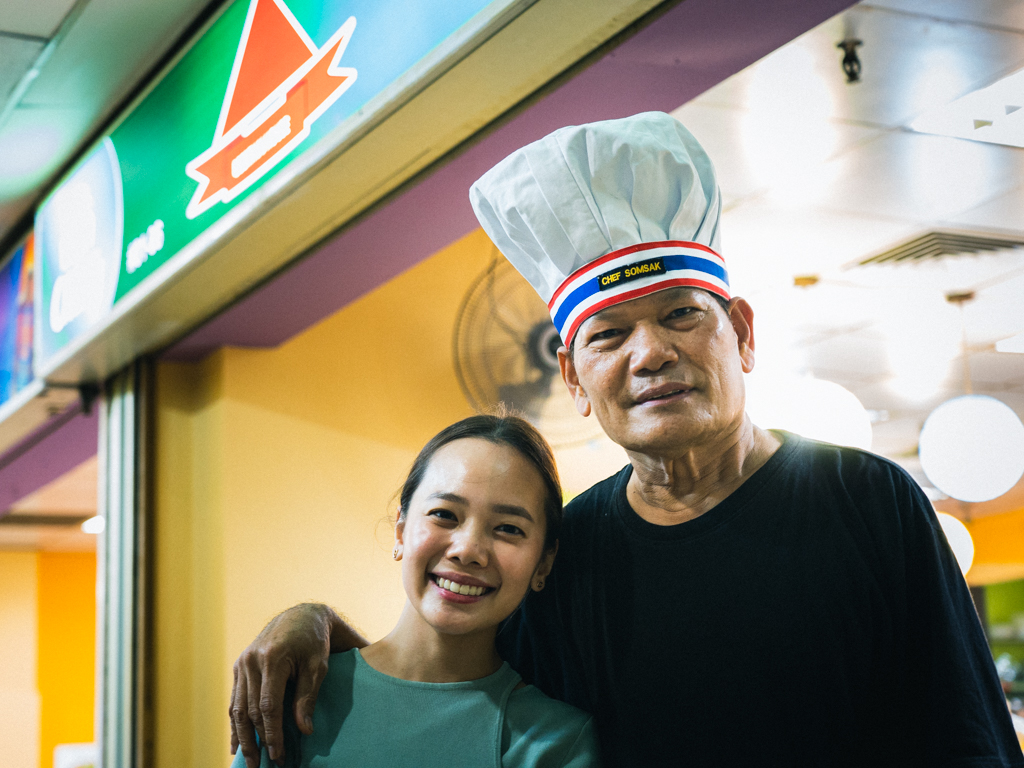 Unlike the ubiquity of most chain restaurants, part of the charm at Beerthai House Restaurant is its strong family spirit, imbuing the place with plenty of heart and warmth.
It's here that we meet Simachat Chomprach, the daughter of Somsak. 
Just 24 years old, she and her older sisters helm the daily operations and marketing of the business. This spans both Beerthai House Restaurant and Beerthai House 2, which can seat more than 100 people. Meanwhile, her father, brother, aunt and cousins take the reins in the kitchen.

Originally frequented by Thai foreign workers back in 2000, the eatery has slowly carved out a reputation for serving solid Thai zi char among Singaporeans and even the Myanmar community. Its extensive menu spans more than 100 items.
Its signature dishes include boat noodles (pork and beef), papaya salad, mango salad, steamed fish with lime sauce, pandan chicken, prawn cakes, and claypot prawn tang hoon.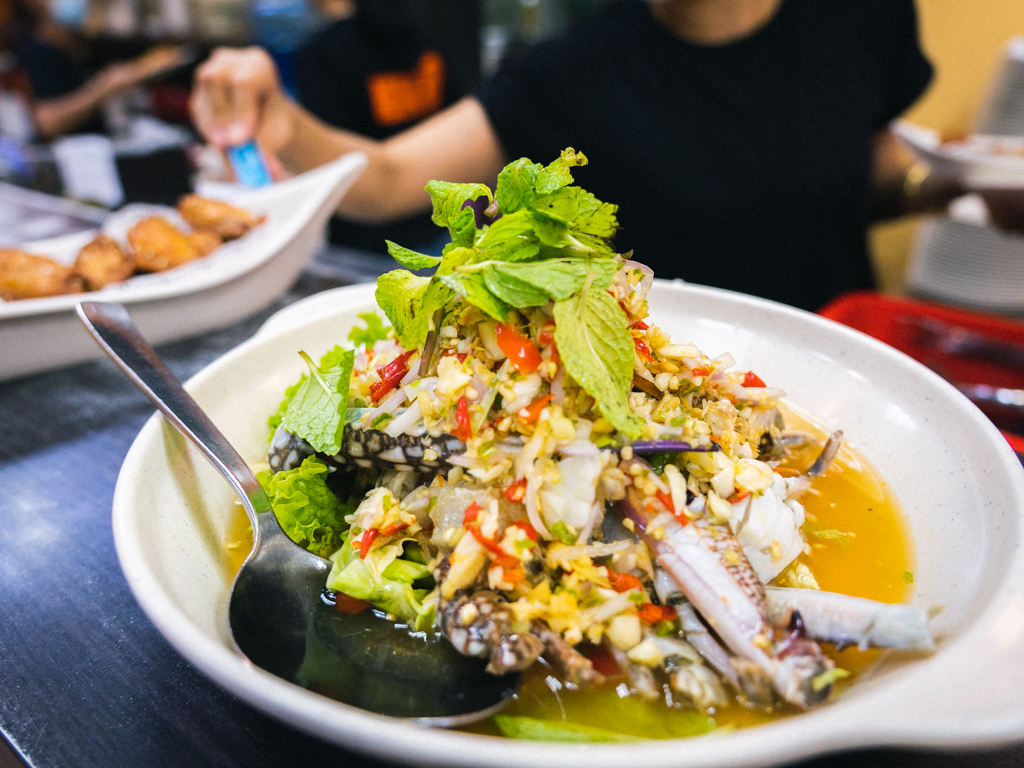 But insiders will tell you that what makes the place most special are off-the-menu items, exotic street food such as fried duck bill, and the ability to customise your dish.

It also prides itself on authenticity, such as pairing its Thai basil fried rice with the less commonly seen bamboo shoots.

"I always tell customers if it's less spicy, no chilli, it's not nice; the taste is different," says Simachat, a business management graduate from the Singapore Institute of Management.

Even as a young child, she was unfazed by the dangerous and seedy image of Golden Mile Complex. After all, it's the only home she has known. So when the news of the en bloc broke, it came as a huge blow.

"It's a pity because we have been here a really long time and we're very familiar with this place. The whole building is Thai. It's considered a very friendly mall, and we're more like friends with everyone. It's our safe place. Once we move out, it won't be like this anymore," she says.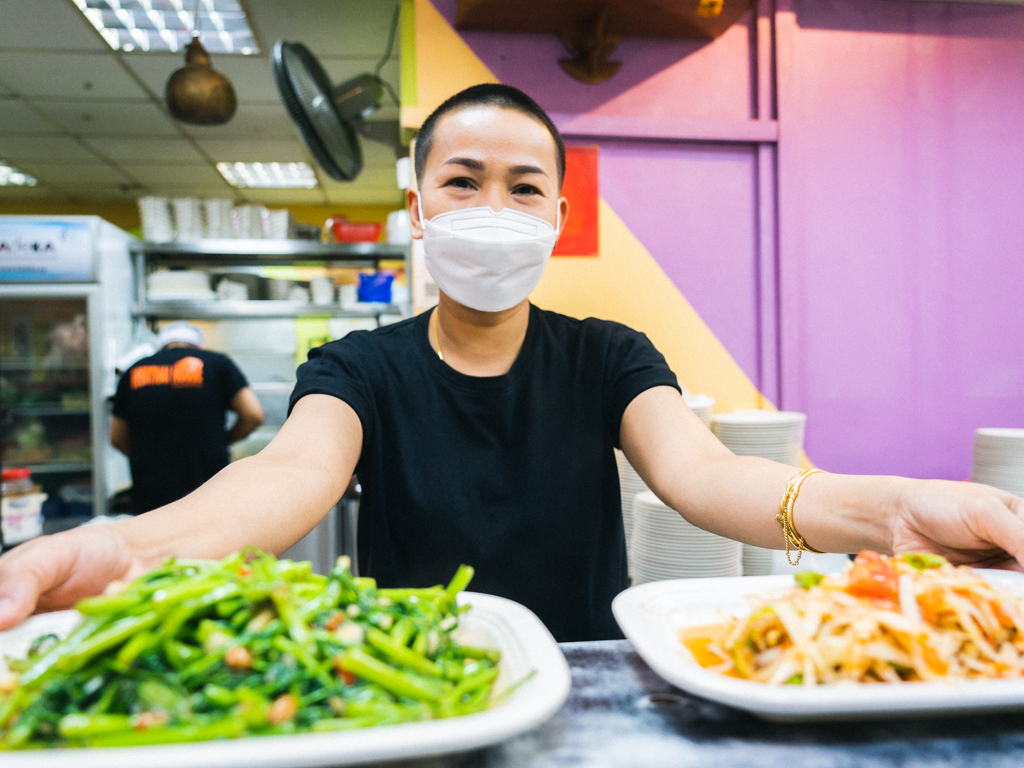 Still, they're excited that this marks the beginning of a new chapter for the restaurant.

They've already secured a small unit at the nearby City Gate mall to cater to the office crowd and another one on Kitchener Road.

In a major move, they'll be opening their main branch in a shophouse in the Bugis area after Chinese New Year, which falls in January next year.

Though it's done with some trepidation and the prospect of steeper rent, the move will give them more ownership over the space than being in a commercial mall subject to strict management.

The menu will remain the same and they will try to keep prices low, says Simachat.

"We're not sure what the crowd is going to be like, but we're hopeful that we'll continue to see our loyal customers supporting us," she adds.
2. Golden Banana
5001 Beach Road, 02-64
Open: Tuesday to Sunday (10am to 8pm)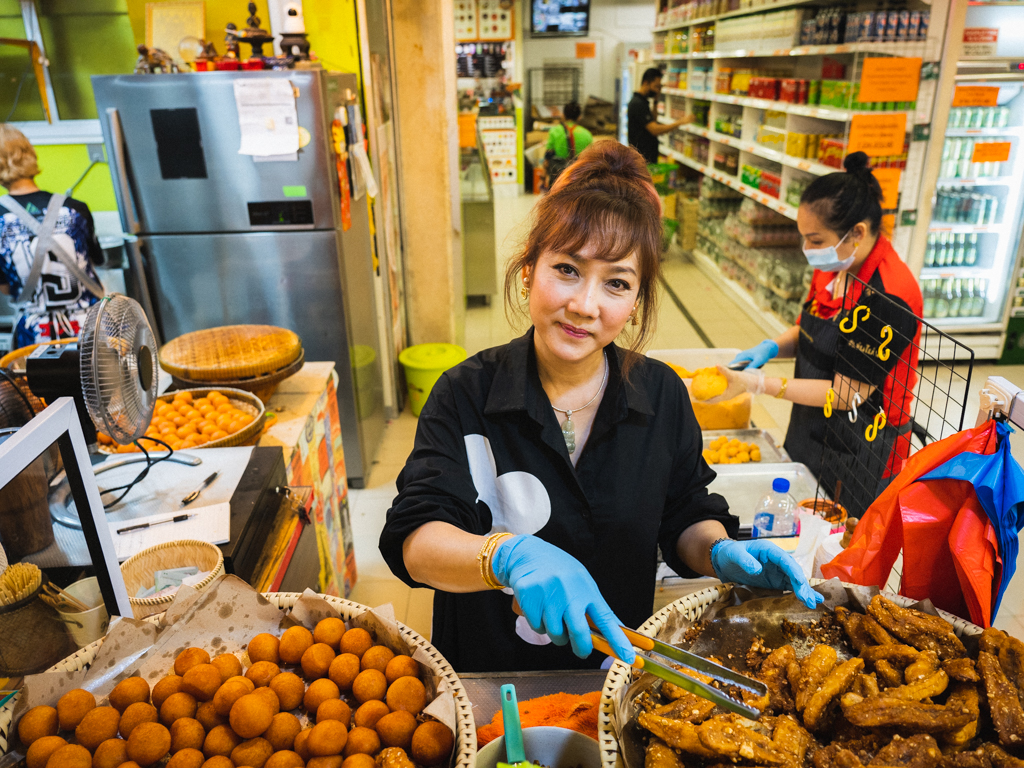 Despite being situated in an inconspicuous corner outside the Thai supermarket on the second floor, the unassuming Golden Banana draws a non-stop stream of customers eager to snap up its delectable selection of gloriously fried goodies.

Think fried banana fritters, sweet potato balls, fried yam and fried sweet potato in sizzling vats of oil — a spectacle to behold. It's simple, but hits the spot.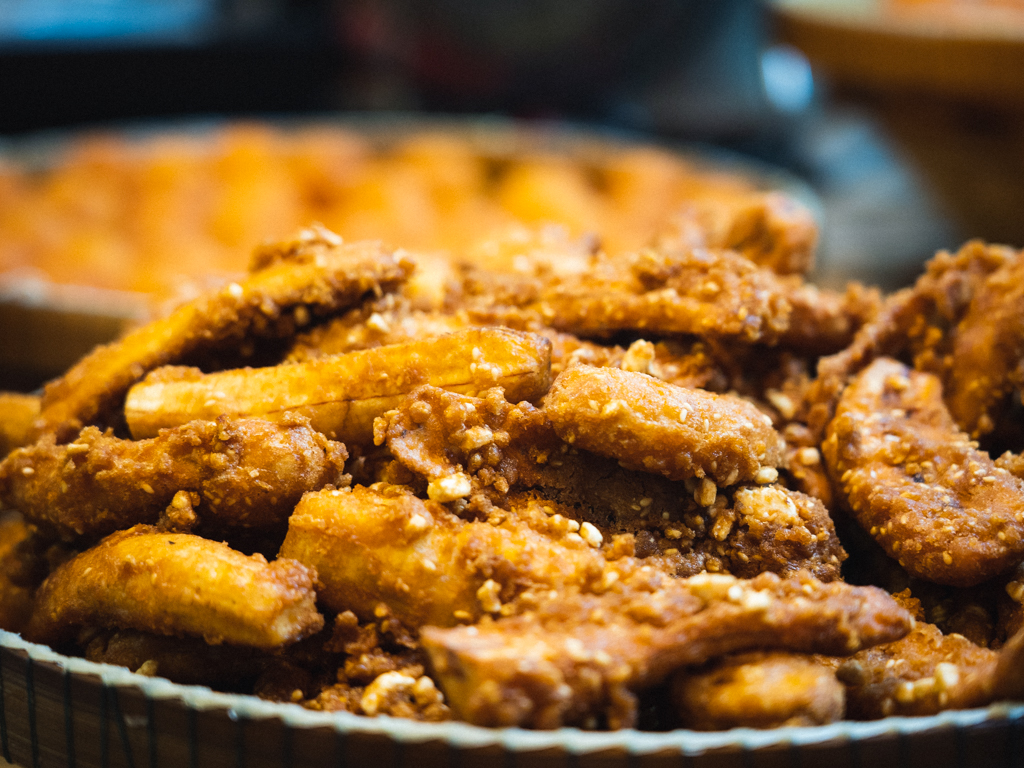 Interestingly, founder Saelee Pornjit's (informally known as Jitty) story reads like a tale of the unlikely entrepreneur.

Formerly a secretary at a law firm in Golden Mile Complex, she was first approached by the folks at the Thai supermarket to open a stall there. In 2011, she tried her hand at selling Thai bubble tea.

Then she started to experiment with selling fried bananas, continuously tweaking the recipe based on customers' feedback.
To her surprise, the business exploded in popularity. "We just (did) more and more until no time to do bubble tea," says the 56-year-old with a laugh.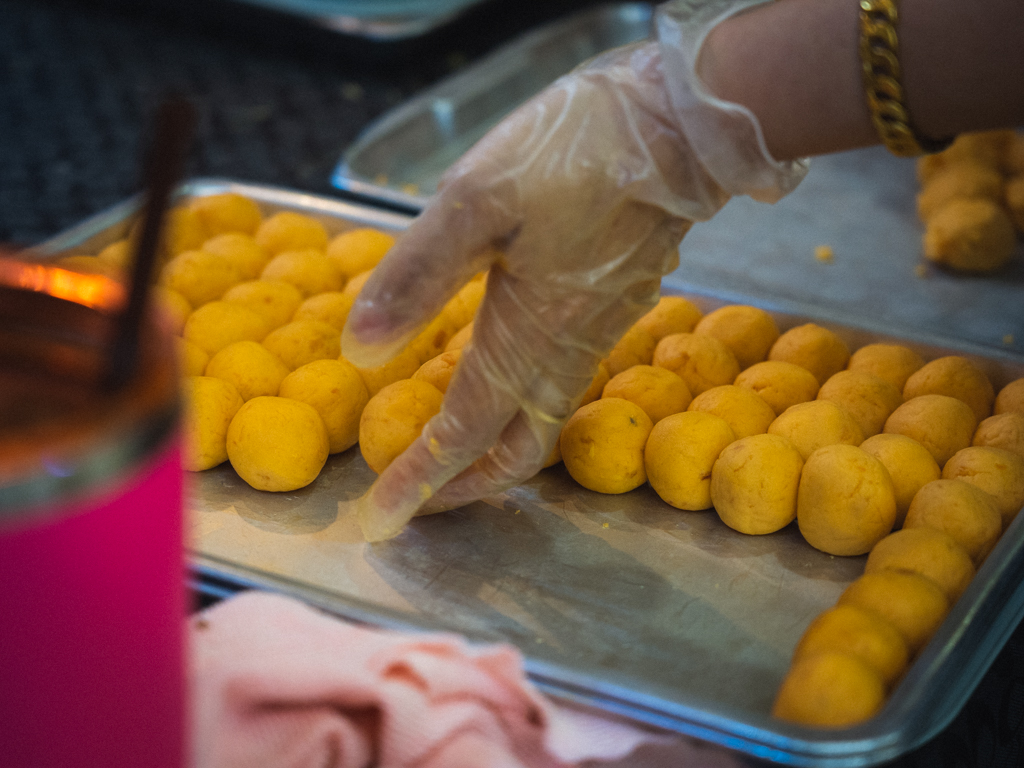 Unlike the Singapore-style goreng pisang, the Thai fried banana fritters are larger and sweeter.
The secret is in the flour and the exact temperature of the oil, she reveals. Every day, the shop gets through at least 20kg of flour.

And once the store is open, the crew are on their feet non-stop from 10am to 8pm.

The top-selling items of banana and sweet potato balls are in such high demand that Pornjit's team has no time to focus on cooking the other items, such as yam and sweet potato.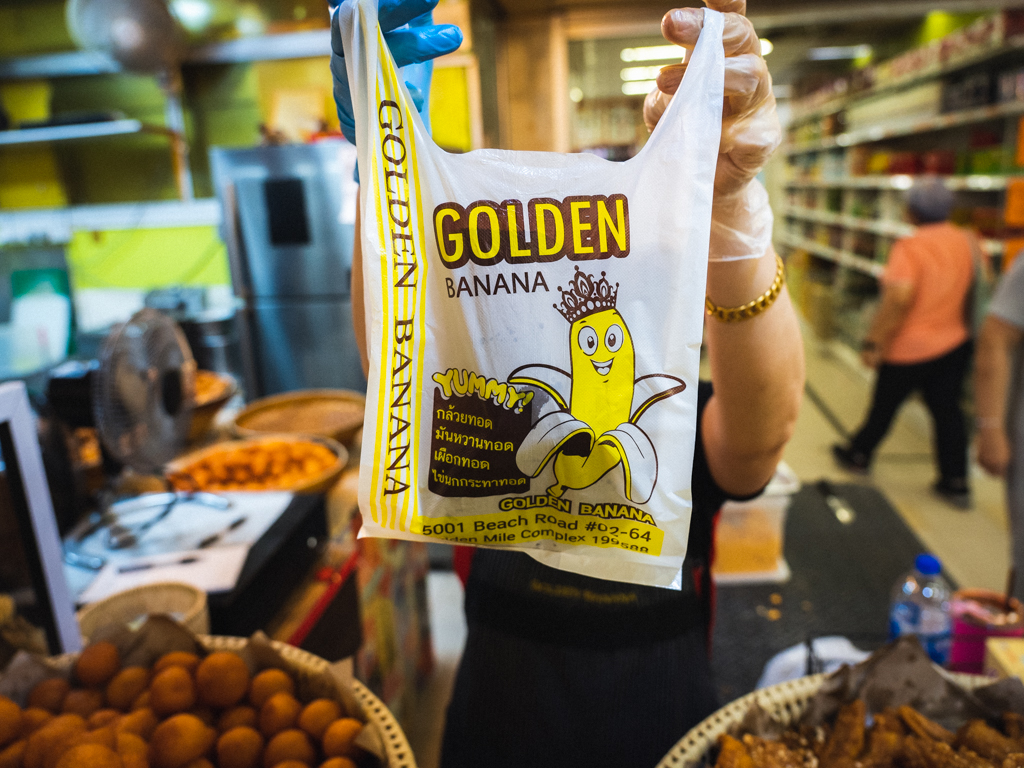 For now, she plans to secure a unit at the nearby City Gate at the end of the year, though she's unsure if the crowds will return.

"I feel quite sad… Now I've a lot of customers and suddenly no more this place. It's a pity that we've to start all over again in a new place," she says.
3. Tha Chang Noodle Bar

5001 Beach Road, 01-91
Open: Tuesday to Sunday (12pm to 4pm, 5pm to 10pm)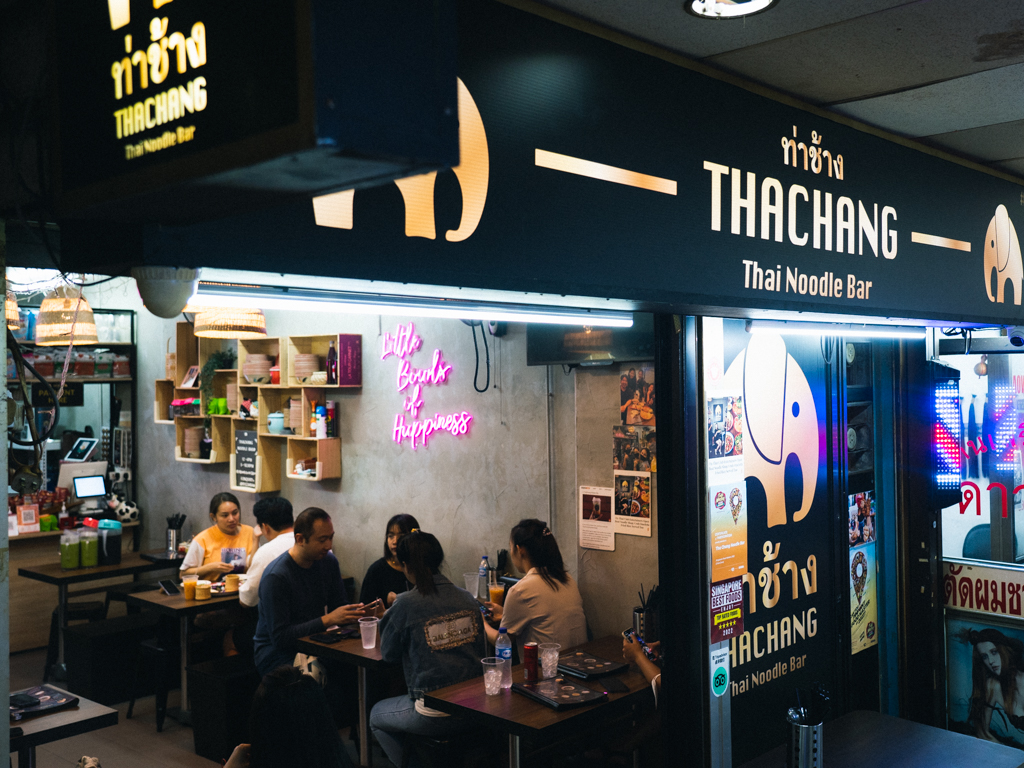 The people behind Tha Chang Noodle Bar wanted to start their business on a high. But they found their plans derailed by the heightened alert dine-in bans against the backdrop of Covid-19.
Just when things started to pick up and they were on the verge of expanding, they suffered a second blow — the news that Golden Mile was going en bloc. 

Opened in April last year, Tha Chang Noodle Bar was founded by Thai friends Anna Phusanisa and Maysa Dusita, who were brought together by their love of cooking authentic dishes from their homeland.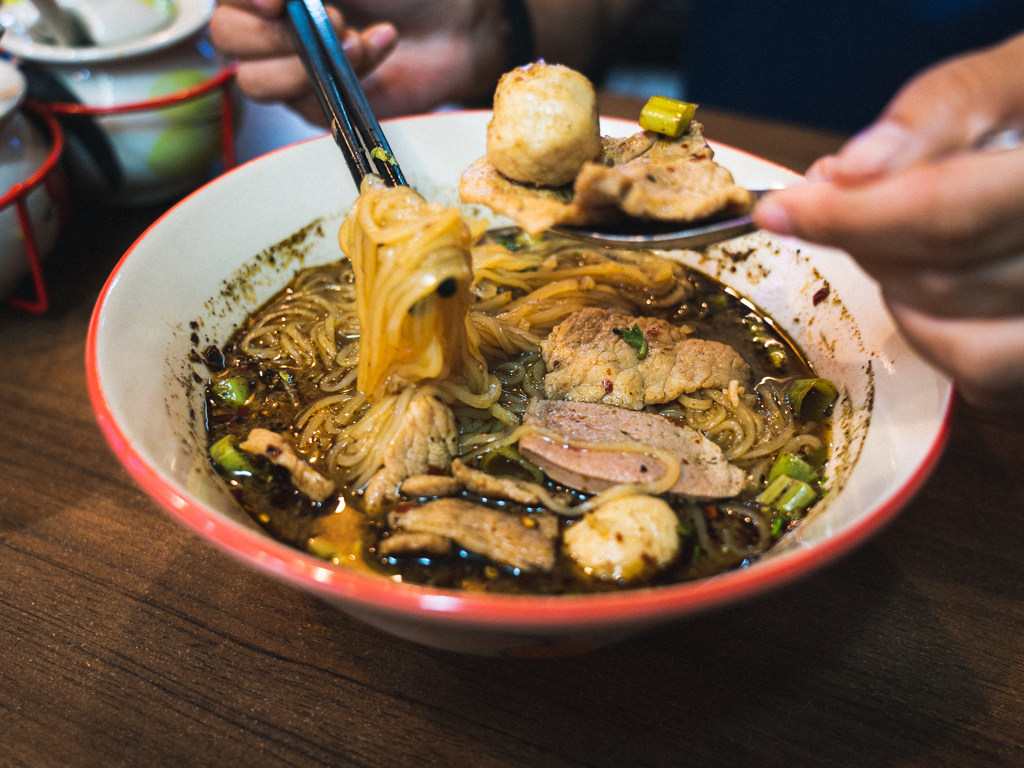 They were eager to let Singaporeans have a taste of the Thai boat noodle, a traditional food sold off boats at floating markets in Thailand. It's also commonly found in Bangkok's famed neon-lit Victory Monument boat noodle alley.

The pair studied under a veteran Thai chef with more than 20 years of experience to create a mouthwatering broth that balances sweet, salty, sour and spicy notes, and a hint of charcoal as well. 
We wash down the spiciness with a refreshing matcha cream cheese drink made from tea leaves sourced from Chiang Mai.

The eatery also offers a range of Thai cuisine, such as the omelette crab bomb, fermented grilled pork skewers, larb Isaan (Isaan-style meat salad), muu nam tok (Isaan Thai pork salad), tom sap (hot and spicy sour pork rib soup), and more.

The team also noticed that Singaporeans are more adventurous and willing to try more exotic items on their menu, such as raw prawns, says Dusita, who oversees kitchen operations.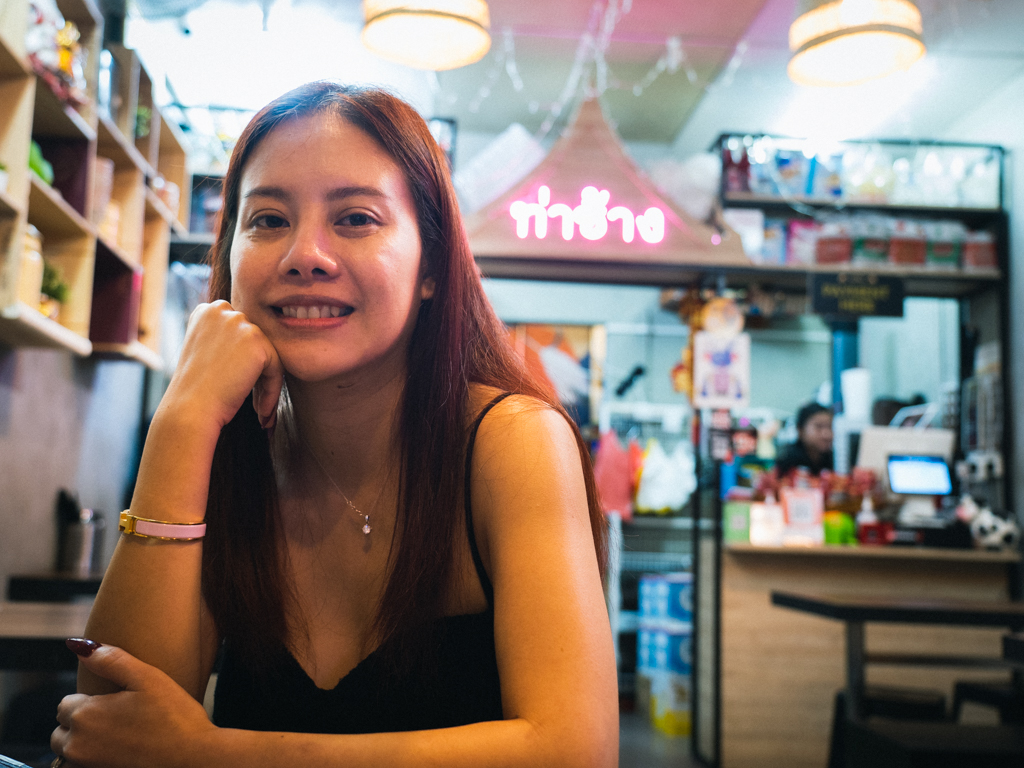 For now, the team is in the midst of searching for a new space.

Phusanisa's husband Shawn Chio, who helps with marketing, says: "We're still waiting to see where most of our Thai neighbours will relocate, so we can continue to be near the Thai community."
But beyond the good food, it's clear that the present iteration of Golden Mile Complex occupies a special place in people's hearts and will be sorely missed when it's gone.
Beerthai House Restaurant and Tha Chang Noodle Bar are on the GrabFood delivery service. You can also book a ride to Golden Mile Complex.