Food Guide: Geylang Serai Food Centre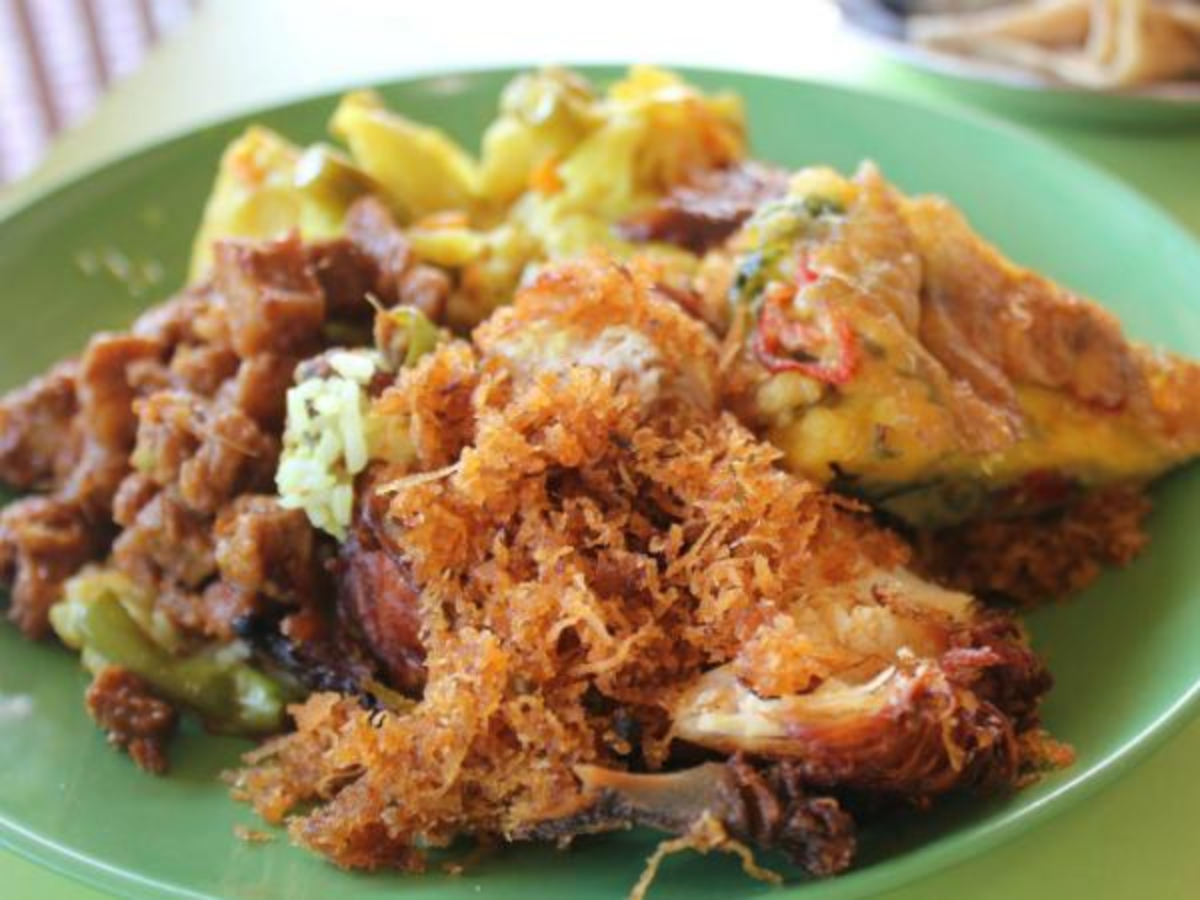 *This feature is out-of-date. Our current guide to Geylang Serai Market is  "Hawker food guide: Geylang Serai Market"
For many years, Geylang Serai market and food centre operated on makeshift stalls. It wasn't until 2006 when hawkers were housed in the two-storey kampung-house-inspired building. A trip to Geylang Serai is a foodie's dream. At the wet market, imported goods for Malay cooking are found. The food centre on the second floor houses some of the best halal Muslim food in town, from nasi padang to Indian rojak. These stalls close early, so the best time to go is from morning until lunch hours when the place is bustling. Grab a cup of teh tarik and enjoy the vibe.
Geylang Serai Market and Food Centre | Address: 1 Geylang Serai 
Hajjah Mona
Hajjah Mona is inevitably the most decorated stall in Geylang Serai –  the bright neon sign, the display of scrumptious dishes and the media reports dishing out accolades of the cooks' culinary excellence. While there is a great variety of food items, from rendang to opor (lemongrass and coconut chicken curry), it is the rice sets ($5 onwards) that caught our eyes. For beginners, go for nasi rames, a rice set of beef rendang, fried chicken with serundeng (caramelised grated coconut), sambal goreng (spicy stir-fried beancurd and tempeh) and sayur lodeh (mixed vegetables curry). Flavours are mild in this dish, dominated by the sweetness from the caramelisation in rendang and serundeng. For the adventurous ones, go for the nasi rawon, rice drenched in black-coloured gravy made with buah keluak (candlenut paste) and beef stock, served with your choice of meat. The buah keluak gives an earthy flavour, with a faint hint of sweetness, best to spice it up with some sambal.
Hajjah Mona, #02-166 | Tel: 82826902 | Opening hours: Sun-Tues, Thu-Sat 8am-7pm
Otak-otak Kampong Wak Murset
This stall right next to Hajjah Mona runs like a tiny otak factory, with a family forming a systematical production line. The owner, Wak ("uncle" in Malay) Murset himself, is often spotted grilling otak (minced fish meat in spices), while his children prep the ingredients at the back and his wife packs the otak for customers. There is only one type of otak here, the "original kampung style" (five for $2). His pride in his product is shown with the tagline "life is not complete without trying this otah" running across the stall's signboard. Instead of fish paste, he uses coarse minced fish meat with a hint of rempah (spices), lemongrass and a significant amount of serundeng (sauteed grated coconut). This last ingredient not only adds sweetness to the fish mixture, it also gives the otak a unique gritty texture. There is usually a queue at this stall.
Otak-otak Kampong Wak Murset | #02-165 | Opening hours: Daily 10am-8pm
Muhabbat Setia Hati Roti Chapati
Chapati, which is made with whole wheat flour and cooked with no oil, is considered the healthiest option among different types of Indian bread. This stall offers just that, and each chapati is made fresh upon order. It is soft and doughy with slightly crispy edges. The extra wheat flour, that is dusted on the dough upon pan-frying, gives the bread a nice floury edge, like what salt does to french fries. The stall offers different types of gravy to go with the chapati (a set comes with two pieces), and we went for the vegetarian dhal set ($3.50). It is flavourful with a hint of masala that complements the bread well. Other gravy include the vegetarian stew and mutton keema (minced). The couple has been running this stall since the days when Geylang Serai was just a makeshift market. The stall closes on certain days of the week on an ad-hoc basis, usually on Mondays.
Muhabbat Setia Hati Roti Chapati | #02-162 | Opening hours: Daily 2pm-6pm
Rojak & Mee Siam
The notorious food poisoning case that involved the owner's father of this stall does not deter their loyal followers. The two sons have made a comeback, and the food is as good, if not better than how their father prepared it. They are generous with the gravy, which is the key attraction here. Only sweet potato is used to create this thick gravy, which has a hint of chilli, just enough for a pleasant kick. Customers may ask for a top-up of gravy, which is the owners' way of showing their appreciation. To go with that gravy, choose from the variety of fritters (50 cents onwards per piece), such as fried beancurd, coconut balls, shrimp fritters, vegetable fritters, limpa (spleen) and braised squid, which have a different flavour and texture compared to the typical fritters. To complete the plate of carbohydrates are some fresh lettuce, cucumbers and shallots.
Rojak & Mee Siam | #02-126 | Opening hours: Tue-Sun 9am-4pm
Iqbal Soup Kambing
The signboard shows a range of Muslim fare, such as the sinful soup tulang (bone marrow soup), and kampung-style fried rice and noodles. But the huge pot of soup displayed at the store-front steals the show. The aroma of spices and mutton that smells slightly gamey lured us in further. Iqbal's mutton soup is robust and balanced with a spicy kick. Order the campur (mix, $10/$12) version for the complete experience. It comes with chunks of mutton with bones and various cuts of the animal. The meat is tender with the fatty cartilages just enough to hold it together. The combination of the cuts give it layers of texture: chewy, tender and crunchy, all in one. The portion is huge, so do share with a friend or two. Iqbal Soup Kambing is also one of the very few stalls that are still open in the food centre after 8pm.
Iqbal Soup Kambing | #02-128 | Opening hours: Daily 9am-9pm
Sinar Pagi Nasi Padang
There are many different styles of nasi padang, from those in Indonesia style to Singapore Peranakan style. Sinar Pagi does it Kapau style, inspired from the same region in west Sumatra, Indonesia. The rendang, for example, has a more intense flavour, it has been caramelised longer, and the meat looks almost jerky-like. However, with excellent knife skill and control of fire, the meat remains juicy and not chewy. Other must-try items are the ayam panggang (smoky grilled chicken with sambal), dendeng balado (beef jerky with fresh grounded chillies and shallot) and nangka lemak (jackfruit stew with coconut). The dishes have just enough kick without being too overwhelming for the palate. Sinar Pagi has been around since the late 1960s, and today, it has two other outlets at Circular Road and ABC Brickworks Food Centre. Note that the dishes are pricier than other nasi padang stalls, with a plate with a choice of meat and a vegetable cost around $6.
Sinar Pagi Nasi Padang, #02-137 | Opening hours: Daily 9am-8pm (closed on alternate Mondays and Thursdays)
Geylang Serai Chee Kong
The best way to end a meal at Geylang Serai will be with a refreshing bowl of cheng tng. The family that runs this stall has been in the business for 40 years, and they are related to the famous Ye Lai Xiang Cheng Tng in Bedok. Their version ($2) has the usual mix of dried longan, ginko nuts, sweet potato, barley and green beans, but with extras of sago balls and bits of candied coconut. The candied coconut remains crunchy in the broth, and the sugar coating does not dilute in the cool dessert to over-sweeten it. But it is sweeter than the usual ones sold elsewhere, so ask for less sugar if that is your preference.
Geylang Serai Chee Kong | Address: #02-149 | Opening hours: Daily 9am-7.30pm 
---
This archived article appeared in an earlier version of HungryGoWhere and may not be up-to-date. To alert us to outdated information, please contact us here.