12 Best Dim Sum Restaurants in Singapore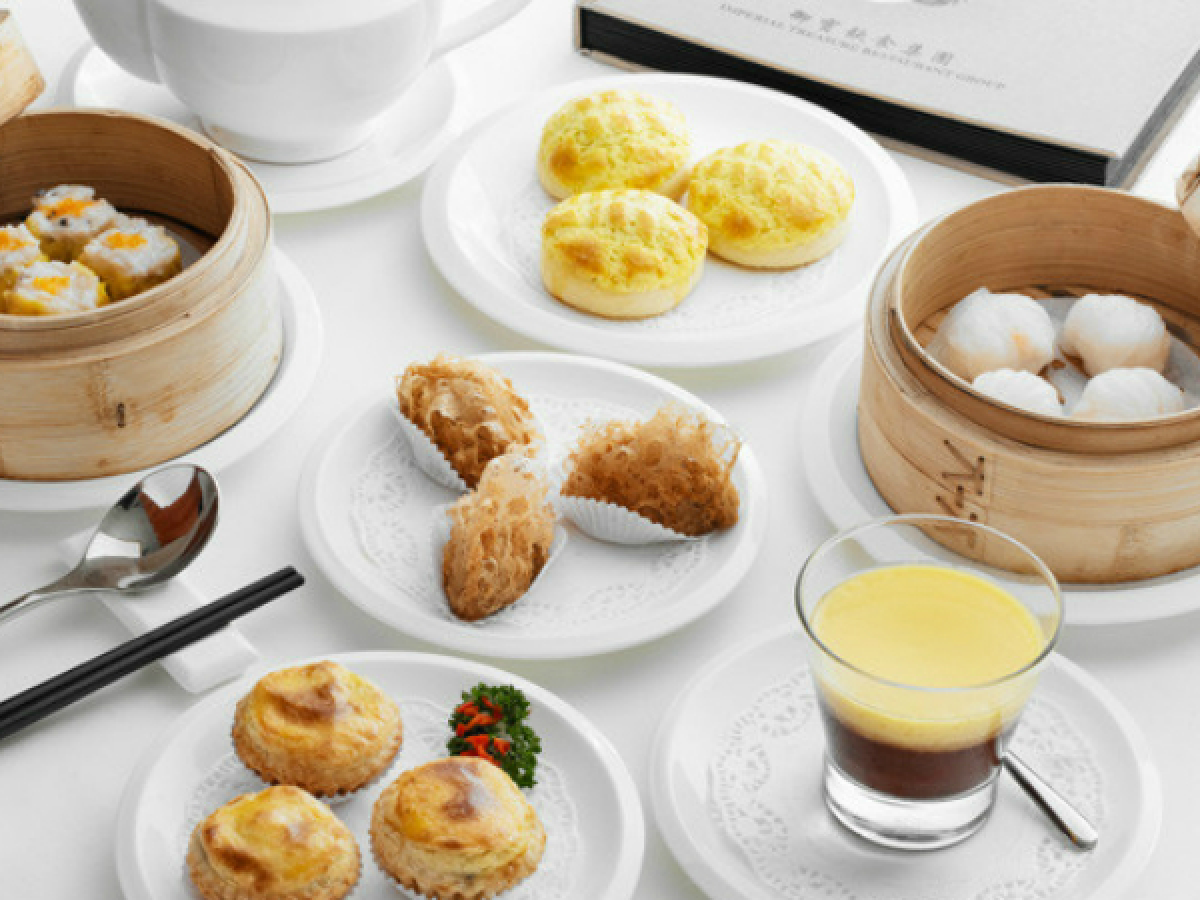 Dim sum has always been comfort food in Singapore, owing to many early Cantonese migrants bringing these wonderful little dishes to our little island. Through the decades, Singapore's dim sum culture has also evolved include dishes from other styles like Shanghainese, Szechuan, as well as unique local modifications like multi-flavoured har gao (prawn dumplings).
Many restaurants in Singapore only serve dim sum in the morning till mid-afternoon, before switching to a different dinner menu. This is traditionally a meal that is for the early birds, though these days are some establishments that serve dim sum throughout the day. We round up 12 of the top dim sum dishes in Singapore, and offer suggestions on what you should order alongside.
Cherry Garden
For a dim sum buffet selection with premium ingredients
Walk through the oriental wooden doorway into this restaurant that has been designed to mimic a Chinese courtyard. Like its surroundings, Cherry Garden's weekend dim sum buffet ($68 per person, $40 for children aged 7-11 years) selection is mostly traditional, with a few new touches. What Cherry Garden excels in is using fresh and premium ingredients to make the standard dim sum even more outstanding. The glazed kurobuta char siew pau ($16 for the small portion, $24 for the large) is probably the best char siew pau we've had, ever. We hear the waitilist for this restaurant can go up to a few weeks – best book now.
Cherry Garden | Address: 6 Raffles Boulevard, Mandarin Oriental Hotel, Level 5 | Tel: 6885 3500 | Dim sum a la carte (lunch) hours: Daily 12pm-2.30pm, Dim sum buffet serving hours: Sat/Sun & Public Holiday 11am-1pm, 1.30pm-3.30pm 
Hai Tien Lo
For vast dim sum buffet with premium offerings
Hai Tien Lo offers both weekday dim sum lunch ($56 per person) and weekend ($68 per person) dim sum brunch buffet. The weekday lunch buffet comes with one Chilled Homemade Bean Curd with Bird's Nest and the weekend brunch offers one premium Buddha Jumps Over the Wall soup, as well as one braised abalone per person. The vast menu also sees Teochew- and Thai-influenced dishes offered in the dim sum brunch. The quick-fried Hokkaido scallops is freshly sweet, while the double-boiled chicken soup is full of flavour yet light to the sip. Although no longer on the 37th floor, this grand and lavish dining hall still holds many elements that will remind diners of a Chinese emperor's palace.
Hai Tien Lo | Address: 7 Raffles Boulevard, Pan Pacific Hotel, Level 3 | Tel: 68268240 | Dim sum serving hours: Weekday lunch buffet 11.30am-2.30pm, Weekend brunch buffet 11.30am-2.30pm 
Hua Ting Restaurant
For best overall dim sum selection
Helmed by chef Chung Lap Fai, Hua Ting is an excellent choice for mid- to high-range dim sum. We were impressed by almost every dish: the baked mango with chicken tart ($5.70) and double-boiled Cantonese soups are our favourites. The liu sha bao (salted yolk custard buns, $4.20) is thick, creamy with a hint of salty graininess and smooth skin. A couple of tips: this Cantonese restaurant is typically packed, so make reservations at least two days ahead. Ask for its homemade XO chili sauce to go with your dim sum as well, you won't regret it.
Hua Ting Restaurant | Address: 442 Orchard Rd, Level 2 Orchard Hotel | Tel: 67396666 | Dim sum serving hours:  Mon-Fri 11.30am-2.30pm, Sat & Sun 11.30am-2.30pm
Imperial Treasure Cantonese Cuisine
For exceptional Cantonese dining experience
Concentrating mainly on authenticity, Imperial Treasure serves wonderfully crafted dim sum prepared by their Hong Kong chefs. The quality is consistent at this branch, as it is at the many branches of Imperial Treasure (like at Nan Bei or La Mian Xiao Long Bao), but Imperial treasure Cantonese Cuisine has the best selection. The dim sum dishes with fresh prawn are crunchy and delicious, like the prawn cheong fun ($7) and siew mai ($5.60). You'll love crunching on those.
Imperial Treasure Cantonese Cuisine | Address: 1 Kim Seng Promenade, #02-05A/6, Great World City | Tel: 67322232 | Dim sum serving hours: Weekdays 11.30am-3pm, Sat 11am-3pm, Sun 10.30am-3pm, Daily dinner 6pm-11pm
Man Fu Yuan
For dim sum buffet with the tai tais
Man Fu Yuan offers both dim sum a la carte and a weekend dim sum brunch buffet ($58 for adults, $29 for children aged 4 to 12). Decorated with butterfly lamps and peony flowers, this restaurant exudes a nostalgic yet classy atmosphere. The dim sum served is handcrafted and premium; try the prawn and banana roll with wasabi ($6.80) which has perfectly fried skin.
Man Fu Yuan  | Address: 80 Middle Rd, Intercontinental Hotel (2nd floor) | Tel: 68251062 | Dim sum serving hours: Mon-Fri 11.45am-3pm, Sat, Sun & Public Holidays 11.30am-3.15pm, Daily dinner 6.30pm-10.30pm; Buffet serving hours: Every weekend and Public Holiday 11.45am-2.30pm
Peach Garden
For modern dim sum
The first Peach Garden opened in Novena Gardens in 2002 as a place for up to 140 diners in search of good Cantonese cuisine to gather. Since then, they have opened seven more outlets in Singapore. They have also branched out to include one fine dining restaurant and a noodle house. The modern style dim sum at Peach Garden is made with a mix of Asian methods including the Thai style. The liu sha bao ($6.80), roast pork cubes ($14) and XO chilli carrot cake ($12) are must-tries and perfect when washed down with a tall glass of Coca-Cola. Service is attentive and conscientious, making it an apt choice of restaurant for business and family dinners.
Peach Garden | Address: Level 3, Miramar Hotel, 401 Havelock Road and eight other locations | Tel: 67363833 | Dim sum opening hours: Daily 11am-3.30pm, 6pm-10.30pm
Swee Choon
For affordable all-night dim sum
This is one of Singapore's oldest and most successful roadside dim sum places, and one of few that open all night, six days a week. Although Swee Choon has raised prices, the dim sum is still very affordable. The Swee Choon mee suah kueh (vermicelli cake, $2.40 for two) is a rare dim sum find in Singapore – vermicelli packed together into a cake and pan-browned on the outside to a crisp. Other notable dishes to order: fluffy char siew bao ($2 for two) and the fiery chao shou (big wonton-like dumplings topped with sesame paste and chilli oil, four for $4.50). Take note of the appetizer and napkin charges.
Swee Choon | Address: 191 Jalan Besar | Tel: 62257788 | Dim sum serving hours: Mon-Sat 11am-2.30pm, 6pm-6am; Sunday and Public Holidays 10am-3pm, 6pm-6am; Closed on Tuesdays
Tim Ho Wan
For all-day Michelin-starred dim sum dining
It does not merely have some of the best char siew buns in our world, Tim Ho Wan is also the cheapest Michelin Star restaurant you will find on this planet. Four branches after (Singapore is the first country outside of Hong Kong to have Tim Ho Wan branches), the queues are still way too long – the Plaza Singapura branch has a record waiting time of up to two hours. Still, many queue up for their baked bun with barbecue pork (three for $5.30) and ma lai gao (steamed egg cake, $4). You're better off going to the Toa Payoh outlet at odd hours like 3pm if you want to skip the queuing. Other branches include those at Westgate Mall and Bedok Mall. The quality across the branches is the same, for the most part.
Tim Ho Wan | Address: 450 Lorong 6 Toa Payoh #02-02, Hersing Centre Singapore, and seven other locations | Tel: 64832000 | Dim sum serving hours: Mon-Fri 11am-9pm, Sat, Sun & Public Holidays 9am-9pm
Victor's Kitchen
For a traditional and modern Cantonese dim sum hideaway
Tucked in the crevices of Sunshine Plaza is this once-very-affordable dim sum kitchen; it raised prices after its Hong Kong-style 'little hearts' began to get popular. The folk at Victor's Kitchen compensate for this by giving larger-sized dim sum, like in the wet XO sauce carrot cake ($4.80) and siew mai ($4.80). One of our favourite dishes is the har gow ($5.20) that comes plump with full prawns. This restaurant gets packed like sardines during lunch and dinner, so come during off-peak hours.
Victor's Kitchen | Address: 91 Bencoolen Street, Sunshine Plaza, #01-49 | Tel: 98382851 | Dim sum serving hours: Mon-Thurs & Sun: 10.30am-8pm, Fri-Sat: 10.30am-9pm; Open on Public Holidays
Wen Dao Shi
For more than just affordable 24-hour dim sum
Wen Dao Shi, or 126 Wan Dou Sek in Cantonese, is a place we've been visiting for years. The dishes are all really affordable, with one of the largest range of fried dim sum we've seen. The 1980s Hong Kong stall lookalike clearly has more than one draw,  The prawn cheong fun ($4.20) has – in comparison to most dim sum restaurants – smaller rolls and a thicker sauce, while the pork belly buns ($3.50) are miniature version with thinner skin and pork belly fats within. A tip: although not dim sum, their Thai-style crab bee hoon is amazing and flavourful, and at only $20. Possibly the best value-for-money crab bee hoon in Singapore.
Wen Dao Shi | Address: 126 Sims Avenue | Tel: 67464757 | Dim sum serving hours: Open 24 hours.
Yan Ting
For the best (and most expensive) dim sum buffet
Clearly, price equates quality, and Yan Ting has, in our opinion, the best dim sum brunch in Singapore. For $108++ per person, you get an a la carte brunch buffet that includes dishes like black truffle siew mai, lobster steamed with hua diao wine (all superb). Other Cantonese dishes like pork and century egg porridge are also available. Opt for the morning seating – it's less crowded, so you're be able to admire the elegant, modern interiors of this second-floor St Regis restaurant. Plus the dishes won't run out as fast.
Yan Ting  | Address: 29 Tanglin Rd, St.Regis Hotel (Level 1U) | Tel: 65066887 | Dim sum serving hours: Sat-Sun & Public Holidays: 10.30am-12.30pm, 1-3pm 
Yi Dian Xin Hong Kong Dim Sum
For fuss-free heartland dim sum
Yi Dian Xin is no doubt, the epitome of no frills, fuss-free and cheap hawker dim sum. Located along the popular midnight supper spot of Upper Serangoon, it is easy to miss this little corner shop with massive crowds for Teochew mui (porridge). Things can get a bit messy on a Sunday afternoon as its reputation starts to spread; owner-chef Foong was a former Tung Lok chef. Try the signature liu sha bao ($3.80) and Yi Dian Xin prawn dumpling ($3.50) which are extremely worth their price for the quality.
Yi Dian Xin Hong Kong Dim Sum | Address: 1012 Upper Serangoon Road | Tel: 91685587 | Dim sum serving hours: 7am-5pm; closed on Tuesdays
---
This archived article appeared in an earlier version of HungryGoWhere and may not be up-to-date. To alert us to outdated information, please contact us here.