Jack's Place: Throwback to the 80s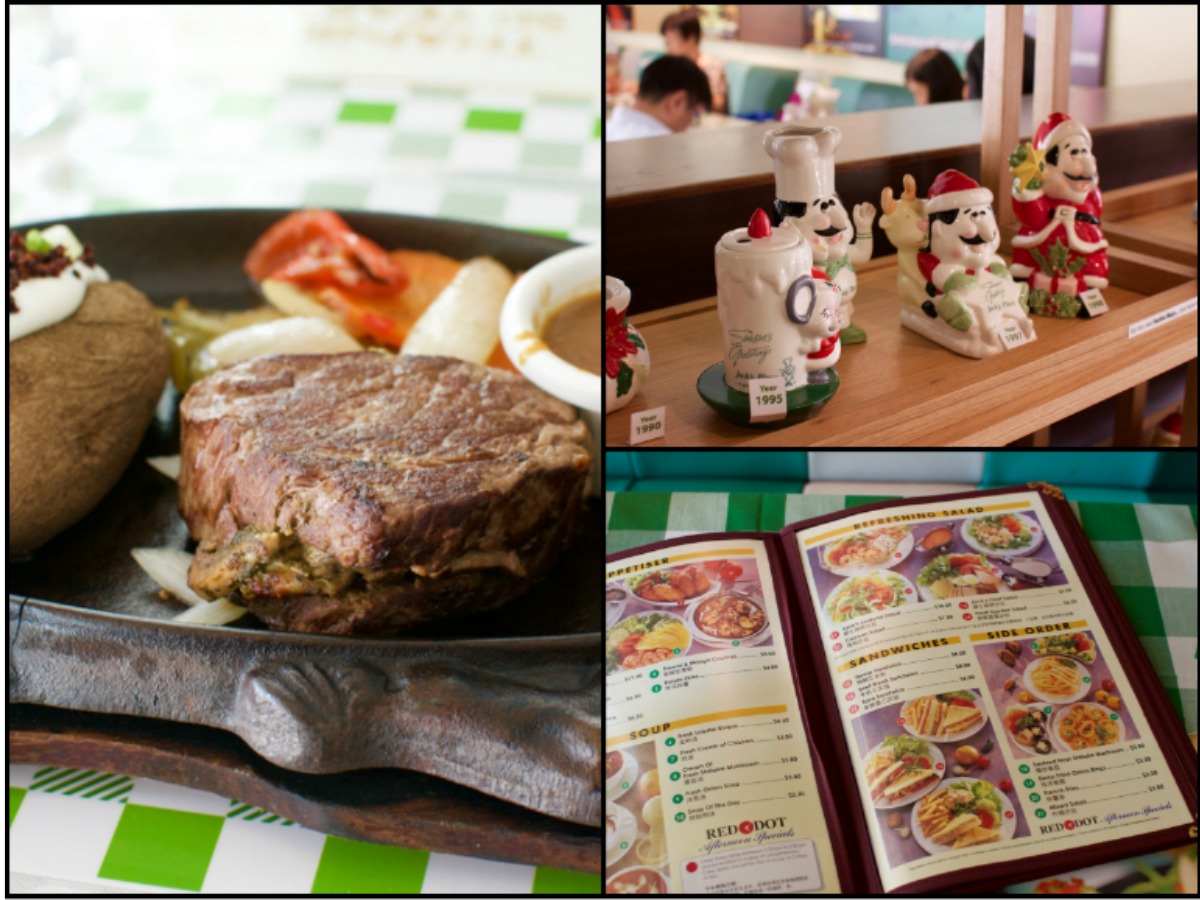 We previously reported that Jack's Place would be transforming its oldest surviving oldest outlet into 1980s retro for only a week (29 August to 4 September) as part of their 50th anniversary celebrations, complete with a recreation of some of the old forgotten classic dishes of yesteryear, we had to pop down to experience it for ourselves and the experience definitely didn't disappoint.
If you grew up eating at Jack's Place, visiting their Bras Basah Complex outlet this week will definitely invoke feelings of deep nostalgia with a slew of retro dishes and all the familiar trappings.
Step in and be greeted by waitresses clad in traditional Malay sarong kebayas (Malay ethnic garments), something which all Jack's Place waitresses all wore from the time the steakhouse chain started operations in 1966 until the 1990s when they were phased out for the current uniforms.
Over at one corner are a collection of vintage memorabilia from various promotions the restaurant held over the years. Aside from the numerous achievements the restaurant have garnered over the many years like the awards for Singapore Promising Brands three years in a row, also displayed are a collection of old photographs and old newspaper clippings on Jack's Place.
Look out for the collection of festive mugs which they issued every year since 1988 until the early 2000s and the customised silver cutlery with their own customised engravings which read "J.P. STEAKHOUSE".
What really made us feel like we have time travelled back 30 years ago is the old leather-bound menu from the late 1980s that was standard at every Jack's Place restaurant — it revealed what the prices dishes used to be. Not only were steak items more localised like the Fire Steak (flamed with brandy) and Sambal Steak (topped with spicy sambal sauce), they cost a mere $20 back then. A steak at Jack's Place now costs $29.50 and upwards.
Savour the look of their table setting — where napkins are folded, cutlery laid out and the tables are covered with checkered green and white cloths. This format is available at some of their 17 outlets across Singapore but will be phased out for something more modern in 2017.
Thankfully, not everything will be modernised. Their signature steak dishes which come with a whole baked potato and on a sizzling hotplate with bull motifs will remain unchanged. Good news for longtime fans of Jack's Place.
The highlight of the visits were of course the bringing back of the old retro dishes like the Classic Carpetbag Steak ($30.50), a traditional American steak dish of the 1950s where oysters are stuffed in-between a grilled beef tenderloin.
Essentially just an oyster and sliced mushrooms stuffed inside a tenderloin steak — 100 per cent grass-fed chilled beef from New Zealand — the beefy flavour of steak and the seafood flavour of oyster makes for a more complex and robust flavour.
Of course, the brown steak sauce is always a signature favourite at Jack's Place and if you're a regular, you'll always know to ask for an extra bowl of the sauce because one bowl is never enough. The other highlight is their baked potato with sour cream, spring onions and bacon bits that are not just plain ole bacon bits. They have been ground up, fried to a crisp and mixed with bacon fat and makes the baked potato wonderfully rich and moreish.
The other throwback dish is the east-meets-west Grilled Ikan Kurau with watercress sauce ($20.80). The lightly savoury watercress savoury does well in enhancing the lovely sweet flesh of local ikan kurau (Indian threafdfin).
The restaurant has also brought back retro starters which you can't find in most steakhouses anymore like the classic prawn cocktail. Called the Jack's Prawn & Mango Cocktail ($9.80), cabbage with Thousand Island sauce sit in a half-shell mango skin with boiled prawns and topped with intricately sliced mangos. A spritz of lemon on the side is great as it balances out the taste which is predominantly savoury and fruity.
The Oyster Mornay ($13.80 for four) is also another starter they have brought back. They bake oysters in their shell with a mountain of melted mozzarella cheese and seasoned tomato sauce for a rich, cheesy and seafood-stock flavour that can't be beat.
Don't dishearten if you miss the week-long promotion as the special menu will be made available to all of their 17 outlets from 1 September to 31 October 2016.
Oh and happy 50th, Jack's Place.
Here's to the next 50 years.
---
This archived article appeared in an earlier version of HungryGoWhere and may not be up-to-date. To alert us to outdated information, please contact us here.