New hawker stall Danlao at Maxwell Food Centre serves silky scrambled eggs on rice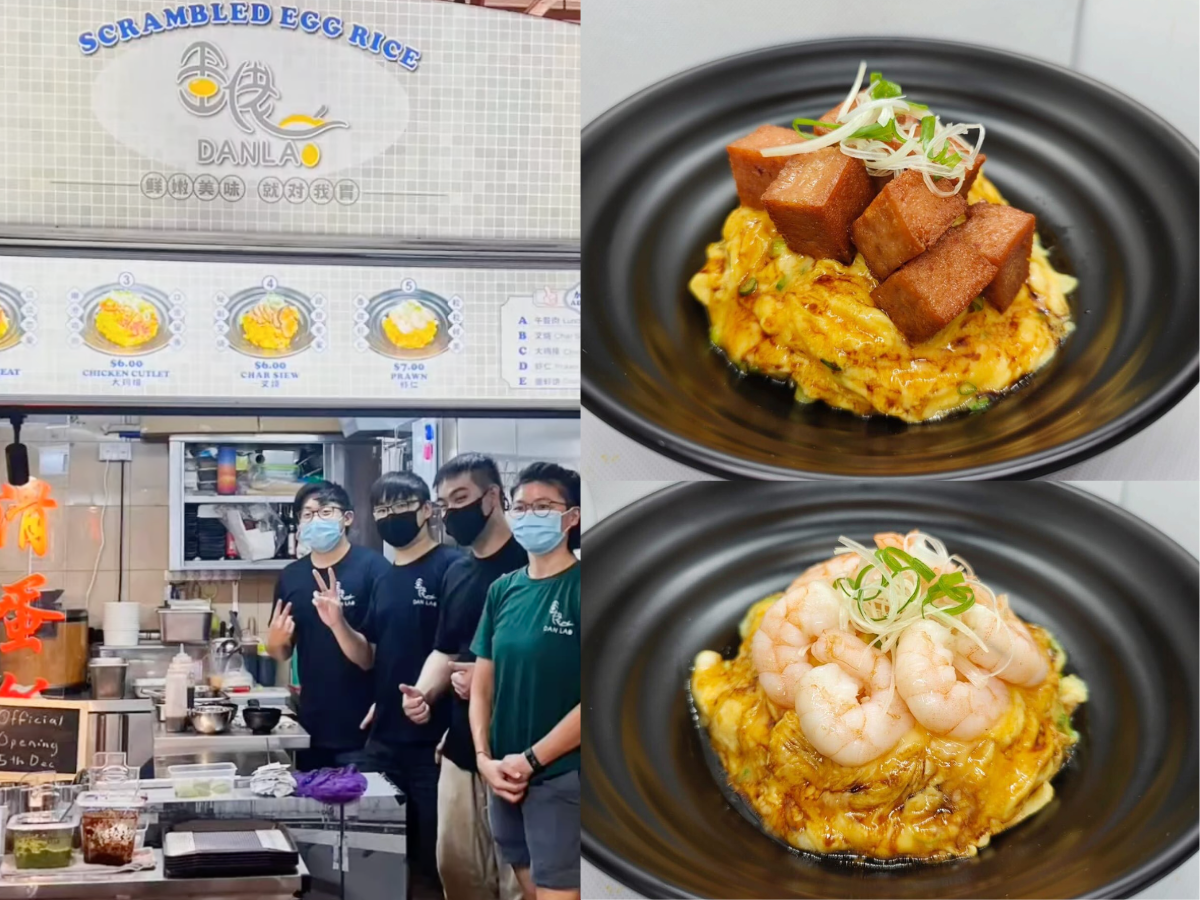 When it comes to places to find good hawker food, Maxwell Food Centre is often top of mind. The well-known hawker centre is a reliable go-to spot for a range of delicious local food that runs the gamut from Hainanese chicken rice to rojak, sliced fish soup and more.
Recently, a few new entrants have renewed buzz for the food centre, such as Nian Nian You Yu, which sells steamed fish sets, and The Pig Organ Soup.
Enter another newbie — Danlao, which literally stands for "guy who does eggs" in Mandarin. Opened on Monday (Dec 5), Danlao is a stall that serves scrambled eggs with warm jasmine rice, which you can elevate with a variety of toppings. 
It is founded by four young hawkers — Ong Zhen Ning, Jermaine Choo, Howard Ng and Lim Siow Fen — who decided to start Danlao as they wanted to serve quality food at affordable prices. The four of them were acquainted through work, childhood or mutual friends. 
Unlike the usual scrambled eggs that tend to have a degree of definition and firmness, Danlao's version is silkier and creamier. Speaking to HungryGoWhere, one of the co-founders said the stall achieves the desired fluffy texture by expertly managing control of the fire and the doneness of the eggs.
They also source quality eggs, based on their experience in the F&B industry. Two of them had worked in specialty egg restaurants, such as American eatery Eggslut.
You can choose from five variations of the stall's signature scrambled eggs with rice. For those who crave a more hearty meal, opt for the char siew scrambled egg rice (S$6), luncheon meat scrambled egg rice (S$5) or chicken cutlet scrambled egg rice (S$6). 
The toppings are placed on top of the freshly cooked eggs, which blanket the rice beneath.
If you'd like seafood, go for the prawn scrambled egg rice (S$7). A non-meat option, the tomato scrambled egg rice (S$4.50), is also available.
For extra zing, dip your scrambled eggs into Danlao's housemade chilli for that spicy kick.
You can also customise your meal by requesting extra toppings at an additional cost. Options include luncheon meat and crispy prawn cake, with prices ranging from S$2 to S$5.
Danlao issues loyalty cards for patrons to collect stamps for every S$6 spent, and a reward can be redeemed once a milestone is reached. Redemptions include a free chicken cutlet or char siew as an add-on to your dish on your next purchase.
Book a ride to Danlao.
Maxwell Food Centre, 01-73, 1 Kadayanallur Street
Nearest MRT station: Maxwell
Open: Monday to Friday (11am to 8pm), Saturday (11am to 3pm)
Maxwell Food Centre, 01-73, 1 Kadayanallur Street
Nearest MRT station: Maxwell
Open: Monday to Friday (11am to 8pm), Saturday (11am to 3pm)