20 Questions with Johanne Siy, Asia's Best Female Chef 2023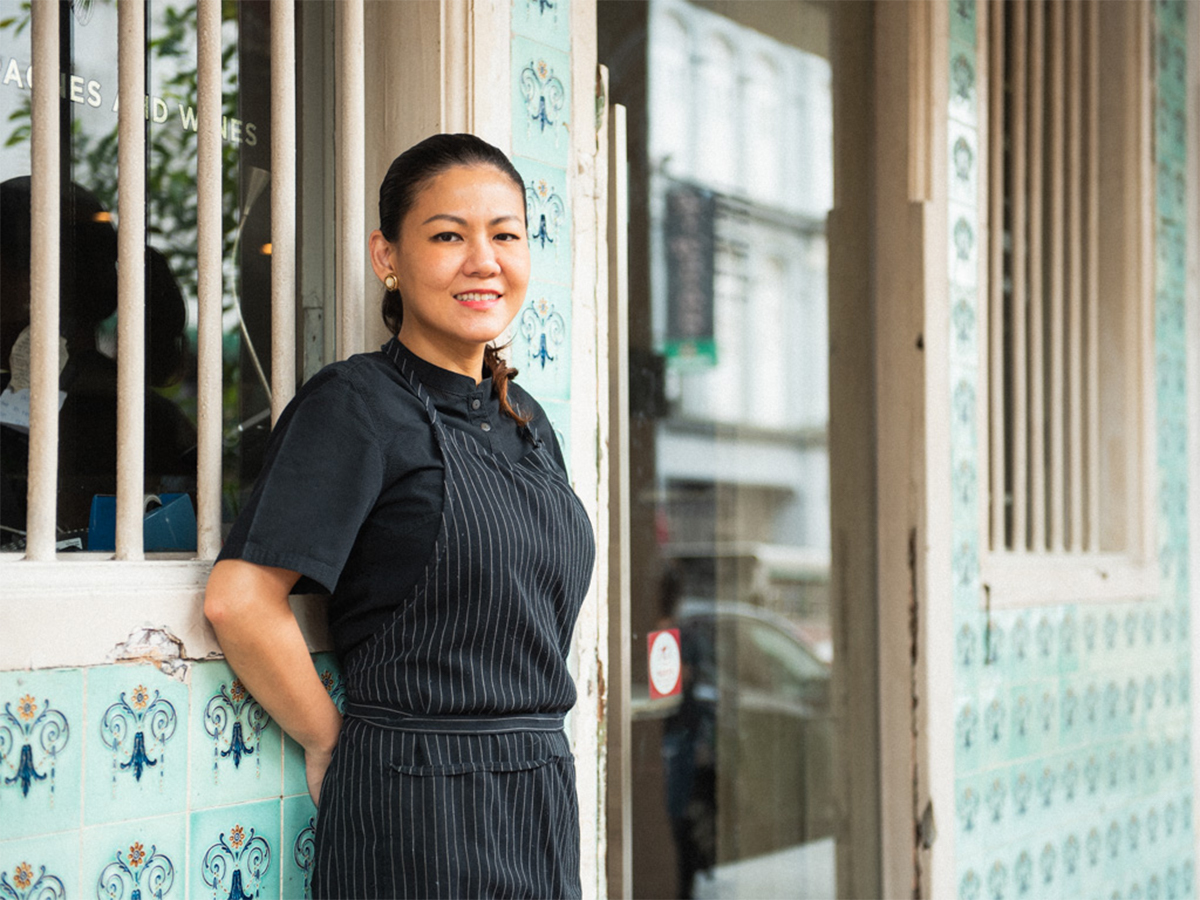 20 Questions is a HungryGoWhere interview series with the who's who of the F&B sector.
Lolla's head chef Johanne Siy recalls the glorious summers she spent on foraging trips in Europe. 
She and her colleagues would drive out to the surrounding Danish countryside, traipse into the forest, and comb windswept beaches in search of berries, ants and beach herbs. They would return to the restaurant, bearing a bountiful harvest, which they would incorporate into the food they serve or as finishing touches.
Through such expeditions, Siy, 41, developed a profound appreciation and deep respect for producers and their unwavering commitment to quality and the provenance of ingredients. 
Produce became the centre of her craft. Through her cooking, she preferred to let the ingredients speak for themselves, captivating diners through flavour.    
It thus came as no surprise that last month, the talented Filipina was crowned Asia's Best Female Chef 2023, making her the first Singapore-based chef to win the title.  
It was a reflection of the many years spent and intentional experiences sought in honing her craft.
Siy's life reads dramatically — it's filled with a number of adventures and detours before she arrived at where she is today.
Hailing from Dagupan City in the Philippines, Siy had formative memories of gatherings where her whole family pitched in to dish up delicious meals. While Siy enjoyed dabbling in the kitchen, it was not something she had considered seriously.
Taking the more conventional path, she moved from her home country to Singapore to work for multinational manufacturing giant Procter & Gamble, where she climbed the corporate ladder for six years. Yet she had the nagging feeling that she was destined to be somewhere else.  
She left her job to pursue her passion for food, an industry notoriously known for its long hours and unpredictability.
Hungry and ambitious, she headed straight to New York to enrol in the renowned Culinary Institute of America. Since then, her resume has been nothing short of star-studded.

She went on to work at the acclaimed Cafe Boulud and Le Bernardin in New York. 
When she returned to Singapore in 2014, she worked at Restaurant Andre, which was then the top restaurant in the country for four years. When it shuttered, she went travelling around Europe, working on farms and foraging, followed by a stint at heavyweight restaurants such as Faviken in Sweden, and Copenhagen's Relae and five-time winner of The World's Best Restaurant title, Noma.
In 2020, she came back to Singapore with plans to open a small space of her own. 
But the pandemic happened and that venture was too risky. So she took up a position at Lolla, which was in a precarious position at the time, having lost almost its entire kitchen team. 
Siy pressed on despite the challenges of a new menu format — a la carte service was not something she was very familiar with, having worked mostly in tasting-menu restaurants — and the fact that the kitchen team had just been reduced to two chefs.
She put a unique spin on the menu. Inspired by her time in America and Europe, she steered the restaurant away from Spanish tapas fare to a fresh direction of sustainably minded, produce-driven modern European plates, with touches of Asian ingredients she had grown up with.
Watching Siy work in the open kitchen is an experience in itself. She moves efficiently and operates meticulously, with an air of quiet intensity. The result is delicately assembled and elevated avocado and crab dishes that had our team drooling over the burst-in-your-mouth umami goodness.
Away from the kitchen, Siy is warm and effortlessly charming. She confides that she would love to forage in our own backyard, if given the chance. She waxes lyrical about a heart-shaped leaf that grows in wild abundance across Singapore and near her apartment. She'd love to incorporate more of nature's wonders into her cuisine.  
She tells us: "Nature never ceases to amaze me. No matter how many times I've worked with an ingredient, every encounter always presents something new — a new texture, a new flavour nuance, a blush of colour, a new dimension when combined with something else. It never gets boring. I feel so lucky to be doing what I do."
Here's a lightly edited excerpt of our interview:
1. What were your earliest memories in the kitchen in the Philippines?
Every first for me was quite memorable. I remember going to a lot of family gatherings. 
My aunt cooks really well and she would always prepare these local delicacies and no one can do it as well as her. 
So we looked forward to these gatherings because we got to try her cooking. For example, a goat stew or a dessert called leche flan, which is very similar to a creme brulee. 
When I was old enough to experiment in the kitchen, I always tried to copy and make sure the dish tasted as good as hers. 
Of course, I remember the summers where my brothers and I would play around with rice cakes, because we didn't have play dough. Rice cakes are a malleable product, so my younger brother would make robots out of them. It actually looked like a Michelin Man rather than a robot.

My aunt lived some distance away from us, but somewhere they can grow things. So some of the goats that they would serve, they slaughtered themselves. Even chickens. That was interesting for me to see growing up.

2. What was the conventional path you took when you relocated to Singapore?
When I first moved here, I never thought about being a chef. It was a hobby, but it was not my focus. 
Being young, moving to a new country, new job, corporate, you just want to focus on your career. But after a while, I got the hang of that, so I started cooking for friends. 
We were all young people, in our early 20s, relocated to a new country. We didn't have family here, so we were each other's family. 
On weekends, we would get together and I would cook for them. I could experiment with different cuisines, whatever struck my fancy. 
Sometimes, I would do Indian food because Mustafa Centre was open 24 hours, and at 3am, I would be there with my friend and we would comb the shelves, looking for ingredients. So that, and a bit of Italian and French.

At my Procter & Gamble job, it was of course very demanding. It's a company that expects a high level of excellence and performance from everyone. 
They usually hire from the best schools and you have to be of a certain grade to make the cut, so the expectation was really high. And then you work with a multinational team from all over the region, so everyone is at the top of their game. 
So that was a lot of pressure. Cooking was a bit more relaxing for me during the weekends, and gratifying. And cooking for people, everyone will say nice things, even if it's not really so nice! So you get a lot of positive reinforcement from them.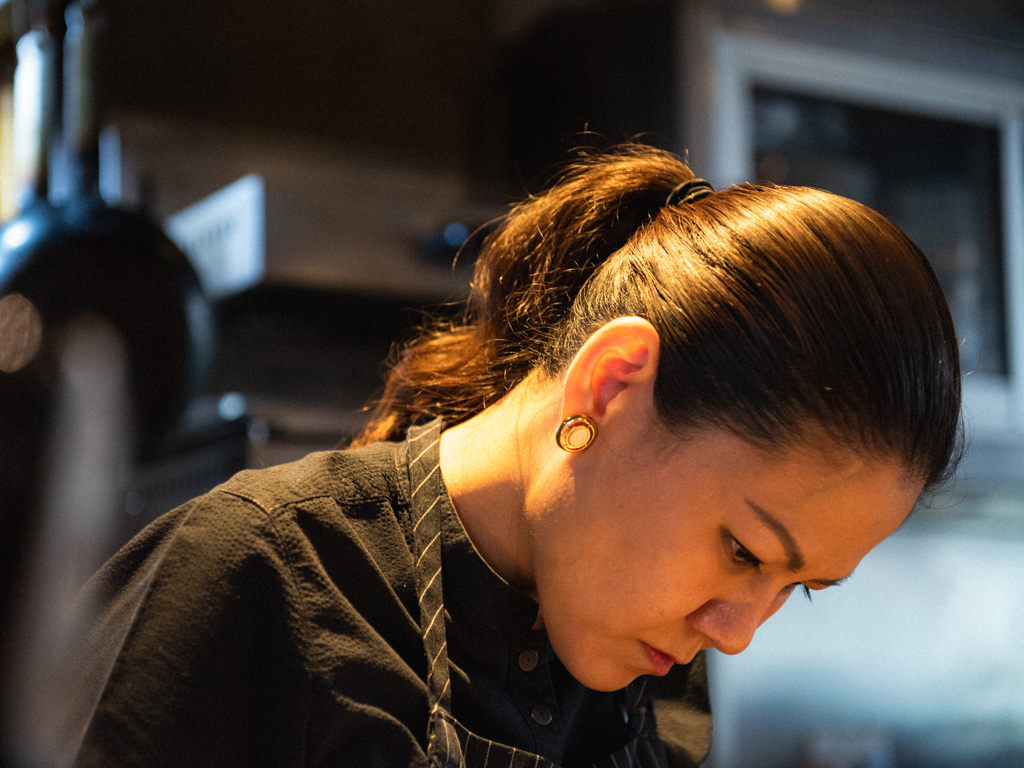 3. What was the turning point that made you decide to leave Procter & Gamble?
It was gradual and something I started considering at some point in time. I thought this is something I might enjoy doing. 
And being in Singapore helped me think a bit differently, to take risks. If you're back home, it's difficult to do something out of the ordinary. The tendency is to stick with how you've always done things. But being in a new environment kind of stimulates that. 
I talked to a few people first, especially the ones whom I consider my mentors. They were like: "Why is it so extreme? Why do you want to be a chef? Why don't you look at becoming a general manager for a hotel chain?"

For example, the service career path, like front of house, which is a bit more similar to what I was doing, like the management aspect, but I was like: "No, I want to cook."

One of my mentors, who also promoted me back then, was the one who wrote my recommendation letter for the Culinary Institute of America. So he was quite supportive. Even now, he comes in and brings the entire leadership team here.

4. Was it tough to give up all that you'd built in the corporate world?
Yes, definitely. Because it was a stable job and well regarded. And you get to work with a lot of interesting people who are very good at what they do. So sometimes you miss that.
Because, of course, F&B is made up of people from diverse backgrounds. Which is fun, something that's quite exciting. But at the same time, you never know what kind of people they are, what their motivations are, or is it just a job for them at the end of the day? Or are they someone who's very passionate about cooking? It's not a given.
5. What were your biggest takeaways from studying at the Culinary Institute of America?
It's more of "you get what you give". Like what you put in, what you take from that school. 
Because everyone is paying the same amount, and culinary school is not cheap. So it really depends on the individual. If you put in a lot of yourself and the time, you will really get so much out of it. Versus someone who's just there and unsure, like: "Oh, I'm just doing this because my mum paid for it."

The thing with culinary school is you get people also from different age groups. Some of my classmates were fresh out of high school. And some couldn't even drink yet.

I didn't have the luxury of time to waste. So it was always about maximising the time there.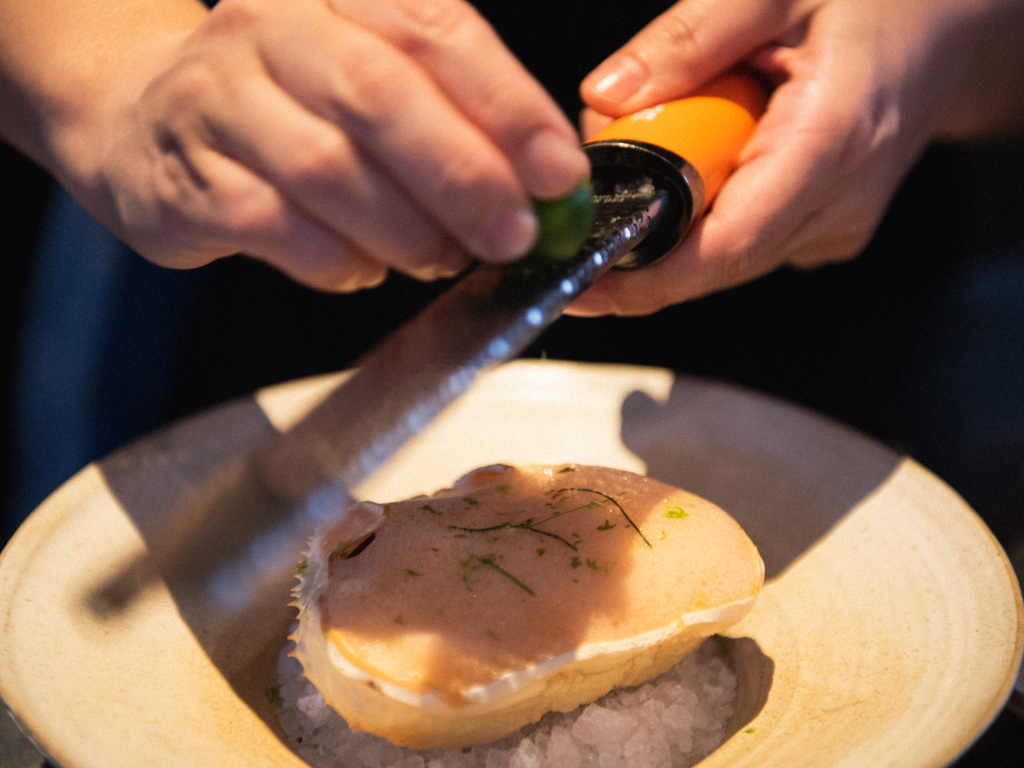 6. Tell us about your culinary adventures — from stints at Restaurant Andre, travelling around Europe and foraging in farms to working at Faviken in Sweden and Noma in Denmark. What left the deepest impression on you?
The good thing about the industry is that the skills are transferable. It doesn't matter the geography, and once you have the basics, you can work anywhere.
And of course, it always helps to have previous mentors or chefs who put in a good word. There's always a network. Because Andre would know some people…
Different places taught me different things. For instance, at Faviken, I'm thinking outside the box and trying to be resourceful because the weather is so extreme. Trying to make the most of what you have. 
And from Noma, it's more of rethinking the way we've always done F&B.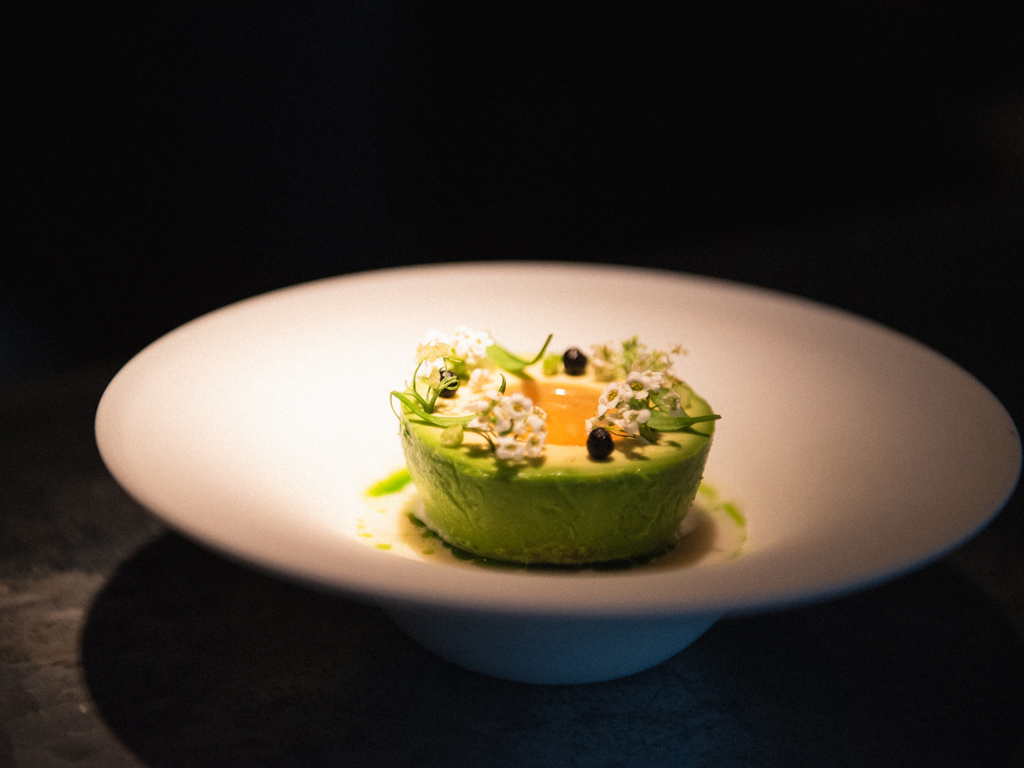 We've inherited this French brigade system in how we run kitchens. There's a strict hierarchy and everyone has to go through it.
But not everyone's the same; certain people are just exceptional at doing certain things. Noma recognises that because they do it by departments, like how we do it at a corporate company.

For example, there's a finance department that specialises in money. They have a research arm, people who do service, people who do fermentation. 
At that time, I was specialising in foraging and I helped out in the R&D kitchen. I spent a lot of time going around Denmark, driving around. That was quite cool. 
I foraged for wildflowers. We spent a lot of time on the beaches, because there's a lot of beach plants that grow along the coast. We foraged for berries during the spring, summer. In recent years, they had the most glorious summer, and at that time, we had two months of beautiful, perfect weather.

Normally, we go: "Oh, what do we need for today for service?" And then we would go to all the different places where we know we can find this thing. Sometimes it's not available, so we go to another venue. It was fun but tiring.

Sometimes we'd pick herbs at the beaches, and then say "OK, let's go for a quick swim". And then come back. 
7. What led you to join Lolla in the thick of the Covid-19 pandemic?
When I came back from Scandinavia, because I had spent a bit of time with some bakeries there, I thought: "OK, I'll keep it simple. Let's just do a small business." 

I wanted to start a small bakery that also offers a dining experience at night. So a very small-scale thing. But then the pandemic happened and it wasn't really a good time to take that risk.

So I wasn't even looking around, but someone told me about an opportunity here. 
I said: "OK, I'll just show up and chat with the hiring person." 
After the chat, I agreed to help them out because there were only a few people there and it was a waste for the restaurant to close just because they didn't have enough staff. 
And I even volunteered to interview people for the head chef role. So I brought a couple of my friends in. When there were no takers, I went: "OK, I'm gonna just continue what I'm doing." 
Of course, you can't just sit back, so I had to launch new things.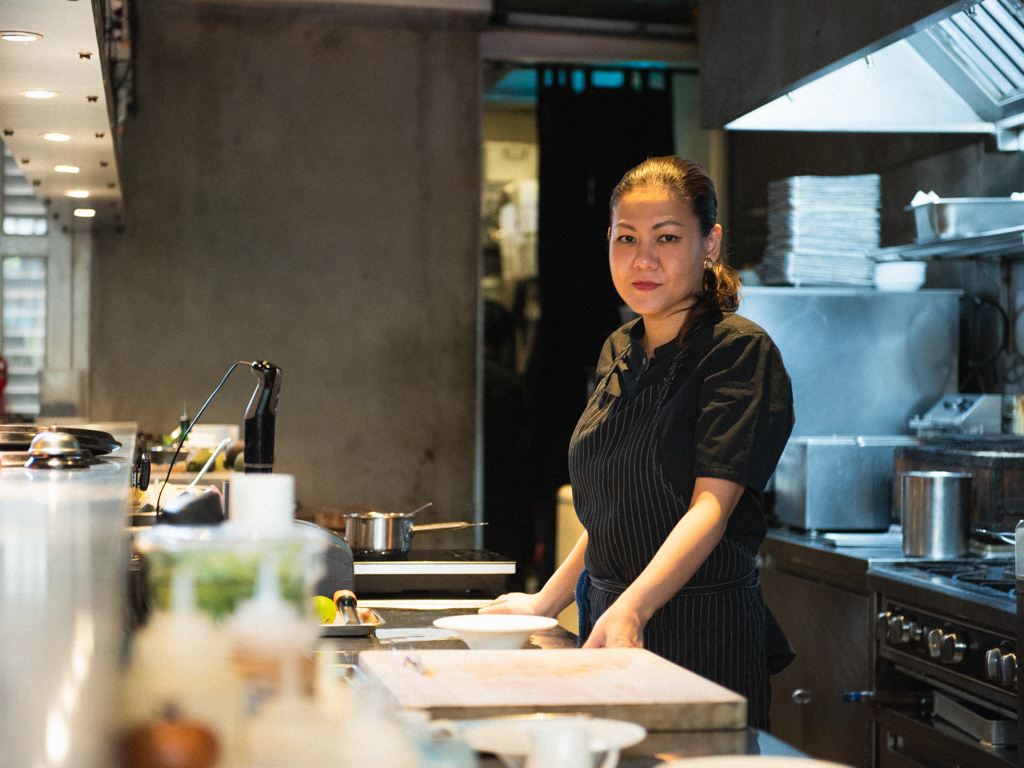 8. How did you influence the direction at Lolla towards produce-driven cuisine, and how did it push boundaries?
I was always quite adamant about putting my mark on something.

The ethos has always been exceptional produce, prepared simply. But it's just that that whole transition… because I've always done tasting menus, and this is the first a la carte restaurant that I've actually worked at, was very different. 
Doing inventory is a nightmare and forecasting, too, because you never know what people will order. You can influence them, but there's still a level of unpredictability. 
So I'm used to preparing everything fresh every day, and we should still try to do that. But at the same time, you're limited by how you can do that with a la carte. Because you cannot predict, right?

Before, they would prep for a week's worth of this dish, like mass production. Now we try to do smaller batches more often. 
And because of that, we can work with fresher produce, too, like beautiful fish from Europe and Japan, just because it's prepared fresh every day. Because there's no point getting beautiful produce if you're going to keep it for one or two weeks.
In the fine-dining realm, a lot of people do produce-driven cuisine, but the challenge in Singapore is that nothing grows here. 
So everything is pretty much imported. So it's more about building the relationship with some of the suppliers and growers overseas. Some of the growers are good because they can do custom stuff for you. Certain sizes, certain things, certain colours. Like tomatoes or micro herbs — they can do that for you, and even flowers. 
9. Biggest challenge you had to overcome at Lolla?
At first, it was staffing. Because there were two guys left. 
And then the whole focus on customers, because at the end of the day, we are a hospitality company. 
It's all about taking care of the people here, and our guests. 
During the pandemic… everyone was just trying to survive. I heard a lot of people cut salaries of their staff or forced leave. We didn't do any of that. Even when we weren't earning anything, we continued to pay full salaries. 
So the business aspect of things was the most challenging part. We did takeouts, but that was never enough. It's good that the government helped. If there wasn't any subsidy from the government, we wouldn't have been here.

10. What are some of your signatures at Lolla?
For the avocado dish, I'm not a millennial, but I've always loved avocado. It's healthy and delicious. I wanted to challenge myself because you see it everywhere. 
And it's quite tricky to work with. It oxidises quite fast and you never really get the perfect avocado. There's always something wrong with it. If you get the perfect one, buy Toto because you're really lucky! 
The tendency is always just to make guacamole because that's the best way. But I wanted to challenge myself to elevate something so ubiquitous and do something creative out of it.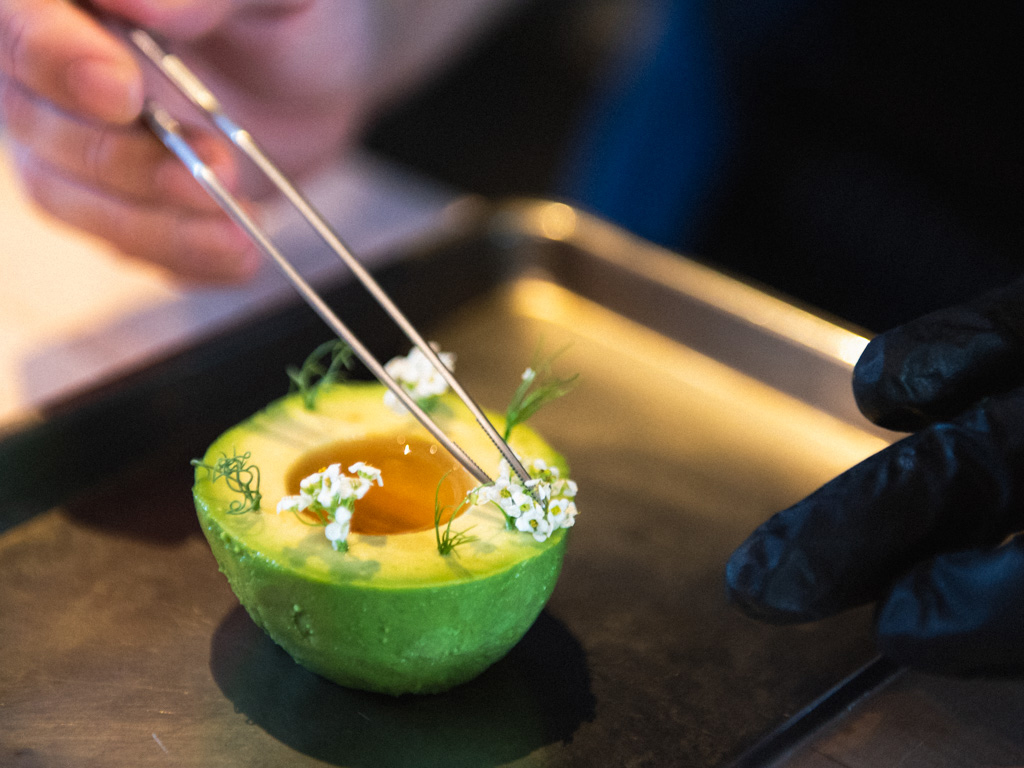 It took a long time to get that dish. For the avocado, I wanted to do it with a lot of umami and smokiness as well, which we're getting from the Spanish smoked eel it is served with. 
It also comes with housemade black garlic. The sauce is a housemade ponzu enriched with coconut milk, so a bit of that Southeast Asian touch. And the alyssum flowers that change with the season. Sometimes, we use chive flowers.


The crab dish is a bit more of a homage to my heritage. Crab relleno is a dish that's quite famous back home.  
You can find it in Spain, too, because our cuisine is heavily influenced by Spain and even Mexico. It's a crab shell that's been emptied out and all the meat that you get, you cook it with aromatics and you stuff it back and then you bread it and fry it, so it's like double-cooked. But that sometimes tends to be quite dry.

I wanted to take that idea of stuffing it, but we do it very differently. 
It's still aromatic, with different types of crab — blue crabs, zuwaigani and river crab. 
What ties it all together is something that's unique from back home, which is "aligue", a paste of river crab tomalley cooked with aromatics. 
So to be able to extract all this is actually quite a lot of hard work. So you have old women in some villages whose hands are permanently (curled), because their job is to take it out, salt it, extract and cook that paste with aromatics. It's like the hawker centres here. They are few and far between, the older generation used to do it, but nobody wants to take it up because of the tedious labour.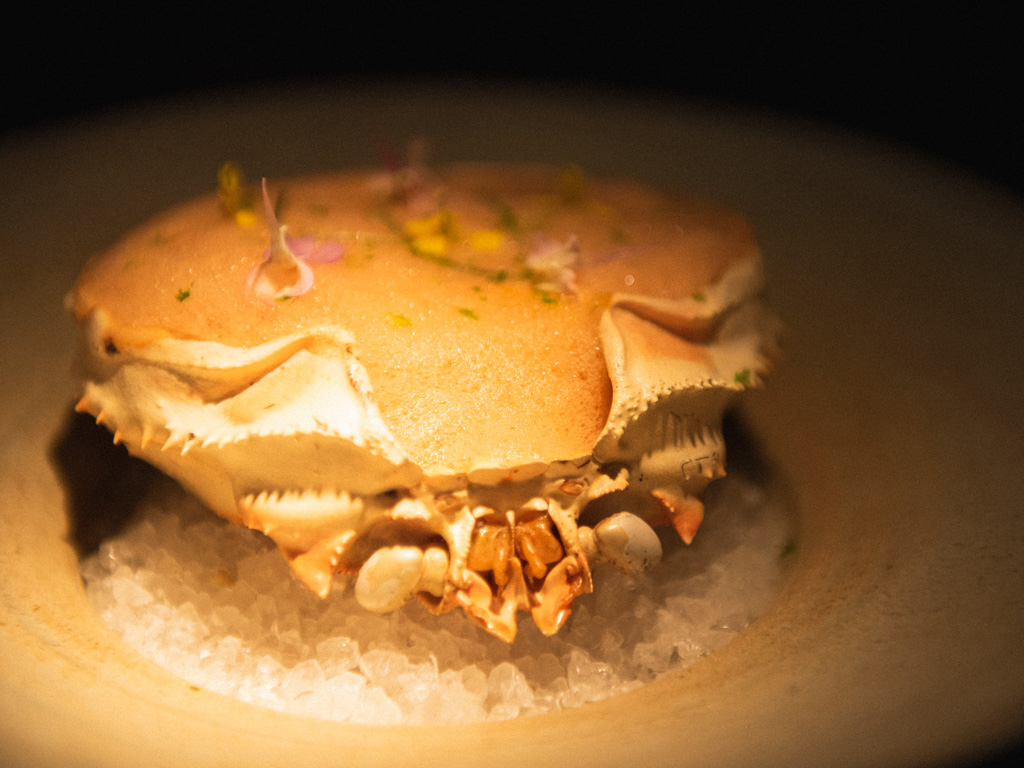 11. What's your process when you conceptualise a new dish?
It's different approaches for different things. I start to think about how I can present it in the best light, given its properties. So it can be something that goes really well with it in terms of flavour profile, something that you find within its own ecosystem. I tend to serve different things that go together. 
12. What are you proud of about the culture that you built at Lolla?
It's very familial. 
It's not like, I'm the boss, you listen to me. But because it's more familial, I still push them in the sense of how can we do better, less salty, more acidity? 
I want it to be a sustainable culture. We spend so much time here; I spend more time with my kids (referring to her staff) than my husband. So it might as well be enjoyable and we might as well enjoy one another's company.  
When I talk to people, I refer to them as my kids. People here help each other out; if you're in trouble, everyone jumps in to help.

13. Who are your female culinary inspirations?
When I was growing up, or when I was training as a young chef, there were not a lot of female figures that you can look up to. Maybe some TV personalities, like Julia Child, or presenters, but there weren't a lot of women at the highest level. 
For me, the important aspect is putting yourself in the cuisine, and building that connection with people who are eating your food. So home cooking was actually more impressive to me. Because it's authentic, nurturing.
14. Congratulations on being named Asia's Best Female Chef 2023. Who was the first person you shared the good news with?
My family, definitely. My husband, who's always been very supportive.

He's always here at the restaurant when I do my R&D. 
He comes to accompany me, because I'm a scaredy cat. It's very dark here, and I wonder if I'm hearing something? (laughs) 
He just comes in and reads his book on his iPad, and he tells me: "I'm hungry." So I feed him. He's very patient.
He's in tech. Thank goodness, because otherwise, we won't see each other if he's also in F&B.
15. What does the award mean to you?
It means a lot. There are a lot of detractors for the award. 
Wherever I go, without fail, people would ask: "Why is it Best Female Chef? Why can't it be Best Chef?" 
But it's meaningful because it gives us a voice. It gives us women more visibility at work. And it's important for younger chefs, especially female chefs, to be able to have role models. To say, yes, it can be done and something to aspire to. 
16. What does a day in your life look like?
I'm not a morning person. I wake up quite late because I sleep quite late, about 3 or 4am. 
When I get up, I go through what I need to do for the day and the list of people who are coming for that day and prepare for that.

And when I come in, we do the staff briefing for service. We discuss the customers who are coming in — are they regulars or not? — and their dietary needs, what we can do for them. And then we do the mise en place. In the afternoon, I do some office work, or I meet up with people, suppliers and friends in the industry.

For instance, a lady that came in just now; she owns a store at Palais Renaissance in Orchard. I was asking her for some custom containers for sauces. 
And then I come back for dinner service, do another round of briefing, then service, and then I stay until we finish dinner. I leave at about 11.30pm. 
I get home and have something to eat. My husband usually gets my food because I always have to cook hungry. I feel like I cannot cook when I'm full; I don't feel it's so good, leh. But when I cook, and I'm hungry and I taste it, whoa. (pats herself on the shoulder)

My husband buys food for me; he doesn't cook. Once, I made him peel hardboiled eggs and he gave up, saying it's too difficult.  
We live somewhere near Newton. So he'll come from a basketball game and he'll pass by Newton Circus to buy me dinner. There's a place called Heng Carrot Cake — it's quite famous. They do a black and white carrot cake; he'll usually get that for me and some chicken wings.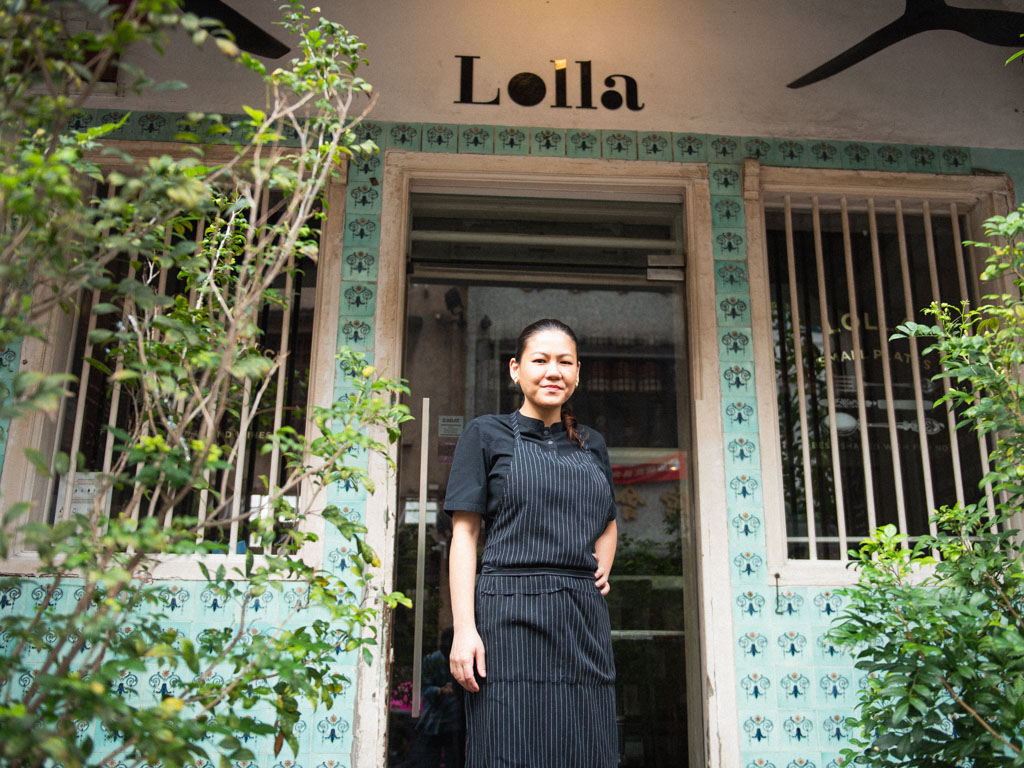 17. What do you do in your downtime?
Sleep, lor. I used to go hiking a lot. I actually used to run marathons, but then I stopped, because this is like a marathon in itself.
18. Your go-to eatery in Singapore — aside from Lolla — and what do you always order there?
Since I love noodles, we discovered this noodle place many years back. It's called Da Shi Jia Big Prawn Mee, at 89 Killiney Road. It's not your conventional prawn mee, but it's delicious. The young couple that owns the place is so hardworking. 
When I first met them, the wife was pregnant but was still working there manning the cashier counter. And then the baby pretty much grew up there. Just sitting on the counter, and she would be doing the cashiering. 
19. One thing you can't live without?
I'm a very simple girl, so just coffee.
20. What's next for you?
I want to bring out a little more of my heritage. Because of course, since it predates me, we're limited in terms of how much we can push the concept, as people would still expect Mediterranean, Spanish, European kind of food. 
Now, we have incorporated Asian touches, and that's OK. But to push it further might be a little challenging. Maybe I would like to focus on another concept.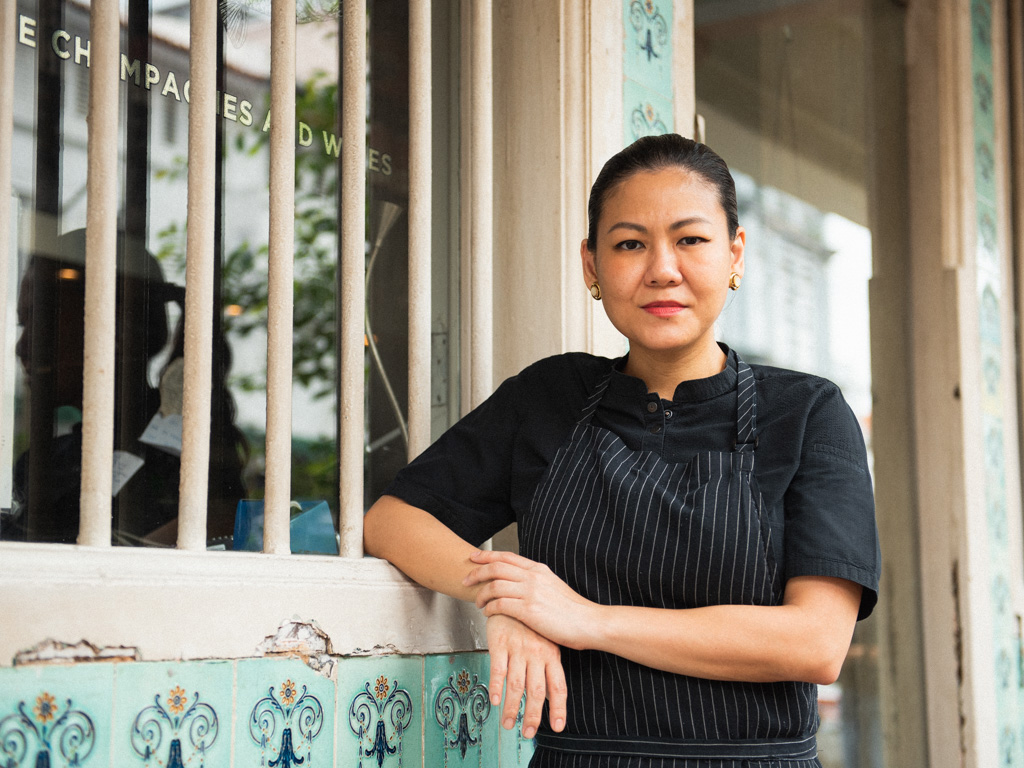 22 Ann Siang Road 
Open: Monday to Thursday, and Saturday (12pm to 2.30pm, 6pm to 11pm), Friday (6pm to 11pm)
22 Ann Siang Road 
Open: Monday to Thursday, and Saturday (12pm to 2.30pm, 6pm to 11pm), Friday (6pm to 11pm)