Review: Lapin is a raucous celebration of all things Thai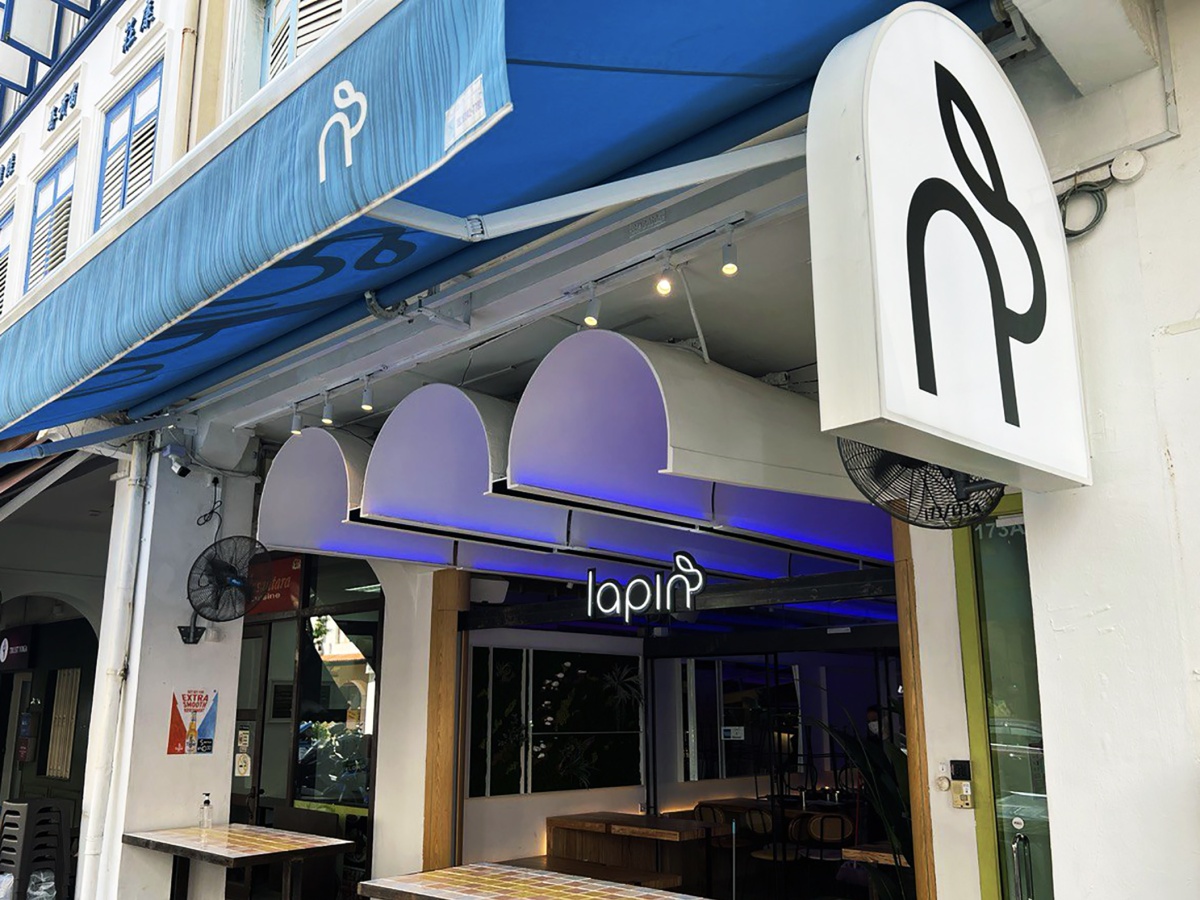 Modern Thai restaurant Lapin stirs to life at lunchtime as the CBD crowd pours in to take refuge from the heat
We loved its sundried pork strips, chicken knee, Massaman beef curry, and round cabbage with dried shrimp
But its yellow crab curry was not up to scratch
Perhaps it's a happy coincidence that I'm reviewing Lapin the day after my much-needed break in Bangkok. After four days of frolicking in the city of angels, and with the authentic taste of Thailand still lingering at the tip of my tongue, I reckon I'm a good judge of what counts as authentic Thai food in Singapore.
So believe me when I say at Lapin, authenticity and reverence for Thai cuisine are clearly a priority. That, along with impeccable service, quick food preparation and an electric atmosphere, makes dinner at the modern Thai eatery feel as though I were still in Bangkok.
The backstory
I didn't chance on Lapin by sheer accident, nor was it through a cursory glance of my Instagram feed.
Located in the Telok Ayer enclave, the restaurant is en route to my office on my once-a-week work-from-office day.
At lunch, it roars to life as CBD office workers pour in to take refuge from the sweltering heat and partake in fishcakes and pad thai.
It's also not easy to find an online review for Lapin, which is perplexing. Still, if a new and modern Thai restaurant that opened in bustling Telok Ayer is enjoying all this patronage without so much as a peep from publications in Singapore, then it must be doing something right.
And, as borders open and travel gathers pace, Lapin's popularity is evidently not a case of scratching the travel bug, but a culinary dedication to great-tasting food that's a joy to eat.
Our verdict
What it's good for
As a lover of irony, I absolutely relish how scrappy the paper menu here is. Suitably stained with food and crumpled along the edges, it's a veritable representation of the best that Bangkok has to offer in a setting that's unfussy and highly convivial.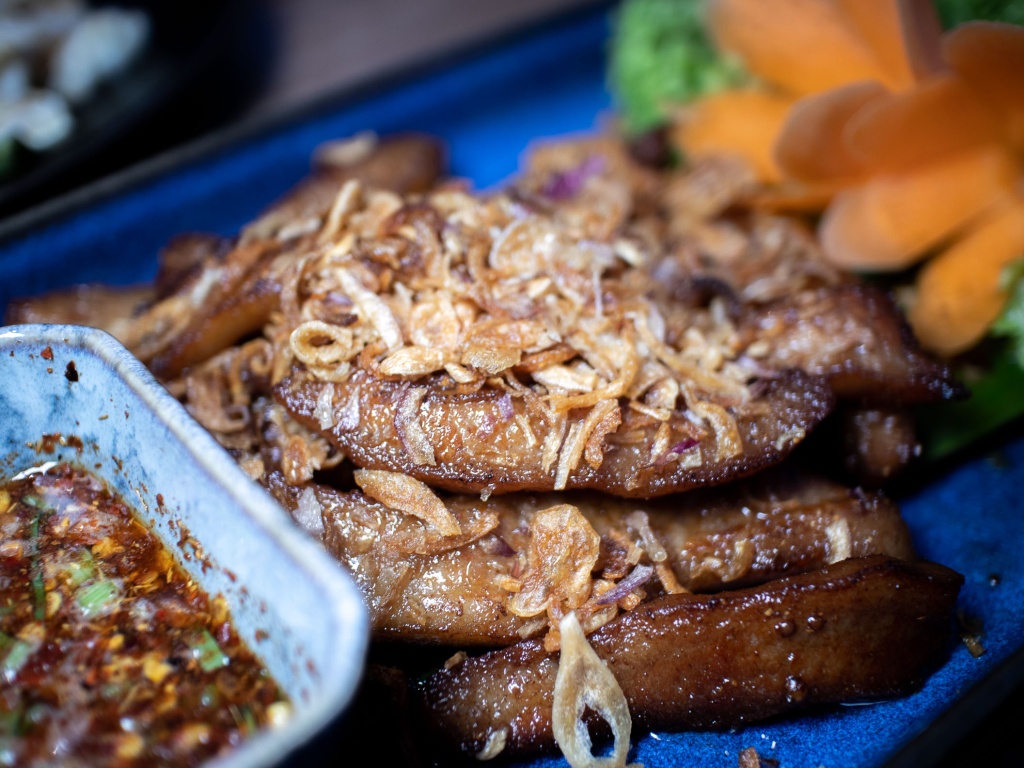 We start with the sundried pork strips (S$19.90) that have been expertly seasoned, marinated and deep-fried. It's bar snacks elevated, and at the price you're paying, rather generous of a portion.
Dip these into the jaew sauce, a bright and acidic accompaniment made with tamarind, fish sauce, lime juice, shallots, cilantro, chilli flakes, and toasted rice powder, that cuts through the delightfully fatty strips heroically.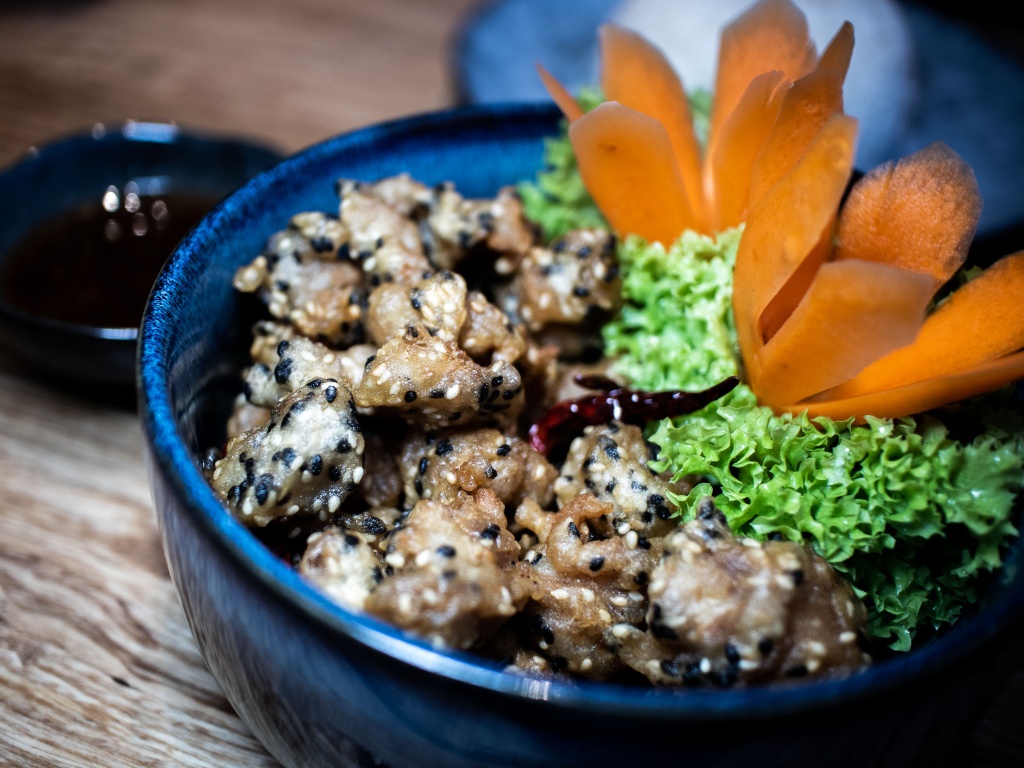 Elsewhere, the chicken knee (S$12.90) stands out, a menu option I've yet to see anywhere in Singapore. As its name suggests, this is the part of a chicken between the joints of the drumstick and thigh that's made up of soft bones (or cartilage) and a smattering of chicken meat.
And boy, did I thoroughly enjoy this. There's texture in every bite, a comforting melange of soft meat, slightly crunchy cartilage, and light and flavourful batter that made me swoon. I'm not opposed to having this on the go in a bag as an easy snack to stave off those mid-afternoon munchies.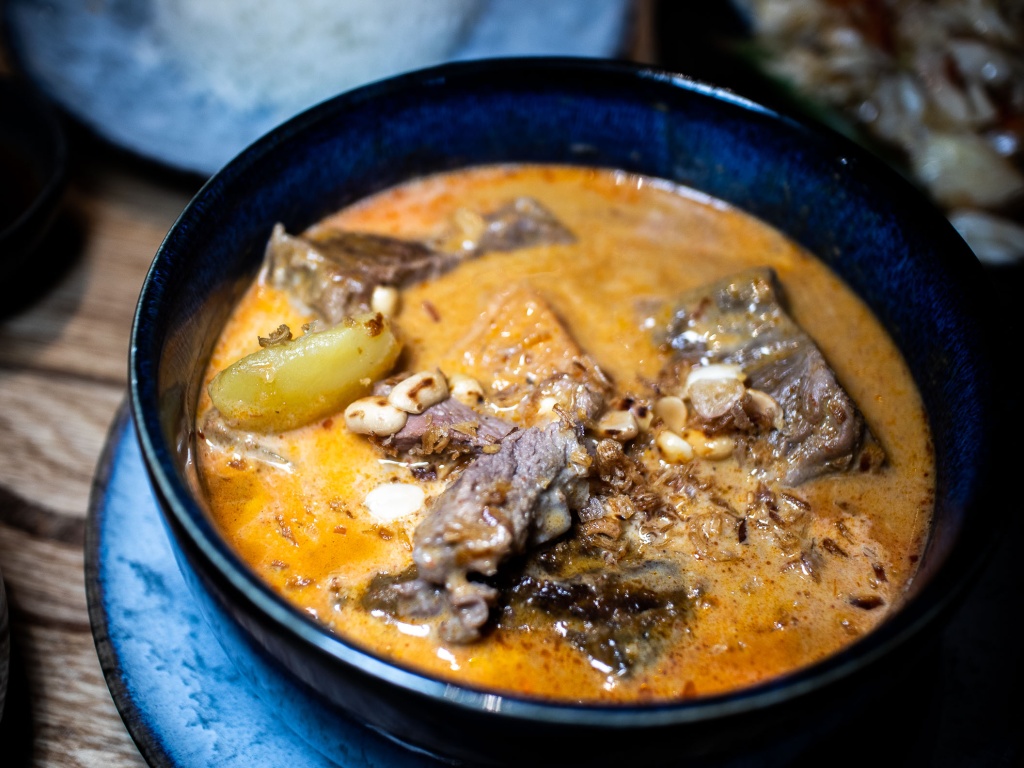 For mains, you can't go wrong with the Massaman beef curry (S$15.90). Swimming in a creamy and fragrant curry are generous chunks of impressive beef rump cubes so tender that everything gives way with such ease. It's not spicy, at the very least, and the potatoes and carrots add a delicate sweetness to the whole presentation.
There's also a simply cooked round cabbage with dried shrimp (S$10.90) that's value for money for the price and location. There's expertise behind the stir-frying, as evidenced by the fat shreds of cabbage that still retain a satisfying crunch while absorbing the light seasoning they're tossed in. And if you manage a bite of the dried shrimp, it will send you into a shock of umami goodness.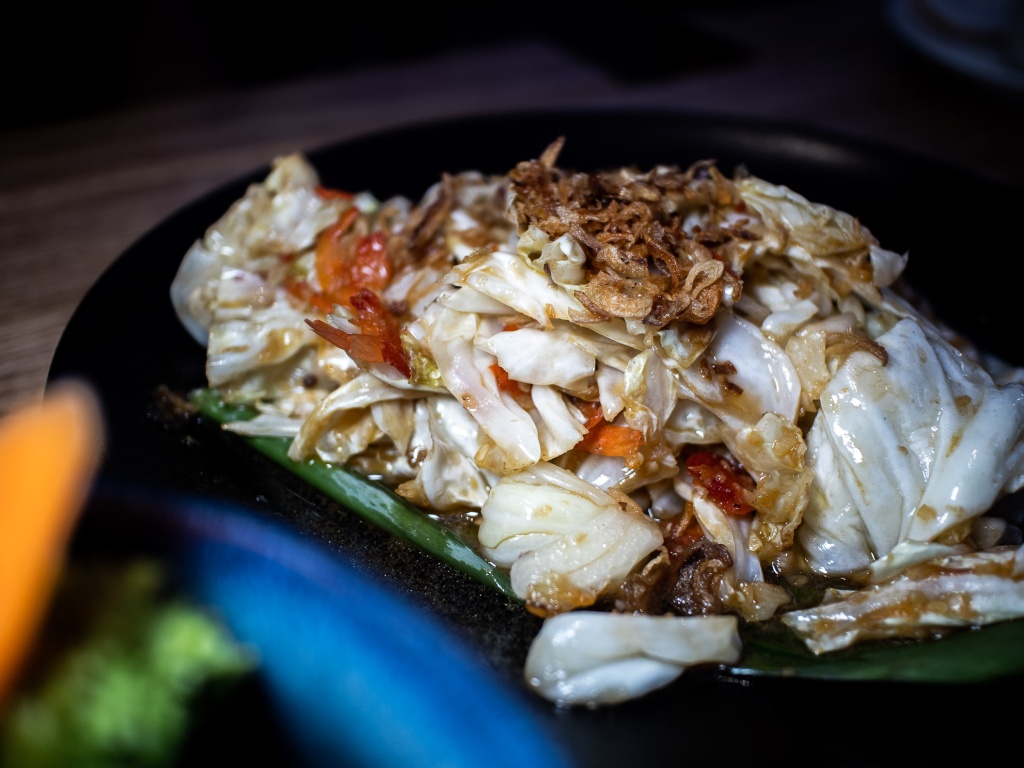 Still, I would have liked a smidge more seasoning, but given Lapin's dedication to authenticity, I've no difficulty believing that this dish is something that would look entirely at home by the sois of Silom.
What it could improve on
It's rather unfortunate that my last, most memorable meal in Bangkok before flying home was the yellow crab curry, a dish I thought would be fun to try here at Lapin (S$18.90).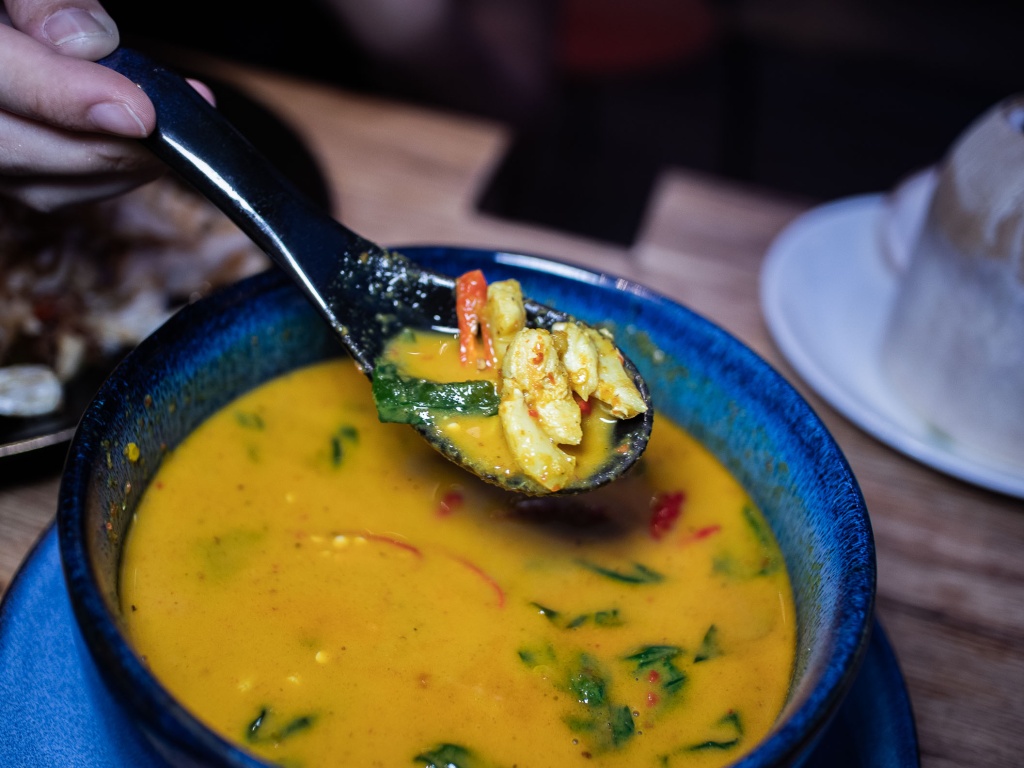 At the risk of sounding ignorant, I acknowledge that different chefs interpret certain dishes differently. Still, I'd be lying if I said I wasn't a tad disappointed that the yellow crab curry at Lapin was so remarkably different from the one I had at KubKao' KubPla in Bangkok.
Unlike its Thai counterpart, the yellow crab curry here is much too watery to be enjoyable and blatantly too spicy for the weak of heart. A heroic iteration needs to be creamier and silkier, and leaves a film of pleasure on the tongue. The curry itself is palatable and the crab chunks, while less generous, are flavourful with a great bite. It's not bad, per se. Curry just deserves better.
Our quick takes
Is it conducive to conversation? Outside, yes. But inside, with jugs of beer being passed around, diners can get a tad rowdy.
Is a reservation necessary? Definitely. It's a small shop with limited seating, so make a reservation before heading there.
How to get there? Lapin is a hop, skip and a jump from Telok Ayer MRT station. You can also alight at Tanjong Pagar MRT station, which would be a slightly longer walk.
Take note:
Some dishes, such as the grilled chicken, take 25 minutes or so to arrive. Naturally, these sell out fast, since there's a limited quantity prepared daily.
HungryGoWhere paid for its meal at this restaurant for this review. 
Book a ride to Lapin. 
173 Telok Ayer Street
Open: Monday to Saturday (11.30am to 10.30pm)
173 Telok Ayer Street
Open: Monday to Saturday (11.30am to 10.30pm)