Review: Mr Holmes Bakehouse's second store aims for CBD converts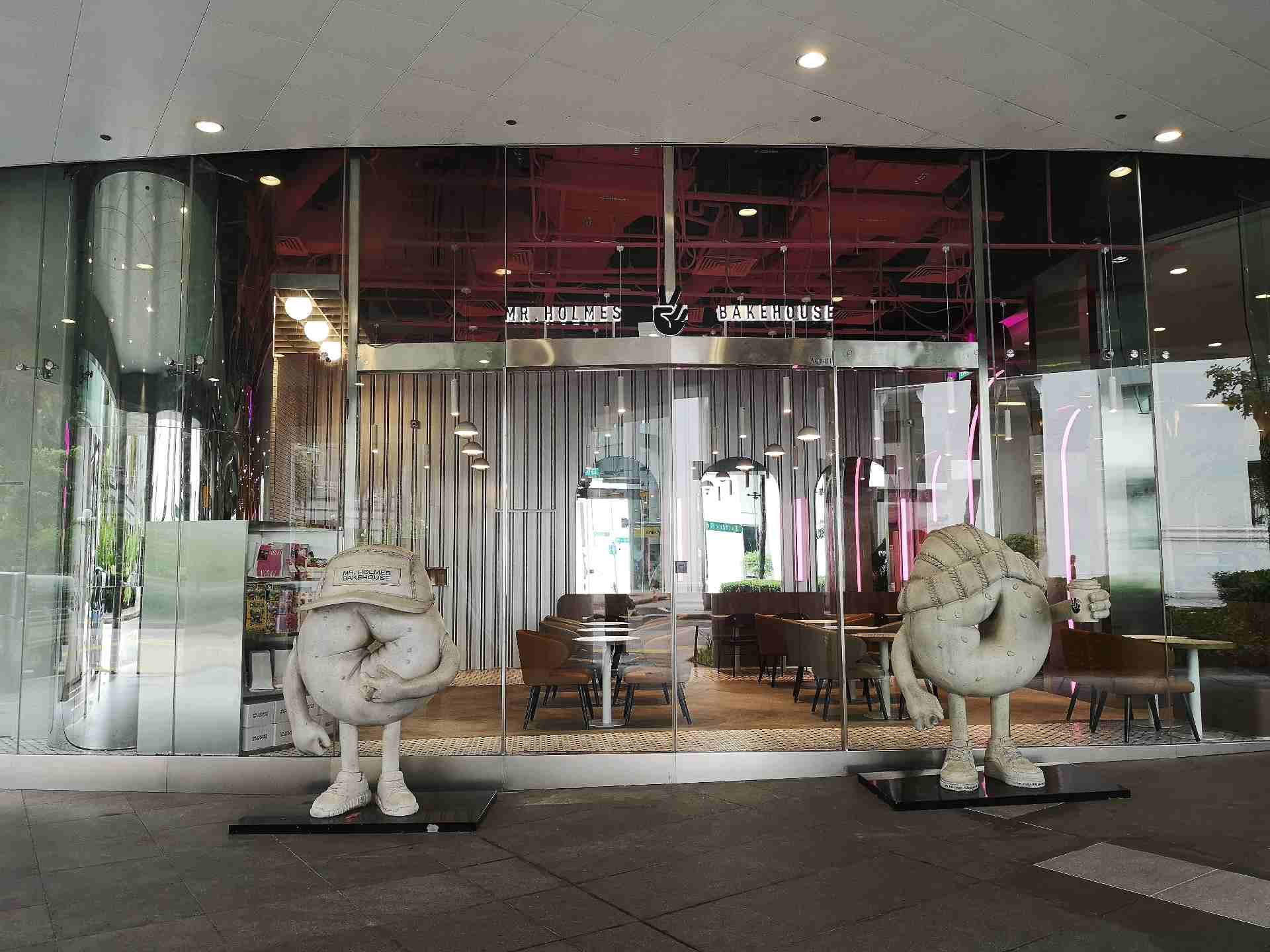 Mr Holmes Bakehouse has opened a second store at MYP Centre
While its sweet viennoiserie tends to be saccharine, the bakehouse's savoury buns are promising
Its Pigs n Figs, a limited-edition bagel tie-up with Two Men Bagel House for the opening, failed to impress
Barely a year in the Singapore market, Mr Holmes Bakehouse opened its second store here in early May. 
On the ground floor of MYP Centre, a rather nondescript building opposite The Fullerton Hotel, the bakehouse lends a splash of pink to the drab, grey office tower. 
For a brand oozing with such vibrant and young energy, this store in the CBD seemed a little out of place serving office workers dressed in formal wear. But perhaps youthfulness is a state of mind, as the good-humoured middle-aged staff members at Mr Holmes will tell you.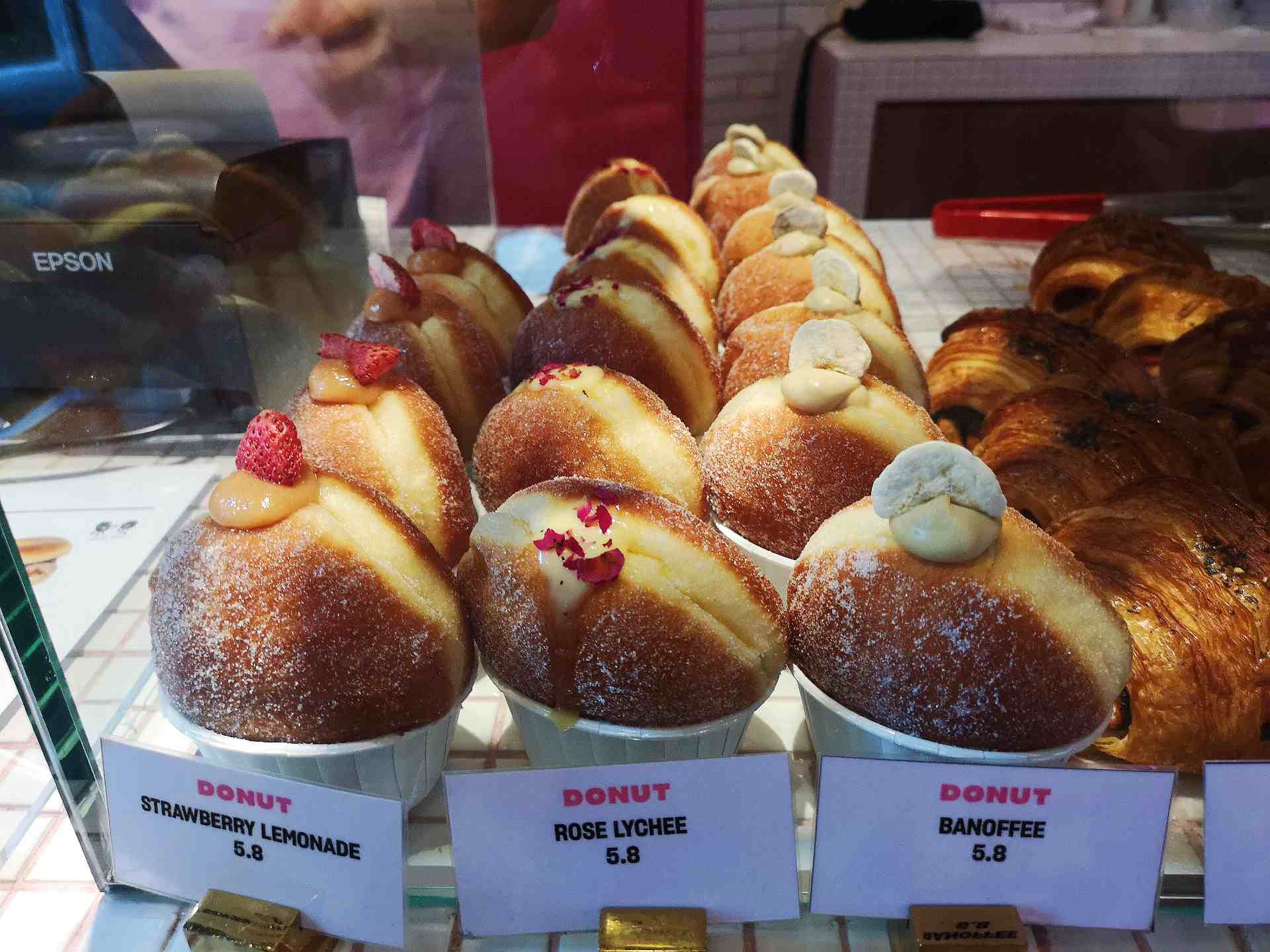 Before we go on, here's the backstory. 
The daredevils of viennoiserie, and trademark owner of the term "cruffin" (a croissant-and-muffin hybrid), Mr Holmes Bakehouse was established eight years ago in the United States. Its founder Aaron Caddel quickly made the pastry store Instagram-famous for its cruffins. 
The San Franciscan bakery, distinguishable by its pink neon lights and white-tiled walls, later made inroads into places such as Los Angeles and Seoul, South Korea.
But like many other eateries, it wasn't spared the ravages of the coronavirus pandemic. Last year, it declared bankruptcy and shut some of its branches in the US and abroad. 
Caerus Holding, a Singapore lifestyle company responsible for brands such as the Lady M and Leckerbaer confectioneries, runs two outlets in Singapore — the first at Pacific Plaza mall and the second at MYP Centre.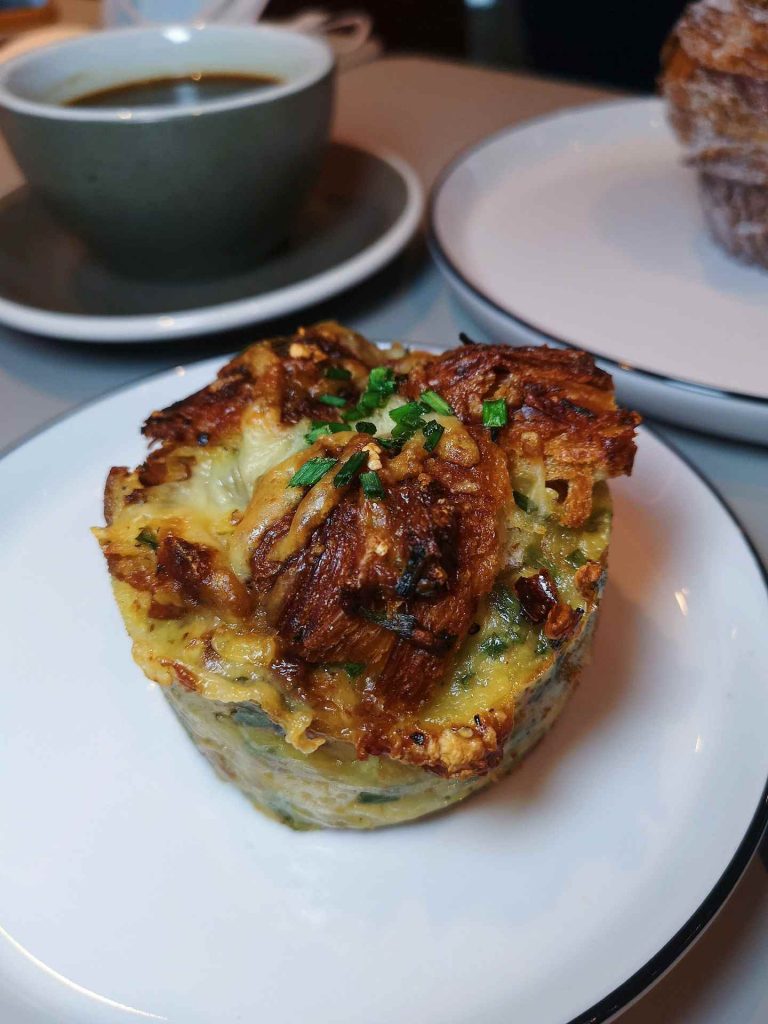 Our verdict 
What it's good for
On our second visit to Mr Holmes Bakehouse in two months, I was determined to be more adventurous with our picks. 
With a preference for savoury food, I was pleased to see a wider range of savoury options on the menu at MYP Centre. When we visited, four new sandwiches, such as the spam & egg w/ kimchi croissant (S$13) and chicken fajita (S$13), were exclusive to the MYP Centre store. 
The highlight, however, was the cheesy garlic gorilla bun (S$5.80) that was warmed up in the toaster. Fluffy and cheesy with ample garlic, it was a warm welcome on the rainy morning of our visit. Better yet, it's a pastry you can take home, reheat and enjoy later.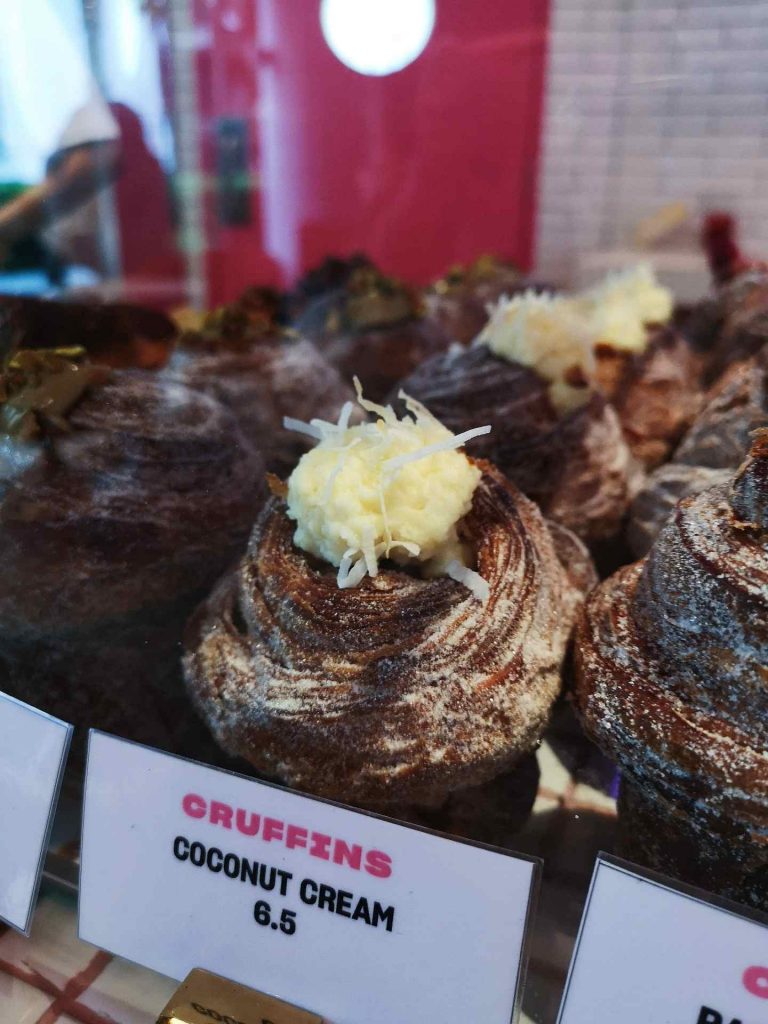 What it could improve on
The only sweet treat we ordered was a coconut cream cruffin (S$6.50), which was our least favourite. Mr Holmes' stuffed viennoiserie can't be reheated, so the flakiness of the pastry was less than ideal. 
Furthermore, the cream it was stuffed with comprised desiccated coconut, which gave it a lumpy and undesirable mouthfeel. My companion and I also thought it was too sweet to finish.
Its cruffin flavours are updated monthly, though. Do check with the store for the latest variations.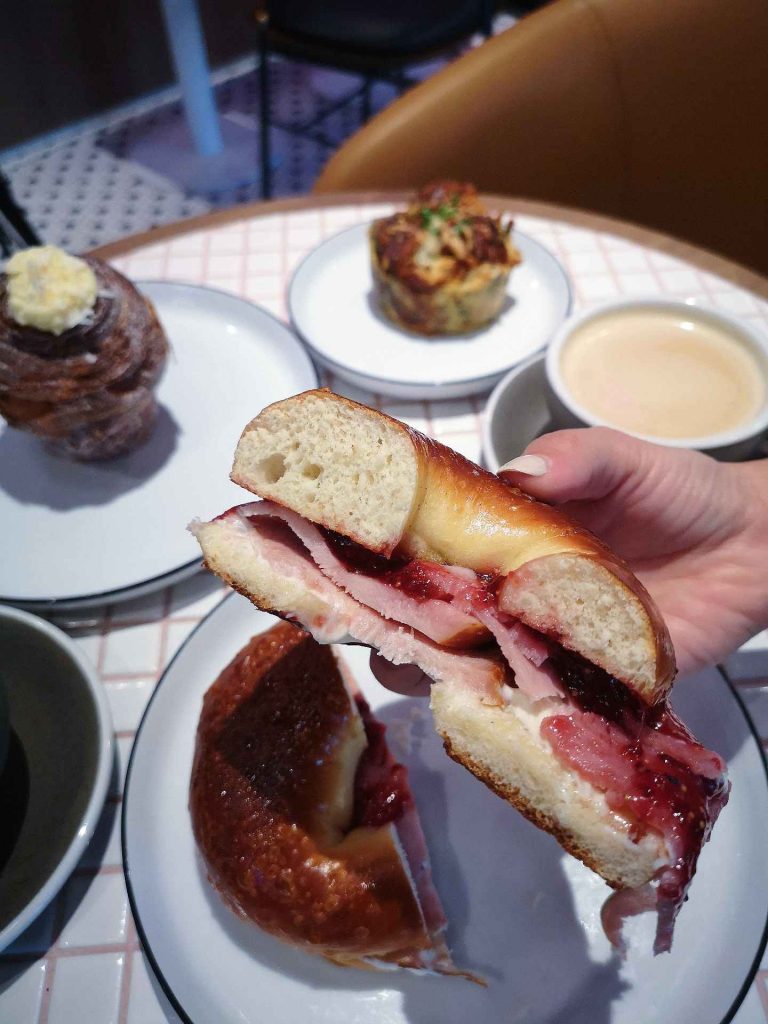 To mark the launch of the store, Mr Holmes Bakehouse teamed up with Two Men Bagel House. The bakehouse used bagels from the popular joint in its Pigs n Figs (S$16) creation, while Two Men Bagel House offered its interpretation of Mr Holmes' cruffins. 
Pigs n Figs — which is no longer available — was a foolproof combination of a plain bagel, cream cheese and fig jam. While it was priced similarly to the bagels from Two Men Bagel House, it didn't come close to the bagel joint's regular offerings. 
Unlike the generously stuffed bagelwiches there, Mr Holmes' creation looked nothing like it did in photos on social media. Absent was the stack of ham and in its place were unevenly cut slices that, at best, folded over to make two layers of ham. 
So lacking in ham it was that, with the ample spread of cream cheese and fig jam, we could barely taste the saltiness of the cured meat.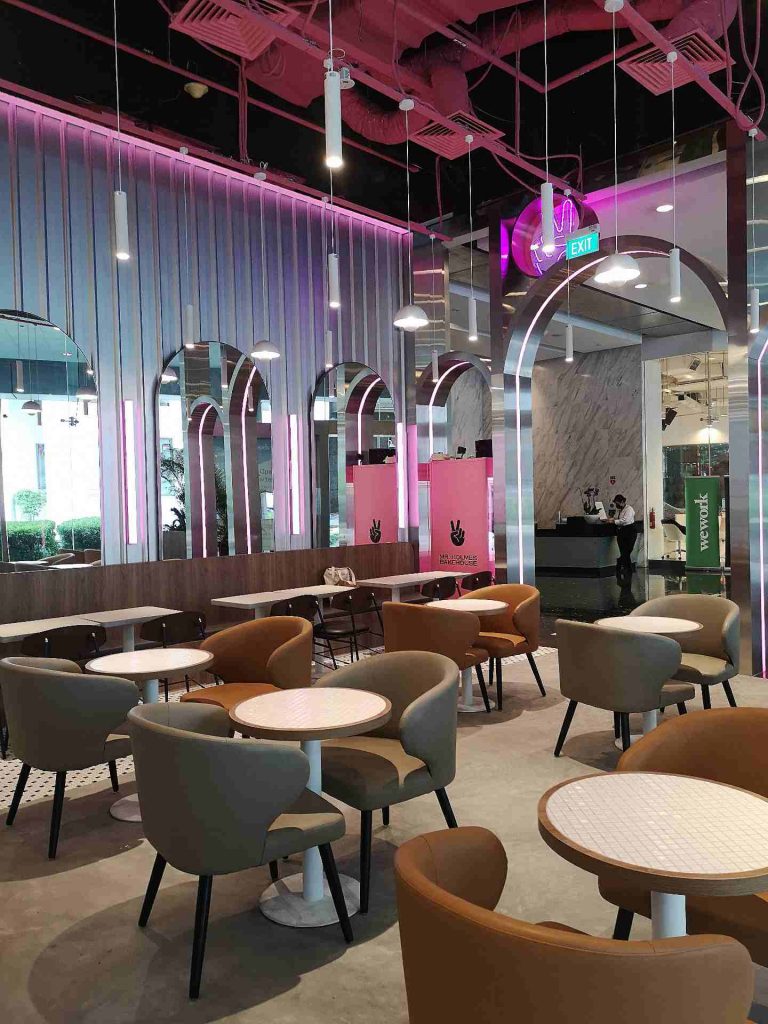 Our quick takes 
Is it conducive to conversation? Absolutely. Hip-hop music plays softly in the background and, when we visited, the store wasn't playing high-energy K-pop.
Is a reservation necessary? No. We don't imagine it'd be crowded on weekdays, given its location. But if it is, there's always the takeaway option. 
How to get there? It's a three-minute walk from Raffles Place MRT station.
Things to note: 
Like Mr Holmes Bakehouse's other store at Pacific Plaza, return for its new monthly offerings as well as collaborations with other F&B brands.

If you're planning to keep and reheat the baked goods, opt for pastries without glaze or cream on top.
HungryGoWhere paid for its visit to this eatery for this review. 
Mr Holmes Bakehouse is on the GrabFood delivery service. You can also book a ride there. 
Mr Holmes Bakehouse (MYP Centre)
MYP Centre, 01-01, 9 Battery Road
Open: Monday to Friday (8am to 6pm)
MYP Centre, 01-01, 9 Battery Road
Open: Monday to Friday (8am to 6pm)