[CLOSED] Jurassic World Cafe: Worth a trip or not?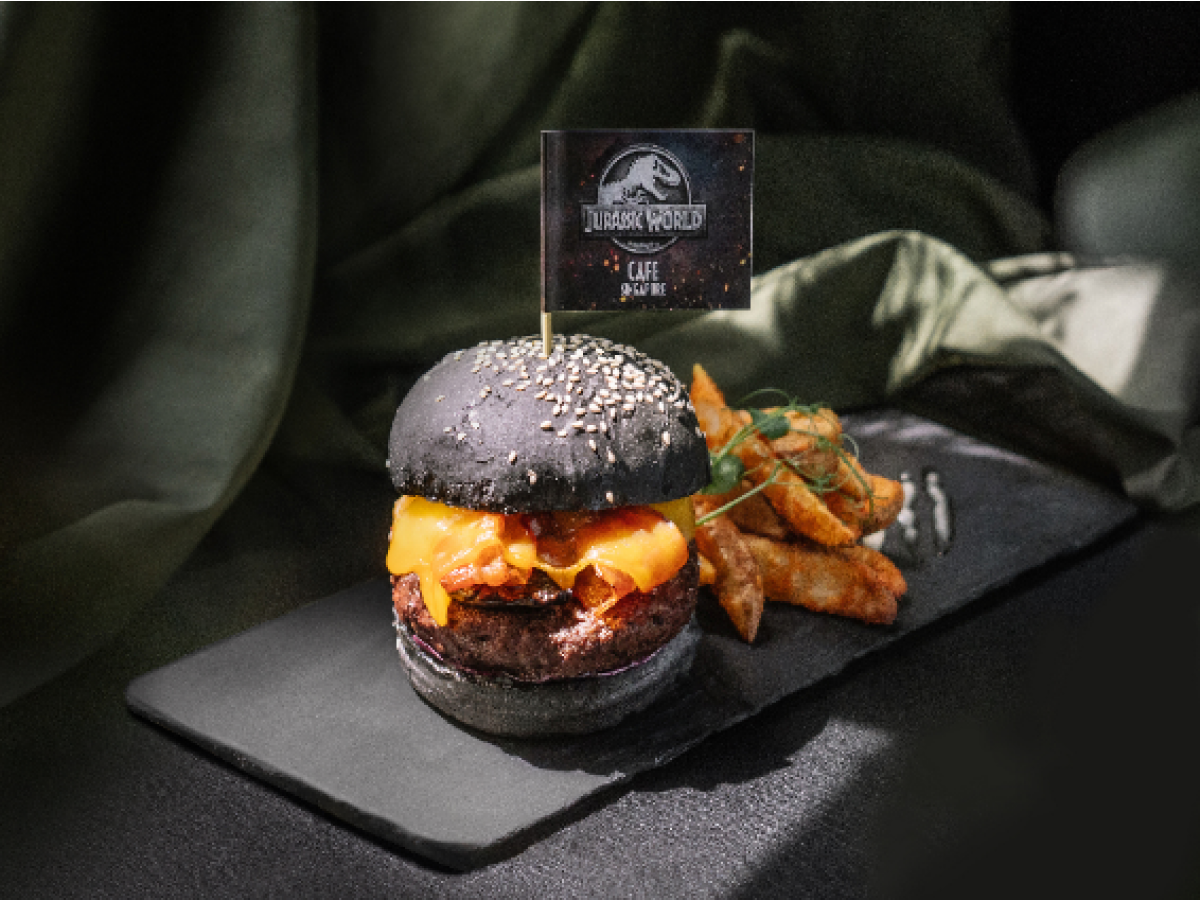 What We Enjoyed: 
Volcano Curry – Hint of spice and a good blend of flavours

Experience – Filled with dinosaurs, constant Jurassic World theme music and view of the city

Merchandise – Limited edition blue toy and other worthy merchandise with a good price point
What we Did Not Enjoy:
Mosasaurus Soda- Peppermint taste which is not suitable for everyone but more for those who want to try something new

Fossil Excavation Cake – A little too sweet and not worth the price point
---
Getting There

Just as many of you may be, we were really excited to visit the Jurassic World pop-up Cafe.
The moment we entered the ION Sky section on ION Orchard Level 4, we were welcomed by this huge banner that alerted us that we were indeed in for a Jurassic World dining experience.
The elevator trip on the way up was intriguing too due to the cute dinosaurs that appeared on the screens around us.
When we reached Level 55 and made our way to the ION Sky Level 56 for the tasting, we were engulfed by the Jurassic World theme music.
If you are fans of the film series, then this would surely be the welcome you were anticipating.
Before you see anything else, you would notice a life-size Blue (the cute velociraptor from the Jurassic World movies) right at the entrance and a photo booth stationed across it as well.
You may need to queue a bit for this, so head on inside and order your dishes first!
Across the seating space, which is not too big, so do book in advance, you can see two projected panes with our favourite dinos in their grassy habitats.
Drinks
Upon taking our seats, we were served the Mosasaurus Soda ($8) and the Iced Latte ($7).
While the Iced Latte was decent – creamy and not too bitter, we felt that the Mosasaurus was a little more of an experimental drink for us.

Its sweet, sharp and minty taste were really familiar, and then it hit us that it tastes pretty much similar to a peppermint sweet.
To add on, the sparkly texture made it slightly tougher to stomach.
There were blueberries and sufficient servings of pineapples in the drink as well and is suitable for those who want a refreshing drink.
While it is not for those who are not up for a wildly different-tasting drink, you can get this if you feel like going for something new and interesting.
They do have other drinks such as Milo Dinosaur ($9) or the Brachiosaurus Chendol ($9).
So, maybe go for those drinks instead because those are classics and you can't go wrong with those.
Main Dishes

Alongside our drinks, we were served with their Volcano Curry priced at $23 (Pork Pieces drenched in a thick curry base with soft potato pieces, Pea Tendrils, Sunny Lettuce and a substantial serving of black rice) and Christmas Meaty Bones, which is $25 (Glazed Pork Ribs and one normal-sized fried Honey Chicken Wing).
Out of these two mains, we have to say that the Volcano Curry was our favourite. The curry was mildly spicy, thick and paired really nicely with the rice grains.
The potatoes were well cooked, and the pork pieces blended well as well.
The pork was tender and had soaked the flavour of the curry in. In contrast to the other dishes, this was surely tastier.
The Christmas Meaty Bones' Glazed Pork Ribs were fall off the bone tender. When eaten with the glaze sauce, it was satisfying.
The Honey fried Chicken Wing was pretty delicious as the skin was crispy, had a hint of sweetness, and the meat inside was juicy.
Though, for its price point, diners would probably expect a little more flavour.
One of the sides on the menu is the Curly Fries, which you can get for $14 with any main dish or dessert.

Desserts
Moving on to the desserts, the Fossil Excavation Cake ($16) is a visual treat (perfect for Instagram).
The sponge cake layer, which was the base of the dish was thin, which was unique.
When paired with the milky cream atop, the massive amount of crushed Cocoa Biscuit and the Grape Red & White Ice Cream, the dessert will probably appeal more to those who have a sweet tooth.
The version we were served had white ice-cream that was similar to vanilla flavour and did not have any hints of grape.
They do have other desserts such as the Geologic Parfait ($16) which sounds like a fun dish to try.
Is it worth going to?
Before finishing up your dining trip, do take a look around their little merchandise booth perched at the front of the cafe.
It has Lego sets, little keychains, sunglasses, plushies, pillows and other Jurassic World themed items for the fanatics among the crowd.
Now for the most vital part – would we go to this much-anticipated cafe again?
If you are looking for a dining option that offers value-for-money or where most of the menu items taste impeccable, then this will probably not float your boat.
However, you are planning something out of the ordinary for the holidays or festive season, then Jurassic Cafe is worth considering.
While we felt that some of the food might not be worth the trip and price point, some menu items hit the right notes, along with the merchandise, the impeccable view, and the Jurassic World experience.
Do give it a try but you would have to make a reservation as they have limited seating spaces.
For more information, contact the cafe directly at +65 8028 1489 or at enquiry@jurassicworldcafe.sg
---