Review: Jelebu Dry Laksa — from home-based business to full-service restaurant in VivoCity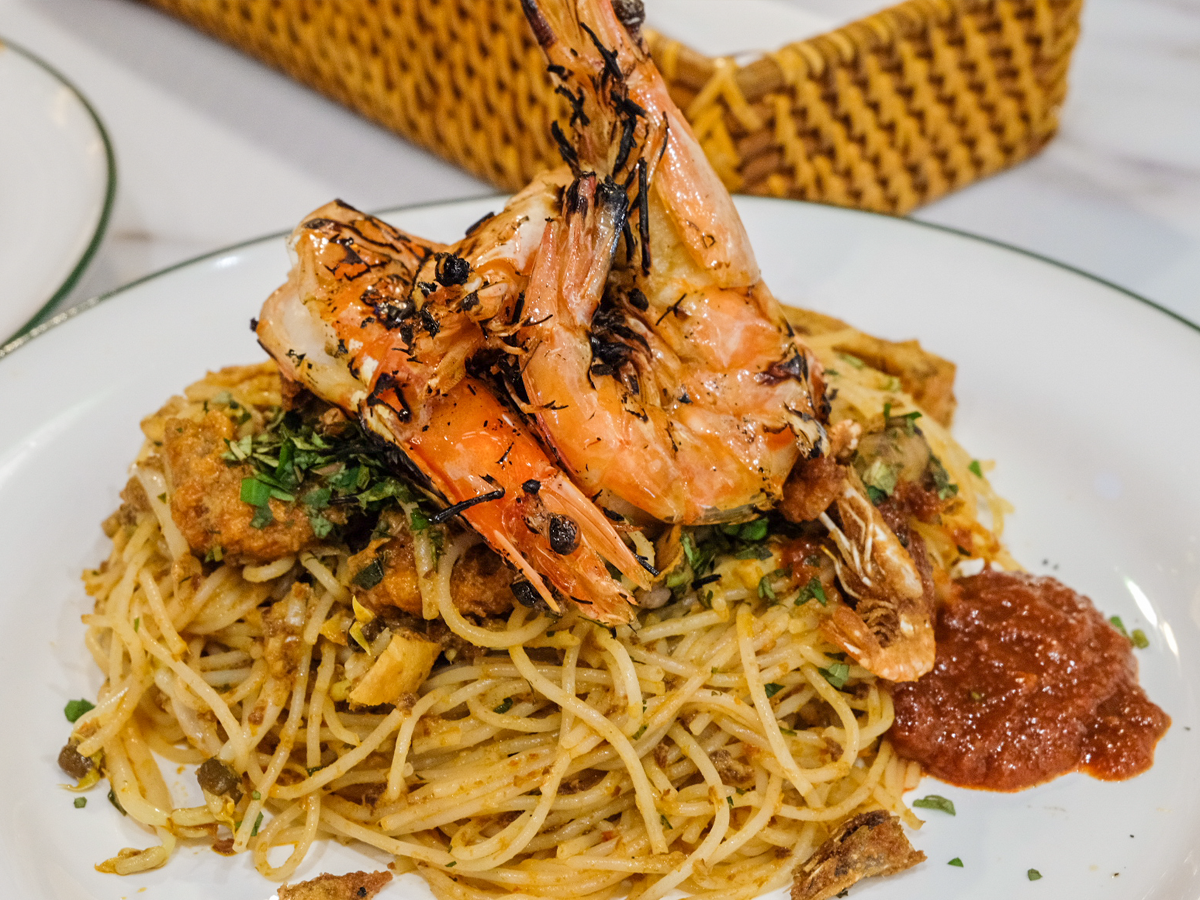 Jelebu Dry Laksa is known for punchy artisanal laksa first popularised by chef Renee Tang during the circuit breaker
Try the version with butter-poached lobster if you're feeling luxurious
The kosong and grilled tiger prawn versions are probably the most worthwhile
The eatery also serves Southeast Asian fusion dishes such as butter chicken mac & cheese and duck confit with Teochew braised risotto
Among the most interesting things to rise out of the pandemic are the F&B businesses that mushroomed on Instagram. The menu is posted to Instagram, you order on Instagram, and once you've wired some money through, a hot package soon arrives on your doorstep — or something like that.
Just recently, we wrote about Burger Daddy peddling dry-aged smash burgers from a condo balcony and Ground Floor Coffee, which sells fresh cups of joe from the window of an HDB flat. 
Some of them, like Jelebu Dry Laksa, have even transitioned to new digs and morphed into full-fledged businesses, and I'm all for it.
The backstory
"Jelebu" refers to Jelebu Road in Bukit Panjang, where chef Renee Tang launched the home-based venture from her kitchen in 2020 with one simple dish: Dry laksa cooked in a rempah instead of broth, then zhng-ed with lobster and tiger prawns.
It became an instant hit and, since then, she's done a pop-up at the now-defunct Takeshi Noodle Bar, and more recently, at the Singapore Food Festival. 
In late September, she started her first brick-and-mortar restaurant at the VivoCity mega-mall with backing from the Tipsy Collective, which owns a slew of bars across the island.
Our verdict
With its tasteful retro outfit and prettily plated creations, Jelebu Dry Laksa is off to a promising start. Prices are what you'd expect from a casual restaurant — more value-for-money than comparable mod-Sin (modern Singaporean) names, but still considerably pricier than your garden-variety hawker centre laksa. 
The entry-level "kosong" with crispy ebi is S$12, while the more premium options run up to S$58 for one with Boston lobster. There are other mains such as a butter chicken mac & cheese, which is quite tasty.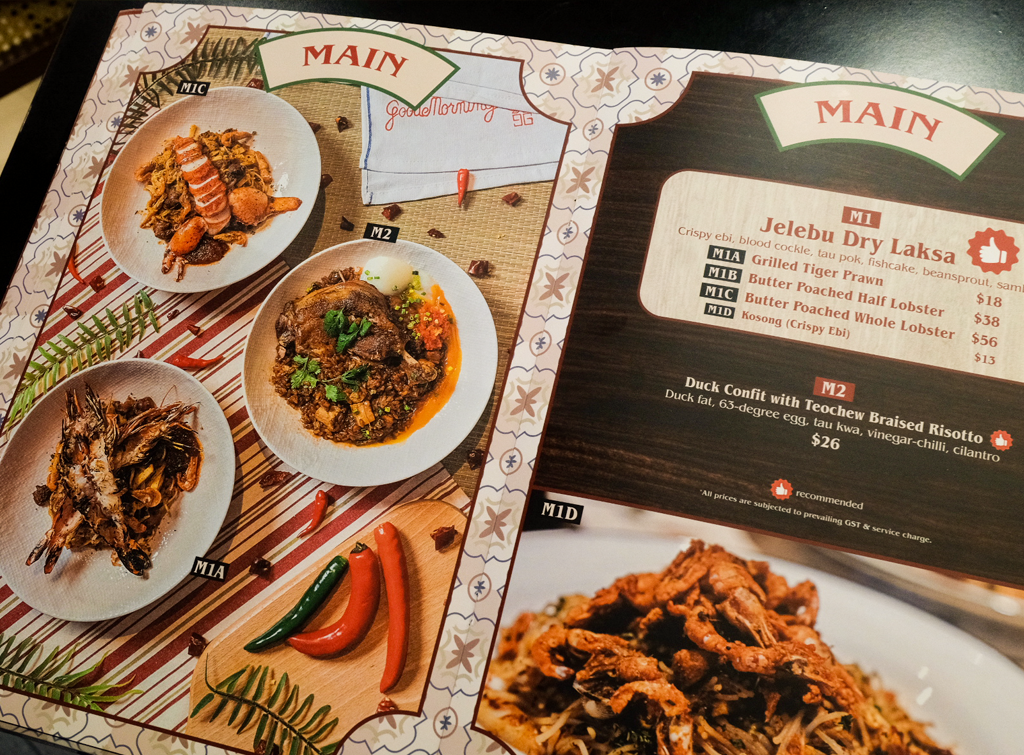 Chef Tang does a wonderful job of taking inspiration from a moment of her life and family, and turning them into flavourful creations with a touch of old-school elements.
What it's good for
Dry laksa, also known as laksa goreng, isn't exactly new. 
You'll sometimes find it in Peranakan or Eurasian restaurants around Singapore. 
Forgoing the broth for rempah, it's wok-fried instead of boiled, and has all the hallmark flavours of laksa without the occasional sogginess. 
Better still, it's splatter-free, which I suppose makes it ideal for dates.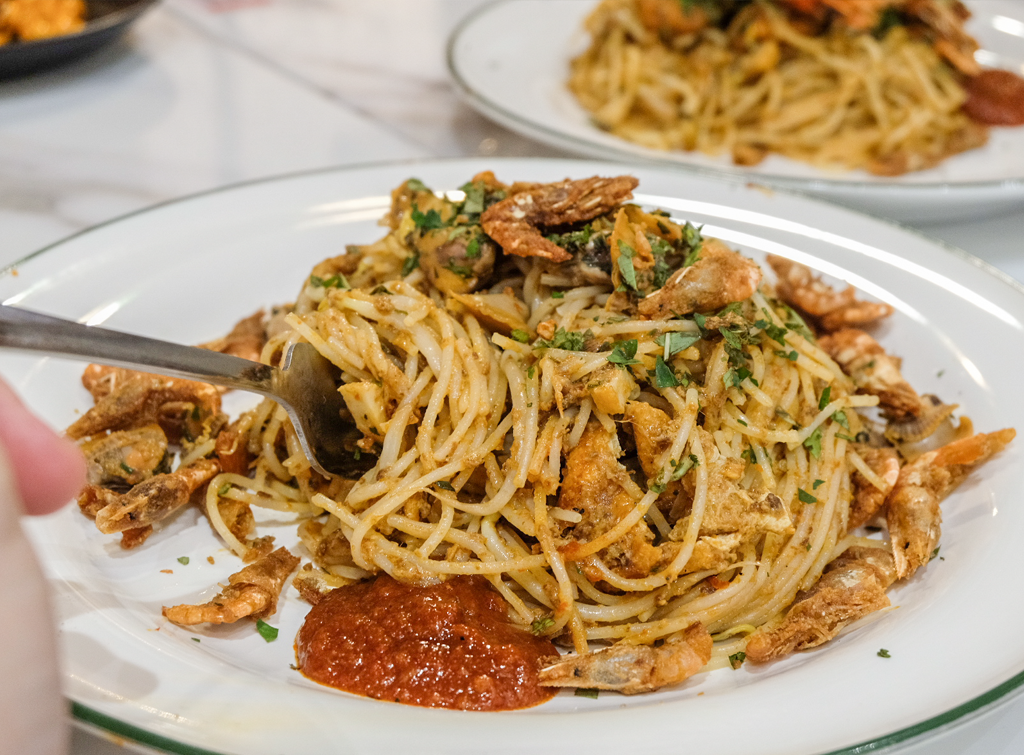 Jelebu's is one of the more unique versions of laksa goreng I've had the pleasure of tasting. 
Chef Tang's rempah recipe boasts some 12 types of spices and herb, and the rice noodles are thinner than the thick bee hoon typically used in laksa, with a fantastic al dente texture and creamy umami that I'm told comes from a combination of young coconut milk — which tends to be sweeter than mature coconut — and a heady shrimp rempah.
The laksa is available in several variations: Kosong (S$12), grilled tiger prawn (S$18), and the luxe butter-poached lobster (S$38 for half and S$58 for a whole crustacean). 
We found ourselves going for the cheaper two of the lot, starting with the kosong. Crispy sakura shrimp, fresh blood cockles, tau pok, fishcake, beansprouts, and a sweet sambal — the ingredients, while served "dry", are soaked full of flavour, and the crispy ebi adds a seafood-y umami note that keeps us going back. 
The grilled tiger prawn version features fairly large prawns charred with a smoky wok hei finish.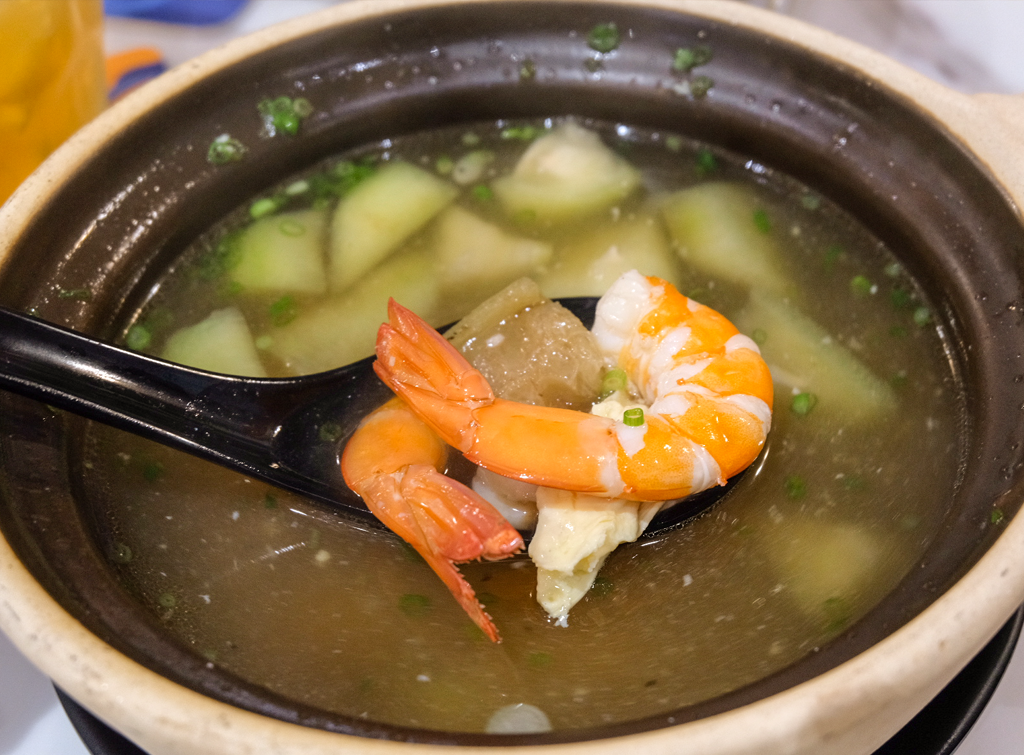 The laksa can be a tad spicy, especially if you mix in all the sambal, so you might want to wash it down with a shrimp, luffa and egg soup (S$10). It's a simple, belly-warming dish — mildly sweet and very nourishing, like something mum might make on a rainy day.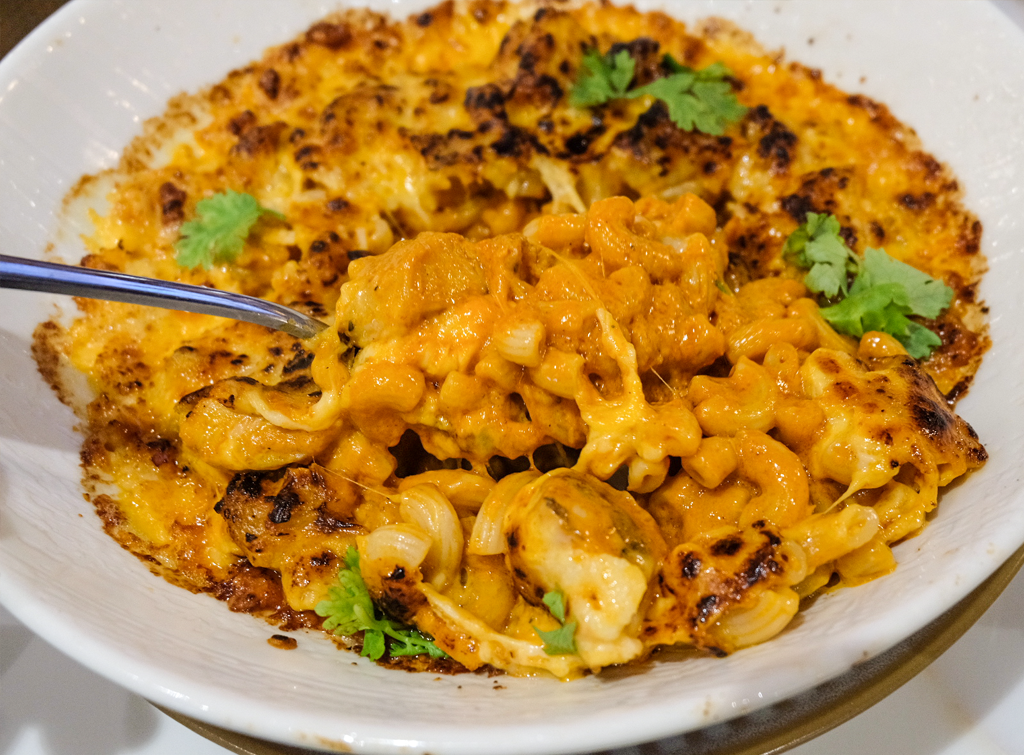 Eastern flavours meet the West with the butter chicken mac and cheese (S$26), a twist on the classic with a chunky helping of spicy butter chicken. 
The cheese combo is a complex blend of nutty red cheddar and meaty smoked scamorza, which works well with the heat from the cream. Yum, yum, and yum.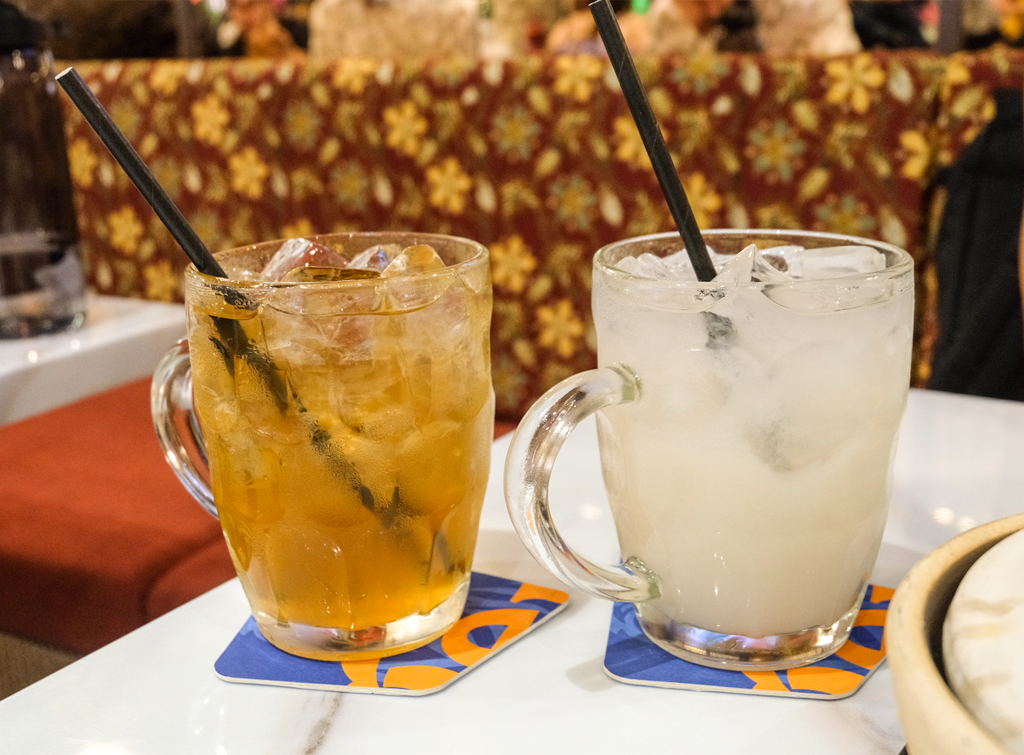 As expected of the Tipsy brand, Jelebu Dry Laksa has plenty to offer on the beverage front, including cocktails such as a Hendrick's gin bandung drink, beers and wines. 
But it's the housemade iced drinks that got our attention. The Tang Brew (S$5) is a fragrant lemon tea spruced up with a dehydrated lemon slice and kaffir lime leaf. Or try the Ah Ma Barley (S$5) with young ginger, lemon and rock sugar. Granted, it's expensive for a barley drink, but it's probably the most delicious version I've drunk, ever!
What it could improve on
Dessert comes in the form of mini-cones filled with sweet kaya mousse accompanied by coconut ice cream, crushed peanuts and chocolate soil crumble. 
The kaya goreng (S$12) is conceptually interesting but feels a bit too gimmicky for a restaurant like this. 
Do I take a bite of the cone (which could be crispier) and then another bite of the ice cream? Or do I scoop a bit of everything on top of the cone? I tried both and am thrown off either way — mostly because of the slightly salty coconut flakes and overly sweet kaya.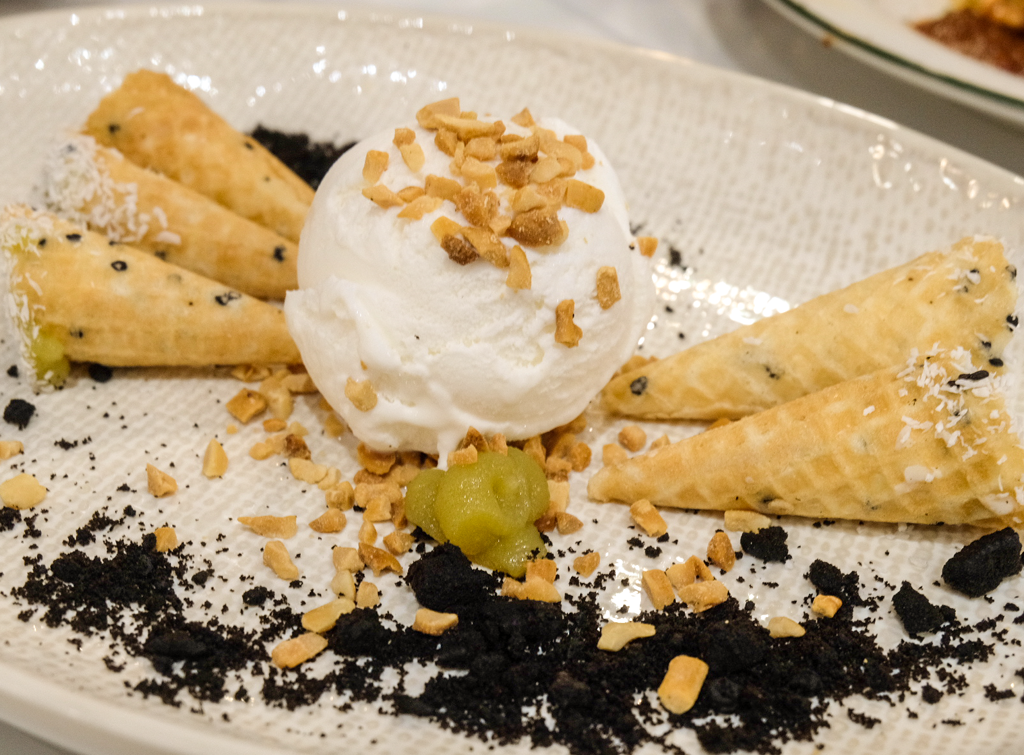 There's another creation with rice-krispie-coated goreng pisang and dark chocolate sorbet that looks promising, and we might try it the next time we return.
I'm not sure if dessert is the strong suit here, but if Chef Tang manages to maintain the standard of cooking, she's all good. 
After all, Jelebu Dry Laksa is the kind of nostalgic and relatable spot that the crowd tends to relish.
Our quick takes
Is it conducive to conversation? Yes, the eatery is spacious and suitable for group hangouts.
Is a reservation necessary? Only walk-ins are available!
How to get there? From HarbourFront MRT station, head to the second floor of VivoCity, next to Lobby F.
Things to note: 
Service might be slower than usual, as the restaurant is still in its early phases of operation.

Some items were sold out by 7pm and our food took more than 30 minutes to be served. But the staff were all nice and friendly.
HungryGoWhere paid for its meal at this restaurant for this review.
Book a ride to Jelebu Dry Laksa.
VivoCity, 02-48, 1 HarbourFront Walk
Open: Monday to Sunday (11.30am to 10pm)
VivoCity, 02-48, 1 HarbourFront Walk
Open: Monday to Sunday (11.30am to 10pm)