Review: Hashtag #3 in Kovan is a new neighbourhood gastrobar with plenty of spirit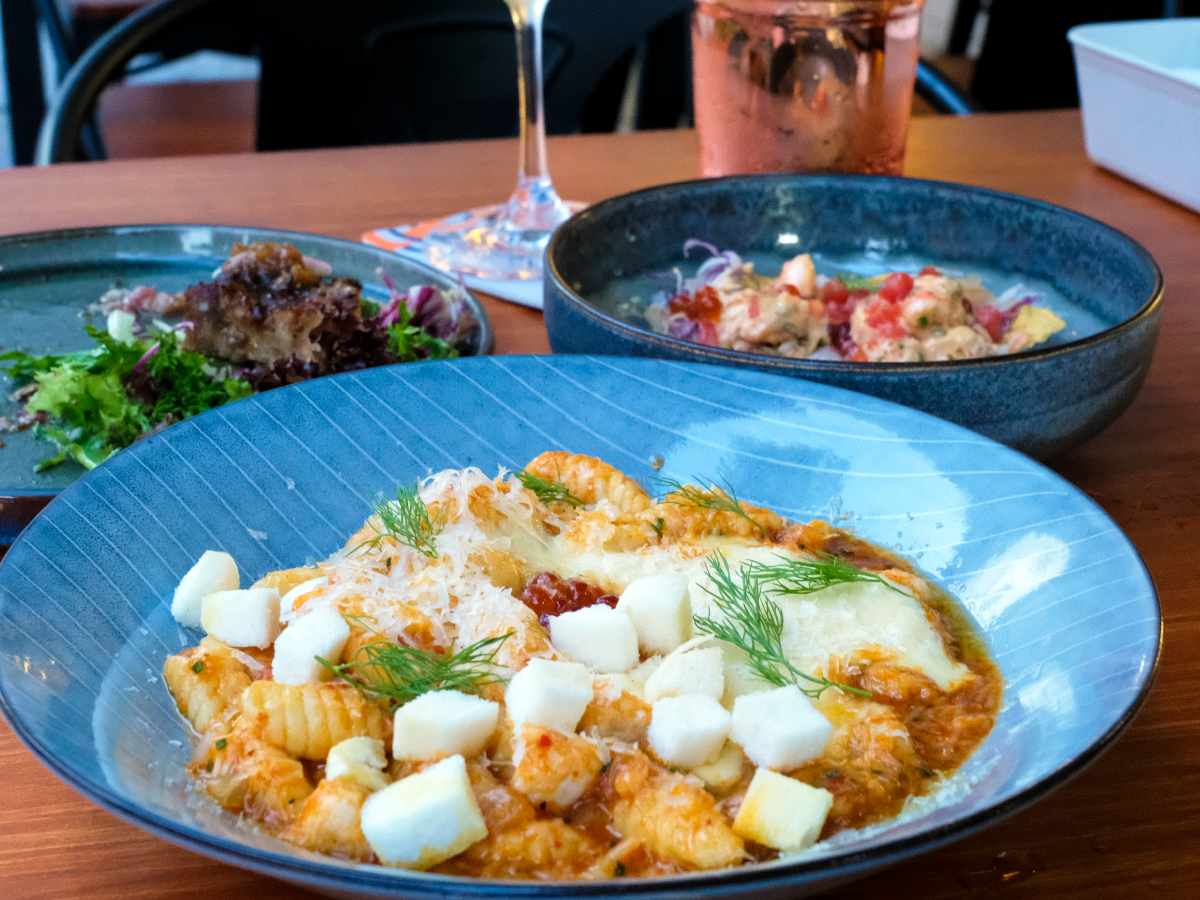 Hashtag #3 is a gastrobar five day a week and a brunch spot on Sundays
Look forward to European grub with an Asian twist, martinis, and signature cocktails
Our reviewer loved the potato gnocchi, pork belly and the hashtag mule cocktail

As someone who's lived in the north-east region for more than three-quarters of my life, I can confidently say that Kovan is where you'll find some of the best food in this part of Singapore. 
The short stretch at the tail end of Upper Serangoon Road, for example, is a popular supper spot most popular for the famous Ponggol Nasi Lemak, as well as excellent Teochew porridge with braised duck leg. 
Several doors down sits the brunch hotspot Lola's Cafe, but if you want more local stuff, you can head to the hawker centre where delicious economical bee hoon and oyster omelettes can be found.
Then there's Block 212 — a short walk away from the MRT station, first hyped up by names such as Nakhon Kitchen, Tachinomiya, Udders Ice Cream, and now, the brand new Hashtag #3 Cafe & Bar.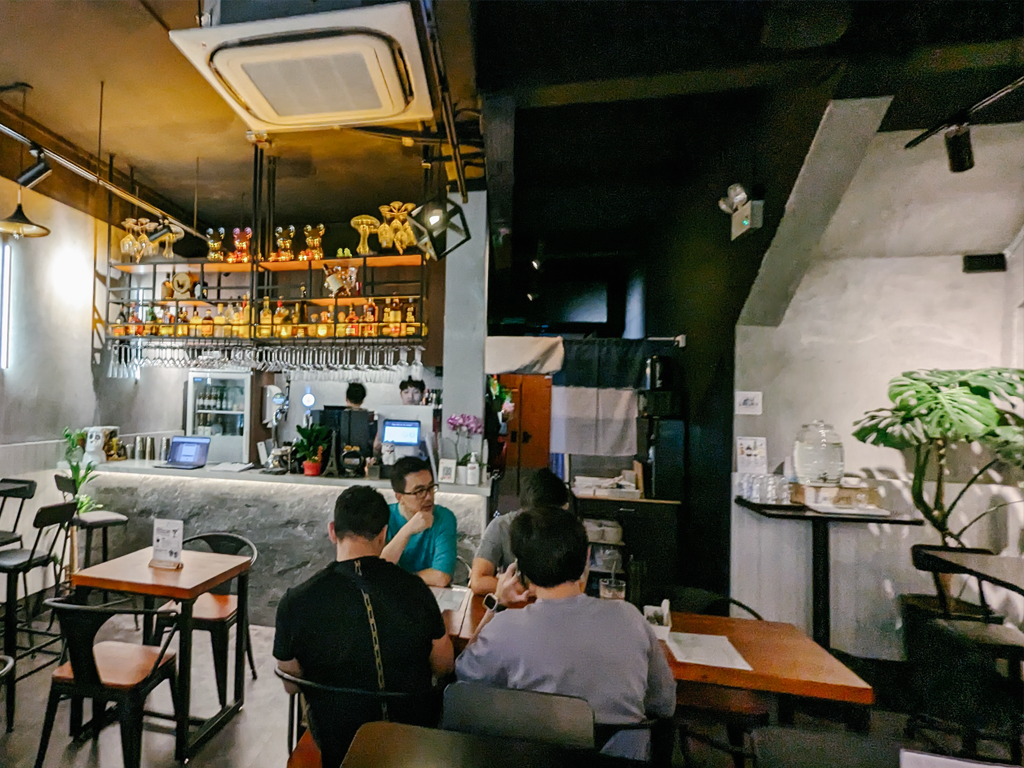 Hashtag #3's offerings veer between a no-frills gastropub and a casual fine dining restaurant, which is interesting for a humble neighbourhood establishment. We're even told the head chef, Eric Seow, used to lead the kitchen at Sofitel Singapore City Centre — as if I wasn't already excited enough.
Hashtag #3's menu here (mains start from S$18) is far from typical and primarily European — particularly French — with Asian influences thrown into the mix: Iberico pork jowl kong bak bao, anyone? 
There's no shortage of booze here either, from wine, bubbly and beer to signature cocktails (from S$16) and a charming martini list.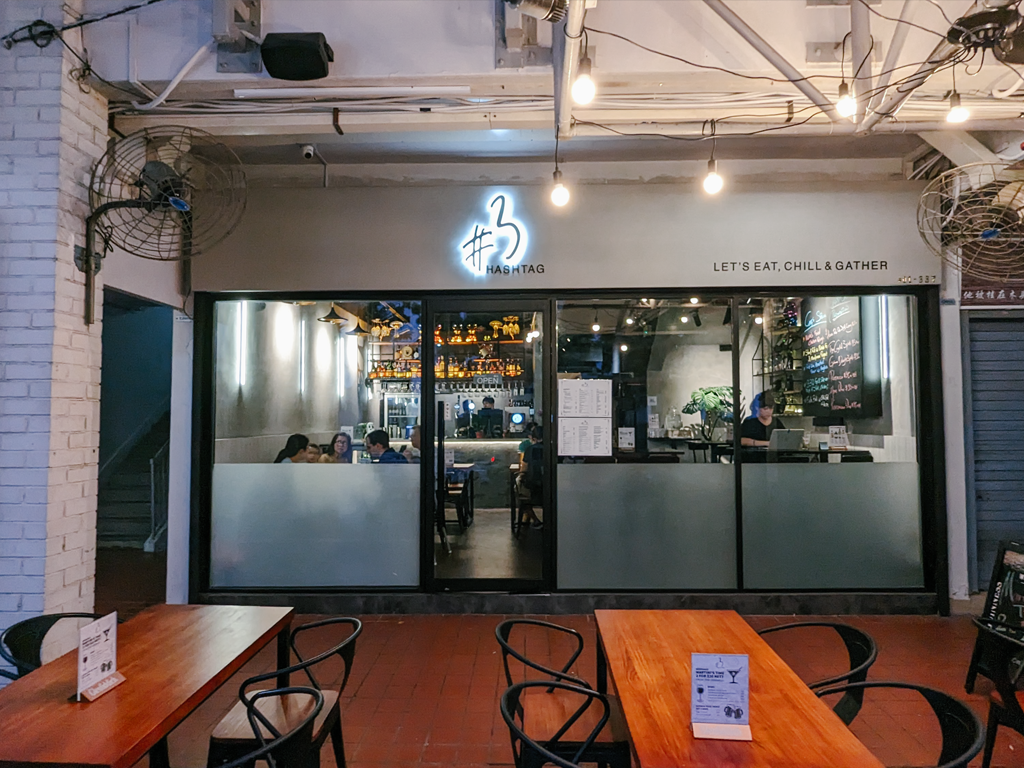 Dinner here with my partner was a wonderful experience, and the food, drinks, and even service exceeded initial expectations. The use of nice crockery and glassware only added to the warm ambience. If you stay in the north-east area, you'll definitely want to check out this hot new spot. 
I say hot, but the vibes here are cool and relaxed, with chillhop, acid jazz, and deep house spilling from the speakers. Did I mention I saw a no service charge and GST?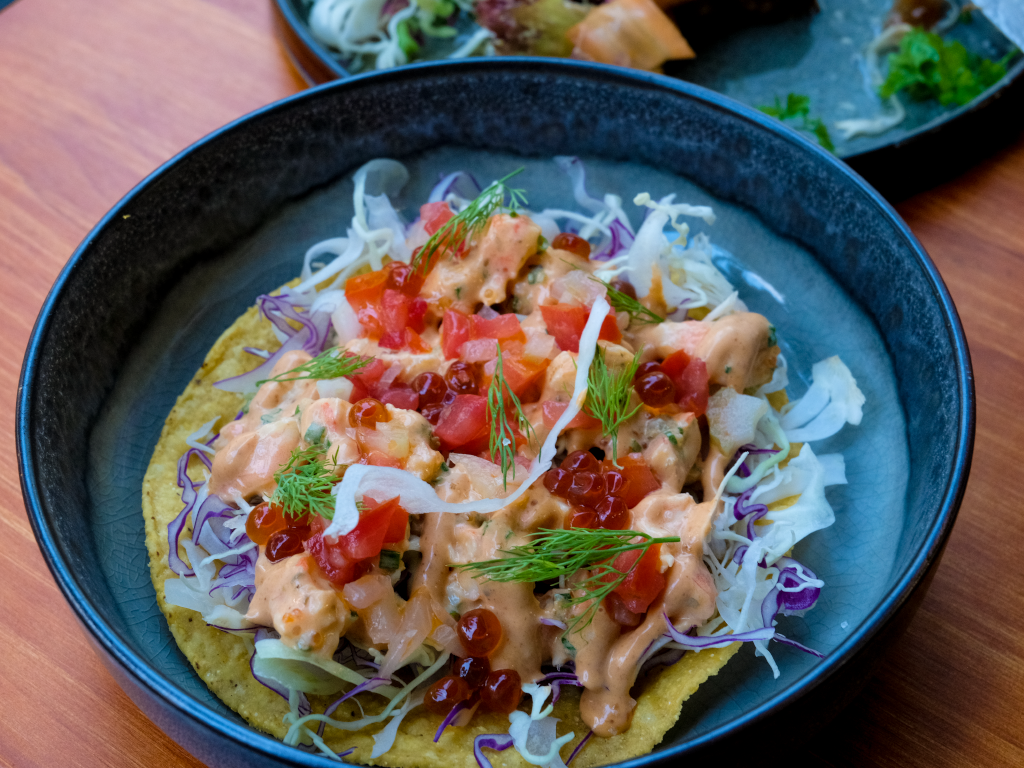 We started with the prawn tacos (S$8), which turned out to be a single large flat taco.
The fusion elements play out well, with springy prawns buried under a heap of vierge (a light French sauce with chopped tomatoes, basil, lemon juice, and olive oil) and a savoury mayo-type sauce, rounded off with ikura and sprigs of deliciously fresh dill. 
Get in with your hands and bite into this tasty appetiser.
Alright, just look at this plate of gorgeous potato gnocchi (S$22). The handmade gnocchi is soft and fluffy (but with a firm bite), its grooves licking up the fragrant chilli crab sauce as well as a mantou. 
The sauce, while not quite spicy, is bright and tangy, accentuated by the chef's egg espuma — an egg white foam that replaces the usual egg curdles at your typical chilli crab spot — and dill.
There's a generous amount of real crab chunks plus ikura for little bursts of umami, as well as crispy crouton squares that soak up even more sauce. Try to get a spoonful of everything in one bite — you'll love it.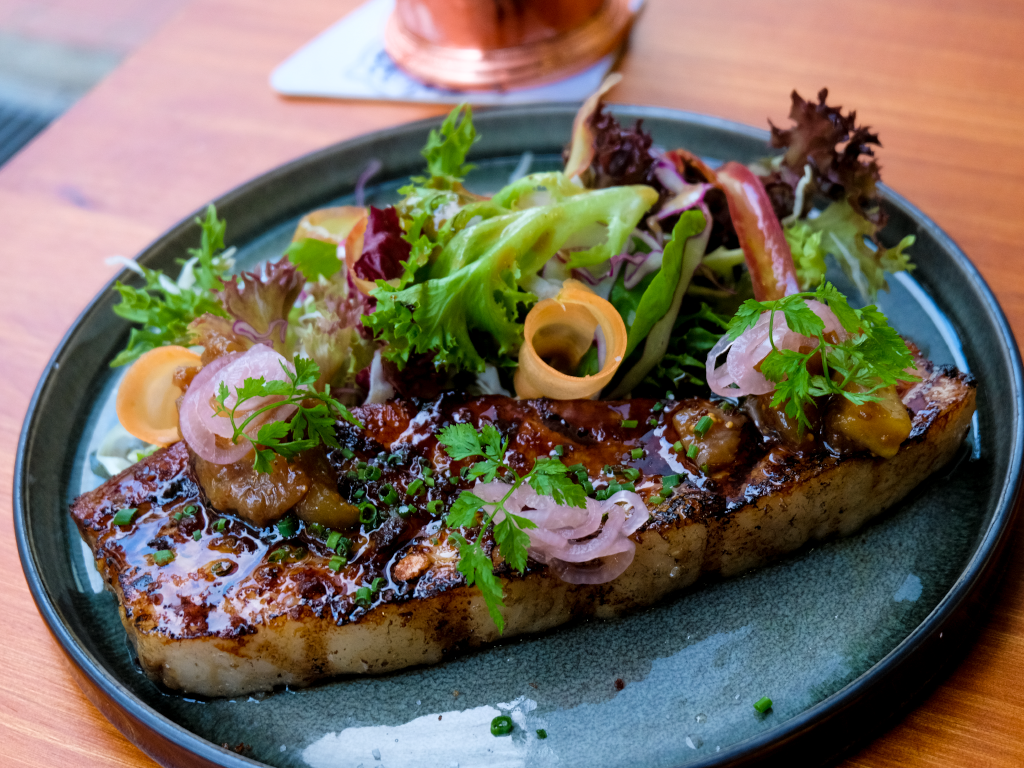 Another beauty is the soy confit pork belly (S$18), a sizeable slab of equal parts fat and lean pork that makes up 100% deliciousness. The meat is cooked in its own fat till soft and tender, with a soy glaze that pairs wonderfully with roasted apples. 
The chef's flair for creating harmonious flavour combinations is clear: The accompanying slaw of cabbage, mandolin carrots, and salad leaves cut away from the pork's fattiness.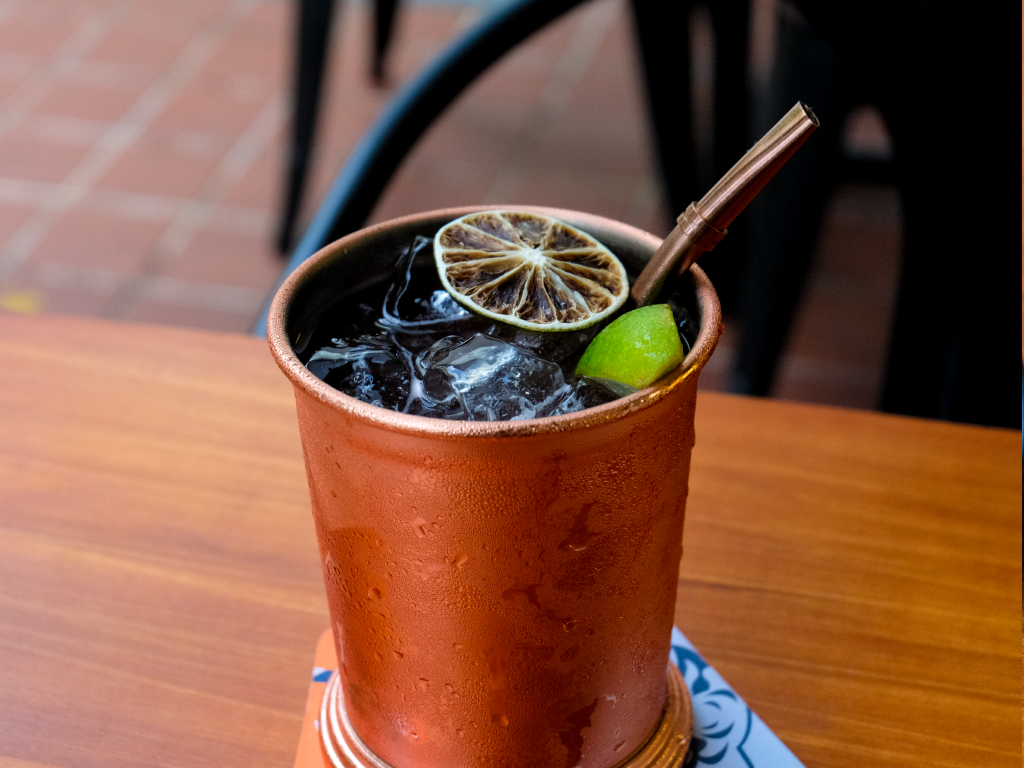 It's not every day you find quality cocktails under a HDB block. Moscow mules are usually made with vodka and lime juice, but the variation here (hashtag mule, S$18) is sweeter and darker with cognac, Campari and Angostura bitters mixed in. The ginger beer on top makes the concoction extra refreshing.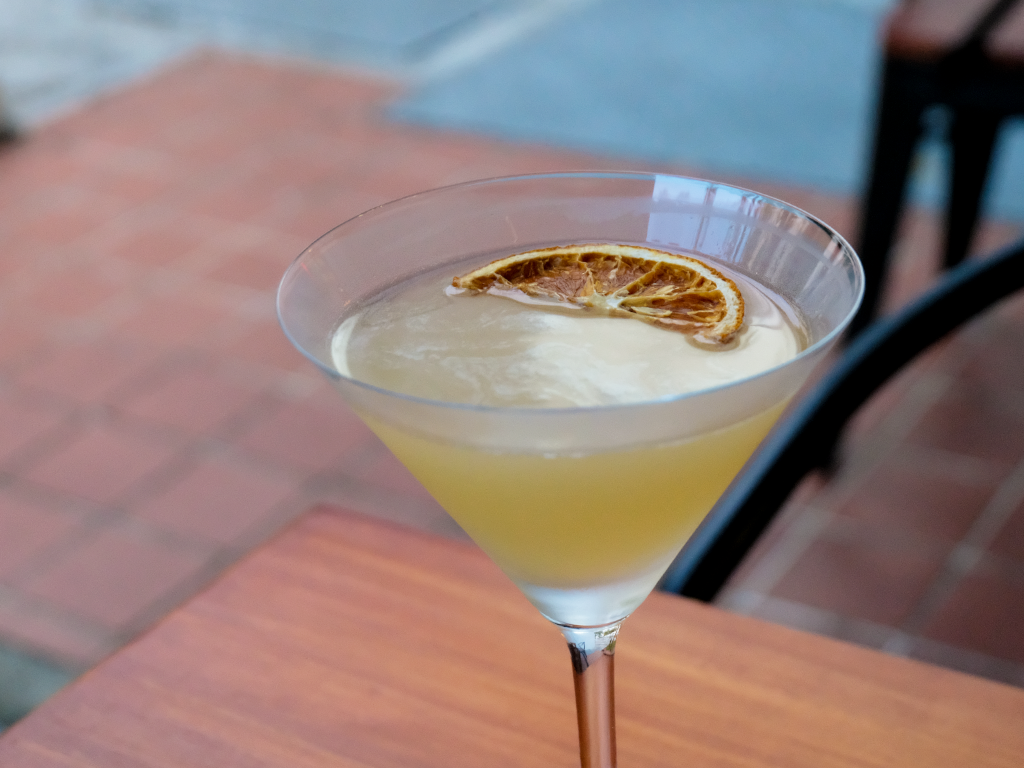 My partner's homemade chrysanthemum martini (S$16) is a tad more complex: Vodka, chrysanthemum, and a simple syrup with lime and lemon juice. It's floral, crisp, slightly spicy, sweet and sour all at once. You have to try this.
It's rare that I have nothing to gripe about at a restaurant, but here we are. If I really had to nitpick, it'd be the lack of craft beer options, just because I think the food here would go well with beer. Only Tiger Crystal and Guinness on tap are available for now. 
That is, however, just a personal preference. Hashtag #3 is leagues beyond the usual neighbourhood gastrobar, and most certainly worth making a trip down for.
Is it conducive to conversation? It gets a bit loud inside when it's a full house, but you can choose to sit outside.
Is a reservation necessary? Only if you're coming in a big group.
How to get there? Hashtag #3 is a six-minute walk from Kovan MRT station Exit C.
212 Hougang Street 21, 01-337
Open: Tuesday to Saturday (5.30pm to 11pm), Sunday (10am to 5pm)
212 Hougang Street 21, 01-337
Open: Tuesday to Saturday (5.30pm to 11pm), Sunday (10am to 5pm)
---