Review: Gyu San Charcoal Bar is decent, but doesn't fully live up to its hype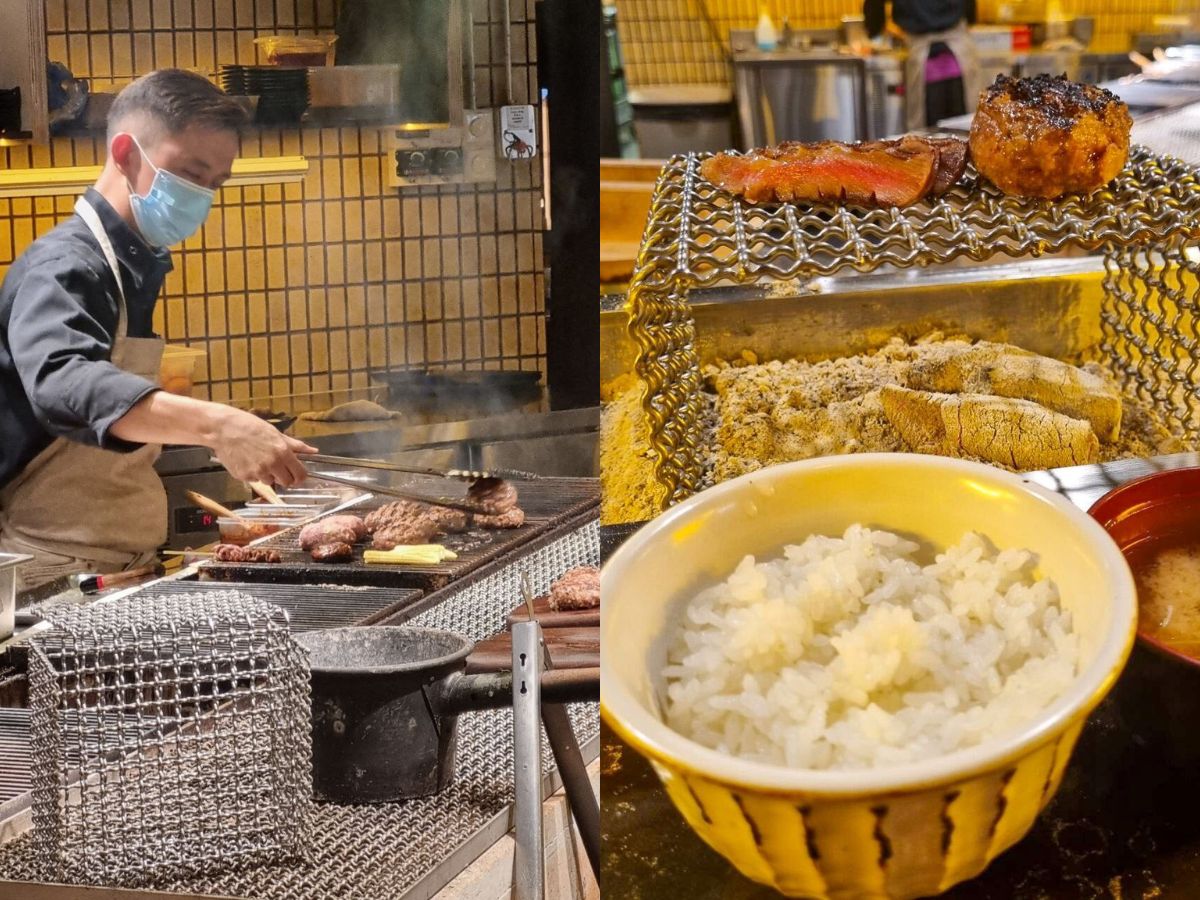 Gyu San Japanese Sando and Charcoal Bar is a new concept by the folks behind Gyu San Japanese Butchery and Sando
It offers affordable charcoal-grilled wagyu hamburg and skewers that's cooked to order
Unfortunately, the reviewer's visit ended rather abruptly
Mention the words "wagyu beef" and "Orchard Road" in the same breath, and you'd automatically baulk at imagining how expensive that meal would be.  After all, how could one possibly find affordable options for premium Japanese beef in the heart of Singapore?
Enter Gyu San Japanese Sando and Charcoal Bar (or Gyu San Charcoal Bar, for short), which is conveniently located at Forum The Shopping Mall along Orchard Road. 
It offers diners a taste of wagyu beef — known for its fatty, well-marbled texture — at an affordable price, with its signature A5 wagyu Japanese hamburg set going for a reasonable S$23.80. The set comes with free-flow rice and miso soup, too.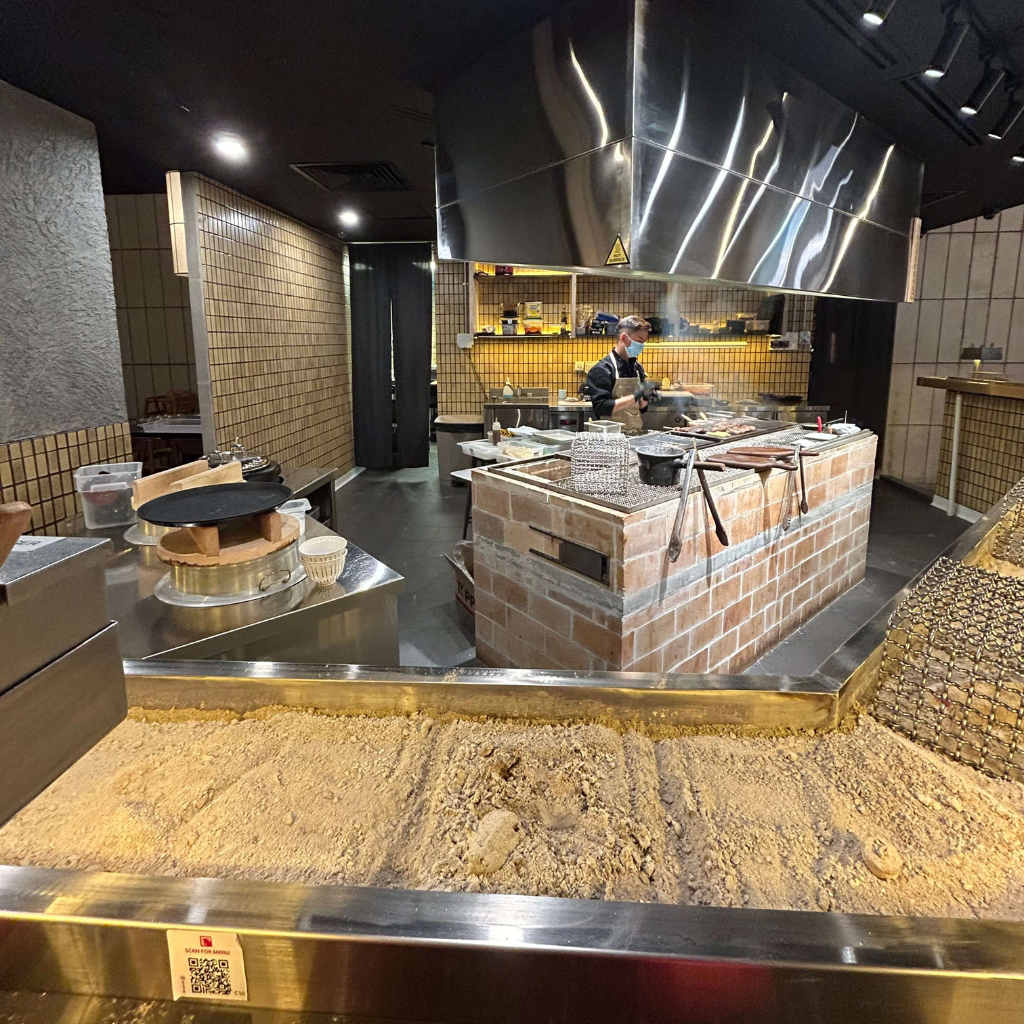 Opened in August 2022, Gyu San Charcoal Bar is the sister outlet of Gyu San Japanese Butchery and Sando, which is renowned for its delectable Japanese sandos and premium wagyu beef selections. 
While you can order some of the latter's famous katsu sandos and other menu items — the cosy eatery is located just next door to the moody Charcoal Bar, after all — we recommend going for the aforementioned signature hamburg set. This is because the highlight of your meal is witnessing firsthand the preparation of your wagyu hamburg that's cooked a la minute.
It's quite an experience, as the ball of raw beef is pressed onto a binchotan grill in front of you in a unique open-concept island kitchen and bar, before it is presented to your table on a personal grill to keep warm.
The establishment is helmed by ex-Akira Back chef Tomoyuki Kiga, and if that name rings a bell, that's because he's also the man behind Wagatomo, which delighted us on our last visit. In fact, some of Wagatomo's signature dishes are also served at Gyu San Charcoal Bar, such as the A5 wagyu pizza.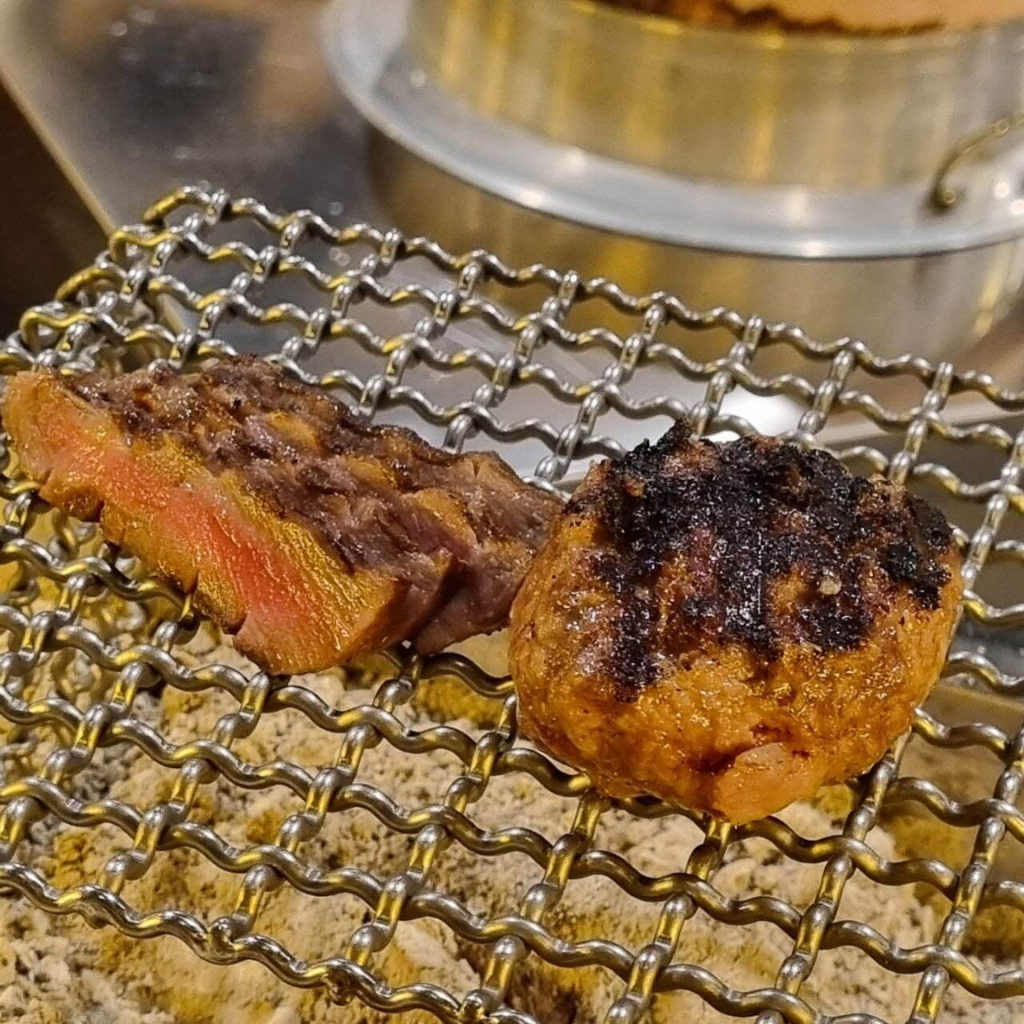 The eatery specialises in wagyu dishes, so it only makes sense that these offerings were done perfectly.
From the hamburg patties to the juicy beef within our sando, the meat was tender and cooked just right. We particularly liked the fact that there were a number of spicy and non-spicy condiments (eight in total) to pair the patty with, each of which brought out a slightly different flavour to the meat.
However, as portions are small, you might have to indulge in its free-flow rice and soup to fill up.
If you're not a big eater, this is the place for you. Bring some friends with you — the intimate and sleek ambience of Gyu San Charcoal Bar was cosy and comfortable, the perfect venue for friends to have a good conversation.
But don't plan on staying late (more on that later).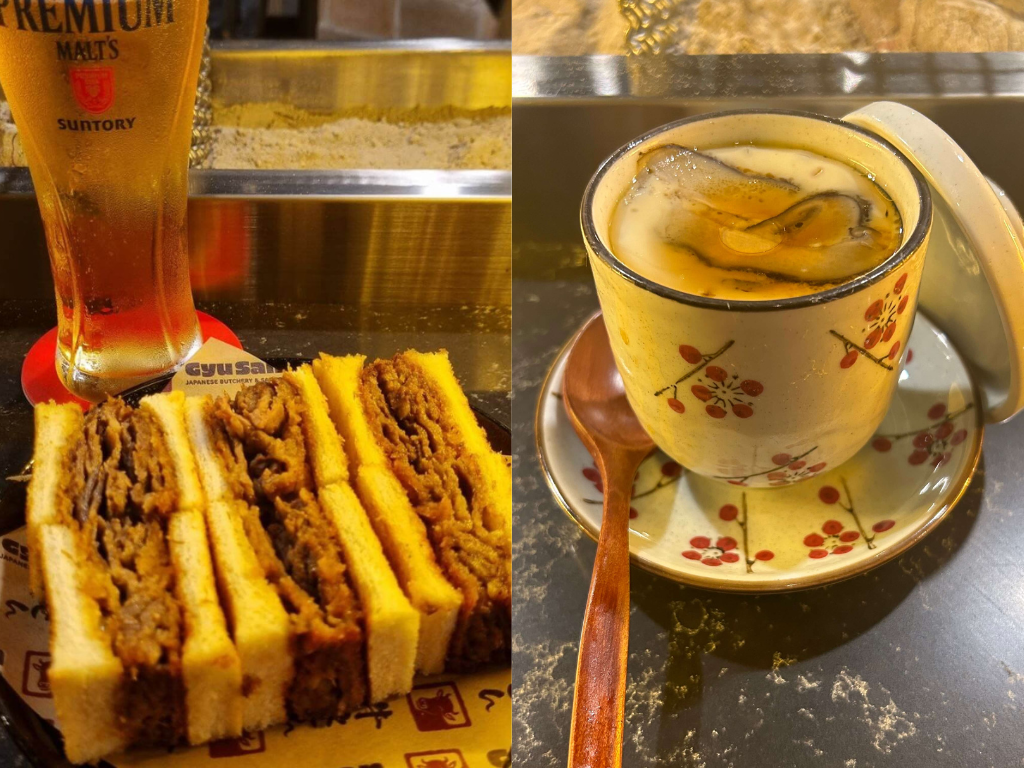 Gyu San Charcoal Bar lived up to its claim for serving quality wagyu hamburg patties at an affordable price point. While small, the meat was grilled to medium rare-perfection, and it was so soft that I actually found it a challenge to pick it up with my chopsticks. 
The accompanying condiments (which you can help yourself to) are varied and delicious. We especially loved the shio lemon and ginger sambal sauces, which we thought were unique, and helped bring out the flavour of the meat.
We couldn't resist getting the shabu-shabu katsu sando (S$32), which saw generous portions of well-seasoned meat sandwiched between crispy bread. 
Additionally, we ordered the gyu tongue (S$20), which was very thinly sliced and well-executed. I really liked that our meats were placed on a personal grill right in front of us, to keep the food warm. The chawanmushi (S$5) also had a generous amount of ingredients and was incredibly flavourful. 
As for beverages, there was a decent selection of reasonably priced beverages. Alcoholic options were surprisingly affordable (S$10 to S$17 per glass on average), given the outlet's location at Orchard.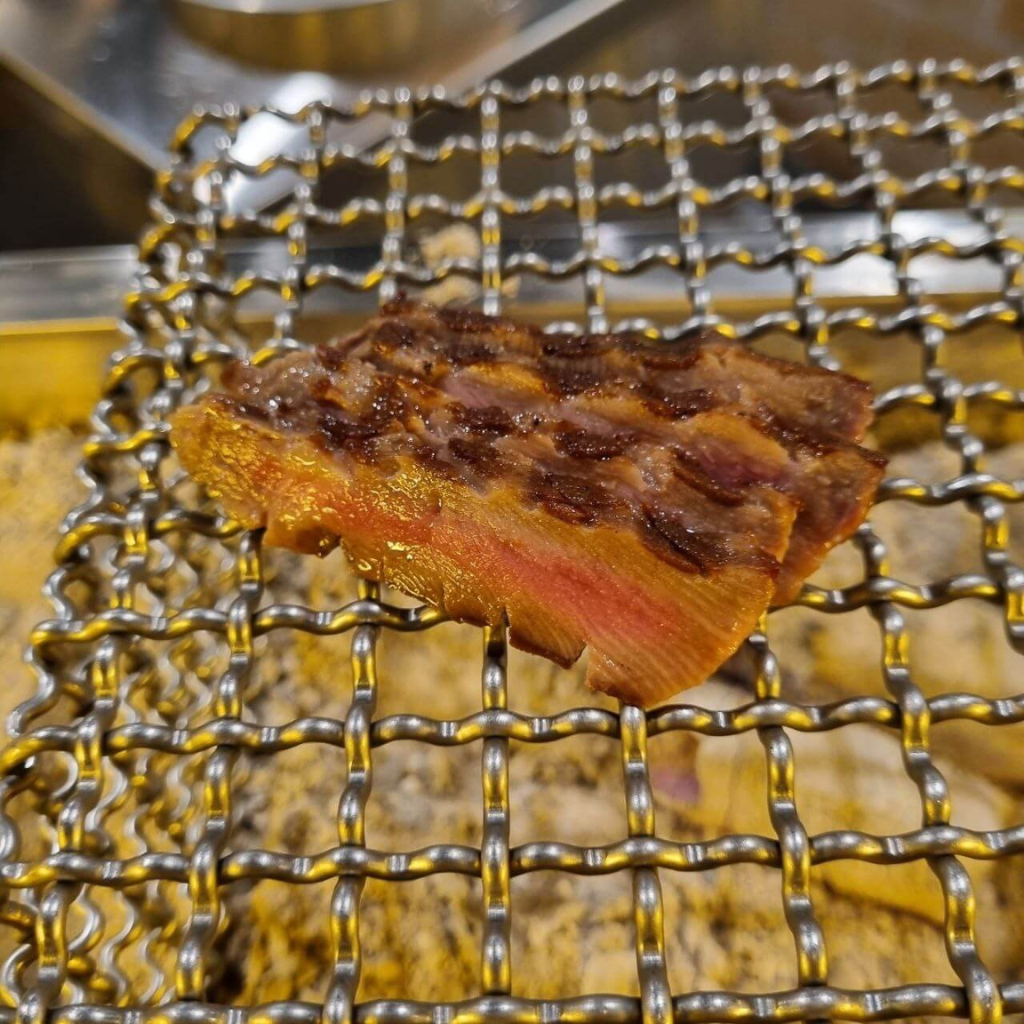 The serving portions for most of Charcoal Bar's mains are a tad small. The hamburg set, while affordable and comes with free-flow rice and miso soup, is definitely not enough for a full meal, unless you're a small eater. There's only so much rice one can eat. 
My companion and I had to order a hamburg set each and the dishes we mentioned above before we were satiated. 
Some of the sides were a tad too salty, as was its miso soup. We also found the bread of the sando a tad dry, which was a shame, as the meat was near-perfection. 
Service-wise, we felt that the team could have done better with regard to communication.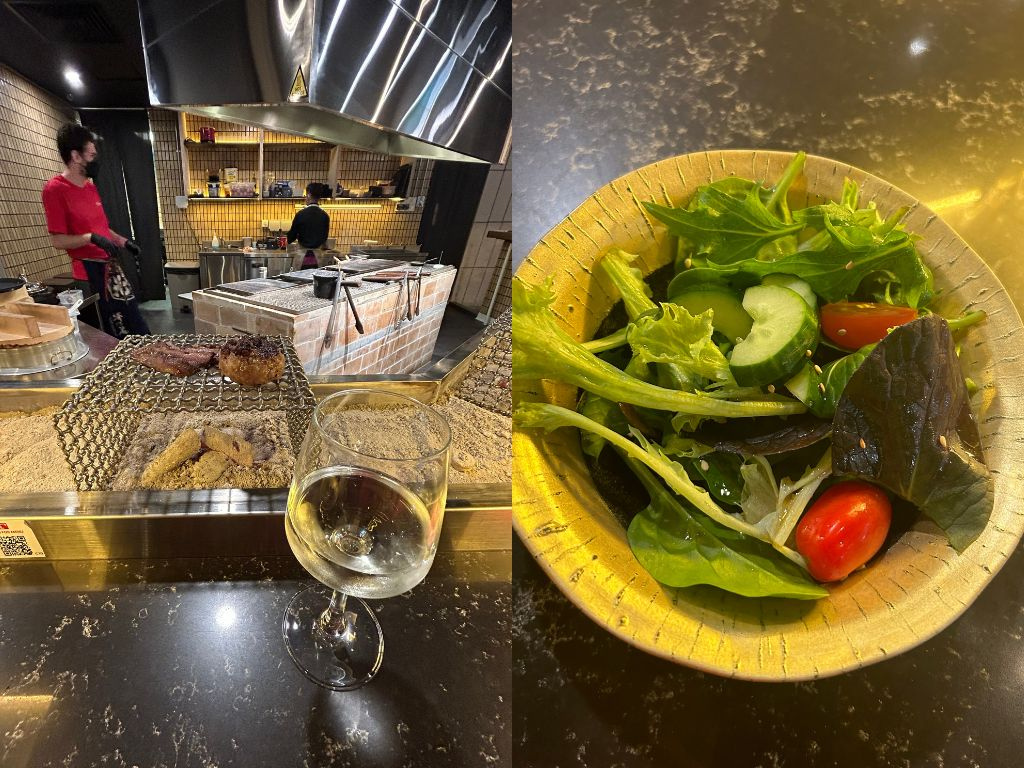 Case in point: At 9.59pm, we were told to leave as the restaurant was closed. This came as a surprise, as both Gyu San's website and Google stated a closing time of 10.30pm.
The staff began washing the kitchen and preparing to close up from as early as 9.20pm. Given that my last drink, a sake,  was served rather late, I had no choice but to gulp the remainder in seconds. The abrupt end to our evening, unfortunately,  made the visit less than pleasant.
Overall, our experience, while good, did not fully live up to our hyped-up expectations. That said, Gyu San Charcoal Bar is still a very decent option if you need to satisfy a hamburg and wagyu craving.
Is it conducive to conversation? Yes, although given its popularity, the place may be noisier during peak dining periods on weekends. Tables were comfortably spaced and the reggaeton was dialled up enough for you to gyrate in your seat without missing the banter. 
Is a reservation necessary? Yes, especially if you'd like a counter seat to get the full charcoal bar-grilling experience right before your eyes.
How to get there? It's a 10-minute walk from Orchard MRT station. Otherwise, booking a Grab ride may be more convenient.
HungryGoWhere paid for its meal at this restaurant for this review.
Still hungry? Check out our reviews of The Kongsee or Don Don Donki's Sen Sen Sushi. 
You can book a ride to Gyu San Charcoal Bar.
Do explore the new GrabFood Dine-in service for awesome deals.
Forum The Shopping Mall, 01-28, 538 Orchard Road
Nearest MRT station: Orchard
Open: Monday to Sunday (11.30am to 3pm and 5.30pm to 10.30pm)
Forum The Shopping Mall, 01-28, 538 Orchard Road
Nearest MRT station: Orchard
Open: Monday to Sunday (11.30am to 3pm and 5.30pm to 10.30pm)