A cancer survivor's guide to healthy vegan food in Singapore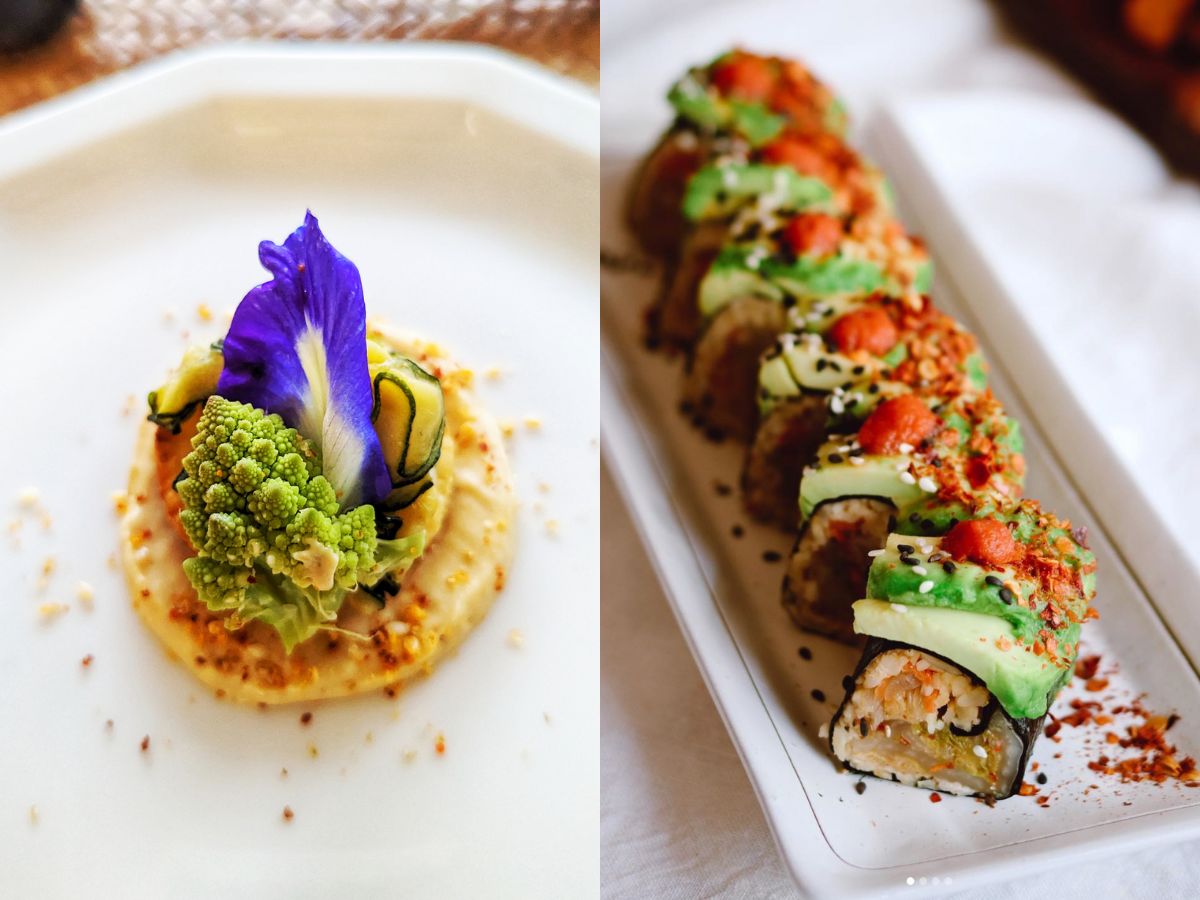 Vegan food in Singapore is gaining ground. But do you know which vegan eateries will fill your body with nutrients and minerals that lead to optimal health?
As someone recovering from cancer surgery, I had gone vegan practically overnight. When I began seeking out vegan eateries, too often, I would find that vegan options serve fried options such as tempura or fries (these are high in fat and sodium).
Or they rely on dishing out plates with refined grains such as white bread, pasta and rice. These are often stripped of their fibre and nutrients, and can contribute to blood sugar imbalances.
As a home cook, I know that vegan food can be fascinating — filled with flavour, colour and texture.
So, when I eat out, I need whole foods that excite the palate in the most natural way — no diner grub or fake meats for me, thanks. Most of all, I want to be inspired by the joy of natural foods, ingredients and cooking techniques.
Here are five vegan places in Singapore that are making the mark for me lately.
1. Sarai Fine Thai
Tanglin Mall, 03-122, 163 Tanglin Road
Open: Monday to Sunday (11.30am to 3pm, 5.30pm to 10.30pm)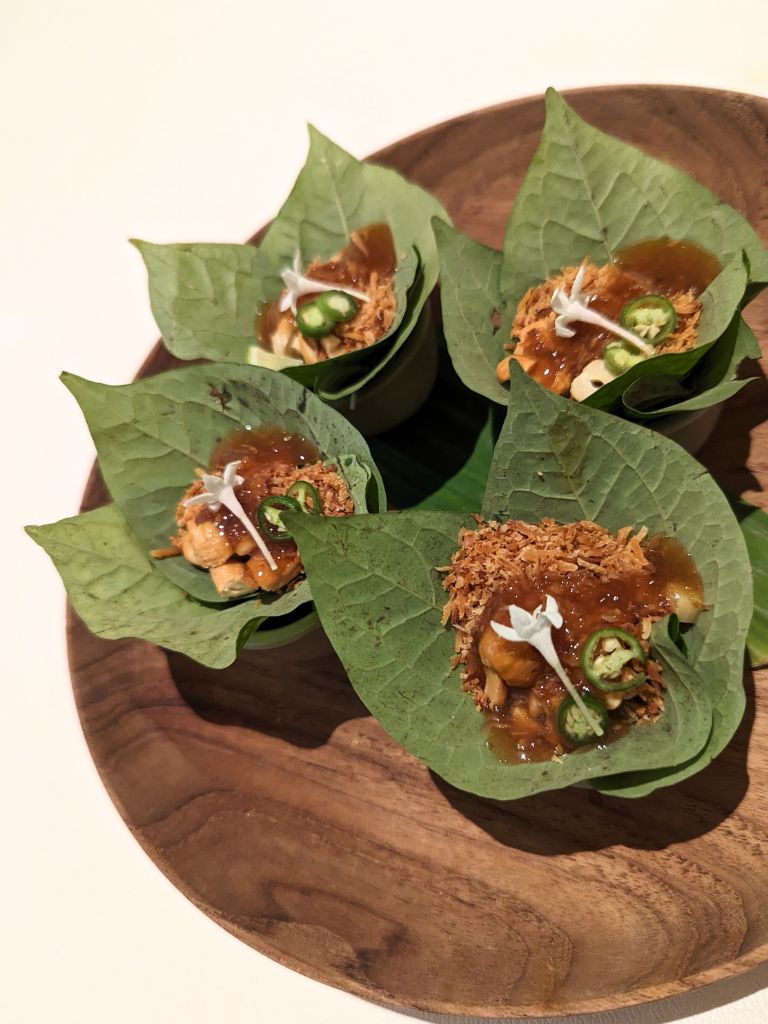 Think white tablecloths, impeccable service and high-end Thai food that bursts with flavour. Sarai's meat-free menu — which showcases oft unexplored Thai flavours and ingredients — has plenty of options. I love small bites, so I enjoy ordering from the starters menu.
The result: A bounty of fresh flavours from northern Thailand. 'Best ofs' include the mieng mak (lime and wild ginger wrapped in betel leaves, S$16), and the Thai sweet fern salad (S$22) with tamarind palm sugar dressing. 
If you're not fussy as I am about fried foods, try the deep-fried corn fritters and Thai-style taco with stir-fried tofu, mushrooms and bean sprouts. Thai favourites such as a vegan pomelo salad, the Pad Thai and the vegetarian green curry are excellent choices as well, and taste clean and fresh rather than heavy as some Thai dishes can be. 
Go for Sarai's Experience lunch menu ($78) or Experience dinner menu ($98) for the best value. It includes an amuse bouche, starter, main, and a dessert such as a pandan coconut pudding or mango sticky rice.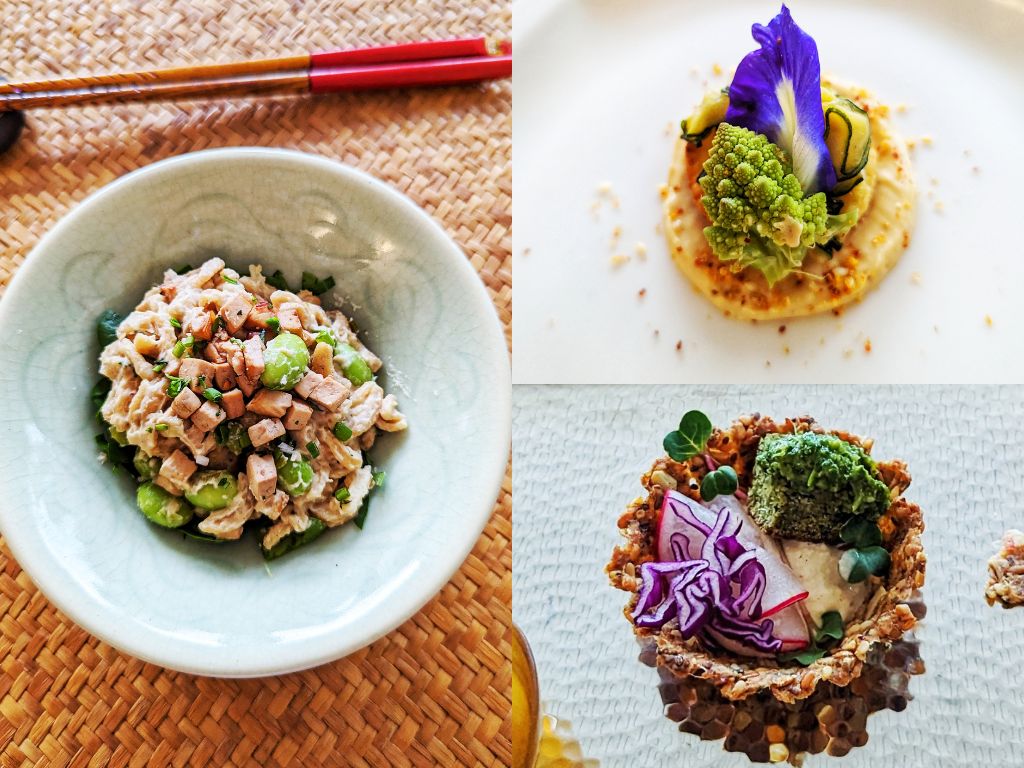 One of the best new finds in the vegan community has to be Delice Asan, a botanical gastronomy run by the gentle Anne Schot, who trained at Le Cordon Bleu in London. The UK outpost of the famous French cooking school (Julia Child, anyone?) is the first to offer an intensive plant-based training course, which Anne braved before opening up her home as a private-dining space for lunches and dinners. 
Prices start at S$115 for lunch and S$150 for dinner. Expect a carefully crafted multiple-course whole foods, plant-based tasting menu that can be Western or Asian in nature, served up in an intimate home setting. 
Besides delicacies such as seed cups with cashew nut cheese and mushroom dukkah, spicy heart of palm or ajo blanco, Schot is also adept at creating vegan sushi, Thai cuisines and more. Leave room for dessert, which can be a plate of vegan ice cream with fresh fruit and vegan truffle balls.
3. Afterglow by Anglow
24 Keong Saik Road
Open: Monday to Saturday (12pm to 10pm)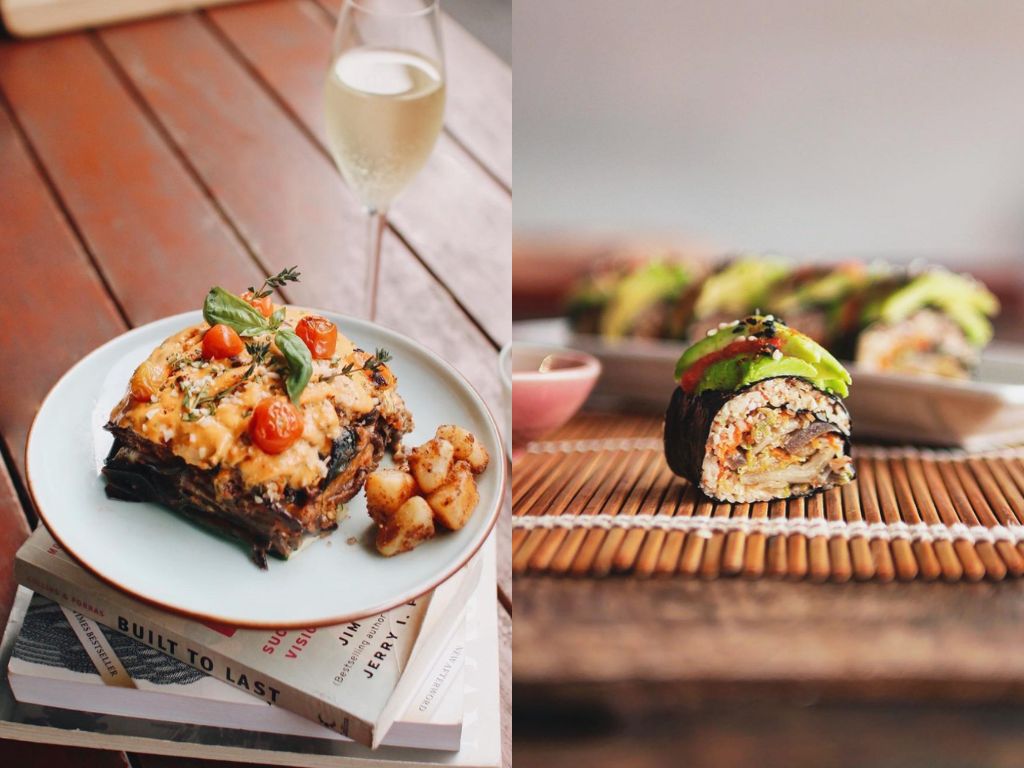 Afterglow is a perennial go-to for vegan food in Singapore, thanks to its fully vegan menu with many raw food items. Raw foods are great for gut health and for helping to boost the immune system. 
A crowd fave is the vegan lasagne (S$24) — zucchini sheets filled with crispy dehydrated cherry tomatoes, marinated baby spinach, shiitake mushrooms, walnut 'minced meat', cashew cream cheese and pesto. 
Definitely order the Afterglow kimchi avo rolls (S$15) comprising almond sushi "rice" and housemade vegan kimchi (no fish sauce here!) topped with avocado. If you're missing fries, check out the salted "egg"-less sweet potato fries (S$11) with baked (not fried!) sweet potatoes and seasonal vegetables topped with a homemade salted 'egg'-less sauce that's truly moreish.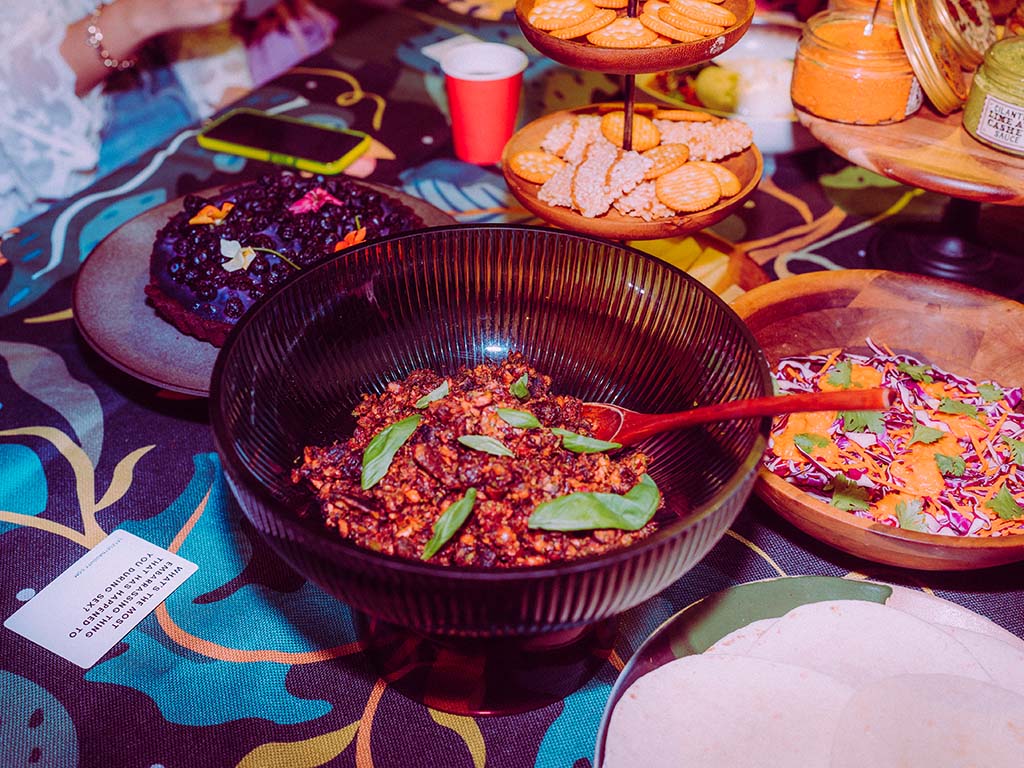 Loaded Gun Kitchen, the popular dips company that got its start in the throes of Covid-19, has expanded into operating a plant-based event space. Its latest offering is its Disco Diner, a communal dining, bookings-only weekend party that serves up a whole foods, plant-based menu to groups of four. 
While you'll see options with cheese on the menu, DM owner Lynn to talk about turning your own menu into a full vegan experience. Dishes are fun and funky, and meant for whole-table sharing. 
Right now, she's offering Vietnamese sandwiches made with her popular Midnight Gospel shiitake mushroom burger patties and featuring a homemade portobello and king oyster pad grapow (mushrooms contain powerful anticancer compounds, by the way) served with housemade pickles (great for gut health). Also expect Lynn to serve up her take on Szechuan mapo tofu.
Wanna share with people you love in a truly private setting? You can book out owner Lynn's entire space for girls' nights out, birthday gatherings, networking events and more. You take care of the invite list, and she'll take care of the rest. All you and your posse have to do is rock up, eat and flip the party switch 'on'. You can grab a space for S$117 per person. 
Oh, and be sure to take home a set of signature dips that can include faves such as the Umami Bomb Cashew Cream or the Sexy Green Goddess (S$16 and up), an avocado and cilantro concoction of pure deliciousness that can be eaten with tortilla chips, and even on cold pasta or a fresh paratha!
5. iVegan
Thomson Plaza, 01-109, 301 Upper Thomson Road
Open: Monday to Sunday (11.30am to 9.30pm)
i12 Katong, 02-20, 112 East Coast Road
Open: Monday to Thursday (12pm to 9pm), Friday (12pm to 9.30pm), Saturday (11.30am to 9.30pm), Sunday (11.30am to 9pm)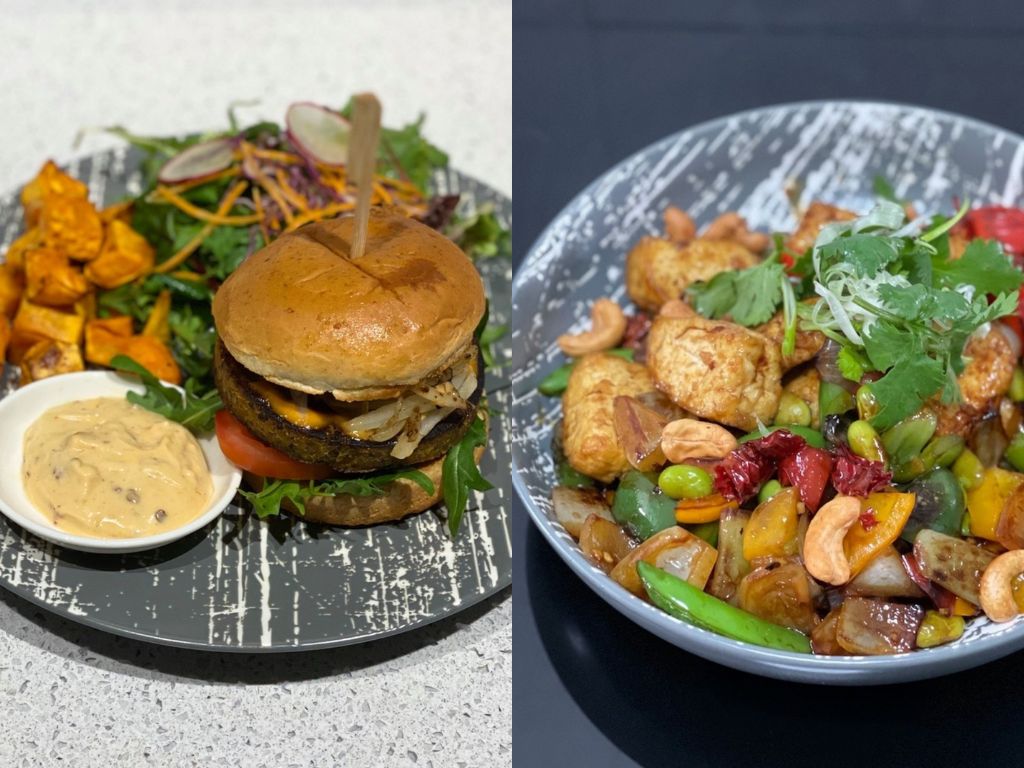 As someone recovering from cancer, I have to be super stringent on the nutrition factor. This no-frills eatery serving vegan food in Singapore has impressed, thanks to being truly health-focused while not busting the wallet. 
Here, expect plant-based healthily prepared food — meaning low salt, oil and sugar, and no hint of MSG, even in the most umami dishes such as the mala veggie medley (S$7.90 and up). Although some refined sugar (meaning, brown sugar; and yes, that's a refined sugar) is used, this is indicated on the menu and is limited. 
Many of the condiments — such as the mala sauce and BBQ sauce, which features in items such as the excellent crispy veg maki (S$5.90 for four pieces) — are housemade and taste properly wholesome. You can have the sushi rolls, by the way, with brown rice, and grain-based sides include quinoa. 
The menu is extensive and includes Asian-style tofu and vegetable dishes as well as Western options such as a delicious beetroot hummus (S$9.90), a housemade black bean burger (S$13.90), a very yummy portobello steak (S$16.90) and pasta (S$8.90 and up).