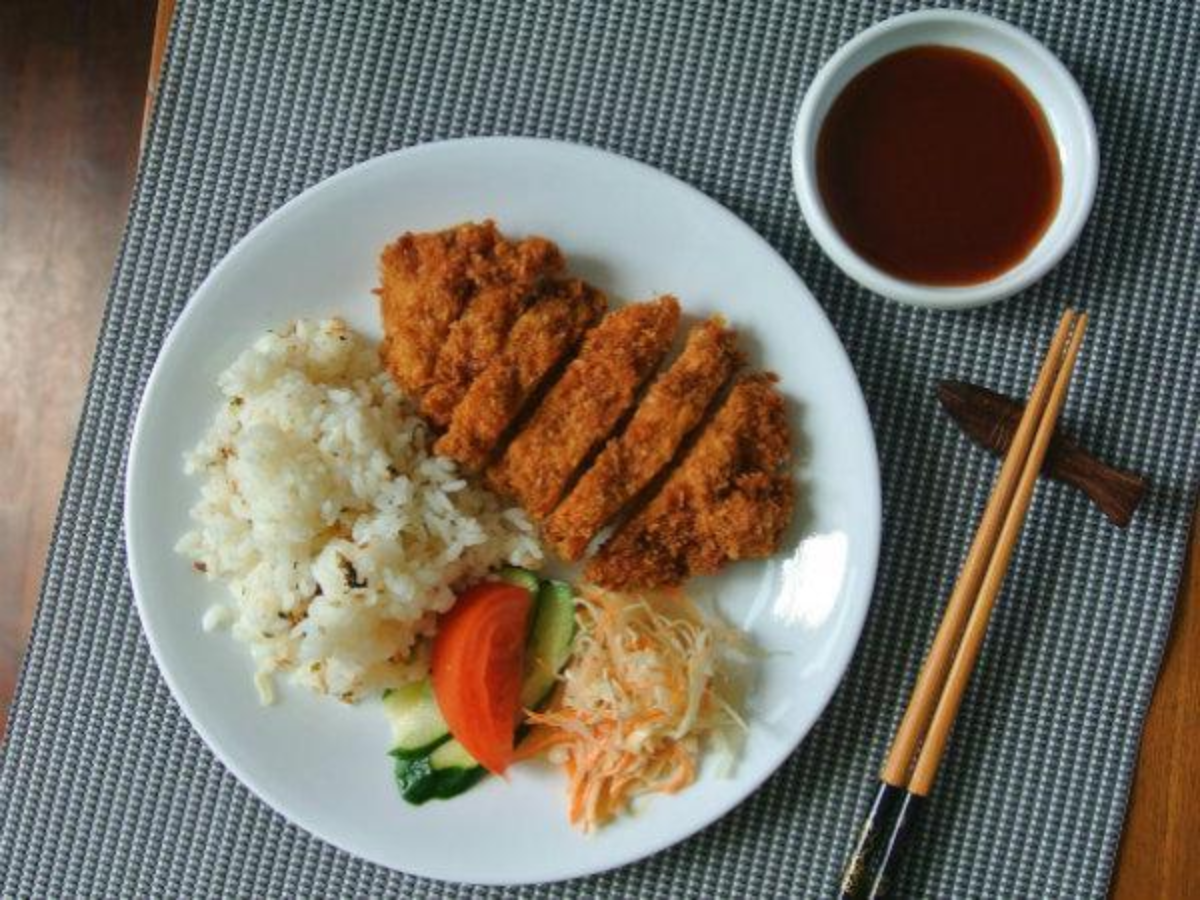 It seems easy enough. Just dredge a piece of pork successively in flour, egg and breadcrumbs, then deep-fry it, and voila! You've got tonkatsu.
Inspired by Western-style fried cutlets, tonkatsu—Japanese for pork cutlet—has become a classic Japanese comfort food. The ingredients are simple, but making the perfect tonkatsu is a honed art. The quality of the pork, flake size of the panko (breadcrumb), type and temperature of oil, and cooking time—every single detail counts. It looks deceptively easy, but the art of tonkatsu requires much skill and experience.
With the recent imports of tonkatsu speciality brands from Japan, tonkatsu lovers in Singapore are now spoilt for choice. inSing.com goes on a quest to find the best tonkatsu in Singapore!
Saboten EDITOR'S PICK!

9 Raffles Boulevard, #03-02 Parco Marina Bay, Millenia Walk Singapore
Opening hours: Mon-Fri: 11.30am-3pm (lunch), 5.30pm-10.30pm (dinner); Sat, Sun eve of/and PH: 11.30am-10.30pm
Price: Loin katsu (small) set, $19.00++
Rating: 4.5/5
We've found the near-perfect tonkatsu in Singapore! Hailing from Shinjuku, Tokyo, this tonkatsu specialty chain is the latest player on the scene. Their rosu tonkatsu set satisfied almost all our stringent criteria.
Coated in golden breadcrumbs that flared most bewitchingly, the breaded pork loin impressed us with a crispy crust that was feathery light and melt-in-the-mouth. Amazingly, it didn't feel greasy at all. We could taste the natural sweetness of the succulent pork loin. It was fresh and had the right amount of marbling.
Much attention was also given to other components of the meal. We loved their home-made tonkatsu sauce, which brought the breaded pork to another level with its lively sweet-tangy flavours. Cooked using a superior grade of rice, the pearly grains had great texture and beautiful luster.
Special praise also goes to the shredded cabbage. It stood out from its competitors for being exceedingly refreshing, sweet, and juicy. Drizzled with citrusy yuzu-based vinegar or creamy sesame sauce, we couldn't help but ask for multiple helpings of the free-flow cabbage.
If not for a slightly soggy under-crust for the tonkatsu, we'd have given full marks to this outstanding tonkatsu specialist. Save for this tiny flaw, Saboten is our top recommendation for the complete tonkatsu experience.
Tonkichi (Orchard Central)
181 Orchard Road, #07-06 Orchard Central
Opening hours: Daily: 11am-11pm
Price: Rosu katsu set, $21.90++
Rating: 4/5
Synonymous with tonkatsu, Tonkichi has been the place to go to when one craved for quality tonkatsu. They've remained faithfully consistent over the years.
For this taste test, we tried out their newest branch at Orchard Central. The crunchy crumb was blissfully melt-in-the-mouth and had a lovely fragrance. The pork was tender and lightly salted, so we could still taste the natural sweetness of the meat. Their roasted sesame seed for the tonkatsu sauce was robustly aromatic.
Compared to Saboten, the other components were less impressive. The free-flow cabbage was finely shredded, but it wasn't served properly chilled and was rather dry. The tonkatsu sauce, while sufficiently piquant, was not particularly memorable. However, these were minor nitpicks. Overall, Tonkichi remains a dependable choice for tonkatsu.
Tonkatsu Ginza Bairin BEST VALUE!

2 Orchard Turn, B4-39/40/41/42 ION Orchard
Opening hours: 11am-10.30pm daily
Price: Pork katsu set, $15.20nett
Rating: 3.5/5
Another newcomer, Ginza Bairin is also an imported Japanese tonkatsu chain. They are not a full-service restaurant, hence their relatively affordable pricing.
We think they offer great value with their free-flow of cabbage and rice like the tonkatsu specialty restaurants and the portions were generous. The cabbage was cut very fine, and paired with a delectable vinegary, sesame dressing. Instead of the usual tofu miso soup, they served a delicious tonjiru—miso soup with sliced pork belly, daikon and carrot.
While the pork cutlet could have been thicker and juicier, it was nicely fried, with a thin and non-greasy crust. The tonkatsu was paired with a well-rounded sauce, which boasted good balance of sweet and sour. They also served a fine-grade rice which had great mouth-feel.
Although Ginza Bairin's tonkatsu was not as elegant as its fine-dining counterparts, our tasting panel thought it offered great value and more-than-decent quality for a casual concept.
Tampopo Restaurant (Takashimaya)
391 Orchard Road, #B2-33 Takashimaya Shopping Centre
Opening hours: Daily: 11am-10pm
Price: Pork loin set, $19.00++
Rating: 3/5
Strictly speaking, Tampopo is more of a Japanese family restaurant rather than tonkatsu specialist. However, they do make a more-than-decent tonkatsu, with the option of premium black pig tonkatsu.
For the regular tonkatsu, the pork loin was gorgeously tender without being too fatty. It had a good thickness, and was rather juicy.
The only thing we didn't like was the slightly greasy and salty crust. Thankfully, the zesty tonkatsu sauce complemented the pork and managed to distract us from the saltiness.
We also enjoyed the delicious tonjiru, which had generous amounts of pork belly, konnyaku, carrot, daikon, and leek slices. The other components—like the dry cabbage—were forgettable.
Tetsu Japanese Restaurant
163 Tanglin Road, #03-18 Tanglin Mall
Opening hours: Daily: 11.30am-3pm, 6pm-10pm
Price: $24.50++ 
Rating: 2.5/5
For the premium price that they charge, we were expecting premium quality tonkatsu. Unfortunately, Tetsu failed to live up to our expectations.
While the pork loin looked magnificently thick, the meat felt rather lean. Thankfully, it was sufficiently juicy. But the cutlet was over-salted, and the crust beneath was horribly soggy.
The accompanying sauce was too sour; its sharp tang clashed with the salty pork cutlet. The roasted sesame seeds for the sauce lacked fragrance.
There were unique touches like a curry salt dip for the tonkatsu. Instead of shredded cabbage, they served a mesclun salad with a pleasant sesame dressing. We only wished that they'd pay more attention to the main star of the dish.
Romankan Yokohama
391 Orchard Road, #B2-04 Takashimaya Department Store
Opening hours: Daily: 10.30am-9pm
Price: Rosu katsu set, $13.00nett 
Rating: 1/5
This little casual eatery has been a fixture at Takashimaya's food hall for some time now. Perhaps the reason why they've been around thus far is they had no worthy competitor in the same price bracket.
To be brutally blunt, we enjoyed the accompanying potato wedges much more than the tonkatsu. The breaded loin tasted suspiciously like it was made using frozen pork. It was tasteless, dry, and coated with a thick, heavy crust.
The tonkatsu sauce had an overwhelming sour tang. Even worse was the odd-tasting vinaigrette for the cabbage. The dry, shredded cabbage tasted like it'd been pre-cut way in advance. The clumpy rice was just as disappointing.
We wished we could say something nice, but there was just no redeeming factor we could find. The final score was awarded for presentation effort.
inSing.com made anonymous visits and paid its own meals at the eateries featured here.
---
This archived article appeared in an earlier version of HungryGoWhere and may not be up-to-date. To alert us to outdated information, please contact us here.