14 best, comforting Teochew porridge stalls in Singapore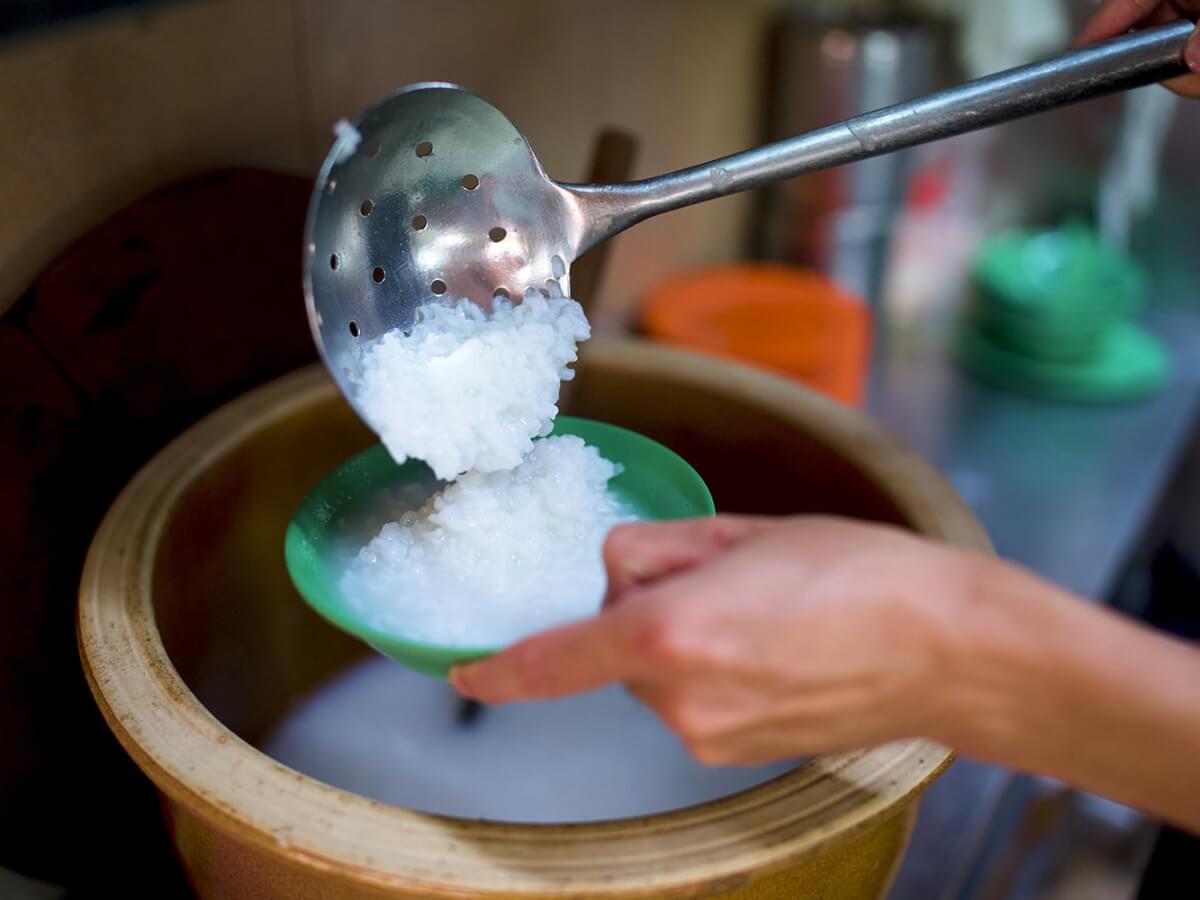 Simple and unassuming, a bowl of nourishing Teochew porridge can do wonders for the soul. But beyond merely satisfying your belly with a wide assortment of side dishes, it can also take some people a trip down memory lane, conjuring up memories of their mother's or grandmother's cooking.
From the iconic Teo Heng Teochew Porridge to the heart-warming offerings of Ye Lai Xiang Porridge and the authentic taste of 554 Teochew Curry Rice/Porridge in Macpherson, these stalls continue to define Teochew comfort food at its best. 
We bring you a list of the best Teochew porridge in Singapore to warm up your stomach.
1.  Teo Heng Teochew Porridge
Hong Lim Market & Food Centre, 01-56, 531A Upper Cross Street 
Open: Monday to Friday (9.30am to 1pm)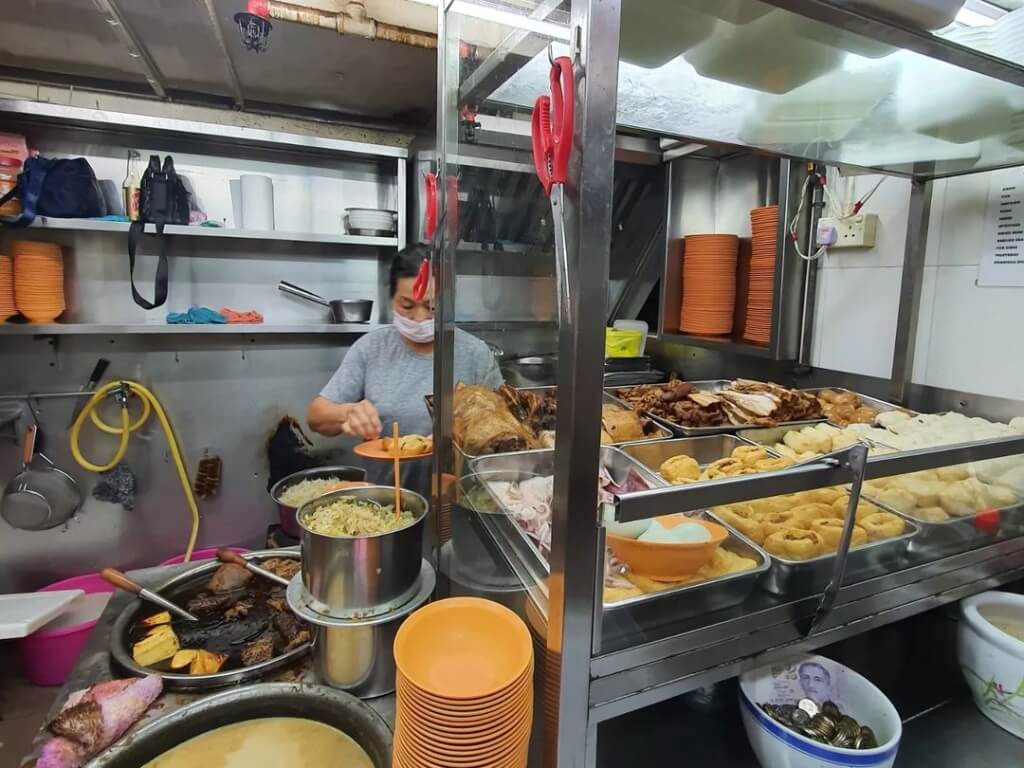 Why visit? It's easy to miss out this stall given its partially hidden location at the back of Hong Lim Food Centre, but Teochew porridge connoisseurs will know that it is arguably one of the best and oldest Teochew porridge stalls in Singapore.
Every element of the porridge at Teo Heng Teochew Porridge is done well here, right down to the carefully calibrated rice-to-water ratio, resulting in a perfectly balanced bowl of gruel.  

Its range of ingredients is extensive, such as duck, pork belly, intestines, pig skin, steamed sotong, and braised eggs with runny yolk. But the star is the poached rabbit fish, which comes smothered under a blanket of chopped preserved mustard, and perfectly poached in savoury tangy kiam chye and fish stock.  
It's no wonder that the stall is always packed from opening time till it runs out of fish at around 1pm to 2pm. 
Price range: $

Crowd favourites: Among the assortment of classic Teochew porridge ingredients, a standout side dish is the stuffed tau pok (S$1.50 each), which comes stuffed with mini bits of shredded braised pork, fish cake and Japanese cucumber. Eaten with chilli, it is a wonderful mix of flavours as well as soft and crunchy textures. 
2. Heng Long Teochew Porridge 
1012 Upper Serangoon Road
Open: Monday to Sunday (24 hours)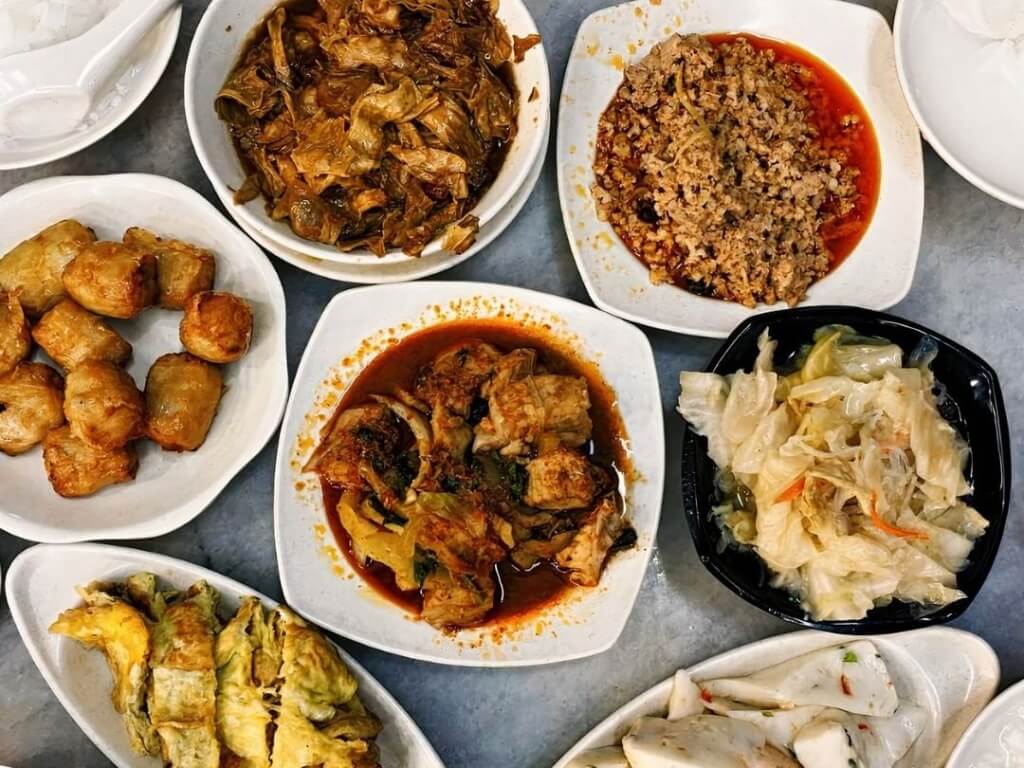 Why visit?  Heng Long Teochew Porridge in Upper Serangoon is our go-to place for a homely meal, though it's a little pricier than most porridge stalls here.
With several outlets around Singapore, it's a testament to the brand's prowess. Its plain porridge has a lovely medium-thick consistency, with a tinge of sweetness. 
Choose from an array of more than 50 dishes, freshly cooked throughout the day. From options such as fatty braised pork, braised egg, Chinese sausages, stir-fried garlic mustard greens, bean curd skins, mushroom in oyster sauce, clams and sotong, it's difficult to stop yourself from ordering more. 
Heng Long also does island-wide delivery, so you get piping hot comfort food sent straight to your home. 
Price range: $$
Crowd favourites: We recommend the succulent braised pork (S$6) as well as Chinese sausage (S$6.90) for a robust salty-sweet flavour to pair with your bowl of porridge.
3. Kheng Nam Lee Teochew Porridge
715 Havelock Road
Open: Monday to Sunday (9am to 2am)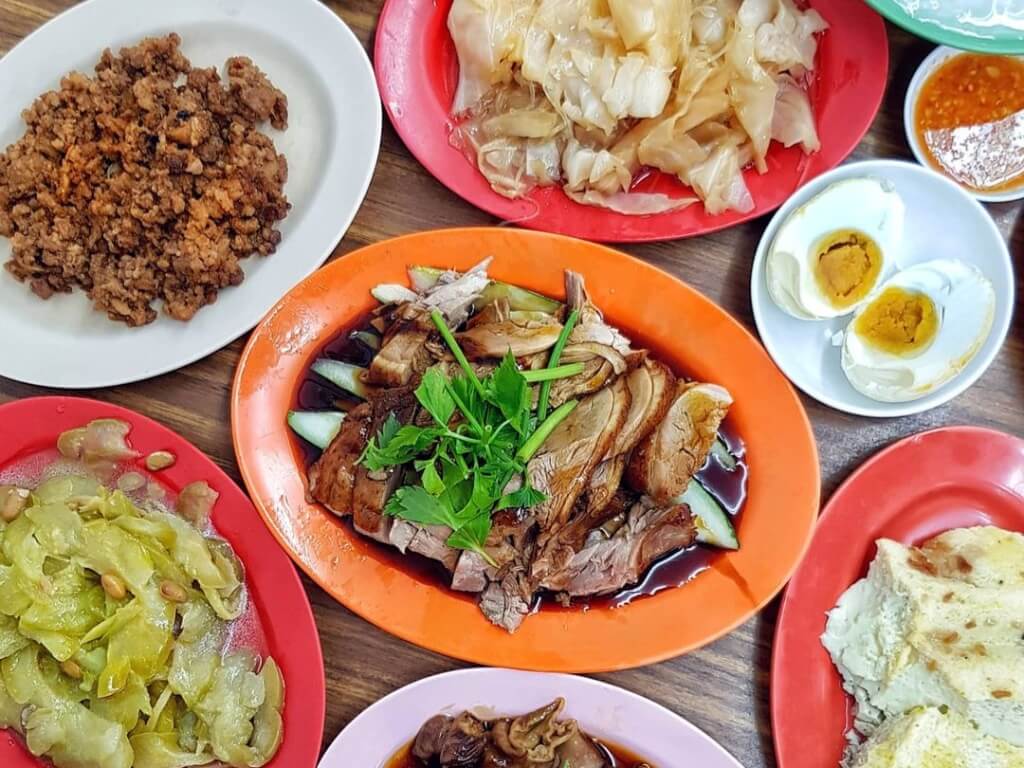 Why visit? Celebrity photos of Hong Kong superstars Andy Lau and Chow Yun Fat adorn the walls of this Teochew porridge stall at Kheng Nam Lee Eating House Restaurant, a testament to its star power back in its heyday.
Located in the heart of the city, this traditional Havelock Teochew porridge is popular among tourists and locals alike, although it can be a little pricier than other Teochew porridge spots.
Close to nightspots, this spot for Teochew porridge in Havelock frequented by party-goers famished for a late night bite. You can choose to sit in air-conditioned comfort if you're lucky enough to nab a seat, or along the roadside if you prefer. 
The porridge here isn't too watery, and has a silky smooth texture. It goes well with popular side dishes such as chap chye, chye poh omelette (preserved radish), hae bi hiam (dried shrimp sambal), Teochew minced duck and bean sauce minced pork.

Price range: $$
Crowd favourites: Our picks are the raw cockles (S$11), tender braised duck (from $12), and braised tau pok (from S$4).
4. Ye Lai Xiang Teochew Porridge
116 Bukit Merah View, 01-217
Open: Monday to Sunday (10am to 4am)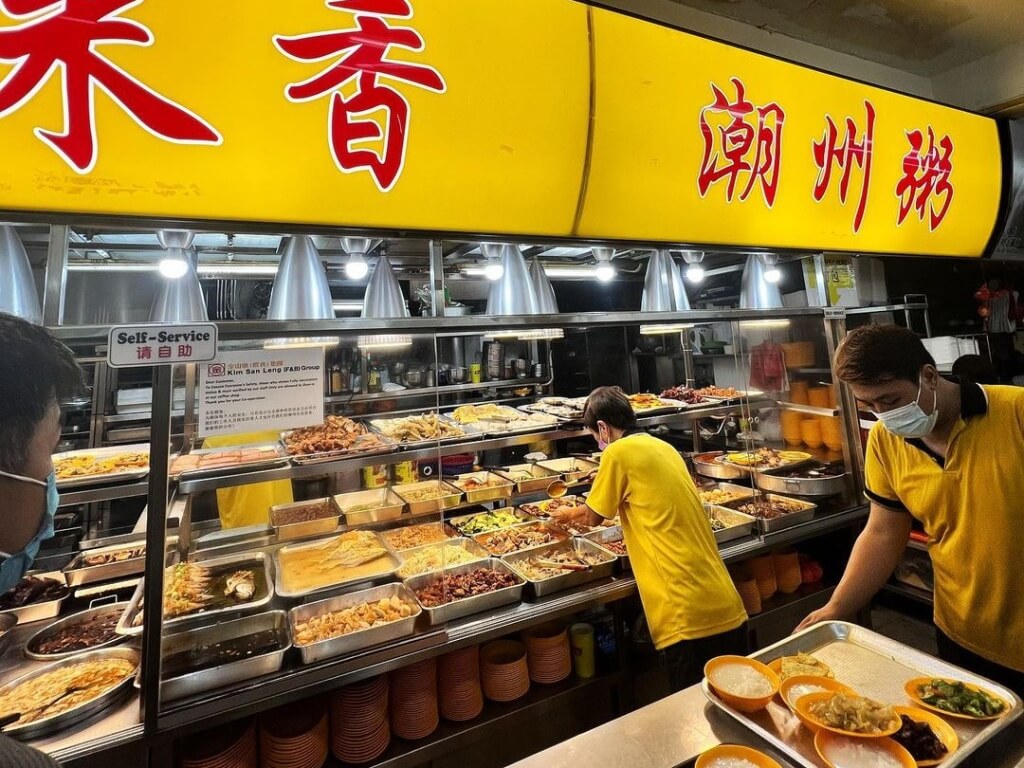 Why visit? There's nothing quite like a hearty bowl of porridge when you are feeling under the weather, or struck by a case of midnight munchies. 
If you're in the Bukit Merah area, drop by Ye Lai Xiang Teochew Porridge for a comforting bowl of porridge paired with piquant plates of Teochew classics. Its long opening hours make it a popular spot among taxi drivers and supper fiends alike.
There are plenty of delicious dishes on offer, but we loved the braised intestines and salty vegetable steamed fish, which was tender and moist. Its fried chilli long beans offered a nice zingy crunch to the meal, too. 
Price range: $ 
Crowd favourites: Your meal wouldn't be complete without ordering the glorious fried pork belly (S$2.70) and sesame oil chicken (S$2.70), the latter a fragrant dish of succulent chicken simmered in a secret recipe sauce comprising ginger and hua diao wine (traditional Chinese wine made by fermenting glutinous rice, water and wheat-based yeast).  
5. 554 Teochew Curry Rice/Porridge
554 MacPherson Road
Open: Monday to Saturday (10.30am to 8.45pm)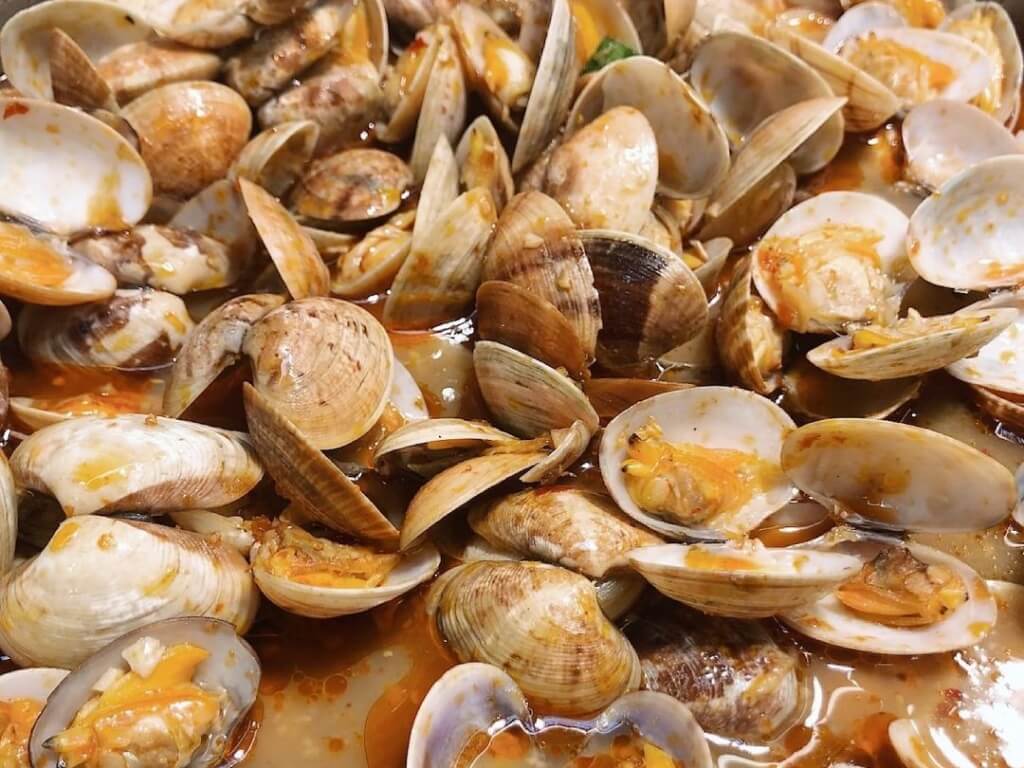 Why visit? Most know it as the MacPherson Teochew porridge, but 554 Teochew Curry Rice/Porridge has been a beloved institution, selling Teochew porridge since the 1980s.
The family-run business takes pride in its cooking style, emphasising the freshness of its food with light seasoning. Its Teochew-style steamed sea bass has been much raved about and goes perfectly with its piping hot, watery porridge. Other beloved dishes include fried omelette, otah and steamed minced pork.

An underrated accompaniment is the ikan bilis side dish, made fresh daily with premium grade ikan bilis and peanuts fried to perfection and tossed in a special sweet and spicy sauce. Warning, it is highly addictive — once you start you can't stop! The fresh and sweet clams cooked in the eatery's in-house sauce will also leave you wanting more.
One thing to note, however, some diners have mentioned that prices can be inconsistent.
Price range: $
Crowd favourite: The number one bestseller is the aforementioned Teochew-style steamed sea bass that's lightly seasoned to bring out the fresh and sweet taste of the ocean. Pro-tip while ordering: Simply tell the friendly staff that you want "number one" and they'll swing into action, no questions asked.
6. Joo Seng Teochew Porridge
14 Cheong Chin Nam Road
Open: Monday to Sunday (9:30am to 4am)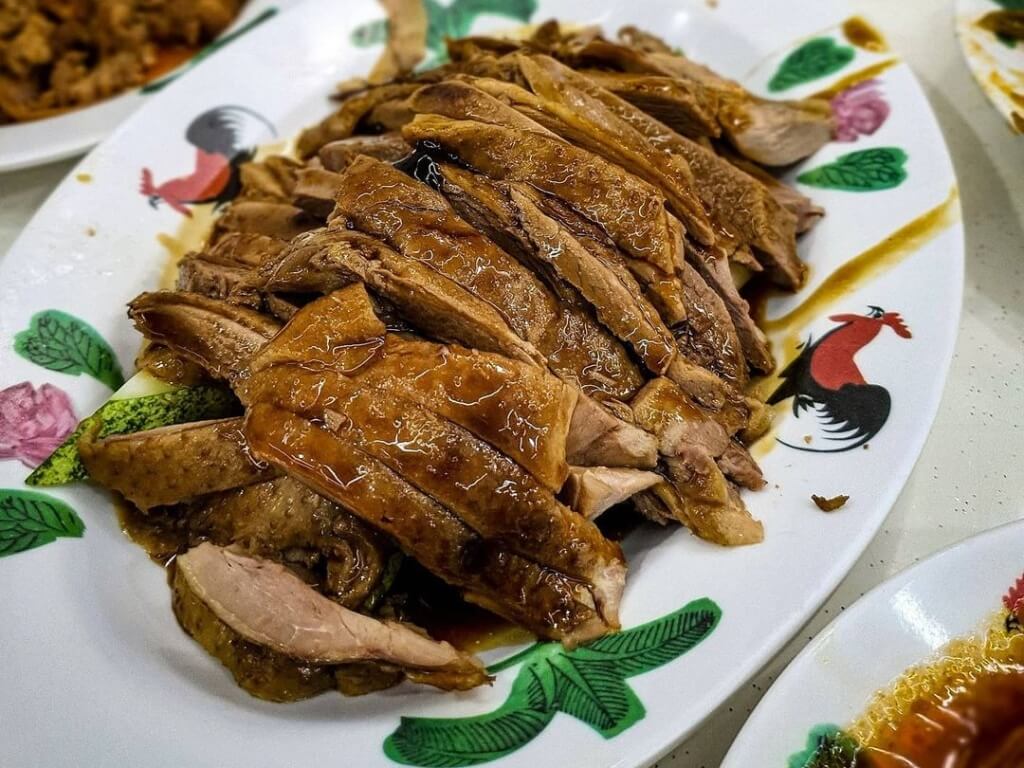 Why visit? Loyal fans keep returning back for Joo Seng Teochew Porridge's traditional style of cooking, not to mention tasty, comforting dishes that are really flavourful. The strong flavours pair well with its warm, watery porridge, providing a nice balance.

With more than 30 dishes to choose from, diners are spoiled for choice. A perennial favourite is the braised duck leg, which is soft, tender and particularly good with a rich and fragrant braised sauce, as well as the chye poh (preserved radish) egg. The braised tau pok comes infused with a distinct herbal taste and the fresh lala clams offer a spicy kick. 
Price range: $$
Crowd favourites: The star dish is the braised duck (S$6), which is fall-off-the-bone tender and drenched in a savoury-sweet soya sauce base. Meanwhile, the black bean minced meat (S$2), replete with intense flavours, is just too good to pass up.
7. Soon Soon Teochew Porridge Restaurant 
13 Simon Road
Open: Monday to Sunday (11am to 9.30pm)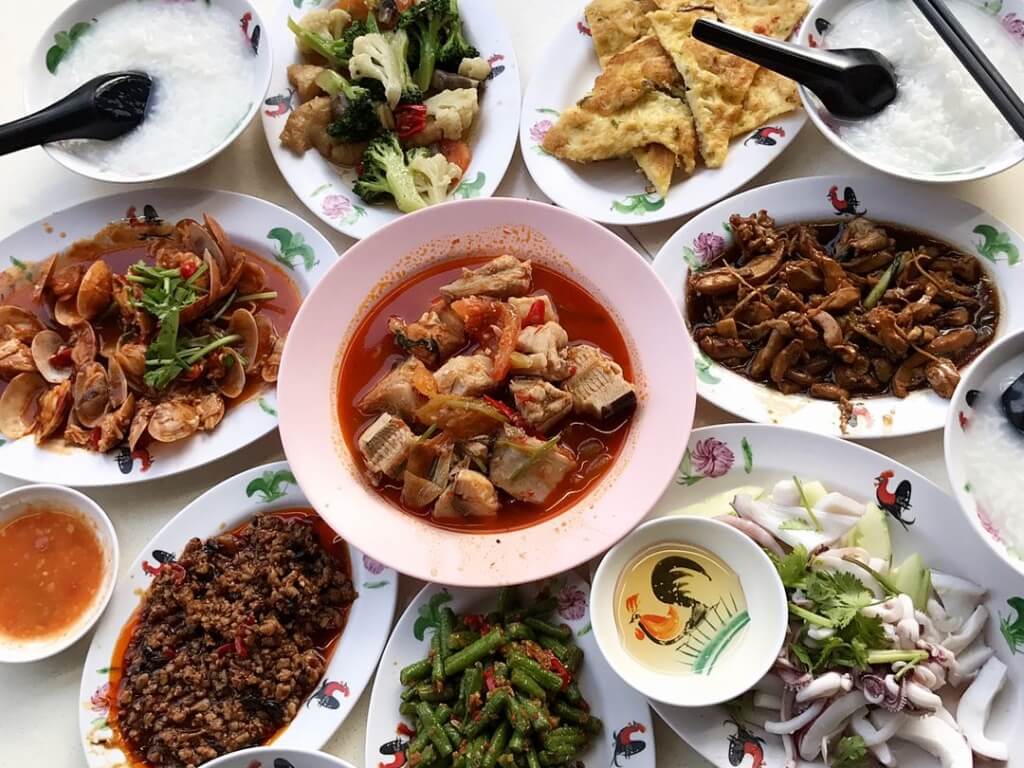 Why visit? This no-frills coffee shop at Upper Serangoon Road has a rich history that goes all the way back to 1997.
Soon Soon Teochew Porridge is famous for its beautifully crispy fried batang fish, fragrant ginger chicken, homemade fish cake and silky tofu. These robust flavours create a strong juxtaposition against the plain congee. 
It also serves up late-night lok lok, comprising meat, vegetable, and seafood skewers served in soup or deep-fried.
Price range: $
Crowd favourites: The highlight is the braised meat (S$3), for its melt-in-your-mouth texture.
8. Sin Hock Heng Teochew Porridge
701 Geylang Road
Open: Monday to Sunday (8.30am to 3.45am)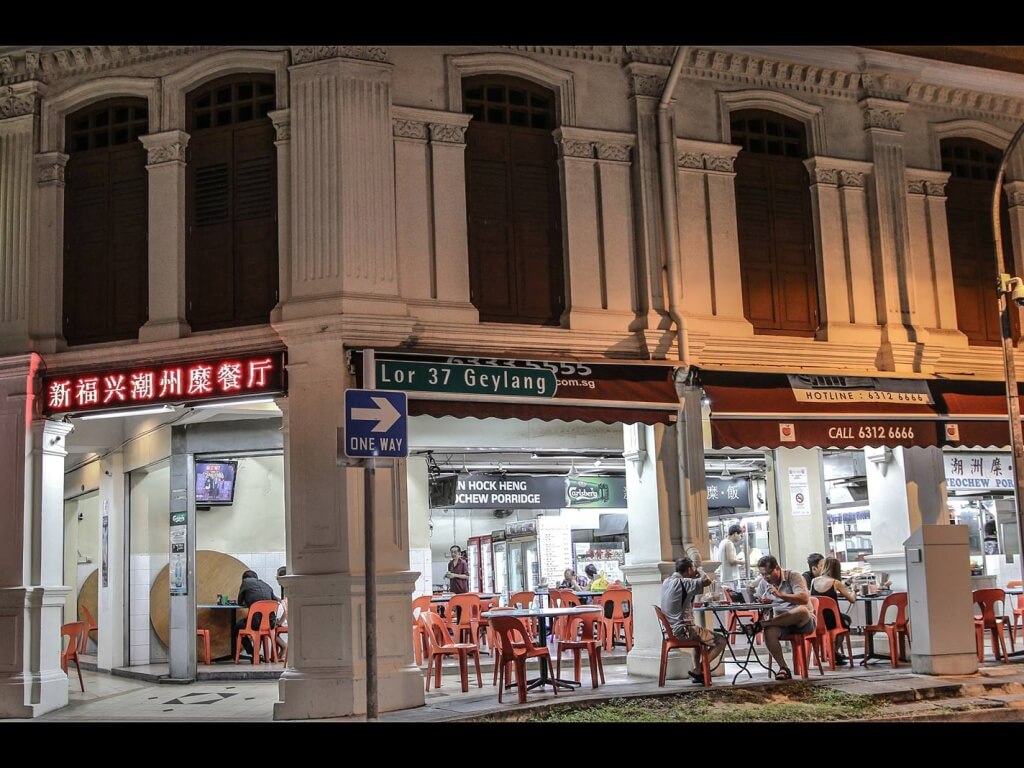 Why visit? Given Geylang's foodie paradise status, naturally it's here that you'll find great Teochew grub.

The unassuming Sin Hock Heng Teochew Porridge is our go-to for affordable and soul-nourishing fare. The more than 20-year-old establishment serves the usual staples such as salty intestines, baby sotong, salted egg, handmade fish cake and preserved vegetables. Its garlicky chilli goes well with everything. 
You can even order bak kut teh here. 
Price range: $
Crowd favourites: Sin Hock Heng's braised pork belly (S$7) balances the right amount of fat and meat. A special mention goes to the hae bi hiam (S$7), which is slightly on the sweeter side, but still tasty.
9. Tian Tian Fatt Rice and Porridge
Lorong 8 Toa Payoh Hawker Centre, 01-14, 210 Lorong 8 Toa Payoh
Open: Monday to Tuesday (12pm to 11pm), Thursday to Saturday (12pm to 11pm)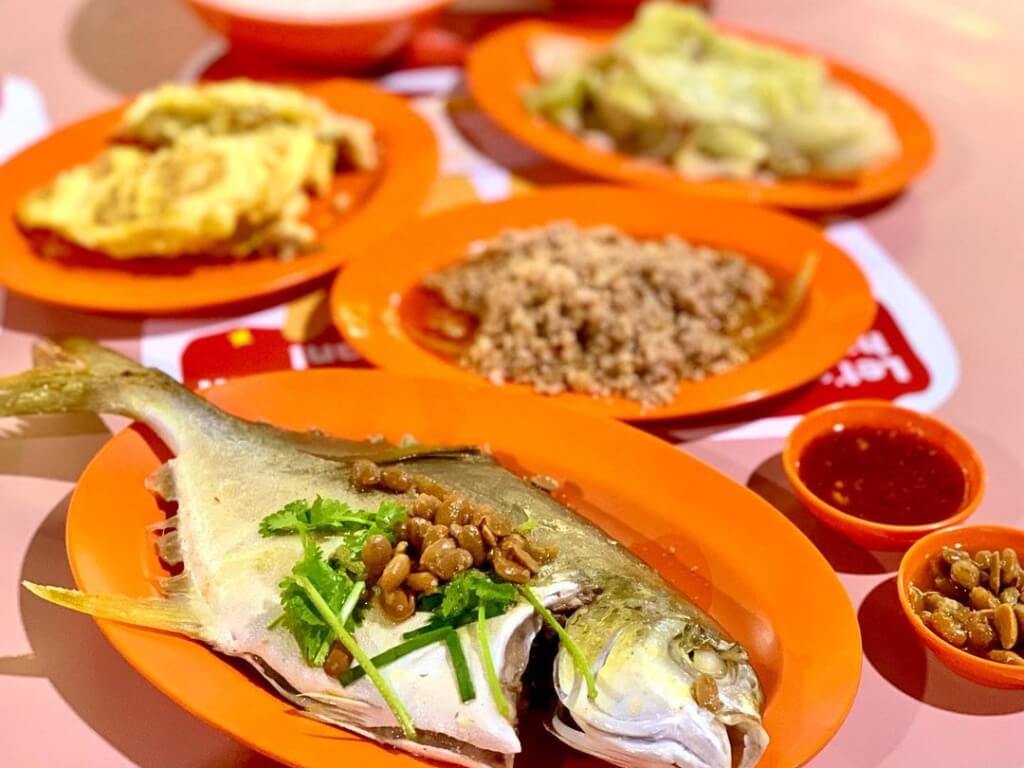 Why visit?  Perpetually thronged by long queues during dinner time, Tian Tian Fatt Rice and Porridge in Toa Payoh draws a regular crowd of families and residents for its consistently delicious fare and home-style cooking.
Look around and you'll see everyone tucking into the steamed pomfret fish. Apart from steamed fish, other side dishes include braised pig intestines, blood cockles in soy, steamed fish cake and spicy dried shrimp.

Price range: $

Crowd favourites: For a basic set meal (S$7), you can have your choice of rice or porridge, with cabbage, braised pork belly and tau kee (bean curd skin).
10. Teck Ee Rice and Teochew Porridge
302 Joo Chiat Road
Open: Monday to Sunday (9.30am to 9.30pm)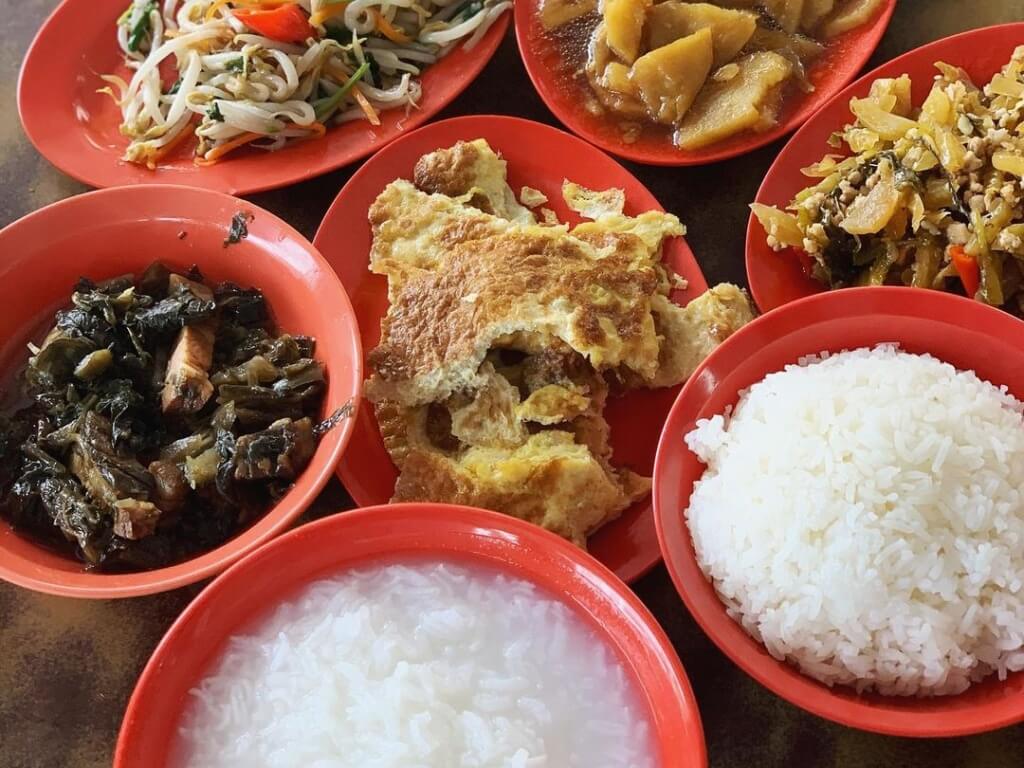 Why visit?  Amid the hipster cafes and bistros lining Joo Chiat's streets, Teck Ee Rice and Teochew Porridge retains a dose of nostalgic vibes with its old-style tables and chairs. 

Clean and well-ventilated, the humble eatery holds its own with timeless and homely Teochew porridge dishes. Its plain rice porridge has a light watery texture, and you can choose from a good range of between 15 and 25 dishes daily. 
You can find sides such as tofu, stewed beancurd skin, sweet and sour pork, stir-fried green vegetables, clams, fried batang fish, and otah with chunks of fresh fish within.    
Price range: $
Crowd favourites: It's easy to get overwhelmed by the sheer variety, but we recommend you zoom straight for the otah, accompanied by kiam chye (salted vegetables), chopped celery and sweet and sour pork. Prices are affordable, averaging at about S$5 to S$8 per person.
11. White House Teochew Porridge
1096 Serangoon Road
Open: Monday to Sunday (11am to 9pm)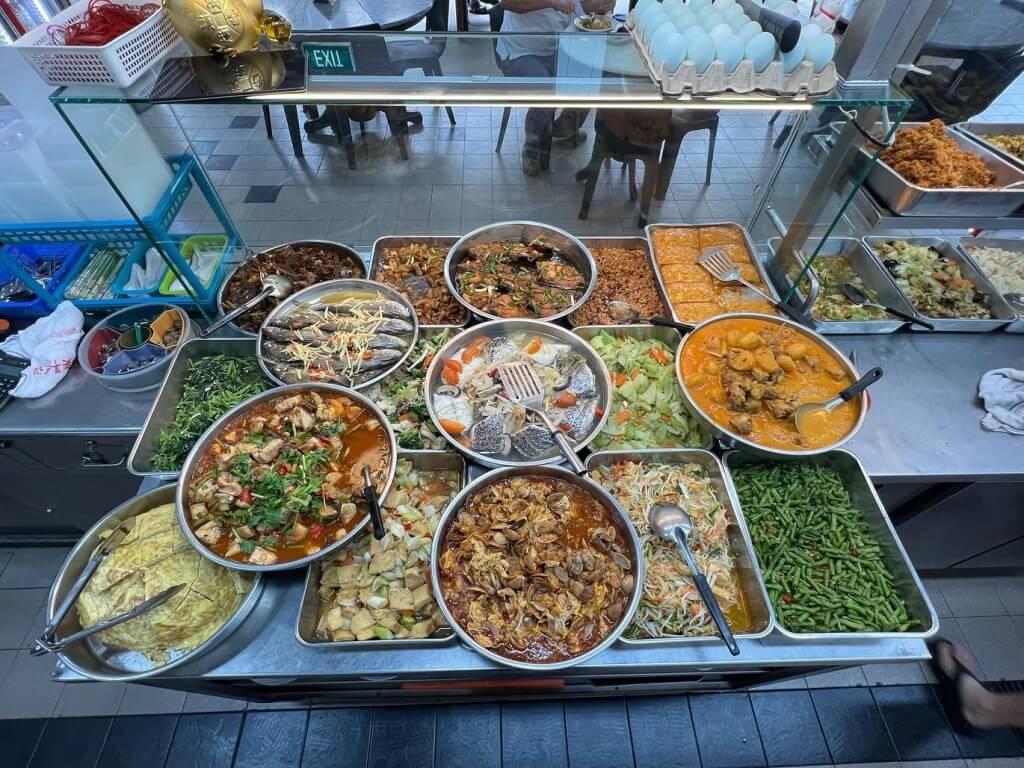 Why visit? Stepping into White House Teochew Porridge along Serangoon Road, we immediately feel at home at this family-run Teochew porridge place serving simple and comforting food cooked from the heart.
Beyond a wide selection of vegetables, fish cakes and meat dishes, the stall's fresh fish takes centre stage. An example of this is the black bean fried pomfret. We hear that the owner scours local markets in the wee hours of the morning for the freshest ingredients, which in turn make White House Teochew Porridge's dishes delicious.
It's a labour of love that fills every spoonful with authentic Teochew flavours.
Price range: $
Crowd favourites: Best known for its braised lor ark (S$6), this tender, slow-braised duck is made with 12 spices. Don't forget to dunk the slices in the signature chilli garlic sauce for a refreshing tang. Another top pick is the salty, umami-laden minced pork with black bean (S$4). One bowl of porridge might not be enough!
12. Ann Hoo Teochew Porridge
Cheng San Market and Cooked Food Centre, 126-127, 527 Ang Mo Kio Avenue 10
Open: Tuesday to Sunday (11am to 9pm)
Why visit? Located in Ang Mo Kio, Ann Hoo Teochew Porridge has been serving many generations with good old-fashioned Teochew porridge for years. 
The stall is often thronged by faithful customers who make the trip specially down for their steamed fish, soya braised pork, homemade fish cake, salted vegetables, omelette fried with chye poh (preserved radish), sliced pork in soy sauce with preserved pickles, and more.
Prices are quite reasonable, you can get three meat dishes and one vegetable dish for around S$5.50.
Price range: $
Crowd favourites: You can't go wrong with its fresh, tender steamed squid, which comes dressed in an addictive Thai chilli. Also highly recommended is its handmade fish cake.
13. Teochew Rice and Porridge (Maxwell)
Maxwell Food Centre, 01-98, 1 Kadayanallur Street
Open: Monday to Saturday (1.30pm to 3pm, 5pm to 8.30pm)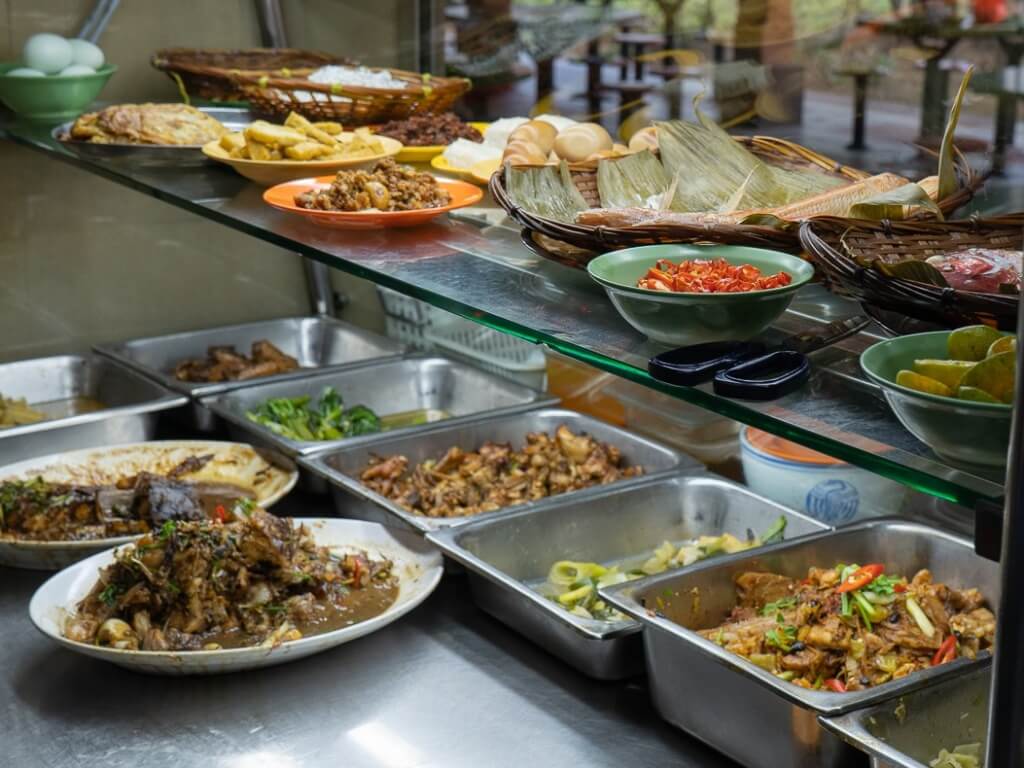 Why visit? Located at the heart of Singapore's Central Business District, the stall was started by Madam Seah more than 40 years ago as she was determined to earn a living to raise her three children. 
Today, the humble stall is an icon in the area, and continues to serve the same traditional piping hot Teochew cuisine that's been perfected through the decades. 
Sample its braised pork belly, consisting of thick slabs of pork belly (S$3) that's braised for hours in a secret blend of spices to create a one-of-a-kind flavour. Otherwise, you can also order its stir-fried minced pork (S$3) that straddles the perfect balance of juicy and crispy, or its steamed squid (S$2) that has just the right consistency. 
Perfect for individuals and big families, you'd have to visit the stall yourself to find out why customers have been coming back for decades. 
Price range: $
Crowd favourites: We recommend the classic Set A (S$7), comprising porridge, braised pork belly, cabbage and spinach, a homely spread that tastes just like grandmother's cooking.
14. Ghim Moh Porridge and Rice
Ghim Moh Road Market and Food Centre, 01-63, 20 Ghim Moh Road
Open: Monday to Friday (6am to 2pm)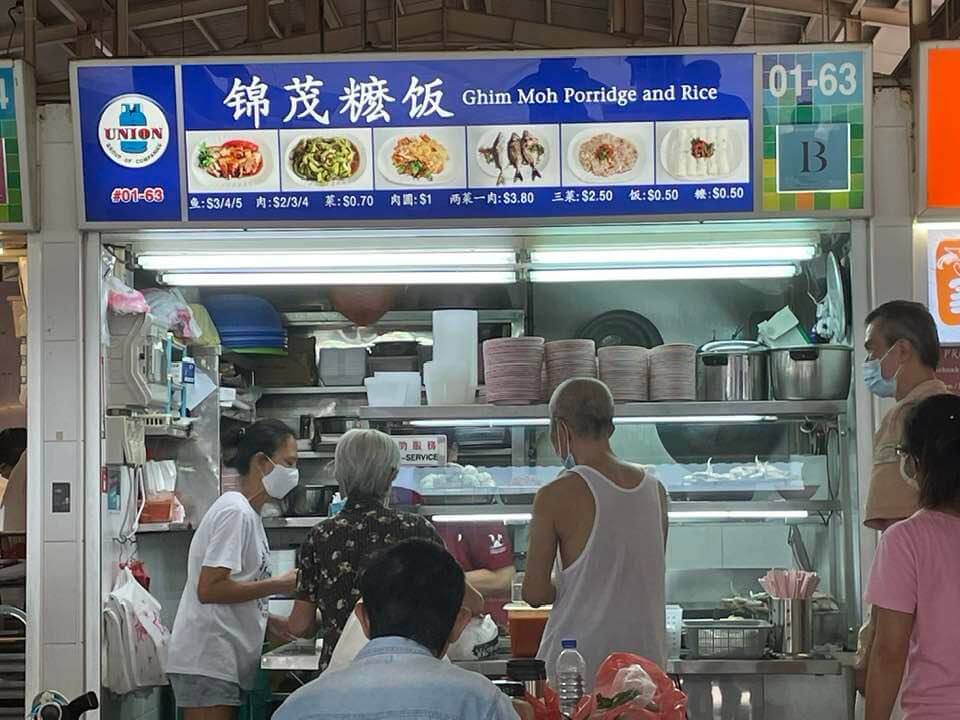 Why visit? A mainstay at Ghim Moh Road Market and Food Centre, this popular stall is frequented by nearby residents and even office workers who travel down from Buona Vista and One-North. 
The selection of dishes available is limited, usually comprising one or two types of steamed fish and less than 10 other dishes, such as bittergourd with egg, mixed cabbage and omelette. Be sure to order the fresh fish, which tends to sell out quickly.
Pro-tip: Head down for breakfast before the lunch crowd descends.
Price range: $
Crowd favourites: Get the omelette with preserved vegetables and loh ngerg (dark soy sauce braised pork and egg) for a nice balance of sweet and savoury.