5 pet-friendly eateries in Singapore that go the extra mile for pets and 'pawrents'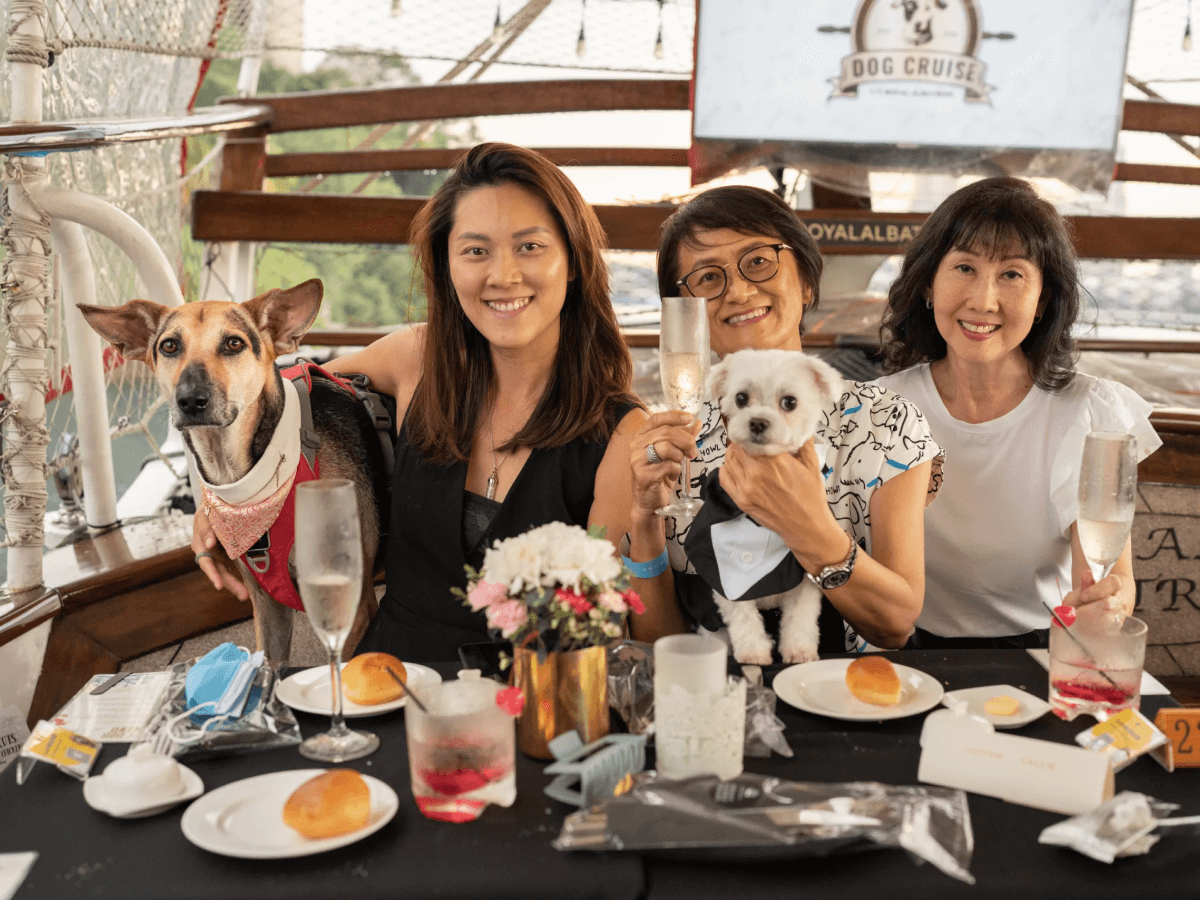 There's been a mushrooming of pet-friendly eateries in Singapore, with many allowing "pawrents" (dog or cat owners) and their furry friends in their al fresco seating areas. Some provide handy water bowls and a select few even offer the occasional treat.
If you've been wondering where to take your furkid for meals with friends and family, here are five eateries with special facilities, so that pet owners and their furry companions have all they need for a wonderful weekend on the town.
1. Well Collective
Northshore Plaza II, 02-11/12, 418 Northshore Drive
Nearest LRT station: Samudera
Opens: Monday to Sunday (10am to 10pm)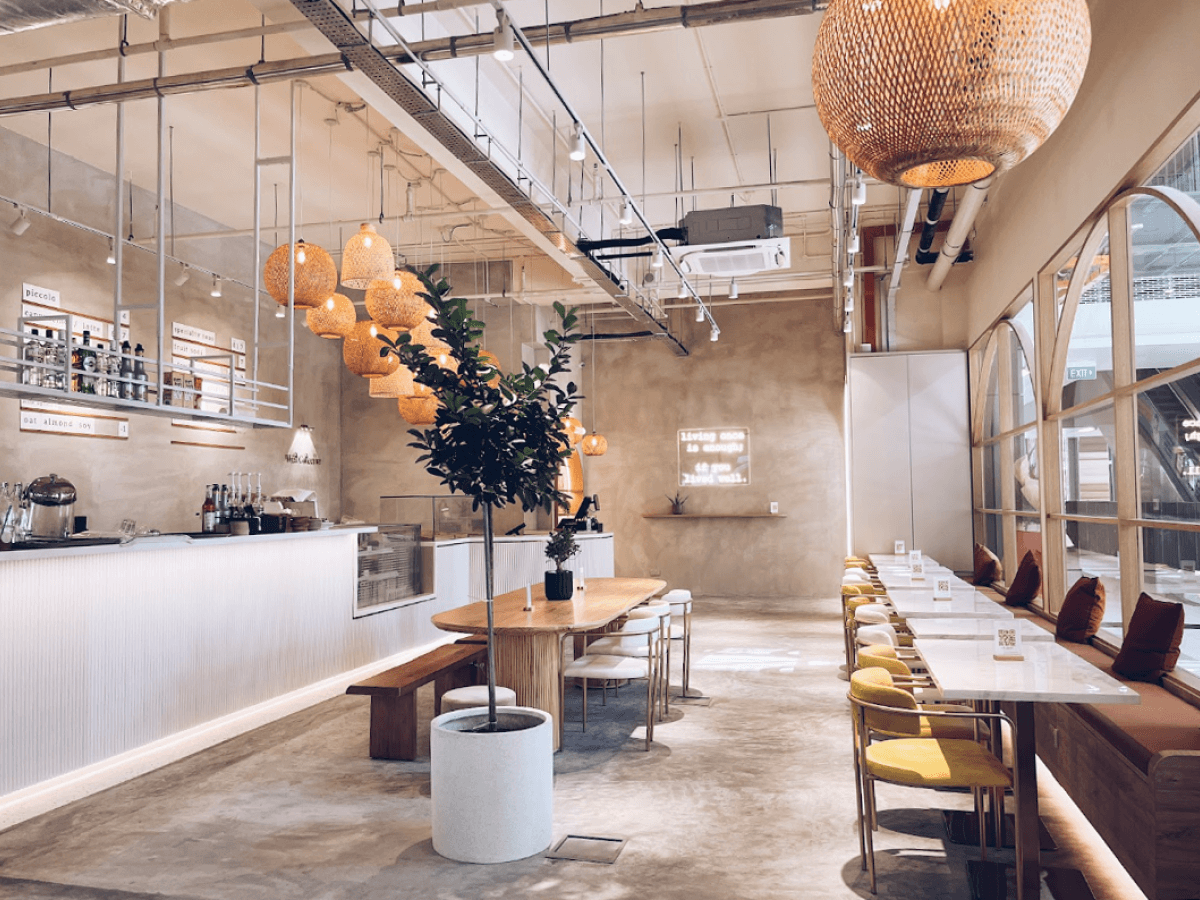 Take your furry friend on a ride to Singapore's northeastern coast for a day out with gorgeous seaside views. Launched in July, Well Collective is located in Punggol's Northshore Plaza.
The eatery provides a myriad of bites, bakes and brunch options for humans, while providing a safe haven where pets can play and socialise. There's plenty to keep them busy, with a pet salon and clinic next door as well as a pet patio that includes a dog parking and play area.
Outfitted with accents that draw inspiration from Japanese, French and Mediterranean elements, the cafe is well-appointed, spacious and can seat 100 people comfortably. Well Collective also caters to different diets — the menu is pork- and lard-free, and has options for flexitarians, vegans and vegetarians.
The cafe is still in its soft-launch phase, so look out for its full menu in the coming months.
Special facilities: In-house groomer, clinic, pet patio and play area
What to order for pawrents: Torched pitan tofu (S$10), No-Chicken katsu sando (S$19)
2. Sun Ray Cafe
79 and 81 Brighton Crescent
Nearest MRT station: Serangoon
Opens: Monday to Sunday (8.30am to 10pm)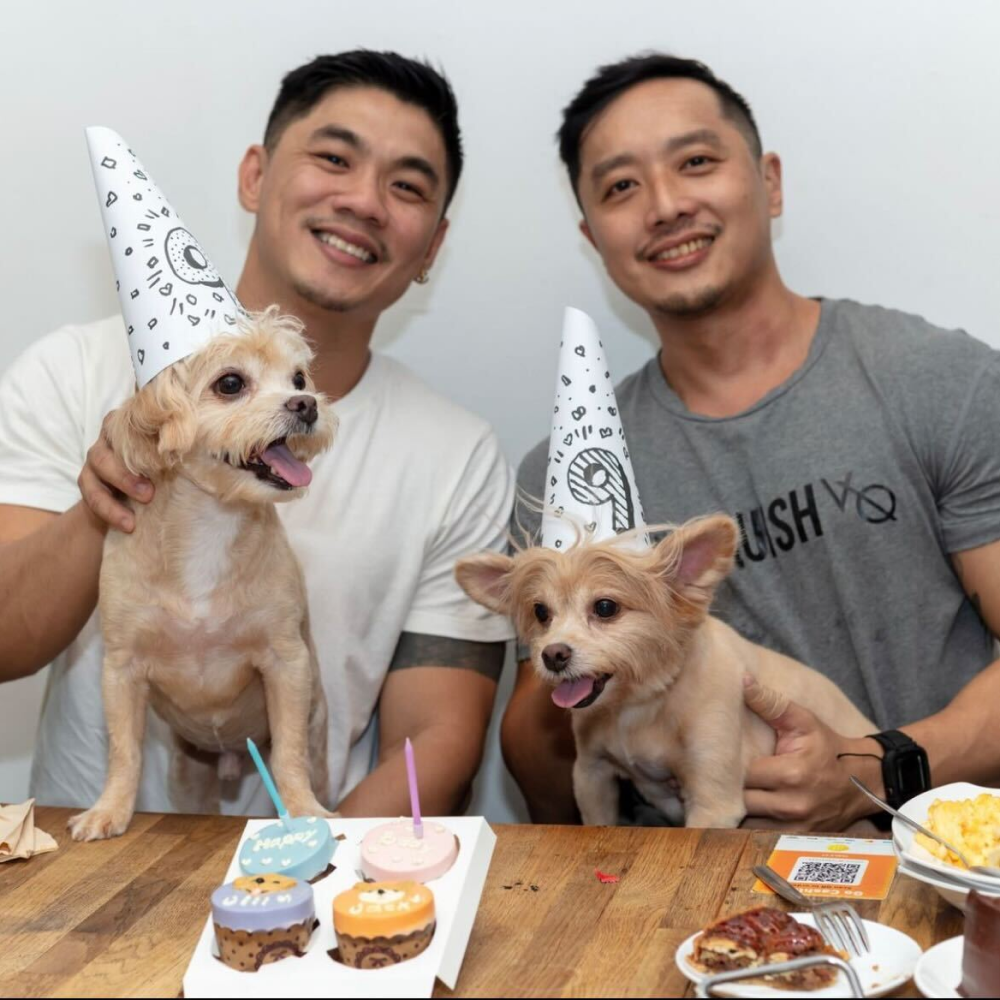 Fun times are a regular occurrence at Sun Ray Cafe — it often plays host to pet birthday parties. Pawrents can book the entire 50-seat space for a private affair, although Sun Ray says it's more common and budget-friendly for diners to reserve big tables for their special occasion.
Pet cakes can be ordered two days in advance, in flavours such as chicken, beef, salmon, banana, or apple.
There's plenty for humans to appreciate as well. The eatery prides itself on its gourmet teas and specialty coffee. Its coffee is roasted in-house under its parent brand Parchmen & Co, alongside freshly baked bread and housemade spreads.
The dishes here are mostly pet-safe — even the human ones — so guests don't have to worry about their pets accidentally eating potentially toxic foods such as onions or chocolates.
Special facilities: Pet parties and bakes
What to order for pawrents: Chilli crab pasta (S$14), Impossible shakshuka (S$15), house-roasted coffee (from S$1.50)
What to order for furkids: Pet sirloin steak (S$13), pet cake (from S$15)
3. Royal Albatross Dog Cruise
8 Sentosa Gateway, Sentosa Island
Nearest MRT station: HarbourFront
Opens: Saturday (sails at 9.30am), last Friday of each month (sails at 5pm)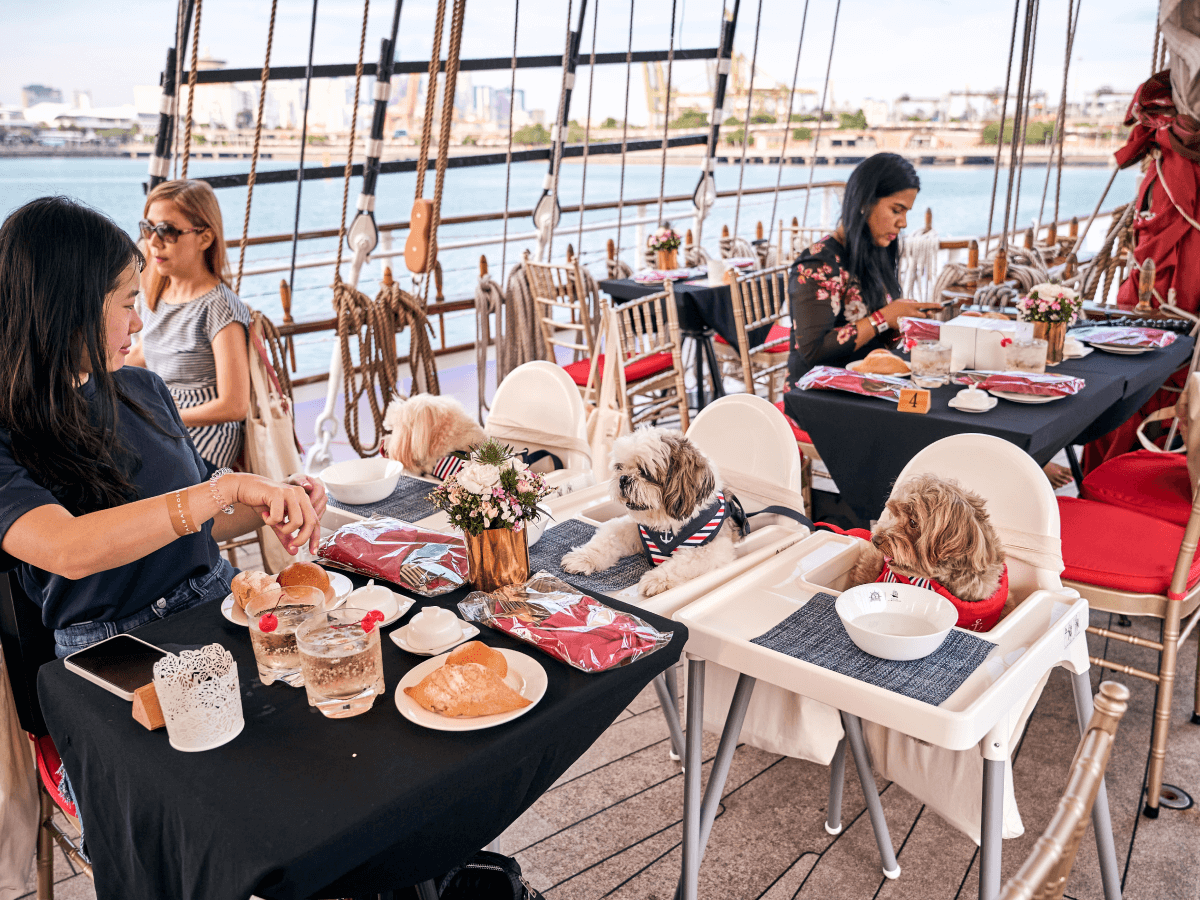 Go on a date with your furry friend on one of Royal Albatross' Dog Cruises. Billed as a world's first, the Dog Cruise typically sets sail most Saturday mornings for breakfast and the last Friday of every month for a sunset dinner.
According to Royal Albatross, it sees a range of guests, including families, elderly folk and even couples who don't often step out for romantic dinner dates.
Meals are served on the upper deck with baby chairs for smaller dogs. There's an artificial grass area for pets who need to answer the call of nature. 
During the cruise, your furkids will be treated to a specially curated two-course meal. There's an Atlantic salmon tartare with slow-simmered wild kangaroo broth to start, and a choice of fresh chicken, beef or duck meat cooked with offal for their main course.
Pawrents will be served an international breakfast buffet that includes a selection of cold cuts, hot dishes, and even an egg station. For dinner, guests can choose between a four-course or seven-course degustation meal.
Animal lovers without a dog can also book a furry companion, swankily dressed to fit the occasion, to join them for the meal. 
Cruise packages are available from S$125, with dog tickets charged separately (from S$30).
Special facilities: Dog-friendly sailing
What to order for pawrents: Four-course meal (S$225), seven-course degustation meal (S$300)
What to order for furkids: Two-course gourmet dinner for dogs (included in the dog ticket price)
4. I.N.U Cafe & Boutique 
Monville Mansions, 01-07, 530 Balestier Road
Nearest MRT station: Toa Payoh
Opens: Thursday to Monday (12pm to 8pm)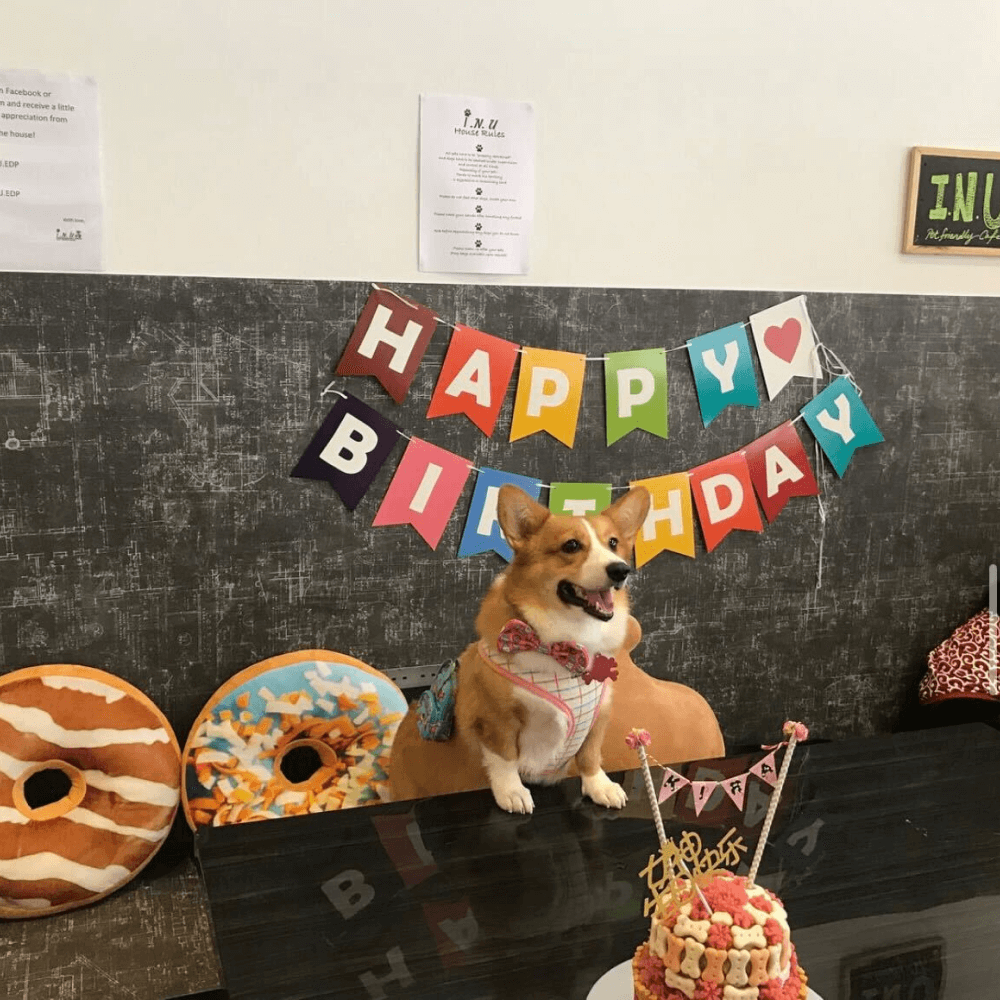 I.N.U Cafe & Boutique's spacious Balestier digs make for a chill, relaxing afternoon out with your furry friend. Make an appointment with the cafe's in-house groomers for a pet pampering session before popping by its cafe next door for human drinks and meals while you wait.
There are local zi char favourites such as chilli crab and cereal prawns, alongside snacks such as cheesy fries and chicken nuggets.
When your pet has emerged from its spa day, treat your furry friend to a range of pet-friendly dishes from I.N.U Cafe's Furkids menu, which has all the fixings for a luxurious three-course meal. Think baked liver bites, beef steak and doggo popsicles. There's even dog-friendly dim sum, savoury bakes and birthday cupcakes with meat and carrot puree layers.
I.N.U Cafe also has a selection of pet-related retail products, so you can stock up on your furry friends' favourite treats.
Do take note that the cafe and pet menu seems to be catered more towards dogs, so feline and feathered friends may not find something to their liking.
Special facilities: In-house groomers (by appointment only) and dog-friendly cuisine
What to order for pawrents: Signature bak kut teh (S$11.80), signature chilli crab (S$69)
What to order for furkids: beef steak (S$9.90), doggo har gow (S$5)
5. Chow Cute Cafe
Seletar Aerospace Park, 16 The Oval
Nearest MRT station: Yishun
Opens: Tuesday to Sunday (10am to 10pm)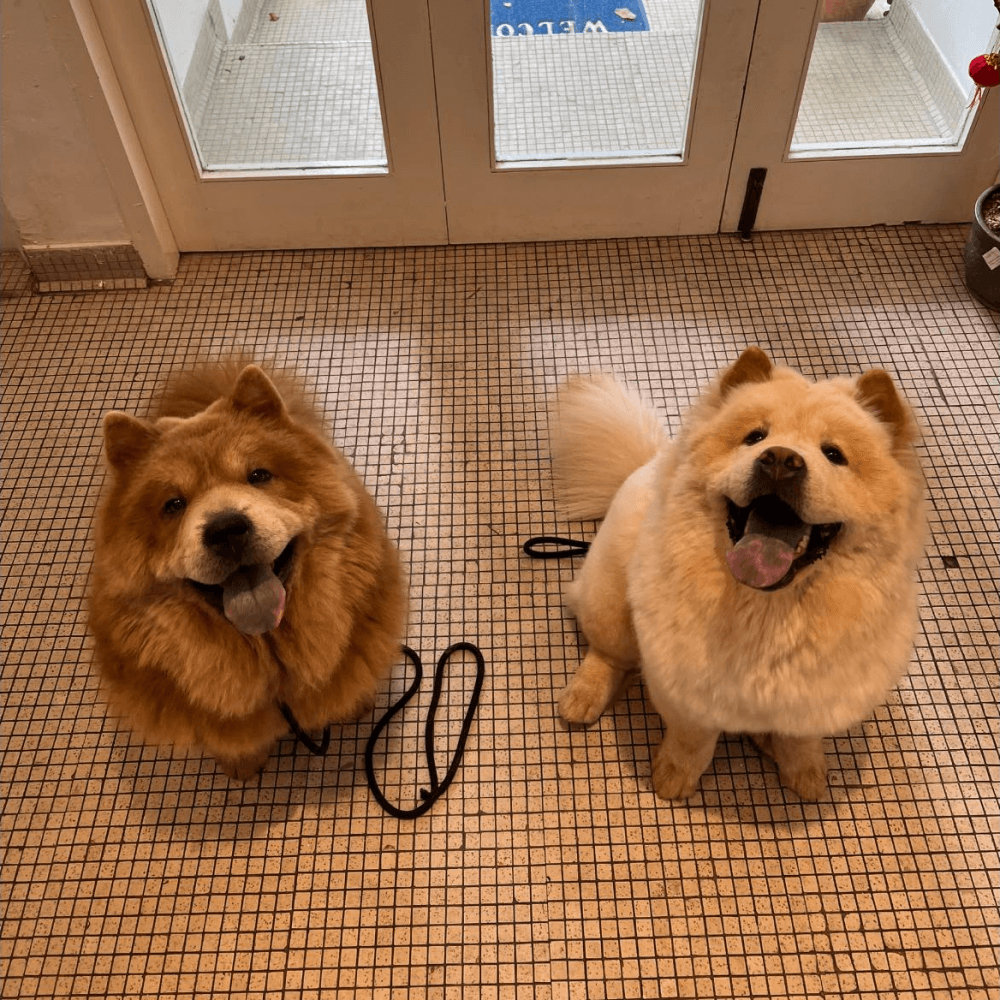 If you're looking for some respite from busy city life, Seletar Aerospace Park is quite the hotspot for picturesque eateries, set charmingly amid a cluster of refurbished black-and-white colonial bungalows.
Chow Cute Cafe is one of those eateries, but it stands out with its all-in-one grooming, boarding and pet training services.
While the cafe's name draws on its resident chow chows, "chow" also sounds like "chao", which means "very" in Mandarin — so, when put together, it can also be taken to mean "very cute cafe".
Food-wise, the cafe serves dishes with equally punny names, such as Long Chow Ta, which is a long black coffee, and Chowlato Ball, an orb of fried gelato drizzled with chocolate.
There are eight chow chows and one samoyed that call Chow Cute Cafe home, and they will happily interact with visitors within the cafe grounds. Guests are also welcome to take their own furry friends along for a day of socialising.
Special facilities: In-house groomer, and boarding and daycare facilities
What to order for pawrents: Chowlato Ball (S$12.90), Chowgetti Bolognese (S$18.90)
What to order for furkids: Chow Bloop — human-grade salmon, brown rice, eggs, and various fruits and vegetables (S$16.90), Chow Nai — human-grade goat milk (S$7.90)
EDITOR'S NOTE: This article has been updated to correct the prices for the Royal Albatross Dog Cruise.