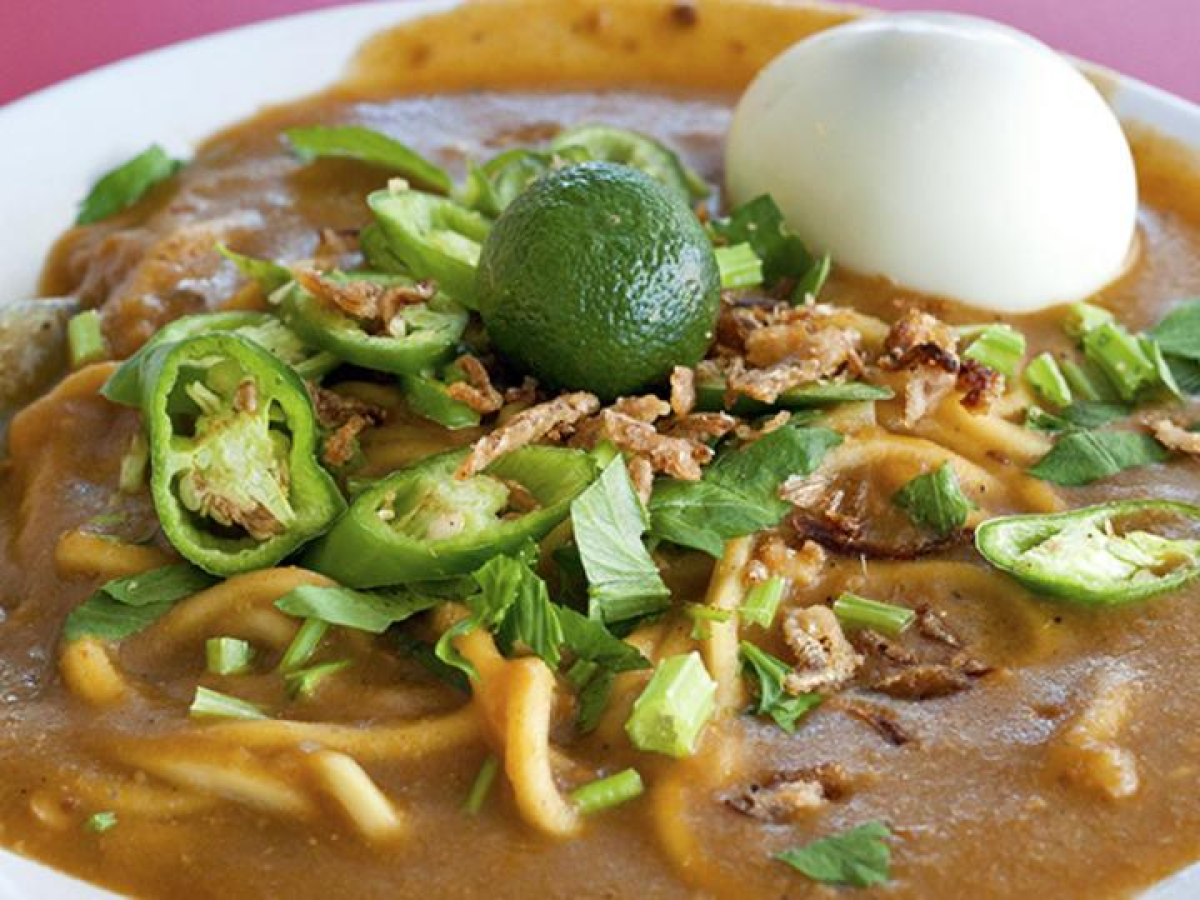 Literally "boiled noodles", mee rebus is a popular Malay culinary creation. It is a simple but satisfying dish of yellow Hokkien noodles and sweet-spicy gravy garnished with boiled egg, beansprouts, Chinese celery, green chilli, and fried shallot. A squeeze of fresh calamansi adds tang and brightens up the dish.
The most crucial element in mee rebus is the gravy, which is the soul of this deceptively simple dish. Traditionally, it is made from a stock base of dried shrimp, tau cheo (fermented soy bean), fresh herbs and spices, which is then thickened with mashed sweet potato.
Different vendors have put their own unique spin on the traditional recipe. We taste-tested five well-known mee rebus stalls in Singapore. Who will we crown as mee rebus champion? 
Afandi Hawa & Family EDITOR'S PICK!
14 Haig Road, #01-21 Haig Road Food Centre
Opening hours: 10am-8pm, closed Wed & Thu
Price: $2.50
Rating: 5/5
Previously known as Fandi Mona, they now operate as Afandi Hawa after the food centre was refurbished in 2010. Despite the name change, their mee rebus is still as divine as ever!
Besides the usual dried shrimp, their dark gravy is intensely robust with an extra boost of umami-rich ingredients like seafood and mutton. Little wonder then, that their gravy has such intriguing complexity and depth of flavour.
Besides flavour, the gravy has great texture too. The smooth sauce coats the noodles without being too thick or watery. The noodles and beansprouts are perfectly executed too—the former is al dente while the latter retains a refreshing crunch without being too raw.
Although some regulars say that the gravy isn't as robust as before, we find that Afandi Hawa's mee rebus is still the one to beat in this power mee rebus showdown!
Inspirasi Stall
207 New Upper Changi Road, #01-11 Bedok Interchange Food Centre
Opening hours: Daily: 11.30am-12 midnight, closed during Hari Raya
Price: $2.00
Rating: 4.5/5
They are better known for their mee soto, but they make a mean mee rebus as well.
Though not as meaty or robust as Afandi Hawa's version, Inspirasi Stall's gravy is sufficiently rich and flavourful with a pleasing savoury-sweet balance. The slightly translucent gravy clings nicely to the noodles. It's tasty but feels light and smooth all at once.
Overall, the effect is very more-ish and leaves you wanting for more. Portions are decent and reasonably priced.
Dapur Asiah BEST VALUE

320 Shunfu Road, #02-29 Shunfu Mart Food Centre
Opening hours: Tue-Sun: 7.30am-2pm
Price: $2.00
Rating: 4/5
Like their mee siam which came up tops in our Tried & Tested: Mee siam, Dapur Asiah's mee rebus is also a labour of love.
Their gravy has that authentic mashed sweet potato flavour as well as bold seafood taste. The tasty, umami-rich seafood base blends well with its sweet and spicy flavours. Portions here are generous—a great bang for your buck.
The gravy starts to thicken if you let it sit. But trust us, you wouldn't want to waste a minute waiting to polish off this bowl of delicious mee rebus!
Selera Kita
58 New Upper Changi Road, #01-182 Block 58 Market & Food Centre
Opening hours: 8.30am-1.30pm, closed Fri
Price: from $1.50
Rating: 3.5/5
Where else can you find mee rebus for a mere $1.50? Yes, the amount of noodles for that price is snack-size, but they throw in a whole egg! Even after upsizing to $2.00 for a jumbo plate, it's still ridiculously cheap.
So, it's cheap, but is it any good? For those who prefer their mee rebus gravy on the light and sweet side, you'll like Selera Kita's version. Flavoured simply with dried shrimp and tau cheo, their gravy has a genteel, old-school feel. It has a thinner consistency than its competitors.
Despite being tasty, the gravy could do with a bit more depth. The noodles and beansprouts here tend to be on the soft side of al dente.
Goody N Jolly
80 Marine Parade Road, #B1-113 Parkway Parade Shopping Centre, Stall 11 Treats Food Court
Opening hours: 9.30am-9.30pm, closed alt Tue
Price: $4.00
Rating: 2/5
They may have made a name for themselves selling mee rebus, but we think standards here have nose-dived.
Our pet peeve is the gravy which is too thick, too gluey, and too salty. The gravy is so starchy and heavy that you can almost cut it with a knife. Also, it needs less salt and more sweetness to balance out the flavours.
Prices may be double that of hawker centres, however portions here are obscenely huge. One plate of mee rebus is enough to feed two people.
inSing.com made anonymous visits and paid its own meals at the stalls featured here.
---
This archived article appeared in an earlier version of HungryGoWhere and may not be up-to-date. To alert us to outdated information, please contact us here.