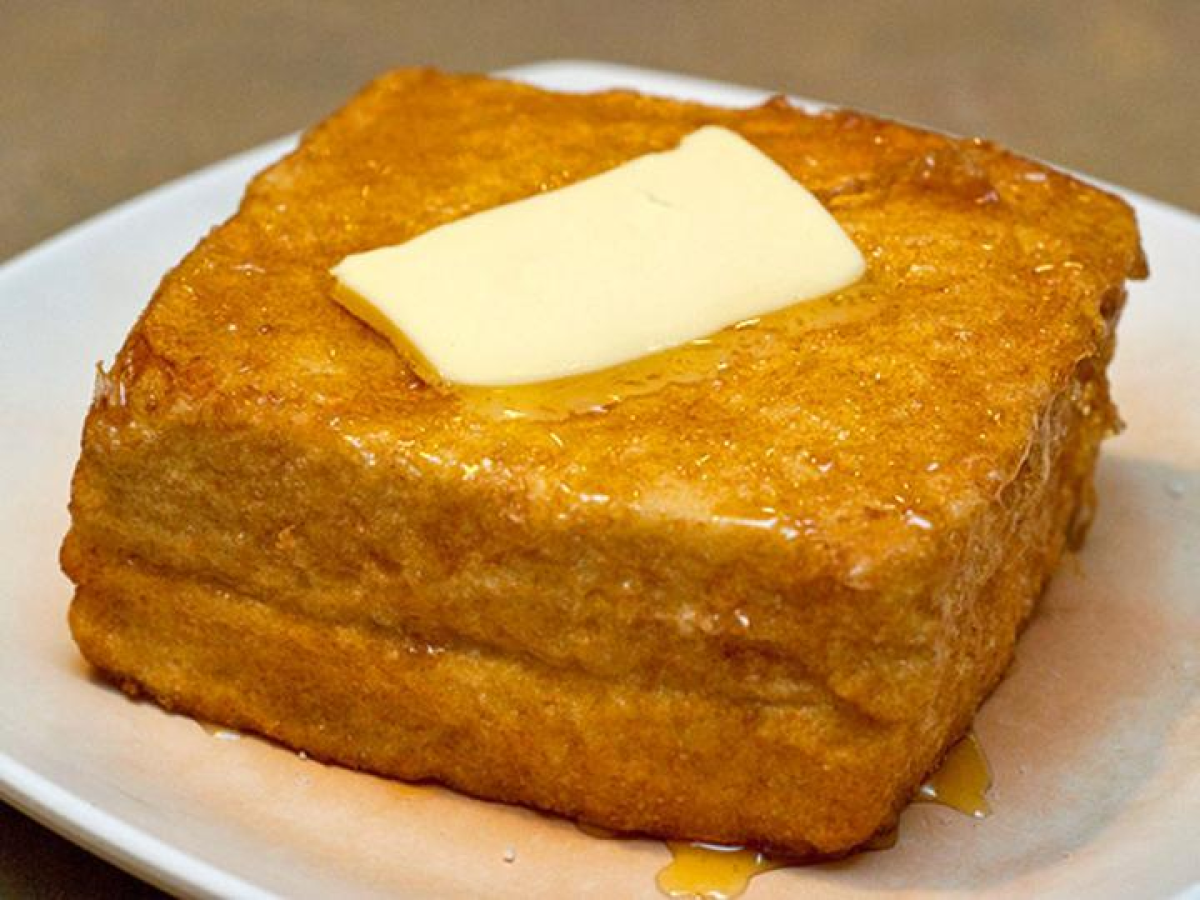 Hong Kong-style cafes – or cha chaan teng, as they are known in Hong Kong – exploded onto our local dining scene about six years ago.
Reasons they are still going strong could be their affordably priced food and wide, eclectic menus. Cha chaan teng offer both Chinese dishes as well as Western-inspired fare like French toast. Hong Kong-style French toast is different from the original version as it is deep-fried instead of pan-fried.
Where should you head to for the most lip-smacking Hong Kong-style French toast in Singapore? Read our taste test to find out!
Café de Hong Kong EDITOR'S PICK!
586 Balestier Road, #01-01 
Opening hours: Tue-Sun: 11.30am-3pm, 5.30pm-12am, closed on Mon except PH 
Price: French toast with peanut butter ($5.30, price inclusive of milk tea) 
Rating: 4.5/5
While the rest of the menu is now made up of Chinese restaurant-style dishes rather cha chaan teng fare, their popular French toast looks set to be a permanent fixture.
Although the owner is a Hong Kong native, he uses thicker bread to cater to local trend. The French toast is composed of two slices of bread slightly thicker than the usual sandwich loaf. Moist and fluffy on the inside, the exterior is well coated with egg. The crust has an intense eggy aroma and doesn't feel soggy or overly greasy.
Between the two slices of bread is a decent amount of creamy peanut butter. Ratio-wise, the syrup and butter nicely match the amount of bread. This is one satisfying French toast that demonstrates much skill and thoughtfulness.
Hong Kong Kim Gary Restaurant BEST VALUE!
1 Harbourfront Walk, ##02-128 Vivocity 
Opening hours: Daily: 11am-10pm 
Price: French toast with peanut butter ($3.00++) 
Rating: 3.5/5
While it won't blow your mind away, Kim Gary's rendition gets our thumbs up for consistency.
Peanut butter is evenly spread between two slices of sandwich bread. Neither too thick nor too thin, the golden brown egg coating is nearly greaseless and carries a pleasant eggy fragrance.
They could have been more generous with the peanut butter, syrup and butter, but overall, the flavours were balanced. Nicely executed, this French toast felt light and left us wanting more. 
C.Nai Hong Kong Café
378/380 East Coast Road 
Opening hours: Daily: 6pm-4am 
Price: French toast ($3.50+), French toast with peanut butter ($3.80+) 
Rating: 3/5
This is the closest you can get to the real thing. C-Nai's French toast stays true to the original Hong Kong version by using sandwich bread instead of thick toast.
The crust has a strong eggy flavour and is delightfully crispy. On the downside, the exterior feels slightly oily and heavy. The version with peanut butter comes with a generous amount of luscious and creamy peanut butter – very satisfying indeed! It's a shame they didn't use a better grade of syrup.
Hits and misses here and there, this French toast has the potential to be great but falls short on execution.
Kungfu Paradise
799 New Upper Changi Road, #01-01 Bedok Point 
Opening hours: Sun-Thu: 11am-2am, Fri-Sun/eve of PH: 11am-4am 
Price: Original French toast ($3.80++), French toast with chicken floss ($5.80++) 
Rating: 3/5
This newest player on the Hong Kong café scene has an interesting local twist on French toast: chicken floss with condensed milk. Topped with plenty of chicken floss and lightly drizzled with sticky condensed milk, this combo of sweet-salty flavours and contrasting textures is a surprise winner!
As for their classic French toast, they use thick bread that's delectably moist and pillowy. They also serve good quality syrup on the side, so we can customise the amount we prefer.
While the exterior was evenly coated, we detected a faint oil taste that wasn't too pleasant. Without this flaw, Kungfu Paradise's French toast makes for one hearty snack.
Xin Wang Hong Kong Café
68 Orchard Road, #06-08/09/10 Plaza Singapura 
Opening hours: Mon-Thu: 11am-1am, Fri: 11am-2am, Sat: 10am-2am, Sun: 10am-1am 
Price: French toast ($4.20++) 
Rating: 2.5/5
Made with a single block of bread nearly three inches tall, this French toast is definitely meant for sharing, unless you want the feeling of carrying an anchor in your tummy for the next four hours.
Coated with a thin egg crust, the exterior gets soggy rather quickly. The toast is topped with liberal amounts of butter and syrup, which is definitely necessary for the large proportion of bread.
Although it has a mildly sweet flavour, the bread feels rather dense and filling after two bites. Strictly for bread monsters. 
inSing.com made anonymous visits and paid for its own meals at the eateries featured here.
---
This archived article appeared in an earlier version of HungryGoWhere and may not be up-to-date. To alert us to outdated information, please contact us here.