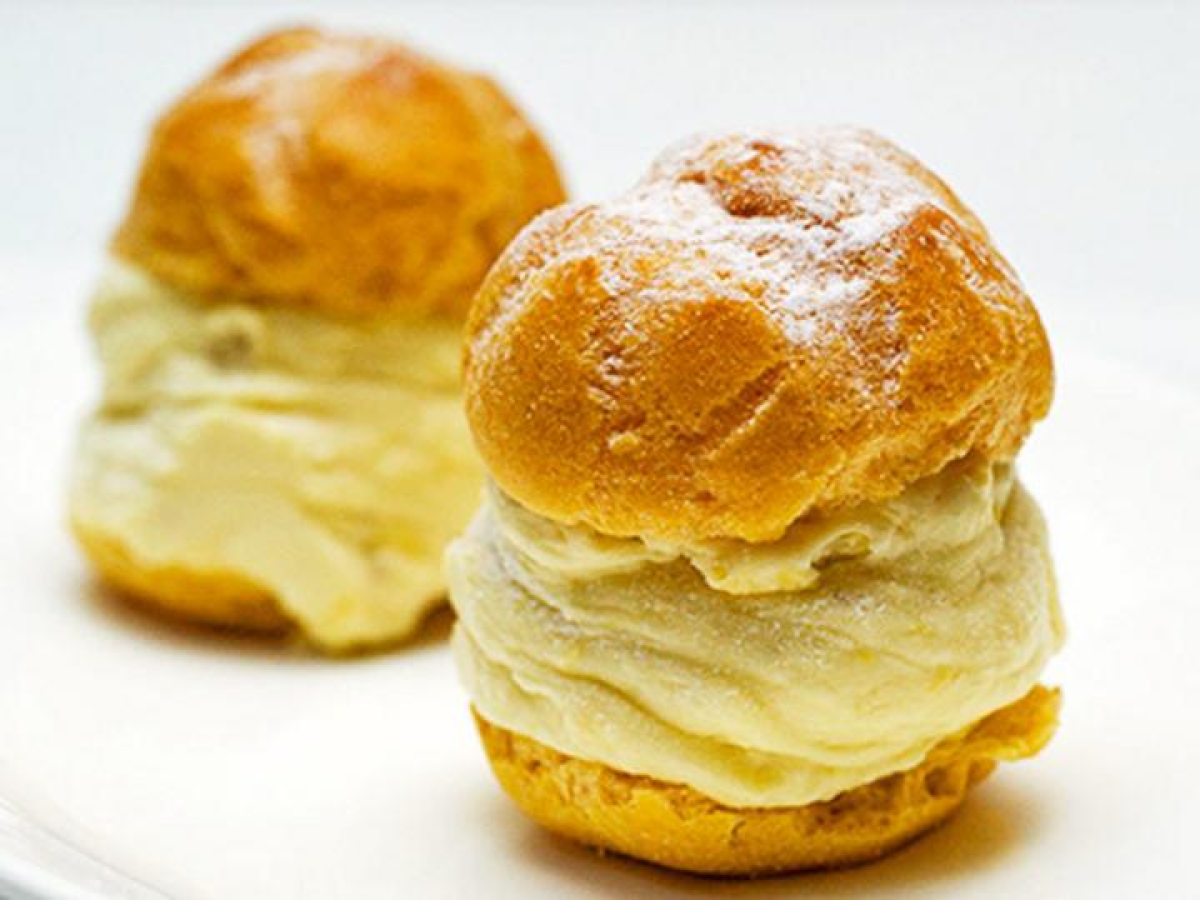 As you sink your teeth into that crisp and hollow choux pastry shell, deliciously rich and creamy durian pulp oozes out with every bite. No wonder durian puff – a uniquely Singaporean take on the classic French cream puff – is one of our local favourite durian pastries.
We review and rate five highly raved durian pastry specialists for their durian puffs. Which puff has got the most power? Read on to find out!
Goodwood Park Hotel EDITOR'S PICK!
22 Scotts Road 
Opening hours: Daily: 9am-9pm, from 1 March – 17 July 2011 (Durian Fiesta is available for limited period annually) 
Price: $5.20 for two pieces 
Rating: 4.5/5
Often touted as the place for best durian puff in town, does Goodwood Park Hotel's signature puff really live up to its legendary title?
It's apparent that much fine-tuning has gone into this highly refined version. A swirling tower of durian cream is sandwiched between two delicate choux shells. Even after thawing, the filling keeps its structure and rich flavour. The pastry remains ethereally light and crisp.
Smooth and airy, the filling is a good balance of cream and fruit, with bits of D24 durian pulp. Though some of us prefer a stronger durian presence, overall, the filling is sufficiently robust with a pleasant sweetness and natural durian flavour.
Though pricier than the rest, this elegant puff is truly in a league of its own. If you're looking to impress someone, Goodwood Park's signature puff is guaranteed to please even the most finicky durian puff aficionado.
Emicakes BEST VALUE

68 Orchard Road, #B2-04 Plaza Singapura 
Opening hours: Daily: 10am-10pm 
Price: Ultimate D24 Puffs ($7.00 for 4 pieces), Classic D24 Puffs ($7.00 for 12 mini puffs) 
Rating: 4/5
At Emicakes, they offer not one, but three kinds of filling for their D24 durian puff range: Classic, Premium, and Ultimate. Classic has a higher ratio of whipped cream than durian, Ultimate is 100% durian, and Premium is in between.
For those who just want a hint of durian flavour, the Classic range—available only in mini puffs—is the ideal choice. These bite-sized pastries are perfect for popping into the mouth. Smooth, creamy and amply filled, these petite puffs are rather more-ish.
Durian lovers should go straight for the Ultimate version. Each palm-sized puff is fat and bursting with pure D24 durian flesh. Mind-blowingly intense and filling, this is as close as it gets to eating the actual fruit.
There are just a couple of downsides. One: When the frozen puffs are thawed, the filling tastes slightly watery due to melted ice particles. Two: The choux pastry is slightly on the dry side. If you can look past these minor flaws, then Emicakes' Ultimate puff is great value if what you want is thick and pure durian pulp. 
Durian Mpire by 717 Trading
230 Victoria Street, #B1-K26 Bugis Junction 
Opening hours: Daily: 10am-10pm 
Price: $4.80 for 6 pieces 
Rating: 3.5/5
Durian Mpire is the confectionery arm of durian wholesaler 717 Trading.
We were pleasantly surprised by this dark horse. Most impressive is the pastry. The choux shells have a lovely moist and tender texture, with subtly crisp exterior. The durian filling is rich and fragrant with a buttery smoothness. It seems that the filling has been slightly sweetened, but the end result is very likeable.
Both the pastry and filling complement each other nicely, with a good pastry-to-filling ratio. Each puff is about two bites worth. Overall, this is a reasonably-priced, solid all-rounder.
Puteri Mas
475 Joo Chiat Road 
Opening hours: Mon: 12pm-5pm, Tue-Sun: 9am-7pm 
Price: $11.80 for 20 mini puffs 
Rating: 3/5
Another household name when it comes to durian puffs, Puteri Mas's version is old-school in style.
The pastry is tender, spongy and rather thick. Occasionally, it suffers from slight dryness. The filling—made from 100% durian pulp—is pleasantly creamy and rich. A more generous amount of filling would certainly up the satisfaction level here.
Overall, Puteri Mas's puffs are easy to eat and easy to like. Those who prefer more pastry than durian will enjoy this, but those looking for thick filling will be disappointed. 
Four Seasons Durians
391 Orchard Road, #B2 Takashimaya Food Hall 
Opening hours: Daily: 10am-9.30pm 
Price: $3.90 for 4 pieces 
Rating: 2.5/5
The choux shells are commendably thin and light. Unfortunately, they're on the dry side. Each puff is filled with unsweetened, 100% durian pulp. The filling tastes natural, however the flavour is a bit thin, mild, and slightly watery. The ratio of pastry to filling is decent, but most of us thought that these puffs are pricey for their size and taste.
inSing.com made anonymous visits and paid its own meals at the places featured here.
---
This archived article appeared in an earlier version of HungryGoWhere and may not be up-to-date. To alert us to outdated information, please contact us here.