5 Best Affordable Biryanis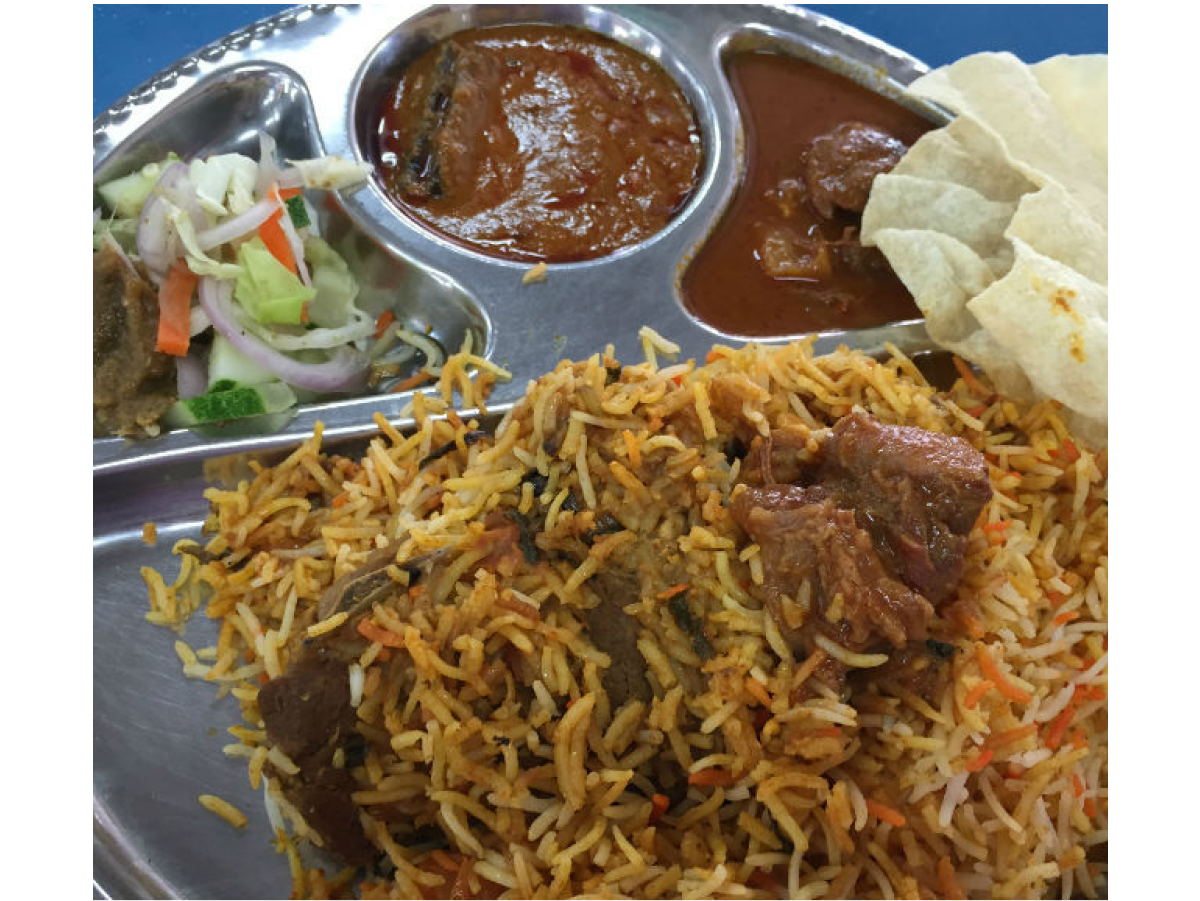 Who doesn't love a good biryani? And we're talking about dum biryani, where long-grain basmati rice is layered and cooked together with spices and meats such as chicken, mutton or fish in a large cooking pot. The biryani is left to cook on slow flame for some time and the vessel's lid is sealed with dough to prevent the steam from escaping. This method of cooking seals in the flavours and natural juices of the meat for a heavenly biryani.
The word "biryani" comes from the Persian word "beriani", and it was the Mughlai conquerors who introduced the dish to India when they invaded the subcontinent. Like how "paratha" became "prata" in Singapore, "biryani" has morphed into "briyani" – the tweak probably happened when our first South Indian settlers started integrating with the locals here.
While the more luxurious biryanis are tinged with saffron threads and even a drop of rose water, we round up five dum good ones that are friendly on your pocket.
Jaggi's Northern Indian Cuisine
Best for weekend biryani cravings
Walk into Jaggi's Northern Indian cuisine at any time of the day and you're bound to see homesick Indian expats eating here and having a taste of home. Jaggi's has been at Race Course Road for 15 years, and the Punjabi family who owns it has been in the food business for two decades. Their dum biryani (chicken/mutton $7) is a 'special' and is only available on Fridays (chicken only), weekends and public holidays.
A whole thigh comes with the chicken biryani while the mutton version has boneless big chunks of the meat. The Punjabi-style biryani is a tad spicier than most of their Northern neighbours. The rice, which is swathed a uniform yellow from the masala and turmeric, is also infused with a stronger dose of spices. In all, their biryani is a little on the heavy side, but no less fragrant and addictive thanks to the melange of spices.
Jaggi's Northern Indian Cuisine | Address: 34/36 Race Course Road | Tel: 6296 6141 | Opening hours: 11.30am-3pm; 5.30-10.30pm
Kasturi Briyani Dam
Cheapest, also the best Malay-style biryani
When it comes to dum biryani, there are a few well-known names in the Geylang Serai food centre, each with their own loyal following. Our vote goes to Kasturi, whose dum biryani (chicken $5; mutton or beef $5.50) is less oily and starchy as the rice is boiled first before cooking to remove the extra starch.
Kasturi was started by husband-and-wife Abdul Mutalib and Gayah seven years ago, but they have passed it on to daughter Sahina who's now in charge and does the cooking while her parents help serve. The rice is cooked the Indian way, redolent with spices and infused with the fragrance from the addition of pandan leaves, mint leaves apart from the usual coriander. The chicken is cooked slightly differently with lots of tomatoes and tastes more assam masak merah ("assam-cooked red") than Indian masala style. The biryani also comes with dalcha (mutton cooked in lentil-based gravy), pineapple salad and a lovely homemade chutney made from dates, raisins and lime.
Kasturi Briyani Dam | Address: #02-133 Geylang Serai Market & Food Centre, 1 Geylang Serai | Tel: 9761 3992 / 9042 0780 | Opening hours: Tue-Sun 7am-2pm
Tulasi Vegetarian & Cafe
Best vegetarian biryani
If you think vegetarian biryani is limited to those from a frozen pack and cauliflower, think again. Slightly more than a year old, this modish two-storey Indian vegetarian restaurant serves a dum biryani selection worthy of a gourmet menu. Hands-on cooks, the husband-and-wife team – Ramesh Krishnan and Sherena Krishnamoorthy – are themselves vegetarians. Their biryani comes in four different cooking styles ($8.90-$10.90) inspired by the regions of India: Malabar, Hyderabadi, Lucknowi and Chennai.
Our favourite is the Malabar dum biryani. Choose from a variety of mock meat that includes fish, chicken, mutton, prawns, even crab. The mock meats taste like the Real McCoy, and the quality is a notch above what you get from the usual vegetarian stalls. We had the 'fish' malabar, which was superbly done with the tender 'flesh' melting almost like cod on the tongue (for those who have had the real thing). If you like it really hot and spicy, go for the Chennai, which is a 'chicken-only' biryani. The rice itself is excellent – spice-laden and flecked with roasted cashews. It comes accompanied with roasted masala pappadum, raita and a crunchy Nonya-style achar. Expect also Western, Chinese wok dishes, Thai and Malay specialities in their extensive menu.
Tulasi Vegetarian & Cafe | Address: 46 Race Course Road | Tel: 6299 3809 | Opening hours: Tue-Sun, eve of public holidays & public holidays 11am-11pm
CRITIC'S PICK Taj
A biryani recipe that took two decades to perfect
When a non-foodie friend (the sort who eats to live) polished off an entire plate on her own and declared it "shiok!", you get an idea how addictively good Taj's biryani is.
Owner Ameen Mansoor has been serving dum biryani for over two decades (15 years at this Chinatown spot and before that, a stall which he claims was one of the first few to serve authentic dum biryani). The recipe has been perfected over the years and is a confluence of Indian, Pakistani and Persian styles, according to Ameen.
Taj's biryani is not too spicy and the rice is beautiful – light, fluffy, delightfully grainy with pieces of cashews and raisins for a Persian touch. The chicken biryani ($6.50; $7 for mutton) comes with a whole tender thigh flavourful with masala spices.Ameen still personally marinates the chicken and bone-in mutton every morning. The meats are then layered with the spice-riddled rice and cooked for another two hours over charcoal fire. Fish dum biryani ($7.50-$8, depending on the type of fish) is also available every Friday. Arrive early as Taj is an incredibly popular lunchtime spot.
Taj | Address: 214 South Bridge Road (corner of Mosque Street) | Tel: 6226 6020 / 9382 8077 | Opening hours: Mon-Sat 11.30am-8pm
Usman's Place
Best for biryani with a good, spicy kick
This cosy 45-seat restaurant sits cheek by jowl with a slew of Middle Eastern eateries and shisha joints. Usman's Place specialises in Pakistani cuisine and also does some lip-smacking biryani (mutton or chicken $9.90; seafood $10.90).
Those who don't like to get their hands dirty will appreciate the boneless chunks of tender chicken or mutton buried in the rice that's been cooked with the requisite spices, tomatoes and tamarind. A sprinkling of coriander leaves and fried shallots gives the finishing touch.
Usman's biryani is a fiery mix and the masala flavours are pretty intense though you can request for the spices to be toned down. Quell the heat with some raita (cucumbers and onions in yogurt), which comes with the dish. While you're at your biryani, order authentic Pakistani fare such as Lahori fried fish (fish coated with a spice paste, pan-fried), fried lamb chops or mutton karahi (a wok-like deep cooking pot used in Pakistan) cooked in tomatoes and ginger sauce – dishes you won't find easily at other South Asian restaurants.
Usman's Place | Address: 67/68 Bussorah Street | Tel: 6297 0097 | Opening hours: Daily 11.30am to 11pm
---
This archived article appeared in an earlier version of HungryGoWhere and may not be up-to-date. To alert us to outdated information, please contact us here.