Hup Kee Wu Xiang Guan Chang: One of the last remaining Hokkien ngoh hiang stalls in Singapore!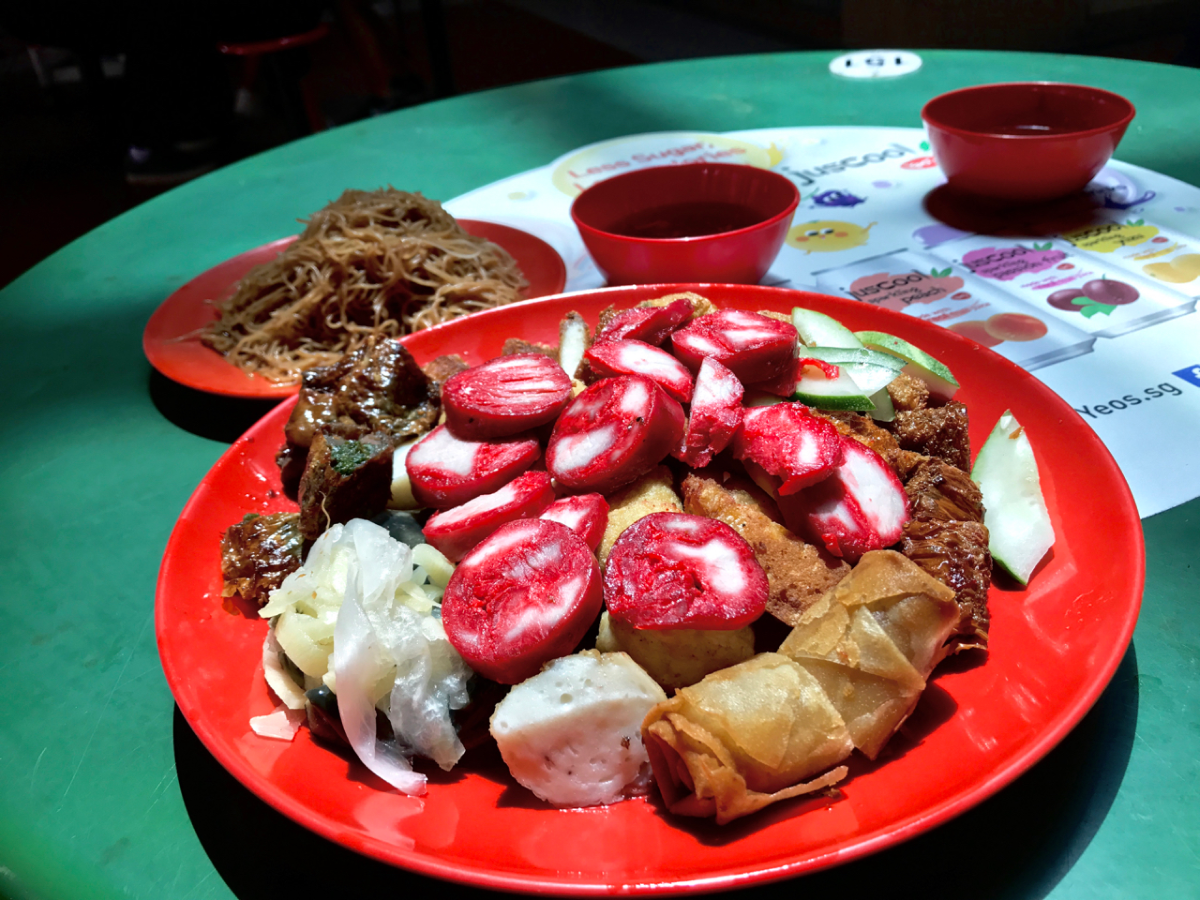 Originally a pushcart stall which started before World War II, Hup Kee Wu Xiang Guan Chang is one of the last remaining stalls selling the Hokkien variety of ngoh hiang (savoury fritters) — as opposed to the usual Teochew style of ngoh hiang which is commonplace in Singapore. The Hokkien variety doesn't add crispy prawn fritters and there is no mashed yam in their meat rolls.
Now run by third-generation Teo Ho Soon, the stall has moved six times from its original location at China Street (to Chin Swee Street, Empress Place, Maxwell market and People's Park Centre) before settling in its present location at Maxwell Food Centre some 10 years ago. Even though they sell a range of 12 items, only four are handmade everyday due to a lack of manpower and time — pink sausage, ngoh hiang, liver rolls and egg lard cakes.
The ngoh hiang itself (meat roll) has nice fatty minced pork flavoured with five spice powder, spring onion and vinegar wrapped in soybean skin, while the guan chang (fresh pink sausage; $0.80) is filled with  twee bak (lean meat) and contains minimal sweet potato flour mix. The ter kwa (liver rolls; $0.90) are stuffed with chives, liver chunks and a stick of lard to hold the roll together. Thre is a little creamed liver added to give the illusion of a softer texture.
You can also get handmade neng kway (egg lard cakes; $0.80) which are an increasing rarity in Singapore. Egg is mixed with lard and flavoured with fish sauce, sugar and salt before being steamed then deep-fried, the cakes are sliced thin so they turn into almost crispy biscuits, but the centre remains soft and moist. Special note goes out to the fried bee hoon which is properly fried with just the right amount of flavouring.
---
This archived article appeared in an earlier version of HungryGoWhere and may not be up-to-date. To alert us to outdated information, please contact us here.