Gyu San brings premium wagyu to your table with its sando shop and butchery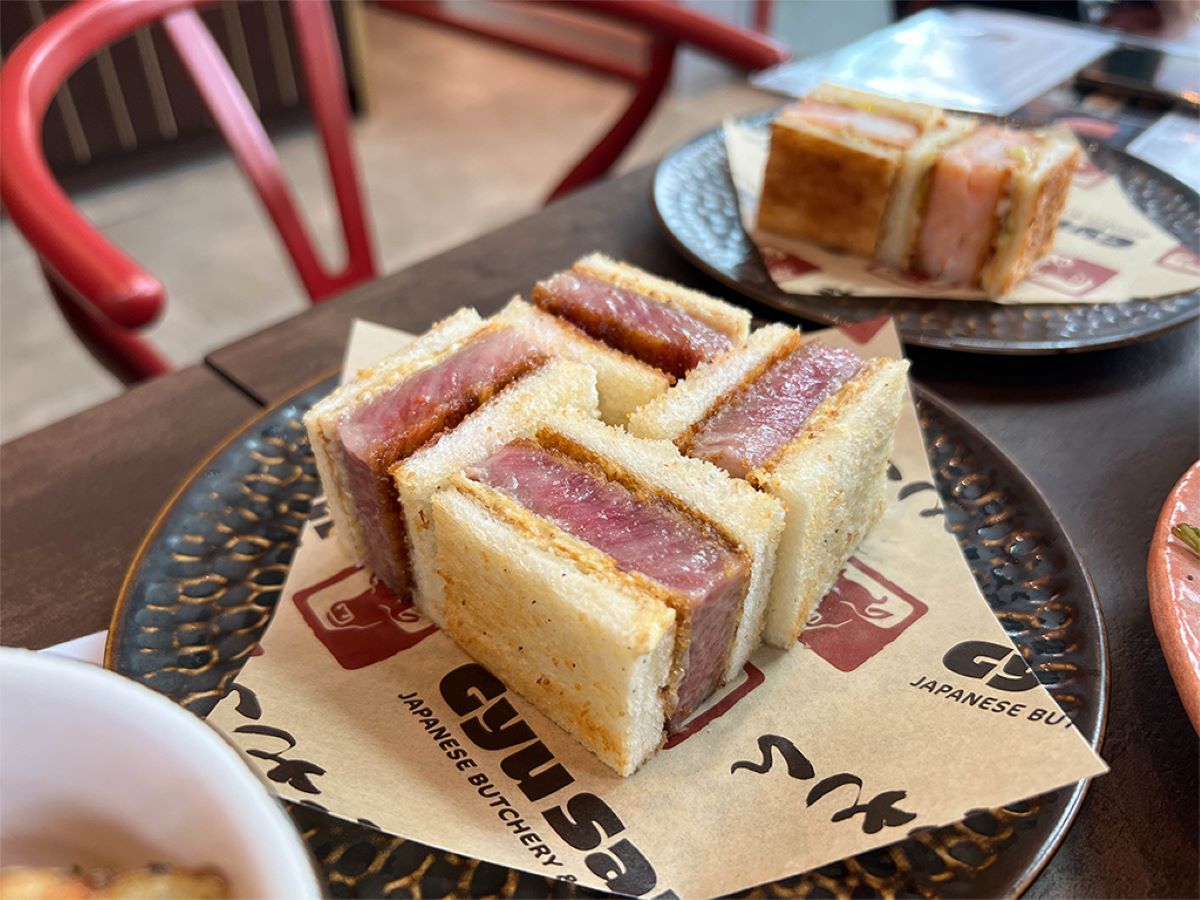 If you count yourself a wagyu fanatic, ready your taste buds for one of the most mouthwatering food concepts to open in southern Singapore. Gyu San is a Japanese dual F&B concept housing a butchery and sando shop. Opened on Aug 15, it joins the enclave of eateries in Tanjong Pagar. 
Chefs Tomoyuki Kiga and Linh Lam, who helm the sando shop and butchery respectively, boast an impressive resume with culinary experience from around the globe. They share the hope of introducing their customers to the beauty of different types and cuts of Japanese wagyu.
Gyu San orders all its Japanese wagyu directly from various prefectures in Japan, and its butchery will offer seasonal cuts throughout the year.
Gyu San's sandos
Gyu San's sando shop in Tanjong Pagar offers a dining space that seats up to 25 people, with a cosy indoor section and an airy al fresco area.
As the focus is on wagyu, the menu is unsurprisingly concise with only a handful of selections. The stars of the menu, the gyu katsu sandos, feature a wagyu katsu sandwiched between slices of lightly toasted shokupan (Japanese milk bread) with wasabi aioli. 
Unlike other wagyu sandos in town, the wagyu katsu at Gyu San is deep-fried in wagyu fat, procured from various breeds of wagyu — a perk of having an in-house butchery.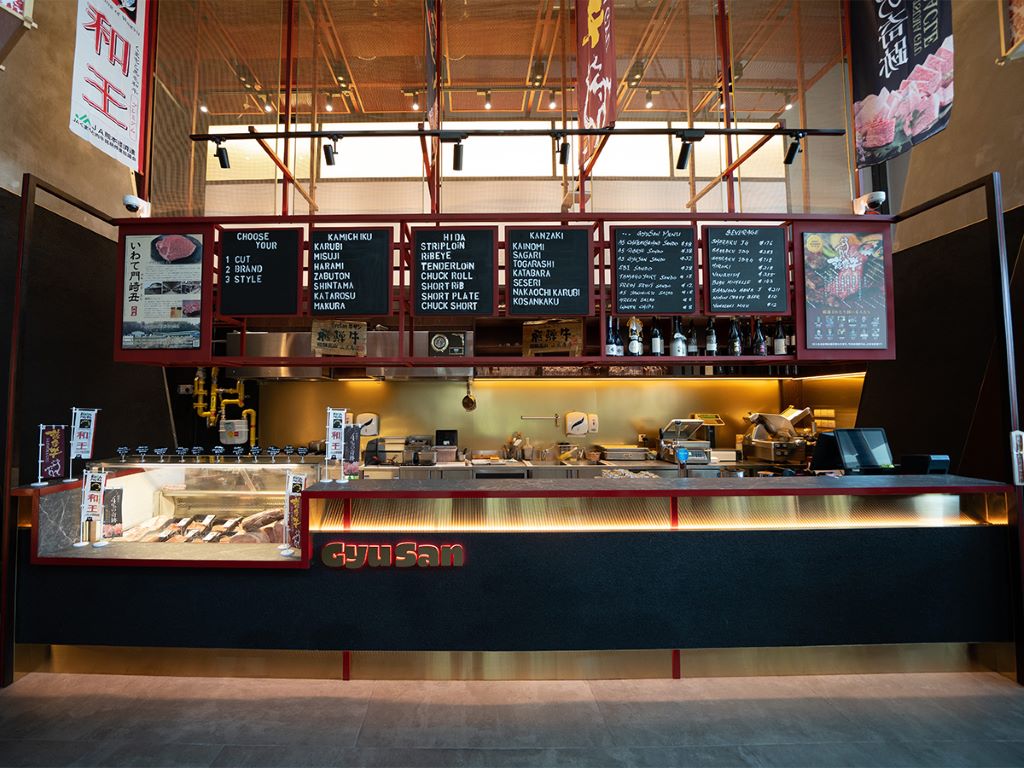 The sandos are available in three cuts: House cut (S$32), striploin (S$48) and chateaubriand — filet mignon roast (S$62). Do note that the house cut will rotate, but the source of wagyu used — from Kamichiku Farm, a Japanese ranch where 78 per cent of its cattle are graded A4 and above — will remain unchanged. 
All of Gyu San's sandos are made with Kamichiku's Satsuma Gyu, the reigning champion of Japan's Wagyu Olympics — making it the best Japanese wagyu in the world now. Its high marbling makes the wagyu extremely succulent and provides a satisfyingly fatty, luxurious mouthfeel.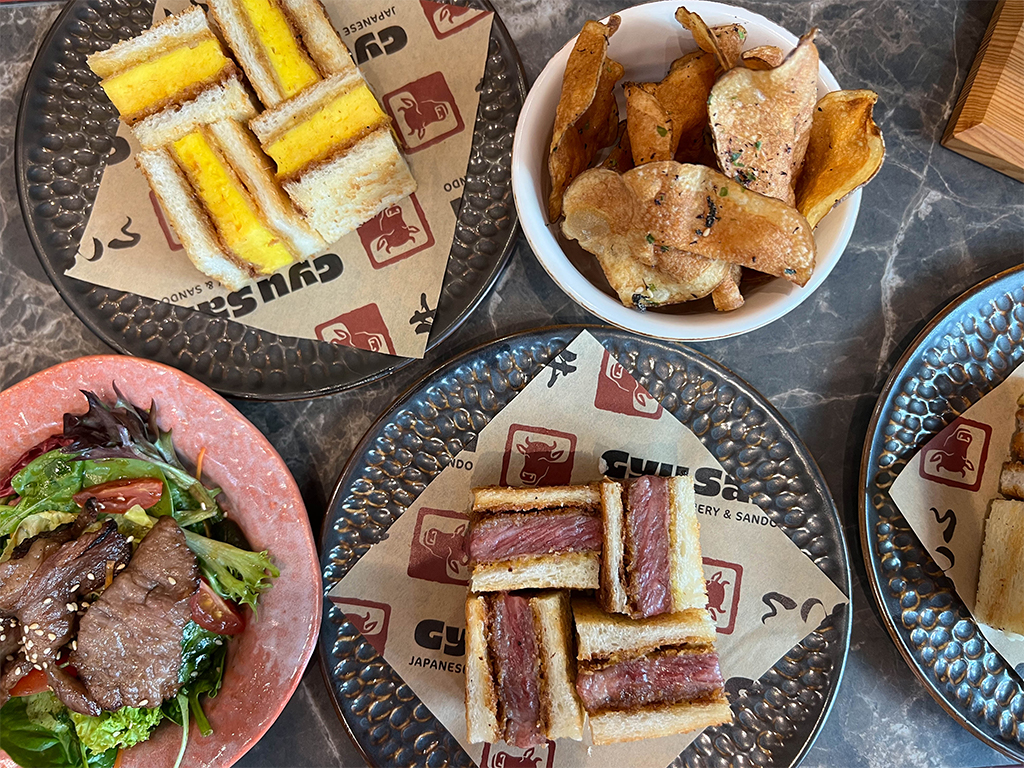 Apart from decadent wagyu sandos, you can enjoy some of chef Tomoyuki's other creations, such as the tamagoyaki katsu sando — panko-fried steamed egg sandwich (S$18); ebi katsu sando — panko-fried shrimp sandwich (S$28); and fresh fruit sando (S$12). 
For sharing, the popular wagyu chips (S$8) is a must-have. It's made from thinly sliced russet potatoes that are deep-fried in wagyu fat. For something lighter, get the A5 yakiniku salad (S$18). 
Gyu San's butchery
Gyu San makes every wagyu lover's dream come true by offering the largest range of more than 55 premium Japanese wagyu cuts from different prefectures in Japan. These include less common cuts on the market, such as oyster blade and tri-tip.
Every few months, the Gyu San team will bring in new varieties.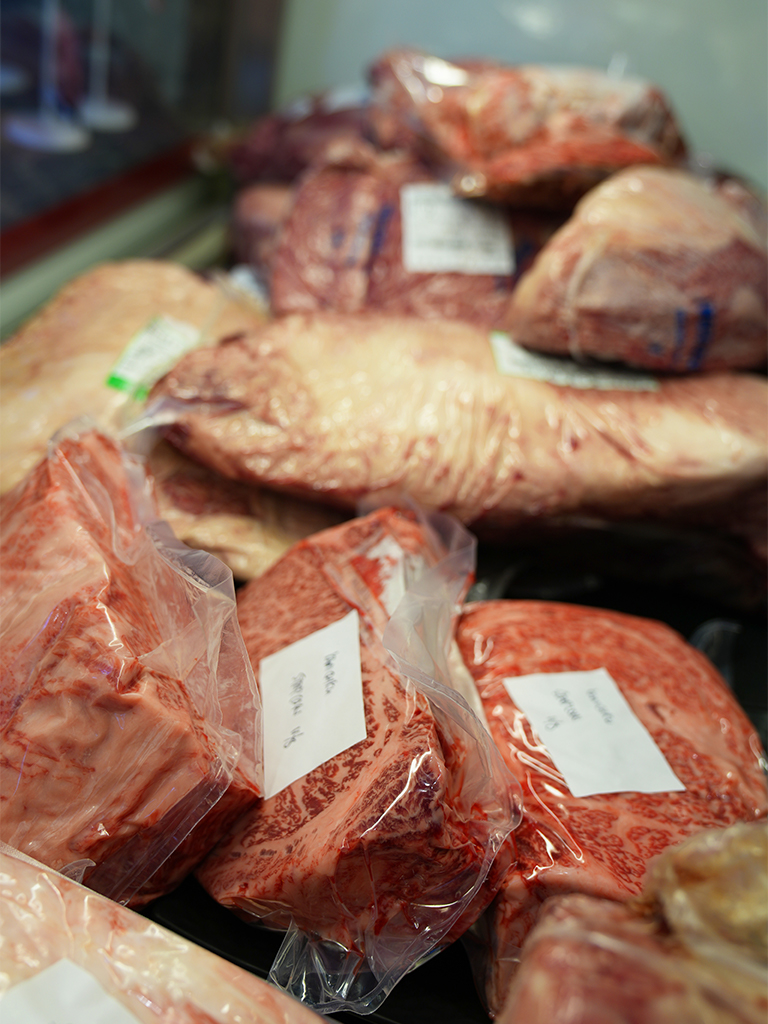 Gyu San also offers saikoro steak, stew cuts, hamburger patties, and more for your cooking pleasure.
For now, it has the following varieties on its menu: Kamichiku's Satsuma Gyu 4% Miracle from Kagoshima (from S$21.90/100g), Kanzaki Gyu from Iwate (from S$26.90/100g), and Hida Gyu from Gifu (from S$36.90/100g).
If you need help picking out appropriate cuts for your home recipes, speak to the friendly butchers to get their recommendation for your cooking needs. 
Book a ride to Gyu San.
Guoco Tower, 01-03, 7 Wallich Street
Nearest MRT Station: Tanjong Pagar
Open: Monday to Sunday (11.30am to 9pm)
Guoco Tower, 01-03, 7 Wallich Street
Nearest MRT Station: Tanjong Pagar
Open: Monday to Sunday (11.30am to 9pm)
---