Head to the newly opened Acai Brothers to fix your late-night acai cravings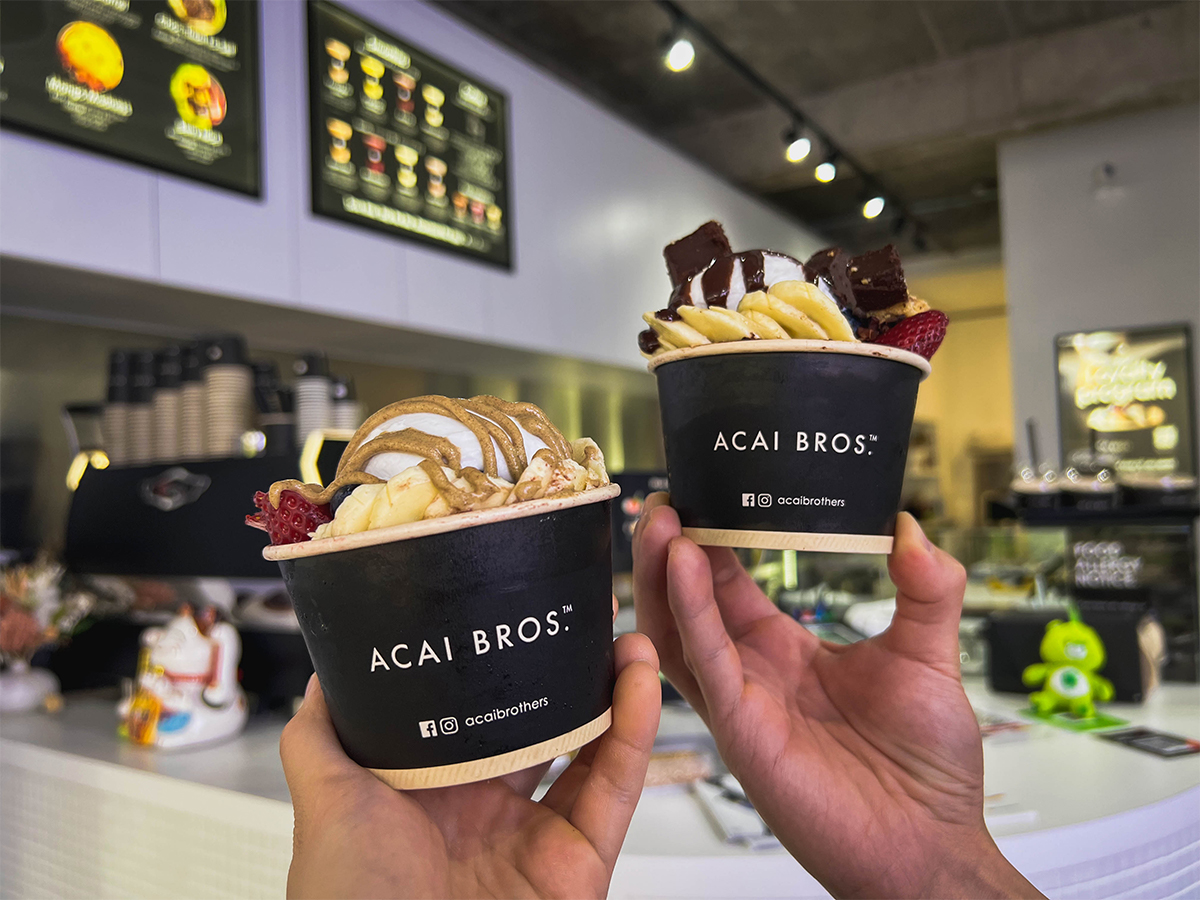 Come supper time, we Singaporeans often find ourselves faced with a dilemma – to eat or, for the sake of our diet, not to eat. It's great news, then, that Acai Brothers is providing healthier late-night options to help us with this conundrum. 
Its smoothie bowls are made from the acai berry, which is known for being a superfood. It's high in antioxidants and other nutrients, making it the perfect guilt-free snack to enjoy at any time of the day.
If you're wondering why the name Acai Brothers sounds so familiar, it is a popular chain in Australia known for its innovative menus and high-quality products. Founded by two friends, Ben Day and Sam Carson, the brand has expanded to more than 15 outlets across Australia since its inception in 2014.
On Aug 20, it opened its first store in Singapore — in Kovan. This is Acai Brothers' first international store, though it certainly wouldn't be the last, as the team has said that they are looking to open more outlets around Singapore.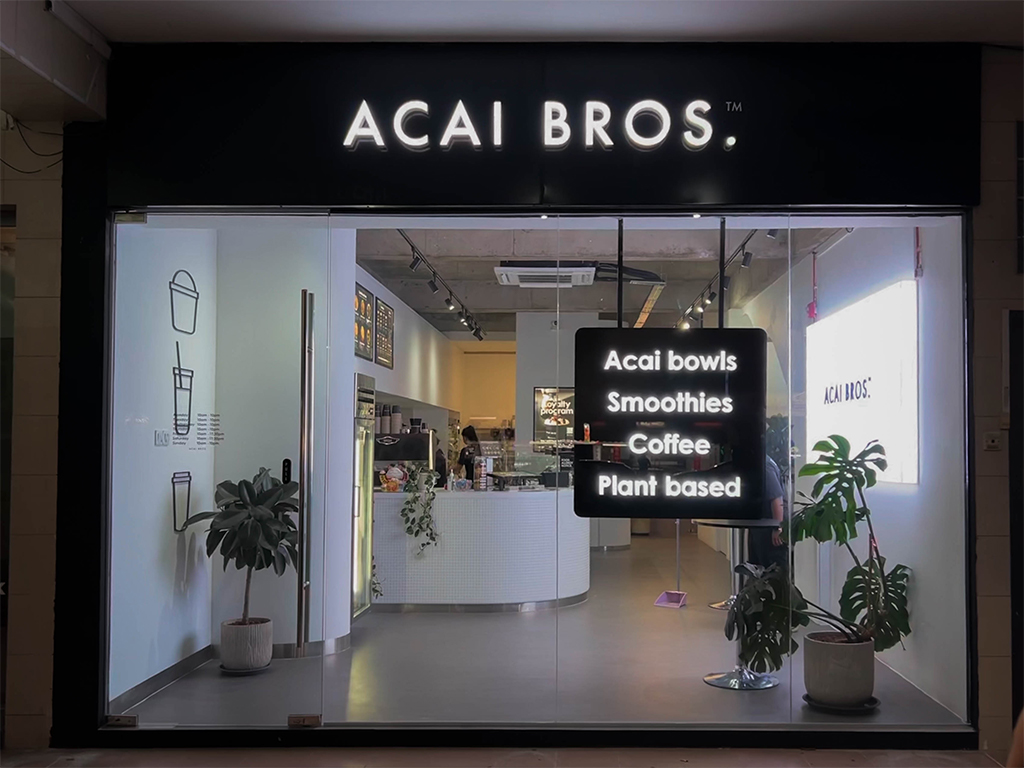 Located along Upper Serangoon Road, the storefront dons a bold, minimalistic appearance different from the bright, cheerful tones typical of specialty acai stores. Aside from a concrete bench flushed against the wall, there aren't any seating areas inside.
However, its cool outward appearance is a stark contrast to the warmth of the service staff who amiably welcome you as you enter the store. 
Acai bowls with housemade ingredients
The menu offers six specialty acai bowls to choose from. If none of the flavours appeals to you, you can even opt to build your own bowl (from S$7.50). 
Both options come in three sizes: Regular, large or share. The share bowl is something intriguing that acai lovers may want to check out, as it boasts close to a litre's worth of acai. 
What we appreciated about its acai base was that it is blended with bananas, giving the base a very subtle sweetness that didn't overwhelm. It maintained the texture of pure blended acai berries, which is similar to a sorbet – slightly gritty owing to the skin of the acai berries.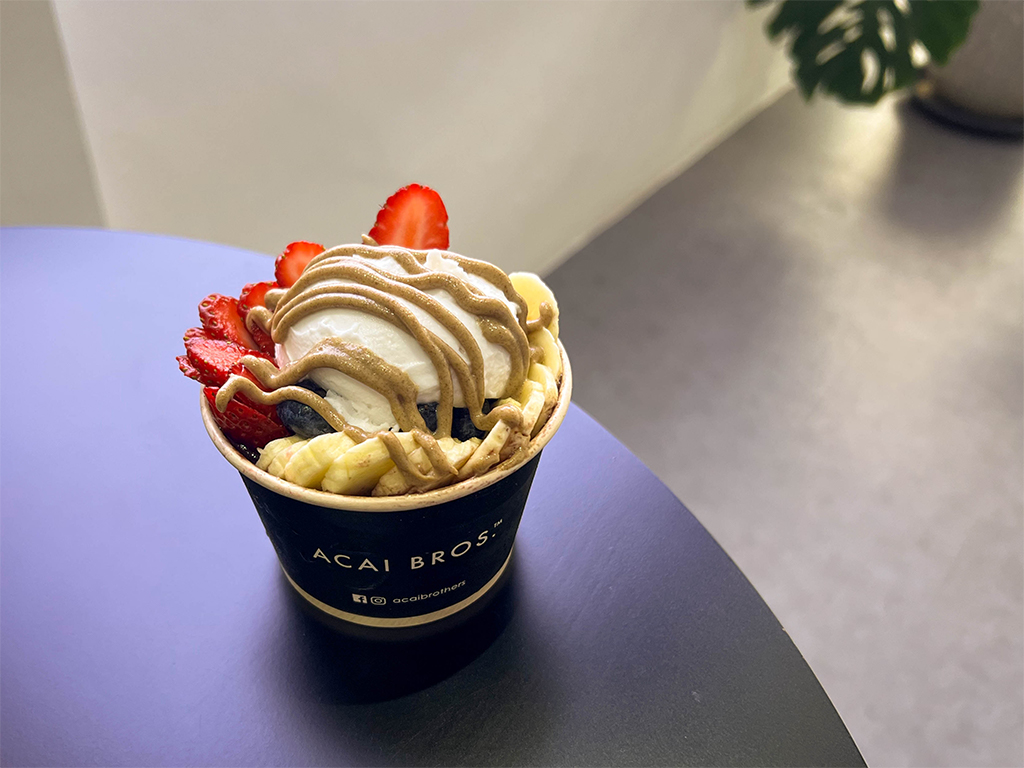 What is more impressive is the base's versatility. It can be blended with different ingredients to incorporate the flavour of the bowl within the acai base itself — something not many acai stores do. 
For Ain't Nothin' Butter (from S$11), the base was blended with cacao and peanut butter, which made it significantly creamier and added a tinge of nutty flavour to every bite. 
On the other hand, the base for Salted Caramel (from S$11) was blended only with vegan salted caramel protein, allowing it to retain a grainy texture while incorporating a burnt caramel flavour to the acai base.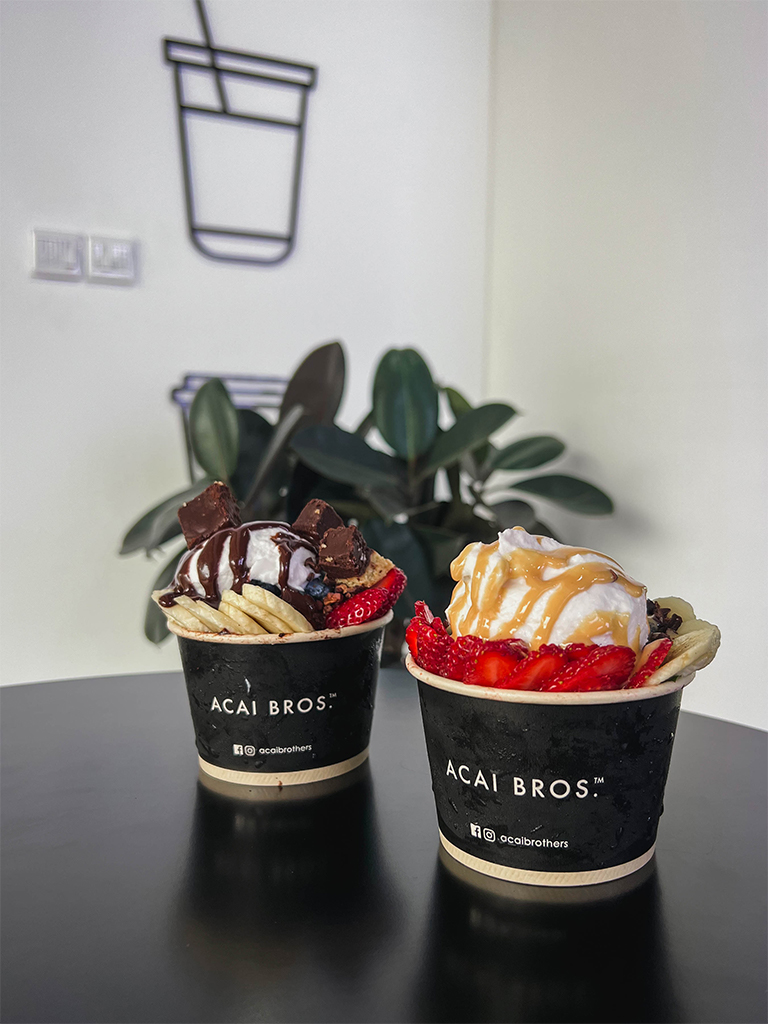 Despite its fairly hefty price tag, Acai Brothers is worth a try.
Many of its toppings, such as its granola and protein powders, are made in-house with quality ingredients such as cacao powder and macadamia nuts. It also has interesting options such as coconut yoghurt, which you can't typically find.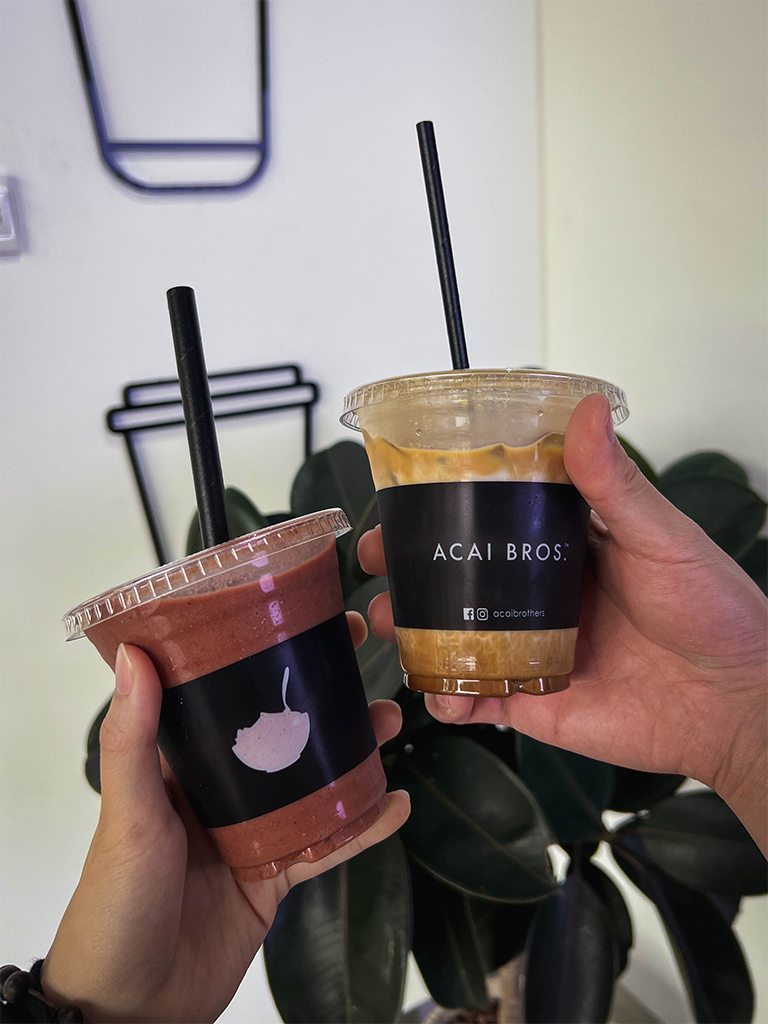 Aside from acai bowls, Acai Brothers serves drinks on the menu. There are eight flavours for its smoothies (from S$7.50) and all of them are naturally sweetened with coconut nectar. 
For something more special, try the Berry Delicious (from S$8.50), which, true to its name, was quite tasty. It has a smooth velvety texture with a slightly sour note from the goji berries.
You should also try its coffees, made from its specialty Bro Blend. The beans are roasted in Australia and regularly shipped to Singapore to ensure freshness. 
Since coconut milk isn't typically offered as a milk option, we recommend having the iced latte with coconut milk (S$6.50). It was smooth and refreshing, with a pleasant hint of sweetness from the coconut – great for Singapore's warm weather.
Acai Brothers is on the GrabFood delivery service. Alternatively, you can also book a ride there. 
1019 Upper Serangoon Road, 01-01
Nearest MRT station: Kovan
Open: Sunday to Thursday (11am to 10.30pm), Friday to Saturday (10am to 11.30pm)
1019 Upper Serangoon Road, 01-01
Nearest MRT station: Kovan
Open: Sunday to Thursday (11am to 10.30pm), Friday to Saturday (10am to 11.30pm)