Ye Lai Xiang Tasty Barbecue: Pioneer hawker's classic Hainanese western food in Maxwell Food Centre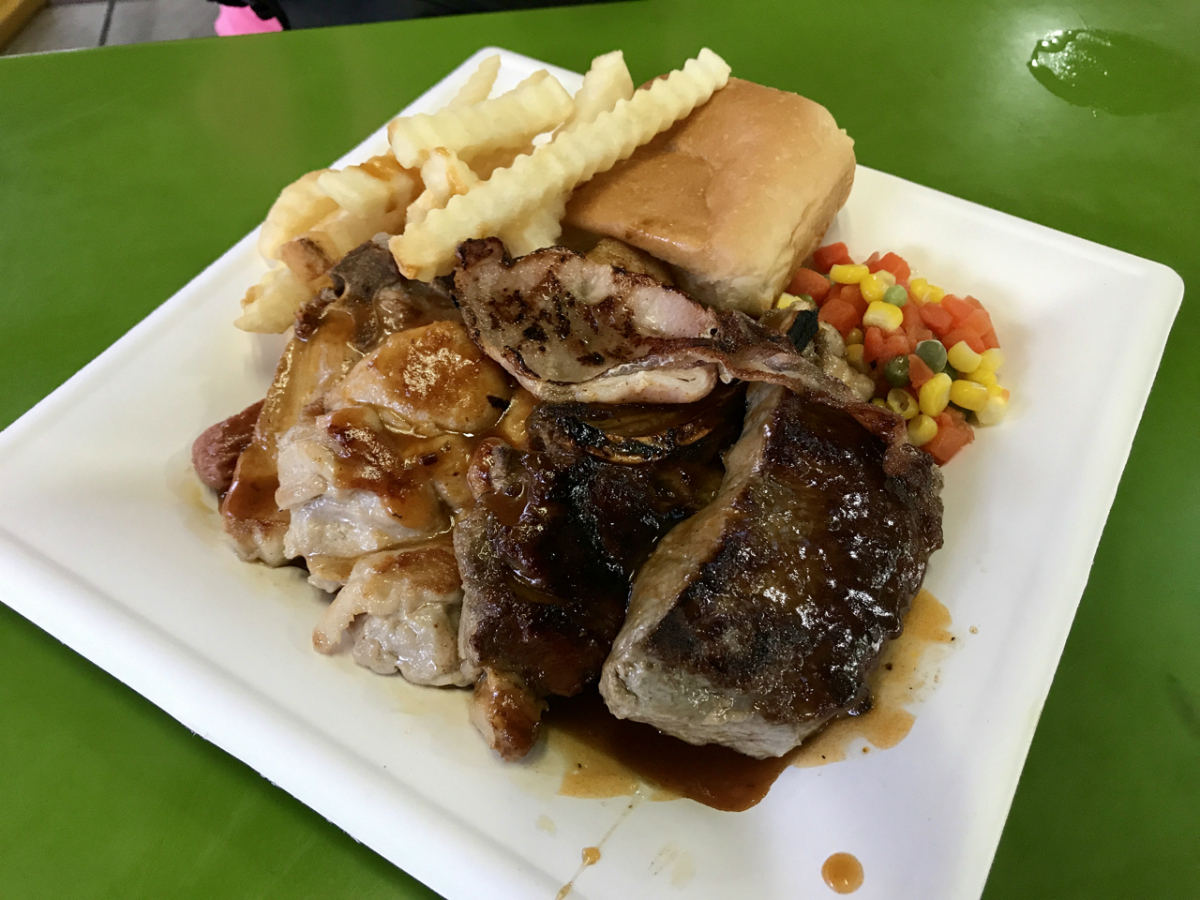 One of the early hawker stalls to sell Hainanese-style western food in a hawker centre in the 1970s, you'll be thoroughly satisfied with the food at Ye Lai Xiang Tasty Barbecue, but only if you manage your expectations.
In other words, don't tuck in and expect Lawry's for under $10.
History
The western food stall — which started operations in Tanglin Halt Food Centre in 1971 — was opened by the late Chef Leong who was the head chef of the British Navy in Singapore until the British troops withdrew from Singapore earlier in the year.
The stall moved on to Commonwealth Crescent Food Centre but after suffering from serious burns in 1976, Leong relocated the stall to Commonwealth Avenue Cooked Food Centre.
It was there that the stall really established itself as the place to go to for classic and proper Hainanese-style western food.
Chef Leong passed away in 1998 but the original recipes were passed to his third son, Vance who now runs the stall.
A decade later, they had to relocate once again as Commonwealth Avenue Cooked Food Centre was scheduled to be demolished in 2011 under the Selective En Bloc Redevelopment Scheme (SERS).
The bulk of the hawkers moved to the nearby Meiling Hawker Centre, but Ye Lai Xiang decided to venture out to Newton Food Centre instead but after an unsuccessful stint, they shifted to Maxwell Food Centre in 2012.
The meats
It is here where you'll find as close to an original reiteration of how western food was first presented to Singaporeans in a local street-side format back in the 1970s: pan-fried meats with crinkle-cut fries, a soft and sweet Chinese-style white bun, salted butter, baked beans or diced vegetables and their signature brown sauce.
In the Singapore landscape of western meals, the quality is somewhat in-between a typical cheap western food stall and something a little more premium like Aston's.
Its prices are slightly higher than the average western food stall but the portions of meat are more than significantly larger.
Take the chicken chop ($7.50) as an example: they give you one and a half times the standard size gotten from suppliers and the meat definitely has a chunkier heft.
It has to be noted that the meat is not of the highest quality — it can't be at those prices — but the stall does its best with the meat.
The meats are nicely pan-fried with a decent tenderness and moisture but if you're a slow eater, you'll notice that the meats lose their moisture and tenderness rather quickly about halfway throughout the meal.
A guess but part of the reason likely due to the common practise of western food stalls serving pan-fried meats almost immediately and not properly resting the meat.
A special shoutout to the cutlet dishes (chicken cutlet, $8; pork cutlet, $8) which come with a nicely thin and crispy bread coating.
If you observe how they prepare the cutlets, they only put on the flour, egg wash and breadcrumb coating when they receive an order and it's not kept overnight like how many western stalls do it.
Their signature brown sauce
Their brown sauce is distinctly different from the usual savoury brown sauces you get in a typical western hawker stall.
Butter and flour is added to a bone and vegetable stock base after which a whole host of sauces like HP sauce, Lea and Perrins Worchestershire sauce, Tabasco sauce, red wine, vinegar and other secret spices are mixed in.
The final result is a brown sauce that has a subtle reddish hue and a taste that is lightly sweet and tangy with a mild stock savouriness.
It is a flavour which takes a bit of getting used to, especially if you've never patronised the stall before.
Seasoning and sides
The seasoning leans towards the lighter side no matter the condiment, so if you like your foods highly savoury, you might want to think twice about coming here.
The fries are not salted (though there is a salt shaker on the side) and the meats plus brown sauce are very lightly so.
The only decently salted items are the chopped boiled vegetables (classic trio of carrots, peas and corn) and the salted butter.
The highlight is the soft and fluffy sweet bread bun — a very high quality example of a Chinese bakery bread bun — and it is lovely eaten with the French-produced salted butter which they provide (Candia brand; another highlight).
The baked beans are the best you can get: Heinz English Recipe Baked Beans which has a thicker consistency, a deeper flavour and less sweet, more savoury taste.
The downside? The baked beans are given as a side only when you order pork chops ($7.50) or pork cutlets ($8).
Other highlights
Their fish and chips ($8) are a must-order as the portions are very generous— three huge half fillets of breaded white fish and the meat is wonderfully soft and moist.
It is also the only dish where you get coleslaw and tartar sauce — not high quality by any measure but the results are reasonably tasty.
They also have more ambitious dishes — lamb chops ($15), sirloin steak using Angus beef ($20) and the very popular Mixed Grill ($21.50), which comes with a huge assortment of meats — bacon, steak, pork chop, chicken chop, lamb chop and sausage.
---
This archived article appeared in an earlier version of HungryGoWhere and may not be up-to-date. To alert us to outdated information, please contact us here.