Review: Tinto's fideua is the star, but so is its anchovy toast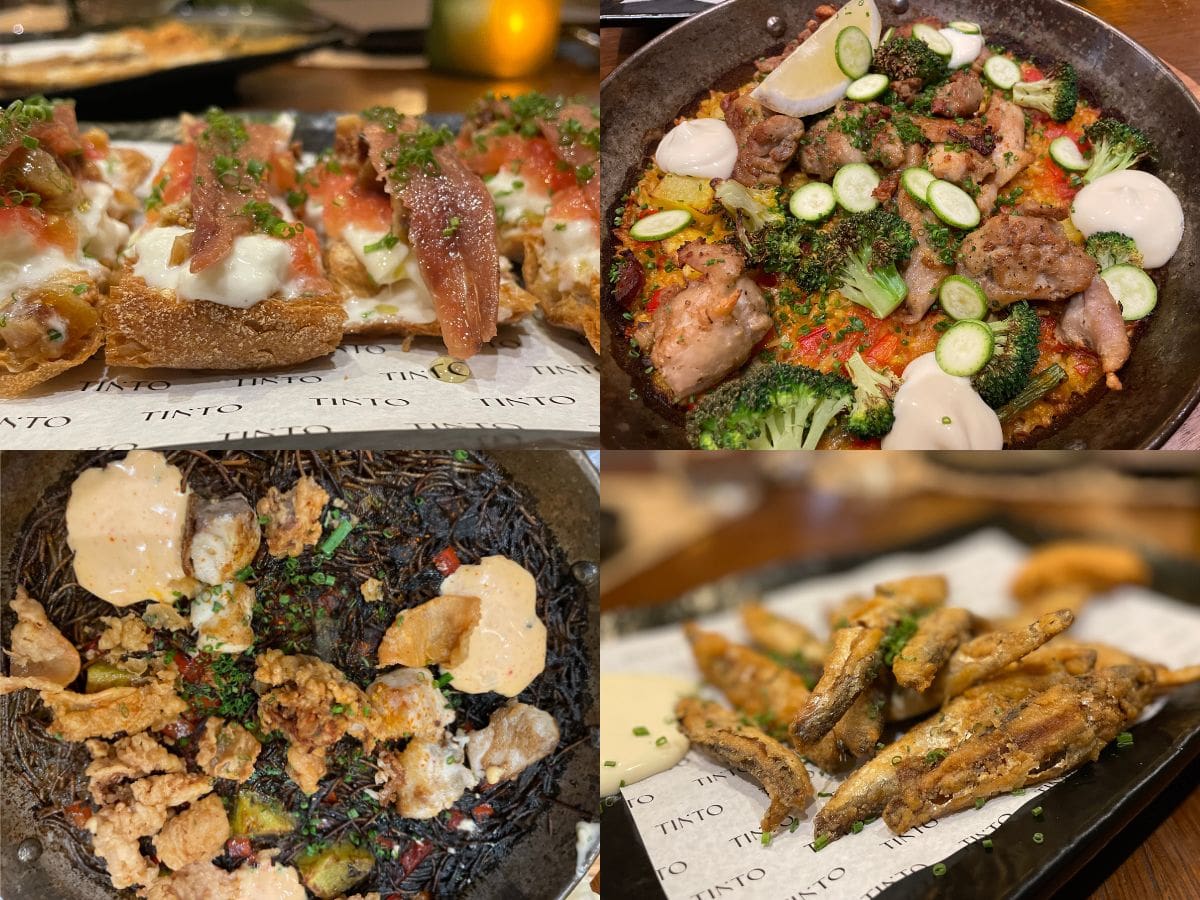 Tinto is the second outlet from chefs Daniel and Tamara Chavez, after Canchita Peruvian Cuisine.
The Spanish eatery directs the spotlight away from the more ubiquitous Catalan offerings in Singapore, and on to Valencia.
One of its signature dishes is the fideua, which means "large amount of noodles".
Mention Spanish food, and paella comes to the top of mind. 
Fewer folks might know that paella hails from the southeastern coast of Spain, in the port city of Valencia, and I'd wager a guess that only a smaller set might have heard of another dish from the same hometown: Fideua.
Chef-owner Daniel Chavez and head chef Tamara Chavez are hoping to change that by bringing fideua to the fore in their newest concept, Tinto, a spanish restaurant at Dempsey.
Fideua is simply described as "paella, but made with noodles". It's cooked the same way as paella, but instead of rice, short spaghetti-like pasta called fideos is used.
Tinto — a name that was inspired by the Spanish word for red wine, vino tinto — is the husband-and-wife pair's second restaurant in Dempsey. They have another concept, Canchita Peruvian Cuisine, just a stone's throw away. Chef Daniel Chavez was also the brains behind the now-defunct Ola Cocina del Mar and Tono Cevicheria.
This is their first Spanish restaurant, and with it, they are bringing Valencia's flavours to Dempsey Hill. You can expect seafood-forward dishes as well as Valencia's much loved exports, the paella and fideua.
It's quite clear the pair wish to pay homage to the birthplace of both dishes, as Tinto's menu has nine variations to choose from.
Although there is an abundance of Spanish restaurants in Singapore, Tinto stands out for its focus on Valencian cuisine. Its menu is lively, spirited and moreish. 
A full vegetarian menu is also available, indicating the eatery's commitment to welcoming diners of all preferences and appetites.
The dressed-up interiors of the restaurant make it a Dempsey destination suited for special occasions and celebrations.
They say don't fill up on the bread — we say, well, good luck with that. A basket of warm bread hits the table as soon as you're seated, and it's divine — crusty but soft with just enough spring.
Served with a grassy extra-virgin olive oil and syrupy balsamic vinegar, the bread set the tone and the meal was off to a good start.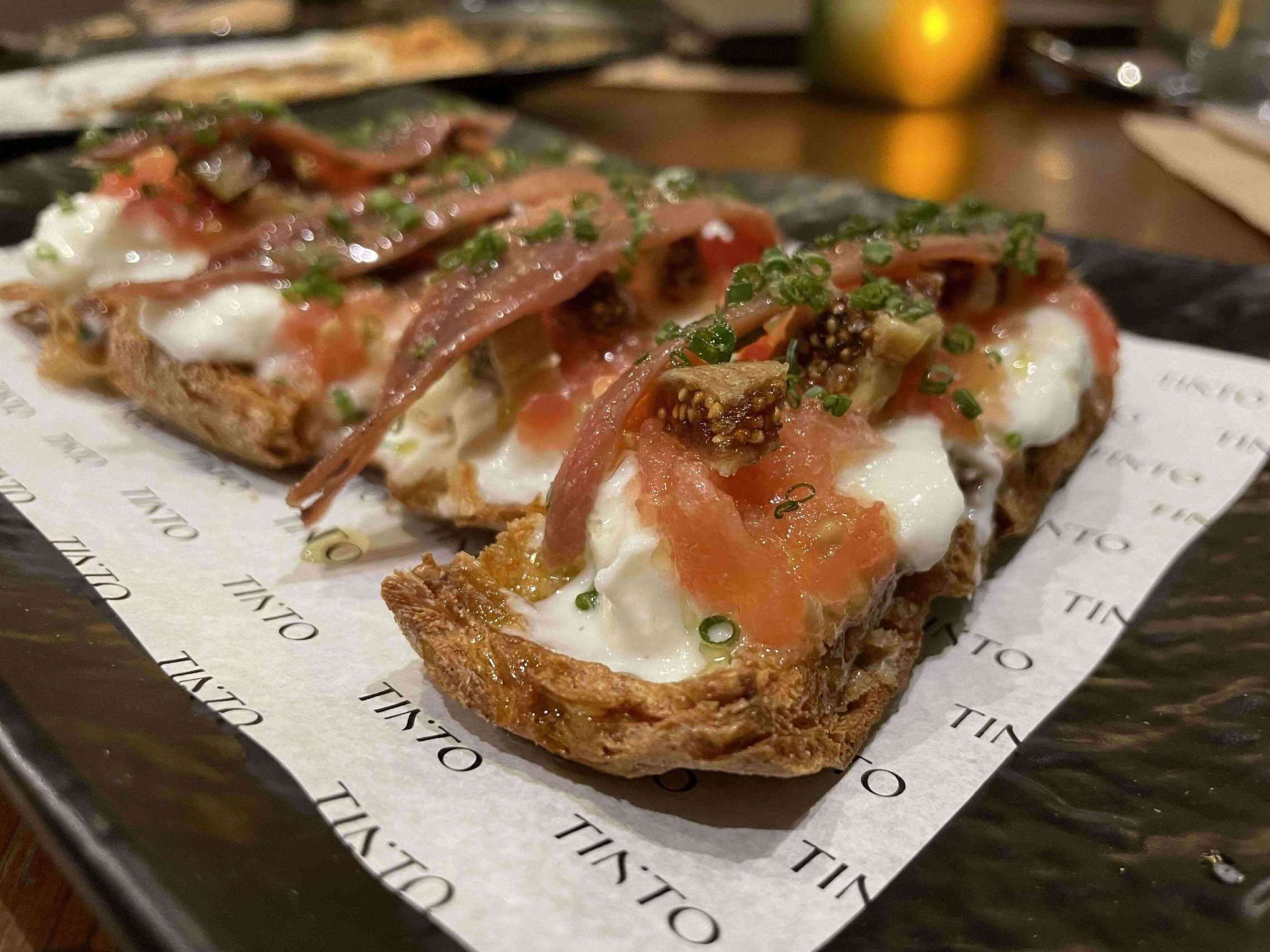 A standout of the meal was the anchovy toast (S$22). This was a layered dish — literally. Oily anchovies, studs of dried figs, creamy burrata and juicy crushed tomatoes are layered on top of toasted pan de cristal. 
Spanish for "crystal bread" because of its fine translucent crust, I choose to believe that it's because of how shatteringly it crunches when bit into — making it the perfect carriage to deliver a jubilant medley of flavours and textures.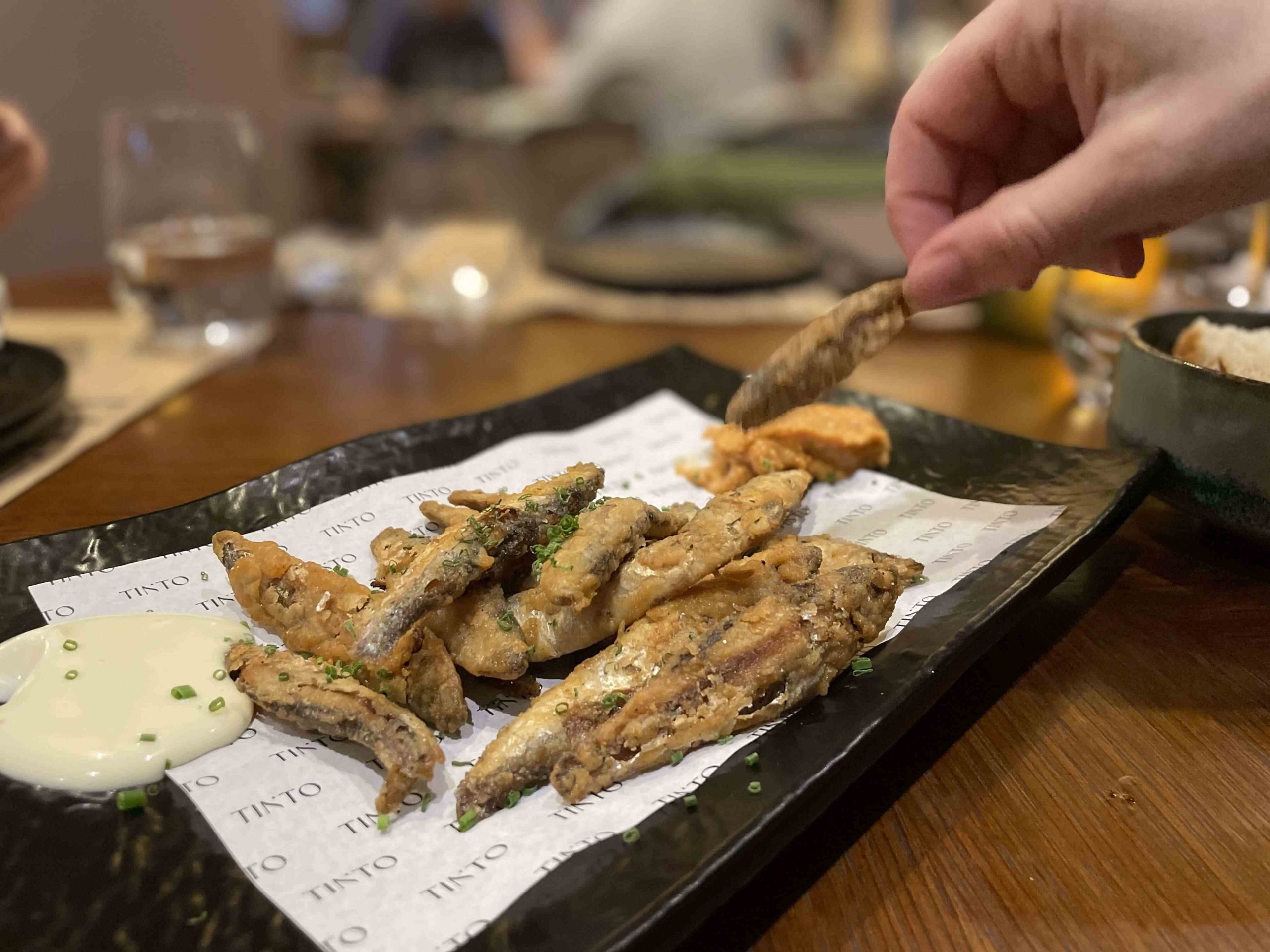 The fried baby smelt fish (S$26) brought as much pleasure as one could expect from hot, crispy, freshly fried fish. Propped up by a deeply smoky romesco sauce and zingy garlic aioli, it's just missing a wedge of lemon.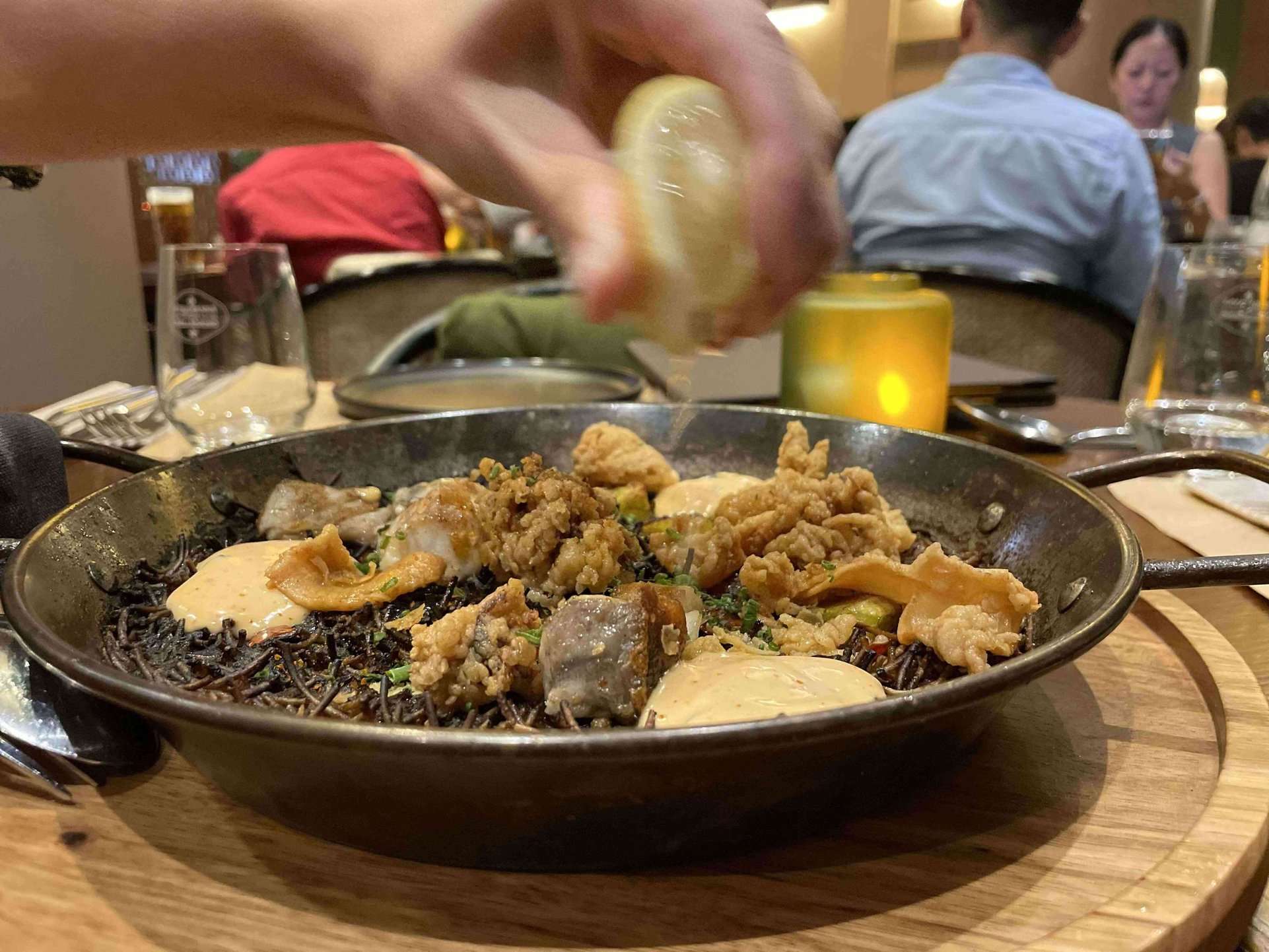 The squid ink fideua (S$36 for half, S$68 for full) was hefty as it packed a large amount of noodles (remember?), hunks of sea bass, calamari and potatoes. The half portion yields two to three full servings. 
The best part was the crispy burnt crust scraped up from the bottom of the pan and folded into the silky noodles. The short noodles used in this dish meant more surface area for extra crispiness.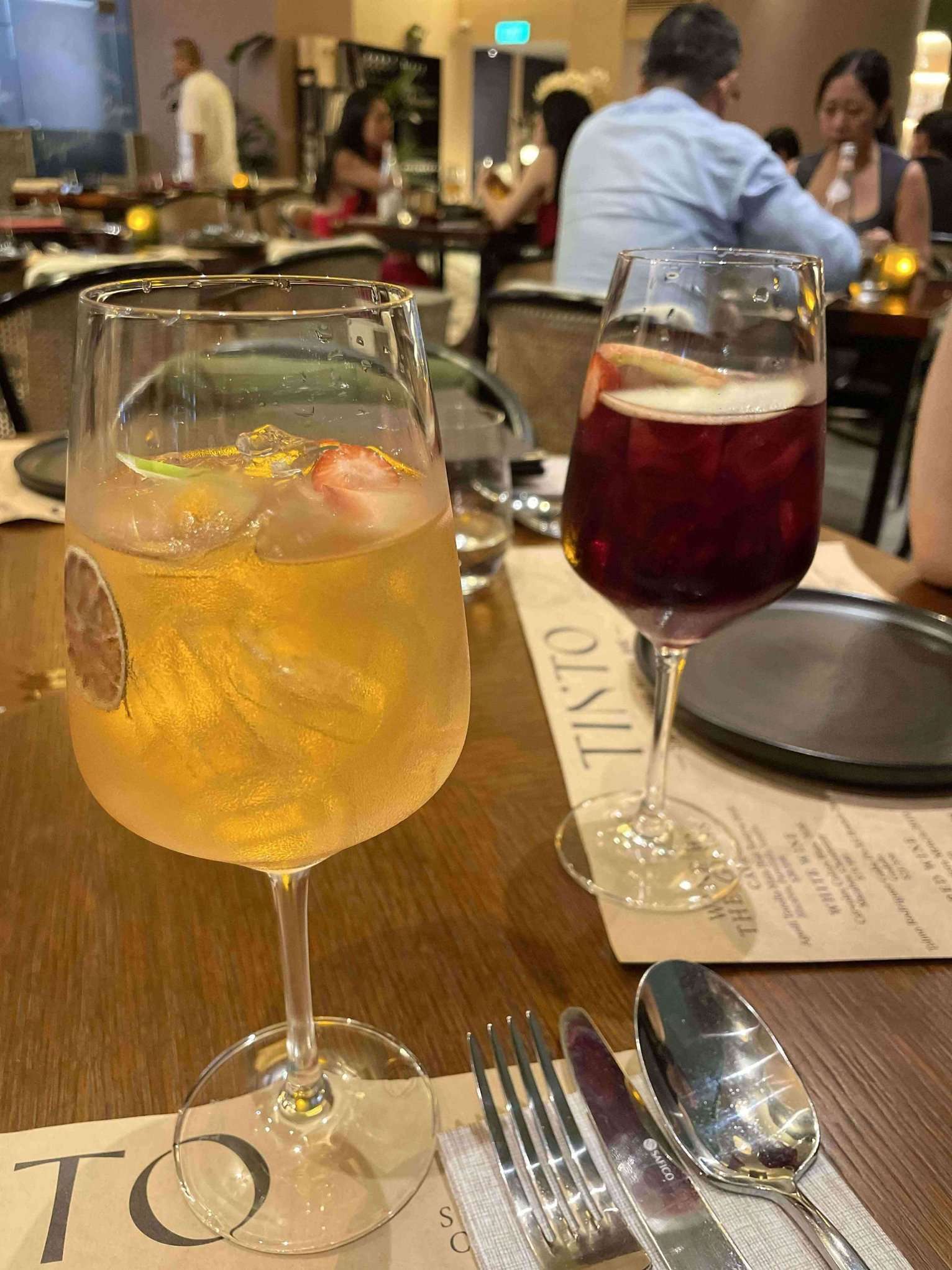 The meal was joined by both the white and red sangria (S$18 each). The white sangria was welcomingly crisp with apricot leading the nose. The red sangria had round, warming caramel notes without being too sweet. These will easily go down a treat. You've been warned.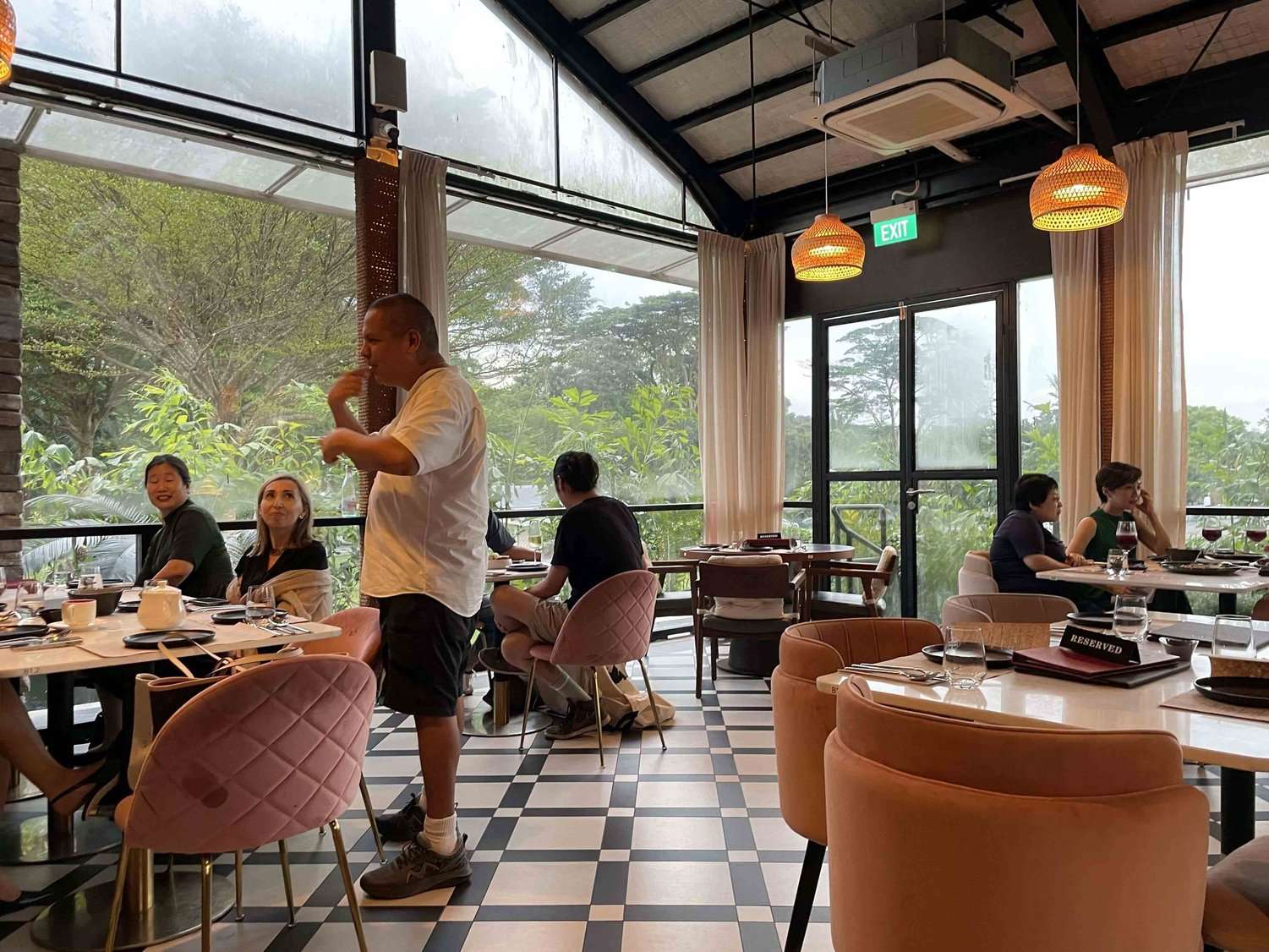 It's worth noting that they have a conservatory in the rear, nestled among lush greenery that's intimately sized for birthdays and "nearest-and-dearest-only" wedding receptions. If you're looking for a venue that will be the envy of your social media following, take a number.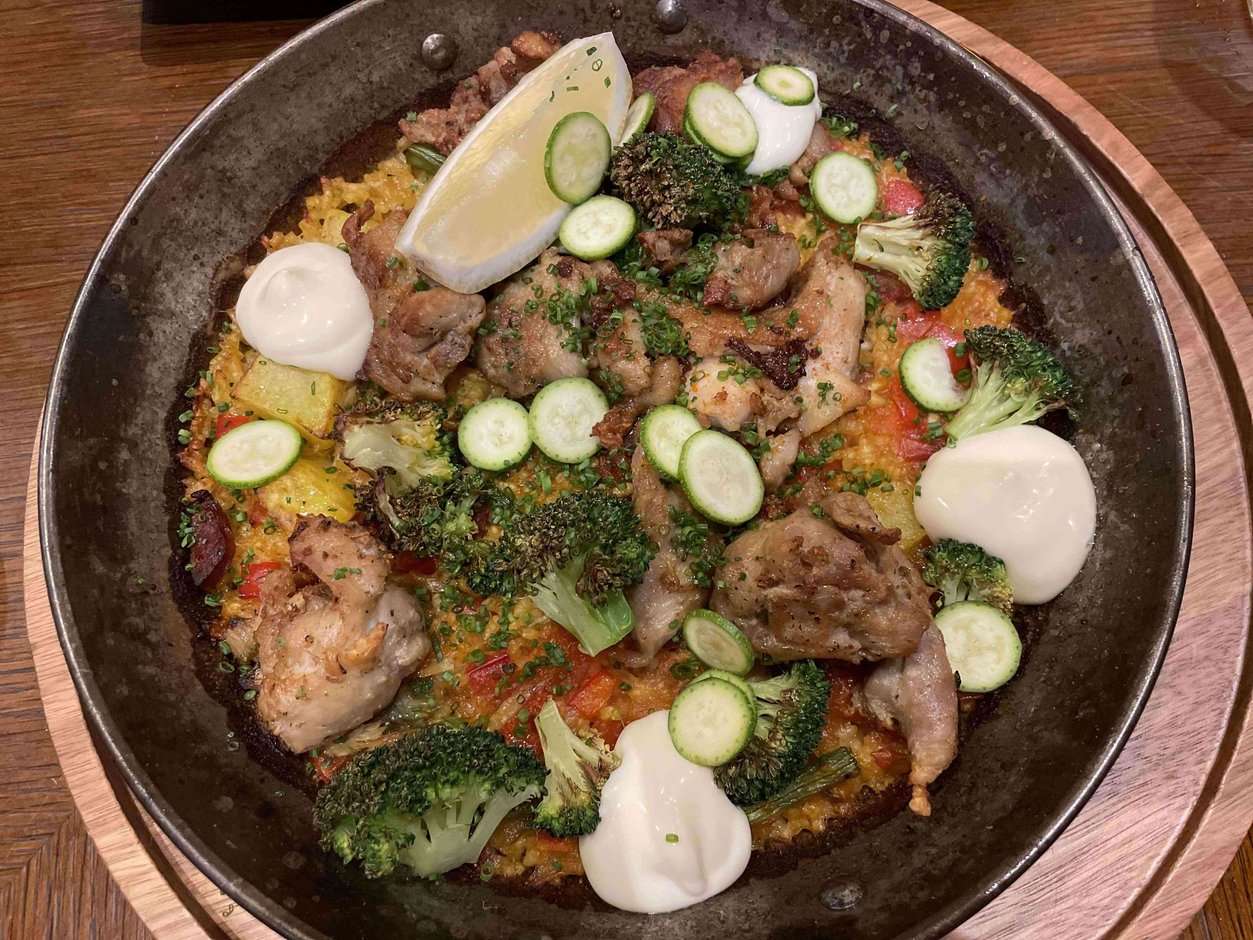 The rice in the New Valenciana paella (S$32 for half, S$58 for full) was a touch overcooked. I ordered it specifically for the artichoke and chorizo, but found them scant in the paella. 
Unlike the fideua, the paella did not have that prized socarrat — the crispy, chewy crust of scorched rice that forms at the bottom of the pan. Lovers of bibimbap, claypot rice or tahdig (crispy Persian rice) will commiserate with me.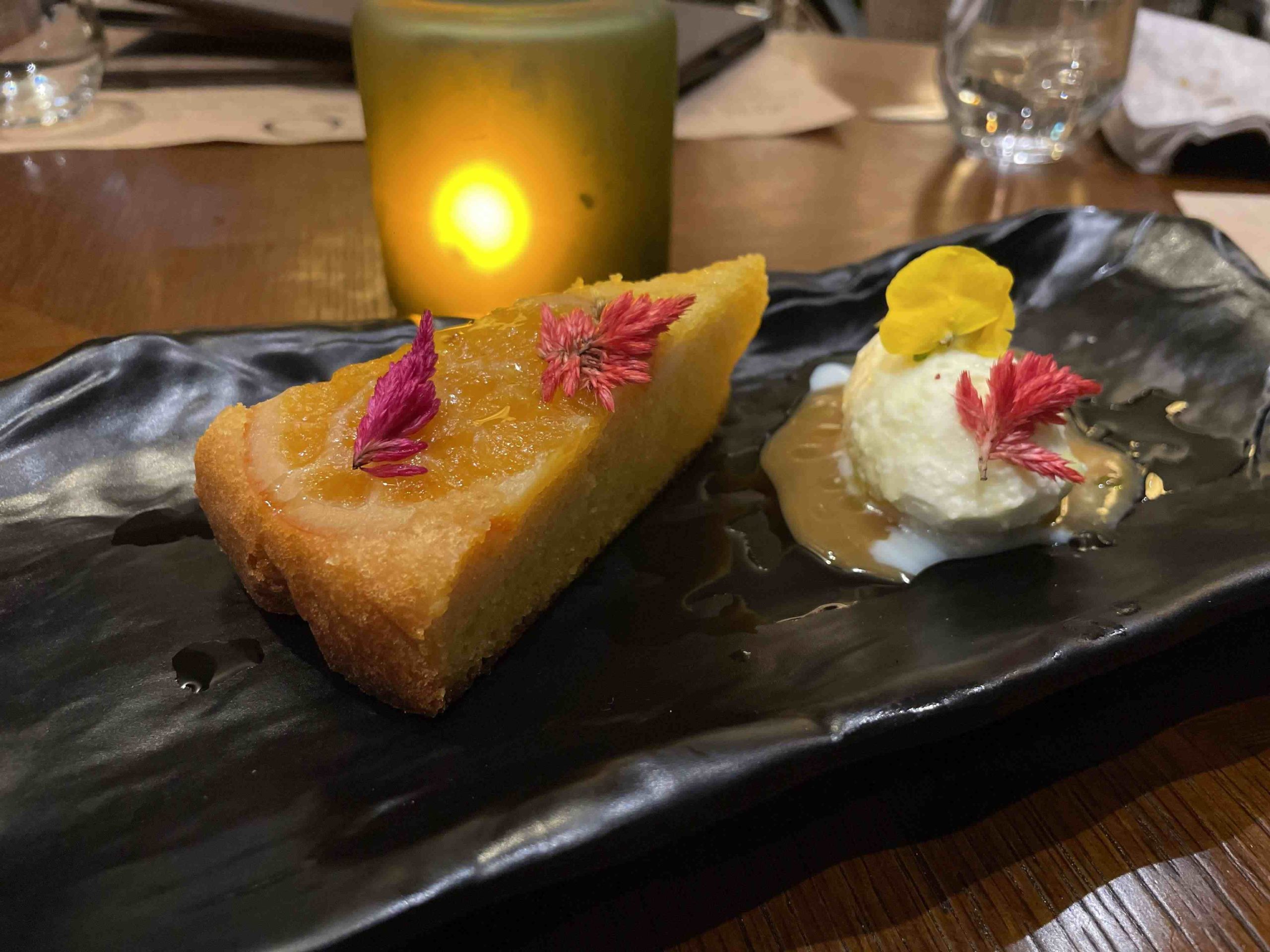 I adore olive oil and blood oranges as dessert ingredients, so much so that I ordered the blood orange cake (S$16) instead of the safer, crowd-pleasing churros. Although the cake crumb was a bit dry, the olive oil ice cream served alongside was perfectly flavoured, with just the right hit of salt. However its texture was more like frozen whipped cream than ice cream.
Minor, negligible bumps aside, the team at Tinto took great care of us. I'll certainly be back to tackle the other mains, lubricate with a few more sangrias and play it safe with the churros.
Is it conducive to conversation? Yes. Tables were comfortably spaced and the reggaeton was dialed up enough for you to gyrate in your seat without missing the banter.
Is a reservation necessary? Yes. Crowds were streaming in steadily for a Tuesday evening. This may be due to the new opening buzz, but it's always a good idea to RSVP.
How to get there? As is the usual case for the access-challenged Dempsey Hill, take a Grab direct-to-door, or go by a combination of public transportation and walk the last leg. 
HungryGoWhere paid for its meal at this restaurant for this review. Still hungry? Read our reviews of Hashtag #3 and House of Bao.
Book a ride to Tinto.
10 Dempsey Road, 01-21 
Nearest MRT: Napier
Open: Thursday to Sunday (11.30am to 3.00pm, 5.30pm to 10.30pm), Monday to Wednesday (5.30pm to 10.30pm)
10 Dempsey Road, 01-21 
Nearest MRT: Napier
Open: Thursday to Sunday (11.30am to 3.00pm, 5.30pm to 10.30pm), Monday to Wednesday (5.30pm to 10.30pm)